How To Survive A Wedding When You're Single Without Stabbing Anyone
Let me guess: You're reading this article while rolling your eyes in disbelief, thinking "there's no possible way to make wedding season any less of a fucking nightmare." I'd totally do the same had I not spent a stupid amount of my time writing this. But once you're done pouting about being single while pinning that heinous flower ball centerpiece onto your "Maybe Someday" Pinterest board, please proceed.
Katherine Heigl ever-so-condescendingly stated in 27 Dresses that "weddings are the perfect place to forget about being single." Listen, that bitch has a stick up her ass in every movie she's ever been in, but she's not wrong. While the sacred union of holy matrimony isn't exactly prime real estate for soothing the single soul, you're doing it all wrong if you don't use weddings as a constant reminder that spontaneous sex is still encouraged, and that you don't need anyone's permission to buy the shoes. So just because I'm feeling extra bitter nice today, I've put together this guide as a means to surviving your next country club nuptial as a party of one, so once you're done thanking me, grab a shot from the open bar and get out there and "Cupid Shuffle" like the fucking boss that you are.
1. Don't RSVP If You Don't Want To
Wedding season has officially arrived (tbh, when the hell did it ever leave?) which means your fridge probably contains as many save the dates as bags of expired produce. But the one rule that people commonly seem to surpass is the choice to say no. Sending your "deepest regrets" (LOL) is this simple: Have you drunkenly hooked up with the groom actually talked to the bride since graduating college? Do you even know the wedding hashtag without opening Instagram? Then spare yourself the Mr. & Mrs. mugs purchase and carry on.

2. Dress Up And Document That Shit
Congratulations! You made it through an entire year of engagement photos, ring photos, bridal shower photos, and annoying af countdown photos. You finally get to justify dropping an entire paycheck on a new blowout, eyelash extensions and a subtly slutty wardrobe because looking hot af is the essence of feeling hot af. It's time to whip out the Bombshell Bra and that LBD you can't wear underwear with because there is no better selfie like a wedding selfie to make your ex jealous use as your newest profile pic.
3. Take Advantage of The Open Bar, Fucking Duh
First things first: walk your ass to the open bar. If said open bar doesn't exist, then walk your ass to the nearest exit and GTFO. And take your gift with you. Idk who in their right mind makes people sit through their Google-assisted vows without at least offering a cold one or four in return, but nobody has time for that type of negativity in their lives.
But if there is an open bar, it's about to be a shit show, so your best tactic is befriending the bartender. Compliment his under-poured vodka cranberries, tip him with dollar bills out of your cleavage for all I fucking care, but I guarantee by the end of the night, you'll be getting a fast pass into tipsy territory. On that note, I'd also advice you not to get obliterated, but shit happens, and my friends would call me out for even suggesting such advice.

4. Befriend Your Table Mates
Spoiler alert: If you're invited to a wedding without a +1, you will shortly be joining a table of fellow rejects guests who also hide their insecurities and intense fear of being alone behind self-deprecating jokes and judgmental critiques about the overused burlap and bridesmaid dresses. Your table mates are your biggest allies. They are your safe zone. And not because you have literally nobody else to talk to besides that one family member nobody knows who he belongs to, but because the only difference between Table 19 and your own betchy group of girlfriends is that Table 19 came fully equipped with flasks of tequila. Actually that would probably apply to your group of friends too…
5. Make The Dance Floor Your Bitch
After the newlywed couple is finished parading their first steps as husband and wife to John Legend's "All of Me", Beyoncé will give you the green light to shred your shit on the dance floor. Trust me, there's nothing worse than witnessing the bride's slutty cousin doing the "Wobble" so refer back to step #3 and don't let that bitch get in the way of the hot groomsman you've been eye fucking all night. He'll know you mean business when you ask to leave your heels under his table. Always be prepared with a list of '90s hip hop bangers on hand for the last call showdown that's about to commence when all the relatives flock to catch their flight the next morning.

6. Keep Your Eye on The Prize
No, I'm not referring to the bride's bouquet once you hear the fucking "Single Ladies" cue. If you've been eye fucking the shit out of the groom's brother all night, and your only choice of Grade-A meat in recent months has been the option between chicken and fish, treat the wedding as a real-life Bumble. Like sure, it isn't the finest selection, but these guys put their best outfits on display, and all you really need to know about them is their name, age, and yearly income. Just make sure his single status is verified before you start dry-humping to "Get Low." Or don't, whatever.
7. Live Your Best Fucking Life
Believe it or not, you've been completely misinformed: Weddings are a single girl's time to fucking flourish. You've never looked hotter, never had more liquid confidence, and will never be treated to a mediocre dinner and alcohol on someone else's tab without the dreaded attachment ever again. But just remember, even if you don't end up going home with the bartender, the best man or DJ GETDWN, nothing quite beats the feeling of peeling off a pair of Spanx after a long day. Plus, there's always the Kent wedding next weekend. Cheers, Betch.
Alcoholic Blondies: A Recipe And A Memoir
It's Singles Awareness Day (vom), and what better way to celebrate than with a dessert-alcohol hybrid? We adapted this recipe by a) making it less fucking work and b) making it slightly more alcoholic.
Also, brownies always have all the fun, and the idea of more chocolate right after Valentine's Day was making us vom. So, we opted for blondies—our favorite butter and sugar combo. Just add whiskey for a super awesome evening date with some sweatpants and hard alcohol.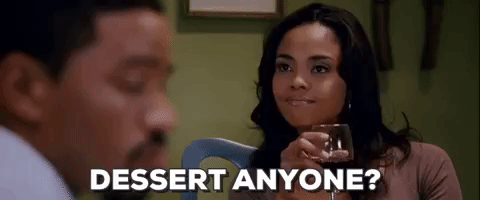 Ingredients
2 sticks of butter, room temperature — YES REALLY OMFG.
1½ cups dark brown sugar
½ cup granulated sugar
2 eggs
1/3 cup of Larceny or Maker's Mark whiskey — PLZ don't use Jack Daniels because ew, you guys
2 tsps. vanilla
1 ½ cups all-purpose flour
½ teaspoon salt
¾ cup candied nuts — we used candied walnuts which we found at a fancy store
Preheat the oven to 350 degrees and while that shit heats, spray an 8×8 pan with Pam. 
Grab a skillet and add the butter, stirring constantly—i.e. try not to be distracted—over medium heat or until it sorta browns and smells nutty. Take off the heat and let cool a bit.
In a giant bowl, cream the butter and sugars together until light and fluffy, then add the eggs, whiskey, and vanilla and mix.
In a totally different bowl, mix together the flour and salt, then slowly pour that shit into the butter and sugar mixture. You want this shit to come together, but like, don't overmix it. Kinda like your love life. Anyway, fold in the candied nuts and pour the batter into your greased baking pan.
Bake for about 25-30 minutes, or until a knife inserted toward the center comes out clean. Let this shit sit for a bit and think about what's it's going to do to you, then transfer to a wire rack to continue cooling.
Feel free to pour on a little extra whiskey because like who the fuck cares, honestly. Cut or eat with a spoon out of the pan. We aren't judging
10 Things To Avoid On Valentine's Day If You're Single
Valentine's Day aka Singles Awareness Day is here, and if you're feeling anxiety over having to watch couples kiss while getting your latte in the morning, we've got you covered. If watching disgusting displays of love isn't your thing, because honestly whose is it really, just avoid doing any of the following this today and you'll be good.
1. Going To A Speakeasy

Any bar that is remotely classy or cute is not where you want to be on Valentine's Day. Basically if the bartender calls him/herself a mixologist—or worse, artist—you should avoid it at all costs. Go drink somewhere as unimpressive as possible.
2. Ice Skating Or A Wintery Romantic Activity

Sorry, but who goes ice skating on a Tuesday evening anyway? You probably won't have much problem avoiding this, but stay away from any activity that could be a date from an Archie comic.
3. Going Out To Dinner Literally Anywhere

If you go out to eat anywhere but your mom's house, you're literally going to be miserable and surrounded by couples. Yes, even Chipotle, because even fuckboys gotta celebrate Valentine's Day.
4. Looking At Your Ex's Social Media

This isn't 50 Shades of Grey, there's no need to torture yourself. Put down the Instagram and make yourself a cocktail (not alone, though—we'll get to that in a sec).
5. Going To See 50 Shades Darker

Speaking of 50 Shades, stay away from the movie theater altogether on Valentine's Day. Especially this movie glorifying an abusive relationship. You might start missing the fuckboys of your past and forget they were literally the worst.
6. Going To The Mall

You might think the mall is a safe space where you can retail therapy your way to peace, but you are wrong. The mall is the worst place to be on Valentine's Day because every store will find a way to promote the shit out of the holiday to get you to buy stuff. Even a shoe store is going to find a way to make their sneakers about love.
7. Swiping On Dating Apps

It's like how getting a match at 2am lets you know the person is shady AF: If you match with a bro on Tinder on Valentine's Day, you'll just look like you were swiping through your heartbreak…because you are. Answering messages on Valentine's Day is probably fine, but avoid swiping for new matches or you'll just look thirsty AF.
8. Going Through Your Old Relationship Photos And Wondering What You Did Wrong

When a relationship ends, it means you dodged a bullet, almost every time. It's easy to look at old photos and think you had things better, but the truth is if it ended it was never going to last to begin with. Logic. Plus, your ex probably sucked, which is why he's your ex.
9. Drinking By Yourself

You might think it's cute to pour yourself a glass of Chardonnay and watch 13 Going on 30 in the fuzzy socks your mom sent in your Valentine's Day care package, but three glasses in you're just going to realize you made a terrible mistake. If you're going to drink, drink with friends. That way, it's not technically considered alcoholism.
10. Getting A Present For Your Casual Hookup

Valentine's Day is for couples that have exhausted all their excitement and need a lame holiday to pretend they're still in love. If you're just falling in love or dating someone casually, put the candy hearts down. There's no reason you can't go on a date or hook up on Valentine's Day, but don't spend a dime on someone that isn't going to take you as a plus one to their best friend's wedding.