The Uncomfortable Reason Behind The Rise Of Millennial Scammers
In 2019, it's old news that we love a good scamming story. But among the "stars" of this year's scamming news cycle—Anna Delvey, Billy McFarland, and Elizabeth Holmes, to name a few—there's one clear similarity. They're all millennial scammers. Now, our generation has been accused of a lot of things: we're lazy and entitled, we ruin whole industries, and we simply cannot get enough of avocado toast. But maybe we've been dancing around the most damning accusation of all. As stories pile up of outrageous con artists born between 1981 and 1996, I have to ask: are millennials the scammer generation?
If we are, I can hardly say it's surprising. Growing up, I saw a lot of promises about "the right path" be shattered. Our parents told us that college degrees were non-negotiable if we wanted to get ahead in life (no matter how much debt we incurred), while dropouts like Zuckerberg, Spiegel, and Holmes dominated the landscape of professional success. Then Instagram, and the subsequent world of influencers was born, and the idea of blindly taking the expected steps through life began to seem not just uninspired, but downright stupid. Both types of self-made success—from Silicon Valley CEO to future Bachelor contestants—preached the same ethos. If you work 20 hours a day, abandon everything else in your life, and operate with complete confidence in yourself and your ideas, you will find success.
Of course, the path of betting on yourself and taking risks is made a lot easier if you have a trust fund to fall back on—and many millennial success stories did. For those of us too stupid to invent our own companies, too ugly to make it on Instagram, or too poor to consider either option, there was the post-recession job market. There, the cutthroat competition (even for internships!) and the increasingly insane demands of office jobs (be available on Slack 24/7! Be prepared to take over anyone else's job at any time!) made the glittering vision of those "working for themselves" all the more appealing. And when we're treated to a constant feed of photos of their glamorous lives, and Twitter updates on their successes, frustration builds.
Enter: the scammer. Like every millennial, they were inundated with images of extraordinary success and luxury, and the message that if they just worked hard enough or really believed in themselves, anything was possible. So, our millennial scammers said to themselves: why couldn't that be me? They dreamed big: McFarland pitched Fyre Fest; Holmes pitched Theranos; and Delvey pitched, well, herself, as a larger-than-life heiress, and to a lesser degree, a $50m private club on Park Avenue. They ensured that the idea looked good: McFarland unrolled his Insta-model ad campaign; Holmes filled her board with incredibly high-profile businessmen; and Delvey lived in designer clothes and luxury hotels. And whenever they were questioned on details, they pivoted the conversation back to the big picture: an end game so attractive that listeners wanted, desperately, to believe it.
While scammers have always existed, what's really striking about millennial scammers is how grandiose their visions are, and the extent to which they seem to believe their own lies. If people continue to make millions off Instagram—even though we've been shown time and time again how much of Instagram is fake—then it makes sense that millennial scammers assume they can cash in big, even if there's no reality to back up their vision. People are uninterested in, say, the actual science behind improved diagnostic testing, or the exact location of a music festival's toilets. Those details would never have attracted the millions they raised—only the fully-formed, visually appealing outcome would. In our image-obsessed culture, with the constant refrain of "if you didn't post a picture, did it even really happen," we're essentially begging to be scammed by grifters like these.
Until we begin to mend the rift between image and reality that social media has created, and the concept of the self-made billionaire is unpacked, we should expect more millennial con artists pitching us beautiful lies. Because we grew up in such a broken economic system, where following the expected steps didn't get us the results we were promised, it was attractive to believe that anyone could transform into an overnight success. But these millennial scammers have proven that until we start valuing expertise and honesty at the same level as we do a good aesthetic, we're not providing new opportunities to anyone but those willing to lie their way to the top. Right now, the path to Silicon Valley or Instagram success demands a "fake it 'til you make it" approach. So really, the question shouldn't be "why are there so many millennial scammers". It should be "why aren't there more?"
Images: @coachkrystal_; @betches / Instagram
A List Of Single Tech Bros You Can Marry To Get Rich
Anyone who says they haven't at least thought about what it would be like to marry rich is a fucking liar. Many of us probably spend time imagining the fabulous life you could lead if only you had a romantic meet-cute with Zac Efron (while hiking with your dog in the Los Angeles hills and your pooch runs away straight into his arms… or something. Haven't put much thought into it). But a life of glamorous riches with a celebrity comes with the price of fame and red carpets and having to work out all the time. So I think it's time we replace that celebrity fantasy with a successful tech entrepreneur fantasy—because if you want a partner that can support you financially while you pursue your dream job of pop culture blogging/Netflix bingeing, it'd be way cooler if they were also intelligent, inventive, and successful af.
Unfortunately our favorite tech boy feminist and Reddit co-founder, Alexis Ohanian, is no longer on the market (one more reason to love Serena Williams), but there are plenty of other viable-ish options out there, and they're probably online dating (because tech). So get your asses out to Silicon Valley, consider the advantages (besides $$$) and disadvantages of dating a tech founder, and start compiling a list of DM's to slide into.
Elon Musk: Tesla, SpaceX

Elon doesn't really fly under the radar like our other contenders, and you probably won't find him on Hinge (unfortunately). But he recently split from Amber Heard, so he is definitely emotionally unavailable on the market. He runs Tesla, SpaceX and The Boring Company—which is digging holes in L.A. to get rid of traffic, so he's a total do-gooder and world saver. He's worth about $19 billion, has been divorced three times (twice from the same woman), and only has six children for you to help raise.
Advantages: All the Teslas in the world, and a good chance he would take you to Mars.
Disadvantages: He runs like, a million companies and has like, a million children, so there probably isn't much time for cuddles.
Jack Dorsey: Twitter

Jack is the CEO and co-founder of Twitter and the CEO and founder of Square (Venmo's less successful stepsister). He's 41 years old and worth around $3 billion. He has tattoos and stuff so he was probably an emo kid in high school, and I once saw him speak at a Square holiday party—he's SUPER into himself. Maybe you'll be into him too.
Advantages: Maybe you could get him to disable Trump's Twitter account, for good.
Disadvantages: Twitter has gone through a few rounds of layoffs recently, and his companies don't appear to have any way of ever making money.
John Zimmer: Lyft

As the co-founder and president of Lyft (a company worth $11 billion), John could definitely provide for an intellectually challenging and financially supportive lifestyle. Plus Uber is the worst, which makes Lyft (its top competitor) the best, right? John is 33 years old, a self-proclaimed nice guy (hopefully not too nice because nobody wants that), and your mom will totally love him.
Advantages: Free rides for life.
Disadvantages: Potential pink mustache fetish.
Drew Houston: Dropbox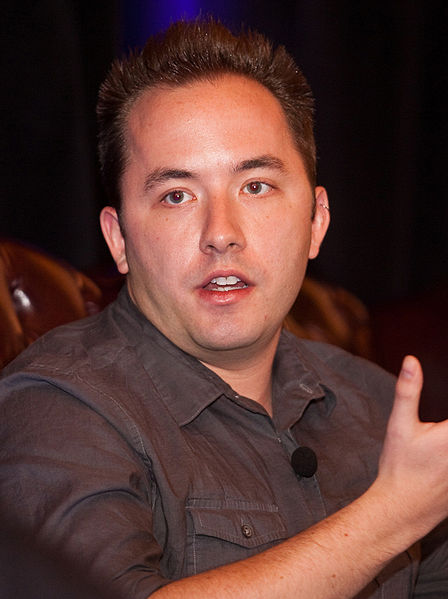 Drew is the founder and CEO of Dropbox, that file storing and sharing software that somehow still hasn't figured out how to make file storing and sharing all that easy. He's worth an estimated $1 billion and sorta looks like a chubbier version of Elon Musk—no, just me? He loves talking about being a founder and he could probably be a boyfriend/life coach hybrid if you are into that sort of thing.
Advantages: Unlimited storage for your food pics.
Disadvantages: You would have to figure out how Dropbox works.
Images: Wikimedia (5)