The Best Pants For Your Thanksgiving Food Baby
Thanksgiving is the time we celebrate America's greatest traditions: racism, pillaging minorities, and gluttony. My family is from the South, so somehow we still have all three at our table every year. I play this fun drinking game with myself where every time someone makes an offensive comment I drink. I tend to fall asleep before I die of alcohol poisoning, so it's fine.
However, on Thanksgiving, I am totally pro-gluttony and I plan to shove too much of every side dish into my mouth as fast as possible. Let's be real, the side dishes are the point of Thanksgiving, we only eat the turkey because it's expected and it's a pain in the ass to cook. If you're like me and you're going to drown your problems and disrespectful relatives in wine and pumpkin pie, you need to dress accordingly. That means pants that look chic for photos, yet can expand enough to accommodate your inevitable food baby. Before you give up and buy maternity pants, try these first.

Liquid Leggings
I wear leggings as pants on the reg, so I don't really GAF about the whole "leggings aren't pants" debacle. However, if you want to look put-together and still have maximum stretch and comfort, try a pair of liquid leggings that look like leather. Pair these with a cute oversize sweater and booties and you'll look fall-ready, but be totally comfortable. Get a high waisted pair to really disguise your giant stomach and still look teeny AF in photos.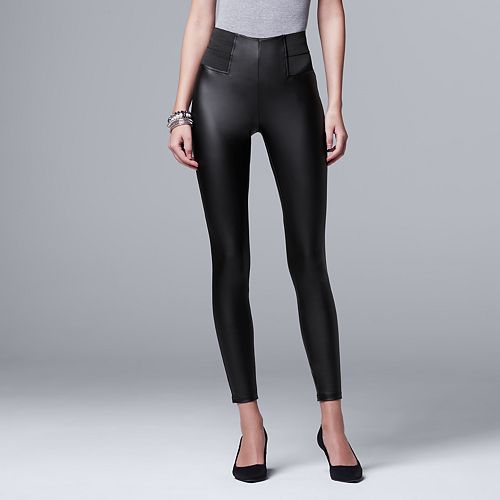 Women's Simply Vera Vera Wang Faux Leather Leggings
Jeggings
What kind of psycho wears jeans to Thanksgiving? Are you trying to get that look where your fat gets deep red marks the second you sit down? F*ck no. So if you must wear jeans with your outfit, skip the actual denim and opt for a pair of super stretchy jeggings. Just please don't wear the ones with the v obvious elastic waist unless your shirt or sweater covers it. They look stupid. These "jeans" from Vibrant are actually jeggings. They are so soft, stretchy, and look exactly like real jeans. I have the skinny, high waisted, and flares ones in almost every wash. They stretch so much so they're great if you have eaten an insane amount of food. They are also so cheap!

Vibrant Women's Juniors Bell Bottom High Waist Fitted Denim Jeans
Palazzo Pants
Who says palazzo pants are just for spring and summer? Palazzo pants are the best because they basically feel like you're wearing pajamas but they look super put-together. You can wear whatever floral or tribal prints that you already have from this summer, but if you really want to make the look feel more fall-appropriate, choose a more autumnal fabric, like velvet. I just got the most amazing green velvet pants and I'm obsessed. And they are totally appropriate for both photos and instantaneous obesity.

Rut & Circle Velvet Wide Pant Green 
Jumpsuit
Are jumpsuits considered pants? Is butter a carb? I don't care. They're super comfy, stretchy, and look really chic, but still feel like you're wearing sweats. Plus you can choose cuts that skim over your stomach and won't restrict you as you're eating seven rolls of bread.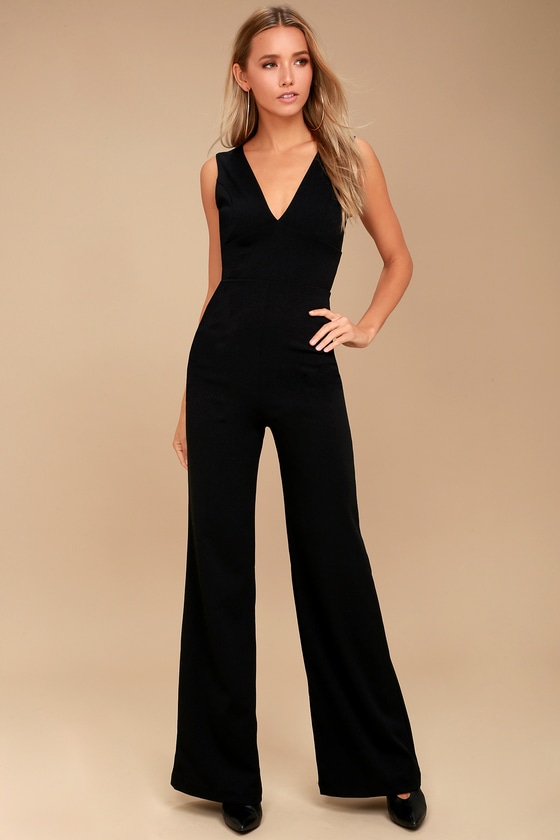 Lulus Ready For It Black Sleeveless Wide-Leg Jumpsuit 
Culottes
Culottes are another fabulous outfit option under the "pretend pants" category. They're easy to style, super stretchy and comfortable, and wearable in any season. Find some with a tie waist or other detail to distract from how rapidly you're expanding.

ASOS DESIGN Culotte With Tie Waist
Images: Giphy (1); Unsplash/Cortney White; Kohls/Vera Vera Wang; Amazon/Vibrant; NA-KD; Lulus; ASOS
Betches may receive a portion of revenue if you click a link and purchase a product or service. The links are independently placed and do not influence editorial content.
8 Easy Dishes To Bring To Thanksgiving Dinner
Omg yay. It's the start of the season where we can totally gorge ourselves on meat, cheese, and carbs until we're in a catatonic state but no one can say anything cause it's the holidays and slouchy sweaters and sweatpants are totally in LOL. Welcome to Thanksgiving 2k18.
Because we're like, adults, the polite thing to do is to bring a side dish, drink, dessert, or whatever to the Thanksgiving meal. Obviously, no one wants to be stuck in the kitchen making an intricate cake or multi-layer appetizer for a bunch of INGRATES that'll inhale it in all of 30 seconds. What you need is an easy to execute and super impressive dish (or drink) that'll potentially keep you off people's radar for the entirety of dinner, making it less likely you'll be the target of "why aren't you married yet" or "you should focus on being a mom and not a career" comments. Help.

It isn't a side dish, but it'll get your Thanksgiving TURNT, probably lessening the likelihood that Grandpa will start spewing about what a great job Trump is doing (since he'll be passed out), or a fight ruining dinner because you aren't married yet and your eggs are dying, according to Aunt Diane. It's literally as easy as soaking some fruit in booze, adding wine, and dumping it in a nice pitcher.
It's an easy appetizer that covers a beloved vegetable in carbs and cheese–what more could you want for a holiday centered on ignoring calories? This recipe does require frying, which, fun, but it also allows you to utilize string cheese sticks, which I know you've been hoarding in your office fridge anyway.
YEP. You can either mash up the sh*t from the can that EVERYONE loves but no one will admit to liking (secret looooooovvvverrrrs), or make this super simple recipe which requires all of three ingredients. It's one step long. You can do it. But honestly #cannedforever.
ACTUAL FOOTAGE OF ME MAKING THANKSGIVING DINNER:

Buy some pumpkin and marshmallows along with a few other simple ingredients. Melt, beat, and chill. You can put this sh*t in individual ramekins (for the fancy betches) or in a chocolate pie shell, or say f*ck it and stay home, pretend to be sick, then eat this with a spoon while you watch reruns of The Office. We won't tell.
I mean, cornbread is a mainstay on any southerner's Thanksgiving table. If you're not from the dirty South, make this anyway since it requires a bowl, a cast iron skillet, and not much else. It's best served with fried chicken and collard greens, but turkey and dry stuffing works, too.
HEY, you know what your Thanksgiving table needs? Something that at least has the appearance of being healthy. Save the day with this winter slaw from Bon Appetit, which, aside from some heavy chopping, only requires some mixing. Plus, it's bright and appealing; a welcome change when put next to the white, brown, and tan foods that'll make up the majority of the Thanksgiving table.

I mean, no one DOESN'T like chocolate, probably. This recipe requires some light microwaving, mixing, and folding. Plus, you can top it with beautiful, bright pomegranate seeds, more chocolate, or f*ck it, leave it in a giant bowl in the middle of the table. No one will complain, it's chocolate.
Melt chocolate, dip pears, sprinkle with crushed salted almonds. DONE. It's fruit, it's practically healthy, and it isn't a pie that'll sit in the middle of the dining room table that no one will touch.

All of these recipes are pretty simple, but I won't judge if you really don't feel like cooking at all. When in doubt, just buy an apple pie and pretend you made it. Or a cheese platter. Sorry not sorry, we can't all be Ina Garten.
Images: Shutterstock; Giphy (4)