4 Dangerous Sex Positions You Should Definitely Not Try At Home
I feel like a lot of my recent sex articles have tried to answer the question of what sex can and can't do. Like, sex can't fully replace going to the gym, but sex can definitely be a harder workout than you're making it. And sex can't tell you if the guy you're seeing is an asshole, but… wait no, sex can totally tell you if he's an asshole. So, while I'm out here spinning gold into sex advice, I do worry from time to time that I need to remind readers of the first and foremost consideration: what YOU can and can't do. And I don't mean that in any kind of spiritual/emotional sense—I literally mean what your body can physically manage, something I can assure you is better to recognize now than when you're looking down at a penis that's been "kinked in the middle." Because while sex can't restore you to who you were before you saw a snapped peen, it most certainly can cause severe bodily harm to both parties.
So: know your limits, know the sex positions most likely to land you in the hospital, and make an informed decision on what you should and shouldn't attempt (aforementioned sex positions listed below).
Shower Sex
Shower sex is the best argument for abstinence I've ever encountered. It's entirely possible that a large percentage of the celibate-by-choice population just lost their virginity in the shower and decided "never again" on the spot. Since shower sex makes you exclusively the wrong kind of wet, you will be at risk both of freezing to death and suffering internal damage you haven't experienced since you learned what foreplay was. The slippery walls/floor factor lends an extra excitement that could otherwise only be achieved by coating your living room floor in baby oil and attempting to do a cartwheel. Thinking all fours would be safer for balance? Last time I tried shower sex, I got my hair caught in the faucet and then locked myself in a closet for 20 minutes to bask in my shame. If you are absolutely hell-bent on doing this because it's on a sorority checklist, at least invest in those no-slip shower devices for the elderly. Consider it the second-most important latex product for your sexual safety.

Any Kind Of Cowgirl
Boy, am I nervous when attempting these positions. (And btw, "these positions" refers to regular cowgirl and reverse cowgirl for me—if you know of other, fancier cowgirls please hmu in the comments). We're all aware that penises (penii?) have structural deficiencies, and a big one is their angle in relation to the male torso. When people talk about the joys of "riding dick" (idk who these people are, but they sound fun), I still kind of wish there were something joystick-y and easy about it, rather than a mass of flesh beaming up toward his own face like there's a homing signal attached to it. While I hate to interrupt my own rant about dicks, the point here is that bouncing a little too high in cowgirl (an athletic effort that should only be rewarded) will not end in you just "re-mounting" as you come down—nope, that dick will immediately re-direct itself at that 45 degree angle, and you are suddenly in grave danger of causing a pain for which you'll never be forgiven. Worst case scenario: breaking a penis. It's possible, it's real. Best case scenario: squashing a ball or two, and men are giant babies about that.

Bent Over Something
This article has taken a weird turn for making me sound like I'm 75 years old, but whatever—I'm including this series of positions because I literally strained a muscle from it last week. Specifically, I strained my oblique (the muscle that's supposed to give you those ab side lines) from basically doing a half-plank during sex, because being bent over anything requires keeping your ass lifted (so the guy doesn't have to squat) and core tight (so you don't look pregnant, though maybe that's a personal problem). What's more, since I don't particularly enjoy pretending to be an inanimate object during sex, I made the error of trying to control the pace and unwittingly pitted my abs and lower back muscles against the strength of his legs. As chill as the stabbing pains down my left side and the corresponding muscle relaxer prescription are, I would not attempt again without some kind of pillow support (brb, mourning my youth).
Blowjobs In Moving Vehicles
Yes, this isn't technically P-in-V sex, but given the potential for harm to both the two of you and innocent passersby, I'm going to include it. You know how guys become completely helpless right before orgasm, and how that sense of power is 75% of the reason you ever go down on them likely they are to bust out facial expressions or guttural moans you've never known existed? Yeah, that kind of unpredictability is precisely the opposite of what you want in someone operating a motor vehicle (as the prescription label on my muscle relaxer handily points out). Also, even if he has superior focus abilities (a claim that's almost as bullshit as a "condom allergy"), let's consider the effects of a bump in the road, or a sudden s

top. Unless you're in the market to choke on/bite down on a dick (you can poll his preferences on the latter scenario or nah, up to you), maybe pull the fuck over and stop acting like a horny sixteen year-old. If a female cop pulls you over, I dare you to tell her with a straight face that you were just too excited at the prospect of giving a blowjob to wait until you got home. And if a male cop pulls you over, also do not say this because it sounds like the beginning of a porno featuring you and the entire NYPD (now that I say it, it sounds more like an episode of SVU but this is getting dark enough as is).

That's my PSA for the day—be safe out there!
Images: Skyler King / Unsplash 
The 7 Most Overrated Places To Have Sex That Really Aren't Worth It
John Cusack royally fucked us (no pun intended) the night he decided to stand outside Diane's house and serenade her with a boom box over his head until she was forced to tell him to stfu. Since then, thanks to every other improbable modern-day romcom, we've been fooled into thinking borderline stalker romantic gestures like that are actual things. Like, I can't even get a guy to flirt with me long enough to get annoyed by it. Anyway, if there's one thing more pathetic than a classic romcom airport sprint out of pure desperation, it's the art of romcom fuckery and its unrealistic perfection no matter where the task is performed. Sure, crafty sex scenes make for great study material, but think about it—do you ever actually see the outcomes? The answer is no, because it's not a fucking thing. Look, I get it—duty calls, sometimes where you least expect it, and I couldn't give less fucks where you choose to fork it out, but taking your shag sesh into unfuckable territory is like signing up for a group project—great in theory, but 12 times out of 10, you'll end up frustrated and blaming your partner for their shitty performance. So whomever whatever you do, don't repeat my mistakes, and avoid boning in these v overrated places at all costs (unless maybe you're Christian Grey).
1. The Shower
I'm sorry, but who hasn't been personally victimized by shower sex? The main reason for this failure is that no normal, struggling adult human actually owns a shower bigger than a vacuum closet, but when it comes to sex, the last thing that should be wet and slippery is the playing field. The first thing? Fucking duh, but don't expect your platinum vagine to sustain prime-moisture (ew omg "moist!") once Harold from upstairs flushes the toilet, causing the water flow to surpass the average boiling temp and your leg to slip out from under you during mediocre standing-up sex. Music videos might make this shit look effortless, but nobody comes out of a shower looking like a naturally gleaming Shay Mitchell. Not even Shay Mitchell. So unless for some god-awful reason you're wearing waterproof mascara or a shower cap, that "glow" you're thinking of is nothing but a mixture of sweat and disappointment.


2. The Beach
We've all secretly dreamt of telling a story about lusting over a short-lived fling while doing the deed on a secluded beach during those warm summer nights…K, sit the fuck down, Danny Zuko. This is why they invented a cocktail called "sex on the beach", because actually having sex on a beach requires you to ease the discomfort with like, six of them right after. Think about it: since when is the beach ever not windy, so say goodbye to that overpriced Dry Bar blowout. And it's more likely you won't be conveniently prepared with a towel, so now you're forced to fuck on the lifeguard tower where half the high school population lost their virginities. Also, you knew this was coming: sand. The fucking sand. That shit is like the herpes of the earth—you'll still be pulling it out of certain crevices weeks later, so really, need I say more?
3. The Backseat Of A Car
Question for you: Are we still in 10th grade? Now where was I? Nobody who's had decent sex would ever resort to the backseat to bang one out. First off, idk what genius implanted into the Y.A.-millennial minds that "smaller" is better and more practical, but try having sex in the backseat of a Fiat and then we can talk. I'm also just gonna assume that if you're doing it in his car, his mom just gave him gas money after telling him to clean his room before he left to pick you up. And that musty stench you're probably wondering about? You're now breathing in his sweaty ballsack residue from last week's gym shorts.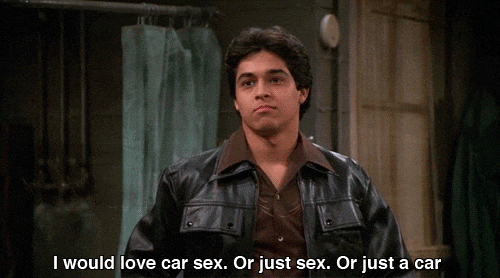 But mostly, I blame Kate Winslet for this mess. Honestly, the first time I watched the sex scene in Titanic, I saw everything through my hand covering my eyes (which says a lot about me now), so fast forward 15 years and too much car sex experience to shamelessly admit later, I now know that her hand sliding down the window was not the product of a steamy DiCaprio-gifted orgasm, but more along the lines of a desperate gasp for air in an overheated crammed space with a seatbelt buckle wedged under her ass. Spare yourself the torture.
4. The Jacuzzi
Oooooo jacuzzis are so sexual because you're already half naked, and the bubbles give added mystery! Remember that thing we learned about in 7th grade science class? It's called friction. Before you go in for kill, know that you're literally going against the laws of physics when the water washes away your natural lubricant you worked so hard to get during that 12 minutes of underwater humping. Also, I don't mean to go all WebMD on you, but it's fucking disgusting. It's gross enough soaking in your own bathtub filth, but jacuzzis are like the holy grail of community disease. So moral of the story, don't have jacuzzi sex. Because you will get pregnant. And die.

5. Your Parents' Bed
If somebody were to voluntarily tell me a story that began with "we fucked in my parents' bed", I would immediately make my way over to the nearest window, and plummet to my death. Next.
6. The Kitchen Counter
What is this, Discovery Channel? Unless you've actually inherited the kitchen of Gordon Ramsey, or the cleanliness of my mother over the holidays, I will not be placing my bare ass anywhere near your rotting fruit bowl or your 7-piece CutCo knife set. Sure, the kitchen is filled with necessary foreplay assets, like whipped cream and syrup, but chances are, if you feel the urgent need to set up camp on the kitchen counter, you'll have already decided to forgo said toppings, or foreplay, or hell, a condom for that matter. Plus, I've spent more money than I'm willing to admit on Pilates classes so my ass doesn't look like a fucking chicken cutlet, and the last thing any girl would want is to actually smell like one.
7. An Airplane Bathroom
I'd be lying if I said that joining the Mile-High Club isn't the top bucket list item on my phone notepad, but the idea itself is fucking dumb. Unless you're Kylie Jenner on a private plane and whatever ugly rapper she's fucking now, having sex in that tiny-ass bathroom without getting caught is virtually impossible. Honestly, what's the appeal here? It's awkward enough trying to maneuver around someone in the airplane hallways after they've just yacked up their lunch, but you can't even sit on that toilet without an entire butt cheek hanging off and feeling like you're going to be sucked into a black hole, let alone withstanding the smell of pee you just stepped in. What's the reward here? A bag of expired peanuts? An attempt for a cool story? At this point, you're better off giving a handy under the blanket until the fasten seatbelt sign turns on.

Mother's Day Gift Guide: Gifts For The Regular Mom, The Cool Mom & Everyone In Between
What greater holiday is there than a day that celebrates the strong, beautiful women who raised us? Go ahead, try to think of one, I'll wait. 4th of July you say? Okay. Anyway, Mother's Day really does serve as a reminder that we should be really really nice to all the moms in our lives because we too may be mothers some day and we don't want a bitchy daughter who doesn't appreciate us.  So it's good karma to get them a gift, right?  A betch's mom is the most important lady in her life. She's given us endless words of wisdom on fuckboys, she's reluctantly allowed us to borrow steal her clothes, and she always picked us up from school when we were feeling "sick".  She's molded us into the betch we are today, and for that we are forever grateful.  To show her how much you love her, we're giving you a list of all our favorite brands/gift ideas that are perfect for every type of mom in your life. Welcome to the Betches Mother's Day Gift Guide 2017.
FOR THE MOM WHO STILL GRABS CANDY FOR HERSELF AT THE CHECKOUT COUNTER
Hats off to this mom, she still answers to her sugar cravings and DGAF. Elevate her candy standards with Sugarfina's Sweetest Mom Candy Bento Box and watch it disappear within 20 minutes of her opening it. If she's into the juicing craze like any betchy mom, feel free to gift her a bottle of Pressed Juicery x Sugarfina's green juice gummy bears. It's the perfect candy she can eat while convincing herself that she's healthy AF. These are the chicest and yummiest candies ever, and I'm sure this mom won't mind if you steal a few for yourself…maybe…
FOR THE ZEN AF MOM YOU CAN ALWAYS VENT TO
This mom is amazing because she has the patience to listen to us talk shit about irrelevant shit for hours and somehow make us feel 10 times better in the end. Philosophy is a fave brand of ours, not just because of their amazing products, but also because of their values. It's the wellness brand version of the mom who always sends you inspirational articles and makes sure you never leave the house without food in your stomach. To reward this woman for putting up with your crazy ass, give her the Moments of Grace box—the perfect set of shower, fragrance, and moisturizing products.
FOR THE MOM WHO KNOWS HOW TO MAKE A HOUSE A HOME (AND WON'T LET YOU EAT ON THE COUCH)
This mom might have come off as a little strict and slightly neurotic due to her strict house rules you lived under as a young betch, but you now understand it was all worth it for the image of a perfect home. She's classy, she's elegant, and she's not afraid to tell you to fuck off when you deserve it. Giving her a Venus Et Fleur box is not just giving her cliché flowers for Mother's Day, it's giving her a centerpiece for her precious home. These are the most beautiful flowers and they last for an entire year. There are several colors to choose from so you can def find one to match the living room couch. PS, they're having a pop-up shop at Saks specifically for Mother's Day, so go with your siblings and get her the most Instagrammable flowers ever.
FOR THE MOM WHO WANTS TO BE INA GARTEN'S BEST FRIEND
This mom spends half her life watching the Food Network and the other half begging her husband to agree to redoing the kitchen. As such, she takes great pride in all her kitchen essentials, and each time you come home there's a new blender or toaster. Although you have barely any space for a wooden spoon in your apartment's kitchen and deem it acceptable to microwave water for your tea, this mom would rather be caught dead than without at least 25 different spatula options. Cuisinart is the perfect place to find the best and newest kitchen products that this mom will die over, like the QuicKettle and the PrepExpress. If you get her any of their products, I foresee massive amounts of free food in your future.
FOR THE MOM WHO'S NOT AFRAID TO BLACK OUT AT FAMILY DINNERS
This mom is always invited to hang with you and your friends whenever she's in town. As a betch who can single-handedly create a party out of thin air, her Mother's Day gift needs to suit her hostess needs. Kim Crawford Wine is the perfect bottle to whip out on any given occasion, and with summer around the corner, it is officially rosé season. Their website has tons of amazing recipes, including frosé, so…this mom will def exploit a bottle of Kim Crawford rosé for all it's worth. If she also happens to be an Insta whore, we're sorry in advance.
FOR THE MOM WHO GIFTED YOU YOUR WITTY SENSE OF HUMOR
This mom has passed on her good genes of having no filter and always has the entire family in tears at Thanksgiving dinner (like, the good kind). We were always afraid of what kind of backhanded bitchy comment she might make at our frenemies when we were younger, but we loved her anyway and secretly enjoyed it. If she's begging you not to get her anything this year, at least get her the perfect card from Shop Betches.
FOR THE MOM WHO'S PUTTING OFF BOTOX FOR AS LONG AS POSSIBLE
This mom has had perfect skin her entire life and is now in overdrive doing everything she can to keep it that way.  Washing her face isn't just something she does a couple times a day, it's now an insane obsession. To make sure this mom is getting the most out of her incessant face cleansing, get her the Soniclear brush from Michael Todd Beauty. The antimicrobial brush stays cleaner and fresher for longer, and cleans deep into your pores.  Let's be real, you're probs going to get one for yourself as well. Also, since she's probs big into blending, you should get her the Sonicblend brush to apply her makeup flawlessly.
FOR THE MOM WHO WON'T LET YOU ANYWHERE NEAR HER KITCHEN
This mom has a panic attack whenever there's too many people in the kitchen (which for the most part means if there's anyone in there besides her). She's a firm believer in "a place for everything and everything in its place", which as a betch you can only relate to on the level of your apartment's bar cart.  Joseph Joseph has the perfect modern organizational kitchen shit that will perfectly encourage this mom's obsessive compulsive habits, but at least the kitchen will look sleek AF so who cares. We love their Nesting Bowl Sets and their super chic Worktop Savers.
FOR THE MOM WHO ALWAYS FALLS ASLEEP WITH HER IPAD ON HER FACE
This mom can't get enough of her Facebook feed and loves to send you videos of dogs at all hours of the night. She probably thinks she's squinting at all her screens because she's old, but really it's because no one's eyes should not be staring at this shit all day. Felix Gray glasses are v trendy-looking and protect your eyes from the blue light emitted from all our electronics' screens, so mom won't have to fight through the headaches to continue scrolling through Insta anymore. Our office's fan favorites are the Turing and Nash frames.
FOR THE MOM WHO JUICED BEFORE IT WAS COOL
This mom has been a juice drinking yoga freak since before you were born, and she's always looking for new ways to show the world that she's healthier and has more of her shit together than anyone else. Daily Harvest delivers fresh soups, smoothies, chia parfaits and overnight oats to your door on your schedule. This way, mom can get her fav smoothies delivered at 3pm just in time for her to consume before her 5pm spin class. If you didn't think eating healthy could be convenient, neither did we, but here we are.
FOR THE MOM WHO HAS EVERYTHING YOU NEVER KNEW YOU NEEDED
This mom may seem like a hoarder, but in reality she's just a collector of random shit that will impress people. Totally different. Also, we are not ones to talk about hoarding as evidenced by our closets. Anyway, Tovolo is the perfect place to shop for this mom because while it's super fun for us to look through all the fun kitchen gadgets they have, it will be that much more fun for her because she'll know exactly what to do with whatever you get her. "OMG, skull ice molds?! This will be perfect for Debbie's divorce party!"  We love their Clear Ice System and Stainless Steel Cocktail Shaker.
FOR THE MOM WHO ALWAYS LOSES SHIT
As a young mom, this one relied on her children to remind her of her dentist appointments or whenever she accidentally left the stove on. Though she's the most scatter-brained person you know, she's so lovable you've never (really) faulted her for it. Plus, her lack of having her shit together taught you how to be a proactive, multitasking betch. To make this mom's life a little easier as her brain is only getting worse with age (sorry but it's true), get her Tile for Mother's Day so you never have to get another phone call about her missing keys again. All she has to do is attach the little Tile to whatever it is she loses every day and connect it to her phone through Bluetooth and voilà, when she needs to find either thing she can make 'em ring (I did not do that on purpose but I apologize).
FOR THE MOM WHO REALLY WANTS TO LOSE 3 POUNDS BUT HATES THE GYM
This mom might sound very familiar because she is all of us. She would much rather spend an hour at book club talking shit than hitting the gym, but the thought of showing up to Southampton for the summer in her current state is freaking her out. Do her a favor and buy her HUM Nutrition's Skinny Bird, a natural weight loss supplement. If you're feeling really generous, they also have a "Turn Back Time" supplement that helps with skin cell protection. Time to pop some pills!
FOR THE BRAND NEW MOM
This mom has been MIA because she is now with child and a real human and also struggling to get more than 4 hours of sleep at night. Brighten up her day by getting her little Betch In Training a baby onesie from Shop Betches.
FOR THE MOM WHO IS ALWAYS ON THE GO
This mom has always been your business betch inspiration, as you've admired her for balancing her work and home life so well. Despite being super important at her company, she somehow found the time to proofread all your high school papers and prepped you for every job interview you've ever had.  Soap & Glory is the perfect cheeky and empowering cosmetic brand that this mom absolutely NEEDS in her life. Since she's always running from mandatory family breakfast to business meeting, get her some of our favorites like their Rushower Dry Shampoo and their Hand Food hydrating hand cream.
FOR THE MOM WHO ALWAYS KEEPS IT SIMPLE
This mom is a woman of few words, but always knows what to say. You can find her in the yoga studio in the morning and hosting a charity dinner party by night. She's the one who taught you that doing things for others is like, important. Not one for flashy things but a lover of the arts, this mom would love a piece from Adam Marc Jewelry. Our favorite pieces are the Kim Star Choker and the Rafaeli 14k Gold Bar Necklace. Use code BETCHES20 for 20% off—your mom will never have to know you didn't pay full price.