The Cutest & Comfiest Shorts For $50 & Under
I know it's hard to believe (and actually almost sad to realize), but summer is right around the corner. The unofficial summer kickoff, Memorial Day weekend, is LITERALLY next weekend. Sh*t, time sure flies during a quarantine. But hey, even though we can't enjoy our favorite beach bars this holiday weekend, at least we still have a three-day weekend to look forward to. Great, an additional day to do more of the same thing you're doing every other day!
ANYWAY, warmer weather is almost here, which means it's almost time to switch from sweatpants to shorts. However, after living these past two months in oversized sweatpants, I know none of us are running to go grab our best denim cutoffs any time soon. That being said, I found some great shorts options that are stylish enough to (hopefully) leave the house in yet comfy enough that, if stuck in the house, you'd still want to wear them.

Obviously these shorts are cute, but what makes them that much better is that, according to the reviews, they're also super comfy. And we all know, if someone is willing to take the time to go leave a positive review then they must really actually like it. Linen shorts are ideal for summer because they look effortlessly cool but are still comfortable, and also won't weigh you down in the heat. 

These Billabong shorts are the perfect combination of comfy and cute, making them your go-to shorts all summer long. Amp up the style factor by pairing them with the matching top for a full beach-vibe set that you'll still feel comfortable enough to lounge in. 

Nothing says "warm weather" like the color coral—just ask all the frat boys who think owning a pair of coral chino shorts makes them somehow stylish. Unlike the aforementioned frat stars, you can actually be considered stylish with these cute coral shorts. The front button detail automatically makes them look more sophisticated than a lounge short, while the elastic band and soft material makes them just as irresistibly cozy.

One of my favorite summer trends right now is bandana print (AKA paisley), so I'm obsessed with these shorts. They'd be cute dressed up with the matching top or with a fitted bodysuit, or dressed down with a graphic tee. The ultra flowy fit is super breezy, too.

These knit shorts from White Fox are super comfortable and will pair seamlessly with all your fav lounge looks. However, they also could just as easily transition out of the house for a casual athleisure look thanks to their fashionable ribbed detailing and trendy knit material. You can pair them with chunky sneakers and either an oversized T-shirt or fitted bodysuit for instant cool-girl style.

I'm not really into a cliche floral print, however I'm a total sucker for a tropical floral print in the summer. The print is on-trend with its vintage tourist-dad feel, but not overdone like, say, the palm print. These shorts are ideal for all your summer outings (fingers crossed) with their stylish belted paper-bag waist combined with their comfortable, flowy fit.

Not only are these shorts super stylish, they're also made of tencel, which is one of the softest and comfiest materials ever. We love the chic camel color, button detail, and ruffle waist.

These woven H&M shorts are the ideal combination of comfort and style with their flowy silhouette paired with stylish pleat details. Not to mention, you can't beat that price. Sidenote, I missing finding fashionable finds off the floor at H&M *insert Lauren Conrad slow tear.*

I'm obsessed with these floral shorts that are so flowy they can almost pass as a skirt. Imagine how perfect they'd be to wear for your first in-person date with the guy you've been Zoom dating for the past two months.

If you haven't heard of Blush Mark, it's because they're a brand new company. As in, they just launched during quarantine. However, the company was born from well-known bridal brand Azazie so they already have some established credibility. Which honestly, you'll be glad to have the reassurance of because their prices are so low that you'll probably question whether it's too good to be true.
Who knows when this quarantine will end—maybe next week, maybe two months from now. All I do know is that the weather forecast is a strong indicator that warm weather is on the horizon. And since we don't know how much longer we have in quarantine, we might as well start our summer shopping, but just with the quarantine in mind. My hope for all of us is that we're not stuck spending summer 2020 "catching rays" from the comfort of our bedroom windows.
Images:  Ben Weber / Unsplash; Princess Polly; South Moon Under; Shore; Pretty Little Thing; White Fox; JustFab; Revolve; H&M; Beginning Boutique; Blush Mark
Betches may receive a portion of revenue if you click a link and purchase a product or service. The links are independently placed and do not influence editorial content.
The Cutest Workout Clothes You Need This Summer
They say summer bods are made in the winter. K, I don't know who "they" are, but they clearly don't live on the East Coast.  Because if they did, they would understand the depressing treachery that winters here are, and they certainly wouldn't spew such BS. I mean like, in the winter, my boss is lucky if I make it into work, let alone get my lazy ass to the gym after work. But anyways, I digress.
Summer is here, and now is the time that most of us are finally actually motivated to kick our workout regimens into high gear. Everyone wants to look and feel their best on the beach, and what's more motivating than some cute new workout clothes that will make you actually want to go to the gym??? When I get new workout clothes, I can't wait to show them off. And like, maybe that's silly, but I have to take advantage of whatever will motivate me to get there. That being said, here are the cutest workout clothes that you need this summer, to help you look and feel your best! 

These leggings are a major upgrade from your standard black Lulu leggings and will totally make you want to actually go work out. Not only are they chic and cute, but according to the reviews, are also super comfy! Not to mention, the neon star graphics at the bottom are very on trend, so people may even mistake you for like, a cool fitness Instagram influencer, or something. Hey, maybe you'll get a free Gatorade out of it!!!

This plain cropped tee may seem basic, but that's because it is a basic. But that doesn't make it any less cute or essential to your summer workout wardrobe. Everyone needs a basic white cropped tee, just like, in their wardrobe in general. So you might as well go ahead and get yourself one that's designed for the gym, as well! A basic crop tee will make you look like a casual off-duty model at the gym. Which consequently gives off the vibe that you came there to get sh*t done. And just giving off the perception that you're getting sh*t done will make you actually want to get sh*t done. I realize this may seem like a stretch, but again, when it comes to getting myself to go hard at the gym, I need all the motivation I can get, logical or not.

Snakeskin was all the rage for spring, and continues to stay a big trend for summer. So why not bring this fashion trend to your workout outfits too? Not only will this Kardashian-worthy set elevate your workout style game, but these pieces could even work with your everyday summer wardrobe as well. There's legit no occasion that they wouldn't be perfect for…except like, maybe a corporate job interview or a funeral…but like, everything else besides that!!!

Windbreakers are cool right now, especially this retro cropped Nike one that's perfect for summer. You'll look so legit wearing it to warm up on a breezy summer morning or when they're blasting the AC at the gym. It's also great for if it's raining and you don't want to look like a wet dog by the time you actually  get to the gym. Nothing's less motivating than looking like a soggy mess and starting off your workout in already wet clothes. Like, I'm just gonna go home now.

With these neon leggings, you simply can't get away with even attempting to try to slack off at the gym. Like, if you're wearing bright-ass leggings such as these, you have to expect some attention from your fellow gym attendees. And, if you're being so bold as to demand everyone's attention, you're going to need to actually perform when you get on that treadmill. Unless of course, you're at like a Planet Fitness where your pink neon leggings are the least shocking thing anyone is wearing in there (no shade to PF, I go there because I'm poor). I have legit seen a guy at Planet Fitness wearing a polo and jeans before, so these neon leggings wouldn't make anyone bat an eye. Smh, don't be that polo guy, get yourself some cute summer workout clothes.

Lavender has been the color of the season, and these lavender running shorts are the perfect addition to your summer workout wardrobe. They're Adidas by Stella McCartney so they're like, fashionable af. Like, probs the most fashionable you could ever possibly get when it comes to workout shorts. Pair it with a cute sports bra or a flowy tank, and you're totally ready to go on that five mile run! Okay, maybe three mile…eh 1.5???

This cut out crop top will have you ready to slayyyy. No, not like slay at the bar drunk on vodka sodas kind of slay, but "slay" like actually get through your entire workout today. But like, the top really is that cute, that you could easily wear it out to the bar and slay there too! Okay, I'm single-handedly making "slay" uncool by saying it so many times right now, so I'll stop. But hopefully you get my point here.

I'm obsessed with this fashionable workout top. It's chic with the center ruching, yet functional with its silhouette and thumbholes. If you think thumbholes are an irrelevant feature, uh, think again. It would be impossible to wipe off every dumbbell or machine that the jacked up frat guy high on C4 used before you. And like, you don't know where his hands have been….and tbh, that's probs for the best. The thumbholes help cover your hands, and keep you extra safe from all the gym germs. It's kind of like when you use a paper towel to grab the bathroom door handle, but like, in this instance, that paper towel is just part of your shirt.
People like to say fashion is materialistic. But what you wear to the gym and how it makes you feel when you're there impacts your self-confidence, drive, and ultimately, success. I realize that sounds v dramatic, but like, it's true. So set yourself up for success in the gym with some cute new summer workout clothes ASAP.
Images: @lauren_alexandra / Unsplash; Free People (3); Revolve (4); Bandier
Betches may receive a portion of revenue if you click a link and purchase a product or service. The links are independently placed and do not influence editorial content.
3 Unexpected Ways Show Off Your Butt
You and I both know you haven't been paying for $30 SoulCycle classes because you "just love the way exercise makes you feel." You've been working hard to look good, and now it's time to show off your butt that you've been working so hard for. Sure, you could rock those high-waisted shorts with the hemline that's literally at your ass cheeks, but that might not work in all occasions, like work and family gatherings. Or like, maybe it's cold outside, IDK. So you want to make your butt look round and toned without actually exposing it. Life is hard. Keep in mind as you shop for your own butt-flattering ensemble that there are a few key outfit components that will help draw attention to your derriere. I've styled three occasion-specific outfits that will best show off your butt. And don't worry if you're ass is basically nonexistent—these outfits will work for flat and bubble butt girls alike. There is a god.
For Being Out & About Running Errands…
You probably already know what I'm going to say here. Yup, YOGA PANTS. Ask any guy on a college campus (or like, in existence) and he'll tell you the wonders of yoga pants and the magic they do for a girl's ass. To up the ante even further, wear your Lulus with a crop top to show off your midriff and really accentuate your waist. This will draw attention to the contrast in size between your tiny waist and now-looking-extra-fat ass.

From left: Brandy Melville Serena rainbow top; Lulu Lemon Wunder Under hi-rise tight full-on Luon 28″
For When You're Daytime Casual
Daytime casual can pretty much mean anything from shopping with your friends to dinner with your boyfriend's family. These are the outfits you wear when you want to look like a put-together classy lady and not like your true trash bag self headed to 1Oak. This is the instance when you'll most likely reach for your jeans, so let's discuss what to look for in your denim specifically.
When shopping for denim to accentuate your ass, look for styles that will contour your butt. I know it sounds ridic, but then again what don't we contour these days? You want to look for jeans that have strategically placed sanding—basically, envision your best Mudd jeans from middle school. Remember how the butt was a lighter shade than the rest of the pants? There was a reason for that. That's the same kind of style you'll need now in order to perfectly flaunt the shape of your butt. Lighter washes of denim in general will help draw additional attention to your ass, so get yourself a pair of Levis which are vvvv trendy right now.
Another thing to look for when choosing your jeans is back pocket details. Details, such as pocket flaps and zippers, add volume to your butt and draw more attention to it. But be careful, because huge pockets will make your butt look smaller, so look for smaller pockets. You should also always look for high rise styles to, again, highlight the contrast between your butt and waist. Pair your high waisted denim with a peplum top which automatically accentuates curves.

From left: Ale by Allesandra x Revolve Caridad top; AGOLDE Jamie high rise
For When You're Out On The Town…
Head to your local Body Central or Wet Seal (if that still exists) because the only thing you'll need to show off your ass is a bodycon dress! If you want to look *slightly* more classy, pick one with a high neck and long sleeves. This style will make you look hot without looking like you're trying to look hot, even though you are trying to look hot. I know, being a girl is hard. Anyway, a solid colored style of dress will look chic as hell and show off your ass without distracting away from it.

Cue "Anaconda" by Nicki Minaj 'cause you're ready to show off that ass whatever the occasion!
Images: Brandy Melville; Lululemon; Revolve (2); Free People
Is This Spring's Most Confusing Trend?
From clear vinyl shoes to Matrix-esque sunnies, this spring is all about weird af trends. Still, the most controversial and confusing yet has to be this bike shorts trend. I mean, this trend is legit so mind-boggling that even Vogue doesn't know how to respond, deeming it spring's "most curious trend." Vogue is legit all of us trying to tell our friend in the nicest way possible that her outfit makes her look like a fat cow.
Just like everything else that the Kardashians do, people don't take it seriously at first. But, sooner than later, even the skeptics find themselves contouring their faces while wearing the latest from the Kendall & Kylie collection. Love them or hate them, there's no denying that the Kardashians are a family of trendsetters, and no one else could make cycling shorts a thing besides the one and only Kim Kardashian West. Legit, Kim could wear a trash bag, get her sisters to wear it too, and just like that, we're cutting holes in Glad bags for Coachella 2019. But, like many Kardashian trends, there's a right and a wrong way to attempt it. So as unrealistic as it seems that people other than celebs will actually be wearing bike shorts come summer, you should take it seriously now or you'll be the one left standing there in jorts, wondering where you went wrong.
They say there's a time and place for everything, and bike shorts are no exception. Demonstrated below, is current Revolve "it girl" Negin Mirsalehi showing us how and when to wear this trend. Negin is wearing the shorts as part of a daytime-casual look, and makes them chic as hell with her designer fanny pack and white denim vest.
As for who hasn't mastered this look? Bella Hadid. Just leave it to Bella to try too hard. I get it, your sister is a goddess, life is difficult. But your constant over-the-top effort to look unique and cool simply is not working. Like, why are you wearing bike shorts to the Cannes after-party? Why do your bike shorts have a seam along your crotch? Why are they metallic? I just have so many questions, and tbh most of them boil down to WHY??
If you're going to attempt the bike shorts trend this summer, you need to choose carefully, lest you become the internet's next meme. These styles will make you look trendy and cool and not like a soccer mom. You're welcome.
1. Spandex
These ones are legit the kind you could wear to SoulCycle, and they are also Kim K.'s go-to style. They're definitely the most comfy, but make sure you style them in a way that doesn't make you actually look like a cycling instructor. See Negin Marsalehi above.

Urban Outfitters Out From Under All Day Bike Short
2. Denim
You kind of have to know what you're doing to wear this style, or you could end up looking a little too NASCAR, if you know what I mean. Make sure you buy them loose and oversize to look trendy, not trashy.

3. Above The Knee
This style is probably the easiest to pull off, and even still, it's not going to be easy. Since they're fitted, I would probs wear with a loose graphic tee or crop top to keep the look balanced and stylish.

Hudson Jeans Amelia Cut Off Knee Short
Look, I know this trend is hard to digest—like I said, it's pretty much a glorified Bermuda short. All I'm saying, is if you want to be a trend-setter rather than a follower, then you better sprint to your closest Urban. Yes, you might be ridiculed at first, but a few months from now when all your friends are vying to wear your "ugly" shorts, you'll be the one with the last laugh. Just look at Kim, who's laughing her humongous ass all the way to the bank.
Betches may receive a portion of revenue if you click a link in this article and buy a product or service. The links are independently placed and do not influence editorial content.
6 Moves To Tone Your Legs And Butt For Shorts Season
After a god-awful winter and no spring season whatsoever, summer has arrived, and it literally has no chill. We totally skipped over denim jacket weather and basically went straight to face-directly-in-the-AC-vent weather, so it's time to dress accordingly. If you're putting on your shorts for the first time in a year and notice your legs could use some much-needed toning and tightening, don't panic. Do these six leg exercises, and once you're done, repeat the whole circuit another three times to really tone and strengthen your legs. And also, like, try not to cry when you sit down tomorrow. Consider yourself warned.  
1. Curtsey Lunges
Regular squats and lunges can get boring and repetitive, so trying out different leg exercises and variations help target your muscles in a different way. Curtsey lunges are great because they hit various muscle groups in your quads and glutes, and they also challenge your body's overall balance and stability. They're v underrated. The idea here is to lunge backwards like you would regularly, but instead of bringing your knee directly behind you, bring it in a diagonal direction, crossing behind your other leg. Like a curtsey, get it?? Bend your knees and lower your hips until your thigh is parallel to the floor. Then, return to standing position and do the same on the other leg. Complete 10 reps per leg, and if you feel like it's too easy, hold a weight in each hand to add resistance.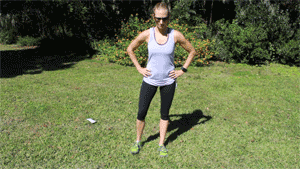 2. Swiss Ball Hamstring Curls
This exercise is based on using a swiss ball, but if your gym doesn't have one, this can also work using TRX bands or the rowing machine. Begin on the floor by lying on your back with your feet up on top of the ball. You want your ankles to be on top of the ball when your legs are fully extended. Raise your hips off the ground, keeping your weight in your shoulders and your feet. Then, flex your knees, pulling the ball inward toward your body while squeezing the backs of your legs. Once the ball is "curled" inward, straighten out your legs again, rolling it outwards. Aim for 15 reps.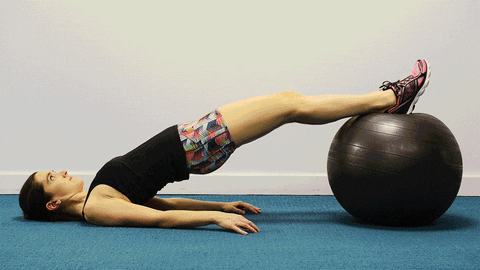 3. Single Leg Glute Bridges
Glute bridges are a classic butt exercise, but by focusing on one leg at a time, you also hit your hamstrings, which are the muscles that make up the backs of your legs. You're basically getting the best of both worlds because you're working your thighs and butt in one simple move. Lucky you. Lying on a mat, keep your hands at your sides and your knees bent out in front of you. Then, extend one leg as you lift your butt off the ground, squeezing your glutes and lifting your hips toward the ceiling. Think about pushing down with your left heel as you lift. Do 10 reps on one leg and then switch to the other.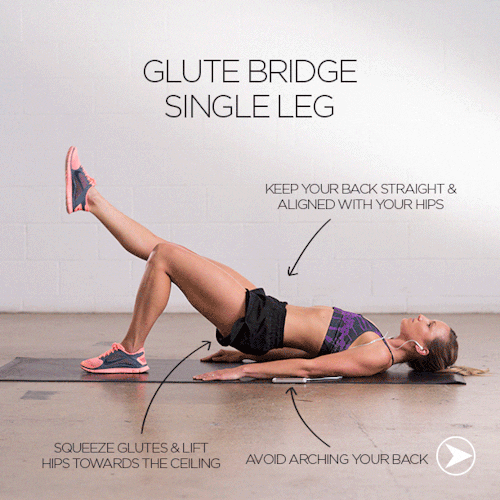 4. Jumping Sumo Squats
We tend to do a lot of squats and jump squats in our leg workouts, but the sumo squat is a different variation that a lot of people ignore. The idea here is to do a jump squat, but your stance is more like that of a ballerina, with your toes turned outward and your legs further apart than they'd usually be. This way, when you squat down, the resistance shifts from your quads to your glutes, and it becomes more of a butt-focused movement. You're also getting your heart rate up and burning calories because like, you're jumping. Duh. Try doing 15-20 jumps without stopping.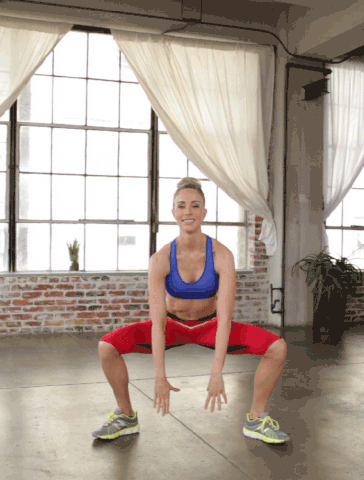 5. Elevated Reverse Lunges
Reverse lunges are a staple leg movement, and by elevating your front leg, you're adding pressure to that leg's quad muscle, and you REALLY feel the burn on these. The idea here is to find some sort of box or elevated step that you can put your front foot on, and then lunge backwards, bringing the back leg even further down than you would on a regular surface. This way, your quads get more resistance—kinda like when you turn up the torq on a spin bike. Remember to keep your chest up and head straight the whole time to avoid leaning forward. If these are too hard, lose the elevation and just do lunges on the ground. And if they're easy, hold a weight, like the badass chick in this gif.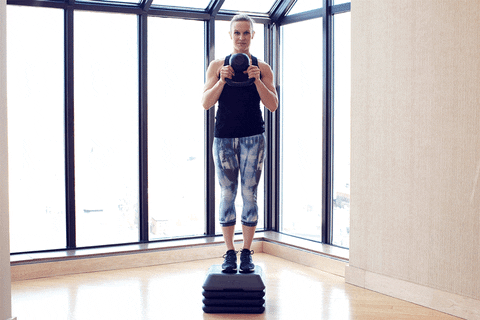 6. Wall Sit
Wall sits look relatively easy, but you might notice after a few seconds that your thighs are on fire and you want to die. This is normal. This move is also great because your body is basically in a squatting position, but your back is protected, so you can really engage all of the muscles in your legs to keep you stable. With your back flat against a wall, set your feet about shoulder-width apart, about two feet out from the wall. Slide your back down the wall, bending your knees as low as you can get. Hold the position for one minute, and remember to contract your abs while you're holding it. Your legs will probably start shaking, but that just means it's working. Just think about how good your legs will look in your new romper.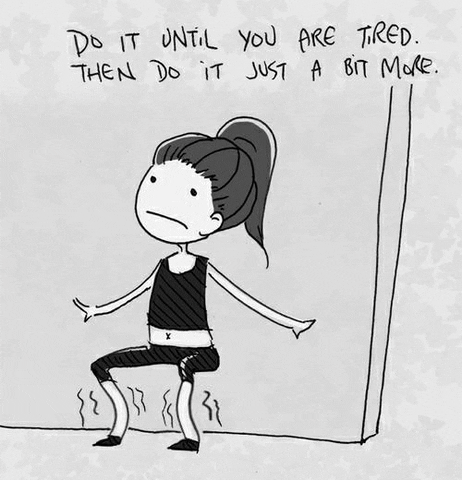 Images: Shutterstock; Giphy (6)
The Cutest Denim Shorts That Won't Show Your Butt Cheeks
A betch wearing distressed denim shorts, in the summer? Groundbreaking. Whether they were your mom's in the 80s or an Abercrombie pair you never grew out of, you def have quite the collection. Here's my problem, though: I, for one, am honestly broke and lazy AF to buy new pairs every year so I settle for ones that still fit because I wear the same pair multiple times a week as long as they miraculously still button. Despite fitting around my waist, the hems obvs get shorter and therefore, ride up my crotch. As a result, I not only look like an idiot who has pockets hanging out (so not cool, btw) but, I incidentally end up mooning everyone on the sidewalk since my ass cheeks are out on display. Now, some of you may think this is socially acceptable, but news fucking flash—it's not. I highly doubt you want to see the girl's butt standing in front of you on the train on your way to work, so no one wants to see yours either. Hoping this is your wake up call, here are some cute high waisted denim cut-offs to replace your booty shorts.


This v simple pair has a mid-rise fit and cuffed hems that fall at about 11 inches. You can dress this versatile pair up or down and stay looking classy because your butt won't be showing for all to see. The shorts feature a 3 inch inseam, which FYI, is a solid indicator that your cheeks won't be peeking out.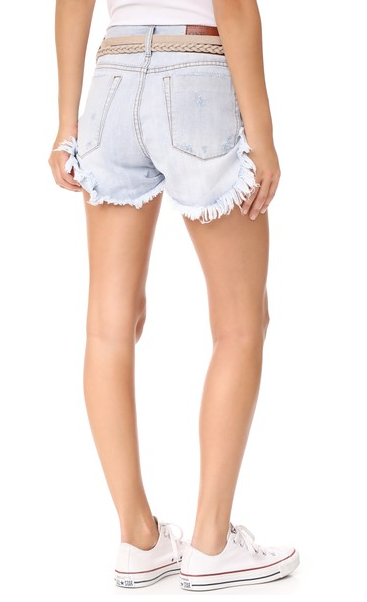 You can wear a shredded, carefree style without having to pull your shorts down every five seconds if you opt for a pair like this. With a shorter hem in the front, you can still show off your long tan legs while your backside is still very much covered. I guess that fingertip rule in high school actually works.

Your beloved high waisted style in black elongates your legs (if you're 5-foot-something like me) and thins out your torso, so don't worry about beer bloat for all those dagers. With the shorts being 10 inches long (which is more than enough before they become Bermudas), you'll keep what's meant to be hidden inside the denim. These will def be the next pair you abuse multiple times before realizing you should probably wash them at some point.

This loose fit on your hips will make your friends think you actually lost weight this summer (LOL, as if) and make a super casual outfit a slutty flirty one with its raw-cut hem. These fall a little before your mid-thigh, but at least you won't look like you're wearing a denim diaper.

Everything about a white pair of high-waisted shorts with floral details is a yes for summer. You'll still prove to everyone you have something worth showing off in the back, but without actually showing it off. The latest mom fit trend, because apparently all sizes have to be named after member of your family, makes for a longer, more comfortable fit. Wear this stylish pair with your fave bralette or bardot crop top so you don't look like an actual mom.

The right picture is bothering me just as much as you, don't worry. Someone should've pulled her corner down, god. Anyway, these shorts come down to 11 and a half inches so I assure you that you'll still slay a backside rooftop picture without being semi-pornographic trashy on Insta. It's only a plus that the millions of buttons make you look skinny AF but, um, have fun trying to undo them when you gotta break the seal.
Lace Shorts For Men Are The Latest Trend In Douchebag Fashion
Remember a few days ago when you felt personally victimized by RompHims? Well we have some bad news, because there's a new pastel product in town: lace shorts for men. They come in five different colors, and yes, we were also triggered after "lace." They were first advertised through an Instagram account named Sparkie Baby Official, which tells you pretty much everything you need to know about how legit and high quality they are, if the built-in belts didn't already give that away.
Judging by the long white socks on the models, the shorts are clearly intended for bros. The more we think about it, maybe we should have seen this coming. Like, how different really are lace shorts from the bright pink Vineyard Vines shit we've been told were "fratty" for years? Is this not just an even better outfit for an entire pledge class to wear while shouting homophobic slurs at each other? They're wearing the lace as a JOKE, guys. It's not like they wear it underneath their clothes everyday!

All jokes about repressed sexuality aside, these are extremely concerning from a utility standpoint. The only material is some shitty lace and heinous white…briefs? Are those included with the shorts? There is literally no chance they're covering ANYTHING, and if any guy is dumb enough to buy these he's also probably too dumb to realize he's flashing everyone and the FB tags will not be kind to him.
TBH, I'm pretty sure the only reason anyone is discussing these shorts is because of the guy in green. He is taking bubble butt to a whole new level and if he doesn't have a modeling agent yet, I would like to step forward and offer my services because I think we could really go places. First stop: remove the tats. Next stop: Calvin Klein.
What will be next in douchebag fashion? We can't be certain, but the thought is pretty terrifying at this point. We never thought we'd miss the days of Lacoste polos, ugh.
The 5 Denim Shorts That Will Convince Everyone You Actually Do Squats
I hate when someone asks me to name my best feature or say what I love most about myself. I guess I'm referring to those annoying AF ice breaker activities we used to do in fucking school that made us feel like we were still in like, kindergarten. This also applies to Lucas Yancey guys who literally don't know how to have a normal conversation so they ask stupid questions like, "what's something you love about yourself?". In addition to loving my stone cold heart and chronic RBF, I'd say I am pretty proud of myself for surviving flat ass syndrome. But, for whatever reason why, I guess it's fucking frowned upon to agree that you're like, really pretty and have a nice ass.
I know many of you are not as lucky as me (obviously). Some of you probably do an overly intense squat routine everyday, or some of you simply settle with wearing saggy pants (which is not okay). If you're fed up with exerting energy that can be used for taking shots at the gym, and you're sick of your bodycon dresses looking like shift dresses, buy some of these fitted shorts for a J. Lo booty. You probably won't break the internet by trying to balance a glass of Champagne on your ass, but you can change your Insta bio to Miss New Booty—which is clearly the better option.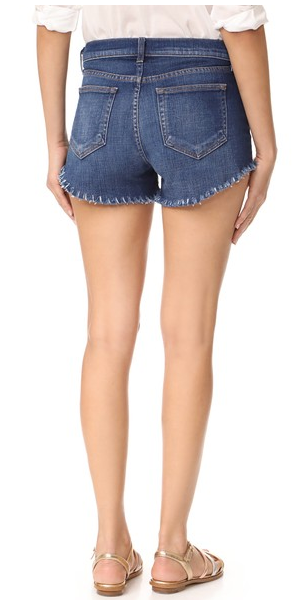 The lighter the color, the more flattering they are for emphasizing your butt size. These shorts are at a perfect high-rise to accentuate your waist and give you an hourglass shape. The uneven hem in the front and the back elongates your legs so people think your butt is held by more material, therefore looking bigger than it really is. Plus, they stretch so the more you can chug at the bar, the merrier.

Denim shorts that have a flexible hem look best when they're folded. Fold at an angle, with the longest edge going towards your inner thigh. The cuffed hem on these shorts cup your butt a little tighter and push your butt up just enough so it looks perky and firm. Bubble butt, here you come.

If you've seen girls at Coachella wearing those 70's-style bell bottoms with a trippy design, you'd agree that their ass always looks ridiculously good. Like, if Kendall Jenner's ass looks good in them, trust me. You stand a chance.

Even if they're not denim, find a soft pair of shorts with a rayon blend that have an intricate design throughout. You don't have to go to Coachella to wear these. Add them to your vacay wardrobe for a pop of color with a neutral flirty top. Guys will probably get lost in a trance staring at you as you strut your stuff. They can look, but they can't touch.

Pay attention to the washes and cuts of denim shorts to find a pair that best suits your booty. This style is created individually, each with a unique vintage wash that serves the same purpose as contouring your ass (without the glitter makeup) for a Kardashian-style belfie. Yes, that means butt selfie and no, I didn't fucking make it up. Do you think I'm an idiot? If you really want to highlight your cheeks—not the ones on your face—go for a cheeky cut that angles just enough to give a sneak peak. Booty, booty, booty, booty rockin' everywhere.

I'm kind of convinced Khloé Kardashian has some sort of chemical in her bottoms that make your ass look like you just did 1,000 squats overnight. Hmm, what might that chemical compound be called? It's fucking magical, I tell you. The length of these shorts shows off your long legs, while the material hugs your waist in just the right places to make your butt look fuller. White shorts are vital for summer to enhance your tan and add a sophisticated twist to any outfit. We'll ignore the fact that the length is super close to becoming Bermuda shorts, which I wouldn't be caught dead wearing anyway.