The Best Jeans For Your Body Type
A betch loves shopping more than she does most people and some dogs. But going to an actual store means potentially falling in love with an article of clothing you aren't sure will fit. So, you're going to either buy it anyway, hope for the best and if it doesn't make you look skinnier fit, return it or, you'll just enter the dreaded fitting room. Both options are fucking awful, but the first is def out of the question because like, tbh we're lazy. This is why online shopping > going to a physical store, ever. Trying shit on isn't always traumatizing unless it's one of two things: a bathing suit or pair of jeans. Bathing suit season is done and over with because well, it's August and fall is just around the corner (sorry, again) so jeans are the next ones up. No two jean sizes are apparently ever the same so trying them on, hoping they make your ass look good and your waist smaller is like, nearly impossible. Here's where I save the day (as usual) and save you from all that trouble. Here are the best jeans for your body type that make you look good af.
If You Have A Long Torso, Try…

Even if you're not super tall, you can just have a long torso that makes trying on jeans dreadful. You don't want to look like fucking Steve Urkel. To flatter your torso and make you v skinny, you'll want to find a pair of really high waisted jeans. These will elongate your legs, flatter your torso, and still sit comfortably on your hips so you don't feel and look hella awkward.
If You're On The Shorter Side, Try…

If you're 5-foot-something, your jean struggle is finding a pair that won't sag every time you walk, or finding the right length so you're not tripping over your own two feet. Hi, welcome to my life. My go-to style are jeans that run mid- to low-rise on my hips. They make me look semi skinny taller and still sit right on top of my ankle. This distressed pair comes in the boyfriend fit so they're super trendy, comfortable, and hug your waist just enough so you don't find yourself pulling them up every five seconds.
If You Don't Have An Ass, Try…

I really have to thank my homegirl Fergie for changing my life aka making me love my ass in jeans again. It was in that iconic song, "My Humps," where she said her ass is loved in True Religion jeans. Bless. If you have nothing in your trunk, you want to find jeans that have detailing on the back pockets to add more dimension. Any shading kind of works as your fave highlighter by illuminating your cheeks and making them pop. Bonus points if they're also mid- or high-rise because they go a little tighter on your waist, making you have the perf hourglass figure.
If You're Really Tall, Try…

The worst part of being tall and finding a new pair of jeans is finding a pair that doesn't leave an awkward gap showing your ankle. The best solution is a style that widens out at the bottom like bootcut or flare, so they're guaranteed to stay long enough to sit right on top of your foot like a normal pair of jeans should. These come in a slim fit that flatter your waist (so like, make you skinnier) and comfortably fit around your thigh since they flare at the knee. If you're looking for something to change your life, this is it.
If You Got A Big Booty, Try…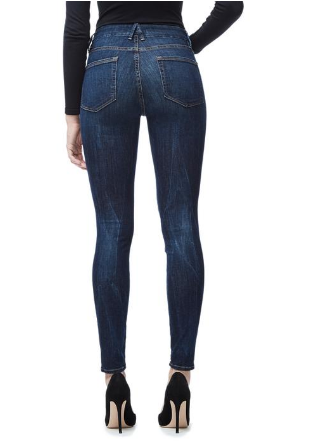 If you got a big booty and you know it, sometimes finding a pair to simply zip up without blocking your airways is like, kind of a big deal. To enhance your curves, find a high rise skinny jean to accentuate your lower half. A dark wash with light sanding will give you the perf body shape illusion and still allow you to breathe at the end of the day. Khloé literally came up with this line because she couldn't find a pair to fit her and her fake Kardashian booty comfortably so you know these will def fit like no other.
5 Trendy Pants That Are Perfect For Short Betches
Being short sucks. Trust me, I'm five feet tall. With the exception of the brief period when Deena and Snooki made "meatball problems" a thing on Jersey Shore and the fact that I could meet the height of any fake ID I used in college by carefully selecting my heels, it really isn't a whole lot of fun. Short betches understand that standing at under 5'3" means packed bars are a nightmare, getting lost in crowds is a legitimate concern and that even if you're a grown-ass adult who doesn't ever smile, people still tend to call you cute. (Yuck.)
As if dealing with random douchebags who think it's funny to pretend to use your head as an armrest wasn't enough, we also have to figure out how to find clothes that don't make us look like we're playing dress up. It's probably easier to find a rich, hot, non-annoying boyfriend than it is to find pants that fit. Historically, petite sections fucking suck… unless you're into wearing professional-length shorts from Ann Taylor. (Vom.) This season, there are tons of cool pant trends that include interesting hems, which means we can't really get them tailored. Thankfully, a few online retailers got their shit together and whipped up a few pairs of dope pants for us.
The lace-up trend clearly isn't going anywhere anytime soon, so it's probably worth it to get these pants. These will also make your legs look longer, because of the exposed strip of skin that runs straight down the leg. Plus, they're cropped and will actually hit your legs where they're supposed to, so maybe you'll finally look like a full-sized adult human for once.

Bold floral prints and fringed hems are also really popular this season, and these River Island pants are a pair that you can finally wear without needed to rock heels.

Apparently, culotte pants are super comfortable. I wouldn't know, because like I said, I still haven't broken five feet and I know that I'm just going to end up swimming in any culottes that are designed for girls with average length legs. These pants are also linen and super loose fitting, so they're perfect for nasty humid days in the summer.

To be honest, my reaction when I found these pants was so embarrassing that if someone had filmed it, I'd probably be made into a life-ruining meme. These are the kind of pants I always assumed only like, Kendall Jenner could wear, but Missguided finally made a pair for girls under 5'3".

5. Missguided Petite Grey Satin Paperbag Waist Cigarette Pants
Missguided's petite clothing selection is so good, I had to give them two spots on this list. I really never thought I'd ever want anything with the words "paperbag" and "cigarette" in the name (like… is this a bar in Staten Island or a pair of well-tailored pants?), but these are kind of perfect. Plus, the high waist will make your legs look longer, so they're pretty much a necessity.