The Betches 2019 Gift Guide: $150+
If the proliferation of Christmas music through my eardrums is any indication, it's holiday season. That means it's the one time of year when you have to think about other people and not just yourself (bummer). However, as a conceited person, I'll say that there is no rush quite like the influx of praise you receive from buying someone the perfect gift. But that is hard to do, so I've rounded up some gifts that will get you those compliments you so badly need, organized by price point. Whether you're ballin' on a budget or straight ballin' you can find something on this list.
On this list, you'll find luxe gift options for all the people you really feel like you need to splurge on. For gifts that won't hurt your wallet so badly, check out our other Gift Guides, with options under $50 and under $150.

F*ck an Ugly Christmas Sweater, an Ugly (but not actually ugly) Christmas Onesie is so much better. This has a hood, pockets (you know a bitch loves pockets), suede sleeve and elbow patches, and a two-way zipper closure (meaning, you don't have to get completely naked to pee). This is the kind of gift that you get for your bf, but really, you get it so you can steal it… if he'll let you once he feels how f*cking cozy it is.

The chances you actually want to leave your house to get a cocktail in the winter are basically slim to none. However, I know there is no shot in hell I'd be able to make myself a cocktail I actually would enjoy drinking at home so this is where I run into a problem. But we have found the solution to that with the Drinkworks® Home Bar by Keurig®, which is exactly what it sounds like. Now you can make cocktails from the comfort of your own home without knowing a thing about mixology. The liquid-filled pods that you put in the machine come with all the ingredients already in it so you just have to stick it in the machine and voilà – a craft cocktail!

La Mer is the sh*t, and even though it's pricy AF, it's worth the money. This three-piece mini regimen includes the Replenishing Oil Exfoliator, Moisturizing Soft Cream, and Renewal Oil, plus a chic little carrying case that you can definitely use as your go-to travel beauty case once you've gone through all the La Mer products.

Yeah, we getting bougie bougie in this section. To be honest, these kind of look like the sh*tty Skull Candy in-ear headphones I used to buy from Sam Goody, only without cords. But we as a society have decided AirPods are aspirational, so here they are on this list. You can get these engraved for free, which really ups the gift factor.

Nameplate necklaces, so hot right now. Don't just get a crappy one from Forever21, get a real, 14K gold, customizable nameplate necklace from the Kardashians' jeweler. You can get it in yellow, white, or the still-somehow-trendy rose gold. I have one of these, and it's legit my favorite thing.

I feel like this dress is something one of the witches in AHS Coven would have worn when they were testing to see who the next Supreme would be, and I mean that in the best way because I honestly want it rn. And if you haven't heard of the designer yet, pay attention, because Hale Bob has been featured in the likes of Vogue and Elle (and now, Betches!) and been worn by celebs like Jenna Dewan and Cheryl Burke.

This bag is perfect for holding all the sh*t you need to travel with, or take to the gym, but it's still lightweight. It comes in a number of cute colors and patterns, including the oh-so-trendy camo. (It's also important to note that it isn't an obnoxious camo.) Anyway, I feel like everyone needs a solid weekend bag, and this one from MZ Wallace is that bag.

Before you come at me for this one, let me just say that all the luggage I've ever owned in my life has been a gift from my mom. So, this holiday season, maybe return the favor? This luggage is made by the same people as Swiss Army Knives, and is seriously legit. It's got built-in space-saving features, plus a USB port, SIM card replacement tool, ID tag, and pen. 

I've participated in enough wedding gift giving that the thought of giving my college friend a crock pot infuriates me. I helped that girl do her first keg stand and now I'm supposed to act as if she's some delicate homemaker? Chances are she's going to want a pair of fancy AF shoes to change into at her wedding and these sneakers are the perfect gift to give as a group. So hit up those other bridesmaids and split the cost of this pricey but comfortable sneaker. Give the gift early enough and she'll have these for her bachelorette party too. And you know she'll be living in these on her honeymoon.
Betches may receive a portion of revenue if you click a link and purchase a product or service. The links are independently placed and do not influence editorial content.
The Betches 2019 Gift Guide: $50-$150
If the proliferation of Christmas music through my eardrums is any indication, it's holiday season. That means it's the one time of year when you have to think about other people and not just yourself (bummer). However, as a conceited person, I'll say that there is no rush quite like the influx of praise you receive from buying someone the perfect gift. But that is hard to do, so I've rounded up some gifts that will get you those compliments you so badly need, organized by price point. Whether you're ballin' on a budget or straight ballin' you can find something on this list.
Here are our best picks this holiday season between $50 and $150. For gift ideas that are a little more expensive or a little less expensive, check out our other two 2019 Gift Guides.

I feel like when you get a wine cooler, you'll know you've made it. Like, yeah, I need to cool my $12 wine, what about it? It's imported and made of 100% marble, which just sounds fancy af. There's also a white marble version if you're not into the black… but like, if you don't prefer black, who tf are you?

If your boyfriend is still going to sleep in boxers that have holes in them, get him a pair of decent pajama pants, for god's sake. They're super soft, made of cotton, and come in a couple of festive patterns. They also come in a simple dark blue and green plaid if the recipient in question is allergic to patterns that are not a neutral.

Because all the fads you loved in the 90s but have since thrown out are BACK, tie-dye is in, so get you and your BFF a matching custom tie-dye sweatshirt. All BFFS & BABES sweatshirts are hand dyed and made to order, so you won't have to worry about any gift overlap.

Composed of a #getwoke exfoliating cleanser and mask, #areweclear skin refining essence, and #youfeelme hydrocream moisturizer, this kit will seriously improve skin—but the names are so cute, it won't seem like a backhanded gift. Plus, this sh*t really works, and smells amazing.

It's hermiting weather, and what piece of attire is more perfect for that than a super-plush robe made of Turkish cotton? What about a super-plush robe made of Turkish cotton WITH POCKETS for your snacks?! Ya love to see it.

For those of you who might poo-poo this idea, I literally gave my mom a Fitbit years ago, and she's worn it every day ever since. I feel like there's nothing worse than spending money on a gift for someone, and having them never use it. 

This collab between Italian wine producer Ruffino and Brooklyn-based fashion designer Stickybaby is billed as "the ultimate gift for the Prosecco lover in your life," but I think you should cut out anyone you know who doesn't like Prosecco. Included are six mini Prosecco bottles and a transparent glitter tote—clear bags, so hot right now. Between the bag and the Prosecco, it's a two-in-one gift.

I'm a skeptic about most things in life, so please trust me when I say that using a silk pillowcase has actually changed my life. And by life, I mean skin and hair, mostly. You know when you get a blowout and you spend two hours trying to devise a way to sleep that won't f*ck it up? Yeah, you don't have to do that anymore if you have a silk pillowcase. This travel set comes with a pillowcase and a sleep mask, and it also comes in—you guessed it—black.

I am decidedly extra, hence why I'm obsessed with the rose gold. This water-resistant watch has a vegan leather strap that's made from 100% recycled materials, so you can feel good about giving it to someone. You can also personalize the band to make it that much more special. 

These leggings are so cute, so comfortable, and if you wanted to buy them individually and not as a set, the $72 price tag is not terrible. Plus, as someone with wide hips and no waist, the M/L fit perfectly—no muffin top, and they're not sliding down either. 

Look, am I the type of person who would drop a Benjamin (and then some) on a comb? No, but I also don't believe in crystals, and I feel like the same type of person would appreciate this gift. According to the Briogeo website, rose quartz is "is a symbol of loving energy that clears away negativity." So if you detangle your locks with it, you can "Comb away the day's stress and tension to rebalance and restore your scalp and hair harmony." At the very least, it looks pretty.

Yeah yeah, it's a little gender-normative, but you can give this crate to anyone who's into whiskey, regardless of gender. The crate includes a personalized hand-made whiskey decanter, 2 personalized Heavy Bottom Rocks Glasses, 2 Ice Sphere Molds, 2 Slate Coasters, a Whiskey Drinking Journal (helpful), and some nuts. I'm a tequila girl, but that all sounds pretty f*cking legit.

I f*cking love ColourPop because it's legit the same lipstick as Kylie Cosmetics but for like, $5. That was not a typo. While you could spend a million dollars (not an accurate figure) getting every Colourpop lipstick you think you'll look good in, you could just get ColourPop's Big Box of Lippie Stix, which includes 48 of their best-selling universally flattering shades, for the lipstick lover in your life. That's a $240 value, if you can do math.
Betches may receive a portion of revenue if you click a link and purchase a product or service. The links are independently placed and do not influence editorial content.
The Ultimate Last-Minute Mother's Day Gift Guide
It's a beautiful time of year. The sun is shining, we can drink outside comfortably, and Mother's Day is coming up. Since moms only get one day a year of celebration when they really deserve about 365, we as friends, daughters, nieces, granddaughters, whatever, need to make sure we are providing them with the perfect gifts. Flowers are nice, but putting some real thought behind a gift for the woman who birthed you (or any woman who birthed anyone, God bless), is nicer. No offense, but it's true. So here's a list of brands that we love and fully approve of for our Mother's Day Gift Guide, and you know you can trust us.
For the mom who's prepping for her retirement to Florida
If she's going to be living on a beach, she needs to look hot. LaserAway is her one-stop-shop for laser hair removal, Coolsculpting, Botox, and like, a million other things. If you're unfamiliar with Coolsculpting, it's a non-invasive procedure that uses controlled cooling to freeze and eliminate unwanted fat cells. In as little as three weeks, the results will appear and she'll basically have abs. Jealous? Get a treatment for yourself, too. Because we all know that even though looking fit is fun, the gym fucking sucks. LaserAway has a ton of locations and customers love it so much because they provide treatments that are driven by science, so you know it's legit. "This stuff really works!" No, but actually it does. Plus they have discount offers like, all the time.

For the mom who deserves to feel like she sleeps in a hotel bed every night
A saint in the streets and a MILF in the sheets. Sorry, that was uncalled for. I deeply apologize. Riley Home has the softest and most beautiful bedding and bath sets and we cannot get over how much we love it all. With their simple but elegant bedding, you can take her room from blah to chic easily. You've been hearing her talk about how she wants to redecorate her room for years, right? This is the first step that will get her going and then she can shut up about it forever. Some of our favorite products include the Sateen Sheet Set, Hooded Waffle Robe, and Spa Towel Set.

For the mom who's DRIPPIN
Okay, so you've definitely seen this on TV or at least heard about it. Betch goes out, betch makes bad choices, betch wakes up with a hangover so betch orders an IV drip to bring her back to life. Drip MediSpa is more than just a hangover cure, though. I mean that is the most amazing thing ever, but there are so many other drips on their menu. Yes, you order from a beautiful menu. For the expectant mom, they have a prenatal drip to help control all that nausea and exhaustion. And for the old AF mom (haha sorry, but it's true) they have a "fountain of youth" drip. Sooo rejuvenating. Book her an IV drip and she will love you SO much! Unless she hates needles. In which case Drip has plenty of other things to offer, like skincare treatments.

For the mom who never learned how to use the in-house speaker system anyway
This will probs be easier for her. Fun fact, we bump music at Betches HQ from Sonos speakers and the neighbors are jealous because they think we're partying 24/7 (we're not… not partying 24/7). Their newest speaker, the Sonos One, is everything you could ever need in a music playing device. It has a voice-enabled smart speaker, the ability to stream from more than 80 services, and is compatible with our girl Alexa. Basically, mom is about to throw a house party. But yes, you'll have to set it up for her.

For the mom who knew that charcoal was cool like, 2 years ago
Good for you, mom. Archipelago Botanicals has an ah-mazing collection of Charcoal Rose products, and they make it v easy for you by grouping them into cute gift sets. Buy your mom the Charcoal Rose candle so her powder room can smell like something other than her classic potpourri (get with the times, lady). Or she would looove the organic rose water, which is said to clean your pores and give you younger looking skin #vitality. We're also obsessed with the Charcoal Rose Body Oil because our skin has been dry as fuck due to this horrendous weather (getting better now though, thank you for asking). Basically you can't go wrong with anything from Archipelago so just like, have at it.

For the mom that deserves the world, so you'll send her to a spa
You really can't go wrong here. There's nothing that says "you are a perfect human full of wisdom and unique matronly powers and you deserve to be served heaven on a platter" quite like a massage. Good news, Massage Envy is running a special Mother's Day promotion from now through Mother's Day. You can purchase $125 in gift cards for her and receive a FREE 60-min facial. Give the facial to her…or yourself, we'll leave that up to you. You can also get her a membership to Massage Envy, which gives her a reason to make an appointment every month…because again, she deserves it.

For the mom who's best friends with everyone at her salon
Mom, you're embarrassing me. But at least your hair looks fab. And since she accepts nothing but the best when it comes to haircare, you should definitely introduce her to Seven. Their products are created by a team of stylists who wanted the perfect blends for their salon, so you know their stuff works. Our favorites include their Gazar Diamond Serum, Satara Texture Cream, and Satara Relax Serum. That was really hard to narrow down to just three, though. They have pretty much anything you could ever need to keep your hair in check, especially now that humidity is going to be a thing. No more dull hair, no more fly-aways, no more frizz.

For the mom who's tried every anti-aging method and product in existence
Chill out, just use Algenist. This award-winning beauty brand has unlocked the secret powers of algae, one of the most nutrient-rich plants in the world, to create anti-aging products with clean and safe formulas. Science! Its natural and clean ingredients make Algenist's products  non-comedogenic, hypoallergenic, and they're good for all skin types. So if your mom also happens to be a hippie betch…this is the stuff. Our favorites include their Complete Eye Renewal Balm, Sublime Defense Ultra Lightweight UV Defense Fluid (say that 5 times fast), and their Sublime Anti-Aging Blurring Moisturizer. And they have way more than just anti-aging stuff, they have legit everything to save your skin and you need to check it out.

For the mom who enjoys the simple things in life (and a good laugh)
Obviously we need to talk about our Mother's Day cards from Shop Betches. Sometimes we have like, nothing left in our bank account and can't afford a present, but that just means we have to step up our card game. It's perfect because the hilarity of the card will balance out the heartfelt sappy note you leave for the most perfect mom. And if you have more than like $6 in your bank, your mom will litttterally die at our "Ask Your Father" hat.

For the mom who parties harder than you
She's gonna be the baddest bitch on the block when she finds out about this. In case you somehow haven't heard, Three Olives launched their newest vodka this April, and it is rosé flavored. You read that correctly. If there's one thing I'm sure of, it's that every mom in America loves rosé. And now she has something to whip out at dinner parties that get a little rowdy. Or at book club. Either one works. Also it's pink (duh) so it will just look really pretty as a gift from you.

For the mom who wants to know what all the cool jams are
What's the 411? Operator, patch me through to Fenty Beauty. That was so dweeby I'm sorry. Anyways…we all know that anything Rihanna touches turns to gold, and her beauty line is no exception. And for the trendy mom, we recommend going with Fenty all the way. Our faves include the Body Lava Body Luminizer to give mom that effortless glow, and the Universal Gloss Bomb which looks amazing on every betch.

For the mom who always has her shit together
Rude that you didn't pass that trait down to me, but whatever. It's no secret that we are ob-SESSED with Philosophy. Everything they make smells amazing, it all works great, and there are just so many options to choose from. All our homes are filled to capacity with Philosophy products because we can't help ourselves. Our favorites for Mother's Day include their Amazing Grace Candle, which makes your place smell like it's filled with flowers from your non-existent boyfriend. Also loving their new Amazing Grace Ballet Rose fragrance. Their packaging is so pretty and light so it will look beauteous as a gift.

How To Watch Football When You DGAF About Sports
For girls who never had brothers got into sports, football season can be boring af difficult. Like, on the one hand you don't want to miss out on important social events just because you don't understand what's going on. On the other hand, you're a grown-ass woman and have no intention of learning about football ever. Like, if your one sporty friend, every man you've ever met, and Friday Night Lights couldn't get you to give a fuck, then it's not going to happen now. Watching football for a non-football fan is honestly like having an English major go to medical school. What do these lines mean? Who are these people, and why are they running? How do these points work? Is there a God, and if so, why didn't he gift me with the mental capacity to understand a game that literally every dumbass in my life understands? These are just a few of the questions that are raised during your average football game. Speaking of which, how fucking long is a football game? Based on my research, they are a minimum of 20 hours long, with a potential to go longer. If you've ever been stuck watching football with a group of dudes you're only semi-interested in boning, this video is for you:
Not sure what to wear for your next football-related event that lets everyone know "I'm just here for the wings and vodka shots?" Try our new IDC About Sports tee, only at Shop Betches.

This 91% poly 9% combed and ring-spun cotton tee is super comfy and the perfect thing to wear to every tailgate you'll inevitably be dragged to. Buy it here at Shop Betches before it sells out.
It might even trick a few non-readers football fans into thinking you're one of them.
This Wine Workout Will Get You Toned And Drunk
It's basically the summer, which means you should have gotten your summer body in gear approximately two months ago. But you didn't because you were too busy eating spray cheese straight out of the can and crying over how cold it was outside. I don't think I have to tell you this, but you played yourself. Luckily we've got you covered with a workout that combines your least favorite thing (exercise) with your favorite thing (wine!). That's right, we made a WINE WORKOUT. There is a God and that God is us.
To do this workout, all you need is a bottle of your fave wine. Preferably a full bottle, but I guess if you're incredibly weak you can pour some out drink some and then screw the top back on (because I know you're not classy/adult enough to buy wine bottles with a cork).

Do each of these moves for the suggested amount of reps, then repeat the circuit three times to get the full effect. Reward yourself by drinking the entire bottle of wine by yourself after. You're welcome!
1. 15 Planks Each Side

Dog optional.
2. 10 In-Between Lunge Things

This one requires a certain amount of coordination aka you not dropping the wine bottle. Perhaps best to do this on a carpet or like, a mat so you don't end up with shards of broken glass everywhere.
3. 20 Squat Jumps

For more squat exercises to get your ass in gear (literally), click here!
4. 20 Toe Touches

It should start to burn now. If it doesn't, you're doing something wrong.
5. 15 Of Whatever TF These Are

I think maybe it's like a bicycle? With some weaving action? IDFK, I'm drunk.
Repeat 3 times and cool down with a 30 second chug.
And for all of you wondering "Wait I kind of want that Help Me I'm Sore" shirt, we're 10 steps ahead of you. Get your very own Help Me I'm Sore shirt at Shop betches! Click here to buy.

One more time for the people in back: Buy your Help Me I'm Sore shirt here! Try not to spill wine on it.
Shop Our New Chic AF Get Lit Candle Collection!
Nothing says "I'm super chill and totally have my life together" quite like an apartment full of candles. Like not crappy candles though, so don't try Sears. Instead, check out the new chic yet funny af candles from Shop Betches!! Not only do these candles smell fucking amazing, but they say hilarious stuff that'll make people think you're like, sooo funny and charming just for owning them. We're calling it the Get Lit collection so you already know what it's about to be.
Maybe you need to cover up the smell of your roomie's cat so no one mistakes you for the crazy cat lady? Perhaps you forgot to get your bestie a bday gift? Or maybe you need to spice up things in the bedroom since you haven't added a new fuckboy to the roster lately? Whatever your reason, you'll want these in your home, your fuckboy's home, your parents' home, your friend's home…You get the point. If you weren't already obsessed, they come in NEW chic AF packaging, making them the perfect gift for every ocassion. Just maybe choose wisely which one you buy for which ocassion. Or be super hipstery ironic about it IDGAF. 
So here's a list of them in no particular order:
When a boy comes, you should always have something baked. We know you can't even manage Tollhouse pull-apart cookies, so fFake it 'til you make it. This candle smells like chocolate chip cookies so you won't even have to worry about setting a small fire in your oven.

Don't be mad at us if you get 16 of these candles sent to your house from various fuckboys trying to send a message. It's Champagne scented so you can pretend to be classy…just like you pretend you don't give head on the first date.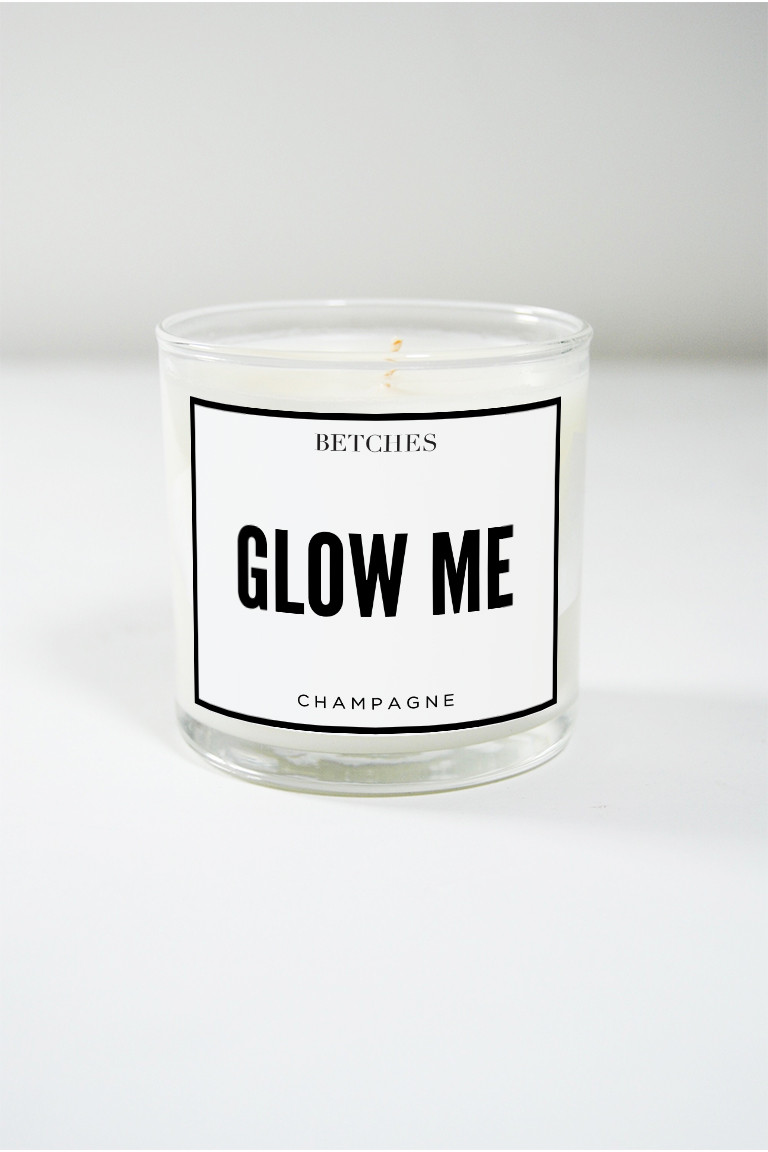 For your friend who won't give up her assertions that the 2000s was the golden age of hip-hop, this candle smells like cucumbers, everyone's favorite smelling dick-shaped health food.

And because we're like, such good people we brought back our best-selling OG line of candles! Here's the lineup in case you forgot:
You loved it, you bought it, and now we brought it back. This candle smells like grapefruit for the healthy yoga goddess within you. I mean honestly I'll probs just light this one and pretend I do yoga and eat salads as I watch Netflix on the couch. Whatever. Still zen AF. 

This one smells like wine and roses which makes it super classy. You can pretend to be mature and light it at your next wine and cheese party. Who am I kidding? You can just light it at the pregame instead. That's kinda what it's for.

This one smells like vanilla which, TBH, is such a neutral smell it'll please everyone. Plus the label is censored so people will know you're chill enough to drop an F bomb or two, but also you know how to keep things vanilla appropriate.

So what are you waiting for?? Shop the Get Lit collection now!!
Study Says You Shop Too Much Because You're Jealous (And Crazy)
To paraphrase the esteemed Big Sean, betches don't give a fuck. When our bosses tell us to spend less time reading recaps of Vanderpump Rules, we politely agree and move on to scrolling through Jax Taylor's Instagram. When our besties beg us not to post a photo ("my eyes are crossed and I have six chins!" they say, as if we care) we filter that shit and post away because we look hot AF. When the human equivalent of gas station nachos becomes POTUS, we spend all weekend blacking out and ignoring current events. TBH, we were going to do this anyway, but you see my point.
Every once in a while, though, a fuck or two sneaks in and we get a little jealous. Even Beyoncé does it though, so it's okay. 

But according to science, that little flicker of jealousy (which may or may not leave you six years deep into your boyfriend's ex's Facebook at 3am) might be responsible for the betchiest of pastimes: shopping beyond our means.
In a study published in the Journal of Consumer Psychology, scientists did a bunch of experiments which are way too boring to lay out here. The takeaway is that people who were made to feel jealous of their romantic partners were more likely to buy eye-catching shit like gold lamps and brightly colored coats later. Basically, it's the same logic you use whenever you start dressing like you're performing at the Victoria's Secret Fashion Show whenever you catch someone standing too close to your SO (so like, within two feet).

Next time you're whipping out your credit card for some coral lipstick you definitely don't need, stop and consider whether you're doing this because you actually want it, or because you're being driven by the fires of a jealous rage. Then buy it anyway, because who gives a fuck?