Is 'Bridgerton' Actually Good, Or Are We Just Horny In Quarantine?
If you spend any time on the internet, you've noticed that everyone is talking about Bridgerton, the Regency-era Netflix series based on the best-selling novels by Julia Quinn. Executive produced by Shonda Rhimes, the show is just as soapy and sexy as one would expect, following young Daphne Bridgerton (Phoebe Dynevor) as she makes her debut in London society. 
At her first presentation, Daphne is quickly singled out by Queen Charlotte (Golda Rosheuvel) and later, by the mysterious author of the town's new and instantly popular gossip rag, Lady Whistledown (voiced by Julie Andrews), as the season's "incomparable" debutante.
I'm sure you can guess what comes next: drama, gossip, scandal, love. Throughout the season, Daphne Bridgerton is the benevolent prom queen of society, whose only flaw is her own naivete and whose biggest problem is that she wants the emotionally unavailable Duke of Hastings (Regé-Jean Page), whom she obviously eventually gets. (Been there, minus the getting him part.)

Needless to say, I watched the whole first season in a day. Still, I'm left wondering… is Bridgerton really that good or is everyone just bored, horny, and desperate for new content after their millionth rewatch of The Office?
For me, there was never a question of whether or not I would watch this show. If we've got ballrooms and tea parties and mention of "lands and titles", I'm all over it. And so are my mom and grandma. The difference here is that, for once, so was everyone else. 
Maybe I've just been teased one too many times for being obsessed with period shows, but when this one shot up to number one on Netflix and was trending on Twitter, I was caught off-guard. Like, oh, now y'all are interested in a dowager viscountess trying to marry off her eldest daughter? Wow… I mean, welcome, but I've been about this life. So, when it comes to Bridgerton, what got everyone so excited about this particular period piece?
The release date definitely factored into the show's popularity. The show debuted on December 25, 2020 in the throes of covid winter, on a lonelier-than-usual Christmas. Of course, with nothing to do but devour anything the TV gods throw into our zoo enclosure, we ate it up. 
But I would be remiss to claim that the masses are enjoying this show simply because of how desperate we are for new TV. We're not just longing for any kind of TV. Now more than ever, the culture is thirsty for beauty and fairytales, and Bridgerton definitely delivers in that department. Each episode is a silk-laden, candle-lit tour through heavily draped salons, opera houses, and ballrooms. While I'm wearing the same oversized sweats I've been in since March of last year, the ladies of Bridgerton are always being fitted for gowns to wear to the decadent parties we ourselves can only wish to attend.

While still set in Regency England, Bridgerton takes place in Shonda Rhimes' Regency England. That distinction is important. Shonda feeds us what she knows best on a silver spoon. From Scandal to Grey's Anatomy, she's got the whole "We can't be together because I'm damaged and unavailable and also what would society think?? Also we are both sooo sexy" genre down pat. Shonda was born to create a period piece for the contemporary era.
Sure, we get the same thrill of seeing a brooding man in a poofy blouse that all other Austen-esque screen adaptations promise to provide, but Bridgerton has its modern twists. For one, Daphne's love interest, The Duke of Hastings, is Black, as is Queen Charlotte. While some historians believe the real Queen Charlotte had African ancestry, her reign certainly did not usher an era of racial equality into court as is represented in Bridgerton. Still, while producers have repeatedly enforced homogeneity in casting in the name of historical accuracy, Bridgerton will surely set an example for how diversity helps rather than hurts a historical drama. 
What else do we get that other period dramas leave us wanting? Sex. And lots of it. I love a BBC miniseries as much as the next gal, but what those shows usually lack in boning, Bridgerton provides. Daphne Bridgerton, who starts out as the virginest virgin to ever virgin, goes from never-been-kissed to getting pounded out in a library quuuuuuick. And you know what? I love that for her. I may be single and typing this next to a body pillow, but I do. I love that for her.
Okay, so the show is pretty, sexy, and uniquely diverse for a period drama. It came into our lives when we needed it most. But is it good? Well, honestly, I could answer that question with another question: does it really matter? 
For a second we got to sit at a big table that Shonda set. Was she serving anything completely new to us? Maybe not, but the dishes were familiar, the place settings were gorgeous, and I went home full. And that was plenty. 
Images: Liam Daniel / Netlfix; Giphy (2)
Everything We Know About The New Anna Delvey Netflix Series
If there's one thing you should know about me, it's that I have truly been living for America's favorite scammer: Anna Delvey. Last year felt like The Year of The Scam when story after story fed the news cycle about people getting screwed over by con artists, but none were so captivating as the story of the broke millennial who managed to scam New York's elite, and one Vanity Fair photo editor, out of all of their money, one happy hour and lavish vacation at a time. An icon, truly. 
For those of you who are unfamiliar with Anna Delvey's story, then may I just say, what a magical place must be the rock you live under. Do you also consider your home to be an enchanted tower where your only means of exiting is via the 40-foot-long braid you grew from your own head? Because I'm seriously at a loss as to how you could have missed the SCAM TO END ALL SCAMS. But fine, mole people, I suppose I'll humor you. Anna Delvey aka Anna Sorokin posed as a German heiress and managed to infiltrate her way into Manhattan's elite social scene before conning her friends and business partners out of a cool $275,000. Since her trial and sentencing last year (she's currently sending selfies from Rikers Island, where she'll be for the next 4-12 years serving time for her fraud), her story has continued to fuel the news cycle and also my will to live. More recently, My Friend Anna, a tell-all book written by Rachel Deloache Williams, one of Anna's former friends and victims, was published over the summer. And now, friends, it gets even better, because Netflix released casting details about the series they are producing based on the fake heiress' life. 
The show, entitled Inventing Anna, is based  off of Jessica Pressler's original damning 2018 New York Magazine article "How Anna Delvey Tricked New York's Party People" and will focus on the relationship between Anna and a journalist who attempts to get to the truth about Anna amidst her trial. Who will take on the small screen adaptation of such a sordid and twisted tale, you ask? MOTHERF*CKING SHONDA RHIMES, THAT'S WHO. That's right, the woman who has been treating my fragile emotional state like an Auntie Ann's pretzel that she can twist and manipulate to her liking through 16 seasons of watching the absolute tomfoolery that occurs at a little place called Seattle Grace Hospital, will be taking on the story of Anna Delvey. I honestly could not think of a better person to tackle this monumental task. If there's one thing Shonda Rhimes thrives off of, it's messy drama, and nothing is messier than a broke millennial with an apparent aversion to hairbrushes taking New York's richest for all they're worth.
Netflix just released the cast list for the series, and it is everything I hoped it would be and more. Julia Garner, who just won an Emmy for her role in Ozark, will play Anna herself. In a press release, Netflix describes the role of Anna as "a young woman in her mid-20s with a hard-to-place European accent who takes New York by storm. Either a brilliant businesswoman or a scammer extraordinaire, Anna in turn inspires loyalty, compassion, contempt, and obsession—all while leaving behind an emotional body count."  AN EMOTIONAL BODY COUNT. Well, at least Shonda won't be able to kill off any of Anna's friends and family members. For once. RIP MCSTEAMY—I'll never forgive you for for that one, Shonda!
Next up, we've got Anna Chlumsky from My Girl and Veep fame, who will play the journalist (aka Vivian) investigating Anna throughout her trial. Apparently Vivian hopes that Anna's story will be the thing that revives her career, but the more she investigates Anna, the more attached she becomes. So basically she's me. Anna Chlumsky will be playing the role of me. Can't wait to watch the scene where she skips out on a happy hour and other basic human interaction to scroll through Anna's IG feed for 20 hours straight!
Other cast members include Laverne Cox, who will play Kacy Duke, a celebrity trainer and life coach who gets sucked into Anna's inner circle; Katie Lowes of Scandal fame, who will play Anna's friend Rachel (aka the author of My Friend Anna); and Alexis Floyd, who's set to play the role of Neff, the concierge who worked at the Soho hotel Anna frequented (on someone else's dime). Earlier this year, news broke that Lena Dunham was also working on an adaptation of the Anna Delvey story for HBO, but there have been no updates since the summer.
While there is no date set for the series premiere at this time, we're told it will probably air sometime in 2020. The series is slated for 10 episodes, which lets me know that I'll need to clear my schedule for at least double that: 10 hours to watch the show, and another 10 to unpack wtf I just watched and see if there's any way to incorporate Anna's tactics into my next Ship date. I've got some credit card debt I need paid off. Until then, start clearing your schedules now, because it ! is ! happening !
Images: Getty Images
Ranking The Dead 'Grey's Anatomy' Characters From 'Girl Bye' To 'Come Back'
This Sunday marks the 14th anniversary of the premiere of Grey's Anatomy. That's fourteen years of death. Fourteen years of devastation. Fourteen years of doctors who have no right being as hot as they are having sex with other doctors who also have no right being as hot as they are.
For most of us, Grey's was our intro to Shondaland—our gateway drug into a world where outrageously attractive people live outrageously dramatic and high-stakes lives. It's the formula for perfect television, and no one does it better than our girl Shonda Rhimes. How does one woman have the capacity to dream up such heartbreak? Such horror? Such gut-wrenching twists that leave people (read: me) literally screaming at their televisions, clutching their official Olivia Pope-approved wine glass? The world may never know, but we respect the hell out of her for it.
To mark this momentous occasion, we've ranked the saddest death's in the last fourteen years of Grey's Anatomy. While not inclusive of every death in the show (because truly none of us have time for that), it covers the ones that left us sobbing, ruing the day we ever decided to step foot in Seattle Grace – Mercy West – Grey Sloan Memorial hospital.
Reed Adamson

Reed sucked. Her death was the only redeeming moment in the otherwise horror-filled 80 minutes that was the hospital shooting.
Heather Brooks

This one was so wild that I'm still offended on behalf of Brooks. In a show full of outrageous and reality-defying deaths, our girl dies by… Electrocution? Seriously? It was as underwhelming as her entire presence on the show.
Craig Thomas

TBH if Cristina's Midwest mentor hadn't been played by Mr. Feeney, he probably wouldn't have even made this list. NEXT.
Charles Percy

Watching this comically large man bleed out in Dr. Bailey's tiny arms was so much sadder than I anticipated. I couldn't feel much after this episode, but I felt that.
Henry Burton

As a lifelong Scott Foley fan, this was especially offensive. As someone who has come to expect the absolute worst from this show, it was entirely expected. Teddy and Henry were never going to get to be happy, and we all knew that from the start. But we have Henry's death to thank for Scott Foley's role on Scandal, so not all was lost.
Ellis Grey

Ellis was a truly horrible woman, and the fact that she finally admitted that she kind of liked her daughter moments before her death does not redeem that. Like, really? That's it? That's your bar for motherhood? You're all sad.
Denny Duquette

This scene, Izzy's cupcake of a dress, and the Snow Patrol soundtrack that accompanied it, will be forever burned in my memory. It truly had everything. Hospital prom? Check. Illicit hospital sex? Check. The launch of "Chasing Cars"? Check. My understanding of why Izzy was so wildly in love with a guy she had known for a few weeks? Still nowhere to be found, even twelve years later.
Adele Webber

Adele dying during Bailey's wedding is the single most Adele move of all time. While I was sad for Richard, I was also secretly relieved, because I could not have withstood one more episode worth of her Alzheimer's storyline.
Derek Shepherd

It's been a few years since this went down, so I think it's time that we all take a step back and acknowledge what we all know to be true: Derek was an asshole. Straight-up. He cheated on his wife, but somehow it was Meredith's fault. In fact, it seems like almost everything was Meredith's fault, even Derek's actual death. The man survives a shooting, a plane crash, and a car accident, only to die at a lesser surgeon's hands? Dramatic irony at its finest. The fact that Meredith is vilified for unplugging him, meaning that even in death, Derek has condemned his wife to a lifetime of guilt and trauma? Poetic cinema.
George O'Malley

This will be an unpopular opinion, but George kind of sucked? The man was a walking bundle of unrequited love and adequacy issues that I, for one, got sick of real fast. However, that didn't make his death any less tragic. The fact that he laid there, dying, surrounded by his friends who didn't even know who he was, is probably the most George O'Malley move of all time. The reveal was truly a twist, and while I wasn't his biggest fan, I wish he hadn't died solely so we didn't have to watch the extended Izzie mourning cycle that followed.
Samuel Norbert Avery

I started watching Grey's Anatomy because I wanted to witness hot doctors perform incredible feats in between bouts of inappropriate hospital sex. I did not sign up to watch an infant die in their parents' arms, especially when one of those parents is Jackson Avery. Hard pass.
Lexie Grey

Shonda Rhimes has personally victimized me many times, across multiple TV shows, but nothing compares the her making me sit and watch Lexie bleed out as Mark tearfully talks about spending the rest of their lives together. I just re-watched the scene, foolishly thinking I'd been hardened by time or something, and cried at my desk at work.
Mark Sloan

Mark Sloan was the best character on Grey's Anatomy, full stop. His redemption arc from sleazy plastic surgeon who would put his d*ck in anything to doting father with a heart of gold has given me unrealistic expectations for men for probably the rest of my life. The fact that his death was caused by what I consider to be one of the worst subplots of the entire show only adds insult to injury. You're telling me he had to watch the love of his life slowly die out while being crushed by a plane engine and then, just when we all thought he was out of the woods (see what I did there), Mark is taken from us by a coma. A COMA? It's unjust. It's unfair. I could have watched ten more seasons of Mark Sloan smirking beneath his surgical mask. It's what we deserve.
Images: Disney ABC Press; Giphy (13)
Lena Dunham Is Making A Show About Fake Socialite Anna Delvey
This week, The Cut published a profile on Lena Dunham. The piece is being hailed as a refreshing look at female pain, and an illuminating profile on someone from whom we all assumed we'd heard more than enough. While the piece was indeed less insufferable than I feared it would be, one piece of information included was enough to ruin my day. Lena Dunham has a deal with HBO to create a series on fake German heiress (and real Russian scammer) Anna Delvey. You may have missed that tidbit in the extremely long profile, but yes, a Lena Dunham show about Anna Delvey is supposedly in the works.
In case you don't remember Delvey's story, here's a quick refresher. Delvey broke into the NYC socialite scene after a Parisian fashion internship. With vague claims about wire transfers and generational wealth, she scammed her way into almost $300,000 in unpaid bills for her luxurious lifestyle. She even made up a fake financial adviser, whom she then killed off when people grew suspicious. Last we heard from her, she was somehow Instagramming from Riker's Island. In other words, a baller through and through.
Me to Anna Delvey: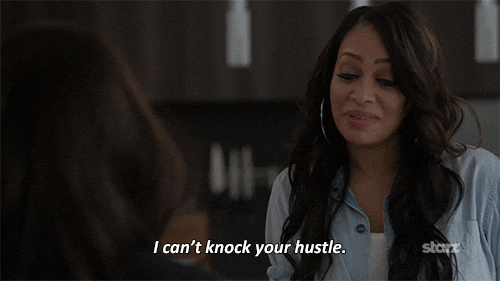 Lena Dunham, last we heard from her, was making a show called Camping, of which no one I know has been able to stomach more than one episode. And yes, we all watched all of Girls, but very few of us felt ultimately good about it. As far as careers go, Lena Dunham's has aged about as well as the box of Chinese takeout I ordered on Saturday night that's still sitting in my fridge. Seeing as Anna Delvey's story of scamming has been a bright spot of joy in an otherwise bleak news cycle, I'm not thrilled about the prospects of a Lena Dunham show about Anna Delvey. Like, ruin Williamsburg all you want, but when you come for my scammers? That's where I draw the line.
The good news is that Lena isn't the only person who's been given the opportunity to translate Delvey's scamming stories to the screen—we've known for a while now that Shonda Rhimes was also tapped to create a series for Netflix about her. Now, when I heard Shonda Rhimes was making her own Delvey show, I was thrilled. Rhimes' handle on sexy, fast-paced drama is exactly what Delvey's story needs. We need secret love affairs, high-fashion montages, and constant overlapping power plays. What we do not need is mournful shots of Delvey on the toilet while a Belle & Sebastian song plays.
The silver lining here? Whatever it looks like, the Lena Dunham show about Anna Delvey can't possibly be as bad and/or offensive as her adaptation of a Syrian refugee's story will be. Cheers to that.
If you love scams, cults, conspiracies, and true crime, listen to Not Another True Crime Podcast! New episodes out now.
Images: Getty Images; Giphy (1)
The Best Shows And Movies Coming To Netflix In May
April is finally almost over, and we are legit excited. No, not for actually nice weather or "spending time with friends." April ending means it's finally time for Netflix to drop its May selection, and, tbh, the new lineup is lit. From tearjerkers to comedies, we can't wait to ignore the sunshine and blow off nights out for some serious binges. Here's our roundup of the best shows and movies that Netflix is #blessing us with this May.
1. 'John Mulaney: Kid Gorgeous Live at Radio City'
Okay, not to, like, brag or anything, but I was at this taping and it was the funniest thing I've ever seen. You may have caught John Mulaney on his recent turn as SNL host, which spawned the iconic Diner Lobster, but this is even funnier. Mulaney, a former head writer for SNL and the king of Netflix standup, is perfect for those nights when you just need a pick-me-up or want to showcase how ~cool and into comedy~ you are.
2. 'Dear White People' Volume 2
Come for the humor and stay for the social commentary. Dear White People volume 1 had us laughing, crying, and gasping at all of the drama. This is def a series that you can binge and feel good about, because you're #educating yourself. But also, it's just really really good.

3. 'Riverdale' Season 2
You know what? I'm not even gonna be a Riverdale apologist. Riverdale is the best television show of our generation, and, if you don't believe me, read our recaps. This show has everything: murder, really dramatic lipstick, a musical?, and teenagers that are like, incredibly unsupervised but also pretty stupid. It's the perfect television show, and I won't budge on this.
4. 'Mamma Mia!'
Our Lord and Savior Meryl Streep has ordained that her overalls may grace our laptop screens, and I'm literally so excited. Does Mamma Mia! have a plot? Like, kinda? Can Colin Firth sing? He tried, and that's what matters. Will I still be cry laughing as Meryl Streep has an absolutely preposterous wedding set to ABBA music that's just, like, shoehorned in there? Abso-fucking-lutely. Also, a great way to pregame for Mamma Mia 2, which is hitting theaters July 20.

5. 'Unbreakable Kimmy Schmidt' Season 4
This show is absolutely bonkers, and I can only hope Tina Fey read any one of my 200 tweets in the past year so that Unbreakable Kimmy Schmidt season 4 does not disappoint like season 3 did. Since UKS is a Netflix original, it's like a very rare shooting star, in the sense that it only releases one season once a year. What is frustrating about this is the season is usually very good, funny, and has lots of thoughtful takes on the residual effects of trauma and womanhood. Tina Fey, you sly fox. Also, if you haven't watched Peeno Noir, what are you even doing with your life?
6. 'The 40-Year-Old Virgin'
A biting documentary on the effects of toxic masculinity in today's world—no, just kidding, this is a fun and raunchy sex comedy from Judd Apatow and Steve Carell. Carell plays a 40-year-old man, who, you guessed it, is a virgin. But there's a whole lot of heart and laughs under this…interesting premise. It's perfect for a movie night with the girls and guys.

7. 'Coco'
Just thinking about this movie makes me cry a little. Once that Pixar logo comes on, you know you're fucked. But this little story on the Mexican Day of the Dead, clocking in at only 90 minutes, is jam packed with lovely music, beautiful animation, and the ~magic of family and tradition~. If you're in need of a cathartic cry, or a snuggly night in, pull up a blanket, grab some tissues, and get ready to belt out hum "Remember Me."
8. 'Scandal' Season 7
It's hard to believe that we once lived in a world without Scandal, but it's sadly finally come to an end. With 15 episodes, just accept now that you will say, "just one episode!" and lose your entire weekend to this final season. We honestly can't keep up with all of the twists and turns, but we can guarantee that Olivia Pope will look into the distance, contemplating the intricate and fucked-up power dynamics of politics, and Kerry Washington's coats will only get more powerful.

9. 'Ibiza'
This Netflix original comedy looks lit. Starring Gillian Jacobs, Vanessa Bayer, and Phoebe Robinson as three best friends who head to Ibiza for a "business trip," they meet a hot DJ and have their lives forever changed. It looks like it'll be the perfect girls night in movie. Pop some cheap wine and get ready to laugh.
10. 'High School Musical 3: Senior Year'
Obvi, I had to leave the best for last. The final movie in the series, High Musical 3: Senior Year has everything that made us love HSM so much. Zac Efron roaming the halls of his high school screaming? Check. Sharpay getting absolutely shafted, but still tossing off iconic lines like it's nothing? Big check. A strange subplot about underclassmen trying to steal their identities? Yup, naturally. Why does Gabriella start college literally a month before high school ends? I don't fucking know, but she does set an important precedent: always choose Stanford over the fuckboy. Of course, it closes out with them singing We're All In This Together in graduation robes, because, guys, we are all in this together. And by that, I mean that we will all be streaming this an embarrassing amount of times.

Images: Giphy (5); Unsplash (1)
'How To Get Away With Murder' Finale Recap Part 2
The episode could have ended here. It should have ended here. We shouldn't have had to sit through another full hour of debauchery and flagrant disrespect for any and all legal processes. But that's not how this show works.
Everyone is in high alert after the Denver discovery, in large part because Connor has gone missing. While Laurel is convinced that he just went ahead and took the deal to save himself, no one else is quite as sure. Michaela and Oliver go to the police, Asher and Bonnie go to Atwood, and Annalise goes to the source itself: Sylvia Mahoney.
Where is Connor exactly? In what looks like a subterranean bunker where Denver is taunting him with shitty breakfast sandwiches in the hopes that he'll turn on Annalise. Does that perfect little twink look like he eats fast food eggs? Nice try.
The Annalise v. Sylvia showdown in a bougie Manhattan restaurant is everything. If I was sitting there eating a $30 salad and heard the woman at the table next to me tell her friend to shut up and listen, I would be full Rihanna. There would be no pretending that I wasn't leaning out of my chair to listen.
Sylvia: Of course I defend Charles, he's my son. It's my job.
Annalise: No, you job was to raise a good man.
Me, completely ignoring my Nicoise: 

The best little nugget from that scathing conversation? Turns out Wes wasn't Wallace's son; he was actually Charles'. That means Sylvia was Wes' grandmother, and idk if this makes things any less weird but it's still weird.
Me sitting around trying to do the math on Charles and Wes' ages like:

Annalise goes with her gut and decides that the Mahoneys are no longer involved in this case, because Sylvia probably wouldn't murder her grandson. I'm not so sure. Rich white people do crazy things.
My new favorite bit on this show is "Asher keeps forgetting that Laurel is pregnant and repeatedly waves smelly food in front of her face." He is truly one of the last rays of sunlight we have.
Speaking of, Asher sees that the world is burning down around them and decides there is no better time than the present to tell Michaela that he loves her. She responds by sprinting to the bathroom, where Laurel is puking. The most relatable reaction thus far.
Michaela: I had a bad childhood. I never learned how to love or be loved. It's not my fault.
Me: Three strikes this episode you are OUT, drunk girl.
Not content to look suspicious enough as is, Annalise heads back to her burnt down house/active crime scene. You know, for the nostalgia. She finds a box in the floorboards that contains the photo of her, Sam, and her dead baby. Again, I get the sentiment, but fuck the nurse who suggested that photo be taken.
The conversation with Sylvia drug up a lot of old trauma for Annalise, which is rough considering she is still trying to figure out how to deal with Wes' death. Don't worry, this will come to fruition in a closing monologue that should honestly be awarded an Oscar. I know it's a TV show. I know they don't give out Oscars for single monologues. I don't care.
Meanwhile, Connor is still being berated by shitty food and even shittier defenders of the goddamn Constitution.
Denver: Sign the deal by midnight or we frame you for Wes' murder.
Connor: You are corrupt and also STUPID.
Denver: …. tight, previous statement still stands.
Connor finally cracks and tells Denver that Oliver has a copy of Annalise's phone. They bust into his apartment with a warrant, making everyone slightly suspicious of what the fuck Connor is doing. Oliver swears that he told Connor there was nothing on the phone, and therefore Connor is just buying them time. But apparently there was something that not even Oliver's expert hacking could find.
Annalise reveals that, moments before the fire, Wes had left her a voicemail in which he fully admitted guilt for both Sam and Rebecca's deaths. Annalise deleted it because she didn't want to implicate him when the police took her phone, but now that he's dead Wes is the perfect scapegoat.
Laurel rides in, once again, as Wes' White Knight and tells Annalise that she obviously didn't know Wes because this isn't what he would have wanted. Uh. Laurel. You knew him the exact amount of time as everyone else did. Also, you are clearly the one who didn't know him, because circumventing the law with arbitrary loopholes was literally one of Wes' favorite pastimes.
Annalise: Wes would want this.
Laurel: Wes would actually want all of you to burn, but sure.
Annalise: YOU. DATED. FOR. TWO. WEEKS.

Annalise goes to Denver and not-so-delicately lets him know that she knows exactly what he did, and unless he wants the Wrath of Annalise Keating to befall him, he's going to do exactly what she says. This involves pedaling the story that Wes was a sociopath who killed himself once he found out that the police were onto the Sam and Rebecca trails. I hope that if I ever get murdered, my friends and loved ones completely destroy my reputation in order to save their own asses.
Actual depiction of Annalise outlining her terms:

Clearly everyone has been bluffing about how little clout Annalise still holds, because Denver folds almost immediately. Annalise gets her immunity. Connor is freed. All's well that ends well.
Lol jk. That never happens.
While Annalise is literally saving the day, Laurel has decided to go on a rogue mission to New York with Asher and Michaela. Her plan is to use Michaela to seduce Charles Mahoney and then somehow get him to admit to murdering Wes, who is also his son. Nothing can go wrong here.
Back in Philadelphia, Frank has also been released. I guess this makes sense considering the charges were dropped, but seeing him crawl up to Annalise and vow loyalty at her feet for the hundredth time this season was honestly not something I needed to watch.
As per usual, the episode wraps up on a dizzying montage of loose ends coming together. Some wonderful. Most not.
First and foremost, Oliver proposes to Connor. I would actually kill for a wedding episode in this show, so please God let everyone stay alive long enough for it to happen.
After flirting with Charles and getting invited back to his place, Michaela realizes she loves Asher. She tells him in the bathroom of a hotel bar with an angry Laurel on the sidelines in the midst of a disastrous plan and, honestly, it's the perfect reflection of their relationship.
Laurel refuses to let their moment ruin her one chance at closure and runs out after Charles on her own. with a gun. This is where shit truly hit the fan.
As Laurel is moving in on Charles, she's intercepted by DJ, the unnamed hitman. Except he's not unnamed, because she knows him. She knows him because he's a family friend. He's a family friend because he works with her dad. And unbeknownst to Laurel, he works with her dad as his hitman of choice. That's right.
LAUREL'S DAD KILLED WES.

As if that news wasn't devastating enough, the following scene shows us Wes' death, moment by moment, until the very end. He fought. He struggled. It looked painful. All of America sobbed. But most importantly? We learned that he didn't need to die. There was no legal reasoning or shady cover up behind it. Wes is dead solely because Laurel's dad is an asshole.
If you thought Laurel was unbearable now, wait until she finds out that she is low-key the reason Wes was murdered.
Me watching Wes die after a full season of knowing he was definitely dead:

Not emotionally destroyed enough yet? Good, because the ending scene requires your utmost attention before it breaks you.
We've come full circle as the episode ends where it began: AA. Instead of berating everyone for baring their souls, Annalise decides to take a turn at being sincere. And when this woman commits, she fucking commits.
Annalise delves into the long sordid tale of how she spent the last twenty years trying to save Wes, only to end up destroying him. Viola Davis delivers the performance of a lifetime. I know that's what people say anytime she breathes, but I mean it. Annalise finally comes to terms with Wes' death and why it's rocked her so substantially: because he's her son. In blood? No. But in every other sense of the word Annalise considered Wes her son, and now she's lost both of them. The credits roll as her shaky sobs fill the room, and it's fine I totally don't have to go on with my life as if my heart wasn't just wrenched from my body. Really. I'm chill.
Me trying to collect my thoughts and process grief for fictional characters in time to get up for work Friday morning:

I don't even know where this leaves us for season four. A deep dive into Laurel's fucked up family? Definitely. A gay wedding? Only my heart's deepest desire. Freedom for Nate? Probably never.
Until then my friends, maybe try and find a less traumatizing show to watch.
'How To Get Away With Murder' Finale Recap Part One: Wes Deserved Better
There were two general themes to the season three finale of How to Get Away with Murder. The first was "No one holds back. No one has any chill. Everyone screams their most resentful thoughts at each other." So, you know, any holiday with the family.
The second theme was "What the actual fuck," because I said it no less than five times throughout all two hours of last night's double episode. Let me just formally request here that ABC never put the viewing public through that kind of duress again, because my body cannot physically produce enough adrenaline for 120 minutes of Annalise Keating.
The episode opens on one of Annalise's AA meetings where people are divulging the terrible things that have happened in their lives that turned them into alcoholics. Meanwhile, Connor is running in public. I'm not sure which experience is worse.
Connor's clearly emotional run is interspersed with the excerpts from AA and the moment culminates in Connor almost throwing himself in front of a bus and Annalise telling everyone in group that bitching about their problems will get them nowhere because life just sucks. As if AA wasn't already tense enough.
Stranger: Have you tried meditation?
Annalise: So help me God.

Connor has told Oliver whatever happened the night of the fire and against all odds, Oliver believes him. In that case, I believe him, too, because Oliver's word is law.
Bonnie has summoned Connor, Michaela and Asher to yet another hearing in an attempt to get Annalise's charges dropped. After watching Bonnie in the courtroom all season, we all knew how this was going to go. Annalise was full pageant mom coaching her through the motions, but even that wasn't enough. To add insult to injury, Charles Mahoney has been released from prison, and his mother Sylvia straight up vows to avenge her husband's murder on live TV. Very Game of Thrones, but I'm into it.
Denver summons Nate to his office for the sole purpose of making sure he's not colluding with Annalise, because all of Philadelphia and the surrounding areas knows that she has him wrapped around her finger.
Nate: Annalise? Haven't heard that name in years.
Nate five minutes later: Annalise meet me in my car in a crowded parking garage.
The law students and Oliver convene at Bonnies to start going through case Atwood's case files when a couple of gruesome photos of Wes make Connor emotional enough to leave the room. Seeing as how Connor doesn't exhibit emotion, Michaela is instantly suspicious. Channeling her inner drunk girl, she pulls him into the bathroom for real talk.
Apparently the talk was VERY real because it shakes even Michaela's ice cold exterior. She has so little chill that, for the second time in ten minutes, Michaela brings out her inner drunk girl and blurts Connor's secret to the entire room.
Michaela: You can tell me anything, it's okay.
Michaela: HEY GUYS GUESS WHAT CONNOR DID.
The secret? Connor might have killed Wes. Connor might have killed Wes.

The fact that Connor thinks this means that he obviously didn't kill Wes. We're not going to find out who did until three seconds before the credits roll. But, the fact that Connor thinks he might have killed Wes and still let Annalise rot in jail for it means he's about to get roundhouse wrecked by everyone in the room.
Flashback: After a shockingly long sex montage, Connor checks his voicemail with Thomas' phone and hears Annalise's message. He heads to her house, pre-explosion, and finds Wes in the basement, with no pulse. He couldn't call 911 with no phone, so he proceeded to perform CPR until he cracked Wes' rib cage. Unsure of what to do and suddenly realizing that the entire room smells like gas, Connor sprints out literally seconds before the house explodes.
Man, does the room not react well to this news. After a lot of "he did it!" and "no he didn't!"  and "why can't we all just be friends??" Laurel decides to escalate the tension and just straight up tells Connor to kill himself. Yikes.
Laurel: The only good thing you'll ever do in your life is kill yourself.
Everyone:

Instead of, I don't know, apologizing for accusing Annalise of a murder that he has thought he committed this whole time, Connor goes straight on the offensive and asks Annalise if she killed Wes. Annalise immediately requests that the two of them be left alone, which totally doesn't sound suspicious at all.
What follows is a conversation that we've all lived in our heads but hopefully never truly experienced. These two people, with many months' worth of pent up aggression and resentment, just sat and screamed psychoanalyses at each other until Connor decides to prove that he has even less chill than Laurel.
Connor: ALL YOUR SONDS ARE DEAD. THEY'RE ALL DEAD. AND YOU CAN'T USE ME TO REPLACE THEM.
Me at home on my couch:

In the end, the two reach a kind of impasse where they cry and decide to believe each other. The relationships on this show emotionally drain me and I'm not even a part of them. After all is said and done, and what I'm sure was a super uncomfortable hug has passed, Annalise and Connor return downstairs where Annalise tells everyone to forgive him. The only objection is Laurel, who is still very down for the suicide plan.
Okay, I get that Laurel is grieving, but can we be real for a second. Her and Wes dated for what? Two weeks? Yes, granted, the pregnancy aspect sucks. But she's out ready to go full Taken on a family of shady millionaires for a guy that she never even got a one-month anniversary with. Can you PLEASE calm down.
Elsewhere, Nate super casually hacks into Atwood's car and finds out that she was parked in the financial district of New York moments after Charles Mahoney was released from prison, meaning that she very well could be working with the Mahoneys. Does Annalise thank him for this intel? Nah. Today of all days, she decides to suddenly start objecting to illegally obtained evidence. Are you catching on here Nate? You literally cannot win.
After an emotionally taxing afternoon that I'm sure isn't putting undue stress on her growing fetus, Laurel goes to her OB appointment and realizes that time is ticking down to the abortion finish line. All I ask is that she gets rid of it because I cannot handle a sad struggling mother storyline on top of all the other tragedy. Plus, based on her performance thus far, a pregnant Laurel would be certifiably batshit crazy.
After casing all of their files on Atwood, the team comes to the conclusion that they have nothing to pin on her. Connor volunteers to go on the stand and testify to the broken rib, which would falsify the autopsy and derail the DA's entire prosecution. It would also put him in the line of fire. This kid is literally throwing himself down the gauntlet in his efforts to redeem himself and it is so out of character that I just want to cry for him.
Nate goes to Atwood to try and get her to admit to working with the Mahoneys but she just doesn't budge. Either this woman is a good liar or an honest person. Based on my experience with this show, it's the former.
Back in court, Bonnie calls Laurel to the stand, where she puts on the goddamn performance of the century. Annalise decided that instead of having Connor implicate himself and complicate the case even further, Laurel would be the one to testify to Wes' broken rib. Our girl gets up there and waxes poetic about how she performed CPR on Wes but was too afraid to tell the police because she didn't trust them. It could have all worked, if Denver wasn't prepped to tank her character.
The DA pulls out an affidavit, signed by a teenage Laurel, stating that she had lied to law enforcement about being kidnapped in Mexico City. Having perjured herself once, the judge isn't likely to believe her now.
It turns out that Laurel really was kidnapped, but signed the affidavit in some weird family power struggle. This may seem like a throw away backstory, but considering the role Laurel's father plays later in the episode, I'm betting it becomes an important plot point in the future.
Laurel: I was really kidnapped but I had to say I wasn't to protect my father.
Connor: Sounds fake but okay.

In the end, Annalise and co. lose the hearing, meaning that the trial is still on. Did Bonnie actually go to law school? Asking for a friend. 
Not content to only throw himself under one bus, Connor heads straight to Denver's office to ask for Wes' immunity deal so that he can confess to breaking Wes' rib and hopefully still prove the autopsy was fake. While Denver is out of the room drafting the deal, Oliver (with a frantic Asher, Michaela and Laurel in tow) call him to find out why he's suddenly disappeared shortly after contemplating suicide.
Connor explains his plan and it's a testament to how bad it is that even Laurel tells him to come home. Asher decides that it's now or never, and calls the phone number that Oliver found someone placing from Annalise's home the night of the fire. While he couldn't track the caller, he could track the person who received the call and it's none other than Denver. Connor hears the burner phone buzzing and answers it, confirming that Denver has been in on this shit from the beginning.
Who placed the call? Just an unnamed hitman who happens to be the gardener that Marissa Cooper dated to piss off her mom. I hated you then and I hate you now, DJ.
How To Get Away With Murder Recap: There's No Crying In Funerals
Welcome back to another week of How to Get Away with Murder, the show that has turned my Thursday nights into a competition of "how much wine can I drink before a character has a mental breakdown." Spoiler alert: not a whole lot.
We start off with a glimpse into Wes' last day alive. He hops out of Frank's car, into a cab, and immediately calls his "In Case of Emergency" number. This alone would be suspicious because I don't think anyone cares enough about Wes to be his emergency contact. But things get weirder when he answers "It's Kristoff."
Back in the present, the entire cast prepares for two very different mornings. Annalise, Frank and Bonnie prepare for an arraignment while the law students head to Wes's memorial. Both events are a total disaster.
Laurel ruins my drinking game by having a full-blown meltdown in the middle of her eulogy. She accuses everyone in the room of being a fake friend and then storms out barefoot and crying. It was like a war flashback to my 23rd birthday party.
Laurel: Why are you crying.
Laurel: Stop crying.
Laurel: THERE'S NO CRYING IN FUNERALS
Bonne tries to pull an Annalise in court aka screaming out of turn about irrelevant matters. Shockingly enough, it doesn't work out for her. Annalise is denied bail, her charges aren't severed from Frank's, and then just to add insult to injury, her mom and dad show up. You know, things weren't stressful enough as is.
Nate suffers every ex's worst nightmare at court when Annalise's parents corner him and ask him how he's going to fix all this.
Ophelia: Why won't you help her?
Nate: Ma'am you will literally not live long enough to hear the entire answer to that question.
Back in jail, Annalise finally stands up for herself against her cell mate, who is shockingly self-righteous considering that she is also in jail. Side note: if I was in jail for something non-violent like drugs, I don't think I'd spend all my time harassing the woman in there for cold hard murder. Idk, just a thought.
After the memorial, Simon comes up to the Keating crew to offer his condolences. Oh, and to accuse Annalise of murder.
Simon: Hey guys, so terribly sorry for your loss.
Simon:
Simon: Alright, pleasantries out of the way.
Simon: How are you coping with the fact that your mentor murdered your friend.
Simon: Also do you all have raging mommy issues or what.
Meanwhile, Laurel has gone on a leisurely, barefoot stroll to the morgue—as one does—where she's hoping the clerk will abandon all legal and ethical standards and let her view Wes' body. When that doesn't work out, she casually tells the woman she'll be going to hell some day and walks out, which is how I'm going to handle any minor inconvenience in my life from this moment forward.
Oliver gets a summons from the police department and everyone waits approximately .2 seconds before spiraling into a total panic. You would think this is the first time anything remotely like this had happened to them. To be fair, I believe I threatened actual bodily harm to Shonda Rhimes when we all thought Oliver got murdered in season two, so who am I to judge.
You know what this show doesn't have enough of? Stress and heartbreak. Shonda must have known we all felt that way, because why else, on top of literally everything that's happening, would she decide that now is the time to let Annalise know that her mom is suffering from dementia?

That's right, during an already tense parental visit, Ophelia starts going off about how she's going to confess to burning the house down. At first it's like "damn, that's some Mother of the Year level of commitment," but then she continues on and it becomes clear that things aren't quite right.
Annalise's mom is under the impression that Annalise is on trial for the house that burned down in her childhood, with her pedophile uncle inside. Her useless dad is like "lol cute story dear," because men are literally the most oblivious creatures on earth.
Annalise: Idk maybe don't let your wife walk around and confess to arson and murder.
Mac: Wait what.
Despite concerns from literally everyone, Oliver sails right through his questioning. The fact that he's a real life human puppy consistently fools people into thinking that Ollie can't be just as manipulative as every other person on this show. He tells the cops that Annalise never asked him to do anything illegal on her behalf and that he definitely didn't wipe her phone the night of the fire. So, you know, he lied.
Laurel corners Nate and guilts him into finally letting her see Wes' body. I recognize that she needs closure, but looking at her dead boyfriend covered in no doubt rotting burns doesn't seem like it would really do much for her mental state at this point. Only problem? The body inside the bag labeled "Wesley Gibbins" is most certainly not Wesley Gibbins.

In this next round of traumatizing family visits, Annalise's parents come back to jail just so Annalise and her Dad can hash out their lifetime of issues.
Mac: You want to blame me for your sad childhood? Sure, maybe I deserve that.
Annalise: You are literally 100% to blame.
Annalise: I mean, other than that dude that molested me.
He goes on to call Annalise selfish (not wrong) because she isn't doing anything to get herself out of jail so that she can help her mother (flawed logic at best). Idk if this man understands how jail works but, uh, there's not a whole lot you can do from the inside. Unless you're Annalise Keating, that is.
In another visitation room across town, Laurel finally gets to confront Frank. His lawyer being present makes things a little difficult, but Laurel leaves with the firm conviction that Frank did not kill Wes. The rest of the Keating crew isn't so quick to believe her, which is ridiculous because they've all been on this show long enough to know that it's never the first suspect. Like, what are they even learning in law school??
Speaking of incompetent lawyers, Bonnie has failed at her 300th attempt to get Annalise out on bail. All I can say is that Paris Gellar would never have let this happen. Rather than offer sage advice or any kind of reaction at all when Bonnie calls with the news, Annalise just hangs up on her. Like, kill me for agreeing with him but maybe your dad was right?

Hell nah. Mostly because the men on this show are never right. Annalise hangs up the phone, heads straight back to her cell, and taunts the woman who already hates her into beating the shit out of her. Bonnie goes back to the judge with photos of Annalise's busted face and gets her out on conditional bail. Come at our girl again, Mac. See what happens.

As the episode winds down, we get a lot of glimpses into everyone reacting to Annalise's release. Oliver tells Connor that he saved a copy of her phone and I'm pretty sure Connor immediately gets a boner. Frank calls Bonnie with the news that he is his own lawyer and therefore, as co-counsel, they can speak in private. Laurel heads to Wes' apartment, only to find it has been completely ransacked. And Annalise herself? She heads home and lies to her mother, in the midst of another episode of dimentia, telling her that all charges have been dropped. All in all, no one is coping well. 
The episode ends with a big reveal: Nate was in fact the one who got Wes's body shipped away in secret. Why would he do that, only to cause a scene about it being missing? Maybe because he had something to do with Wes's death. The last shot shows Nate and Wes running into each other at Annalise's, just minutes before the explosion.
Do I actually think that Nate killed Wes? No. Is this somehow a convoluted step in the journey to saving Annalise? Probably. Will Nate suffer for it in the end? Without a shadow of a doubt.