Skincare You Can Do With Your BF Who Washes His Face With Bar Soap
Hey all you cool cats and kittens. If you're quarantined with your significant other, this one's for you.
I personally am trapped in the small NYC apartment I call home with my boyfriend who thinks it's ok to wash his face with the same bar soap he uses on his feet, and that's a battle I have not yet given up on. Especially now that I have the time to wage the war against his so-called skincare routine.
My boyfriend is aware that my daily self-care regimen can be a 10-step process, and in the past few weeks we've gone from #coupletrolls to #couplegoals (sorry, I hate myself for that one too). But, let's face it, if we're going to come out of the quarantine 15-pounds heavier, at least we'll come out glowing. 
Here are my favorite self-care remedies, all made more fun with a partner: 
The Basics

I personally can't bear to waste my expensive cleansers on my boyfriend (I swear I don't hate him, I'm just cheap), but I also don't want to put my skin in jeopardy by resorting to washing my face with a bar of soap. *Shudders* The solution: Cetaphil Daily Facial Cleanser is super gentle, boyfriend and girlfriend approved, and extremely affordable ($6, can I get an amen?).
Post-cleanser, we tone with Dickinson's Enhanced Witch Hazel Alcohol Free Hydrating Toner (whoever named this is dramatic), which comes in a bottle that will last you ten quarantines. If we're not masking, we finish with Unscented Neutrogena Hydro Boost Hyaluronic Acid Gel Face Moisturizer (again, DRAMATIC), because it's the only drugstore moisturizer I trust. I myself have a much more intense skincare routine, but this is our morning couples' drill and so far, so good. 
Masks
I am not afraid to walk around the house with a sheet mask on. In fact, I'll even share this mildly terrifying look on social media if it means getting a few laughs. My boyfriend has a beard, so he typically is uninterested in participating in my masking routine. BUT, I am stubborn, so after doing some research I stumbled upon HETIME, a beard-proof mask designed for men. It is Dax Shepard approved, and the perfect option to present to your man when throwing your own sheet mask on. My boyfriend went through his first four-pack in 10 days, so it's safe to say we'll be purchasing more. Happy masking!
Cleansing The Pores

Bioré The Original Deep Cleansing Nose Strips
IDK about you, but to me there is nothing more satisfying than unclogging pores with cleansing strips. Bioré is well aware of this, because they literally put out an #oddlysatisfying commercial to highlight just how gratifying the process is. We ALL have clogged pores/blackheads (except for the one girl reading this internally bragging that she has perfect skin), so this is another fun (and kind of gross) step in the couples skincare bible (written by me, in this moment). Always wash your face prior to using the strips, as oily residue can disturb the process. Also, to clarify, I'm sure there are plenty of brands that offer this type of product, but Bioré is at Target, and Target trumps all. Thank you and goodnight. 
Scalp

I think we often forget that our scalp still counts as skincare, and it's important to treat that and the hair on your head with kindness. My boyfriend will not sit for long periods of time with a hair mask in (unless I casually lathered it in while he was playing video games), but we do use Garnier Fructis' Hydrating Treat with Aloe Extracts. It's literally a one-minute treatment, so even my cats would have enough patience to participate (no, I do not put any products on my animals, I'm just proving a point). I like this product because there is no weighing down or greasiness, and my boyfriend likes it because it helps moisturize his dry scalp/hair. An across-the-board win if ya ask me!
Teeth Whitening

We can't change the fact that the world is ending, but we can change the color of our teeth. My diet mostly consists of coffee and ramen nowadays, so I fear my teeth will turn yellow by the end of this all. You can get some Crest 3D White Strips, and for 30 minutes a day, you just might be able to undo the damage from all that red wine you've been guzzling. If we're going to have to fake-smile at each other after this two-month quarantine, our smiles might as well look blindingly white. 
Body + Soul

Moonergy Moon Ritual Bath Bomb Kit
If you are stressed the f*ck out and your body is suffering, a bath always helps me relax. I will keep it really real with you all, I'm six feet tall, my boyfriend is 6'1″, and we do not fit in our apartment bathtub. BUT, if you are blessed with a home that has a bathtub for two (or you are solo but have made it this far), Moonergy's bath bombs and teas are amazing. I include these because a lot of bath bombs aren't as gentle on the skin as they should be, but my skin always feels soft and nourished post-bath using both of these options. You can throw either in a full tub of warm water, and the calming aromas are an extra bonus. This is a good couples activity for reasons I need not explain, but it's also nice to practice self-care and treat your skin right head to toe (and support smaller businesses). 
And there you have it. Couples skincare, quarantine edition. No TikToks were made in the process of this routine, I promise. 
Images: Dean Drobot / Shutterstock.com; Target; Garnier Fructis; Walmart; Moonergy; kristenanniebell / Instagram
Betches may receive a portion of revenue if you click a link and purchase a product or service. The links are independently placed and do not influence editorial content.
The Best Sheet Mask For Literally Every Part Of Your Body
By now you've probably used or are at least familiar with sheet masks for your face. They are full of hydrating and replenishing properties, ultimately giving you a glowing complexion. Even if you haven't used one for yourself, you've probably at least spotted some celebrities trying them out on your timeline.
While you're probably most familiar with the cotton sheets designed for your face and soaked in formulas with ingredients like hyaluronic acid and vitamin C, skin care brands have decided to take their masking game a step further. Now, you can get sheet masks for literally every part of your body. From your hair to your lips, down to your ass and your feet, there is a sheet mask out there designed to take care of your entire being. In fact, I wouldn't be surprised if they come out with a sheet mask designed for your vagina next. Gwyneth Paltrow will probably manufacture it.
I've rounded up and tested eight different sheet masks for all different body parts that I never knew I needed a mask for until after I tried them out. Sometimes plain ol' moisturizer doesn't do the trick and the rest of your body needs a little bit more pampering, too.

This sheet mask is specifically designed to be used during the toughest week of the month: your period. As if it's not enough that you're crabby, bloated, and bleeding, hormonal acne also likes to make an appearance during hell week. So, to give yourself a sense of relief, this microfiber sheet mask is drenched in a honey extract, which is a saving grace for your skin. It is a natural antibacterial so it helps to prevent acne. It's also full of antioxidants, which help slow the aging process. Plus? The entire mask is super replenishing and gives your face a nice little pick-me-up during an otherwise excruciating time.

I'm sure you've used a hair mask at one point or another. But if you haven't, this is the one you should get. The L'Oréal Paris Everpure Hair Sheet Mask is coated with a deep conditioning formula to take basic hair masks one step further. You simply wash your hair, wring it out, wrap the sheet mask around your hair, and massage the mask to make sure the conditioner is evenly distributed. The sheet then traps in the moisture and allows the conditioner to penetrate your hair deeper for soft, hydrated results.

One of the (many) sh*tty things about getting older is that when we start to age, it really shows in the neck area first. If you'd like to avoid the creepy turkey neck look, start now by using Innisfree's Anti-Aging Neck and Collarbone Mask. The sheet is dripping in coenzyme Q10, which helps to improve skin's elasticity and ultimately firm up the loose skin.

Along with your neck, your hands are also one of the first body parts to show the visual signs of aging. To moisturize and slow down the process of wrinkles and sh*t on your hands, simply stick your hands into these gloves. They are lined with argan oil, collagen, and vitamin E. After about 15-20 minutes your hands will feel nourished and rejuvenated.

If your feet are in bad shape (I'm talking like full of calluses and hard as rocks) then skip the pedicure chair and wrap those puppies up in these plastic foot sheet masks for about an hour. The little booties are lined with an exfoliating gel that slowly peels the dead skin off of your feet over the course of a week. Although the process is a little um, gross-looking and unattractive (think like a snake shedding its skin), the results are unparalleled. Your feet will be smooth, soft, and callus-free. Pro tip: don't try to walk while you have these on your feet—it won't end well.

Okay, so I know what you're thinking: there's no way a sheet mask will give me a firmer ass. And while, yes, technically a mask alone won't give you the same results as say, a billion weighted squats will, it will give you a nice little temporary lift. And I mean, c'mon, a firmer butt with minimal to no effort involved? Sign me up. The "Bite It" mask specifically contains ingredients like collagen, sodium hyaluronate, aloe, and chamomile to increase elasticity, firm up those buns, hydrate, sooth, and prevent butt pimples.
The full collection of Bawdy Beauty sheet masks even bare phrases like "Bite It", "Shake It", "Slap It", and "Squeeze It", so if you're in the mood to thot it up, send a quick snap to that hot guy you hooked up with last weekend to see if he can make out what the mask says.

So these hydrating sheet masks are designed for expecting mothers to use on their stomachs as a way to help minimize stretch marks during pregnancy, as well as help soften inflamed scar tissue after delivery. However, if you just really like food (same), then you can also probably benefit from using these masks. The egg-shaped masks are infused with aloe vera to soothe and reduce inflammation, and propolis (aka bee glue) to help rebuild damaged skin and reduce scarring.

KNC Beauty Collagen Infused Lip Masks are the OG lip masks in the American beauty market. These bad boys are infused with not only moisturizing properties, but also ingredients that work to plump your lips. The formula blends rose flower oil, cherry extract, and vitamin E to hydrate, soften, and prime your lips for the best lipstick application of your life. It also has collagen, which works to give you a plumper pout. So if you want DSLs without having to get lip fillers, slap on one of these masks before a night out and you should be good to go.
Images: Knours; L'Oreal/Target; Innisfree; Kiss; Bawdy Beauty; Baby Foot; Hatch Mama; KNC Beauty
5 Sheet Masks To Use On An Airplane
If you've ever spotted a celebrity, influencer, or otherwise just ballsy person post a pic to your Instagram feed of themselves wearing a sheet mask on a plane, you probably thought two things: one, that they're batshit crazy, and two, "why the hell are they doing that?" Well, if you've ever flown on an airplane, you're probably familiar with how dry, dull, and all-around dirty your skin can look and feel post-flight thanks to the recycled air that blows through the plane's vents. Well, those brave souls that you see posting the in-flight sheet mask selfies are actually pretty smart, because they'll be arriving at their destination with purified, hydrated skin while the rest of us experience god-awful breakouts a few hours later. So, if you too want to arrive at your port of call with a clear complexion at the price of looking like a freak, read on for the best sheet masks to use on an airplane so you can join the mile high (skin care) club.
The key to having a good skin day? Hydrated, clear, glowing skin that isn't experiencing any inflammation. Peach & Lily's Good Skin Day Drench + Nourish Sheet Mask uses natural vitamins, nutrients, and antioxidants like chia seeds, algae, avocado, and hyaluronic acid to decrease inflammation (that you're likely to experience while flying), fight off impurities and dangerous environmental free radicals (that tend to float through the recycled air on planes), and increase hydration, so you can arrive at your destination looking like you're having the best skin day ever—regardless how little sleep you got on your flight thanks to the crying baby in the row behind you.
Pacifica's Disobey Time Rose & Peptide Facial Sheet Mask is infused with peptides, rose hip seed oil, chamomile extract, red rice extract, hyaluronic acid, pomegranate, and green tea to target puffy, dull, dry skin. So within just 20 minutes of flight time your skin will be left dewy, bright, and moisturized.
If you're an attention whore who thrives off of getting noticed, Dr. Jart+'s Hydration Lover Rubber Mask is a bright blue rubber mask that is sure to catch the eye of all of your fellow passengers. But the mask isn't just good for getting attention, it actually really works to hydrate your skin, too. The two piece mask contains a highly concentrated serum that hydrates and soothes the skin while the rubber mask seals the active ingredients into the skin and keeps them from evaporating so you can experience maximum hydrating and calming results.
If you want the benefits of a hydrating sheet mask without getting stared at by the grumpy grandma sitting across the aisle from you, then Whamisa's Hydrogel Sheet Mask is a clear jelly sheet mask that is as close to being invisible as a sheet mask gets. The mask is infused with a skin-plumping botanical serum that will not only hydrate and brighten, but also work to make sure skin remains clear and free of breakouts.
If you're extra AF and a plain ol' white sheet mask won't do, Patchology's FlashMasques bare a black lace eye mask on the top half of the sheet mask so you can sit pretty while hydrating your skin and working on your fourth in-flight mimosa. The mask itself works by using licorice and grapefruit seed extracts to gently brighten your skin while Patchology's exclusive HydraSurge5™ Moisture System deeply hydrates to enhance glowing, radiant skin. However, if you're bougie enough to wear one of these masks, you better be sitting in business class, at the very least.
Essential Travel Beauty Tips So You Don't Look Gross After Flying
Travel is without a doubt one of the greatest parts of summer. First of all, there's the crack-like (I assume) rush of turning on an "out of office" email reply. Chase that with a daily routine of margaritas for breakfast, followed by triple-digit likes on a "look at my ass this beautiful view" 'gram, and I'm decidedly living my best life. Unfortunately, even the highest of vacation highs tend to come crashing down within 24 hours of returning home. Not only did your "out of office" reply deter exactly zero people from emailing you multiple times, but you now have to deal with the ravaging effects of whatever public transit hell you were subjected to on your return home. (I'm primarily discussing air travel here, but let's not pretend that buses/trains don't leave you feeling pretty icky as well.) Here are some travel beauty tips for avoiding and even reversing the damaging effects of air travel.
Start With A Clean Face
If you're one of those people who can't leave the house without a full face of makeup, I have bad news. No one believes you woke up like that, and you should absolutely never fly in makeup. If you absolutely have to roll up to the airport made-up, at least take it off ASAP once you're in the air. Makeup wipes like these Philosophy facial cleansing cloths are a must, given the state of airport bathrooms and the fact that your bougie-ass cleanser definitely won't make it through TSA. Alternately, you can go with a (travel size) no-rinse micellar water—just please God use cotton pads, not airplane toilet paper. Ew.

Purity Made Simple One-Step Facial Cleansing Cloths
Embrace In-Flight Skincare
Ok, so now your face is clean. Sadly, your work is just beginning. One of the biggest damaging factors on airplanes is that they dry you out like crazy. This means you're looking at red patches, flaky skin, and the overall pallor of a three-day-old corpse (just me?). Luckily, there are ways to avoid this—though they do involve giving exactly zero fucks what the people in your row think. For starters, it seems like every celeb on earth applies a hydrating mask while flying. Luckily, there are "invisible masks" like the Origins Drink Up Intensive,  or Kiehl's Ultra Facial Overnight Hydrating Masque, both of which you can leave on for hours to absorb maximum moisture, without getting dirty looks from flight attendants. For those a little less shameless, the Summer Fridays Jet Lag Mask goes on like a regular mask (that you'll have to rinse off with a warm towel, somehow), but it provides hydration and anti-inflammation without any harmful ingredients or artificial fragrances (it's also vegan). If you're brave enough for a sheet mask, Chrissy Teigen and J Lo swear by the SK-II Facial Treatment Mask.

Kiehl's Ultra Facial Overnight Hydrating Masque
Once you've removed the mask, it's recommended you follow up with your preferred serum/moisturizer/eye cream. (Or if you're prone to puffy under-eyes (hi), consider some cooling pads like these skyn ICELAND firming eye gels.  Emma Stone swears by argan oil for long flights, but your heaviest daily moisturizer should work fine.

As a final, extra-luxe step, invest in a face mist. Celeb stylists love rose-water infused options (try Khloé Kardashian's preferred Jurlique version), but regular old Evian is fine too. If you're reallyyyy trying to get extra about this, the Caudalie Beauty Elixir is another celeb fave. (It's a toning spray, but don't ask me what toner does). Or,  you can follow up your SK-II celeb-approved face mask with their Facial Treatment Essence. (Seriously, do not ask me what essence does.)
Stock A Full Mom-Purse
You know that one friend whose purse is always fully stocked with Kleenex, lip balm, gum, etc? Yeah, you'll want to emulate that to an extent. In addition to all the face wipes and hydrating essentials mentioned above, you should never board a flight without hydrating lip balm, hand lotion, and more water than you usually drink in a week. This final point is especially key, because in addition to making your outsides dry AF, your insides are also dying from dryness when you're on a flight. So drink, drink, DRINK. Even though it's annoying to get up every half hour and use the bathroom, you'll thank me when you don't arrive bloated and constipated (ew), not to mention the fact that the simple act of getting up and moving frequently is proven to help beat in-air bloat, and can help prevent blood clots. Woo!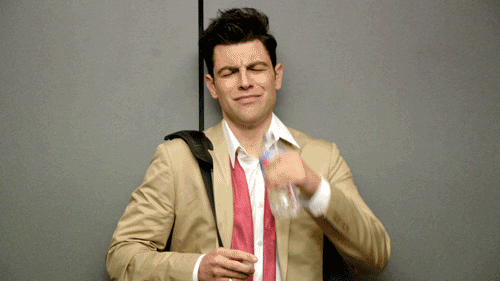 Be Careful What You Eat & Drink
Oh, and speaking of drinking—I have another bubble to burst here. As you know from waking up at 3am with desert mouth after a night of drinking, alcohol dries you out—which means drinking on flights is a big no-no (same is true for caffeine). Yes, air travel is definitely one of those memories I'd prefer be a little hazy, but the pounding headache and exaggerated dehydrating effects all around are not worth the 25-30 minute buzz. Save the drinking for your final destination.
When it comes to eating, you're better off the less you ingest while actually on the flight. Sugar-free foods and gum escalate an already gassy situation (sorry—I don't make the rules), and chewing gum makes you literally swallow air, which, you guessed it, escalates both the gas and the bloat. The same goes for high-sodium foods and any carbonated drinks. So yeah, even your beloved La Croix is a no go. Some experts suggest to avoid eating anything on a flight, since flying may cause your digestive system to slow down, and the restarting process will be all the more unpleasant if there's new food to digest rolling around in there. Whether or not that's 100% scientifically proven, many people who avoid eating on planes say they feel more rested and hydrated after, so it's worth a shot. Were you really that hyped about airplane food anyway?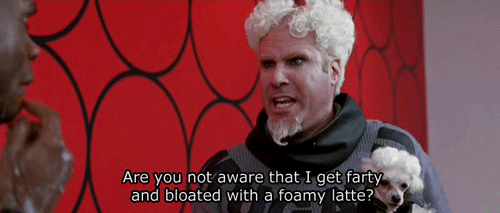 That's all from me (though TBH, it's plenty). I purchased maybe six more products over the course of writing this article, as I'm currently in the throes of post-flight bloat and ogre skin myself. Learn from my mistakes and help slightly soften the blow of going back to work by not having to deal with a pimple the size of a third eyeball taking over your forehead. Really takes away from the glamour of an overseas vacay.
Images: Giphy (2); Sephora (2)
Betches may receive a portion of revenue if you click a link in this article and buy a product or service. The links are independently placed and do not influence editorial content.