We May Have Some Insight Into Why Kaitlyn & Shawn Broke Up
We're pretty used to Bachelor couples breaking up, but the last few Bachelorettes had done a good job of picking their guys and making the relationship work IRL. Or so it seemed. One of the longest lasting Bachelorette couples was Kaitlyn Bristowe and Shawn Booth, who got together in her summer 2015 season but have recently called it quits. V sad since they were a fitness match made in spin instructor and personal trainer heaven.
Kaitlyn and Shawn haven't given us any clue as to why they broke up beyond the "we have mutually decided to call it quits, we still love and support each other" crock of sh*t all celebrity couples give when announcing their split, but some conspiracy theorists fans point to Shawn being responsible. The main reason according to this theory is that Kaitlyn made it known that she wanted to get married (hello, she signed up to be the Bachelorette), Shawn proposed at the end of the season, and still, three years after that proposal there was no wedding in sight. And now, a podcast interview Kaitlyn did that has recently resurfaced seems to back up this theory—or at least confirm that Shawn kind of sucks.
In an episode of Kaitlyn's Off the Vine podcast, Kaitlyn revealed that Shawn had missed their anniversary last year. His defense? He said it was a little hard to know when their anniversary was because she'd been dating a few guys on the show when they made their relationship official. Like, maybe that excuse would fly on their first anniversary when they hadn't talked about it, but last year would have been their third. He can't really claim he didn't know the date at that point. Also, this is extra insulting considering Shawn could easily have Googled it because we all watched their engagement happen on national television.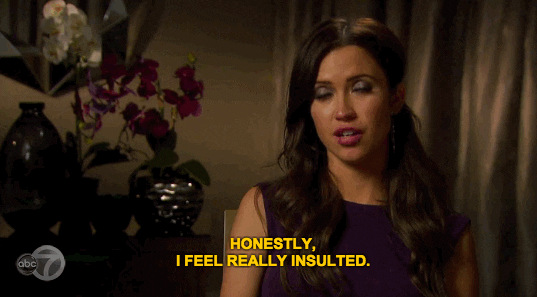 Adding to the theory that Shawn sucks is the fact that he forgot how old Kaitlyn is. On her 31st birthday, Shawn got big gold "32" balloons, because he thought Kaitlyn was turning 32. F*cking ouch. Not only do you not know your fiancée's birth date, but you also aged her? Thank u, next.
Considering Kaitlyn literally had guys lining up on national television to date her, I have no doubt that she will find a nice attentive guy who actually remembers significant life events. It's the least she deserves.
Bachelor Nation Is Mad At Kaitlyn Bristowe For The Dumbest Reason
It's 2018, and there's basically no product left that hasn't been endorsed or branded by a Bachelor alum. Because no one that goes on these shows ever has a real job, they have to get creative to make the mortgage payments on their Nashville McMansions. Today's example: Kaitlyn Bristowe's new line of scrunchies. The scrunchie brand is called "dew," which sounds like a fun lifestyle brand while also allowing for like, seven million puns about "hair-dews" and "just dew-ing it." Can't wait for Becca to make a sponsored post about dew-ing the damn thing. You can't see me, but I'm rolling my eyes very hard right now.
There are nine different scrunchies currently for sale, and all of them are literally just plain colors. The color names are kind of the worst, including "Hues of Dew" (pink), "Rock That Dew" (blue), and "So Vanilla." What better way to make your product sound boring AF than literally naming it "so vanilla?" There are no fun prints or anything, just nine solid colors, and many of the color names have nothing to dew do with their corresponding shade. Whatever. There's nothing wrong with basics, but some fans have taken issue with the price tag—$17 per scrunchie. Speaking as someone who spends my money on the absolute dumbest shit, $17 for a scrunchie seems a little steep. Even a Lululemon scrunchie is only $8, so Kaitlyn's better be made out of fucking magic hair-volumizing thread or some shit.
In response to some criticism on Twitter about the scrunchie prices (lol that this is a real thing we're talking about), Kaitlyn had some thoughts. She tweeted that the people complaining should send her their budgets, and she could easily find $17 to spend on a scrunchie. People didn't love that, and honestly it was a weird way to respond. In general, I like Kaitlyn, and I don't have any problem with her doing her thing, but she also probably didn't deal with this in the best way. Clearly no one needs a $17 scrunchie to survive, so she should probably calm down a little bit. She also said the budget thing was a joke, but it still feels a little misguided as an approach to try to sell people your products.
This is the LAZIEST and most entitled sales approach. People don't need you to examine their budgets or critique how they spend THEIR money. You're looking for them to spend their money, therefore YOU should demonstrate WHY they should buy your product.

— Gator (@AleksandraCo) June 21, 2018
But people who don't want the scrunchies should also just take a few deep, calming breaths. Like, there are lots of things in this world that I can't afford, and you don't see me tweeting at Gucci about their prices. Shit costs money, it's called capitalism. I'm not really mad at Kaitlyn Bristowe for price gouging on some basic-ass scrunchies, because I would probably do the same thing. She also got plenty of positive messages about the scrunchies, and is currently trying to make #ScrunchieGang a thing, so I think she'll be just fine.
In addition to her burgeoning scrunchie empire, Kaitlyn has lots going on right now. People love her podcast, which I have no desire to listen to but people are allowed to make their own personal choices, and she's also still planning her wedding with Shawn. Yes, they've been engaged for three years, and no, they don't have a date yet. Usually I'd say something shady about that, but it's probably smart considering that they got engaged after literally six weeks of dating. Sounds like she's dew-ing great, so props to her. Can't wait for future updates about her scrunchies, they're sure to be bestsellers.
Images: @dewedit / Instagram; @AleksandraCo / Twitter