5 Things That Are More Stressful Than Taking Plan B
Presented by Plan B One Step
Is there anything millennials fear more than emotional intimacy? *Does an audit of my entire life thus far* Definitely not. There's nothing more grave than the pit you get in your stomach the moment you send someone a "we need to talk" text. Except, I guess, the pit you get in your stomach when you have a birth control slip-up, like a condom breaking. As someone who used to agonize for days over what to wear for a casual night at the bar I knew I would only spend two hours at, making the decision to take Plan B after a night of failed birth control was…nerve-wracking, to say the least, when I did it the first time. I'd heard all the misconceptions, like that it has a bunch of side effects, and that it would f*ck up my ability to get pregnant later on—which is not something I want to do (even if I don't want to get pregnant right now). But we live in the age of the internet, which means that instead of anxiety-texting an itemized list of those worries,​ ​I just went online to learn more​ and realized how misguided I was. Plan B's main ingredient has been used in birth control pills for decades, and taking it won't mess with your fertility​.​ I also learned ​that Plan B won't hurt my chances of becoming pregnant later on; it  temporarily delays the release of an egg from the ovary after taking the pill so I don't get pregnant ​right now. 
So, the process of taking Plan B was not intimidating for me at all, since I knew the facts. I took it right away (by the way, you have 72 hours to take it, but the sooner you take it the better it works) and then I went about my normal life—without getting pregnant. Thank goodness. Which got me thinking: of all the things to be nervous about, taking Plan B after the condom breaks or accidentally skipping a pill or another kind of birth control slip-up shouldn't be one of them. Not when there are plenty of other more anxiety-inducing issues that pop up in life, like…
1. Having A "What Are We?" Talk
I would so much rather walk up to a checkout counter, hand them a credit card, and take one pill than actually have to do the whole "what are we doing?" song and dance with whoever I've been seeing (in a fantasy world in which I am actually dating). What's the worst that can happen, you ask? Uhm, crushing rejection? An ambiguous answer that will keep you on the same cycle of non-commitment that you've been in for the last six months? No, thanks. 
2. Meeting The Parents
You could be a doctor who won the Nobel Prize and moonlights as a supermodel, and meeting the parents would still be stressful af. There are the obvious what-ifs: they don't like you, you accidentally offend them somehow and because of that, they don't like you, you have something stuck in your teeth so they think you have poor dental hygiene and don't like you…Sensing a theme here?
3. Actually Cooking For Myself
"It's easy!" they say. "Just follow the recipe!"As someone who regularly f*cks up hard boiled eggs because I get absorbed in another task while waiting for the water to boil, cooking for myself is easier said than done. There's a lot that can go wrong when attempting to cook, and that's not even counting the very real probability that the food can come out bad. Like, I could burn myself. Burn down my apartment. Chop off a finger. Chop off a limb—you get the idea. Better to leave it to the professionals (I say as I hit "check out" on Seamless for the third time today).
4. Doing An Exercise Video…
…and I mean actually doing it, not just laying on the floor. I know, the horror! Workout classes are supposed to reduce stress (and sure, I feel better afterwards), but the actual process of doing the class is often anything but stress-free. I never know what's going on, and I feel like everyone else in the class had a meeting beforehand to nail down all the movements and flow and I missed it. What comes after burpees again? Plus, while everyone else looks like they're going on a leisurely stroll through the park, I am huffing and puffing and pouring sweat from the face. I don't think I've ever completed a workout class not wondering WTF was wrong with me… and that's why I'd rather just lay on my mat, pretending to do the work.
5. Trying On Your Jeans For The First Time In Six Months
If you've been wearing pants with an actual button or fly during this period where nobody has anywhere to go, I'm not sure if I should be scared or impressed. Actually, I'm going to go with terrified, because nobody with that much discipline can be trusted, as far as I'm concerned. For the rest of us who have spent the past five or so months sitting on the couch in leggings, convincing ourselves that chips are a balanced meal, the time when we'll have to put on jeans again is definitely not something any of us are looking forward to. Better to just throw the jeans away than deal with that stress, IMO.
As you can see, there are plenty of other potential issues you can encounter that are way more stressful than taking Plan B when you don't have the facts. If you have birth control failure or unprotected sex and need to take emergency contraception, you can rest assured knowing that Plan B is the #1 ob/gyn recommended emergency contraception brand, and that it helps prevent pregnancy when taken within 72 hours of unprotected sex or birth control failure. It's not an abortion pill, but it does help prevent pregnancy before it starts by delaying ovulation (no egg + no fertilization = no pregnancy). You can get Plan B at all major retail stores (like Target, Walgreens, CVS, or Rite Aid), without a prescription—just look in the family planning aisle. No prescription, ID, or age requirement. You got this!
Image: jeshoots.com / Unsplash
The NYC Health Department Says We Should Have Sex With Masks On
If you've spent your quarantine without a significant other, it's been a long, sexless three months. Since mid-March, any kind of physical dating has been paused indefinitely, and sex with anyone who's not your roommate has been, uh, not an option. The only human touch I've felt in the last 90 days is that one time when the grocery store cashier insisted on personally handing my receipt to me, and I'll be honest, it made me feel alive.
But now that states are beginning to reopen, and a lot of people have just decided that they're done caring about the ongoing pandemic, where do our sex lives go from here? Thankfully the government knows that we all need guidance during this tough time, and the New York City Health Department has released a handy factsheet entitled Safer Sex and COVID-19. Someone at the Health Department has a sense of humor, and the advice ranges from informational to absurd.
First, the factsheet gets us up to speed on COVID-19, saying, "You can get COVID-19 from a person who has it." Duh? Considering most of us have barely left the house other than to get groceries and protest police brutality, I'd hope we're all pretty aware of the basics of how coronavirus is contracted.
The factsheet then tells us that it's safest to only have sex with those close to you, and that "you are your safest sex partner." But while it's reassuring to hear that masturbation can't cause coronavirus (it's 2020, you never know), I think we're all reading this for the same reason. We want to know when we can have, like, sex sex. And the NYC government isn't judging—they get it!
For now, they advise having "as few partners as possible," and discussing possible COVID exposure and symptoms just like you would any other safe sex topics. But those aren't the only rules they suggest. They say you should, "avoid kissing anyone who is not part of your small circle," and that you should strongly consider wearing a mask during sex. If you've been looking for a kink to get into, your decision may have just been made for you. In fact, the factsheet specifically suggests that you "Make it a little kinky" by getting creative with your positions. They add that you can use "physical barriers, like walls, that allow sexual contact while preventing close face to face contact." Did… did the government just advocate for the use of glory holes? I have to say, I'm a little speechless right now. Just remember that apparently "heavy breathing and panting" make spreading the virus more likely, so like, don't get too into it.
And because the NYC Health Department isn't a regular mom, they're a cool mom, they even give guidelines for group sex scenarios, and I appreciate that the Health Department is giving advice suited to a range of sexual preferences. While stipulating that "large gatherings of any type are not safe" right now, they've still got some advice for those who "decide to find a crowd." Again, masks and no kissing are the way to go, but they also add that you should "pick larger, more open, and well-ventilated spaces." So uh, I guess I'll see you this weekend at the masked warehouse orgy?
The factsheet also offers a word of advice to those who "usually meet your sex partners online or make a living by having sex." First of all, props to them for referring to sex workers in such a respectful way. You really love to see it. They suggest not seeing anyone in person for now, and instead utilizing "video dates, sexting, subscription-based fan platforms, sexy 'Zoom parties' or chat rooms" if it is an option.
While I greatly appreciate the comedy factor of some of these tips (mainly the glory hole suggestion), all of this advice is real, and we can't forget the fact that we're still in the middle of a deadly pandemic. Miss Rona might be getting in the way of your hot girl summer plans, but be sure to make good choices regardless. Thanks for coming to my health class, now get out there and find a sexy Zoom party!
Images: snglrty / Shutterstock
7 Things You Didn't Know About Girl-On-Girl Sex
Lesbian sex isn't just a category on PornHub. It doesn't matter if you are lesbian, bi, pan, queer, or any other label you are comfy with, if you are a woman who has had sex with another woman, you know the magic that is girl-on-girl sex. But if that's not something that you have had the pleasure of experiencing for yourself, then allow me to let you in on some sexy sapphic sex secrets that are seriously useful if this seems like something that would satisfy you.
1. Vaginas Aren't Gross

Straight girls LOVE to tell me how gross they think vaginas are. The thing is, the only vagina they've seen is their own (which is concerning that they are making that broad assumption based just on themselves… and also that they think their own genitals are gross). The people perpetuating the stereotype that vaginas are gross are lazy men who don't want to have to reciprocate. Every vagina looks different, and yes it has a smell, but think of all of the cleaning rituals you go through before presenting your puss to someone. No girl is going to come to you on day 2 of her period and day 3 of not showering and expect you to chow down. Girls clean up for other girls just like they would for anyone else. One paragraph is not going to solve internalized misogyny, but trust me when I say that what you have been told about vaginas is wrong as sh*t. You're telling me that filling your entire oral cavity with a whole flesh tube is less gross than licking a small button of joy? You lyin', girl.
2. Vaginas Aren't *That* Complicated
The rumor is that vaginas are so hard to please that you shouldn't even bother trying. And we're just supposed to live with that. However, anyone who has gone down on both men and women will tell you that eating pussy is lightyears easier than sucking dick. It's actually infuriating how much easier it is when women are told that blow jobs are expected and getting eaten out is a privilege. You don't get choked, you don't have to swallow jizz, and you don't have to deal with balls. There are thousands of articles on how to give a blow job, and all you have to do it just, like, put it in your mouth. You'll be able to figure out a vagina no problem; it's just that people don't think women deserve pleasure. And that's on patriarchy.
3. It Could Go On For Hours
P-in-V sex has a very predictable beginning, middle, and end. On the other hand, lesbian sex could go on literally forever. There's no refractory period and no man falling asleep because he came and is over it; you can just keep going until you realize you've missed two meals and 16 calls from your friends who think that you're dead. There may be a snack break in between, a couple minutes to talk about your feelings or compliment each other, and you'll have to redo your hair once or twice, but other than that, sex ends when both of you say it does.
4. You'll Actually Cum

Studies show that lesbians cum SIGNIFICANTLY more than straight women during sex. That's both a brag and a fact. Straight men reportedly orgasm 95% of the time while straight women orgam 65% of the time. Lesbians, on the other hand, orgasm 86% of the time. Another study showed that women were 33% more likely to have an orgasm if they were having sex with another woman. There's not a definitive reason for this discrepancy, but I'm thinking it definitely has to do with straight men. Society and sexual education is all centered around men cumming during sex, and there is little to no emphasis on female pleasure. But in lesbian sex, there is ONLY female pleasure. It's feminism on crack. Once you realize that you deserve to cum too, you will feel the difference as you are ascending to another plane of existence on a cloud of ecstasy.
5. Anything Is Fair Game
There are no rules when it comes to lesbian sex. Whatever feels good, you do. It could be rubbing your clit on her leg, it could be getting fingered from behind, it could be a sh*t ton of nipple play. The goal in girl-on-girl sex is for both of you to have a good time, not to make a man jizz. If you are with a partner who also has a vagina, then they'll understand exactly how different sexual acts can feel good. You won't have to be embarrassed to do or ask for something that makes you feel good during sex. The pussy-bilities are literally endless.
6. Scissoring Is Real… Kind Of
Scissoring is a form of tribbing, which is when two vulvas/clits are rubbed together. Scissoring is one of the positions you can do when you are tribbing, but more than likely tribbing will be a little more ergonomic than scissoring. You can trib in a missionary style, cowgirl/reverse cowgirl, or any other way that both vulvas touch. It's like how a square is a rectangle but a rectangle is not a square; all scissoring is tribbing but not all tribbing is scissoring.
7. You Don't Need A Strap-On
Strap-ons are a fun addition to girl-on-girl sex for anyone who likes that penetration, but it's possible for girl-on-girl sex to have no penetration at all. I'll give you a second to process that. Sex isn't just when something goes in something else; it's when you are pleasuring or being pleasured by another person. So if that means one person just wants to get eaten out, then they can have that. And tbh, that doesn't sound all that bad.

So if you have ever been curious about having sex with another girl or another person with a vagina, give it a try. What's the worst that will happen? You'll actually have an orgasm? Don't let the rumors stop you from trying girl-on-girl sex. Just follow your heart. Well, in this case, I guess follow your vagina.
Images: Shutterstock; Giphy (3)
Across The Country, Tampons Are Taxed As A Luxury. Here's How To Fix It.
October 19th is National Period Day, which aims to bring awareness to the issue of period poverty (meaning, lack of access to hygiene products because of financial constraints) and make period products more affordable for people who menstruate everywhere. One main way we're trying to do that is by ending the Tampon Tax—a sales tax placed on hygiene products like pads and tampons, that other items, like Viagra, do not have. We tapped Nadya Okamoto, the founder of PERIOD, to tell her story on how she found out about period poverty, why she's so passionate to end it, and what we can all do to help.
It's 2019. People have been menstruating since the beginning of humankind. Periods make human life possible. And yet, still today, 34 states have a sales tax on period products, basically considering them luxury items. WTF?
When I was 16-years-old, I discovered an unaddressed natural need I'd never thought about before: periods. At the time, my own family was living without a home of our own, and I was facing a two-hour commute to school on public transportation. I became friendly with homeless women who I saw at my bus stop every day. In asking them, "what do you find most challenging about your living situation?" I collected an accidental anthology of women using toilet paper, socks, brown paper grocery bags, and even cardboard to take care of their periods. I distinctly remember one woman showing me how she would take a small piece of cardboard, rip off the outer layer from each side, and then rub the middle section in between her hands to make it a more flexible homemade version of a pad. 
Privilege check: Even when my family was experiencing housing instability, I always had access to menstrual products, and had never even thought about using trash to take care of my period. In fact, I had never even thought about what it would be like to menstruate without access to period products. Hearing these first-hand stories of period poverty ignited anger and curiosity within me. I kept thinking: How is it that menstruation makes human life possible and we haven't figured out a solution for all people to have period products?! While simultaneously wondering, how far does the issue go? Who else can't afford access to period products? 
So naturally, I took my questions to Google. In my free time, I would search keywords about menstruation, poverty, and different geographical regions, just trying to learn more.
Through my research, I learned that periods are the number one reason why girls miss school in developing countries, and often times a girl's first period is the single event that leads to her dropping out of school, getting married early, or undergoing female genital mutilation or social isolation. It was actually easier to find information about period poverty in other countries than it was about the United States. I learned that at the time, in 2014, 40 states in the US had a sales tax on period products, considering them "non-essential goods"—so, basically luxury items. 
Meanwhile, products like Rogaine and Viagra were considered essential and didn't have this tax. I remember reading this and refreshing the page a few times to make sure I was reading it correctly before thinking: Are you f*cking kidding me?! Old man hair growth and erections are considered more of a necessity than over half of our population feeling clean, confident, and capable 100 percent of the time, regardless of something so natural like a period? What?! 
These exact thoughts and emotions have not left my mind since I discovered the "tampon tax," the term used to describe the taxation of menstrual hygiene products. 
Since 2014, when I started my activism in the #MenstrualMovement, we've seen incredible progress: countries like India and Australia have nationally axed their tampon tax, the UK has repurposed the revenue from their version of the tax to directly provide period products to girls in secondary schools, and the US is down to 34 states (still an overwhelming majority) that still have the tampon tax. 
Eliminating the tampon tax is not going to be a blanket solution to period poverty—I mean, realistically, the tax is not impacting the menstruators who have the least access to tampons. It's affecting the people who are already purchasing the product, making the cost a burden for primarily low-income consumers. That being said, the reason period poverty persists is because menstrual hygiene is not treated like a right, it's treated as a privilege.
Here's an example: Just earlier this year, a GOP Representative in Maine voted against a bill to make period products accessible in prisons, saying that "the jail system and the correctional system was never meant to be a country club." As if we can opt out of periods like they're a Netflix subscription.
The #tampontax frames menstrual hygiene as a LUXURY—an inaccurate assumption we need to deconstruct once in for all in the movement against period poverty. At the end of the day, this fight isn't just about periods, this is about the fundamental human right to be able to discover and reach one's full potential regardless of a natural need. And what could be more natural than menstruation? 
Join us this Saturday for the first-ever National Period Day. On October 19, my organization PERIOD will be mobilizing rallies in all 50 states and major cities, demanding action and an end to the #tampontax. Join us at one of our rallies in-person, or share why you're joining the #menstrualmovement on social media by using #nationalperiodday and tagging @periodmovement. There are so many ways to get involved both nationally and statewide—check out Utah's legislative campaign and help us keep putting pressure on Ohio lawmakers to end their "pink tax"! I truly believe that if we unite and we refuse to shut up about periods, we can take down the tampon tax in the new few years. Just 34 more states to go. 
Let's do this.
Image: Noah Shaub
The Top Mistakes Women Make When It Comes To Their Sexual Health
Hello, female brethren. Is there a female word for brethren? Okay, I Googled it, and it's sistren, which is super weird because I have never heard this word in my life, and even spell-check is telling me it's wrong, but IT IS NOT. Also, spell-check does not flag brethren, so yeah, that means spell-check is sexist. Do better, world.
Anyway. This conversation we're about to have is going to be super icky and also NECESSARY, because it's about sexual health. I literally had a conversation this evening (wine may or may not have been involved) with a friend who was not using protection with a man she barely knows because she assumed they were exclusive. Okay, first of all, NO. Assuming you are the only hole a guy is putting it in without verbal confirmation and possibly a legal contract is incorrect. Just ask Jeff Bezos. Which leads me to believe that the beautiful, smart, successful millennial women I know and love, are not aware of the importance of sexual health. So let me enlighten you. A study performed by Zava, a leading online doctor that operates in the UK, France, Germany, Switzerland, and Austria, revealed what women are getting wrong about sexual health, and even though the survey did not poll American women, the findings are nonetheless kind of scary.
But before we get into the scary sh*t, some good news: Zava found that millennials are the most in control of their sexual health, with 29% saying they have at least one STI checkup per year, and 36% of women from 25-24 saying they pay a lot of attention to their discharge. Apparently that 29% statistic is much higher than that of other age groups, which, like, guys?? That's not good. I get that the older you are, the more likely you are to be in a committed relationship or marriage, but still! If reading Reddit relationship advice forums nonstop has taught me anything, it's that cheaters gonna cheat. So now let's get into the more concerning statistics Zava found.
Not Being Tested
According to Zava, 2/5 women across the UK have never had an STI check. Did you guys have that little chart in your college medical office with the people matching? Do you know the one I'm talking about? It shows how many people you've basically had sex with in terms of sharing germs—like, one person has sex with one person, they share germs with one person. But one person starts having sex with someone that had sex with two other people, and now it's like person one had sex with those people, too. And it multiplies. I'm not slut-shaming here (you do you, Samantha Jones), but for the love of God, use protection. STI rates in the U.S. reached an all-time high in 2018, so clearly this is not just a problem in jolly old England. No matter where you are, be responsible, use protection, and get tested.
Assuming "Exclusivity"

LOL @ this in general. You should never just assume you're exclusive. And if RHONY has taught me anything, it's that even when you're married, maybe you should just be aware, too. You've got to protect yourself, and unless you trust the person you're dating, you've had the dreaded "what are we talk", and you both show clean STI tests, you should definitely be using protection every time and getting tested on the reg. And even after you've done those things, still get tested, because it's literally one extra form to sign off on at your yearly exam anyway. You can never be too careful, and although I'm all for love/trust/etc., you need to protect yourself. Not to bum you out, but PyschCentral says over an entire relationship there's a 25% chance someone will cheat. Don't be caught off-guard and risk your health. Also? A friend of mine once told me a story that I think is hilarious/sad/men for you. She was dating a guy, she thought exclusively, and could see him every day except Sunday. She was like, "of course we're exclusive, he spends almost every day with me." The mofo had a Sunday girlfriend that he only saw/slept with on Sundays. Protect yourselves, ladies.
Not Paying Attention
This is about to be super gross, but it's also necessary and I'm only telling you this because I love you. A sad but real truth is that most women do not know wtf is going on in their vaginas. I don't know where you went to school, how good your sex ed was, or what you think is normal. But according to Zava, only 16% of UK women actually follow medical advice and have a checkup once a year, and 62% don't pay attention to what is going on down there.  Ladies, you've got to educate yourselves and make sure you know the signs of an infection, in addition to getting regular checkups and testing. Without treatment, you could have serious health effects, including becoming infertile, or God forbid you have an STI and don't treat it that causes you to become infertile. Just be aware. This infograph from Zava is super helpful, especially if you grew up in an area of the country with terrible sex ed (so like, many areas).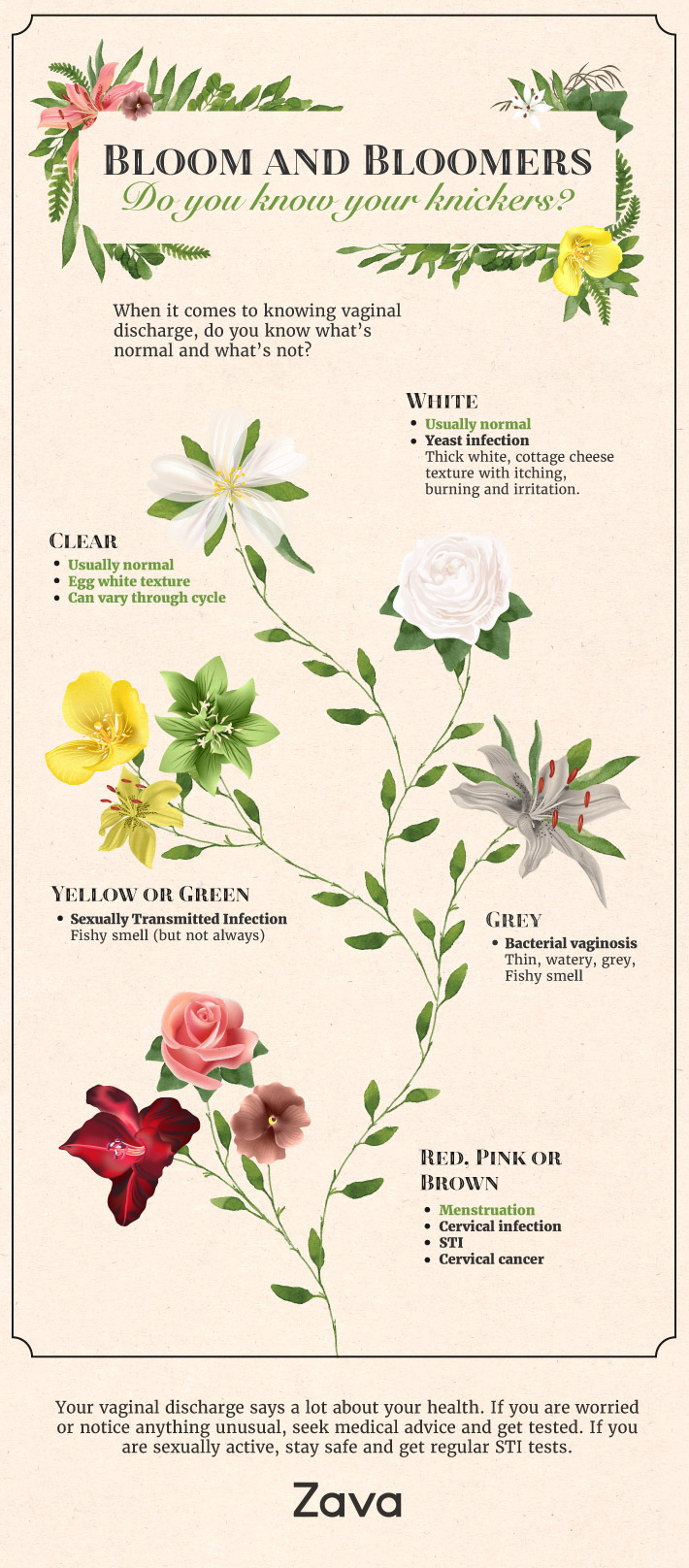 Thinking You'd "Know"
Have I traumatized you yet? No? Let's go ahead and make it worse. Only 19% of women were able to recognize the symptoms of thrush correctly. I don't even know wtf thrush is, so I looked it up, and it's what the Brits call a yeast infection. The scary part is that women assume that they know the symptoms of disease or infection, when the truth is they do not! Also, there are some types of infection where 70% of women don't even show symptoms at all! So how would you know? Especially when Zava states that 61% of women had little to no education on sex health whatsoever. Are you sure you'd know? Are you willing to risk it? Listen, no offense, but unless you're a f*cking doctor, maybe leave it to the professionals. Get tested, get regular checkups, use protection, and know for sure. Part of being in charge of your sexuality is taking responsibility for your sexual health. Go ahead, be Samantha Jones. Just be smart about it.

Even though education systems and the world in general are like, biased and sexist, we as women have to take charge and be knowledgeable about our reproductive health. One more time for the people in back: if you're sexually active, make sure you are getting tested regularly, and be sure you are checking in on your discharge and go to the doctor if something doesn't feel/smell/look right.
Images: Yuliya Kosolapova / Unsplash; Giphy (2); Zava
Vagina Weight Training Is A Thing Now, But Is It A Good Idea?
Remember when people used to lift things up and put them down at Planet Fitness? Well, now they're staying home to lift things… with their vaginas. No, we're not kidding. Vaginal weightlifting is seriously a thing. As opposed to doing regular kegels like every other human, people with vaginas are attaching heavy objects to kegel balls to weight train their vag and pelvic floor muscles in order to get tighter healthier faster. Need proof? Go check out the Instagram hashtag #thingsiliftwithmyvagina. I understand if you don't want to believe it, but this is literally real.
Naturally, we have some questions about these exercises, like "why" and "how" and "who the hell thought of this?" But we also have other, more legitimate questions, like is vaginal weightlifting actually a good idea? We interviewed the founder of vagina gym Kegelbell, Dr. Stephanie Schull, as well as O.school's pleasure professional and pelvic health physical therapist at YouSeeLogic, Dr. Uchenna "UC" Ossai, to find out whether or not you should start weight training your most intimate muscles.
Who Can Do Vaginal Weightlifting?
So she was packing. Maybe she was trying to protect her reproductive rights. Desperate times call for desperate measures. Also: keep the safety on and don't Kegel. https://t.co/W1U1WEyQUC

— ??????? ????? (@shannynmoore) April 28, 2018
First and foremost, are kegels only for people with vaginas? Good news: Any human can do pelvic floor exercises because everybody has a pelvic floor. Whether you're 19 or 91, you can start kegeling. Yay, equality! 
HOWEVER, there are situations where pelvic floor exercises either must be done under supervision or can't be done at all. Dr. UC says that without a postural and pelvic floor muscle assessment, it's hard to say if they'll be beneficial for you. "Depending on your medical condition, you may need to be doing the opposite of kegels. A general rule of thumb is if you have constipation, difficulty emptying your bladder, pain with sex, or any other pelvic pain condition, pelvic floor exercises are typically not recommended." Schull adds not to use vaginal weights if you're pregnant, gave birth less than six weeks ago, have a vaginal infection, 3rd or 4th degree pelvic organ prolapse, or have had pelvic surgery in the last three months. Don't fall into any of those categories? Kegel away.

How To Do It Safely
hey bro will you spot me on these kegels?

— clara's tw*tter (@ramencult) July 25, 2019
My preferred form of exercise is to practice breaking limbs and choking people out (aka Brazilian jiu-jitsu), but safety should always be a concern no matter which workout you get into. Here's how to make sure you're killing the kegel game as safely as possible.
Kegel exercises, in a nutshell, involve repeatedly contracting and then relaxing the pelvic floor muscles. People have already been using Kegel or Ben Wa balls for centuries (why am I just now hearing about this?), and they're basically weighted balls that you insert into the vagina before performing your exercises. There are also other products, like Kegelbell, that have an internal piece and then weighted pieces that are external—resembling the situation in the Instagram above, but a lot less extreme. You're not just like, inserting a dumbbell into your vagina. Dr. UC says you can't do these exercises in the mirror at the gym without getting arrested for indecent exposure…so do this sh*t in the comfort and isolation of your home, please and thank you. No one wants to see you weight training your vag next to the dumbbell station at the local gym.
And for those who don't know (@ me), kegels are way more involved than just clenching. They require proper form and careful instruction like every other workout. Both experts agree that most people do them wrong by holding their breath, arching their back, clenching their jaw, overusing their abs, butt, or legs, or only focusing on just the vagina or anus instead of all three sphincters (the urethra needs to join the party too). Since weighted kegels are way more intense than normal ones, Kegelbell offers instructions on their website with PG-13 videos and guidelines on how to train correctly so you don't get hurt. 
Just like when you're shopping for sex toys and tampons, you'll also need to watch out for unsafe products you probably shouldn't be using. Schull says that some V weights on the market are made of unhealthy materials and include dangerous instructions to wear them for hours or use them for 100+ minutes every week, "creating an unhygienic situation in a place where you definitely don't want that." YIKES. But Kegelbell is FDA-registered, made of medical-grade silicone, and the only kegel-assisted weight that stays OUTSIDE the vagina (the attached bulb is the only part that goes inside). Either way, whether it's a Kegelbell, a dildo, or a menstrual cup, always make sure you wash whatever you plan to stick up there with fragrance-free soap and water before you stick it up there. 
So Is This Actually A Good Idea?

To answer the main Q here, should we be doing weighted kegels? According to Dr. UC, who treats people with sexual and pelvic floor dysfunction for a living, the short answer is (generally) nope. "It reinforces the idea that the key to good orgasm or vaginal sex is a "tight vagina," which is completely inaccurate. "It also lends itself to unnecessary injury, bad movement habits, or faults without proper supervision from a licensed medical provider." She does vouch that Kegel exercises in general can enhance your sex life, though, among other things. "Having a coordinated and strong pelvic floor can help stabilize your spine and improve pelvic girdle pain, bowel, and bladder function, as well as your sexual response."
But it's not just about a tight vag or better sex to Schull, who created Kegelbell after watching her mom experience the pain of pelvic mesh surgery. "How do we expect women to get into the boardroom when we can't even help them get out of the bathroom? a natural, effective, and safe way for women to strengthen their muscles so they can stop worrying about leakage and all the other side effects of weak pelvic floors and get back to the life they love." Cheers, sis.
Research shows that pelvic floor exercises (like weighted kegels) offer lots of health benefits inside AND outside the bedroom. They can help to straighten your posture, keep you from peeing when you jump on a trampoline or laugh too hard (embarrassed to admit at age 26 I have the *worst* bladder and do both of these things), and prevent internal organs from failing…which definitely sounds important. And yes, kegels promote intense orgasms, increase natural lubrication, and enable a stronger "squeeze and release" to amplify sensations during penetrative sex or masturbation. BUT WAIT, THERE'S MORE! Schull claims kegeling can even boost your confidence. "When you have a deep connection with these important muscles, and they are strong, it gives you a profound sense of power. Feeling stronger and more in tune with your body is never a bad thing!" *immediately starts kegeling to gain power and increase crippling low self-esteem*
After speaking with both of these experts, it seems like vaginal weight training can be a good idea as long as you're smart and safe about it. When done correctly and consistently, weighted kegels are just super-kegels that work to keep your pelvic floor healthy, strengthen the surrounding muscles, and treat or prevent any related dysfunctions down there. But you don't really need to add weights necessarily to get these benefits. Whatever you do, please don't add these exercises to your circuit at the normal gym unless you want to get banned from your local Equinox (maybe not a bad idea, considering current recent events tbh). 
Images: Kegelbell, GIPHY, Twitter @ramencult, @shannynmoore
What Your Pelvic Floor Is & Why You Should Care About It
So, you've heard about the pelvic floor before: you tried kegels a few times but weren't sure if you were doing them right… you heard how giving birth can damage your pelvic floor muscles and afterwards you might pee when you sneeze… your friend has maybe told you about their jade egg… or you might've read about other kegel toys on O.school. But, when you get down to it, what's the deal with the pelvic floor?
Well, this group of muscles may just be the unsung hero of your body. The pelvic floor plays a critical role in bladder control, bowel function, childbirth, orgasms, ejaculation, erections, and more, so having a healthy pelvic floor is a pretty big deal for your health and your sex life. When the pelvic floor is healthy, these processes go smoothly, but when the pelvic floor is not healthy, there can be issues.
What Is Your Pelvic Floor?
The pelvic floor is a group of muscles in the pelvis that sits like a sling between the pubic bone at the front of the pelvis and the tailbone at the back. The muscles support the organs inside the pelvis, including the bladder and bowel, as well as the uterus (for people who have one).

In case you need to know for a trivia quiz in future: levator ani, ischiocavernosus, bulbospongiosus, and coccygeus are the names of the muscles that comprise the pelvic floor. They sit at the base of the pelvis under all the pelvic organs, and wrap around the urethra, anus, and vagina, controlling the opening and closing of these passages.
Everyone has a pelvic floor—regardless of gender, age, body type, or any other kind of difference. So, pelvic floor health is not just about vaginas. We can all benefit from maintaining a healthy pelvic floor.
What Does Your Pelvic Floor Do?
Firstly, the pelvic floor keeps your organs inside your body, so gravity doesn't let them fall out when you're standing upright and walking around. Yikes. Ok, it's not a very sexy thing to think about, but it is kind of an important job.
Secondly, the pelvic floor muscles squeeze closed and relax open to allow the passage of waste (both kinds) and, when relevant, babies. Being able to squeeze and relax the muscles is also essential for arousal, orgasm, erections, ejaculation, and pain-free sex.
Why Should You Care About Your Pelvic Floor?
Did you not read when I said "pain-free sex"? But for real, having a healthy pelvic floor is important because it controls so many important bodily functions. Peeing when you want to, and not when you don't? Thank your pelvic floor. Same with poop control—thanks, pelvic floor! Being able to achieve orgasm? You can thank your pelvic floor for that too. Having sex without pain? Yup, I mentioned that one already. See what I mean about it being the unsung hero?
On the other hand, if you're having any of these problems, an overly weak or overly tight pelvic floor might be the culprit:
Accidentally peeing or having trouble getting all your pee out

Accidentally pooping or often getting constipated

Pain in your back, abdomen, pelvis, or genital areas

Difficulty achieving orgasm

Pain during sex (especially painful penetration)

Difficulty inserting anything into the vagina

Penis problems like erectile dysfunction and rapid ejaculation
How To Care For Your Pelvic Floor
Let's get one thing straight first, being "tight" down there is not actually a good thing. Sure, you want those muscles to be strong, and to be able to clench when you want them to, but you also need to be able to relax them too. An overly tight pelvic floor can cause as many problems as a weak one.
The right balance of strength exercises, like Kegels, and relaxing exercises, like stretching, keep the pelvic floor in tip-top shape. According to pelvic floor physical therapist Dr. Uchenna Ossai, "If you don't strengthen your pelvic floor, if you don't work on relaxing your pelvic floor, if you don't work on lengthening your pelvic floor, it's not going to be functioning the way you need it to". So how do you exercise your pelvic floor? Here's how.
How To Do Kegel Exercises
Doing Kegels is basically like going to the gym, but for your pelvic floor. And on the bright side, it takes way less effort than the gym, and you probably won't break a sweat doing it. But before you dive into Kegels, it's important to know that they're not suitable for everyone. If you have a healthy or weak pelvic floor, then go for it. On the other hand, if you have an overly tight pelvic floor, Kegels can make things worse. Seeing a pelvic floor physical therapist will help you work out the state of your pelvic floor and which exercises are best for you. Below is a step-by-step guide to Kegels for people with vaginas.
Step 1: Isolate The Correct Muscles
You'll want to be in a neutral spine position, that means you aren't too arched and you're not too flexed. Find somewhere in the middle where everything feels natural and comfortable. You can isolate different parts of your pelvic floor by focusing only on the anus, vagina, and urethra! But for general purposes, focus on engaging the entire muscle group.
For more info on how to isolate the correct muscles click here. 
Step 2: Squeeze AND Lift Your Pelvic Muscles

Think about picking up a Kleenex with your pelvic muscles. Imagine squeezing your urethra, anus, and vagina to pick up a Kleenex and pull it up towards the ceiling.
Step 3: Keep Breathing Throughout Your Kegels

Breathe normally while you do your Kegel exercises. Don't hold your breath, pull your belly in, tighten your inner thighs, or arch your back. You are just trying to work those specific pelvic floor muscles and keep everything else relaxed.
Step 4: Release The Muscles

After a few seconds, release the muscles. Imagine you are letting go of the Kleenex and let it float down to the floor. You should completely relax the muscles at this stage. But don't push down with your muscles when releasing. Remember, the goal is to have good pelvic floor tone, which means muscles that are able to relax as well as squeeze.
Step 5: Repeat

Before you decide on how many reps you need to do, you first need to figure out where you stand. Start with a 10 rep max; lay down and repeat the above instructions for a max of 10 reps. If you get tired after four reps (it will feel like you cannot find your muscles), then that is your starting point. Begin with two to three sets of four reps, once a day for general maintenance and then build yourself up to two sets of 10 reps.
You also might want to work on your endurance, which means you should practice holding the contraction for a few seconds, and then release and relax the muscles.
Some Final Notes
Many people think "tight is right," but that's not always the goal. Your pelvic floor needs to have rhythm—it needs to be able to tighten when you need it to tighten and relax when you need it to relax. Having good muscle awareness and coordination are key ingredients to a healthy pelvic floor.
If you want to delve deeper to work on your own muscle awareness and coordination, Dr. Uchenna Ossai suggests talking with a health care provider that can do a pelvic floor assessment and help you come up with a program that is right for you.
Images: Openstax, Rice University; video courtesy of O.school
That 'Coachella Herpes Spike' Is Probably Fake
Just when I thought the Coachella 2019 coverage was really, truly over, leave it to herpes to come in and ruin everything. The internet was blowing up this morning after TMZ posted a report that this year's festival was responsible for a major spike in people seeking treatment for herpes. At first glance, it's a funny story, because Coachella is basically two weeks of people getting f*cked up and making poor decisions in the desert. It would make sense that a disease as common as herpes would thrive in this kind of environment, but this whole story is actually just nonsense.
The source of the report is HerpAlert, a website that offers "online treatment and diagnosis" for herpes. Basically, people send pictures of their junk, and then a professional reviews the pics and decides if you have herpes. Sounds legit! According to HerpAlert, they usually only handle about 12 cases a day, but during the first two days of Coachella, their numbers soared close to 250. Also, since the start of Coachella this year, they've had over 1,100 cases in Palm Springs and the surrounding areas, including LA and San Diego.

While these numbers are definitely enough to get anyone's attention, they're pretty misleading when it comes to what herpes is actually like. Honestly, I know this stuff from my 9th grade health class, but we got some info from Dr. Robert Huizenga just to be sure. Dr. Huizenga is a physician, sexual health expert, and the author of Sex, Lies, & STDs. Basically, he knows what's up when it comes to herpes.
First of all, the most important thing to note is that the initial spike in HerpAlert patients occurred during the first two days of the festival, which does not add up with the timeline of the onset of herpes. Dr. H says that it takes herpes symptoms three to seven days after contact to appear. Given that Coachella is a three-day festival and many of these "cases" were submitted only during day two, that is not enough time to have contracted the herpes virus while at Coachella, no matter how many people you hooked up with on the camp grounds. It just does not compute.
Second of all, and more importantly, Dr. H notes that you can't diagnose herpes with a blood test until 14 to 30 days after contact. Sores or rashes can show up before that, and could in theory be diagnosed with this picture-sending app, but it's not as reliable as getting an actual blood test done. Seeing as it has barely been 14 days since weekend one of Coachella, it's very unlikely that over a thousand people all contracted herpes at the festival. If anything, this whole "Coachella herpes outbreak" story is probably just proof that people are misinformed about sexual health (or wore too much glitter near their junk and are paranoid), rather than any indicator that there's a major herpes outbreak in Indio.
Coachella Tip: The chick with the glitter eyeshadow wearing a bikini top and feathers is totally down to hook up/give you herpes.

— caprice crane (@capricecrane) April 10, 2015
Of course, everyone should go get tested regularly, whether or not they've been having sex in the desert, and use protection. Maybe next year Coachella should send out STI informational brochures along with the wristbands. And after you get tested, take a moment to send prayers to the poor doctor who had to review all the pictures of dirty junk that influencers were sending during Coachella. Yikes.
Images: Daniel Dvorsky / Unsplash; Giphy; @capricecrane / Twitter