An Expert's Top 3 Tips For Dealing With Workplace Sexual Harassment
The past few months have been big for change. Companies have been called out for systemic racism. The Supreme Court gave LGBTQ workers federal civil rights. Sexual predators are having a renewed #MeToo moment. Powers-that-be are being held to account. That's phenomenal for social progress. It's also horrible for workplace sexual harassment.
Sorry to be the bearer of bad news (amidst an already heinous 2020), but you'll want to beware of increased sexual harassment when you're on the job, as harassholes hate this new world.
Here's the skinny: Workplace sexual harassment is a power play. Basically, harassers are insecure people who want to make you feel small because they find you threatening and/or seek a power boost.
Don't get it twisted, though: Sexual harassment doesn't have to be sexual. What matters is that you're being targeted because of your gender or sexual identity.
Harassholes may try to "put you in your place" by using typical sexualized come-ons, like ogling your goodies in the office, jumping in your DMs to ask you out for the umpteenth time, or promising you a promotion in exchange for a Netflix and chill. Or, harassholes may leverage hostile put-downs that humiliate you, like calling you crude names on conference calls, cutting you out of morning meetings, berating you for not dressing the way a woman "should" dress. The displays of disrespect are limitless.
Now that our new world is pushing for greater respect for marginalized persons, women included, harassholes see our world as a less hospitable place for their antics. They're frustrated about not being able to mistreat you and others with impunity, and they'll try to reclaim their sense of power by stepping up their harassment game. Protect your purse and your mental health by being prepared.
Here are three quick tips to help you beat workplace sexual harassment:
Identify The Harassholes
You may be a butterfly, but harassholes aren't very unique. They tend to have shared traits, among them being gender. Men make up some 90% of harassholes. In addition to that, they're more likely to embrace these characteristics:
⭐︎ Support traditional gender roles
⭐︎ Maintain a strong male identity
⭐︎ Think men are superior to women
⭐︎ Believe men and women should be segregated
⭐︎ Sexualize women, girls, and LGBTQ people
⭐︎ Trivialize victimization or engage in victim-blaming
⭐︎ Lack egalitarian attitudes toward gender and/or race
You can spot these traits by listening to what a harasshole says about gender and sexual identity. For instance, harassholes often think men are better suited for traditionally male jobs and leadership positions whereas women should be in "pink careers," stay-at-home moms, or in supporting roles. Harassholes use activities and terms typically associated with women to demean other men, such as calling a man a "pussy" or promising to wear a dress in public as part of a bet. These are the dudes who use stereotypes about women as punch lines. 
The thing is, there's nothing funny about harassholes. Keep an eye out for them and remember—just because someone isn't a harasshole to you, doesn't mean they're not harassing another colleague. Harassholes are shady shapeshifters.
Document, Document, Document
Your records of what happened are essential to beating workplace sexual harassment. Why? Memories fade. Plus, there's a 99% chance that the harasshole (and your employer) will lie. Avoid the he said, she said situation by documenting what went down. On your personal computer or encrypted email, maintain a log of the who, what, when, where, and how of the experience like you're writing a bland yet detailed screenplay. Also, attach supporting documents such as text messages, emails, DMs, and notes. 
You'll want to have it all, especially if you ever need to speak out or if you suffer retaliation. Documentation can make the difference between getting the heave-ho with nothing and getting out of a company on your own terms with solid references and a strong severance.
Always Trust Your Instincts
Pay attention to that still small voice that echoes within when you're uncomfortable. Never try to override your instincts with rationalization. You know what you're sensing, what you experienced, and what you need not tolerate. Don't ignore it.
Do ignore gaslighting and shade-throwing coworkers. As much as I hate to say it, research shows that some coworkers will try to discourage you from speaking out about sexual harassment and many will distance themselves from you for fear of being mistreated by your employer too. That's a bummer. But it doesn't mean you should "take one for the team" by keeping quiet. Real friends won't insist you be disrespected and won't try to deny your reality.
Stick close to your instincts, demand to be treated with respect, and do you. You may not be The Boss, but you are a boss and you deserve to work in a harassment-free workplace.
Adrienne Lawrence is an on-air legal analyst and the author of Staying in the Game: The Playbook for Beating Workplace Sexual Harassment (TarcherPerigee, 2020). Lawrence has contributed her insight on workplace sexual harassment for outlets such as the Harvard Business Review and NPR. Follow her on Twitter @AdrienneLaw and IG @AdrienneLawrence
Images: Song_about_summer/ Shutterstock.com
The Oxford Dictionary's Synonyms For 'Woman' Are Sexist AF
Bad news: the dictionary is being sexist.  The Oxford Dictionary of English has received some backlash after people made complaints about some super offensive synonyms listed for the word "woman," such as "baggage, wench, piece, bird and bitch." Hm, don't love that! Also…bird?! Is that an Always Sunny in Philadelphia reference?

A petition on Change.org with more than 30,000 signatures has made its way across the internet, demanding that the Oxford Dictionary make changes to its definition. The petition was started by London-based communication strategist Maria Beatrice Giovanardi and states, "This is completely unacceptable by a reputable source like the Oxford University Press, but it's even more worrying when you consider how much influence they have in setting norms around our language."
(As of the publishing of this article, about 31,000 people had signed the petition.)
Language matters. The way we are taught to speak and think about words matter. An official definition of the word woman including synonyms like "bitch" and "wench" will have a serious and lasting impact on how people perceive women. The word "bitch" shouldn't be correlated with women in a dictionary. Like, that's only okay when we say it about ourselves and our friends as a term of endearment and solidarity.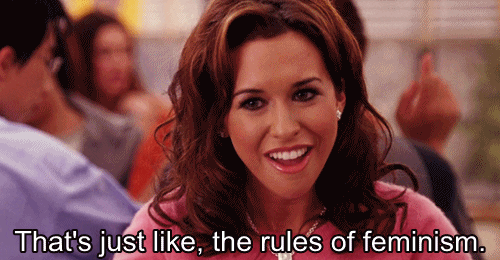 Plus, search engines such as Google and Bing use the Oxford Dictionary to source their definitions. And IDK if you heard, but the internet is pretty popular and people use it a lot. So, clearly people will be influenced by this definition and these synonyms. The way we talk about women affects how we treat women. Period.
Katherine Martin, the head of lexical content strategy at Oxford University Press, wrote a blog post addressing the issue and said that there is a nuance to how words are defined. "If there is evidence of an offensive or derogatory word or meaning being widely used in English, it will not be excluded from the dictionary solely on the grounds that it is offensive or derogatory," she wrote.
The Oxford Dictionary notes that these words are offensive or derogatory, so big round of applause for them on that.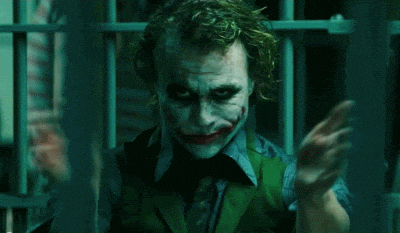 Turns out the definition for man in the Oxford Dictionary doesn't have equally as offensive or derogatory terms, if you can believe. And while the "woman" entry notes that "bitch" is an "offensive" synonym, it lists no offensive synonyms for "man." We'd be happy to help them out there.
Call me a crazy bird, but I think it's high time we start talking about women with more respect.
Is Penn Badgley's New Show Problematic?
I started watching Lifetime's YOU for the same reason I assume everyone did. As a self-loathing 24 year-old with an English degree an ex-Gossip Girl addict, I missed watching Penn Badgley condescend to women about literature on my TV. And YOU does serve up plenty of that—but it also serves up a narrative that walks through very dangerous territory. As the show follows the story of one guy's growing obsession with a girl, it has the potential to fall on the side of harmless, bingeworthy pop-horror—or on the side of sexist, hurtful garbage. Here's why I'm a little worried it'll be the latter.
For those who don't know, Lifetime's YOU is about a crazed stalker/bookstore owner named Joe (Badgley) who becomes obsessed with an MFA student/generally insufferable "poet" named Beck. (Guinevere Beck in full, just to give you a sense of the writing we're working with here). The show is (mostly) narrated from Joe's point of view, a device that's apparently carried over from the source material. We hear as Joe decides to indulge his obsession: following her, breaking into her apartment, stealing her phone. We hear the judgments he makes as he examines her life: her friends are shallow and stupid; her choices in men are hopelessly misguided; and above all, she needs to be rescued from her own worst impulses. Rescued, of course, by Joe.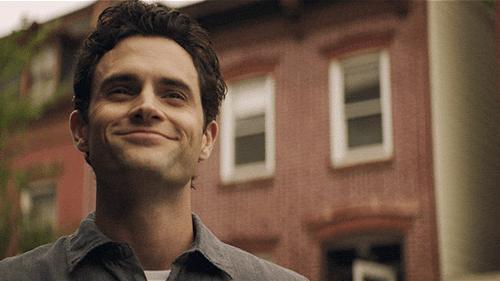 The decision to have us hear Joe's thoughts is useful, to an extent. We hear the jumps in his logic early on ("I should Google her" becomes "I should masturbate outside her window" very swiftly), establishing firmly that he is disturbed and we should treat him as such. But hearing his thoughts also creates an instinctive desire to understand him, as you experience the story through his eyes. And given that the show's view of Beck does very little to contradict his impressions—her friends are portrayed as rich, unsupportive airheads, and her pseudo-boyfriend is a celiac entrepreneur with a trust fund. To an extent, YOU tells us that Joe is right, and Beck does need to be saved from these monsters.
Of course, you could argue that the story is simply uninteresting if Beck is an unflawed character. But in the first four episodes (SPOILERS), we see Joe save Beck's life, help her work through deep-seated issues with her father, and re-invigorate her confidence as a writer. Yes, we also see him murder a man in a bookstore basement, but YOU does everything short of casting Donald Trump to ensure that we want that man dead anyway. For every act or thought that could only belong to a complete maniac, Joe is somehow given an equal and opposite opportunity to prove himself as Best Boyfriend Ever. And between that dangerous balancing act and the flashbacks to (what I assume is) Joe's abusive father, I'm getting a little concerned about the picture YOU is painting.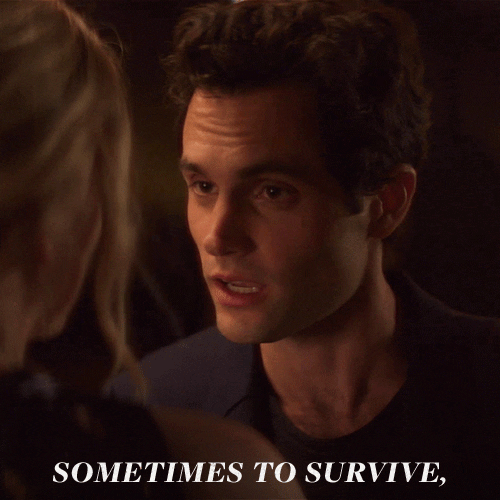 Ultimately, the question of how much we want Joe's character humanized is key. The more we watch Joe have a positive impact on Beck's life, or hear Joe's opinions and agree with them, or are shown flashbacks intended to make us feel sympathy for Joe, the more we're distanced from his active decision to prey on a strange woman. Every time Beck's friends are mocked or demonized for questioning her choice in Joe (ostensibly, because he makes no money), it complicates the narrative of "man terrorizes woman." In an odd way, the story instead becomes "Joe is so great for Beck—if only he weren't also a terrorizing psycho!" It suggests, in turn, that Beck would be better off if someone like Joe came into her life. Just a version without childhood trauma that causes him to stalk and kill people.
But I never sought out this show in hopes of watching a woman get saved by a man. I came hoping to watch a terrible man behave terribly, and eventually be punished for it. I came for the kind of justice that's rare as ever in our current world, where a bad man is outed and punished appropriately. Instead, I'm getting the same of what we see in the news, or what's been written in every book with a male author since the dawn of time. A man did a bad thing—but it's complicated, and he had a bad childhood, and we shouldn't be so quick to judge, and hey, she's not perfect either!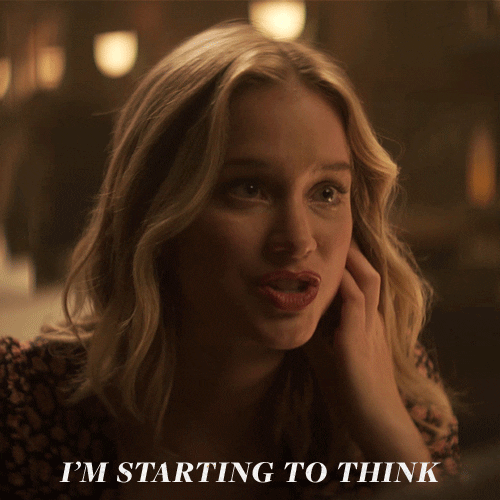 Like I said, I understand the need to have "complicated" characters on both sides for the overall non-awfulness of the story. But when you're showing Beck swiping indiscriminately on Tinder and Joe driving around a corpse in his trunk in the same episode—and implying that judgment is equally deserved for both—I'm going to lose a little patience. Explore Beck's character all you want, but portray Joe the stalker as the monster he is, and not as a morally comparable puzzle we should all be eager to solve.
Images: Lifetime; Giphy (3)
Is LinkedIn Creepy?
A friend recently brought to my attention that the popular job-seeking social media platform LinkedIn "might be creepy." "Why do you say that?" I asked her, genuinely curious, because as a creative, the only messages I receive on that site are from dudes telling me their wives love my Bachelor recaps and LinkedIn job recruiters letting me know that my degree in creative writing has qualified me for a job opening in janitorial services. While the latter makes me want to douse myself in lighter fluid and set myself on fire, and the former is a little weird but mostly flattering (fun fact: I need to be constantly praised, so, like, keep it up men), I wouldn't call either of those interactions "creepy." But it did get me thinking, is LinkedIn creepy? Was I missing something here? Are men, having been cancelled from every other app, now trying to make LinkedIn their final frontier? I've literally investigated claims for less. So, buckle up, betches, because I'm about to call men out on all their bullsh*t. Again.
As I mentioned, my friend, let's called her "Meg," originally brought this whole LinkedIn creepy scandal to my attention. Meg told me she was constantly being harassed by older men who would slide into her DMs ON A PROFESSIONAL JOB-SEEKING SITE to tell her she's pretty and ask her on dates. My immediate follow-up question was did she accidentally tap into her Hinge messages and not her LinkedIn messages? I just couldn't imagine a world where business betches like myself were having to virtually fend off men. 
MEG: LinkedIn is cancelled because men are trash.
ME TO THE MEN OF LINKEDIN:

After I spoke with Meg, I checked my recent requested connections. ALL of them were from men. The majority of them looked like they could be my dad's age or older, and almost none of them were in the same field as me or had any mutual connections with me. Again, it was strange, definitely suspect, but not outright damning.
So I started asking other women in my life about their experiences with LinkedIn. Women I worked with, women I'd lived with in New York City, women I'd gone to college with in North Carolina. Every single one of them could list an uncomfortable encounter. One friend told me she gets DMs at least once a week from strange men asking for her number or sending her messages in all emojis, which is fine if this is Instagram and you've posted a fire bikini selfie, but not on a goddamn job site!
I took to Google and found out that last year Buzzfeed published an entire article about women taking to Twitter to ask men to please stop treating LinkedIn like their own personal dating site. Welcome to 2018, ladies, where no place is safe anymore, especially not the workforce! God, I wish I was kidding.
If you have working eyes and ears then you know that over the last two years, the ladies of the #MeToo movement have been out here doing the lord's work and exposing (pun intended) every Tom, Dick, and Harry for being the disgusting scumbags they really are. They shed light on an issue which every woman with a pulse was already aware of: if you show up to work with breasts, then you're going to get hit on/be treated differently/have to fight off unwarranted touches/generally be made uncomfortable by men at some point in your career. But it's chill because that's professionalism, ladies, look it up!!

Obviously, these are not new issues. For as long as there have been women in the workforce, there has been sexism and sexual harassment, there has been women sacrificing their dignity and, in some instances, their safety for the sake of their careers. And GODDAMNIT it's got to stop. Women should be able to online shop on their phones, discreetly and under the table, during another useless department meeting without their bosses saying something inappropriate about their outfits. Women should be able to job search and network and see if their ex's new girlfriend has a better salary than them without being f*cking romantically propositioned in the process. This is 2018, for god's sake! Men, do better. 
So, in conclusion, men are still trash and apparently so is your favorite networking site. Stay vigilant, ladies.
For more important career advice, pre-order our third book, When's Happy Hour? here!
IMAGES: Giphy (2); @rawpixel /Unsplash (1)
How To: Handle A Cat Caller
Some men are gentlemen. They listen when you talk and ask you questions and respect whether or not you want to fuck them. These men are called pros and we reward them with our company and blowjobs, if we feel like it.
Okay so now that I've gotten all that #NotAllMen shit out if the way let's talk about the everyday creepy assholes who roam the streets chasing tail and blurring the line between man and beast. I'm talking, of course, about cat callers.
Every betch on earth has been cat called. In fact, you don't even have to be a betch to be cat called. You just have to be vaguely female-presenting and outside. It's fucking lame, and I think I speak for all betches when I say we're over it. So here's our guide making it through the day without being gobbled up by some dude who amounts to nothing more than a literal animal wearing human clothes.
DO: Look Visibly Disgusted
Betches have a whole range of faces for letting someone know you hate them without ever actually acknowledging them. So use all your skills: bitchy resting face, eye rolling, pretending to vomit, actually vomiting. Whatever makes you feel good and lets this creeper know you are far from interested.
DON'T: Engage
Like most wild beasts, cat callers lose their shit when you make eye contact, so don't. Turn up your headphones, put on your sunglasses, and walk on by. Let this fool know that shouting down women on the street is less of a dating strategy and more of a sign that he won't be moving out of his mom's basement anytime soon. When you talk to these freaks or smile at them or say hello then they've gotten what they wanted: your attention, and there are plenty of normal, not-insane bros who haven't even earned that.
DO: Tell Someone
If you find yourself in a situation where you're moving from a regular cat call situation to a first-scene-in-robocop type situation, fucking tell someone. Go into the nearest store or flag down the nearest sane person and let them know what's going on. Girls find a million reasons not to report being harassed because it feels shitty and takes time and makes you seem dramatic, but fuck that. Be dramatic. You didn't bat an eyelash when you drunkenly flipped out at a dude who spilled his drink on your satin shoes, so why give this actual psychopath a pass?
DON'T: Let anyone convince you it's flattering
Any girl who's ever had to run to the store in sweatpants on her period with a hangover knows that cat calling has nothing to do with how you look. In fact, it has nothing to do with anything except the fact that you appear to have a vagina and that makes some men think they can shout at you. Like, oh you think I look beautiful? Well I already fucking knew that because I'm a perfect fucking snowflake. These dudes would cat call an actual cat if they thought it would understand what they were saying, so don't let them try to convince you that their unsolicited comments on your appearance are something you should be grateful for. It's fucking gross and he can go shave his back now.