7 Things You Didn't Know About Girl-On-Girl Sex
Lesbian sex isn't just a category on PornHub. It doesn't matter if you are lesbian, bi, pan, queer, or any other label you are comfy with, if you are a woman who has had sex with another woman, you know the magic that is girl-on-girl sex. But if that's not something that you have had the pleasure of experiencing for yourself, then allow me to let you in on some sexy sapphic sex secrets that are seriously useful if this seems like something that would satisfy you.
1. Vaginas Aren't Gross

Straight girls LOVE to tell me how gross they think vaginas are. The thing is, the only vagina they've seen is their own (which is concerning that they are making that broad assumption based just on themselves… and also that they think their own genitals are gross). The people perpetuating the stereotype that vaginas are gross are lazy men who don't want to have to reciprocate. Every vagina looks different, and yes it has a smell, but think of all of the cleaning rituals you go through before presenting your puss to someone. No girl is going to come to you on day 2 of her period and day 3 of not showering and expect you to chow down. Girls clean up for other girls just like they would for anyone else. One paragraph is not going to solve internalized misogyny, but trust me when I say that what you have been told about vaginas is wrong as sh*t. You're telling me that filling your entire oral cavity with a whole flesh tube is less gross than licking a small button of joy? You lyin', girl.
2. Vaginas Aren't *That* Complicated
The rumor is that vaginas are so hard to please that you shouldn't even bother trying. And we're just supposed to live with that. However, anyone who has gone down on both men and women will tell you that eating pussy is lightyears easier than sucking dick. It's actually infuriating how much easier it is when women are told that blow jobs are expected and getting eaten out is a privilege. You don't get choked, you don't have to swallow jizz, and you don't have to deal with balls. There are thousands of articles on how to give a blow job, and all you have to do it just, like, put it in your mouth. You'll be able to figure out a vagina no problem; it's just that people don't think women deserve pleasure. And that's on patriarchy.
3. It Could Go On For Hours
P-in-V sex has a very predictable beginning, middle, and end. On the other hand, lesbian sex could go on literally forever. There's no refractory period and no man falling asleep because he came and is over it; you can just keep going until you realize you've missed two meals and 16 calls from your friends who think that you're dead. There may be a snack break in between, a couple minutes to talk about your feelings or compliment each other, and you'll have to redo your hair once or twice, but other than that, sex ends when both of you say it does.
4. You'll Actually Cum

Studies show that lesbians cum SIGNIFICANTLY more than straight women during sex. That's both a brag and a fact. Straight men reportedly orgasm 95% of the time while straight women orgam 65% of the time. Lesbians, on the other hand, orgasm 86% of the time. Another study showed that women were 33% more likely to have an orgasm if they were having sex with another woman. There's not a definitive reason for this discrepancy, but I'm thinking it definitely has to do with straight men. Society and sexual education is all centered around men cumming during sex, and there is little to no emphasis on female pleasure. But in lesbian sex, there is ONLY female pleasure. It's feminism on crack. Once you realize that you deserve to cum too, you will feel the difference as you are ascending to another plane of existence on a cloud of ecstasy.
5. Anything Is Fair Game
There are no rules when it comes to lesbian sex. Whatever feels good, you do. It could be rubbing your clit on her leg, it could be getting fingered from behind, it could be a sh*t ton of nipple play. The goal in girl-on-girl sex is for both of you to have a good time, not to make a man jizz. If you are with a partner who also has a vagina, then they'll understand exactly how different sexual acts can feel good. You won't have to be embarrassed to do or ask for something that makes you feel good during sex. The pussy-bilities are literally endless.
6. Scissoring Is Real… Kind Of
Scissoring is a form of tribbing, which is when two vulvas/clits are rubbed together. Scissoring is one of the positions you can do when you are tribbing, but more than likely tribbing will be a little more ergonomic than scissoring. You can trib in a missionary style, cowgirl/reverse cowgirl, or any other way that both vulvas touch. It's like how a square is a rectangle but a rectangle is not a square; all scissoring is tribbing but not all tribbing is scissoring.
7. You Don't Need A Strap-On
Strap-ons are a fun addition to girl-on-girl sex for anyone who likes that penetration, but it's possible for girl-on-girl sex to have no penetration at all. I'll give you a second to process that. Sex isn't just when something goes in something else; it's when you are pleasuring or being pleasured by another person. So if that means one person just wants to get eaten out, then they can have that. And tbh, that doesn't sound all that bad.

So if you have ever been curious about having sex with another girl or another person with a vagina, give it a try. What's the worst that will happen? You'll actually have an orgasm? Don't let the rumors stop you from trying girl-on-girl sex. Just follow your heart. Well, in this case, I guess follow your vagina.
Images: Shutterstock; Giphy (3)
The Top Mistakes Women Make When It Comes To Their Sexual Health
Hello, female brethren. Is there a female word for brethren? Okay, I Googled it, and it's sistren, which is super weird because I have never heard this word in my life, and even spell-check is telling me it's wrong, but IT IS NOT. Also, spell-check does not flag brethren, so yeah, that means spell-check is sexist. Do better, world.
Anyway. This conversation we're about to have is going to be super icky and also NECESSARY, because it's about sexual health. I literally had a conversation this evening (wine may or may not have been involved) with a friend who was not using protection with a man she barely knows because she assumed they were exclusive. Okay, first of all, NO. Assuming you are the only hole a guy is putting it in without verbal confirmation and possibly a legal contract is incorrect. Just ask Jeff Bezos. Which leads me to believe that the beautiful, smart, successful millennial women I know and love, are not aware of the importance of sexual health. So let me enlighten you. A study performed by Zava, a leading online doctor that operates in the UK, France, Germany, Switzerland, and Austria, revealed what women are getting wrong about sexual health, and even though the survey did not poll American women, the findings are nonetheless kind of scary.
But before we get into the scary sh*t, some good news: Zava found that millennials are the most in control of their sexual health, with 29% saying they have at least one STI checkup per year, and 36% of women from 25-24 saying they pay a lot of attention to their discharge. Apparently that 29% statistic is much higher than that of other age groups, which, like, guys?? That's not good. I get that the older you are, the more likely you are to be in a committed relationship or marriage, but still! If reading Reddit relationship advice forums nonstop has taught me anything, it's that cheaters gonna cheat. So now let's get into the more concerning statistics Zava found.
Not Being Tested
According to Zava, 2/5 women across the UK have never had an STI check. Did you guys have that little chart in your college medical office with the people matching? Do you know the one I'm talking about? It shows how many people you've basically had sex with in terms of sharing germs—like, one person has sex with one person, they share germs with one person. But one person starts having sex with someone that had sex with two other people, and now it's like person one had sex with those people, too. And it multiplies. I'm not slut-shaming here (you do you, Samantha Jones), but for the love of God, use protection. STI rates in the U.S. reached an all-time high in 2018, so clearly this is not just a problem in jolly old England. No matter where you are, be responsible, use protection, and get tested.
Assuming "Exclusivity"

LOL @ this in general. You should never just assume you're exclusive. And if RHONY has taught me anything, it's that even when you're married, maybe you should just be aware, too. You've got to protect yourself, and unless you trust the person you're dating, you've had the dreaded "what are we talk", and you both show clean STI tests, you should definitely be using protection every time and getting tested on the reg. And even after you've done those things, still get tested, because it's literally one extra form to sign off on at your yearly exam anyway. You can never be too careful, and although I'm all for love/trust/etc., you need to protect yourself. Not to bum you out, but PyschCentral says over an entire relationship there's a 25% chance someone will cheat. Don't be caught off-guard and risk your health. Also? A friend of mine once told me a story that I think is hilarious/sad/men for you. She was dating a guy, she thought exclusively, and could see him every day except Sunday. She was like, "of course we're exclusive, he spends almost every day with me." The mofo had a Sunday girlfriend that he only saw/slept with on Sundays. Protect yourselves, ladies.
Not Paying Attention
This is about to be super gross, but it's also necessary and I'm only telling you this because I love you. A sad but real truth is that most women do not know wtf is going on in their vaginas. I don't know where you went to school, how good your sex ed was, or what you think is normal. But according to Zava, only 16% of UK women actually follow medical advice and have a checkup once a year, and 62% don't pay attention to what is going on down there.  Ladies, you've got to educate yourselves and make sure you know the signs of an infection, in addition to getting regular checkups and testing. Without treatment, you could have serious health effects, including becoming infertile, or God forbid you have an STI and don't treat it that causes you to become infertile. Just be aware. This infograph from Zava is super helpful, especially if you grew up in an area of the country with terrible sex ed (so like, many areas).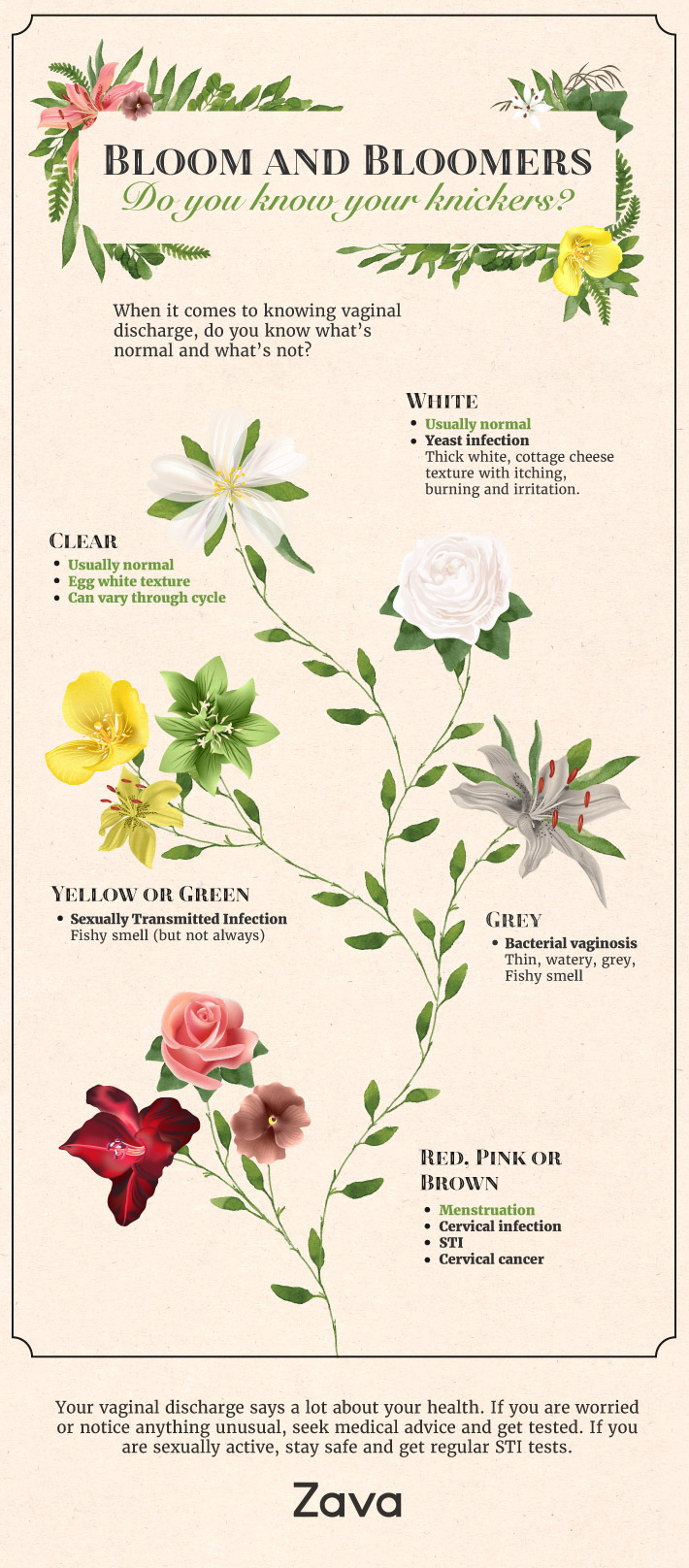 Thinking You'd "Know"
Have I traumatized you yet? No? Let's go ahead and make it worse. Only 19% of women were able to recognize the symptoms of thrush correctly. I don't even know wtf thrush is, so I looked it up, and it's what the Brits call a yeast infection. The scary part is that women assume that they know the symptoms of disease or infection, when the truth is they do not! Also, there are some types of infection where 70% of women don't even show symptoms at all! So how would you know? Especially when Zava states that 61% of women had little to no education on sex health whatsoever. Are you sure you'd know? Are you willing to risk it? Listen, no offense, but unless you're a f*cking doctor, maybe leave it to the professionals. Get tested, get regular checkups, use protection, and know for sure. Part of being in charge of your sexuality is taking responsibility for your sexual health. Go ahead, be Samantha Jones. Just be smart about it.

Even though education systems and the world in general are like, biased and sexist, we as women have to take charge and be knowledgeable about our reproductive health. One more time for the people in back: if you're sexually active, make sure you are getting tested regularly, and be sure you are checking in on your discharge and go to the doctor if something doesn't feel/smell/look right.
Images: Yuliya Kosolapova / Unsplash; Giphy (2); Zava
I Went Off Birth Control For The First Time In 15 Years & Here's How It Felt
For most of us, birth control is a necessary evil. Like doing our taxes, or pretending to enjoy giving blow jobs (just me?). It's the thing we joke about when our alarm goes off during happy hour, the thing we bitch about when we're overly hormonal, or feel grateful for after a hookup goes awry. It's a thing we hate sometimes, but can't—or won't—live without it. And if you think I'm being overdramatic with that statement here are the receipts facts: according to recent studies, nearly two thirds of American women use contraceptives in some way, shape, or form. I should know because for the last 15 years I was one of these women.
If a friend told me they were goingn to go off birth control, I would act aghast. "You can't be serious. I don't know who I am without it," I'd joke. But it wasn't really a joke. I was 12 when I first started using birth control. I had a heavy period that would come every 10 days. I was bleeding more days out of the month than I wasn't. My doctor recommended me going on the pill to regulate my periods and my mom, who had nothing but good experiences with birth control, was all for me trying it out. Fifteen years later, I never looked back.
Being on the pill felt like an extension of myself, like an arm or the gel manis I can't live without. There was never a question of me not being on it. To be totally fair, I never seemed to have the issues most of my friends had with the pill. I didn't have crazy mood swings or weight gains. If anything, I felt like going off the pill would cause those kinds of side effects. My personality is already a fun mix of dark cynicism and the occasional rage blackout, I don't need to f*ck with my hormones on top of it.

But I did end up going off birth control. For me, the decision wasn't so much of a conscious choice as it was necessary to my finances at the time. When I was 26 I quit my job in the city to move back to my home state to be closer to friends and family. I quit without having another job lined up, which meant forgoing a monthly income—and health insurance. Being on my parents' insurance was out of the question because I'd just aged out before quitting my job. My only options were to pay out of pocket or look into COBRA, a new law that lets you stay on your previous employer's health insurance for up to 18 months after leaving your job, but it was going to cost me HUNDREDS of dollars a month. With no new income coming in and my bank account practically hemorrhaging money from my move across state lines, I chose to save money and forgo getting health insurance completely. Bye-bye, birth control.
At the time I thought I would find a new job in a few months and be back on birth control by Christmas. I was unemployed and living at home with my parents and, if my dating app matches were any indication, that wasn't a great look for picking up guys or having sex. I guess living off parental pity isn't as sexy as I thought it was? Who knew? So, I thought, if I wasn't having sex, then what was really the harm in going off it? Sure, there's the crazy mood swings that might manifest, but, as I was living at home, so only my family would have to endure those and they're genetically obligated to love me anyways. Right, mom?

So I decided to go off birth control with the sole intent of not making it a permanent situation. I don't know what I expected when I stopped taking the pill. The metaphorical floodgates to open and to start bleeding uncontrollably? I pictured my first period post-pill to look a lot like Carrie after they doused her in pig blood. That I'd bleed for an entire month and ruin every piece of underwear in my possession. I expected my acne to get worse, and to be rocking in a corner somewhere with all my ping-ponging emotions. But that's not what happened at all. In fact, after I went off the pill I didn't get my first period for 8 weeks, and when I did get my period it only lasted 4 days. I was shocked. The whole reason I went on birth control in the first place was because my periods were heavy and long. Post-pill, they were short and light. Manageable, even. Other than my cramps being a little worse than normal, my periods were a lot like the ones I had while on the pill. This doomsday mentality I'd crafted around being off the pill was just that: a mentality. It wasn't real. 
I thought being on birth control gave me a sense of safety—and it did, don't get me wrong—but being off the pill made me feel empowered in ways I didn't expect. For one, it helped with my anxiety. I used to obsessively try and plan out my periods by skipping pills in the pack so I wouldn't have my period on the weekend or on random days during the week if I had an important work meeting or something. If I wasn't planning out a period, then I was constantly trying to hound my pharmacist for my prescription. If the pharmacist couldn't refill my prescription on time and I couldn't start my new pack of pills within the first three days after my period, I would panic and have a breakdown. I can remember crying in my office because the pharmacist told me my insurance had changed last minute and I could only refill every 31 days, so I'd need to wait a few more days to pick up my prescription. Crying in my office! And not even over something reasonable like my office nemesis eating the last everything bagel in the break room.

Sure, I could have tried another form of birth control, one where I don't need to worry about monthly prescriptions or even getting a monthly period, but the pill was so ingrained in my life that I truly thought I couldn't function without it. I'd heard horror stories of friends getting the birth control implants in their arms and bleeding for weeks at a time, or having to fish an IUD out like an errant tampon. The pill worked for me. My periods were light and manageable. My skin was clear, my hormones weren't making me crazy (aside from what just comes naturally with my personality). Sure, it caused me stress and anxiety, but wasn't that worth it in the long run? And if I went off it or tried something new, who would I be then? I'd been on the pill for 15 years, over half my life, and I was terrified to make that change.
Then there's the sexual aspect to it. For my entire adult life I've been on the pill. I was a late bloomer so when I started having sex in college, I'd already been on the pill for six years. Six. Years. That's, like, almost the entire length of The Buffy The Vampire series (sorry #Spuffy fans, but I don't count the 6th season because it was trash!!).  My uterus was practically a cement fortress at that point, and boy did I love to test the limits of that fortress. I felt invincible because I didn't have to worry about getting pregnant, but at the same time I felt powerless. I was constantly having to fend off arguments from guys as to why I still wanted to use condoms, as if being on birth control gave them free reign over my body. There were times when I felt like I couldn't say no, like wanting to protect my body from diseases was too flimsy an excuse.
This is something I have to work on personally. I know this. Standing up for myself in my relationships with men, and also not choosing to date flaming piles of garbage masquerading as human men. But that doesn't change the pressure I felt during those instances. I felt like I was solely responsible for providing the contraceptives during sex because I'd been on the pill for so long. Once I went off the pill, I thought having sex without that added protection would be scarier, but it wasn't. I didn't feel like it was just me having to be responsible for safe sex anymore, I felt like I was in a partnership again.
Look, I'm absolutely not advocating that women go off birth control or refuse to use it. I'm advocating that everyone should do what's best for them. Women need birth control for more than just sex, and my experience is proof of that. But since I've been off the pill I've felt more at ease in my own body. I don't feel anxious about my period or refilling a prescription. I feel more confident in my sexual relationships. These were not the emotional or psychological reactions I expected to have when I stopped taking the pill. I fully expected to feel more anxious, more out of control, powerless. I didn't realize how much pressure this one, tiny thing had over my life until I was off it. And, to be fair, I got lucky—there are women who do experience side effects after stopping birth control, such as a heavier, irregular period; shedding hair; breakouts; and decreased libido, so just because I felt completely normal does not mean that you will too. Everyone is different, I'm just saying that for me, my choice to go off birth control did not have those drawbacks.
It's been seven months since I made the decision to go off birth control. I have a job and health insurance again, but I still don't know if I'll go back on the pill. Or if I ever will. After 15 years of taking a pill every damn day of my life, it's been nice to take a break, to not have to worry about medication. Will I feel differently in a few months? A few years? When hell freezes over and I finally get in a long-term, committed relationship with someone? Maybe. But for now, I'm not looking back.
Images: Giphy (3); Pixabay.com (1)