What's 'Sex And The City' Without The Woman Who Brought All The Sex?
And just like that, another TV show reboot that we probably don't need is announced. On Sunday, Sarah Jessica Parker, Cynthia Nixon, and Kristin Davis graced our Instagram feeds with a short trailer alluding to the fact that the iconic 1998 show, Sex and the City, was coming back to life. I was fully prepared to leave this franchise behind me after their failed attempt at a third movie, but this revival has left me quite intrigued. As I watched the And Just Like That teaser three different times on each of the stars' accounts, I (say it with me now) couldn't help but wonder, where was Kim Cattrall? Surely, we couldn't have Sex and the City without the woman who brought all the sex?!
As bummed as I am, it shouldn't be a surprise that Samantha Jones would not return in a SATC reboot. Kim Cattrall mentioned in several interviews that she would not partake in another iteration of the iconic show. I mean, who can blame her? The off-screen drama with SJP and other members of the cast was even more dramatic than the scripted fights they got into. (In 2018, following the passing of Cattrall's brother, she dragged SJP on Instagram, writing, "You are not my family. You are not my friend. So I'm writing to tell you one last time to stop exploiting our tragedy in order to restore your 'nice girl' persona.") Kim perfectly put it when she said, I don't want to be in a situation for even an hour where I'm not enjoying myself."
Since we won't get an appearance from Samantha Jones, I'm having trouble figuring out who is going to bring all the entertainment, iconic one-liners, and even an ounce of flavor that this show lacked from its cis, hetero, all-white cast. (Though perhaps HBO will take this moment to shake up said cis, hetero, all-white cast.) Who will be the voice of reason when Carrie is full of sh*t? Who's going to remind Charlotte that she shouldn't be so uptight and stuck in her ways? Is there going to be a fourth character who is equally as successful and ambitious as Miranda, but not an absolute buzzkill? 
If the show "must go on", then I suppose all we have left is to reminisce on the hilarious and completely out-of-pocket moments that Samantha Jones brought to our televisions for six seasons and two feature films. Join me as I pour one out for the unapologetic, pleasure-chasing publicist, and look back at some of her best moments.
Season 1, Episode 1 "Sex and the City"

From the very first episode, Samantha was serving realness to her delusional dater friends. I actually love that the pilot is basically about Carrie deciding to live the way Samantha has always been living and turning this into a revelation all about herself. Kind of telling, if you ask me…
Season 1, Episode 10 "The Baby Shower"

Another moment where Samantha was anything but subtle! While there is absolutely no shame in those who choose to be mothers, it was hilarious (and empowering) to see her not fall to the pressures of society and live exactly the way she wanted. Tbh, I might throw an "I don't have a baby" shower for the gifts — and the Instagrams.
Season 2, Episode 6 "The Cheating Curve"

Okay so this was definitely one of the more problematic episodes. When Charlotte decides to hang out with lesbians because she got cheated on, Carrie gets back with Big, and the whole gang debates the definition of cheating. Even with her dumb views about what constitutes infidelity, Samantha manages to give this nugget of, dare I say, good advice, that is eerily reminiscent of what my therapist has been trying to tell me for years. Who knew I could have just watched Sex and the City and saved myself the copay.
Season 2, Episode 7 "Chicken Dance"

In this episode, Samantha realizes the guy she just slept with, she'd actually already slept with 15 years prior, and it feels like a bleak look into my future. Also, they all attend a wedding where Carrie is reading a poem, which is where Samantha delivers this one-liner that my mid-20s self can relate to all too well. Ok, who am I kidding, this quote is timeless regardless of my age.
Season 4, Episode 10 "Belles of the Balls"


I'm sorry, but does she or does she not spit the absolute truth? One thing about Samantha was that she played like a man living in a man's world (again, as discussed vis-à-vis the pilot episode and overall premise of the show), and did it well.
Season 5, Episode 4 "Cover Girl"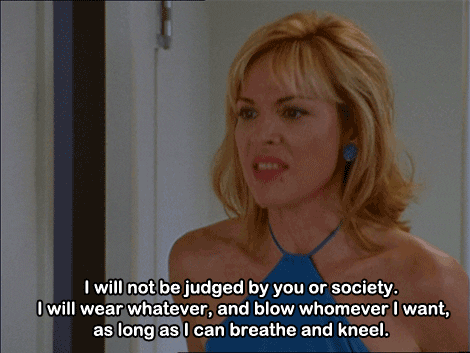 And just like that, we go from profound commentary on sexist double standards to a sexually explicit quote. Gotta love the woman's range. Even from her own best friends, Samantha had to defend herself from being slut-shamed, much like in this episode when Carrie judged her hooking up with a delivery guy. First of all, I would love to see that high-and-mighty attitude amidst the pandemic, when the delivery guy is the only person of the opposite sex with whom I regularly interact. Tbh if any of my friends did this, I'd be applauding them for (hopefully) getting a friends and family discount on Seamless.
Season 5, Episode 6 "Critical Condition"

Kind of conceited to think that any given person in New York City knows who you are, but I'll give her this one. I'll surely miss how unapologetic Samantha is, and how she does and says whatever she wants without worrying about how others will react.
Season 6, Episode 2 "Great Sexpectations"


Where would we be without that one friend who gives top-tier sex advice? Definitely not having as much sex as Samantha was, that's for sure. Thank God Carrie, Miranda and Charlotte had Samantha to remind them to not just have more sex, but good sex. Not sure they ever truly took her advice, anyway.
Images: HBO; Giphy
What The Reboot Would Look Like If 'Sex And The City' Actually Happened In 2021
On Sunday evening, after weeks of rumors, a Sex and the City revival series was officially confirmed. Carrie, Charlotte, and Miranda will be returning for And Just Like That…, a 10-episode limited series on HBO Max, which is expected to begin production in the first half of this year. The new show, which was announced with a vague teaser video on Instagram, features Sarah Jessica Parker, Kristin Davis, and Cynthia Nixon, but as suspected, Kim Cattrall will not be reprising her iconic role of Samantha Jones.
Reactions to the reboot news have been mixed. Of course, many fans of the original show are thrilled to get another glimpse of their favorite characters, but not everyone is as enthusiastic. Samantha is arguably a huge loss for the show, and fans are wondering how the writers will address her absence. But besides the fate of any specific character, I *say it with me* couldn't help but wonder, do we really need this in 2021? Sex and the City's depictions of sex and relationships may have been groundbreaking at the time it premiered in 1998, but the show has always been unrealistic, unrepresentative, and at times, highly problematic. While I expect the reboot's writers to steer clear of some of the outright racism and transphobia displayed in the original (I hope), I have less faith that the new limited series will reflect the actual reality of 2021. Here are some ideas for the storylines that could happen on SATC if it was taking place in the real world of today.
Mr. Big Moved Out After Six Days Of Quarantine

Despite the second movie ending with Big's romantic gesture of giving Carrie a black diamond ring, there's no way their toxic relationship would actually last forever. I'm giving them some credit and saying that their relationship made it to 2020, despite some infidelity on Big's part that Carrie chose to ignore. But they had already been drifting apart, and being forced to spend 24/7 together once the COVID pandemic hit New York was just too much. Well, actually 24/6, because he left before the first week even ended. Carrie hasn't heard from Big since, other than receiving divorce papers in the mail (she hasn't signed yet), but she heard from a friend of a friend that he was at the Hamptons party where Kimberly Guilfoyle got COVID.
Carrie Is Forced To Navigate The New Media Landscape

From the jump, Carrie's lifestyle of designer clothes and fancy nights out never made sense with her theoretical salary, but in 2021, it's even more difficult to suspend our disbelief. Other than writing an op-ed here and there, Carrie hasn't worked in years, but with Big and his money gone, she no longer has the luxury of doing nothing. After prepping her resume—complete with a spritz of perfume—and sending it off to every major magazine and newspaper, she was dismayed to learn that the media landscape has changed a lot since the '90s. She's now trying to revive the Sex and the City brand with a podcast and newsletter, but with most of her OG readers in their 50s and settled down with kids, the new platforms weren't the overnight success she was counting on. She's currently trying to figure out how Poshmark works so she can sell some of her Manolos, but let's be real, she's never going to actually let any of those shoes go.
Miranda Adopts A Baby & Runs For Governor Of New York

Just like Cynthia Nixon in real life, Miranda has spent the last decade going through a big transformation. Bored with her law career and craving something more, she decides to adopt a baby. Brady is headed off to college in the fall, and all of a sudden, Miranda and Steve have their hands full with another baby. And on top of all of that, Miranda has decided to throw her hat in the ring for next year's gubernatorial election. With a new baby and a new political career, what could go wrong? Literally everything, but somehow she'll still end up winning. And despite being on the brink of financial ruin, yes, Carrie will be attending her inauguration in a brand-new designer outfit.
Charlotte Is A Closet Trump Voter

Charlotte is still happily married to Harry and busy raising her two daughters, but the current political situation in America is the main source of tension in her life. Charlotte has always been the most conservative of the group (she was in College Republicans, after all), but because Trump is a pig, she's made the controversial choice to not vote for the last four years out of protest. Or at least, that's what she told all her friends. But she actually secretly voted for Trump in both elections, and with her BFF Miranda running for governor on a progressive platform, her political secret is about to explode.
Samantha Died Having An Orgasm

There was never anything subtle about Sex and the City, so what better way to write off such an iconically sex-obsessed character? Maybe the first episode of the reboot will start with Samantha's funeral—each of the ladies looking down at her grave, fondly remembering one of her more salacious sex-capades. Whichever boy-toy Samantha was with when she passed away will be trying to hide in the back row of the funeral, but the women will corner him and demand all the dirty details. At least Samantha died doing what she loved.
Images:  New York Daily News Archive / ContributorNew York Daily News Archive / Contributor