UPDATED: A Timeline Of Tyler Cameron And Gigi Hadid's Relationship
Over the past few weeks, keeping up with the developments in Tyler Cameron and Gigi Hadid's relationship has made up approximately 60% of my job. If you told me that you're not getting exhausted, I would say you're a total liar. There have been a plethora of paparazzi shots, anonymous sources, and outside opinions about Tyler and Gigi, but it's easy to get lost in terms of what's actually been going on. To make your life easier (and honestly, mine too), I decided to put together a full timeline of what TyGi have been up to. And yes I said TyGi, just let it happen.
Here's the official timeline of everything we know about, so you can really see what a whirlwind this has all been.
July 23rd: The Instagram Following
If you couldn't believe your eyes when you saw that date, you're not alone. I fully did a double take when I realized that Tyler and Gigi didn't even follow each other on Instagram until less than a month ago. When this went down, Tyler was still competing on The Bachelorette, so it was unclear if there was some professional connection or if Gigi slid into Tyler's DMs, but obviously there was something going on.
July 30th: 'The Bachelorette' Finale
Again, yes, this was literally only three weeks ago. As we watched the heartbreak triangle of Tyler, Hannah, and Jed unfold over two nights on ABC, Tyler's future was totally thrown into chaos. Would he take Hannah back, even though she dumped him on national television? Would he turn her down to keep hopes of being the Bachelor alive? Turns out the answer was none of the above, because Tyler had his sights set on bigger things than Bachelor Nation could give him.
August 2nd: "Drinks" With Hannah
Tyler quickly took Hannah up on her offer to grab a drink, and then some. The Bachelorette finale was on a Tuesday night, and that Friday morning, they were spotted leaving Hannah's apartment together. Sadly, there were not cameras inside the apartment to document exactly what went down, but I love a "grabbing drinks" situation that ends at 8am the next morning. This is the last time that Tyler and Hannah were seen together, and it seems unlikely that they've hung out without us knowing about it.
August 4th: Dumbo House Date
Just a couple days after his adult sleepover with Hannah, Tyler was seen with Gigi Hadid for the first time. They got Sunday night drinks at Dumbo House in Brooklyn, and the rest is history. Or rather, the rest is in this timeline, because that's the whole reason we're here. Basically, August 4th is when things started for real.
August 5th: Bowling With Friends
The first date obviously went pretty well, because Tyler and Gigi hung out again the next day. For those keeping track, this was a Sunday and Monday, which sounds like the going out schedule of two hot people who don't have normal jobs. I'm not jealous. They went to an NYC bowling alley with friends, and then Tyler was spotted leaving Gigi's apartment the next morning. Some people judged Tyler for (presumably) sleeping with Hannah and Gigi in the same week, but those people are lame. All of these people are hot, consenting adults, so who really cares?
August 12ish: Tyler Meets Mama Hadid
On August 22nd, a report surfaced that Gigi apparently introduced Tyler to her mom, former Real Housewife of Beverly Hills Yolanda Hadid, on "the week of August 12th." INTERESTING. The meeting apparently took place at the Hadid family farm in Pennsylvania, which I didn't know was a thing until this very moment. It's nice that Tyler and Gigi were able to slip out of the city without anyone noticing at the time, but I wish I had known sooner. More than anything, this further calls into question any idea that Tyler and Gigi are "taking things slow," because I've dated people for months without them ever getting anywhere near my parents.
August 14th: Tyler And Andi?
For a week or so, we didn't hear too much about Tyler and Gigi, which was conveniently around the same time that Bachelor Nation was completely imploding with the beginning of Bachelor In Paradise and Stagecoach-gate. Last Wednesday, Tyler was spotted with former Bachelorette Andi Dorfman on the Upper West Side, which seemed like a real head-scratcher at first. Was it a date? How do they know each other? And like, why? But it turns out that these two are doing a charity event together, so it seems most likely that they were together because of that. I'm glad this was a false alarm, because I can't really handle any more plot twists in this book.
August 15th-16th: A Weekend Upstate
After a week of keeping things low-key, the Tyler and Gigi show was back and better than ever, with a trip upstate last weekend. They were seen at a Starbucks and at a liquor store stocking up, about four hours north of NYC. There were other friends on the trip too, but I have a feeling Tyler and Gigi were sharing a bunk. While sources were still saying that Tyler and Gigi were "taking it slow," but I invite you to scroll back up this timeline and note that this trip was just three weeks after they started following each other on Instagram. THREE WEEKS! If this is taking it slow, then they'll be married with two kids by Christmas.
August 20th: Dinner With Serena
The weekend trip was apparently not a disaster, because Tyler and Gigi were hanging out AGAIN in NYC on Tuesday night. They got dinner with friends at La Esquina, and when I say friends, I mean tennis GOAT Serena Williams, and fellow tennis champion Caroline Wozniacki. This might seem super random, but Gigi and Serena have actually been friends for a while. The stars of the tennis world are in town for next week's US Open, so it makes sense for these two to hang out while Serena is in New York. Does Gigi bringing Tyler along signal that they're getting serious? Maybe, but Gigi has had friends present at a lot of these hangouts, so clearly it's not a big thing for her to bring Tyler around her friends.
August 26th: Taylor Enters The Mix
There were initially rumors that Tyler and Gigi would make their first official appearance at the VMA red carpet, but Tyler was sadly a no-show. But later that night, Tyler showed up at the Republic Records after party, where he hung out with Gigi and her friends. According to an E! News source, Taylor Swift gave Tyler a big hug when he got there, and he and Gigi were seen kissing in the VIP area. The fact that Tyler is hanging around Taylor Swift really makes it seem like he's been inducted into the inner circle, because you know she's not hanging out with randos. The source is saying that Tyler and Gigi "have a strong connection but are definitely just testing the waters right now," which sounds like a cryptic way of saying that they've only been dating for a month. I'm not expecting them to be married or something.
As you can see, it's been a big month for Tyler and Gigi, and also for the escalation of my sleep problems. Thankfully, Bachelor In Paradise will be over in a few weeks, and maybe TyGi will also chill out a bit. But if they don't, obviously this timeline will be updated accordingly. If all goes well, I'm looking forward to a fall of not thinking about the problematic children of Bachelor Nation, but let's be real, the Kardashians will probably act up and ruin my season of peace just in time. There's just no rest!
September 4th: Bella Follows Tyler
And just like that, it finally happened. With Gigi's sister Bella Hadid following Tyler Cameron on Instagram, do we really need any more confirmation that they're together? If he really met Yolanda a couple weeks ago, this basically means he's in deep with the Hadid family, and I doubt Gigi would let him get close to everyone if this wasn't turning into something legit. Honestly, it's just rude that Gigi hasn't introduced him to me yet. Well, technically I've met Tyler, so I guess it's more rude that I haven't met Gigi. Idk, I just want to be friends with them.
Also September 4th – Grandma's Funeral
It makes sense that Bella finally followed Tyler on Insta, because he's really part of the family now. Tyler was spotted with the entire Hadid family in the Netherlands at the funeral for Gigi's grandma. It seems a little quick to bring Tyler as a date to the funeral, but Anwar Hadid also had his girlfriend of two months, Dua Lipa, with him. The whole crew look pretty happy in the paparazzi pics, so I'm glad they're celebrating their grandmother's life together. Tyler probably didn't ever meet her, but I'm sure she would've loved him.
Images: themorningtoast, thebetchelor (2), bachelorteaspill, celebridadefanpage / Instagram
Celebrities You Didn't Know Are Friends
We all have that crew of friends that we would do anything for, whether it's driving them to the airport at 6am or finding matches for them on Ship. It's just what friends do. Famous people are no different, except that the people in their group chat might also be A-listers. Casual. I don't know about you, but my Ship crew definitely doesn't have any Oscar winners in it. Here are some surprising celebrity friendships you might not have known about.
Serena Williams & Kim Kardashian

Serena Williams and Kim Kardashian are two of the most famous women in the world, and they've actually known each other for more than 15 years. A few years ago, Kim told Vogue, "Serena's the girl you can call and say anything to. She'll never judge you, and she's never too busy for you." Obviously Kim has a lot of respect for Serena, and she attended the tennis champion's New Orleans wedding with other stars like Colton Haynes and Eva Longoria.
Russell Brand & Helen Mirren

Russell Brand and Helen Mirren are 30 years apart, but they both have a great sense of humor, and they love working together. They've done a couple of movies together, and Brand even called their relationship"an unconsummated love affair…between a Dame and a vagabond." I'm not sure I know what he's talking about, but I'm glad it works for them.
Jennifer Aniston & Robert Downey Jr.

Jen and Robert have been friends since the '90s, and she even visited him when he was in prison. Famously, he introduced her to her (now ex) husband Justin Theroux, and made a speech at their wedding. Seriously, how can I get Robert Downey Jr. to be in my Ship crew? I need Iron Man to find me some matches.
50 Cent & Bette Midler

When 50 Cent isn't busy feuding with the stars of Vanderpump Rules, he spends time with unexpected friends like Meryl Streep and Bette Midler. He and Bette have attended each other's charity events in the past, and Bette even joked that 50 Cent was going to produce a rap albumfor her. Still waiting to hear Bette Midler rap, but I'm glad these two get along so well.
Gwyneth Paltrow & Jay-Z

Gwyneth and Jay met way back in 2006, and they've maintained a close relationship since then. They've both spoken publicly about their admiration for one another, and Gwyneth even revealedthat her kids call Jay-Z "Uncle Jay." Honestly, I'm obsessed.
Kris Jenner & Jennifer Lawrence

Jennifer Lawrence has been public about her obsession with reality shows like The Real Housewives of New York City and Keeping Up With The Kardashians, so she was thrilled to get to know Kris Jenner in real life. A few years ago, Jennifer's friends threw her a surprise birthday party and invited Kris. When JLaw first met her, she said"it was the closest ever come to losing consciousness. Honestly, I would be the same way.
So there you have it. Just like you and your best friend that you used to hate in middle school, friends can come from unexpected places. Now you're her bridesmaid, and she's finding matches for you on Ship, so anything is possible. Now seriously, who do I talk to about Robert Downey Jr. being my matchmaker?
Images: Shutterstock; Giphy (6)
Presented by

Celebrity Moms We Wish Would Adopt Us
In case you've been too busy making Royal Baby/Riverdale memes, I'm here to remind you that Mother's Day is this Sunday, May 12th. I hope you've all purchased flowers for your Mom, or have at least given your brother very specific instructions on what to do, which is how I roll. Fingers crossed you don't f*ck it up this year, Phil.
And we aren't the only ones celebrating Mother's Day, because celebrities have to do it too. Sure, they're buying their mom a Maserati instead of 2-for-1 Yankee Candles, but the sentiment is the same. Some celebs are even moms themselves, which of course got us thinking about which celebrities we would want to adopt us. Not that I need to be to be adopted because my mom is obviously the best (Hi Mom! Love you! I know you're reading this!), but every once in a while when she mentions my "freakish upper body strength" a girl might dare to dream. So let's take a look at all the celebrity moms we wish would take us in!
Chrissy Teigen
Don't even fight me on this one, you all know you want to be adopted by Chrissy Teigen. In this age of viral moments she's the most viral of them all. She's so viral in fact, Comments By Celebs has weekly dedicated roundups to the best sh*t she says. She also trolls her husband, but not in a way that's like "I clearly emotionally abuse you at home," but in a way that's like "I love you awesome nerd, let's bang." She also is getting her own cooking show, so you know you're eatin' good at home. Plus, she's a gorgeous supermodel and if you're lucky enough, maybe you'll even look like her. Where do I sign up?
Kris Jenner
I really, really, really hate this family. Yes, I know I write about them all the time, but a girl's gotta buy a substantial amount of wine pay the bills, you know? And tbh it would be amazing to be a child of Kris Jenner. She was obviously the architect of this family's rise to fame, and she climbed her way up from flight attendant to media mogul. If I must respect any of them, I begrudgingly choose her. So you know what? Adopt me, Kris. Help me make a billion dollars, I guess. FINE.
Reese Witherspoon
Reese is the A-list of the A-list. She is the Dom Perignon in a room full of Veuve Clicquot. She's an actress, producer, and badass bitch, all while being one of the realest celebrity moms. Plus, as much as she appears to be the perfect southern belle, we all know she's got a naughty side. You're not gonna have a bad time with Reese, and every mom needs a drinking partner. I volunteer as tribute!
Not only is Reese a movie star, but now that she has her book club, you can count on her to turn any book you love into a movie. I'm still waiting on I'll Give You the Sun, Reese, when you adopt me can we collab?
And finally, the woman is ageless, and has clearly found a way to stop time, a feat that not even Kris Jenner has managed to master even through her many deals with the devil.
Reese laughs in the face of time.
Serena Williams
Serena Williams is the greatest of all time, and if she adopted you, Venus Williams would be your aunt. Perhaps you've heard of her as well? Aside from being able to serve the ball 120MPH and fighting for women's rights, Serena is friends with THE Beyoncé and THE Meghan, Duchess of Sussex, so YOU would be able to live a life of luxury and extravagance. Count. Me. In.
Plus, you get to go to the biggest tennis matches in the world and sit in the best seats! As a mediocre high school tennis player, this is my dream life. Hi Olympia, I'm here to steal your life.
Gabrielle Union
And finally, Gabrielle Union just became a mother and is already trolling her child *slow claps*. It makes sense though, because when you've got a baby with the best stink eye in the game, it would be foolish not to exploit capitalize on it. Plus, I already make the same faces as Kaavia all day every day at work, so Gabs would have plenty of material to create a #shadylady IG out of me.
And those are the celebrity moms I wish would adopt me! I'm not saying this is my official application, but if the government wanted to take it that way I wouldn't be opposed. I hope you all have a fabulous Mother's Day!
Images: Shutterstock; chrissyteigen, krisjenner, reesewitherspoon, alexisohanian, kaaviajames / Instagram
Serena Williams Says Tennis Is Sexist And We Agree
Typically, the only sport I would consider myself a true follower of is The Bachelor (don't try to tell me it's not a sport – it is, they just play with people's emotions instead of balls.) But this year, the GOAT of all GOAT's, Serena Williams – has turned me into a tennis fan. Because her comeback story was so compelling, her outfits so iconic, and because finally there was a sport I could watch whose biggest star was a woman. It also didn't hurt that this was one sporting event whose main draw was the story of a new mother's return to glory. This year's US Open was the Serena Williams show, and I was fucking here for it.
But the Serena Williams show came to an abrupt and disappointing end on Saturday when the chair umpire influenced the outcome of a championship match because he couldn't stand for a woman speaking her mind. By imposing point and game penalties on Serena that had at most, questionable merit – and absolutely no place in a finals match, a small man in a tall chair turned a glorious female led tournament into a sexist sh*t show.

(Yes, yes it does…)
It shouldn't be a surprise really, that tennis and it's officials are sexist. I mean, earlier in this same tournament a female player received a code violation for turning her shirt around while wearing a fucking sports bra. Meanwhile all of the male players get to walk around the court fully shirtless. Honestly, in today's world it would actually be more surprising if a man was capable of going a full two hours without doing something horribly sexist. But this marring of a historic championship – a match between two badass women of color, by another dude's need to assert his power over an outspoken woman, this was just too f*cking much. Could we not just have one tournament where women where the stars? I guess not, because it's only the 21st century and oh, we still have tits.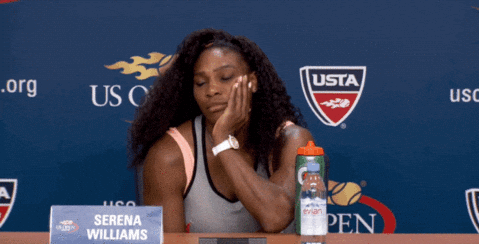 For forever, male tennis players have been arguing with chair umpires, throwing tantrums, and smashing racquets in response to heated matches and unfair calls. But have any of them ever been penalized to the degree that Serena was on Saturday? Of course not, because having a penis on the court is like having a get out of jail free card. And the worst part is – not only can men not be trust to run the government call a tennis match, they also can't seem to understand the real problem here. When I tried to discuss what happened with both my father and cousin, both long time tennis fans and lifetime white males, they basically said, "the rules are the rules" –  arguing that Serena should have known better. That's the thing though, the rules are not the f*cking rules if they are only applied to women.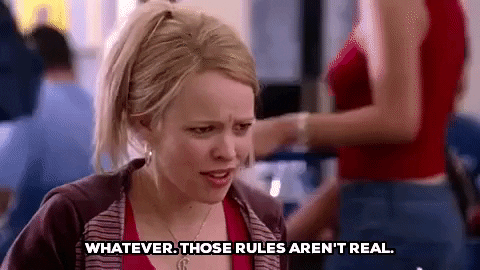 Serena Is Still Our Hero
The whole thing is super f*cked up –  that Serena lost the way that she did, that Naomi Osaka's first grand slam win will be tainted by controversy, that it's still so hard to be a feminist sports fan – oh and that society has made like zero progress since women's suffrage. But my short tenure as a tennis fan has also reminded me how v grateful I am that there are women like Serena in this world – that will stand up for what they feel is right, no matter the consequences. Honestly, the GOAT said it best during her post match press conference:
"I just feel like the fact that I have to go through this is just an example for the next person that has emotions, and that wants to express themselves, and wants to be a strong woman. They're going to be allowed to do that because of today. Maybe it didn't work out for me, but it's going to work out for the next person."
Heads up, you need to keep up with the news. It's not cute anymore. That's why we've created a 5x weekly newsletter called The 'Sup that will explain all the news of the week in a hilarious af way. Because if we weren't laughing, we'd be crying. Sign up for The 'Sup now!
Which Was More Underwhelming: Meghan's Dress Or These Celebs' Hats?
You might have heard there was a wedding this weekend! The world's favorite royal and most obvious example that what happens in Vegas does not actually stay in Vegas, Prince Harry, married Deal or No Deal briefcase girl Meghan Markle. Congratulations! I'm sure they will be very happy together for the next 18 months. In all seriousness, the royal wedding was gorgeous and the dress was underwhelming, but that's not why I was watching. I'm here for the hats and the fascinators. Didn't I just sound so British there? Being a Jersey girl myself, I've not had the opportunity to wear a balls-out-bonkers hat to a wedding. They frown upon that in my home state, but you can bring all the cleavage you want. We're a complicated people.
I had high hopes for this wedding, since all the celebrities that befriended Meghan when they found out she was dating Prince Harry were invited to attend *cough* Oprah *cough*. Also, we all remember how Harry's cousin Princess Beatrice loves to upstage the bride.
Iconic.
So imagine my disappointed surprise when I saw that only a select few celebs really brought it. I can only imagine they heard the bride's dress was going to be boring af and decided to follow Suits suit? Let's take a look at some of the standout pieces.
Oprah
Since we're talking about the royals, it's only appropriate to begin with America's Queen, Her Royal Highness Oprah Winfrey. As my work friend just commented, Oprah looked a little cray-cray. Her hat designer managed to create a bespoke piece that included feathers that reach all the way to Chicago from Windsor Castle. It's a modern engineering marvel. I pity the fool who had to sit behind her.
Serena Williams
If you read my Bella Thorne article, you know I think Serena is the GOAT. She can do no wrong in my eyes, and she is certainly the GOAT in the hat department of this wedding. I can only imagine her fascinator was modeled in the image of a flame because Serena shoots straight fire on the court and in this outfit. How many more compliments do we think I need to give her for her to call me?
Amal Clooney
Amal Clooney is British, so I figured she would know better than others how to toe the line of totally insane but also respectful. And we all know she loves a fugly outfit (that Met Gala dress, amiright?). But instead, she dressed like classic school girl character Madeline.
Priyanka Chopra
It's been widely reported that the Quantico actress is one of Meghan's closest friends. So naturally when she got the invitation to the royal wedding, she went right to her stylist and said "Gimme one that looks like a spaceship, only purple." And they did just that. After the wedding it conveniently transported her back to her home planet of crazy.
Troian Bellisario
I'd be remiss to write this article and not mention that Spencer Hastings was there! Her hat was perfectly lovely and normal and frankly I expected more from a woman that agreed to play her own identical twin on TV just because the writers ran out of ideas. I can only hope that Troian spent the whole wedding using her SPOT-ON Alex Drake British accent.
Clearly the celebrities did not bring their A-game to this wedding. Fingers crossed the reception outfits were better and that in 20 years I'll be writing about the Oprah-Prince George power couple wedding.
Images: Getty Images; @2_greek_chicks, @oprah, @serenawilliams, @people, @priyankachopra, @sleepinthegardn / Instagram
7 Ridiculous Celebrity Baby Instagram Accounts You Need To Follow
When you think about it, Instagram has really evolved. It started as a platform for us to share pictures of our chevron nail art with the Nashville filter, and now it's a lucrative way to exploit the shit out of your non-consenting baby. While most people just post tons of pictures of their kids to get more likes, celebrities have the unique opportunity to trick thousands of people into following an Instagram account for their kid, and thus, the world of celebrity baby Instagram accounts was born.
The concept of celebrity baby Instagram accounts is pretty dark when you think about it. First of all, half of them are verified accounts, even though the kid has no idea what Instagram even is. Secondly, a lot of celebrity parents write their posts in first person, which almost always ends up sounding super creepy. Granted, most celebrities don't create separate accounts for their babies, probably because they've seen Black Mirror, or something. I mean, Snooki and JWoww rose to fame by peeing in bushes at a nightclub at the Jersey Shore, and even they have enough decency to not create official Instagram accounts for their children. Thankfully, there are still some people who love attention enough to create ridiculous celebrity baby Instagram accounts for our personal creeping purposes, and here they are. These celebrity baby Instagram accounts are very absurd, and you should follow immediately. But like, let the record state that I am aware that I probably shouldn't judge. I can't even keep a succulent alive, and am currently pretty stressed out by the simple task of managing my mom's dog's Instagram.
1. Gunner Pratt
Heidi and Spencer Pratt are on a transparent mission to "Make Speidi Famous Again," and in addition to like, selling crystals and having a podcast, a publicity baby is a major cornerstone in their plan to become relevant again. It just makes sense for little Gunner to have his own account, even if the captions are the most boring shit I've read since Nicholas Sparks books were a thing.
2. Asahd Tuck Khaled
With 1.2 million followers, Asahd is the undisputed ruler of the baby celebrity Instagram game. But like, duh. His first words were probably "WE THE BEST." (His first words were? First words will be? When do babies start talking? Although I have strong opinions on the best baby social media practices, I literally know nothing about children.) This kid is already an executive producer. He probably has his own team of interns handling his social media. Asahd even appeared on the cover of PAPER without the presence of a parent, which automatically makes him better than every other celebrity baby. Damn, I guess he really is the best.
3. Emerson Avery Tolbert
Emerson has been branded a "Paradise baby" by her parents, Bachelor in Paradise stars Jade and Tanner. Clever. Her Instagram bio says her account is a space for her parents to have a "virtual baby book," but I'm going to call bullshit. What's going to happen when Instagram isn't a thing anymore? Put those pics on the cloud, or like, one of those digital picture frame things they sell at Bed, Bath and Beyond that nobody's grandma can figure out. This account was definitely intended to someday be used for subscription box opening videos.
4. Baby Chanel Nicole
Chanel Nicole is the daughter of Ice-T and Coco Austin. Yep, in case you forgot (you probably did), Coco named her daughter Chanel, and they play up the whole "Coco Chanel" thing as frequently as possible. This is basically a continuation of Ice Loves Coco, but with more "mommy and me" outfit pictures and baby pedicures. Also, Chanel looks just like Ice-T, which is a trip every single time.
5. Dream Kardashian
Dream Kardashian has a verified Instagram account with almost a million followers. She doesn't follow anyone, or have any posts (which is why I didn't include any below), but she's tagged in SO many photos. And she still has 948k followers, so brb while I just go evaluate all my life choices. Poor little Dream's Instagram account used to have like, two photos or something, but was probably forced to be taken down by Kris Jenner until she can figure out how to effectively rebrand a grandkid named Dream (good luck with Stormi, btw). By the time Dream is old enough to appreciate the fact that her parents locked down a coveted first name Instagram handle, IG will have suffered the same fate as MySpace and she'll be pissed that money didn't just go straight to her trust fund.
6. Alexis Olympia Ohanian Jr.
The daughter of Serena Williams and Alexis Ohanian has a following that pales in comparison to Dream Kardashian's, but she's a little bit younger and has a fucking Vogue cover under her belt, so she's still basically untouchable. She has already perfected the art of naturally sinking "link in bio" into a caption, so the future is looking bright for this one.
7. Sophia Abraham
Okay, so, judging by the fact that she's rocking braces and a matte lip, it appears that Sophia Abraham is no longer a baby. Who knew? I'm still going to throw her on this list, because this Teen Mom spawn's Instagram is effing ridiculous. This kid has practically been having a temper tantrum for eight years straight, and probably has more Us Weekly exclusives under her belt than all of Bachelor Nation combined. I'm really looking forward to seeing where this kid goes. At the rate she's going, I genuinely think she's capable of resurrecting the Britney Spears/Paris Hilton/Lindsay Lohan train wreck era.
The 8 Celebs Who Had No Business Being At The Met Gala
If the red carpet segment of the Academy Awards got its own spin-off show with even more paparazzi and less Ryan Seacrest commentary, it would be the Met Gala. The Met Gala, thrown at the Met in New York (obviously), is the one time of year where every A-list guest can act like they give a shit about Anna Wintour and no one can say anything about it. A-List celebs are always invited, but along with your Rihannas and your Kardashians and your Beyoncés (conspicuously absent this year, actually) some people get through Met security that are just so fucking random. Every year there's bound to be at least one Met Gala guest who shows up tragically underdressed and whom you have to stare at for like, five full minutes before you say, "Wait is that Glen Coco?" Here's the definitive ranking of the most random guests that somehow made the cut this year:
8. Paris Jackson
People keep telling me that Paris Jackson is an actress and a model, but I've yet to see any evidence of this. Does being Michael Jackson's daughter just mean you're an actress? What roles has she played? Her IMDB literally has one entry, and it is for a show that has yet to be released that I've never heard of called Star, and she is not even the star. I feel like that's the equivalent of writing "entrepreneur" on your resume when you're really just unemployed. Is this person famous? Apparently she did one campaign for Chanel in March, but like, if that's the standard for getting into the Met Gala shouldn't every ANTM winner also be present?

7. Courtney Love
Hard to imagine someone less suited for a classy A-List event than Courtney Love, but here we are. Love got to hitch a ride to the Met Gala on the coattails of her daughter, Frances Bean (name brought to you by heroin addiction), who is apparently modeling for Marc Jacobs now. Honestly, I'm kind of happy Courtney was there, if only as a reminder that she is still alive. I mean, her face looks like she's been stung by a thousand bees, but she walked the red carpet and kissed her daughter on the mouth and stuff so she appears to be in good spirits. Funny how she could never score an invite to the gala when she was like, relevant.

6. Solange Knowles
A BIT confused why Solange attended this event sans Beyoncé. Look, Solange is cool and all. "Don't Touch My Hair" is a good song. "Cranes In The Sky" WAS a good song before every radio station stabbed it to death and then stomped over its corpse, burned it, and smoked the ashes. Anyway, Solange had a cool wedding where she wore a cool white cape thing. It was funny when she punched Jay Z in the elevator, and after Lemonade it's even more so. But when I'm sitting at home waiting hoping for a doubly pregnant Beyoncé to get carried in by a hoard of male models while angels surround her, having to watch Solange walk the red carpet in her Old Navy winter coat just feels rude.

5. Hailee Steinfeld
Ugh, WHO let this girl in the door? I mean, she stepped up her game at Coachella the other weekend by managing not to look like a 13-year-old playing dress-up, but we're still kinda confused as to what the hype is with this girl. We get that she was nominated for an Oscar, but that was seven years ago. And she didn't even win. Is it her voice? Because if I hear another "Starving" mash-up come on in the middle of a SoulCycle class I'll literally leave, my $34 be damned.

4. Ansel Elgort
Oh great, Augustus Waters is here for a little TBT action. Seriously, this guy totally blew up when Fault in Our Stars came out a couple years ago, but then everyone forgot about him, so why did he get invited to this event? Like, yeah he's good-looking, but is that all you need for a Met Gala invite these days? Does Anna Wintour even know who you are? Seriously. Raise your hand if you didn't quite remember who this was until I said he was in Fault In Our Stars. Be honest.

3. Megyn Kelly
Megyn Kelly might be a major boss in terms of TV journalists, but let's be real—she doesn't even go here. The Met Gala's guest is probably divided into 40 percent Hollywood actors, 30 percent singers, 20 percent models, and then like, 10 percent "others," and Megyn def went in the last category. Maybe she wants to get more screen time to help her go to war against Kelly Ripa? Either way, this dress looks like she got it from Sears.

2. Jaden Smith
Oh no, NOT Jaden Smith. Can we stop trying to make the Smith children happen, please? This is the kid who said "How can mirrors be real if our eyes aren't real." How long are we going to continue to enable this child? Like, yes he's family friends with Kendall and Kylie but Kendall and Kylie at least know how to behave (kind of). This kid brought his own human hair with him as an accessory. Dude shows up with a literal bouquet of his own dreadlocks and we're just gonna be like, "Sure, keep being famous! you're doing great!" No. We should have shut this shit down when he wore a white Batman suit to Kim and Kanye's wedding. Now we have to live with the consequences.

1. The Winklevoss Twins
Cameron and Tyler Winklevoss are those twins from The Social Network who say the word Harvard six times per sentence and are still super bitter about Zuckerberg "stealing" their idea. Only, the twins at the Met Gala were the real Winklevi and not even the cleverly edited ones played by Armie Hammer, so we're doubly confused. I mean, where do we even start with this invite? Did they just send in an envelope of cash and threaten to sue if they didn't get invited? Plus, why do they even want to be there? For a selfie with Karlie Kloss?

Read our Met Gala fashion recap here!