The Best Skin Care Products To Buy During Sephora's Spring Sale
Now that there is some—albeit incredibly vague—info on how we can reenter the world when coronavirus finally GTFO, I am feeling eager to get my skin back on track. I don't know about you, but when I go out to dinner with my friends for the first time after being locked in my apartment for what will be at least two months, I want to glow. Luckily for me, Sephora's annual spring sale is upon us! As always, Sephora is offering different deals and savings for each of their three member tiers. From April 17th through May 1st, Rouge members can save 20%; from April 21st through April 29th, VIB members can save 15%; and from April 23rd through April 27th, Insider members can save 10%. I am a proud Rouge member, so let's f*cking do this. 
If you've read any of my articles, you know that there are more skin care products in my medicine cabinet than there are food items in my pantry. I have no shame in my game. It took years of trial-and-error to discover which products are the best, so you can trust I know what I'm talking about when it comes to my recommendations. 

The only YouTube channel I subscribe to is Klossy, which belongs to, you guessed it, Karlie Kloss. I don't care who she's married to, I love her and will continue to do so for the rest of my days. Anyway, Karlie has the best skin I've ever seen, so when she recommended this night serum, you better believe I went out and bought it, and I am happy to report that it works. My skin isn't really problematic, but I want that dewy, plump look, and that's what this serum delivers.
Like any skin care product, though, you have to use it consistently and for a while before you start to see the effects take hold. I started to notice how good my complexion looked after about three weeks. It's incredibly moisturizing, smells delicious, and it's the perfect consistency. What else you got, Karlie??

I buy this twice a year for one specific purpose: visiting my parents in Florida. My skin may be able to withstand the pollution and whatever the f*ck is coming out of manholes in New York, but it cannot deal with the Florida humidity. My skin gets really oily and then I start to break out, so I visit my parents pretty infrequently. The one thing that absolutely saved my skin is this specific charcoal mask. I have tried about 10 types of charcoal masks in my lifetime, and this Clinique one is that actually works.
It feels like you're spreading a thick, goopy paste on your face, but after about 30 minutes, it dries and hardens and, something magical happens in that phase of the mask. When I rinse it off, my skin is soft and supple with zero traces of excess oil. I'm obsessed.

This product was my first foray into skin care. I bought it when I was a sophomore in college after talking to a Bloomingdale's salesperson for way too long. As the name suggests, this is a very lightweight moisturizer that falls between a gel and a cream. Because it's so lightweight, it's perfect for summer. Also, all Bobbi Brown moisturizers are made with a built-in primer, so you can save a few seconds in the morning when you're getting ready.

This toner is another Karlie recommendation for when you're traveling, because planes really dry your skin out. Before I went on my study abroad trip, I asked my mom to get it for me and she said, and I quote, "Who do you think you are? You're not a jet-setter!" Rude. To spite her, I bought it for myself and I have no regrets. I use it as a toner and spritz it on my face right before I put on my moisturizer.
My dermatologist suggested that I massage my moisturizer into my skin while it's still damp from the toner because it will absorb better, which makes sense because, if you think of your skin like a sponge, it won't absorb a thick cream when it's bone-dry. This doesn't really do much, but it smells amazing, isn't that expensive, and it's something else I have in common with Karlie Kloss.

I recently learned that vitamin C is an essential ingredient in skin products for anyone who wants nice skin. I incorporated it via an eye cream because I wanted to test it on a small area before I introduced it to my whole face. Safe to say, it works! This eye cream is really moisturizing, which is important because the skin around your eyes is much thinner than the rest of your face and is usually the first to show signs of aging. Yikes! Using a product that protects against free radicals (something vitamin C does) and moisturizes is a really good way to slow down aging around the eyes. It also smells fantastic.

Until I tried this mask, I always thought sheet masks were kind of stupid. Like, you pay all of this money for something you use once for a few minutes then throw away. Then I tried this mask and I'm questioning everything I once believed to be true! Tatcha is a brand you'll likely find in any high-end natural beauty store, and the products are 100% worth it. This mask is made with vitamin E, fatty acids, nutrient-rich rice, ginseng (which has a calming effect), and a bunch of other sh*t that gives you an instant glow.
And for anyone who's wondering, sheet masks are packed with nutrient-rich serums that absorb best into your skin when you're wearing the sheet and looking like Hannibal Lecter, but the serum is still very much on your skin when you take the sheet off, so they aren't exactly a waste.

I am weirdly specific when it comes to a tinted lip product: it can't be sticky, it has to be the perfect shade, and it has to last through my morning coffee. This Dior lip product is literally perfect. First of all, it's incredibly moisturizing. Secondly, it goes on clear and within a few seconds, changes color due to a bunch of science I don't really understand. For me, it transforms into rosy pink with a coral undertone, but for my friend, it becomes more of a purple color. I'm truly baffled by this magic, but I won't question it.

Until recently, I was a firm believer in all cleansers being the same, so paying more than a drugstore price was unnecessary. This cleanser is the definition of a super basic (in a good way) product that does exactly what it says it's going to do. Wet your face and massage this into your skin for a few seconds and rinse off with warm water. Boom! You're cleansed! It leaves your face feeling soft and clean, but without stripping your skin. I've said this before, but if your face feels tight and dry, your cleanser is too harsh!

Double cleansing is an important part of any skin care-lover's daily routine. The first step involves taking off your makeup and the second one is cleansing. This Clinique balm is unparalleled at removing makeup, so I highly recommend getting yourself a tub ASAP. It has the consistency of soft wax, but it works. Scoop a little out with your fingertips and move it around in your hand to break it down a little. Then, once it's slightly softened, move it around your face and it literally melts your makeup right off. Don't believe me? Use this then dab a clean white towel on your face and you won't see any residual makeup!

This purchase was a catch-22 because, on the one hand, authentic tans are horrible for your skin, but on the other, my natural skin tone is concerningly white. This self-tanner is unreal and legit impossible to f*ck up. I always strayed from self-tanner because I feel like it always looks fake and streaky—especially on people's wrists, ankles, elbows and knees. This, though, is different! You mix a few drops with your go-to lotion and then spread it all over your body and it always turns out even and natural-looking. I've used this on my legs many, many times and I'm always impressed with how good it looks.
Images: Mercy / Unsplash; Sephora (10)
Betches may receive a portion of revenue if you click a link and purchase a product or service. The links are independently placed and do not influence editorial content.
Sephora Is Having A Huge Spring Sale & Here's What To Get Now
Not to brag, but I spend a f*ck ton of money at Sephora. So when twice a year they have their seasonal bonus discount, I'm happier than a Game of Thrones fan on a Sunday night. Like, let's face it—it's expensive to be beautiful. Even if you're not into makeup, keeping up with a five hundred step Korean skin care routine costs enough to make you want to quit your day job and just become a stripper. Sorry mom and dad, but I have to afford this flawless face somehow… Anyway, we all should take advantage of this rare discount on beauty (which will also help keep me off the pole for another month or two until I run out again.) Sephora's spring bonus offer started on April 26th for Rouge members (yes, of course this is me) and starts May 2nd for VIB and Insiders, ending on May 6th for all parties. So that being said, here are the must-buy items from Sephora that you should be adding to your cart like, rn.

This product is my holy grail. No joke, I haven't had chapped lips even ONCE since I started using this a few months ago. I have tried sooo many lip products in an attempt to relieve my chapped lips, and this is the ONLY one that has actually worked. I use this on my lips every night and wake up with luscious soft lips in the morning. Even though it's a sleeping mask, it also works great as a hydrating gloss for the day. It makes your lips look instantly moisturized and gives them a perfect subtle pink glow.

This product has been my secret weapon for over a year now, and I can't say enough good things about it. In fact, I've turned several friends and family members into religious purchasers of the product. First off, Tan-Luxe's mission is to bring a skin care approach to self-tanning, so you can trust with full certainty that it's both safe and beneficial for your skin. Additionally, their products are organic, non-toxic, and cruelty-free. And, probs most importantly of all, their products give you that subtle just-got-back-from-vacation glow that we all constantly strive to achieve. These drops are intended to be added to your regular moisturizer, serum, or oil. However, I find the best results when, instead of mixing with my moisturizer, I apply my moisturizer, then wait a few minutes and apply the drops directly on top. It's an oil, so it goes on super smooth and consistent, and the result is a tanned and flawless face, with imperfections blurred and all. No need to Facetune this selfie, baby!

If this makeup product were a book, it'd be "How To Do Your Eyebrows For Dummies." It's the simplest product to use with maximum results. Yes, like I'm sure many of you are, I too am a devotee of Anastasia Beverly Hills' brow pencils. However, I'm rarely sitting around with enough time in the morning to spend filling in my mismatched eyebrows hair by hair. By using tiny microfibers to give your brows instant fullness and definition, Benefit's brow gel takes 30 seconds to apply and looks super natural. This is my day-to-day necessity because like, eyebrows can make or break a person. And, for anyone who's ever experienced the misfortune of over-tweezing their brows, you know how truthful of a statement that really is.

This highlighter is a cult-favorite among makeup enthusiasts everywhere, and let me just tell you, it's for good reason. Like, you know when you see all those makeup artists on Instagram whose clients have the most radiant, dewy glow??? Well, that's actually achievable sans a glam squad for even us mere peasants with this product. Especially if you get the iconic Champagne Pop shade, which is their best-selling shade of soft gold with a peachy-pink pearl glow.

Okay, so these peel pads are obvi a bit pricey, which is why I always wait for the twice a year bonus offer to purchase them (or at least, I try to). Because honestly, even without the bonus, these peel pads are still worth it. Dr. Dennis Gross knows his sh*t, and these daily anti-aging peel pads are a true testament to that. Of course, given their price, I definitely do not use them on a daily basis as suggested. Rather, I use them 2-3 times per week and, let's just say, they have become an ESSENTIAL part of my skin care routine. Like, I can see a noticeable difference in the brightness of my skin when I've procrastinated buying a new box and don't use them for a few weeks. So trust me, take advantage of the spring bonus offer to get a discount on this incredible product while you can.

I'm pretty sure every girl knows the eighth wonder of the world that is this setting spray, although I had to still put it on this list because it would be a sin not to. This amazing weightless setting spray keeps your makeup intact and fresh for up to 16 hours. And, let's just say, I've had a few benders in my college days that would serve as testament to the effectiveness of the product. Oh, and also, for anyone who's ever accidentally taken an extra long nap post-day drinking, just to wake up at 10pm as all your friends are about to leave for the bar, this product is a true FOMO preventer because you'll be pretty much ready to go right after waking up. But that's just for anyone out there who's ever experienced that—not myself of course.

I get it, some of you may consider lip gloss to be juvenile. You're all about a matte ~lewk~. Well, to each their own, but I'm here for a dewy look. Like, before highlighter was a thing, I was putting baby oil on my cheekbones for a subtle glow, something I learned from the Olsen twins in one of those $10 special edition magazines all about them. (I was a true fan girl, to say the least.) So anyway, back to what I was getting at: I love a subtle nude glossy lip, and this lipgloss is the epitome of that. It's a universally flattering rosey nude shade that looks great either alone or applied over your lipstick. Not to mention, it's not sticky and glides on smooth for a perfect flawless finish.

I am a slut when it comes to moisturizers. As someone whose skin is often way more dry than anything else, I'm always on the hunt for a good new moisturizer. And let's just say, I have about ten different ones in my bathroom currently. However, I put this one on the list because it is one of the few options that is lightweight enough to wear during the day, while still being hydrating and powerful enough to use at night. For example, I'm madly in love with La Mer's classic Crème de la Mer. However, it's just way too thick for wear during the day. On the flip side, this Philosophy moisturizer is suitable for both day and night, not to mention also for all skin types. It gives a soft dewy hydrated feel that isn't too thick or slimy, so you can easily still apply your makeup over it.

This is another beauty product with a devoted following, so I'm going to assume this is not the first time you're hearing about it. But, what I can do is be here to vouch for it. This powder is the perfect final step in your beauty routine to not only make sure your makeup stays on your face, but actually stays in place on your face. It's lightweight, and blends seamlessly over your makeup for that final no-filter-filtered makeup look. Like, attention Insta thots everywhere, you'll no longer have to hide behind the dog filter because this product gives your skin that perfect flawless finish.

This BB tinted moisturizer is my daily replacement for foundation when I don't want a fully snatched face. Like, on a casual Tuesday I'm not trying to have a beat face, ya know? So instead, I use this and it provides just the right amount of coverage to blur all my imperfections without making me look caked. Not to mention, it also has vitamins and sh*t in it, like Amazonian clay (hence the name) and chamomile, to bring your skin amazing benefits while you wear it.
So disclaimer, everyone's skin is different, and what works for me may not work for you. However, as a human guinea pig for all things beauty, these are the products that have proved to be stand out stars, at least in my book. And, as someone who has wasted enough money on this sh*t to have just paid off her student loans by now, I'm experienced and somewhat credible in this department. Somewhat.
Images: @BoxedWaterIsBetter / Unsplash; Sephora (10)
Betches may receive a portion of revenue if you click a link and purchase a product or service. The links are independently placed and do not influence editorial content.
I Actually Believe In Day And Night Creams Now—Here's Why
As someone who reads and writes about skincare on a daily basis, I find myself hitting something I call "skincare fatigue." Just when I'd mastered toner (kind of), I start hearing about serums, retinol creams, and whatever the f*ck an "essence" is. Thankfully, the concept of day cream vs. night cream isn't new to me—but actually using a different moisturizer for morning and evening is. I'd always kind of figured that "needing" two different moisturizers was just a way for companies to sell you more products. But three weeks in to my new regime, I'm sold. Here's why.
Night Cream Needs Time To Sink In
The purchase that kicked off this whole venture is Tatcha's Dewy Skin Cream, a moisturizer I feel confident in calling pure magic. From the moment I got my hands on all that silky lavender goodness, I loved it so much I wanted to take a bath in it. This moisturizer has brought my skin back to life after a night out, scared burgeoning pimples back into hiding, and—praise be—NOT activated my rosacea, which just about every other celeb-approved moisturizer does. (Looking at you, La Mer. I wanted so badly to love you.)

Now that my shameless Tatcha evangelizing is out of the way, on to the real point. Because I was so excited about this moisturizer, I was using it morning and night—and quickly realized my mistake. I have a four-step routine I stick to: cleanser, toner, treatment, moisturizer. Because the sun exists, and because my skin is so dry that sunscreen alone does not moisturize it, I have to follow up that four-step routine with an SPF cream in the morning—all before adding any makeup.
Now, anyone who's tried to quickly apply five different face products and then add foundation on top will immediately see the problem here. My beloved Tatcha moisturizer is on the thicker side, which is perfect for my dry skin—but it takes a solid 15-20 minutes to be completely absorbed. That would be fine if it were my only morning skincare step, but I also have to give my toner and treatment steps 5-10 minutes each to sink in. That gets us up to 30 minutes on pre-make-up skincare, minimum. In my week of trying to use the Dewy Skin Cream as a day cream, I don't think I managed to put foundation on once. Since I never had enough time to let the moisturizer sink in all the way, even my sunscreen was barely getting absorbed—which means I was going out looking like a greasy, white-tinged mess.
Note: Dewy Skin Cream isn't advertised specifically as a night cream—there's a different night cream from that product line—but that's how it works best for me. As a rule, night creams will be thicker than day creams, and are formulated to moisturize while you sleep.
Me, waking up post-Tatcha moisturizer: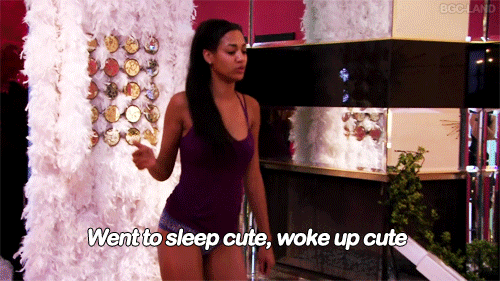 Day Cream Protects; Night Cream Repairs
Day cream, I learned, has one major job: to protect your face from the sun, so basically to contain as much SPF as you can stand. (For reference, I use SPF 46—do not come at me with your SPF 15 liquid foundation). Like I said before, I have a special breed of lizard skin that requires me to pair said SPF 46 lotion with a second day cream—but if you have the option of combining these steps, I strongly recommend you do. I love this one from Origins (so brightening), or this SPF 50 IT Cosmetics CC cream. (No, I don't know what a CC cream is, and my head will explode if I research further.) I own this cream, and would refer to it as somewhere between light coverage foundation and tinted moisturizer.

Scott Disick knows what's up, a sentence I never thought I'd utter.
If you are like me, and SPF products aren't moisturizing enough on their own, I recommend a super lightweight cream that sinks in quickly. My personal fave for this is Cerave, which makes both a day cream and a night cream.
While day cream bears the brunt of sun protection, your night cream can and should have active ingredients too. We've already discussed the benefit of adding retinol to your daily routine, and 2019 is heading toward being the year of glycolic acid. These ingredients are both great, because they help speed up cell turnover, AKA get rid of the dead skin and bring in the new, better skin. Very scientific, I know. However, both of these ingredients also make your skin more sensitive to the sun. I can personally attest to this—this past December, I used a retinol oil and then went out for a day of skiing. Within 24 hours, I developed dark, rough patches of sunburn on my face like I'd never seen before, and they lasted well through New Year's Eve. Happy 2019 to me!
So, while retinol and AHAs are a good addition to night creams, they should absolutely be avoided in your day creams. On the flip side, you're welcome to put on SPF at night—but unless you're sleeping at a campsite, I'm not sure why you would.
Ultimately, you could just say f*ck it and use the same lightweight moisturizer with zero active ingredients for both day and night (plus sunscreen, obv). But if you have skin that's on the dryer side, I highly recommend investing in a thicker night cream—and not making the mistake I did of piling it on in the morning, too.
Images: Tatcha; Giphy (2)
8 Beauty Gift Sets That Make Great Holiday Presents
It's the best of times and the worst of times. Sure, everyone is being merry, singing "Jingle Bell Rock", feeling the urge to be creepily nice, getting a break from work, and of course, spending true quality time with your loved ones. However, at the same time, it f*cking sucks. It's brick AF outside, it's dark by like, 4pm, and you're draining your bank account faster than you can say, "payday."
Buying everyone in your family a gift this season feels amazing and all, but you've got to admit that watching the numbers on your account get smaller makes you die inside. Same. It may be the season of giving, but it's also the season of receiving…even if that means secretly buying yourself that well-deserved palette or face mask you've been eyeing at Sephora. No one is here to judge, otherwise, you wouldn't be reading this right now. So here it is: the eight best beauty gift sets worth buying this year. Whether it's for yourself or your best friend, no one has to know.

Lancôme is a really good brand that doesn't get enough attention. I feel like people tend to forget about it because it's on the pricier side, but this is one of the rare times when cost actually makes up for the quality you're getting. This super dope gift set comes with 10 full-size bestsellers (FULL-SIZE, people!) and a cute makeup bag you can actually use.

If you already own one or have even sampled a shade or two, you'd know that Morphe palettes are life. Their shades are always really pigmented and right on point. The only things you need to go with it are their soft, clean brushes. These nine ~vegan~ eye and facial brushes cover all the bases when it comes to makeup application. They also come in a chic little brush case.

I am a huge fan of IT Cosmetics because it's not only affordable for the quality, but also their products are all great for my annoyingly sensitive skin. Seriously, if you haven't tried anything from this line yet, now is the time. This limited-edition anti-aging gift set comes with a full-size moisturizing super cream—a must-have during the winter—and travel sizes of their hydrating cleansing serum and eye cream.

'Tis the season for vampy and festive-colored lips, so get 'em while they're hot, in stock, and on sale. This colorful set comes with 10 fan-fav mini lipsticks ranging from deep burgundy to "very hot" pink to a classic deep-tone beige.

If you're going away for the holidays, congratulations. I hate you, I'm a jealous b*tch. If you're not going anywhere, that makes two of us. But, on the bright side, this cheery gift set is enough to make us pretend we're getting our tans at the beach. It features 15 exclusive, new eyeshadow shades; a 12-hour lasting blush; eyeliner; and a bestselling glossy lip paint.

If you're a consistent reader of my stuff (sidenote: you the real MVP) you'd know that I've tried plenty of products from the Insta-famous Glossier. It's packaged in the millennial pink shade we love, stays in an affordable range, and actually delivers what it promises (most of the time). This gift set comes with the bestselling Boy Brow (my personal favorite), Lash Slick mascara, and Cloud Paint in the color of your choice.

Sounds too good to be true? It basically is. For a salon-style blowout in the comfort of your own home, this gift set isn't one to skip over. It carries a top rated straightening brush, anti-humidity spray, dry shampoo, and a ton more. Get perfect-looking hair this holiday for under $100.

These colder temps make me want nothing more than fuzzy blankets, comfy slippers, unhealthy food, and dozens of hot baths. If that doesn't sound like the most perfect and well-spent night ever, I'm officially a f*cking grandma. And you're just missing out on a good-ass time. This deluxe holiday collection from Philosophy features shampoo, shower gel, and bubble bath, all in holiday-friendly scents such as apple cider and peppermint stick.
Images: Charisse Kenion/Unsplash; Nordstrom; Ulta (2); Saks Fifth Avenue; Macy's; Glossier; Sephora (2)
Betches may receive a portion of revenue if you click a link and purchase a product or service. The links are independently placed and do not influence editorial content.
Black Friday Deals On Beauty Products You Need To Know About Now
Black Friday (and more importantly, Cyber Monday) deals are almost upon us. Although I hate crowds, and people, and lines, I really, really love Black Friday deals on beauty products. This is why you can shop online, guys. There is nothing better than telling myself I'm not going to spend money and spending $500 at Sephora but getting $850 of products, so really, I made $350. That's just good business. Since both in stores and online Black Friday shopping is going to be chaos and every woman for herself, it's best to be prepared for what exactly to hit up first and what to buy. Don't wait until the last second when every store is the animal world in Mean Girls. Here are the Black Friday deals on beauty products you need to know about now.
You when you got everything you wanted on Black Friday because you planned ahead:

Sephora is by far my favorite place to shop for beauty deals already with their point systems and lax return policy. They are trying to further my love for them because they are starting Black Friday deals on beauty products on November 15th this year. The early deals are exclusively for the app, so make sure you have that downloaded if you don't already. For Beauty Insiders and Rouge members (which should be all of you, if not, do it now), you get early access to all deals on November 21st, with "regular" customers getting deals long after on Thanksgiving Day/Actual Black Friday. If you choose to go to stores (God help you), Sephora will open on Thanksgiving at 6pm with their deals ready to go. The biggest sale options this year seem to be their $15 & Under deals, where you can stock up on expensive value sets all for under $15.
Ulta is also going to open for Black Friday at 6pm Thanksgiving Day (those poor, poor workers). Their official Black Friday ad goes live around November 12th, so keep a lookout so you can plot what to buy. Their typical Black Friday layout is pretty awesome, with 50% off brands like Urban Decay and Tarte, and $30 off styling products like Chi. Stock up on expensive makeup palettes and definitely take advantage of their 5-for-$5 specials on face masks and other little products.
Amazon already has some of their Black Friday deals out and ready to go. The best part is you can do all your shopping online without missing out on anything. Every day, Amazon will be adding more and more products to their discount list, so check frequently for deals. This is where you should stock up on your have-to-have basics: acne patches, face wash, lotions, that Aztec face mask everyone is obsessed with, etc. Buy in bulk and save the rest of the year.
Bath and Body Works always has amazing Black Friday deals on beauty products. Things sell out quick so you need to be on it. Remember, they have a great return policy, so buy as much as you can with the deals offered and you can return or exchange any scents or products you don't like later. They always have sales going on, so expect them just to be amplified and all at once on Black Friday/Cyber Monday. The real key to owning the BBW system is to sign up for their emails now, and get coupons for 20% or $30 off to use in conjunction with their deals on Black Friday. The better coupons are online only, so keep that in mind if you decide to venture out to the stores. Their elusive $8 candle sale (normally $24!) is usually around Black Friday, but expect the large candles to be marked down to at least half off. Stock up now on those and take advantage of any get-nine-body-washes-for-the-price-of-three weird deals they have. Do you need 10 matching body washes/lotion/body spray combos? I'm gonna say duh, but you can also divvy them up as last-minute gifts later. Or you can just hoard bath products and never have to buy body wash again. Your call.
Images: Shutterstock; Giphy
Hey Kylie, We Found A Real Self-Made Billionaire In Your Exact Field
A couple of weeks ago, the internet lost its mind over the fact that Kylie Jenner was on the cover of Forbes Magazine for being a "self-made" billionaire — you know, typical 2018 shit. Much like a drunk selfie taken in the bar bathroom, there were a lot of angles to consider. One was that Kylie Jenner was born into an incredible amount of wealth and privilege, so calling her fortune "self-made" is like me saying the middle school science projects I forced my mom to do were "self-made". With this in mind, I would like to direct your attention to another woman who has created an iconic cosmetic line without having been born with a household name and yet she has not received the same amount of well-deserved credit. Her name is Pat McGrath and you should know about her.
McGrath's company is called Pat McGrath Labs, and is currently worth $1 billion. Damn. I would like to take the time to point out that my estimated worth is *checks notes* jack shit. Cool, cool, cool. Anyway, back to Pat McGrath…

McGrath launched her brand in 2016, meaning she has made this success for herself in just two years. Again, making this about me, in the past two years I have accomplished *checks notes* oh, would you look at that, it's shit-comma-jack again.
The Rest of the World: Wow, you became a self-made billionaire in two years?!
Pat McGrath: 

Okay, sorry, Pat McGrath. She is a true icon. She made a name for herself by creating lewks for models on the runway and recently accepted an investment with Eurazeo Brands. You can find her products at Sephora, which in my book is the sure sign that you have made it. If you aren't a smashing hit at Sephora, why the fuck are you talking to me?
Pat McGrath came into the game without another major advantage that Kylie Jenner has: being white. McGrath is a woman of color, and her amazing work and success is truly an inspiration. Look, Kylie, we love you and I'll waste truly any amount of time scrolling through your Instagram page and muttering "how???" but I'm afraid you're going to have to scoot over for this one. Pat McGrath is truly a self-made billionaire and she should be getting the credit for it. Go check her out!
In 2016, Pat McGrath created her makeup line Pat McGrath Labs. Now it's worth $1 billion. It has surpassed Kylie Cosmetics. pic.twitter.com/KSgg17alKN

— Affinity Magazine (@TheAffinityMag) July 18, 2018
Heads up, you need to keep up with the news. It's not cute anymore. That's why we've created a 5x weekly newsletter called The 'Sup that will explain all the news of the week in a hilarious af way. Because if we weren't laughing, we'd be crying. Sign up for The 'Sup now!
Essential Travel Beauty Tips So You Don't Look Gross After Flying
Travel is without a doubt one of the greatest parts of summer. First of all, there's the crack-like (I assume) rush of turning on an "out of office" email reply. Chase that with a daily routine of margaritas for breakfast, followed by triple-digit likes on a "look at my ass this beautiful view" 'gram, and I'm decidedly living my best life. Unfortunately, even the highest of vacation highs tend to come crashing down within 24 hours of returning home. Not only did your "out of office" reply deter exactly zero people from emailing you multiple times, but you now have to deal with the ravaging effects of whatever public transit hell you were subjected to on your return home. (I'm primarily discussing air travel here, but let's not pretend that buses/trains don't leave you feeling pretty icky as well.) Here are some travel beauty tips for avoiding and even reversing the damaging effects of air travel.
Start With A Clean Face
If you're one of those people who can't leave the house without a full face of makeup, I have bad news. No one believes you woke up like that, and you should absolutely never fly in makeup. If you absolutely have to roll up to the airport made-up, at least take it off ASAP once you're in the air. Makeup wipes like these Philosophy facial cleansing cloths are a must, given the state of airport bathrooms and the fact that your bougie-ass cleanser definitely won't make it through TSA. Alternately, you can go with a (travel size) no-rinse micellar water—just please God use cotton pads, not airplane toilet paper. Ew.

Purity Made Simple One-Step Facial Cleansing Cloths
Embrace In-Flight Skincare
Ok, so now your face is clean. Sadly, your work is just beginning. One of the biggest damaging factors on airplanes is that they dry you out like crazy. This means you're looking at red patches, flaky skin, and the overall pallor of a three-day-old corpse (just me?). Luckily, there are ways to avoid this—though they do involve giving exactly zero fucks what the people in your row think. For starters, it seems like every celeb on earth applies a hydrating mask while flying. Luckily, there are "invisible masks" like the Origins Drink Up Intensive,  or Kiehl's Ultra Facial Overnight Hydrating Masque, both of which you can leave on for hours to absorb maximum moisture, without getting dirty looks from flight attendants. For those a little less shameless, the Summer Fridays Jet Lag Mask goes on like a regular mask (that you'll have to rinse off with a warm towel, somehow), but it provides hydration and anti-inflammation without any harmful ingredients or artificial fragrances (it's also vegan). If you're brave enough for a sheet mask, Chrissy Teigen and J Lo swear by the SK-II Facial Treatment Mask.

Kiehl's Ultra Facial Overnight Hydrating Masque
Once you've removed the mask, it's recommended you follow up with your preferred serum/moisturizer/eye cream. (Or if you're prone to puffy under-eyes (hi), consider some cooling pads like these skyn ICELAND firming eye gels.  Emma Stone swears by argan oil for long flights, but your heaviest daily moisturizer should work fine.

As a final, extra-luxe step, invest in a face mist. Celeb stylists love rose-water infused options (try Khloé Kardashian's preferred Jurlique version), but regular old Evian is fine too. If you're reallyyyy trying to get extra about this, the Caudalie Beauty Elixir is another celeb fave. (It's a toning spray, but don't ask me what toner does). Or,  you can follow up your SK-II celeb-approved face mask with their Facial Treatment Essence. (Seriously, do not ask me what essence does.)
Stock A Full Mom-Purse
You know that one friend whose purse is always fully stocked with Kleenex, lip balm, gum, etc? Yeah, you'll want to emulate that to an extent. In addition to all the face wipes and hydrating essentials mentioned above, you should never board a flight without hydrating lip balm, hand lotion, and more water than you usually drink in a week. This final point is especially key, because in addition to making your outsides dry AF, your insides are also dying from dryness when you're on a flight. So drink, drink, DRINK. Even though it's annoying to get up every half hour and use the bathroom, you'll thank me when you don't arrive bloated and constipated (ew), not to mention the fact that the simple act of getting up and moving frequently is proven to help beat in-air bloat, and can help prevent blood clots. Woo!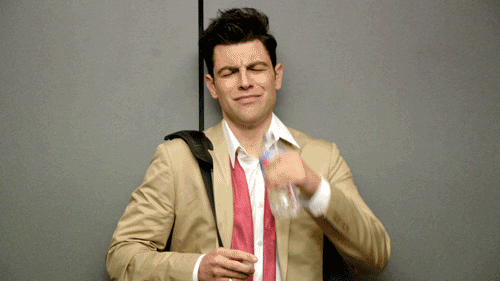 Be Careful What You Eat & Drink
Oh, and speaking of drinking—I have another bubble to burst here. As you know from waking up at 3am with desert mouth after a night of drinking, alcohol dries you out—which means drinking on flights is a big no-no (same is true for caffeine). Yes, air travel is definitely one of those memories I'd prefer be a little hazy, but the pounding headache and exaggerated dehydrating effects all around are not worth the 25-30 minute buzz. Save the drinking for your final destination.
When it comes to eating, you're better off the less you ingest while actually on the flight. Sugar-free foods and gum escalate an already gassy situation (sorry—I don't make the rules), and chewing gum makes you literally swallow air, which, you guessed it, escalates both the gas and the bloat. The same goes for high-sodium foods and any carbonated drinks. So yeah, even your beloved La Croix is a no go. Some experts suggest to avoid eating anything on a flight, since flying may cause your digestive system to slow down, and the restarting process will be all the more unpleasant if there's new food to digest rolling around in there. Whether or not that's 100% scientifically proven, many people who avoid eating on planes say they feel more rested and hydrated after, so it's worth a shot. Were you really that hyped about airplane food anyway?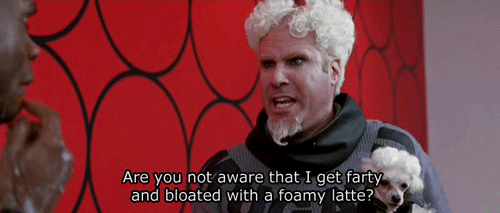 That's all from me (though TBH, it's plenty). I purchased maybe six more products over the course of writing this article, as I'm currently in the throes of post-flight bloat and ogre skin myself. Learn from my mistakes and help slightly soften the blow of going back to work by not having to deal with a pimple the size of a third eyeball taking over your forehead. Really takes away from the glamour of an overseas vacay.
Images: Giphy (2); Sephora (2)
Betches may receive a portion of revenue if you click a link in this article and buy a product or service. The links are independently placed and do not influence editorial content.
Must-Have Summer Beauty Products That Beat Sweat, Frizz & Sunburn
Summer is coming, and with beach days and pool parties come sweat, humidity, and sunburn. Unless you want to look haggard af and not be cute enough to get into the rooftop pool bars (is this a thing everywhere?), you need an arsenal of beauty products on hand at all times. You should be focusing on pounding margs on a weekday that you called in sick to work, not how to hide your very obvi pit stains in the 110 degree weather. Not to mention, nothing—and I mean nothing—makes me more miserable than when I am too hot. If I am overheated and hungry, there is a good chance someone will die. Stay cool and chic no matter what the sun does to you with these summer beauty products.
1. SPF and Cooling Setting Spray
Get a makeup setting spray to stash in your purse (they even come in mini versions) to keep your makeup from melting down to your cheekbones in the worst of humidity and sweating. Make sure it has SPF, so you can reapply sunscreen without fucking up your makeup, and you won't get the oh-so-sexy sunglasses burn halfway through happy hour. Bonus points if it's also cooling and smells good to cover up the smell you get when you're outside for long periods of time that I can only refer to as "recess". You fucking know exactly what I'm talking about. This one from Supergoop! is my fav. It smells like rosemary and mint, keeps your cat eye on point, and is SPF 50. Btw, I hope you're not still paying full price for shit at Sephora right? You can find a mini version of this pretty often as a points reward, so it's technically free.

SUPERGOOP! Defense Refresh Setting Mist Broad Spectrum SPF 50
2. Mini Deodorant
I don't care if it's summer or not, always, always carry mini deodorant—and perfume, for that matter—in your purse in case of emergency. I can't think of a single thing that will make me blind-rage-hate you faster than having to smell your B.O. because something happened—like, idk, it's hot out—and you are sweating. Please spare us the grossness by taking fucking showers before hanging out with me, and also, bringing backup. This mini deodorant is natural and smells like vanilla, so it won't give you cancer and will cover your scent.

LAVANILA The Healthy Deodorant Mini
3. Waterproof Mascara
Is anything sexier than raccoon eyes from your mascara dripping down your face? Fuck yes, and it's literally everything else in the world. Spare yourself the nasty mascara goop thing that happens when you're sweating or excessively oily by investing in a good waterproof mascara. This Dior one is the best, mostly because it isn't flaky like many other waterproof formulas and goes on pretty much exactly like the regular, except it's bulletproof and impossible to get off. But like, in a good way. A good waterproof mascara will take you from your 9-5 to happy hour at the beach to getting hammered and jumping in the ocean to accidentally killing a guy and hiding the body, without a single under eye crease. Idk, I don't know your life.

DIOR Diorshow Waterproof Mascara
4. SPF Lip Balm
Your lip skin is super delicate and can be burnt just like any part of your body. Especially in the heat where you're sweating, dehydrated, and probs not drinking enough water, you want to load up on the lip balm. Prevent your lips from burning, which fucking hurts and makes them peel and crack and look repulsive, with a thick af lip balm with SPF. This Jack Black one lasts forever and is mint flavored so it's soothing and will disguise your margarita breath. But like, also bring Listerine strips or breath mints, you heathen.

JACK BLACK Intense Therapy Lip Balm SPF 25
5. Sea Salt Spray
My rule when it comes to dealing with humidity is to embrace the frizz instead of piling on so much oil product that you look like a drowned rat. A sea salt spray creates texture and gives you chic Serena Van Der Woodsen beach waves with little to no effort. Also, it's way easier than trying to straighten your hair and the humidity giving you a fucking crease halfway through the day that you can't fix. This set from Sephora has a few different ones to try so you can find what works best with your hair.

SEPHORA FAVORITES Instant Texture Dry Styling Spray Collection
6. Evian Spray
This is extra, but if you're bougie af, it's really a have-to-have. This mini Evian spray is sooooo refreshing and keeps your skin hydrated throughout the day. Especially if you're outside for a while—think walking anywhere, sports games, beach days, theme parks, etc. It's great to have on hand to cool you down quickly before the sweat ruins your blowout.

EVIAN Brumisateur® Natural Mineral Water Facial Spray
Images: Emily Goodhart / Unsplash; Sephora (6)
Betches may receive a portion of revenue if you click a link in this article and buy a product or service. The links are independently placed and do not influence editorial content.