The Best Self-Tanners For Glowy, Bronzer Skin This Summer
Betches may receive a portion of revenue if you click a link and purchase a product or service. The links are independently placed and do not influence editorial content.
With summer just around the corner, you're probably starting to think about achieving that perfect sun-kissed glow. But with the risks associated with sun exposure, self-tanners are where it's at. Yes, there are many options on the market, ranging from affordable drugstore brands to luxury options and it can get a little overwhelming, but don't fret. Here's a breakdown of the best self-tanners to try this summer for looking like a glowing goddess on your next vacay, Instagram selfie, or your building's rooftop.
Jergens Natural Glow Wet Skin Moisturizer

This self-tanner is perfect for those on a budget. The moisturizer is applied while skin is still wet, making it easy to incorporate into your shower routine. The formula gradually builds a natural-looking tan over time, and it's also infused with coconut oil, providing hydration to the skin.
Shop It: Jergens Natural Glow Wet Skin Moisturizer, $10.47, Amazon
St. Moriz Professional Fast Tanning Mousse

This affordable tanning mousse provides a streak-free, natural-looking tan that lasts for days. It's easy to apply and dries quickly, making it a great option for those who are short on time. Plus, it comes in a variety of shades, ensuring you'll find the perfect match for your skin tone.
Shop It: St. Moriz Professional Fast Tanning Mousse, $8.30, Amazon
Isle of Paradise Self-Tanning Drops

These drops are a must-have for those who want to achieve a customized, natural-looking tan. The drops can be added to your favorite moisturizer or serum, allowing you to control the intensity of the tan. Plus, the formula is infused with avocado, chia seed, and coconut oils, making it nourishing for the skin.
Shop It: Isle of Paradise Self-Tanning Drops, $30.40, Amazon
Vita Liberata Tinted Tanning Mousse

This high-end self-tanner provides a long-lasting, natural-looking tan that lasts up to three weeks. The formula is free from parabens, sulfates, and phthalates, making it a great option for those with sensitive skin. The mousse is easy to apply and dries quickly, providing a streak-free finish.
Shop It: Vita Liberata Tinted Tanning Mousse, $35, Amazon
Bondi Sands Aero Self-Tanning Foam

This self-tanner is perfect for those with dry skin. The foam is infused with aloe vera and coconut, providing hydration to the skin while delivering a natural-looking tan. Plus, the formula is lightweight and fast-drying, making it a great option for those who are on-the-go.
Shop It: Bondi Sands Aero Self-Tanning Foam, $29, Amazon
Tan-Luxe Super Glow Hyaluronic Self-Tan Serum

This self-tanner is perfect for those with oily or acne-prone skin. The serum is infused with hyaluronic acid, which helps to hydrate the skin without clogging pores. Plus, the formula provides a natural-looking tan that can be customized to your desired shade.
Shop It: Tan-Luxe Super Glow Hyaluronic Self-Tan Serum, $49, Sephora
The bottom line: yes, there are so many self-tanning options available for you to try, but these are the best for each and every skin tone and concern. At the end of the day, the best self-tanner for you will depend on your desired results, although none of these will have you fearing turning orange. With the options listed above, achieving a natural-looking, sun-kissed glow this summer has never been easier.
You Won't Believe The Before & After Results Of This Viral Self-Tanner
Betches may receive a portion of revenue if you click a link and purchase a product or service. The links are independently placed and do not influence editorial content.
Picture this: glowy, bronze, hydrated skin minus the sun. That's exactly what you get with the Coco & Eve Sunny Honey Bali Bronzing Foam. This amazing product has been making waves on TikTok and for all the right reasons. It's the perfect self-tanner for anyone who wants a gorgeous, natural-looking tan without exposing your skin to harmful UV rays or risk turning orange and giving major Cheeto vibes.
On top of the fact that it's easy to use and has color that lasts for days, it also smells incredible (and those of us who self-tan know how stinky that can get). This bronzing mousse comes in a beautiful golden bottle, and the formula is enriched with natural ingredients such as mango, papaya, and cocoa to nourish and hydrate your skin while giving you a sun-kissed glow.
Applying the Coco & Eve Sunny Honey Bali Bronzing Foam is a breeze. Just pump some of the foam onto the included tanning mitt and apply it evenly all over your body. The foam is tinted, so you can see exactly where you have applied it, which is a lifesaver for those hard-to-reach areas. And don't worry about any streaks or patches–the formula is foolproof and guarantees a flawless finish every time.
One of the best things about this self-tanner is the incredible scent. Unlike many other self-tanning products that have a strong, unpleasant odor, the Coco & Eve Sunny Honey Bali Bronzing Foam smells like a tropical vacation in a bottle. You'll feel like you're lounging on a beach in Bali, even if you're just hanging out in your bedroom.
But what really sets this self-tanning mousse apart is the fact that it's so long-lasting. Unlike other self-tanners that start to fade after a day or two, the Coco & Eve Sunny Honey Bali Bronzing Foam can last up to a week. That means you can enjoy your gorgeous, golden tan without having to reapply every day.
And TikTok agrees. There are so many videos of content creators and self-tanning fans showing their before and after results, and the proof is right there in front of us. Everyone is left looking a few shades darker and like a glowing, radiant goddess. Don't believe us? Check it out for yourself below.
All in all, the Coco & Eve Sunny Honey Bali Bronzing Foam is a game-changer in the world of self-tanning. It's easy to use, smells amazing, and gives you a beautiful, natural-looking tan that lasts for days. So, if you're looking for the perfect self-tanner, this one's got you covered from head to toe–literally.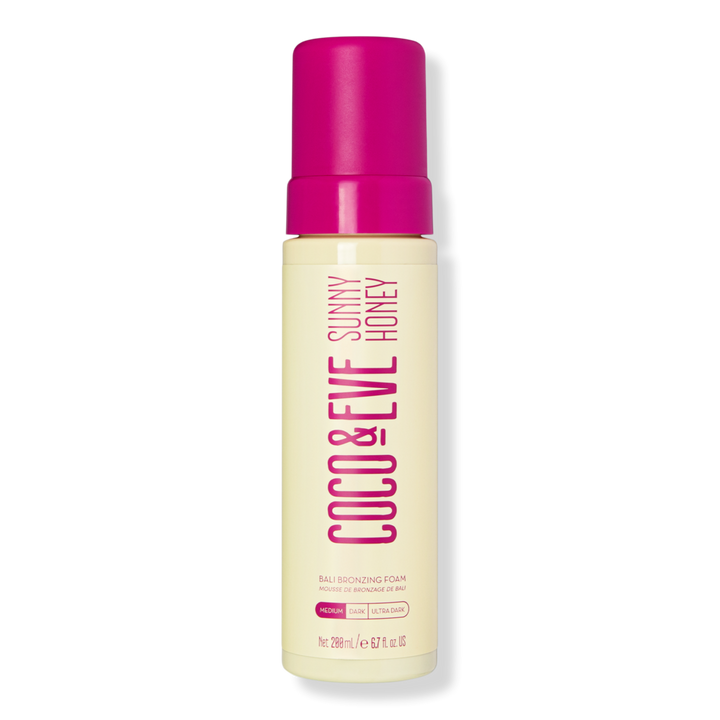 Shop It: Coco & Eve Sunny Honey Bali Bronzing Foam, $35, Ulta
The Best Skin Care Products To Buy During Sephora's Spring Sale
Now that there is some—albeit incredibly vague—info on how we can reenter the world when coronavirus finally GTFO, I am feeling eager to get my skin back on track. I don't know about you, but when I go out to dinner with my friends for the first time after being locked in my apartment for what will be at least two months, I want to glow. Luckily for me, Sephora's annual spring sale is upon us! As always, Sephora is offering different deals and savings for each of their three member tiers. From April 17th through May 1st, Rouge members can save 20%; from April 21st through April 29th, VIB members can save 15%; and from April 23rd through April 27th, Insider members can save 10%. I am a proud Rouge member, so let's f*cking do this. 
If you've read any of my articles, you know that there are more skin care products in my medicine cabinet than there are food items in my pantry. I have no shame in my game. It took years of trial-and-error to discover which products are the best, so you can trust I know what I'm talking about when it comes to my recommendations. 

The only YouTube channel I subscribe to is Klossy, which belongs to, you guessed it, Karlie Kloss. I don't care who she's married to, I love her and will continue to do so for the rest of my days. Anyway, Karlie has the best skin I've ever seen, so when she recommended this night serum, you better believe I went out and bought it, and I am happy to report that it works. My skin isn't really problematic, but I want that dewy, plump look, and that's what this serum delivers.
Like any skin care product, though, you have to use it consistently and for a while before you start to see the effects take hold. I started to notice how good my complexion looked after about three weeks. It's incredibly moisturizing, smells delicious, and it's the perfect consistency. What else you got, Karlie??

I buy this twice a year for one specific purpose: visiting my parents in Florida. My skin may be able to withstand the pollution and whatever the f*ck is coming out of manholes in New York, but it cannot deal with the Florida humidity. My skin gets really oily and then I start to break out, so I visit my parents pretty infrequently. The one thing that absolutely saved my skin is this specific charcoal mask. I have tried about 10 types of charcoal masks in my lifetime, and this Clinique one is that actually works.
It feels like you're spreading a thick, goopy paste on your face, but after about 30 minutes, it dries and hardens and, something magical happens in that phase of the mask. When I rinse it off, my skin is soft and supple with zero traces of excess oil. I'm obsessed.

This product was my first foray into skin care. I bought it when I was a sophomore in college after talking to a Bloomingdale's salesperson for way too long. As the name suggests, this is a very lightweight moisturizer that falls between a gel and a cream. Because it's so lightweight, it's perfect for summer. Also, all Bobbi Brown moisturizers are made with a built-in primer, so you can save a few seconds in the morning when you're getting ready.

This toner is another Karlie recommendation for when you're traveling, because planes really dry your skin out. Before I went on my study abroad trip, I asked my mom to get it for me and she said, and I quote, "Who do you think you are? You're not a jet-setter!" Rude. To spite her, I bought it for myself and I have no regrets. I use it as a toner and spritz it on my face right before I put on my moisturizer.
My dermatologist suggested that I massage my moisturizer into my skin while it's still damp from the toner because it will absorb better, which makes sense because, if you think of your skin like a sponge, it won't absorb a thick cream when it's bone-dry. This doesn't really do much, but it smells amazing, isn't that expensive, and it's something else I have in common with Karlie Kloss.

I recently learned that vitamin C is an essential ingredient in skin products for anyone who wants nice skin. I incorporated it via an eye cream because I wanted to test it on a small area before I introduced it to my whole face. Safe to say, it works! This eye cream is really moisturizing, which is important because the skin around your eyes is much thinner than the rest of your face and is usually the first to show signs of aging. Yikes! Using a product that protects against free radicals (something vitamin C does) and moisturizes is a really good way to slow down aging around the eyes. It also smells fantastic.

Until I tried this mask, I always thought sheet masks were kind of stupid. Like, you pay all of this money for something you use once for a few minutes then throw away. Then I tried this mask and I'm questioning everything I once believed to be true! Tatcha is a brand you'll likely find in any high-end natural beauty store, and the products are 100% worth it. This mask is made with vitamin E, fatty acids, nutrient-rich rice, ginseng (which has a calming effect), and a bunch of other sh*t that gives you an instant glow.
And for anyone who's wondering, sheet masks are packed with nutrient-rich serums that absorb best into your skin when you're wearing the sheet and looking like Hannibal Lecter, but the serum is still very much on your skin when you take the sheet off, so they aren't exactly a waste.

I am weirdly specific when it comes to a tinted lip product: it can't be sticky, it has to be the perfect shade, and it has to last through my morning coffee. This Dior lip product is literally perfect. First of all, it's incredibly moisturizing. Secondly, it goes on clear and within a few seconds, changes color due to a bunch of science I don't really understand. For me, it transforms into rosy pink with a coral undertone, but for my friend, it becomes more of a purple color. I'm truly baffled by this magic, but I won't question it.

Until recently, I was a firm believer in all cleansers being the same, so paying more than a drugstore price was unnecessary. This cleanser is the definition of a super basic (in a good way) product that does exactly what it says it's going to do. Wet your face and massage this into your skin for a few seconds and rinse off with warm water. Boom! You're cleansed! It leaves your face feeling soft and clean, but without stripping your skin. I've said this before, but if your face feels tight and dry, your cleanser is too harsh!

Double cleansing is an important part of any skin care-lover's daily routine. The first step involves taking off your makeup and the second one is cleansing. This Clinique balm is unparalleled at removing makeup, so I highly recommend getting yourself a tub ASAP. It has the consistency of soft wax, but it works. Scoop a little out with your fingertips and move it around in your hand to break it down a little. Then, once it's slightly softened, move it around your face and it literally melts your makeup right off. Don't believe me? Use this then dab a clean white towel on your face and you won't see any residual makeup!

This purchase was a catch-22 because, on the one hand, authentic tans are horrible for your skin, but on the other, my natural skin tone is concerningly white. This self-tanner is unreal and legit impossible to f*ck up. I always strayed from self-tanner because I feel like it always looks fake and streaky—especially on people's wrists, ankles, elbows and knees. This, though, is different! You mix a few drops with your go-to lotion and then spread it all over your body and it always turns out even and natural-looking. I've used this on my legs many, many times and I'm always impressed with how good it looks.
Images: Mercy / Unsplash; Sephora (10)
Betches may receive a portion of revenue if you click a link and purchase a product or service. The links are independently placed and do not influence editorial content.
5 Self-Tanners That Won't Make You Streaky
If there's one thing in this world I can confidently say I'm an expert on, it's self-tanner. In fact, I would go as far to say that I'm a pioneer of self-tanner. Back in high school, my parents wouldn't allow me to tan. And I was the only one in my friend group who didn't have "cool parents" who would allow me to do so. (Obviously, now I'm grateful to them—hindsight is 20-20, right?) But, that being said, my group of besties were all SO tan and I was extremely jealous. I had to find a way to keep up. I mean, bronzer can only do so much. And trust me, I caked that sh*t on, as all naive high school girls do. But, at some point, the bronzer wasn't enough. And so, I began my journey down the aisles of drugstores, trying every and any product that promised a bronzed tan.
Since my amateur high school days, I've graduated from drugstore aisles to expensive sh*t at Sephora, in my never-ending pursuit of the just-got-back-from-vaca glow. So, that being said, here are the self-tanners that actually work, from least to most expensive. 

First, we'll start with the drugstore option. I was actually introduced to this one by a colleague of mine a few months ago. When she came into work looking like a bronzed goddess, I had to know which high-end self-tanner from Sephora she was using. To my surprise, she informed me it was the Jergen's mousse, and I was beyond impressed. As a self-tanner connoisseur, I had to get my hands on it. And I can attest, this stuff works. It dries almost instantly, which is a huge perk, and gives a stunning non-orange tan for a very affordable price. Although, disclaimer, it still has that dreaded self-tanner smell. You know the one.

This self-tanner brand is newer to Sephora, and has been making waves fast. It's streak-free, easy to apply, and gives an amazing tan at a totally reasonable price. Isle of Paradise utilizes color corrective technology that reacts with your individual skin tone. It contains hydrating ingredients that allow the tan to go on and fade seamlessly. Isle of Paradise has options for different levels of tan, utilizing different color bases to ensure a non-orange, natural-looking tan. I personally LOVE their darkest shade, which has a violet tone base that gives me a rich, deep brown tan. 

I first discovered this self-tanner on Instagram (where all the best things in life are discovered, obviously). This tanner gives my skin a stunning bronze shade that looks super natural and rich—so much so, that people ask me whether I just got back from vacation. I mean, maybe they're just asking passive-aggressively so that I'll spill my self-tanning secrets, but hey, I'll take the compliment. This one also consistently looks great on different people with different based skin tones, as I have seen first hand on several of my friends. This is the current self-tanner I'm using as I wait for Sephora to restock the Tan-Luxe mousse, and I highly recommend.

This is a great self-tanning product for those new to self-tanning. It's easy to apply and doesn't go on super dark. It's one of the innovative self-tanning products that uses a green base to create a more natural and less orange tan. It won't look too dark, but it will still be enough to be noticeable. Of course, if you're like me and want to be as dark as possible, you can just use a few layers of this one to deepen the tan.

This stuff is the end-all, be-all of self-tanners. Why? Because, not only does it give a flawless shade of bronze, but it also goes on clear and thus comes off clear. It is the only self-tanner that I have ever used that doesn't come off on my clothes or sheets. There's nothing worse than waking up with a guy and his sheets look he just slept with an Oompa Loompa. It's my favorite self-tanner, and constant go-to. And, even though it's the priciest one on this list, the bottle lasts a while and it's 100% worth it.
As you've probably noticed, mousse is my formula of choice. In all my experience with self-tanners, mousse is the most reliable, consistent, and easy to use. I also think that it fades the best out of all the formulas I've tried. We've all seen the girl (or been the girl) with splotchy leftover tanner, and we also all know that it's never a good look. Apparently the newest formula on the market is self-tanner water, which is one I have yet to try. But according to the sales woman at Sephora, it's the latest self-tanner must-have. So take that as you will.
Images: @savwalts / Unsplash; Amazon; Sephora (3); Ulta
Betches ay receive a portion of revenue if you click a link and purchase a product or service. The links are independently placed and do not influence editorial content.
5 Beauty Products Celebrities Swear By That Actually Work
In my never-ending quest to be my most beautiful self, I am constantly buying new beauty products to try. Trust me, you don't get to Sephora VIB Rouge status by purchasing an eyeliner just here and there. I'm pretty much guaranteed VIB Rouge membership until I'm 35, that's how often I'm buying sh*t. And it definitely doesn't help that I'm so easily influenced by celebrities. Oh, Kim Kardashian uses that? *Adds to cart.* Okay, I'm not that easy…I do my research before I blindly purchase (minus the time I ordered Flat Tummy Tea while in a manic state, which was a total waste of $130). That being said, I wanted to share some of the best products that I've tried and loved based solely off of celebrity beauty recommendations.  You know, so you don't actually have to waste your precious money buying whatever beauty item the Kardashians are hawking this week. My credit card has already taken the hit for all of us, so it's cool.
Kim Kardashian

Tatcha Luminous Dewy Skin Mist, $48
Pretty much any product Kim K. has recommended, I've bought. Given that the Kardashian-Jenners are like, so rich and have access to everything, they're only using the best of the best. The Kardashians are iconic for their contour, highlight, and glowy skin. So when I saw that Kim said that she uses this particular spray to achieve her dewy skin, you know I had it in my Sephora cart faster than you could say, "Bible." And straight-up, I highly recommend it. You can use this product under your makeup, over your makeup, or just as a makeup refresher to spritz on throughout the day. I totally recommend using it all three ways. It's composed of a bunch of natural anti-aging and hydrating ingredients, aka sh*t to make your skin really glowy. It's a bit pricey, but if you can afford to add it to your regimen, I can't recommend it enough.
Chrissy Teigen

La Mer is the moisturizer of the elite because it's expensive af. But it's expensive because it works, and celebs can't get enough. I first tried the moisturizer because I saw Chrissy Teigen uses it, and Chrissy Teigen is pretty much goals for everything she does. She not only uses this on her face, but all over her body. I mean, perks of being married to someone with an EGOT—you can afford to do that. For us mere peasants, we're lucky to be able to afford the trial size option just to use it on our faces. But if you can scrape the pennies together to do so, I definitely recommend purchasing it. This moisturizer is super hydrating, and you don't need to use a lot because it's so thick. It actually will last you a while, if you can just force yourself to make the initial investment. Life hack: Go to a high-end department store and visit the La Mer counter and pretend you're interested in buying the product, but say you want to try a sample first. They'll make you a little sample size pot of it so that you can try it out before dropping the big bucks. And I mean, if you're a real broke-ass b*tch, you can just keep going around to all the La Mer counters at your local malls and never even have to buy any! But seriously, save yourself the trouble and buy it. You won't regret it.
Stassi Schroeder

Sephora Perfection Airbrush Foundation, $28
This is probably the most affordable beauty product that I've tried based on a celebrity recommendation. Stassi Schroeder swears by this foundation, and for good reason. The name says it all, and this product actually lives up to the hype. It's a thin foundation that gives a flawless airbrushed finish that doesn't scream, "I'm wearing foundation!" I recommend spraying it onto a damp beauty blender, rather than directly onto your face. If you try spraying it directly onto your face, then you'll probs end up getting it in your hair and on your clothes…which is a hard left from your "unattainable no-makeup makeup look." It sells out fast online, so you may need to try your local Sephora store to see if they have it in stock.
Kylie Jenner

NARS Radiant Creamy Concealer, $30
You know how it's super obvious when someone's wearing makeup, because they get those crevice lines under their eyes? Yeah, that's never the look you want. This concealer is light, moisturizing, easy to use, and most importantly, won't give you those ugly crevice lines that make you look like a cracked claymation figure. This was an OG Kylie Jenner recommendation, before she started making her own concealer. Idk how the Kylie Cosmetics version is, but I can definitely vouch for this one. This concealer is one of my favorites, and I highly recommend it!
Gigi Hadid

Vita Liberata pHenomenal 2-3 Week Tinted Tan Mousse, $54
If you know me, which you don't, you'd know I'm a self-tanner addict. It is simply a product I cannot live without, and trust me, I've tried them all. I decided to give this one a shot when I read online that the impeccably perfect Gigi Hadid uses it, and I fell in love. Of course, it's pricey and runs out super fast, but it's a great freaking product. The tan actually lasts, and doesn't fade all gross and splotchy. Not to mention, it uses "pHenO2 technology" (whatever the f*ck that is) to create a natural-looking tan that doesn't have that orangey spray tan look. Particularly for the self-tanning novice, this is a good one to try, because it goes on seamlessly and looks super natural. Oh, and the best part? It doesn't have that nauseating self-tanner smell to it that every other one does. It's just…amazing.
Look, I know these products aren't cheap, but did you really expect famous celebs to be using drugstore foundations? Not a chance. That's not to say that there aren't great options out there, I've just personally never read about a celebrity using one that wasn't sponsored by said brand. Look, as my mom would say, "beauty is pain." And by pain, I mean painful AF for my wallet. 
Images: @glowrepose / Unsplash; Sephora (4); Ulta
Betches may receive a portion of revenue if you click a link and purchase a product or service. The links are independently placed and do not influence editorial content.
We Tried Out The Newest Self-Tanners & These Are The Best Ones
If there's one thing that I'm grateful for, it's how far self-tanners have come in recent years. As a self-diagnosed recovering tanning addict (college was a rough time, guys), I do send up a big thanks to the bronzing gods every day for coming up with self-tanners that finally give you a natural, healthy glow—and fast. I might be aging myself here, but who remembers when one of our only shots at getting "bronzed" legs in a hurry was to use Sally Hensen Airbrush Legs, only to be left with a weird pearlescent chalky residue that looked nothing like a real tan? I sure as hell do. So you can imagine my excitement when I recently noticed an influx of upgraded self-tanning waters, oils, and mousses up and down my (beauty-focused) Instagram feed, as well as the shelves of Sephora. So, because I believe that everyone looks better with a little natural glow (don't @ me), I've tested out some of the newest and best self-tanners on the market right now so you can look like you just got back from some exotic island even if your summer vacation plans start and end in your backyard.
Tan-Luxe was actually the first brand that caught my eye on social media. On top of their chic packaging, the brand prides itself on introducing the world's first self-tanning oil. So naturally, I was like, "wtf is this?" and immediately had to try. Tan-Luxe's Wonder Oil has a convenient roller ball that glides on easily so you're guaranteed an even application. Gone are the days where your tan turns out streaky because you rubbed globs of self-tanning lotion on unevenly. The shade of the tan itself is one of the best, most natural looking shades (and trust me, I've done the legwork). It's more of a brown-bronze, so if your skin naturally has a red pigment, Wonder Oil is sure to cancel that out. And if you're one of those "less is more" people when it comes to self-tanning (not me), since the solution goes on clear you can judge the development of the tan, and at any point during the development process (which is about two to four hours), if you're like "Okay, this is good, I don't want to get any darker," then you shower and that's the shade you will be.

Celebrity spray tanner Jules Von Hep has spent many years of his career inside a tanning tent bronzing some pretty famous bodies, so when he recently came out with his new self-tanning line, Isle of Paradise, I figured the products would be pretty good. The verdict? They're really fucking good—and innovative, hydrating, and organic too. The brand's hero product is their Self-Tanning Water that comes in light, medium, and dark shades. Each shade in their collection is color-coded: pink for light, green for medium, and purple for dark. I tried medium on my arms and legs (I had already had a pretty decent base tan) and the results were unreal. My orange-skinned college self was so envious. The water goes on as a clear mist (so again, you can judge the development of the tan) and all you need to do is pat dry with a tan mitt after the application and wait four to six hours for your tan to develop—and voilà, you end up looking like you've spent the week in Tulum. The tanning water is made with an exclusive blend of the brand's SuperBalance complex to purposely reduce redness and soothe the skin, so again, if you have a natural red pigment in your skin, it gets canceled out so you look bronze, baby. As with any self-tanner, just make sure to wash your hands after applying to avoid any unwanted color gathering at your palms or between your fingers.

It's common knowledge that the tan on your face fades the fastest as you tend to wash and exfoliate your face more often. So when I heard about the Isle of Paradise Self-Tanning Drops designed for your entire body, and especially your face, I knew I had to try it out. After cleansing and exfoliating your skin, simply apply 1-12 drops of the self-tanner to your favorite moisturizer and wait four to six hours as the tan develops. The more drops you add, the darker your tan will be. Just like IOP's Self-Tanning Water, the Self-Tanning Drops are organic and infused with hydrating properties like avocado and coconut oils so your streak-free tan will also leave your skin smooth and moisturized.

If you're looking for an instant bronze color while you wait for your actual tan to develop, NKD SKN's Tinted Self Tan Mousse will get you a few shades darker right after application. The lightweight mousse goes on smooth and has a fresh, fruity scent so that you don't have that typical spray tan smell as you wait for the mousse to work its magic. As for the actual tan, NKD SKN's medium tan will get you a good two shades darker and gives a brown tan that I'm willing to bet is so much more natural-looking than any other self-tanner you've ever tried. The best part? Since the mousse goes on bronze, you're able to see where you're applying the tanner so you can ensure the coverage is even.

Everyone has probably used or at least seen a St. Tropez self-tanning product at some point in their life. Well, to stay with the times, the tan masters have recently released a tropical scented, clear water-foam self-tanner. While St. Tropez's water mousse goes on clear, it delivers a golden tan that develops between four and eight hours—the longer you wait to shower after applying, the darker the tan will be.

To round out our list of the new wave of self-tanners is Vita Liberata's now sold out foaming tan water, but sold out or not, it still deserves a spot on our list because it's that fucking good. It goes on clear so there's zero risk of the self-tanner transferring on to your clothes or sheets as it develops. And while the tan is a fierce, natural looking bronze color, it is safe enough to be used on your body AND face. What's more is that it's formulated with natural fruit extracts that contain anti-aging properties, so not only are you getting a safe tan without exposing your skin to UV rays that speed up the aging process, but you're also providing your skin with anti-aging benefits.

5 Easy-To-Use Self-Tanners That Won't Turn You Orange
As much as we like looking bronzed, it's 2018 and it's about time we stop roasting in a tanning bed. Like, skin cancer is so not cool and neither is looking like Selena Gomez at the Met Gala an Oompa Loompa. With summer approaching in a little over a month (praise fucking be), we should probs start thinking about how tf we're going to live our very best lives as tan goddesses without depending on the sun. Some of us have like, lame-ass jobs and shit, and can't afford to go to the beach seven days a week. In case you forgot, self-tanners do exist, and not all of them have to make you look like a streaky orange. Here are five amazing self-tanners to use this summer instead of baby oil at the pool.
1. JERGENS Natural Glow Wet Skin Moisturizer
This is like, the best thing to exist since canned rosé. Perfect for those mornings when you're rushing out the door, use this lotion replacement to give yourself a realistic bronze glow after a quick shower. Don't rinse off—instead, pat dry before throwing some clothes on. The color of this self-tanner actually stays on your skin (like it's fucking supposed to) and still makes you look radiant af.

First of all, this entire brand is founded and created by a literal tanning god. IDK who he is, tbh, but James Read apparently is like, the inventor of self-tanning, which is way better than fucking toaster strudels. The quick and easy wash-off (literal) glow-up provides a subtle tan just hours after using without transfer of any color, and can also be used gradually to get an even deeper tan. Basically, it's everything you need before an anticipated night out to look good in your instagrams.

This self-tanner is streakless, gradually drying, skin-tightening, and smells like the inside of Victoria's Secret. I mean, what more is there to want?

Imagine your favorite Snapchat filter that always makes you look like a 11/10 combined with your favorite Insta filter that always make you look about two shades deeper, all inside a bottle. Dreams do come true, betch. The BB cream-like formula smooths out any skin imperfections while also making you look like you just got back from Turks and Caicos. Use on both your face and body, and feel free to use as your next go-to foundation.

Self-tanning for dummies = towelettes. Rub these all over for an even glow that looks convincingly natural and not at all streaky or orange. After just a few hours, check yourself out in the nearest reflective surface, and you'll see a glow that looks better than one you could've gotten at the beach.

Photo: Ulta (2); Net-a-porter (1); Sephora (2)
Betches may receive a portion of revenue if you click a link in this article and buy a product or service. The links are independently placed and do not influence editorial content.
6 Beauty Mistakes That Are Sabotaging Your Skin And Hair
There are certain beauty products we as betches can never get enough of—tanning lotions, hair masks, and occasionally, a good set of falsies will truly amp up our chances of getting triple-digit likes on Insta and a "U up?" text at 3am. Since we obviously can't ever have nice things and all good things must come to an end eventually, the truth is some of these daily life-changing beauty hacks are causing you more harm than good if used excessively—and this is most likely case. Turns out the stars are against us (fucking shocker) and using too much of the things we swear by is secretly ruining our lives. I guess better late than never, right? So, here's everything you def use on a regular basis you should probs chill out with so you don't end up with fugly breakouts or scarred skin.
1. Primer
Primers are our best friend but secretly a backstabbing, scum-sucking road whore. I know it makes our skin look amazing by hiding any evidence that we're slowly becoming ancient and covering up pimples the same size as some third world countries, but primer is also composed of sneaky silicones. Silicones make your face look hella smooth, but by doing so, block pores and cause a buildup of sweat and oil which increases acne. Vom. Use sparingly and be sure to wash thoroughly before bed.

2. Cleansing Brushes
Cleansing brushes are only relevant because we're too lazy to use our fucking hands to wash our faces, so we use a brush instead of exerting any form of energy. While this concept seems like a good idea when you're trying not to fall asleep with makeup on (again), using cleansing brushes too often actually roughens up your skin. This can cause v serious skin problems such as eczema and psoriasis, both of which fucking suck. Believe me. Try not to use your Clarisonic more than a couple times a week.

3. Hair Masks
Pampering your hair is great and all, but it def needs a break in between washing and using masks. Honestly, no matter how much you love it, you should only use a hair mask once a week. More than that can weigh your hair down, leaving it flat and super oily. If you find yourself flying through dry shampoos, make sure you're using one specifically for your hair type and leaving it in for the appropriate time.

4. Eyelash Extensions
Falsies are deceiving, to be blunt. Sure, your thotness is amplified more than ever, but honestly, unless you're a cougar on Real Housewives, the whole process is expensive and like, a fuck ton of responsibility. I can't even remember to eat dinner before a nightly planned blackout, how the fuck am I going to remember to upkeep my goddamn eyelashes? Even the organic/vegan/gluten-free/whatever "healthy" extensions can damage your natural lashes since they're literally glued on. Eventually your natural lashes will like, fall off and be damaged forever so if you reaaally have to, try a one-time use to stay clear of looking like this:

5. Scrubs
Exfoliating is pretty much essential for fab skin, but since scrubs often contain beads (which can hurt like a motherfucker), they can literally scratch off your skin and expose extra fresh layers to bacteria. Um, how about not? Too much of that can cause like, really bad shit to happen, such as bleeding and scarring so only use once or twice a week max. In the words of TLC, sing it with me:

6. Self-Tanner
We can prevent cancer if we still want to be tan year-round by using fake tanners (cool), but that doesn't clear us from encountering other skin problems when we try to use self-tanner at home. Try to use a self-tanner only once a week, regardless of how strong the temptation is. Any more than that can make your skin peel off like Samantha in Sex and the City. Like, ok, just fuck me up. I'll just be pale and ghostly for nine months out of the year. It's fine. It's fucking fine.