Raquel Leviss Is Shading Her 'Vanderpump Rules' Co-Stars Online
Dear, sweet Raquel Leviss. When James Kennedy's pageant girlfriend officially joined the Vanderpump Rules cast this year, no one was sure what to expect. We knew her as soft-spoken, college-aged, and possibly delusional about James' alleged cheating. This season, as the rest of the cast turns against James, Raquel has decided to show her personality. This is happening both on-camera and off, as Raquel has decided to talk sh*t online about James' former friends. This is the kind of drama I live for.
Exhibit A: Today, Raquel posted this tweet sharing an article discussing the feud between Lala and Billie Lee. Her caption? "Lala Kent Joins The Mean Girls Club And Never Looks Back."
Lala Kent Joins the Mean Girls Club and Never Looks Back https://t.co/FOZaoOtenQ

— Raquel Leviss (@RaquelLeviss) January 22, 2019
Okay Raquel! Given your interactions with Lala last year, in which you asked her to please stop sitting on your boyfriend's lap quite so much, I guess it's not totally shocking that you're going after her now. But if you're hating on her for hanging out less with your boyfriend, that does seem a little counter-intuitive to me! (Yeah, I will not for a second pretend Raquel's real stake in this is somehow about Billie Lee.)
In Exhibit B of Raquel's (admittedly pretty tame) shade, we have her comment on this Instagram from Tom Sandoval. He's announcing a "Spicy Tequila Tuesday" that he's hosting at SUR (guess Girl's Night In was not a huge success after all).
Raquel responds to this news (screenshotted below) with the following comment: "You've got me thinking about what I would call my Tuesday night." Innocent enough, but in my opinion, this is a dig that pretty much anyone can have their own Tuesday night now that James' super-successful event is out of the mix.
Lest you think that Raquel Leviss is taking over James Kennedy's title as Queen of Internet Shade, James was quick to get in on the action here too. On Tom's Tuesday night post, he responded to a comment saying, "We Want C YOU NEXT TUESDAY!" by tagging Lisa Vanderpump herself and Guillermo Zapata, the other owner of SUR whose last name you probably never knew. (Did anyone else read that comment in a "Pump-ti-ni!!" voice btw?)
Honestly, James and Lisa better be on good enough terms that this reads as something of a joke. Otherwise he is literally just sad at home tagging his ex-boss on Instagram to say "SEE YOU SHOULD NEVER HAVE FIRED ME!" If possible, it is even sadder than drunk-tagging an ex.

Honestly, I'm always up for a new girl stirring the pot. Raquel, I may find your home decor Instagram stories insufferable, bur I am here for any and all petty fights you'd like to start.
What We Learned About Stassi & Beau's Relationship From Stalking Their IG
Season 7 of Vanderpump Rules airs Monday at 9pm, an event I've been anticipating with a fervor my boyfriend some have described as "chilling." I can't help it. As a latecomer to the series, this was the first season I could spy on via the cast's Instagram. As such, there a lot of drama that I'm excited for. Brittany and Lala's engagements, the launch of Kristen's T-shirt line, and the 20-30 meltdowns I anticipate Ariana having over her still-unreleased cocktail book, to name a few. But most of all, I'm excited to watch Stassi Schroeder with her new boyfriend, Beau Clark. I've been stalking the living sh*t out of their relationship, and they are goals in every sense of the word. So you don't go into season 7 totally uninformed, I've compiled a list of what we know about Beau Clark. Let's dig in.
The Timeline
In a February episode of Straight Up with Stassi, Stassi revealed that she and Beau began dating in August 2017. They were introduced by Katie and Kristen, an opening that seems dicey until you realize the still-married Katie and Schwartz were introduced by Kristen too. Hey, maybe she has a career as a matchmaker if the T-shirt line doesn't take off. As a reminder, Stassi's breakup with professional sh*thead Patrick Meagher was also right around that time.
Broken up with on our anniversary after I planned a trip for us to Mexico. Call me Carrie Bradshaw. @rachaelnobrien you're coming w me now.

— Stassi Schroeder (@stassi) August 12, 2017
Don't we all miss Patrick, guys??? JK, and I'm psyched that Beau apparently made an appearance no more than two weeks later. As a little background on Beau himself: he works in commercial casting, lives in LA, and loves the Rams (it's a football team, I had to look it up), country music, and dogs. Here is his Instagram. On the podcast, Beau says he was reluctant to meet Stassi at first after looking through her Instagram. The bleach blonde, Botox, bottle service look was apparently not for him—but on their first meeting, they "closed down the Mondrian talking." He'd never "laughed as hard ever with anybody," and all around it sounds like a fairytale first date.
Flash forward six or so months and Stassi, understandably reluctant to put another relationship in the public eye, goes IG official with Beau. She posted a series of stories documenting the Valentine's Day he set up for her. As proof that the man knows who he's dating and how to make her happy, decorations included "dead people gloves," handcuffs, creepy clown posters, and plenty of images of hearts being stabbed with knives. Plus, a special Valentine's edition of their couple's OOTD. Anyone else's Valentine's Day suddenly feeling totally lame in comparison? Yeah, same.
Stassi's debut couples post:
Their Shared Life
Since then, it seems like it's been pretty smooth sailing for the couple. At the Vanderpump Dogs Gala this past week, Stassi and Beau gushed about how happy they were, admitting that marriage is "on their minds." While Beau had some initial reluctance to appearing on-screen for season 7 (he'd never seen VPR before he and Stassi started dating), it seems like filming went well. Notably, Beau has bonded hard with the whole Vanderpump crew, so much so that Stassi insisted they were no longer " best friends." "Now, they're our best friends," she shamelessly brags. If that isn't the f*cking dream (never putting up with any of your boyfriend's friends again because you both mutually agree on the 4-6 most fun people to hang out with), I don't know what is.
Here's their latest double date night (dogs in tow):
While I can't find any solid proof they live together, I'd largely assumed they do from her Instagram. It's pretty much a 24/7 reel of them eating Taco Bell, lounging on the couch with their two dogs, pulling elaborate pranks on each other and filming it, or getting ready for double dates with their friends. (Most often, actually, Brittany and Jax, which I find surprising.) Though I think the two dogs belong to Stassi, Beau appears to be a dedicated dog dad. And Stassi, for her part, now has plenty of personalized Rams gear and accompanies him to games. Seems like one of them is making the bigger sacrifice there, but he also basically became a Bravo star for her so it's fine.
Here's the Rams gear I mentioned:
And here's a peek at their freakin' cute home life:
Their Vacations
In addition to living a disgustingly adorable life at home, the couple has taken a few extremely sick European vacations. Here they are in Berlin and Paris this November:
Here they are being disgustingly cute in Italy in May:
And while these trips are enviable in their own right, they also seem to be an opportunity to hang out with Beau's sister, Georgia, who—from what I can tell—lives there. The couple has annoyingly only documented their hangouts on their stories (and her IG account is private), but from what I saw, Stassi fit right in with the fam. Also, they've been a fabulous opportunity for Beau to up his Instagram-boyfriend game:
BRB, forwarding this link to my boyfriend with the caption "take notes."
Ultimately, watching Beau and Stassi's relationship on social media has been an absolute joy. They seem to share each other's sense of humor, even while his laidback demeanor provides a slight contrast to the high-strung sh*t-stirring side of Stassi we all know and love. I'm no Us Weekly body language decoder, but they're positively radiating joy in every photo together. Plus, over the course of their relationship, Stassi has invented a holiday, come out with a Witches of WeHo Pinot Grigio, written a book, and risen to 1.4 million followers on Instagram. Not only are they (seemingly) gloriously happy, they're pushing each other to be the best versions of themselves. So, so happy for you Stassi—and can't wait to see this all unfold, starting MONDAY!!!
Images: Twitter; Instagram; Instagram
Scheana Shay Is Releasing New Music & Here's What We Know
Here's a sentence I never thought I'd say: Scheana Shay has given me something to look forward to. Yesterday, the Vanderpump Rules star and self-proclaimed brunette Britney announced that she's been working on new music. To be clear, I'm not excited about the music itself—I'm excited to see it absolutely skewered when she performs it in season 7 of VPR. Every single detail she gave about said music is f*cking hilarious, as is the fact that Bravo's article about this refers to it as "huge career news." I'm sorry, but didn't Scheana herself admit in season 6 that she didn't see music as her career? Anyway, read on for details on the death of pop Scheana's new music.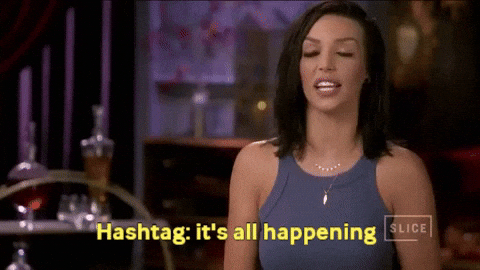 Apparently, this is Scheana's first time making music in five years. I guess time flies when you're addicted to Snapchat filters. The first of Scheana's new music is a song called "Better Without You," and it's a breakup song. Specifically, a breakup song about her divorce from Shay—AND about her break up with Rob Valletta, the guy who gave her verbal diarrhea for all of last season. Honestly, I'm a little surprised that the divorce from her high school sweetheart-turned-opiate-addict only merited half of a song. Then again, she now claims she was thinking about Rob even on her wedding day, so I guess I should be surprised she's willing to admit Shay ever existed. But whatever, if she compares their d*ck sizes half as much in this song as she did on TV, it's guaranteed to be a banger make everyone uncomfortable.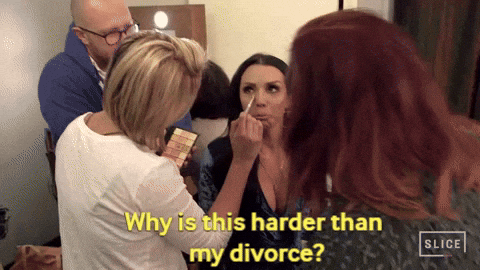 Scheana further threatened teased a song called "Do It Now (Get Naked)," for which she says she'd "have to do a music video." Do you, though? Do you HAVE to?
The worst best part? Scheana feels that she has "new swag" now (as in, since her days performing on the SUR bar), a phrase that means nothing but has apparently given her the confidence to get involved with the songwriting process for the first time. Frankly, I'm a little relieved and surprised that she wasn't behind the lyrical genius of "Good As Gold," but I can't say I have high hopes for whatever lyrics she does come up with. And before you yell at me for being judgmental, allow me to remind you that the title she's announced is "Do It Now (Get Naked)." When you're right, you're right.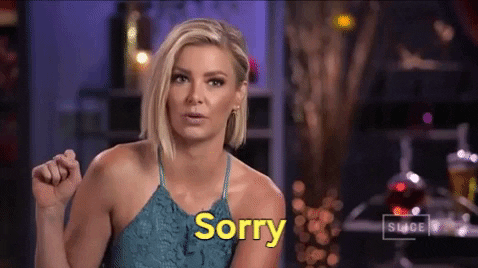 The grand total of Scheana's "big career news" will be five songs, including a "bad reputation" track that sadly confirms she will be drawing inspiration from the worst of Taylor Swift. Apparently you can hear teasers of "Better Without You" on the latest episode of Scheana's podcast "Scheananigans" (gag me), but that would require actually, like, listening to Scheana's podcast. Personally, I'm going to wait for season 7 of Vanderpump Rules to enjoy Scheana's new music. Because no matter how inventively I try to sh*t on it now, I know Stassi will do it better.
Images: Giphy (3)
10 'Game Of Thrones' Season 7 Predictions That Have To Happen Or We'll Sue
Game of Thrones is finally coming back, bitches, which means I am too—along with my long-winded recaps, undying love of Daario Neharis, and habitual misspelling of every characters' name. Did you all miss me? I just watched this blessed trailer three times in a row in an airport terminal, and once I was done sobbing I figured it was time to make some predictions for the season. I haven't read the books (but apparently neither have the showrunners, so….) which means these predictions are truly guesses and likely off-base, so please make sure your hate mail is at least grammatically correct this time around.
1. The Lannisters Are Fucked
After last season, I was almost sure that Jaime would end up killing Cersei in some murder-suicide situation in order to save society. I still think that's in the cards, but for the time being they appear to be on the same side. The trailer opens with Cersei listing all their enemies, and honestly it could have been a lot shorter list if she had just said "literally everyone in this fictitious world." She is confident that the Lannisters will prevail, which is impressive seeing as how there are literally two of them left, because we all know Tyrion is a Lannister by name only.

Cersei: We are the only two Lannisters left.
Jamie: …
Cersei: Guess that means—
Jaime: Stop.
Cersei: We might have to—
Jaime: Cersei, please.
Cersei: Make some more.
My guess? The Lannisters' time is numbered. If Team Targaryen doesn't take them out, there's only an entire country of people left to take up the reins. In case we forgot, she fucking blew up half the city.
2. Dany Kisses A Girl (And Likes It)
Next up is Daenerys, who has finally landed in Westeros. I'm not crying, you're crying. Dany and company, with freshly minted Hand of the King Tyrion by her side, set up camp at Dragonstone, Dany's birth place and historically the home of the sitting Targaryen ruler.
From the trailer alone it looks like her army is making great strides across Westeros. There's a shot of them storming a Lannister property, presumably Casterly Rock, and running across a battlefield while Dragons fly overhead. As the field was green and not covered in 20 feet of snow, it's safe to assume they haven't reach the North…yet.
Counting down the days until Sansa and Dany meet and become best friends and braid each other's hair and discuss the inadequacies of men, can you IMAGINE.
Also on the table: the palpable sexual tension we witnessed between Dany and Yara last season. There's endless opportunities for romance here if you think about it. Late nights in the war room, sunset dragon rides, co-slaughtering of thousands of men: it's a recipe for love. If the show doesn't take us there, fear not, because Fanfiction will. BRB starting first draft of Game of Thrones, Actually.

3. Littlefinger Fuckery
Speaking of the North, it looks like Jon is doing just fine. Our first shot of him is accompanied by "King of the North" chants, which I hope have literally been going on ad nauseam since the last season ended. Sansa is by his side, looking regal af, and Littlefinger is lurking somewhere in the background, continuing his six-season Animorph into an actual rat.
Big prediction that someone who's never even heard of Game of Thrones could make: Littlefinger is going to spend substantial time this season driving a wedge between Jon and Sansa. The question that remains…will it work? For a bit, inevitably. I'm hoping that it will all be a ruse that ends in Sansa feeding Baelish to wolves à la Ramsey Bolton, but I've also been pushing for that since approximately season two.

4. Jon Snow Bangs His Sister
A rumor that has made it's rounds on the internet is bound to be addressed: Will Jon and Sansa become a thing? Thanks to the confirmation of R + L = J, we know Jon isn't technically a Stark…but does that matter? I've never watched The Fosters, but I'd imagine they have similar storylines if the writers are looking for guidance on this one.

5. Nobody Listens To Daavos
Something that I can 100% guarantee that will happen this season? Everyone will be too busy with their Westeros pissing contest to listen to Daavos' very real concerns about the army of zombies steadily marching their way. After a shot of Melisandre, who finally abandoned her crush on Jon and has appeared to move on to the other super-hot Targaryen, arriving at Dragonstone, we can only hope that she will be able to talk some sense into Team Dany.

It looks like Daavos might also make the trek to Camp Targaryen, and we all know that Daenerys has a soft spot for old white men who speak in urgent whispers. If he can't convince her to ally with Jon and take down the White Walkers, no one can.
6. Jon Snow Bangs His Aunt
Speaking of Jon and Dany…is there an opportunity for incest round two? In this case it could be accidental, but also it's Westeros so maybe not. Nothing solidifies an alliance like marriage, and nothing screams irony like two relatives marrying each other after talking shit about the Lannisters for six years.

7. Arya's Back, Back Again
Arya will for sure make it back to Winterfell, it's mostly just a question of when. If it doesn't happen within four minutes of the first episode, I'm going to McFreaking lose it. Let her and Needle take the world by storm, we are READY.

8. Tons Of Weird Sex Stuff (Obviously)
Despite the multiple jokes about potential incest, it does look like there's some romance on the horizon this season. We get some quick takes of Grey Worm and Missandei ripping each other's clothes off, which is only bound to end in an interesting manner.

Reminder: Grey Worm is a eunuch. You know who aren't eunuchs and are very much shown making out? Yara and Ellaria. Shout out to the ladies who have finally figured out that no man in Westeros is worth the trouble.
9. Mucho Deatho
All the shots of war, fighting, and general murder filled me with enough adrenaline to not sleep for the next three days. Jon attacking Littlefinger, dragons swooping on people who didn't believe they existed, someone drowning in fiery water, it all means one thing: the war is fucking on. Another prediction I can assure you will come to fruition: a fuck ton of people are going to die, even by Game of Thrones standards.

10. It's Gonna Be Lit
Only a little under two months until we can all spend Sunday nights the way we were meant to: screaming, sobbing, and praising the ground that Daenerys Targaryen walks on. See you all back here after the premiere. You bring the wine, I'll bring the commentary.