Scheana Deserves Better Than Her Treatment On 'Vanderpump Rules'
Living in quarantine during coronavirus has us doing things we never thought we would: justifying our cleanest pair of joggers as formalwear, going without showering for days on end, and, god help us, confronting the horror that is our front-facing camera for the sake of human interaction. It's hard not to feel like we're living in the Upside Down. Watching this season of Vanderpump Rules is no exception. After years of happily laughing at Scheana's scheananigans (sorry, had to), something shifted this season. Once hilarious, the constant jabs at her now just feel cruel. I never thought this would happen, but Scheana needs a champion, and I volunteer as tribute.
The Show Wouldn't Exist Without Her

I'd be remiss if I didn't acknowledge our herstory. Had Scheana not had an ill-advised affair with Brandi Glanville's ex-husband, we'd lack the crucial link that allowed Vanderpump Rules to spin off seamlessly from The Real Housewives of Beverly Hills. Most people would be reluctant to openly own their role as mistress in an extramarital affair on national television. Scheana not only did this, but she took the heat (being called a "homewrecker" by Stassi seemingly every episode of season 1) and humiliation (never forget her gray tooth) with grace. She's been carrying the show on her back ever since and has given us some of the most memorable storylines. Who can forget her quinceañera wedding featuring the iconic crop top wedding dress? Or her proclamation that Rob can hang a TV on the wall in under seven minutes? She's also the only main cast member regularly interacting with the new sentient globs of hair gel cast members. She does all of this without complaint and laughs right along with us at her cringiest moments.
She's Getting A Misogynistic Edit

Speaking of cringe, the editors have been portraying Scheana as f*ckboy man-hungry for several seasons since her divorce. And for a while it was pretty on point and funny, mostly because the editors were using Scheana's own words to troll her. This season, new cast members like Max and Brett are piling on, and it's no longer fun. It's one thing to string together a masterful, symphonic compilation of the 97 times Scheana uttered the word "Rob" in season 6. But to allow two indistinguishable greaseballs who just arrived on the scene and have zero credibility to openly disrespect her on camera and call her "boy crazy" and "middle-aged" is a bridge too far. Off camera, Lisa has joined in and called her "desperate", and an episode of Watch What Happens Live featured a "Desperate-O-Meter" to measure this alongside various clips of Scheana interacting with men. Meanwhile, Max goes from banging Scheana to Dayna to Vegas Baby Scheana in a matter of weeks and is now being inexplicably included in scenes with main cast members. It be ya own editors, which brings me to my next point.
She's Being Portrayed As One-Dimensional

No one is denying that Scheana enjoys male attention and is clearly looking for a serious relationship, despite her claims otherwise. But that's just one part of her and, unfortunately, it's the only side of her the editors are allowing us to see. Throughout this season she's brought up her egg freezing process and subsequent surgery, yet it's constantly being minimized and reduced to a punchline. Her fellow castmates either barely acknowledge or ignore the subject when she brings it up. I can't say I'm totally shocked, as self-involvement seems to be a prerequisite for getting cast on this show, but why aren't the editors exploring this storyline a bit further? It's incredibly relevant and relatable, as more and more women are delaying starting a family. And let's not pretend we don't have room for it in this trash heap of a season. If there's airtime for LVP to hide her bra in Schwartz's luggage, a funeral for a lizard who died by negligent homicide, and 12 episodes dedicated to Jax and Brittany's Kentucky Fried Wedding, we could've delved into Scheana's fertility journey a bit more. Then again, letting viewers see her as a complex woman balancing her dating life with her desire to one day have a family wouldn't fit the narrative of Scheana as desperate psycho.
I love a good troll as much as the next Bravo fan, but Scheana's treatment of late goes far beyond the fun shade we enjoy as viewers of Vanderpump Rules. It's also tired at this point. She's been the punching bag on this show for far too long, and it's time we give her the respect she deserves. A couple of seasons ago I could have never imagined coming to Scheana's defense, but hashtag it's all happening.
Images: DFree / Shutterstock.com; Tenor (3)
Celebrities Who Are Failing At This Whole Social Distancing Thing
Hello, friends. Today is day seven of my isolation. I have watched the entirety of the new series The Stranger on Netflix. I have finished two novels and begun a seven-book YA fantasy series. I cannot remember my last shower or my last vegetable. This is life in quarantine. Sorry, I usually only get this dramatic in my nightly diary entry, but we are in strange times. I'm sure many of you are experiencing the same thing as me, except with slightly more fresh air and slightly less pizza (I totally believe you!). But you know who apparently hasn't heard about this global pandemic that the rest of us are doing our best to slow down? Celebrities! Of course, there are the celebrities that are trying to help, and the celebrities that are embarrassing themselves on social media, but there are also the ones that apparently haven't heard that we need to be responsible citizens and practice social distancing, self-isolation, and quarantine. Shall we take a look at the celebrities whom history books will deem responsible for the spread of coronavirus?
Hannah Brown and Tyler Cameron
Look, guys. I know the pheromones you're emitting right now are like, really strong, but so is the coronavirus, so I had really hoped that for the sake of humanity you would have been able to keep it in your pants. But alas, once again, I expected too much out of people that signed up for a reality dating show just so that they'd never have to work a real job again. 
A few days ago, Tyler picked Hannah up at the airport and on Tuesday (Tuesday!!!!!) they were out on the beach with a group of friends, playing volleyball, and definitely getting closer than the recommended six feet. I hope your date was so cute guys, back here in the tristate area we'd love to be doing that too if only we weren't busy dying! And, it gets worse. They finally decided to go inside, but it's not just the two of them. Hannah joined TikTok and posted this video of her "quarantine crew" at the pool, which includes EIGHT PEOPLE, clearly not social distancing or keeping their gathering small to the tune of "Savage." Savage indeed, Hannah and Tyler. SAVAGE INDEED. 
Drake
Last week, the NBA suspended their season due to coronavirus. Have you ever seen that in your lifetime? I certainly haven't, and I talk about how old I am more often than Jessica from Love is Blind. So, naturally, maybe you wouldn't want to hang out with someone whose job had been unprecedentedly shut down due to the invasion of a global pandemic. Not the case for Drake! He decided to hang out with Kevin Durant at the Nice Guy in West Hollywood. I guess even when people are dying, there's champagne to be drunk and women to be hit on! Someone's gotta do it! (They don't.) Thankfully, once Durant tested positive, Drake decided to do the right thing and self-isolate. But don't feel bad for the King of Toronto, because while you're rolling around on a yoga mat on your dirty floor trying to follow an online Barre Method class (hypothetically!), Drake is working out on his home basketball court. Can I quarantine there?
Scheana
This past Saturday, the day my city ordered all restaurants, bars, daycares, and gyms closed and I ran to the grocery store in a panic, Scheana invited all her friends to party in Palm Springs. Here's the exact quote: "Any of my friends working from home this week should come join me for a Palm Springs quarantine!" the 34-year-old reality TV personality tweeted on Saturday, March 14. "I will continue to live my life in Palm Springs or MDR w my friends and not live it in complete isolation or fear. Simple as that. Call me 'ignorant' but I'm not gonna stop living!" Okay Scheana, you're ignorant. What? You told me to! This whole season of VPR Scheana has been talking about freezing her eggs, but now I'm wondering if she should be allowed to procreate?
I will continue to live my life in Palm Springs or MDR w my friends and not live it in complete isolation or fear. Simple as that. Call me "ignorant" but I'm not gonna stop living!

— 🏳️‍🌈Scheana (@scheana) March 14, 2020
Naturally, people jumped on Scheana's tweet, basically calling her an idiot, which she kind of is, sorry. Her excuse? She just came back from a work trip, doesn't watch the news (!!!) and wasn't fully up to date on coronavirus. Scheana, let me tell you what the cop told me when he pulled me over for going 52 in a 25: ignorance is not an excuse! Reread your manual! 
Jared Leto
And finally, we arrive at someone so out of touch, he didn't even know that we were in the middle of a global medical crisis. That's right, Jared Leto claims he was on a "silent meditation" with no access to his phone for the past 12 days. First of all, ew. Second of all, were you really, Jared?? Because, as someone pointed out in the comments, he still managed to post pictures of himself in Gucci T-shirts during that time. And sure, his team could have posted for him, but did a celebrity really go on a trip where there was no possible way to get in touch with him? What if they decided they wanted him to play the Joker again?!! Although, if you told me that Jared thought he could communicate with his team members by cutting off a lock of his hair, sprinkling it over a fire that he built himself, spinning around three times and singing exactly one half of the song "Kumbaya", I would believe that. So maybe he really did go into the desert without a phone. Regardless, I hope you enjoyed possibly spreading coronavirus on your rich people trip, Jared! 
Evangeline Lilly
On Tuesday, after millions of us were already locked inside, The Hobbit and Avengers star Evangeline Lilly was totally unbothered. She posted that she had just dropped her kids off at gymnastics camp—but don't worry, they washed their hands first! She said that she values "freedom over life," which sounds like something she wouldn't be saying if she knew someone dying because of a ventilator shortage. Obviously, freedom is important, but right now we have the freedom to make good choices, and we should all be exercising it!
And those are some of the celebrities that decided they didn't need to help us flatten the curve. I hope they all enjoyed their time coughing on each other, while the rest of us just try and remember our work laptop password. Now if you'll excuse me, I have to take a conference call from my bed. Stay safe, friends!
Images: Kathy Hutchins/Shutterstock; enews, champagnepapi, jaredleto/Instagram; Scheana/Twitter
Photoshop Fail Of The Week: What Happened To Scheana's Nose?
Scheana Shay gets kind of a bad rap on Vanderpump Rules, even though people like to conveniently forget that she is the reason this show exists in the first place. (They need to put some respect on her name.) I recently rewatched all of VPR in preparation for the new season, and let me say, I really miss when Scheana had a personality and self-confidence that wasn't based on everyone else's approval of her. We're kinda sorta getting some of that Scheana back, like with this week how she came ready with Max's receipts of him being shady. But one area Scheana could stand to be a bit more unapologetically herself? Her Instagrams. Take a look at what I mean.
Scheana posted a sponcon ad for Netflix's show The Circle (great show, BTW) where she posted a carousel of her first photo on Instagram ever and then a recent photo.
The first thing I noticed was how 2012 this first photo is. But that's not really the issue—the issue is that the second photo is so Facetuned that she does not even have a nose. And here's the best part: HER CAPTION. She says she has changed her makeup and counter but she's still "ME" (without plastic surgery). Like, yes, while she might not have gotten any plastic surgery, can you really claim that you're being real when your face is so blurred that it lacks any sort of definition? Or even a nose? I know that everyone these days uses Facetune, but it's misleading to use it and then claim you are being authentic, which is basically what's happening here.
(Also, having plastic surgery or not has nothing to do with anyone's chances of winning The Circle, but that's neither here nor there.)
And even more concerning is the fact that this is not a one-off instance… a lot of her photos are like this.
Does it still count as "makeup/contour" if you just erase out your entire face in every single photo?
Anyway, back to the first photo in question.

Facetune that pops out immediately to me: she definitely enlarged her eyes, she airbrushed her skin so it's completely blurry, she has NO NOSE, her head is blurred into her neck, her makeup was color enhanced (poorly) so she has orange splotches (or she began using Donald Trump's makeup artist?), she made her lips bigger and blurry, and although she always has eyelash extensions, it looks like she painted fake eyelashes on with the app as well.
Sooooo what percentage of this is her actual face?
In case you didn't know, here is what Scheana's actual face looks like compared to her Facetune.

Look guys, she has a nose in real life! I'm not sure when looking like Voldemort became the desirable beauty standard, but alas, here we are. 2020 sure is a trip.

Scheana is gorgeous, and it legit makes me sad to see people edit out their own natural features like a f*cking nose because… they don't like the way it looks? Society has told them it's not okay to have one? I'm not sure what the reason is, but Scheana, do yourself a favor. Pull yourself up, tell everyone to f*ck off, and just be the you that helped land a show that is the best show on Bravo. And easy on the Facetune. You do not need it. Despite what you apparently think, Voldemort is not the epitome of female beauty.
Do you guys like Scheana? What do you think of celebrities claiming it's just makeup and then warping all their features with Facetune? Why is everyone against having noses? What other celebs do you follow that are guilty of making their faces Voldemort chic? Let me know your thoughts in the comments.
Images: Instagram (@scheana); Tibrina Hobson / Stringer, Rodin Eckenroth (Getty Images); Giphy
'Vanderpump Rules' Recap: Stassi's Mom Has A Lot Going On
Hi all! I'm back for my second and final Vanderpump Rules recap, as you'll be back to your regularly scheduled programming upon Sgt. Olivia Betchson's return next week. I'll be sad because I will technically no longer receive the early screeners, but I'll be happy because I was able to memorize the passwords to get me into the site. JK, NBC!! This brain is like a sieve for passwords. Please still let Betches watch your show early!
As a reminder, last week James's mom begged Lisa for his job back, Lala and Brittany got their butts all pretty, and Stassi and Ariana had a joint cold themed birthday party which ended in a Stassi meltdown. Will she be forced to use her shattered iPhone for a year and a half like the rest of us peasants? Let's find out!
We open on the morning after the party. Everyone looks like they're in their late 30's and were binge-drinking until the wee hours of the night. Oh wait…
The girls are recounting what happened last night. Apparently after Stassi smashed her phone, she came out screaming at Beau, and he proceeded to cry and say he wasn't her punching bag. Ruh roh.
Stassi and Beau meet up outside and it appears that neither one has stopped crying since we ended last week's episode. Can we get some tissues over here?
Beau: You dick-punched my heart
Me:

Stassi is feeling a lot of regret over her drunken actions and is worried Beau is going to dump her. Girl, I know this feeling. In fact, It's Britney, Betch and I call it "I hate me," and we often gchat it to each other after we've vomited into a garbage can at work.
Beau is very forgiving and sweet and I'm wondering if Stassi can please lead me to the factory in heaven where she found him so I can pick one up for myself. I will request that mine wear pants.
If there's one person that is feeling good in the morning it's James, because he's temporarily, once again, replaced his alcohol addiction with an ice cream addiction. Better be careful with that rocky road James, I wouldn't want anyone to tell you to lose some f*cking weight.
James's ice cream friend: How did sobriety work out for you?
James: 

Literally this exact scene played out two years ago and we know how that ended up. Maybe he needs a better flavor of ice cream? Perhaps hit up a Ben & Jerry's instead? They put potato chips in ice cream! It's bonkers, it makes no sense, and it is DIVINE.
Ice Cream Man and James have a lovely conversation, discussing what he likes about himself when he's sober and why he shouldn't take that next drink. Then it immediately cuts to the interview session where James is sitting next to a cocktail. Should this come with a spoiler alert?
Over at SUR, Lisa has called a staff meeting so they can all gossip about James. It seems like the managers are all on James's side and are mad that he got fired since Tuesday nights were good for business. WOW. Honestly I am so freaking mad right now. This is why women don't say anything about harassment in the workplace! Because to some people, money is more important than the fact that a co-worker just kissed my head when I explicitly pulled away and said I was sick. I'm just saying HYPOTHETICALLY, of course.
Brittany is me right now. This is bullsh*t. I'm sorry Lisa, but by scolding Brittany you are making yourself look bad right now. NOW SCHEANA IS TELLING BRITTANY NOT TO WORK WHEN JAMES IS THERE. GUYS. I've had enough. I think 2019 is the year I go off the grid. I'm not talking like, "moving to a shack on the beach in Hawaii and becoming one with mother nature and not getting the internet" kind of off the grid. I mean like, "moving to Mars" off the grid. F*ck this planet.
Then, of course, Jax has to ruin the point Brittany is making by asking how many times James has been fired. Jax, you hypocritical little kleptomaniac with a nose job addiction, please shut up.
Now Billie Lee says that it's all Kristen's fault that James blows up and ruins his life. Exsqueeze me? Look, I have a Kristen Doute voodoo doll in my purse and even I don't think it's her fault James drinks to the point of blacking out and unleashes his rage on the closest female present. No one else is responsible for his actions!! These people are like 40 f*cking years old, how do they not know this yet? Does your brain stop learning once you've starred on a reality TV show? Can we get a study going?
This meeting is clearly a clusterf*ck. Lisa, next time you fire someone maybe just stand strong in your decision and not let your bartenders have an opinion on it?
Over at Stassi's apartment, she is about to Skype with her publisher and she's wondering if she looks literary-chic. Hold the phone, STASSI IS GETTING A BOOK?! Brb while I cry about my life and the hundreds of thousands of dollars wasted on my degrees and my zero book deals to show for it. Turns out I could have just bullied my friends on TV for years instead.
Okay I've returned, but my face does look concerningly like everyone's post-birthday party face. FYI Stassi you don't need to worry about looking "literary-chic" for your Skype date. As someone who worked at a major publishing house for many years, I can assure you that 90% of the people there are wearing a sweater they knitted of their cat. Here's a big secret, don't tell: It ain't like anything like Younger. Oh wait. It turns out I know her publicist! I can assure you that she actually does dress nicely and is super sweet so I take it all back. She doesn't even have any cats. Hi Meagan!
Stassi is stressed about getting her book done because she "has so much to do." Her excuse is that Kristen's mom is in town. TBH the same thing happens to me with writing these articles except I'm too busy because I have so many more episodes of Criminal Minds to watch. What? It won't be on Netflix forever!  
Over to Lisa and Ken at SUR. They're talking about how they're hosting a Daily Mail party at Tom Tom. Schwartz and Sandoval are there "auditioning" cocktails for the party. I'd legit give my left arm to have someone audition cocktails for me. It's useless anyway, and I never know what to do with it in pictures.
Okay one of these drinks literally has balls of mozzarella cheese on top. Well HELLO BOYS, are you reading my mind?! One simple note: when you bring me this drink, turn those mozzarella balls into mozzarella sticks and your fancy drink into marinara sauce and We. Are. In. Business.
Stassi, Katie, and Brittany are headed to this place called Rage Ground where you can break a ton of sh*t and no one will file a police report against you. SIGN ME UP. Do these exist in New Jersey? Because I have to say, I think we might be group of people that would get a lot of use out of something like this.

OHHH SMASHING PLATES OVER THEIR RENT. I can get on board with that. Although I'd need about 400 more plates and I'd like my landlord to lay on the ground. But sadly I can't afford to go to Rage Ground since my rent is so high.
Oh JESUS TAKE THE WHEEL. Scheana is on a date with Robby from The Bachelor. I'm glad they told me that it was him, though, because I honestly thought Adam just got botox in between episodes. I swear, Robby and Adam are like if your mom got you a Ken Doll for Christmas and your aunt got you the same thing and then you took them out of the boxes and laid them next to each other and gave one a set of veneers with your leftover chiclets. And it totally works out because the real life versions are also not anatomically correct.
Oh what do you know, Robby is friends with Adam. And the tangled web these famewhores weave gets even more tangled.
Stassi calls Robby a "cheesy douche" and I've never felt more understood. Also, that phrase could describe about 99% of the dudes on The Bachelor. Except you, Sean Lowe, my beloved! I would never say that about you. Call me?
Ugh this whole date is uncomfortable and honestly it feels like a Bachelor date. They did something ridiculous that no one would do in real life, then sat down and talked about their feelings and before anyone said anything real, Robby went in for the kiss. It's like if Robby is on a reality show and doesn't go on a contrived date, his spray tan will rebel against him and evaporate.
Scheana rn:

But seriously, is this her audition tape for next season?
It's unloading day at Tom Tom, and Nick Alain is there to decorate the space. I can't wait to see it! The Toms show up even though they were told not to. How many precious, irreplaceable, one-of-a kind clocks do we think Schwartzie can destroy in a single accidental touch?
Later that day Kristen is having a relaunch for her T-shirt line. Guys, I'm no Anna Wintour, but this T-shirt line is objectively terrible, am I right? Like, I distinctly recall making iron-on T-shirts in high school that were more innovative than this. Doute, stick to what you're good at. Digging up dirt on your ex-boyfriends, ruining their lives, and grinning maniacally in the corner while it all goes down.
We flashback to Ariana and Lala talking about James. Lala wants to try and connect with him. TBH I can't really pay attention to them because I'm trying to figure out where they are and why there is a white board behind Lala that appears to have a drawing of a superhero potato? And it also has the words "NECK: prevent sagging". An important goal. But, is this something you really need to whiteboard? I would certainly use a whiteboard when I'm hunting serial killers or mapping out the Philly Special, but you don't really need one figure out how to prevent neck sagging. Or do you??
Lala calls James from the party, and naturally he is suspicious of her intentions. James agrees to meet up even though he she won't tell him what it's about. I can tell you what it's not about, though. It's not about the pasta!
Beau shows up at the party, and if I'm not mistaken he is wearing the sweater version of the weird floral dress Stassi was wearing the day after her party? Did they find a pair of curtains they really liked and commission Giselle from Enchanted into making them matching outfits? I see no other explanation.
OH BOY. James is DJing the party at Tom Tom. ARE YOU KIDDING ME. Look, I am all for second chances (or in James's case, third chances or tenth chances or whatever) but give him time to better himself! Make him prove it! He's done nothing except get ice cream and cry, and as we all know from the wise Lorelai Gilmore, that is the wallowing stage. He needs more time.
At the party, Stassi's mom is telling Beau "her clock is ticking" and she needs grandchildren. What? Isn't Stassi's brother like, eleven? Slow your roll, lady.
Lala and James meet up for iced vanilla lattes and soul searching. James is real with her and tells her that it's the alcohol and he knows he needs to stop. I do think it was nice of Lala to show James some grace and I hope it helps him get his sh*t together. I won't hold my breath though, because I don't want to die.
Katie, Stassi, Kristen, and their moms all go out to dinner together. Dayna, Stassi's mom, seems v obsessed with Kristen. I'm uncomfortable. Is she already drunk?

At dinner, Stassi's mom is all over Stassi and is actually putting her face in her hair and smelling her, and TBH if my mom ever did that to me I'd ghost her. Thanks for giving me life and feeding me and answering my calls when I need to know if chicken is too old to eat, but we're never speaking again, k?
Now Dayna is claiming that her ovaries are being absorbed into her body? Wait. Is that what menopause is? I don't have a strong grasp on science, but I feel pretty confident saying this is not what happens. Is her doctor really just a woman she found sitting in the corner of the Palm Springs supermarket doing tarot card readings?
Kristen and Stassi are literally attacking each other at this dinner in front of their moms! Dayna leaves the table to go cry and Kristen and Katie's moms are wishing they had a DeLorean so they could go back and say no to this dinner invitation.
Dayna is sobbing, "I just need her to hold me and tell me that she loves me." I really appreciate Bravo showing me the cast's moms this season. It's all making so much sense. And making me very thankful for my mentally stable non-alcoholic mother.
Stassi is scared that one day that's going to be her. Why yes it is, Stassi. And one day is today.
And that's all! Thank you guys for reading, and for those of you that hated me last week, I only cried about it a little!
Images: Giphy (5)
We Made A List Of Hobbies Kristen Doute Should Pursue
Okay, so Kristen Doute was the token crazy chick on Vanderpump Rules for the first couple of seasons. Now, she's developed into a mostly stable, somewhat self aware, moderately functioning human being. Thanks a lot, therapy and having a healthy relationship! You've taken Krazy Kristen away from us! And now, Kristen has taken a turn for the worse. Don't get us wrong, it's not because she's pulling stunts like attempting to air out her ex-boyfriend for cheating on his new girlfriend in Miami (we're all in agreement that Tom did cheat, right?) or having a toxic relationship with James Kennedy. Instead, she's trying to play martyr and seek revenge on toxic individuals in the interest of her friends. She may think she's being a good friend, but  inserting herself into others' lives is actually pretty lame. If I have to hear her say "My Brittany"one more time, I'm going to die. So, I decided to find Kristen Doute some fun hobbies, because endlessly trying to get revenge on guys like Jax and James is just making her look sad and desperate.
Philanthropy
It seems like Kristen thinks that sabotaging f*ckboys like Jax Taylor and James Kennedy by giving them the punishment they deserve is, like, a form of philanthropy. While I agree that guys like this are a disservice to society and need to be eradicated almost as much as malaria or small pox, it's a toxic habit to relentlessly try to destroy them. Also, I don't think flying in side chicks from Miami or parents from Kentucky to shame these guys, or throwing $16 PUMP-TI-NIs in their faces counts as a tax write-off. So why not be a contributing member to society in a more noble way instead? And no, I'm not talking about sh*t like reading books to children in the hospital. I mean, sure Kristen has changed, but I still wouldn't trust her around children. I'm talking about throwing parties to donate to whatever cause Kristen gives half a f*ck about. Anyone who watched The O.C. knows that these philanthropy parties were all about drinking and drama, which are two of Kristen's biggest passions. These charity functions Kristen throws would a) be the perfect opportunity for Stassi to use her fake party planning career and b) provide the perfect backdrop for drama without directly orchestrating tired schemes. And if some money is donated to PETA or Planned Parenthood, all the better, because that CAN count as tax write-off!
P.S. Is The Hills remake giving Mischa Barton a job as charity so they can get a tax write-off? So many questions.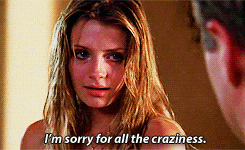 Become A Social Media Personality
This job is a no-brainer. No, seriously, this job requires no brain. I just watched The American Meme (credit to me for watching a documentary instead of Stepbrothers for the 50th time), and becoming a social media icon seriously requires less talent than being a reality television star. Kristen already has a following like every other person who is famous on social media, so she doesn't need to buy as many followers as every other social media personality does. She can just tweet relatable, obvious things in a slightly quirky way, so thousands of girls and fake followers RT it. Or, better yet, she can post pictures of herself doing boomerangs of her clinking champagne glasses with all her friends at an event and then throw up a pic of her chilling with reject boyfriend from The Bachelor  franchise while eating Açai bowls in Tulum (you know those things have more sugar than, like, six candy bars, right?) Worked for Helen Owen!
Blogging!
Oh wait, Kristen has done this already. Looks pretty legit, right?

Okay, I know that Kristen started a blog to make it seem like she had something going on after she got fired from SUR, but this is clearly not a blog. And the Vegiholic Instagram page isn't any better. The last post is a terribly unfunny meme from May 12th, and even before then, she rarely posted pics–there are only 36 of them!
Look, Kristen, it's really not that hard to be a vegetarian blogger. You just use the impressive work ethic you apply towards taking down your male castmates, and apply it toward making people feel like subhuman scum because they eat bacon. I remember last week, I asked my little sister if she was still vegan, and she responded that she's "intuitively plant-based" now. I assure you that if you managed to be as insufferable as you were seasons 2 and 3, you can be as bad as my own flesh and blood when she somehow managed to make her dietary preferences sound more holier than thou than "vegan." I could literally type onto WordPress what I had for dinner tonight (a bottle of $9 pinot grigio and a frozen pizza) and write a blurb about what made me eat it (because I'm lazy and I know I'm going to cry later when I feel too insecure to wear a crop top out at the bars because I'm addicted to self-sabotage) and hit publish, and I've got myself a food blog. See? It's not that hard.
Start An Etsy Shop
All you need to start an Etsy shop are ideas you highjacked from Pinterest and a dream. Well, a dream that was your fallback plan after failing as an actress or singer or whatever. Create some lip balms that are named after various SUR cocktails. Make some festival wear that is totally unoriginal and totally appropriating other cultures. Literally, just walk into Anthropologie or Urban Outfitters, take pics of thing you like, and do knock off versions of what they did. I'm pretty positive that's how you created your t-shirt line, and I assure you that this will probably be just as time consuming and perhaps even more successful.
Read A F*cking Book
Wanna convince people that you've truly changed and are on a path towards enlightenment and personal growth? Read a book. Don't read the Bible. Paris Hilton killed that charade when she said prison changed her because she read the Bible while locked up, yet she couldn't name a single book or verse from it. Lala mentioned one time that she read The Alchemist, and she's probably one of the smartest people on the show. Case in point:

So clearly the bar is set pretty low to be the Einstein of the group. I saw on Instagram that Alexis Ren read The Four Agreements and I immediately respected her for it, even though she made a career off of having good-looking sex with Jay Alvarrez and fake laughing for pictures. Or read The Untethered Soul. I saw that my SoulCycle instructor posted that on his Instagram stories, and while I initially wrote him off because he's, like, 40 and wears a thumb ring and takes shirtless mirror selfies, I totally respected him after seeing he read that book. Well, kind of respected him because did I mention he's 40 years old, wears a thumb ring, and takes shirtless mirror selfies? Basically Kristen, just read any New Age self-help book and we will all automatically think you've got a hobby AND that you're becoming more self-actualized, whatever that means.
Write A F*cking Book
I would suggest writing a cocktail book, because alcohol is an integral part of her diet, but Ariana would get very upset that Kristen's doing something she's done (or failed at doing). #TBT to when Kristen tried comedy for sh*ts and gigs and Ariana got offended because she takes sketch comedy "very seriously." Let's not act like Ariana is ever gonna finish that cocktail book. But at the same time, let's recognize that Kristen thinks drinking an entire bottle of Belvedere or Casamigos is considered a "cocktail" when really, it's flirting with alcoholism.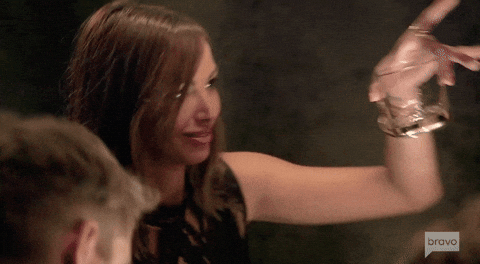 So maybe Kristen should get a headstart on writing a tell-all about Pump Rules instead so she can release it once the show gets cancelled, after everyone in that cast becomes boring and stable like the rest of us. You know we'd be all over that juicy gossip!
Start A Podcast
You're sort of an actress with a lackluster IMDb page, and a second-fiddle reality star living in L.A., so it's weird that you haven't started one already! You might not have Stassi's level of success, but it can't possibly be worse than Scheana's podcast.
Do The Marie Kondo Method
I'm not saying this because it's all the rage right now, I'm saying this because this chick needs to get rid of all that "Live, Laugh, Love" crap in her house. It's tacky and embarrassing, and I say this as someone who owns a giant pillow in the shape of a Xanax bar and a cross-stitched sign on my bathroom door that says "Please refrain from doing cocaine in the bathroom."
Sidenote: One time I was at a party with Marie Kondo and I avoided her the entire time. She doesn't speak English, but I just knew deep down that she would find a way to tell me to get rid of my Kris Jenner shower curtain and Xanax pillow. The only celebrity closet organizer I will ever listen to is Kim Kardashian. Sorry not sorry.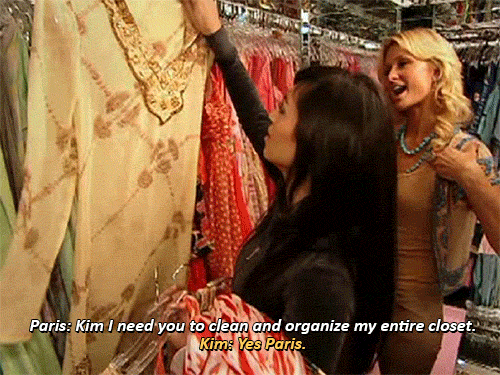 So Kristen Doute, in this new year, take some time for yourself, and please get a hobby. The Bravo producers might not be happy about it, but it has to happen.
Images: Shutterstock; Giphy (3); @helenowen / Instagram; Vegiholic; Us Weekly; @kristendoute / Instagram
Hold Up, Is Lala Kent Friends With The Kardashians?
2018 has been such a salacious sh*tshow that nothing shocks me anymore. Like, yesterday I found out that Bella Thorne is in a throuple with Mod Son and some YouTuber and I didn't even flinch. The president regularly threatens World War III on Twitter and I don't even feel anything. So it takes a lot to astonish me these days, and leave it to a Vanderpump Rules starlet and the Kardashians to shake me to my core.
Look, I hate a contrived crossover more than the next person. I mean, remember when Bravo tried to shove a Stassi and Kyle Cooke hookup storyline down our throats when they did that mashup episode of Pump Rules and Summer House? Before dating Beau, Stassi's type was…well, manipulative, narcissistic assholes (full offense, Jax and Patrick), and even she couldn't bring herself to go along with the crossover by hooking up with Kyle on a warm summer's eve because he is such a douche (pun fully intended).
But this KUWTK and Pump Rules crossover? I'm so here for it.
We knew from a previous KUWTK episode that Randall and Lala had a blink-and-you'll-miss-it cameo at a poker game with Khloé Kardashian. And we've also seen on social media that they have a mutual friend, which is Jonathan Cheban. We honestly thought that they were, at most, somewhat acquainted with each other because they have minimal social overlap. Boy, were we wrong.
Yesterday, Khloé threw up this pic on her Instagram story. Usually she posts pics of herself interspersed with inspirational quotes. And we all know that the amount of thirst traps and inspirational quotes you post on social media is directionally proportional to how thirsty you are for validation and how f*cked up your life is at the moment. So it was especially random that she posts a picture of her with Randall Emmett and Lala Kent to congratulate them on their engagement.

I have spent as much time thinking about and scrutinizing these pictures out than I have thinking about and scrutinizing a two-word text message from a guy. So yeah, at least a good four hours and it's still going to keep me up at night no matter how much Ambien I take. But I digress.
What a weird gesture to congratulate someone on their engagement and then say to follow them on Instagram. And she's not even talking about Lala—she just says Lala is gorgeous (which she is). She's talking about Randall, who literally refuses to be filmed and had Lala's friends sign NDAs so they wouldn't take pictures of him or leak information about him. And now he wants followers??
But it gets weirder. Four hours after Khloé posts this random story, Scott Disick throws up a picture of him and Randall chilling in the back of a car together.

Will any of us start following Randall on Instagram because Scott and Khloé told us to?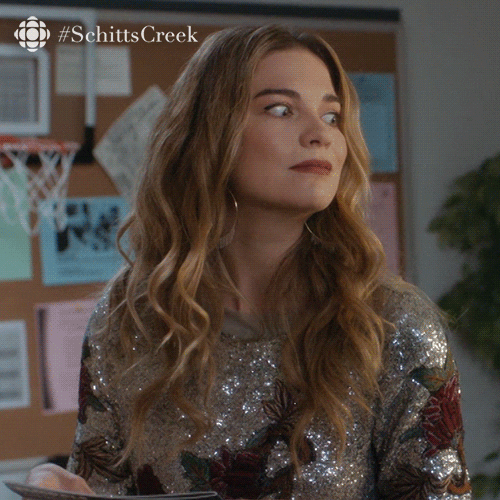 But, like my shrink said when he suggested that I start seeing him two times a week instead of once, "There's so much more crazy sh*t here to analyze." First off, even Scott doesn't follow Randall on Instagram. But then again, he doesn't even follow his own girlfriend. But still, it's so on brand that Scott hangs out with a guy that is such a caricature of an L.A. bro that Entourage is partially based off of him. It's also funny as f*ck that Scott is willing to post a picture with a guy who isn't really his bestie, yet I can count on one hand how many pictures he's posted of Sofia Richie.
Why is the reigning family of social media suddenly buddy-buddy with a Pump Rules star and her producer fiancé? I don't know, but I guess I'll have my answer if Sofia Richie ends up starring in a sh*tty sorority movie next year.
Images: Giphy; letthelordbewithyou, khloekardashian / Instagram
The Worst 'Vanderpump Rules' Makeovers
Any hot betch knows that having perfect hair is crucial. Your hairstylist is probably in your inner circle, if not your emergency contact list. It's probably your most important investment and is totally worth spending twice your rent on. I say this as someone who takes any opportunity to hijack a conversation to mention that TWO of Scott Disick mistresses liked a picture of my hair on Instagram once. And I know what I'm talking about when I critique people's hair, because did I mention that no less than TWO of Scott Disick's mistresses liked a picture of MY HAIR on Instagram once? Who better than me to critique than a bunch of image-obsessed degenerates who made a career out of making terrible decisions, otherwise known as the cast of Vanderpump Rules? Nobody, that's who. Here are some of the worst hairstyles in the history of Vanderpump Rules.
Tom Sandoval
Tom Sandoval once said, "People put a lot of effort into the way they look, and it shows. I put even more effort in—so that it doesn't show." And he's totally right. But seriously, he must have put so much effort into not looking like he put in the effort to look like a wannabe Pete Wentz circa 2005. He doesn't look like a model/actor—excuse me, I mean "mactor." No actually, excuse me, I mean fake bartender.
If the "look" Sandoval is going for here is Avril Lavigne's future ex-husband, then he has succeeded. Sorry Tom, but if you look like the night shift manager at Hot Topic who dropped out of community college to focus on his band, then you are no longer allowed to be a sanctimonious douchebag about how fashionable and image conscious you are.
And remember when Schwartz got a perm for no good reason? Yeah, we try to forget too. Perms stopped being excusable after Chutney used it as a failed defense in Legally Blonde to cover up that she killed her dad. Next.
Katie Maloney
Okay, if you run a half-assed beauty blog and call it your life's passion, you better be sure that you always have great hair. And I'm sorry, but Katie's attempt at being blonde was as much of a sh*tshow as a musical showcase by Scheana. I don't think that color even exists on the color spectrum. Is it yellow? Is it orange? I honestly don't know. Did Schwartz pour that beer all over her head in Mexico because he thought that would wash the color out? These are the questions that keep me up at night.
Peter Madrigal
I don't know about you, but I always thought Peter was the most datable one on the show. Maybe it's because he had that sexy pirate vibe going on, or maybe it's because he was wise enough to act as the voice of reason and not put his drama front and center. But in the later seasons of Pump Rules, he chopped off his ponytail and got rid of his goatee.
Usually, when a guy gets rid of the ponytail and facial hair, you're glad he's finally seen the light, quit his drum circle, and donated his Baja hoodie to Goodwill. But Peter? I don't know, he just perpetually looked like something was missing from his face. Stick with the Jack Sparrow look, Peter!
Lala Kent
Lala Kent is everything to me. She can do no wrong. So I totally forgive her for that time she wore her hair like a Shih Tzu's to Katie and Tom's engagement party that she ruined (shout-out to Adderall and Compliments for the spot-on comparison!). I don't forgive Lala for this misstep because I'm being the bigger person instead of being secretly happy that I finally have better-looking hair than a girl who perpetually looks perfect; I forgive her because Society6 made it into a bomb-ass couch pillow that totally doesn't alienate any guys I bring back to my place. (My Kris Jenner shower curtain does that, though.)

I will say, though, that the dark hair isn't doing her any favors lately. Lala needs to bring back the blonde.
Jax Taylor
Let's be real here: Jax isn't exactly any guy's or any girl's fitspiration anymore. He's aging, and the hard-partying lifestyle he refuses to give up has definitely caught up with him. So, last season he put zero effort into his looks because he knew Brittany would never leave him (no matter how many times he cheated on her, degraded her, and generally treated her like sh*t). So instead of putting any sort of effort into his hair, he shaved it off. Instead of wearing tasteful chunky sweaters (quite the #tbt, remember his sweater line aspiration?), he settles for wearing Saturdays are for the Incels—sorry, I meant Boys—T-shirts. Talk about a make-under.

To be clear, I never really got the appeal of Jax Taylor before. But now? His aesthetic screams "35-year-old substitute teacher in Albuquerque who peaked in high school and spends his boys nights out at happy hour at Applebee's sneaking $1 Bahama Mama's to the underage hostess only to get fake numbered by her later so he rage-kicks his 2004 Saturn in the parking lot while listening to Limp Bizkit." Damn, that was a longwinded insult. I may or may not have had some of Raquel's pasta…
Scheana
Besides bullies, ISIS, and people who have the audacity to tell me that Taco Bell isn't authentic Mexican food, Scheana may be the worst person on the planet. But I have to admit, Scheana has always had pretty great hair. Sure, her relationships are sad, her music career is a joke, and she is so delusional that a guy tripping balls at Burning Man is more in touch with reality than she is. But in spite of that, she has great hair—except for that one time she infamously looked like an American Girl Doll, per Stassi. #Neverforget that weird headband/wrap thing, that hot pink lipstick that did her no favors, and the clown makeup she liked to rock in early seasons.

I can't wait to see what beauty missteps the cast will commit on season 7 of Vanderpump Rules!
Images: Giphy (2)
Which 'Vanderpump Rules' Cast Members Have Real Jobs Outside SUR
The most staged thing about Vanderpump Rules is how they expect us to believe that the cast members can plan these lavish vacations and weddings on a server's budget. Since half the cast doesn't even work at SUR anymore, they've found some cringeworthy, laughable, or occasionally actually legit side hustles to make us kind of believe that they're totally not living off of a reality show check. We ranked the Pump Rules cast members' side hustles from worst to… actually pretty great.
7. Scheananigans
Thank God Scheana gave us the podcast no one asked for. If you want to play a fun drinking game where you take a shot whenever Scheana makes everything about herself, then I highly recommend this podcast. But I promise you, this game will do more damage to your liver than any drinking holiday would. I mean, her guests are the who's who of "What the fuck ever happened to them again?" Case in point: She just had Jonathan "The human head weighs 10 pounds" and Lipnicki and Kristen Cavallari's no-name "bestie" from The Hills. The Scheananigans Instagram boasts 30,000 followers but averages like, 200 likes a post. Even the fake bots that pretend to like Scheana's podcast can't be bothered to throw her a like. Ouch.


6. Katie's Beauty Blog
Katie's beauty blog, Pucker and Pout, used to be the go-to spot to find beauty tips and tricks that you already knew from better sites to begin with. Then she fell off the wagon for a while when she was planning her wedding and having a months-long meltdown. Then she claimed to get back on the wagon again, but I just checked in on that blog and barely anything has been thrown up in recent history. Katie did launch a lipstick collab with Julie Hewett, but it's only three colors and it's unclear if anyone actually bought it.
5. Kristen's T-Shirt Line
When Kristen got fired from SUR, she claimed to be doing just fine career-wise because she did what every flailing underemployed LA chick would do: start a T-shirt line. Kristen has come out with two seasons of her line in the past few years because apparently, it takes a really long time to come up with six different T-shirt ideas. Sure, they kind of look like they're rejected Urban Outfitters shirts, but they're still cute. I guess. Honestly, I'm just happy Kristen finally has a hobby besides functional alcoholism and self-sabotage.


4. Tom Tom
I don't know if this counts as a side hustle for Sandoval, because I'm still not sure if he's in this full-time since he may still be working at SUR. And I don't know if this counts as a side hustle for Schwartz, because I don't think you can have a side hustle if you never really had a job to begin with. Anyway, Tom and Tom barely have any clout or pull in a restaurant named after them, but they're still trying their hardest. Well, Sandoval is. He actually created some really cool drinks for the menu. But still, they barely had a say in anything else.
3. James Kennedy's DJ Career
I can't. Believe. I'm. Saying. This. But James Kennedy's DJ career has had a pretty interesting trajectory. He used to get suspended and fired all the time for drinking on the job, but now he seems to have really pulled it together. The Pump Sessions album ended up coming together, and it's not terrible. I mean, let's stop pretending like all electronic music doesn't sound the same. But I'm assuming it doesn't suck. C U Next Tuesdays at SUR look lit, and James has been traveling across the country to DJ at some of the hottest (okay, tackiest) clubs out there. I have to hand it to him—James has come a long way from telling people to pick up their dog's poop at Lisa's dog fundraiser.


2. Give Them Lala Beauty
I don't get why people thought Lala would ever need to suck dick for Range Rovers when the girl is clearly out there hustling. She's got two movies on deck, she's actually not bad at singing, and she came out with her own beauty line. Anyone who follows her knows that she hawks her own beauty line more than any Bachelor reject hawks SugarBearHair vitamins and Fit Tea. Sure, she may have copied the Kar-Jenners a bit by going the beauty route, but you know what? She actually did just as good of a job as them, if not better. Half of Kylie's lip colors aren't shades anyone can pull off unless it's Electric Daisy Carnival or Halloween. Lala's lipsticks, on the other hand, not only got good reviews, but pretty much anyone can wear them.
1. Straight Up With Stassi Podcast
Okay, we know, we know, everyone has a podcast these days. But to be good at podcasts, you have to be good at holding court and talking shit, which happen to be two of Stassi's specialties. This is a way better niche for Stassi than being a fake fashion journalist or designing unsightly statement necklaces. Sure, she had her controversy with her inappropriate comments about the #MeToo movement, but she bounced back and took the criticism to heart. Or at least pretended to for the cameras. Either way, her podcast seems to be doing well, even with the lost ad revenue. Hopefully she can keep it up and stop saying problematic shit!


And now, let's have a moment of silence for the few Vanderpump Rules side hustles that were talked about, but never materialized:
Jax's fitness app: I think this would be the first fitness app that would encourage cocaine and steroid use to get a hot bod.
Jax's sweater line: Jax wore a T-shirt from Barstool Sports in every episode this past season. So he has the same fashion sense as that third-tier frat bro who's an active participant in an incel subreddit who you regrettably hooked up with over spring break years ago. I feel like this speaks volumes about why his sweater line never flourished.
Scheana and Rob's Divorce Closet idea: Technically, this idea never launching is all on Rob, because he supposedly just wanted Scheana to be the face of it. I think it shows how he really saw her the entire time. What a douche.
Ariana's cocktail book: Guess she doesn't take an actual job as seriously as sketch comedy.
Tom and Tom being brand ambassadors for LVP Sangria: They wanted to be unpaid brand ambassadors. That was Sandoval's brilliant business pitch. The cringe.
Images: Giphy (4)