The Best Cute Winter Accessories That Are On Sale Right Now
It's officially 2019, which means it's time for the cliche "new year, new you!" (*Insert energetic fist pump*). In alignment with the new and improved you, one of your goals is probably to be more proactive and less reactive. (Okay, maybe it isn't, but you should def add it to your list.) For example, you should make the decision to start working on your summer bod NOW rather than wait until the first time you put on a swimsuit come summer. But I'm not gonna be a hypocrite and lecture you about going to the gym. I can, however, use my shopping expertise to help you be proactive rather than reactive when it comes to looking good while staying warm during this season's inevitable winter storms.
Consider this: in 2018, you would have pushed off buying winter necessities until it was officially -30 degrees and your fingers were at risk of frostbite. You'd then probs try to just pop into your local CVS to quickly grab a pair of gloves, and end up buying some fugly overpriced and poorly-made generic ones. But 2019-you is better than that, and would never have such an experience. The new you is smart and prepared, and is going to take 20 mins out of your day to go order some super cute sale winter accessories right now. Don't wait until you're desperate and have to buy those knockoff Burberry ones from a homeless guy with a black trash bag filled with other sh*tty counterfeit goods. Don't leave yourself desperate; 2019-you is definitely not desperate. You're confident, prepared, and definitely not using Snapchat maps to casually show up to the same bar as your ex.  'Cause, like, you're not desperate, remember???? REMEMBER. 
1. Scarves
Scarves are my favorite winter accessory, because they require minimal additional effort while providing a maximum additional layer of warmth. You can legit throw them on as you're running out the door, or easily toss them in your bag if your overly selfish, and frankly terrible at his job, Uber driver won't turn down the heat. To guarantee extra warmth, go Lenny Kravitz style and get a super-sized one that's so big you could legit mummify your whole body with it. Seems dramatic, but I'm dramatic, so touché.

Free People Dream Maker Stripe Scarf – $39.95

Urban Outfitters Extra Large Knit Oblong Scarf – $29.99

Free People Dreamland Chunky Knit Cowl Scarf – $39.95

2. Hats
Winter hats not only add warmth to your outfit, but they also add style. You can even select your winter head accessory based on the vibe you're going for that day. Like, go with faux fur earmuffs when you want to look chic as hell, or a cool beanie when you want a more edgy, cool girl look. Stock up on a few different styles of winter head accessories to ensure you have the perfect match for every mood! Just be aware of hat hair. If you're going on a first date, maybe don't wear a beanie. There's simply no sexy way to wrangle and tame your hat hair post-beanie. Go with the earmuffs instead.

Ted Baker Ear Muffs With Bee Embellishment – $43

Tommy Jeans Color Logo Beanie – $20

FP One Big Slouchy Beanie – $19.95

Stitch & Pieces Blush Knitted Headband – $6.50
3. Gloves
Gloves are a winter accessory that I always put off getting until I'm legit in my car trying to drive and can't feel my fingers. Um, yeah, not safe. Not to mention, not wearing gloves in the blustery cold contributes to dry, cracked hands, which is NEVER cute. In fact, idk if there's anything more cringeworthy than the mental image of those sad, thirsty hands. Just get several pairs of these sale gloves right now so you can put a pair in every coat pocket. Ya see, gloves help keep your hands moisturized. Moisturized hands are pretty hands. Pretty hands are feminine. Femininity attracts men. Gloves = Husband. See how easy that was???

Faux Leather Cheetah Print Glove – $19.99

ASOS DESIGN Leather Gloves In Check – $12.50

Alice Hannah Knitted Gloves With Faux Fur Cuff – $29

Zara Gloves With Faux Fur Lining – $12.99
Okay, so there you have it—a complete list of cute winter accessories that are all on sale right now, and that you need to buy now. Don't be a martyr and wait until there's legit snow falling from the sky to be crying about how cold your hands are. Don't be that girl. Nobody likes that girl.
Images: @Free People (3); Urban Outfitters (2); ASOS (5); Zara (2)
5 Fashion Trends That Are Sticking Around For 2019
There are plenty of 2018 fashion trends we're ready to ship off for 2019. But before you get too excited, I have to be the bearer of bad news. Everyone's most hated trend of 2018, biker shorts, is here to stay. Just take one look at the spring runways and it's clear that the trend made famous by Kourtney Kardashian and her sisters isn't going anywhere anytime soon. Hate the Kardashians all you want, but they legit run the world. What they wear, you wear. So put down the pitchforks and get out your wallets because these are the 2018 fashion trends we can expect to see again in 2019.
1. Frills
Feminine frills have been a trend we've seen everywhere in 2018, from swimsuits to romantic prairie dresses. And if 2018 was the year of being "extra" then 2019 is the year of being straight excessive. The more frills the merrier, so go ahead and start adding them to your closet now.

2. Marigold Yellow
Yellow is a statement color that's here to stay. Sure, neutrals are going to be big for spring, but so is marigold yellow. And yellow is definitely a hell of a lot more fun than some boring camel shade. Plus, it's going to totally score you more attention, and I know you want your ex's attention. No, not because you like, want him back or anything! You just called him 30 times last weekend because you were reminding him what he's missing! I get it.

Free People Yellow Crashing Waves Pullover
3. Polka Dots
This is another of the 2018 fashion trends we saw a lot of last summer and spring, and will be seeing a lot more of come 2019. I already told you feminine frills are here to stay, but so are girly polka dots. I mean, it makes sense, everything's about girl power right now, women supporting women, etc. So, as a woman supporting women myself, I'm here to tell you to keep your polka dot pieces around. Just… don't go mixing them with your frills. If you do that, you'll look like an actual child, or possibly confused for someone's American Girl doll.

Capulet Hanni Satin Bustier Midi Dress
4. Scarf Prints
Punchy prints with retro '70s vibes already made their way into our closets in 2018. Like, if you don't already have a scarf belt or scarf print hair accessory, do you even have style at all??? Come 2019, the print will be even bigger in the form of tops, skirts, dresses, and everything in between.

Pretty Little Thing Black Scarf Print Satin Plunge Bodysuit, $45
5. Biker Shorts
I already ruined your 2019 by telling you this trend is here to stay. I won't go on explaining how you should just get on board already, because I'm sure you already hate me enough. Look, bike shorts are comfy, and that alone should be enough for you to want a pair. You don't have to look like Kourtney Kardashian at Coachella if you don't want to.
View this post on Instagram
You can just buy a simple black pair, and wear them with basically everything in your closet. Don't shoot the messenger! Just like, go buy some already, okay? They're cheap, and you're going to be happy you did. I'm telling you as your friend.

Women's One Size/Plus Size Solid Seamless Biker, $9.99
Trends come and go, but these are the 2018 fashion trends that we can expect to at least stick around for the new year. So go ahead, you have my permission to continue purchasing them now because they won't be a total waste of money. Okay, maybe they still will be since you'll only wear them once, get an Insta, and throw them to the back of your closet. BUT, at least if you get them back out to wear to your Grandma's or something, it wouldn't be totally unstylish to do so.
Images: kourtneykardash / Instagram; Revolve; South Moon Under; Urban Outfitters; Pretty Little Thing; Amazon
Lightweight Scarves You Can Start Wearing Now
I have absolutely no shame in saying that I am one of those crazy fall people. Once September 1st hits, my mind and body automatically go into a full-out fall-pumpkin-spice-everything-Halloween mode. The only problem is, the weather is not f*cking cooperating. I can't really get into the spirit of my most favorite time of the year when it's literally still 90 degrees outside. I'm dying to wear my baggiest sweaters and faux fur coats again, so I guess in the meantime, I'm settling for a less ~extra~ transition into fall fashion. This means layering up casual T-shirts and day dresses with trendy lightweight scarves that won't give you heat stroke. Here are a few lightweight scarves you can start wearing now.

Don't let the word "wool" scare you. Although it sounds suffocating, this scarf is made from a super soft lightweight material that isn't itchy or overbearingly thick. It's not too bulky so you can totes throw it over a solid colored dress or plain white T-shirt on chilly mornings. The pale pink with wine and olive green notes are perfect for the transition from summer to fall.

Chiffon is key to staying cool but looking hot. It's literally so thin, you'll probs forget you're wearing anything at all, but it adds elevation and flair to a lame and lazy outfit—especially when it's mostly black (duh). Now you've got your minimal hint of color.

Unless you live under a rock, it's pretty much a fact that western vibes will be everywhere this fall, from tacky cowboy boots to fringe to bandanas. I feel like this is totally going to be one of those trends everyone will make fun of, but secretly buy on their phone while on their lunch break just because everyone on Instagram will be wearing it. Calling it now. If you don't feel ready to contribute yet, remember that small scarves don't have to be necessarily worn on your body. Accessorize your bag or some sh*t and you'll look ready for next season.

Wear it as a scarf around your neck or wear it as a cardigan— Who cares? Either way, it'll still look bomb. That's the beauty of a wrap. Until it literally begins to feel like fall outside, ditch your everyday summer jacket for an airy neutral wrap. You can grab this and go to the office, happy hour, and everything in between with.

If it isn't already, Charming Charlie should be your new go-to when it comes to anything accessory related, especially scarves. They have a ridiculously diverse and affordable selection, so you'll def find what you're looking for. While many of us are still accepting the fact that summer is basically over, Charming Charlie has chic lightweight scarves you can wear a million different ways to hold you over until temps begin to drop.
We Have To Talk About How Ugly This New Zara Scarf Is
I've seen my fair share of ridiculously fugly scarves, and if you've ever been to a college football game, I'm sure you have too. However, I've never been offended enough by any of them to waste my precious energy venting about how stupid they look… until now. Zara has just released a new scarf and it is undoubtedly the dumbest cold weather accessory I've ever seen in my entire life.
First of all, this thing is called the "multiposition scarf," which is the hands down STUPIDEST name you could ever give a long piece of fabric that you tie around your neck. Literally every single scarf in the world is capable of being "multiposition." All you have to do is tie it differently. Zara, someone on your product development team was obviously high the day this got the green light. (Which like, is fine, just don't let them name stuff.)


Even if this scarf had a totally acceptable name, nothing would change the fact that it's just straight-up stupid. Look at it. Notice it has fucking sleeves. This is literally a long piece of knit material that you wrap around your neck and then put your arms through. I'm not usually the kind of person who worries, but this feels like an extreme choking hazard to me. I don't care if Christian Grey himself put this scarf around my neck. I'm not wearing it like that.

Perhaps the worst part about this scarf is the likely fact that it's a rip-off of another scarf just like it, but 10 times the price. We all know that half the shit from Zara is just a knock-off of clothing that's more expensive, and I'm assuming this is no different. I would do some research to see what luxury designer is originally responsible for this mess, but I've already spent way too much time thinking about this monstrosity, and I'm ready to forget about it for good.
Let's just hope Kim and Kanye don't catch wind of this, or else they're going to try to sell us the severed sleeves and hoodie of a Champion sweatshirt for three grand.
7 Scarves You Need In Your Closet That Aren't Basic AF
It's officially fall. Like, actually officially fall. Not just because pumpkin beer and salted caramel drinks are the main topic of conversation, but because it's literally like, scientifically fall now. Anyway, fall is obviously the best season, but nothing kills the mood like diving knee-deep into your box of scarves from last year and discovering that they're all pill-y and not as cute as you remembered. It's probably worse than meeting a Tinder match IRL and realizing they're kinda fug. Here are a few non-basic scarves to pick up this year.

Balenciaga and Maison Margiela keep trying to make giant puffer scarves happen, and I feel like maybe we should all just roll with it. Except obviously none of us are going to drop three grand on one, so off to Zara we will proudly go. This kind of looks like the North Face scarf your crazy biology professor wore when you got stuck in a freezing classroom for the semester, but like… it's fashionable now so it's fine.

Finding the perfect plain black scarf is next to impossible. It's like, every time you think you're close, you turn it over and it has a rhinestone Michael Kors logo on it. Yikes. Anyway, this one is super simple and will go with literally everything, so you're welcome.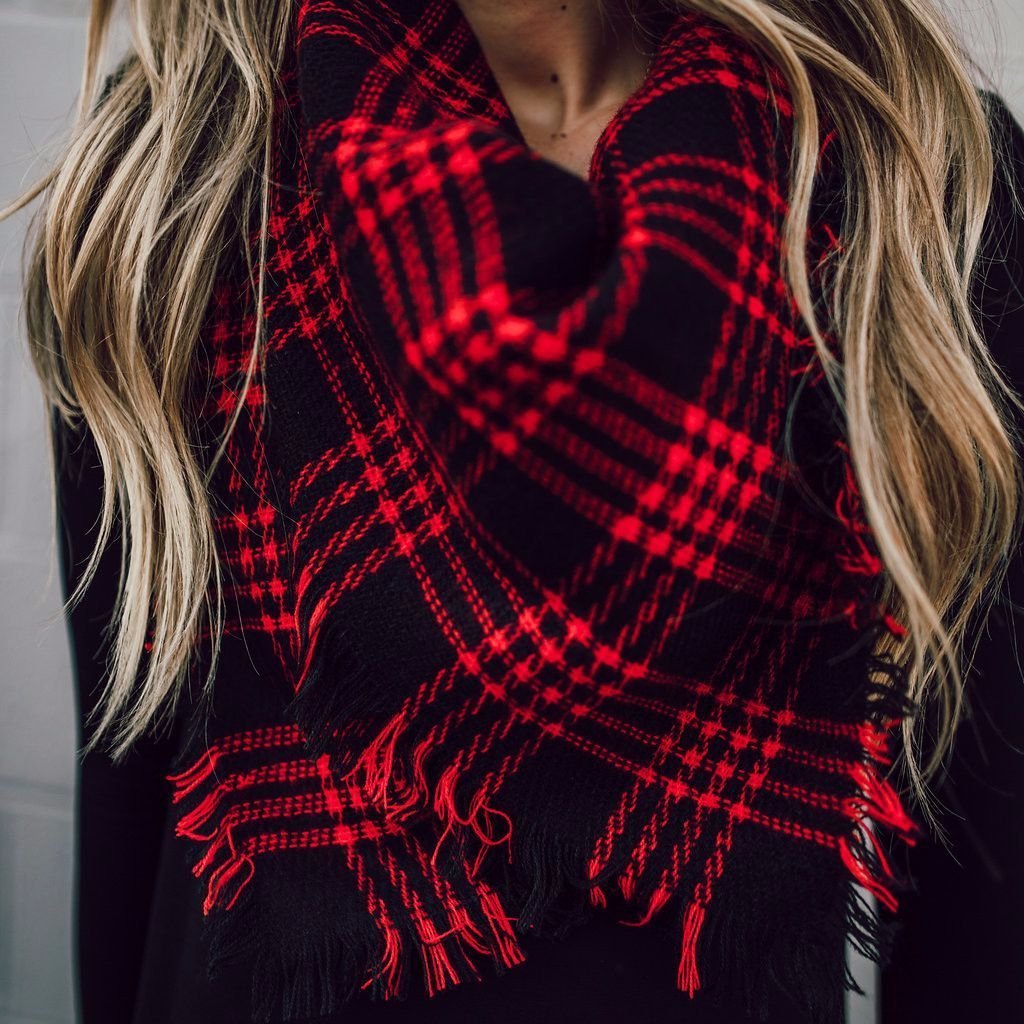 This blanket scarf is cashmere but not in a "shitty cashmere scarf box set your distant relative got you for Christmas because they forgot to buy you something and it was the last thing left at Macy's" way. It looks edgy, but it's actually soft AF, so it's really perfect for that faux bad betch vibe we're all rocking these days.

Personally, I just wear black and neutral earthy tones year round so it seriously baffles me when people consider anything else during the fall. However, if you're the kind of person who insists on wearing pink forever, I feel like this is an appropriate way for us to meet in the middle.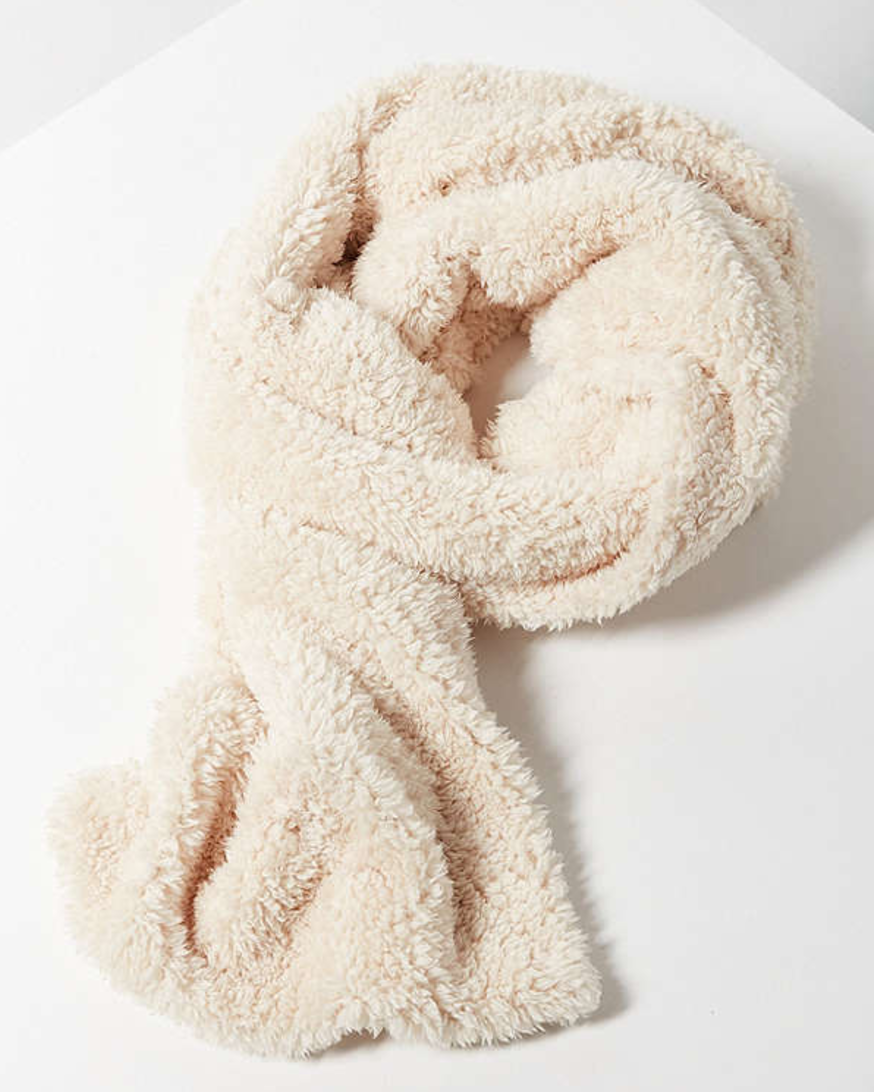 If you can look past the fact that this kind of looks like that Target body pillow cover that every single one of us had in our college dorm room, then you should probs get this scarf. You could probably take a nap in this without anyone really noticing.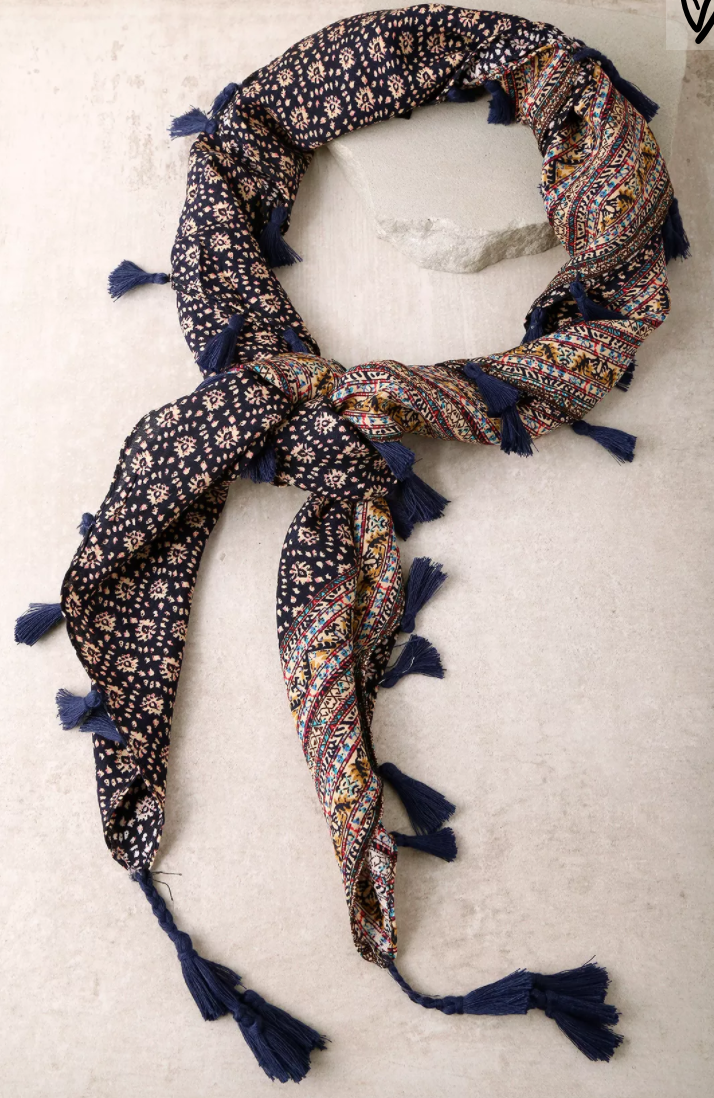 If you're not into wrapping a giant blanket scarf that basically functions as a neck brace around your body, you're lucking out this year because bandana scarves are totally a thing. The trick is just finding one you can pull off with other typical fall fabrics, like suede and shit.

I don't care what anyone says, leopard print is a neutral. I know that's borderline very Olivia from Jerseylicious of me to say, but it's true. A giant leopard scarf (within reason here, people) is the easiest, laziest way to make it look like you're transitioning the black jeans and basic top you wear year round into a new season.