Hot Take: Let's Keep Erika Jayne On 'RHOBH' For As Long As We Can
There's nothing that brings the internet together like a good old fashioned scandal. Whether that's Hilaria "how you say cucumber in English" Baldwin, the O.J. trials, or Tom and Erika Girardi vs. everyone they've (allegedly) f*cked over. 
As of late 2020, Erika Jayne/Girardi officially transcended the reality TV world into mainstream news and pop culture after she filed for divorce from Tom and the couple was sued for allegedly leveraging their breakup to embezzle money. And even though the Housewives franchises are no stranger to legal scandals (Teresa Guidice, Lynne Curtin, Jen Shah, etc.), Tom's reputation and the sheer gravitas of the situation has catapulted the story into major news outlets like the LA Times and CNN — but most importantly, it's being featured on the Real Housewives of Beverly Hills. 
Up until this season, Erika Jayne was the Kourtney Kardashian of RHOBH: boring AF (Kim said it, not me). And sure, unlike Kourtney, Erika has been interesting to look at, but beyond that she's been cold, reserved, and truly an enigma wrapped in a riddle and (allegedly stolen) cash. 
IMO, getting to feature the divorce/lawsuit this season is the best thing to happen to RHOBH in a looooong time. Over the past few years the franchise has been littered with trivial storylines like PuppyGate that drag out for 10 episodes longer than they should, so bringing in an actual scandal to basically be the eighth cast member this season is bringing much-needed dimension and depth to the show. Otherwise, you just know the entire season was going to be ViolateGate (Sutton vs. Crystal). Yawn. 
And I commend Erika on what she's given us so far in season 11. She's basically the Faye Resnick we never got — divulging her perspective on the lawsuit, commenting on Tom's declining health, and sharing her real feelings about her and Tom's relationship now that she doesn't have to protect him. Her storyline this season has seriously resurrected the franchise from the brink of irrelevance, lacing it with a hint of true crime-ish elements combined with a more open and off-the-cuff Erika who's actually pulling her weight within the cast. 
And that leads me to my hot take: let's keep The Pretty Mess on RHOBH as long as she's still being… well, pretty messy. 
If I'm getting too far ahead, there are CliffsNotes below to get you up to speed. But if you already have your PhD in the Erika/Tom scandal like me, feel free to skip the summary and get straight into my open letter to Bravo on why they should keep Erika around for season 12. 
Erika's Involvement in the Lawsuit(s)
About a month after Erika filed for divorce, Edelson PC filed a class action lawsuit against Erika and Tom, alleging that the couple embezzled settlement funds meant for victims who lost family in the 2018 Boeing plane crash. The lawsuit also claimed that the "'divorce' is simply a sham attempt to fraudulently protect Tom's and Erika's money…". 
On the heels of that, Tom's former business partners filed a separate suit against him, claiming that Tom kept funds over $315,000 that he owed them for his own gain.
And although all this shadiness was allegedly orchestrated by Tom, the scandal is being framed in a way that implies Erika is guilty by association — and not just because of the allegedly opportunistic divorce, but also because her company EJ Global received over $20 million in loans from Tom's law firm. 
That $20 million was probably spent on her glam squad's room and board during cast trips alone (kidding) (not really), which makes it all the more sad to know it could have been used to pay victim settlements — and all the more infuriating considering it did not belong to Erika in the first place. And that's a sentiment the judge agrees with, after ruling that specific victims can go after Erika for up to $11 million to replace the amount Tom never paid them.
Why This Sh*t Is Interesting
What punches up the entire storyline is the juxtaposition between the way the media/lawsuits are framing Erika, and how she's portraying herself on RHOBH. 
While the lawsuits suggest that Erika had some part in/knowledge of Tom's shady dealings, the RHOBH version of Erika is acting as if nothing illegal happened. In fact, she's enraged that people dare speculate that the divorce timing was suspect, saying during the latest episode, "What's being said is just, I mean, it's insane. That my divorce is a sham, but nobody cares about the facts." She also explicitly said the divorce wasn't a ploy to hide assets while FaceTiming Kyle and Lisa. THE TEAAAA. 
I'm the first to admit that she's in a sh*tty position, mostly thanks to Tom. But we can't forget that Erika is a performer by trade with an alter ego that even Danielle Staub couldn't pull off. We've seen her transform from the world's best poker player to a puss-patting, bodysuit-wearing, loud and bright singer/dancer. All this to say, her time on the stage and those two episodes in The Young and the Restless prove that she has the chops to act the part that her PR recommends. 
And as much as I love to analyze what's strategy and what's not, at the end of the day I just want good TV. So Erica sharing those tidbits about the lawsuit hit hard, as did the comments about her and Tom's pre-divorce relationship. For the past five seasons, we've heard nothing but glowing reviews of Tom "styrofoam cup" Girardi. Not a peep of indiscretion or disagreement, and not even Kim Richards piped in threatening that she had dirt. But Erika has finally, finally expressed several iotas of emotion and raw stories about their relationship this season, and whether those are her true feelings or a narrative suggested by her PR team (or Mikey), it makes you wonder, what other dirt is she going to spill, now that she's not protecting Tom?
And we're going in the right direction. So far this season, Erika has detailed his heartless goodbye, admitted she was pissed he didn't come see her on Broadway, and even expressed her fear about her public perception post-divorce in the last episode when she said, "I don't want his actions to absolutely kill what I have created."
And there are logical reasons why Erika is being more real. For one, she needs that Bravo paycheck more than ever, especially after detailing her fears about the attorney fees in the latest episode. Now that she literally needs this job, it's in her best interest to involve herself in the storyline and bring some actual juiciness — whether that's Tom related, post-divorce dating stories, etc. 
Another reason to keep her on the show is that despite the accusations, Erika's still proving it's expensive to be heeeer-er-er-er by boarding a PJ and sporting a $189k ring. That's some major BDE when you're in the middle of an embezzlement lawsuit, and some very Jen Shah-esque energy that makes for ridiculously entertaining TV. 
And while Erika's attorneys briefly dropped her and then took her back (for reasons we can only speculate), her castmates have continued to show their support and allegiance to Erika, both on the show and on social media. From Kyle and Lisa dancing to "XXPEN$IVE" and most of the ladies wishing her a happy birthday publicly, they clearly don't feel a need to distance themselves at all. Truly women supporting women, in the words of Ramona Singer. 
Thanks to Tom, Erika's part of a truly impactful scandal that I'm 100% sure will be turned into a Hollywood blockbuster. With that being said, capturing Erika's perspective on the RHOBH is a fresh, deep, real storyline that's captivating AF. And because court cases take forever and Erika can only say so much right now, Bravo can easily milk this content well into next season as well. Not to mention, Erika will definitely be opening up with some new storylines about post-Tom life in an effort to stay relevant (and liquid… with those big lawyer bills). 
Image: Bravo
'Leaving Neverland' Is About More Than Michael Jackson
In the past 48 hours, I watched the entirety of Leaving Neverland, director Dan Reed's two-part, four-hour documentary about two men who claim to have suffered sexual abuse as children, and how they grapple with that trauma to this day. To say I have an emotional hangover would be an understatement—I am sad in ways I didn't know I could be. While sob-emoji texting my friends, though, I noticed a pattern. When someone hadn't heard of Leaving Neverland, I clarified: I was watching "the Michael Jackson documentary." And it's true—the man accused of sexual abuse in this doc is Michael Jackson, and "Neverland" in the title refers to Jackson's 2,800-acre ranch, where he allegedly abused an unknown number of prepubescent boys in the '90s and 2000s. But having seen the film, I bristle at the idea that this is a Michael Jackson documentary. This is a documentary about child sexual abuse.
Wade Robson and James Safechuck are the two men who tell their stories in Leaving Neverland. Both are indisputably connected to Jackson: Safechuck appeared in a Pepsi commercial with him at the age of 8, and Robson met him at age 5 in Australia, after winning a dance competition. Jackson took a special liking to Safechuck and Robson, and both boys' relationships with the singer went down similar paths. Jackson would invite the boys' families on trips, paying for their transportation and lodging, and opening up a world of fame and money they'd never seen before. He told the boys' mothers that their children were special, that he loved them, and he wanted to help their careers. He said he saw himself in them—and these mothers, dazzled with the vision of raising the next Michael Jackson, struggled to deny Jackson anything.
What Jackson wanted was extended, unsupervised time with their young children. While Robson and Safechuck's mothers were brought along for many visits to Neverland, they slept in a separate house, and allowed their children to share a bed with Jackson. Safechuck accompanied Jackson on tour; Robson was left alone at Neverland for days at a time. In a 2005 trial for Jackson's alleged assault of a different 13-year-old boy, it came to light that Jackson would call Robson's mother at 1am, saying he needed to see Wade right away. Joy Robson (Wade's mother) would drive him there promptly, and send him straight to Jackson's bedroom. At the time, the boys insisted that they loved Michael, and he loved them. It wasn't until they had children of their own that they were able to see the sexual experiences they describe with Jackson—and they describe many—as abuse.
It takes days to recover from this documentary. Five minutes in you will think to yourself "oh my God, every word they are saying is true." https://t.co/JMoA6Y0dEo

— Judd Apatow (@JuddApatow) March 2, 2019
In this moment, it feels surreal to report on these men's stories of sexual abuse and name the abuser as Michael Jackson. Beyond the shock of hearing these accusations about any beloved celebrity, it feels surreal to name him now because the film focuses so little on the figure of Michael Jackson himself. When you hear "Michael Jackson documentary," even knowing it's about allegations of sexual abuse, you expect the film to take on Jackson's legacy. You expect Jackson to be presented first as an icon: to hear Jackson's music, or accounts of his persona and cultural impact. Maybe a narrator hyping up how adored he was, before smashing down the hammer of these accusations. But Leaving Neverland does nothing of the sort.
Instead, Leaving Neverland addresses Jackson's celebrity only in the context of the effect it had on Robson, Safechuck, and their families. It's important to these stories of sexual abuse to know that Jackson was famous and powerful, because that status informed the parents' decisions to give him that access to their sons. Similarly, it's important to hear about how Robson and Safechuck personally admired him: his impact on them as a performer, before they ever met, informed how ecstatic they were when he showed an interest in them; how predisposed they were to admire him and want him in their lives.
As a former child actress, I can't help but watch this documentary and think about how wrong it is for children to be put in the position of performing for the soul purpose of pleasing adults. It's such a slippery, dangerous, often abusive slope. #LeavingNeverland

— Amber Tamblyn (@ambertamblyn) March 4, 2019
Even clips of Jackson's performances, or screaming fans, are limited to instances that highlight the trauma it caused to these men. The swarming fans attending Jackson's tour compounded Safechuck's sense of being overwhelmed and alone. The line of protesters attending Jackson's trial played on Robson's sense of obligation to protect his friend. Leaving Neverland never gives us those images solely to show us that Jackson was beloved, and thus entirely avoids the expected structure for a documentary accused of being "posthumous character assassination." If Reed's intention had been (primarily) to shatter the world's impression of Michael Jackson, I would have expected to first be shown what that impression is—then see it darkly juxtaposed with these men's stories. Neverland doesn't feel like the dismantling of a celebrity's reputation. It feels like two deeply personal accounts of childhood trauma in which their abuser happened to be famous.
#LeavingNeverland isn't about the spider or the fly. It is about the web.
Listen to survivors. Learn about grooming. Understand that victims have complex feelings. Share 800-4-A-CHILD or 800.656.HOPE! Promote help. pic.twitter.com/2JOxWlDI3y

— Jenn (@8675309Carson) March 4, 2019
Of course, the fact that Leaving Neverland doesn't explicitly state "here's proof that Michael Jackson was a child molester" won't do much to change people's reactions to the film. Those determined to believe in Jackson's innocence will do so anyway (though I struggle to understand how, if they take the time to watch the film). And those who believe the stories of Robson and Safechuck will effectively have any lingering fond doubts extinguished. Nonetheless, I think it's an important and correct choice that Reed focused the film so tightly on these two men and their stories.
Painful as it is for Robson and Safechuck to continue seeing Michael Jackson celebrated, they didn't strike me as crusaders for his worldwide vilification. They struck me as two men still actively, painfully grappling with the trauma they suffered as children, talking through both what happened and how they behaved in the wake of it. What Leaving Neverland does best, in my opinion, is provide a road map for how this type of abuse can affect people through adulthood, and shed some light on why it's so difficult for child victims to come forward. And frankly, that's a much more important story than whether or not a late pop star is deserving of our love.
If you or someone you know is a survivor of sexual abuse, call the National Sexual Assault Hotline at 800-656-HOPE
Images: HBO; metoomvt / Instagram; juddapatow, ambertamblyn, 8675309Carson / Twitter
Here Is All The Evidence That Jordyn Woods And Tristan Thompson Hooked Up
As most Americans with a working Internet connection know by now, Tristan Thompson and Jordyn Woods are currently set up to be the most hated people in America. Khloé Kardashian reportedly dumped Tristan Thompson last night—not, y'know, because he cheated on her days before she gave birth. It's because he cheated on her once again—this time, with Kylie's BFF Jordyn Woods. Apparently, Thompson flew into town for Valentine's Day (aw), but then spent Sunday at a house party "snuggled up" with Jordyn. TMZ reported they were "all over each other" and "making out," (TBH, grateful we at least don't have to hear about Thompson "making out, grabbing junk, motorboating" again. As I'm sure Khloe is too.)
Look, no matter what happened, I'm sure we can all agree that Khloé should dump Tristan's ass once and for all. But given how close Jordyn is to the family (remember that recent series of her and Kylie in blackface matching bikinis?), I'm obviously very excited concerned to see what kind of rifts this incident could cause. Here's what the Internet has to say so far, and all the hints we've gathered that the cheating rumors are true.
First off, Tristan apparently tweeted "FAKE NEWS" following the incident—then deleted it.
While many of us might take that as confirmation the reports are false, if we've learned anything from James Kennedy (or Trump, for that matter), when someone calls something "fake news", that means it's incredibly likely to be real news, and furthermore, that there's probably proof of it. (Otherwise why would his publicist demand he take down the tweet? Famous men have lied their way through worse…)
Confounding this "did Jordyn Woods hook up with Tristan Thompson" sh*tstorm is this recent Instagram from Jordan, but more importantly, this comment by Khloé.

This photo was uploaded two days ago, after the alleged cheating would have occurred, and still Khloé commented "baby girl". If Jordyn did hook up with Tristan, would Khloé really be commenting cute things on her Instagrams? Then again, if the timeline of the incident is to be believed (which I will get to in a second), this comment could have occurred literally right before Khloé found out about the alleged cheating.
Next up in the "they really hooked up" evidence, we have this incredibly cryptic tweet from Jordyn—posted Sunday, the day she and Tristan allegedly hooked up.
I could love you and still cut you tf off.

— Jordyn Woods (@jordynwoods) February 17, 2019
In it, she says "I could love you and still cut you tf off." Which yeah, is one way to announce to your close friends that you're a cold-blooded sociopath who will hook up with the father of their children at any point. Though in her case, it's really more the Kardashian/Jenners who have the ability to "cut someone off" here—by which I mean Jordyn is dreaming if she thinks her career is not taking a hit from this. You don't mess with America's royal family and come out on top, honey. You can talk to Blac Chyna about that.
While Jordyn and Tristan are busy being shady on Twitter, the Kardashians and their allies are sharing their feelings with another time-honored social media tradition: the telling Instagram comment. In a now-deleted post by Hollywood Unlocked, founder Jason Lee puts forth a pretty damning series of claims about the incident.
In the video, Lee confirms the entire thing. He says one of his writers was there, and reported to Lee that Tristan "took everybody's phone" (yikes), then Jordyn came in and "was all up in lap," " was all over her," "touchy-feely," and—the kicker—"you let the girl stay the night until seven in the morning." Honestly, I'm feeling like this is all the proof I need—and Khloé and her friends seem to agree.
Thanks to Comments By Celebs doing the lord's work out here, you'll notice Malika Haqq (Khloé's BFF) commenting "STRONG FACTS," Larsa Pippen (another family friend) commenting "Amen!!!" and Khloé herself just adding shouting emojis. If I were Khloé, my entire brain would just be shouting emojis at this point, so I really feel that. Malika goes above and beyond to prove herself as bestie of the year (to be fair, the bar just got way lower), and commented on another post about the situation saying "These hoes ain't loyal."
So…Malika in, Jordyn out? While Kylie hasn't officially responded to the rumors yet, a source told E! News that "the whole family is writing Jordyn off," and adds that Kylie "was in denial for days." For now, it doesn't seem like the Kardashians have taken action—Khloé and Kylie still follow Jordyn, and in other mildly suspect news, Jordyn and Tristan don't follow each other.
In a final twist to this situation, which I am updating in real time, Tristan apparently admitted to Khloé that it was true when she confronted him. Several sources approached Us Weekly that Tristan "admitted it was true" when she confronted him on Monday.
And there we have it. Tristan Thompson and Jordyn Woods are over, cancelled, done.  Can't wait to see what kind of pointed inspirational quotes Khloé posts on her Instagram for the next month, and really can't wait for a Revenge Body: Part II. (In that one, she gets Hulk-strong and beats the sh*t out of all her exes).
Images: Instagram; Twitter; Instagram; Instagram
Lena Dunham Is Making A Show About Fake Socialite Anna Delvey
This week, The Cut published a profile on Lena Dunham. The piece is being hailed as a refreshing look at female pain, and an illuminating profile on someone from whom we all assumed we'd heard more than enough. While the piece was indeed less insufferable than I feared it would be, one piece of information included was enough to ruin my day. Lena Dunham has a deal with HBO to create a series on fake German heiress (and real Russian scammer) Anna Delvey. You may have missed that tidbit in the extremely long profile, but yes, a Lena Dunham show about Anna Delvey is supposedly in the works.
In case you don't remember Delvey's story, here's a quick refresher. Delvey broke into the NYC socialite scene after a Parisian fashion internship. With vague claims about wire transfers and generational wealth, she scammed her way into almost $300,000 in unpaid bills for her luxurious lifestyle. She even made up a fake financial adviser, whom she then killed off when people grew suspicious. Last we heard from her, she was somehow Instagramming from Riker's Island. In other words, a baller through and through.
Me to Anna Delvey: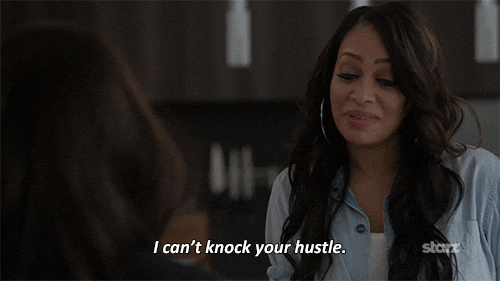 Lena Dunham, last we heard from her, was making a show called Camping, of which no one I know has been able to stomach more than one episode. And yes, we all watched all of Girls, but very few of us felt ultimately good about it. As far as careers go, Lena Dunham's has aged about as well as the box of Chinese takeout I ordered on Saturday night that's still sitting in my fridge. Seeing as Anna Delvey's story of scamming has been a bright spot of joy in an otherwise bleak news cycle, I'm not thrilled about the prospects of a Lena Dunham show about Anna Delvey. Like, ruin Williamsburg all you want, but when you come for my scammers? That's where I draw the line.
The good news is that Lena isn't the only person who's been given the opportunity to translate Delvey's scamming stories to the screen—we've known for a while now that Shonda Rhimes was also tapped to create a series for Netflix about her. Now, when I heard Shonda Rhimes was making her own Delvey show, I was thrilled. Rhimes' handle on sexy, fast-paced drama is exactly what Delvey's story needs. We need secret love affairs, high-fashion montages, and constant overlapping power plays. What we do not need is mournful shots of Delvey on the toilet while a Belle & Sebastian song plays.
The silver lining here? Whatever it looks like, the Lena Dunham show about Anna Delvey can't possibly be as bad and/or offensive as her adaptation of a Syrian refugee's story will be. Cheers to that.
If you love scams, cults, conspiracies, and true crime, listen to Not Another True Crime Podcast! New episodes out now.
Images: Getty Images; Giphy (1)
Tristan Thompson Allegedly Got Caught Cheating On Khloé Kardashian
BREAKING NEWS: We interrupt this broadcast of waiting impatiently for Khloé Kardashian's baby to report that MEN ARE STILL SCUM. That's right, while sweet Khloé sits at home in Cleveland waiting for her little daughter to arrive, Tristan Thompson was reportedly spotted in New York making out with some other girl. The pictures are all over the internet, and this seems like it's the real deal. It's a sad day to be obsessed with the Kardashians, but alas, this is the life I've chosen for myself.
Tristan was reportedly in NYC with his basketball team staying at the Four Seasons, and apparently he thought that was a free pass to act like a high school senior on a spring break trip to Punta Cana. He allegedly brought a woman back to the hotel, where they hung out four hours, before heading out to a club together. There, people with cameras on their cell phones (aka everyone, it's fucking 2018) took some very incriminating photos and videos of them together, and things aren't looking good. The woman is likely Instagram model Lani Blair, but honestly I don't really give a shit about her in all of this. Tristan sweetie, I have a major bone to pick with you.
Jesus Christ Tristan, how could you be so stupid? Do you not realize that you're a fucking public figure, who gets followed around with cameras everywhere you go? Do you not realize that you have a girlfriend who is sitting at home literally about to give birth to your child any fucking minute? What the fuck is wrong with you!!
Unfortunately, this isn't the first time Tristan has had trouble staying faithful to a woman that he got pregnant. He has a child with blogger Jordan Craig, but they weren't exactly trying to make things work for their child. Actually, Tristan most likely got involved with Khloé while he was still with Jordan (at the very least, Jordan was still pregnant at the time), making this whole thing a gross web of shitty decisions by Tristan. By the time Jordan gave birth, Tristan and Khloé were already living together. I'm sorry, but that's just not normal. That might be worse than Blac Chyna having a baby with Tyga, then another one with Rob Kardashian. Maybe, I'd have to think about it more. This family is fucking weird.
Tristan hasn't yet commented on the situation, and neither have any of the Kardashians, but who knows what will happen. The rest of the internet is treating the situation like a factual crisis, and Kylie's BFF tweeted something that seems like it's directed at Tristan.
damn.

— Jordyn Woods (@jordynwoods) April 10, 2018
Either Jordyn is super late in discovering Kendrick Lamar's last album, or she's just as shook as the rest of us. Either way, I just feel really bad for Khloé. Even if you think the Kardashians are the most annoying people in the world, no one deserves to be cheated on when they're literally on the brink of birthing a human. Tristan has a lot of explaining to do, but Khloé might want to start planning her triumphant return to LA. She probably hates living in Cleveland anyway, let's be real.
Images: Shutterstock; @saybiblepodcast / Instagram; @jordynwoods / Twitter 
The Right Wine To Pair With Every SkinnyPop Flavor
Last night marked the beginning of the end, the premiere of the last season of Scandal. Can we please have a moment of silence for Olivia Pope and her incredible collection of winter white coats? **Pause** Thank you. Before I continue, how tf is Scandal ending before Grey's Anatomy? Are you high, Shonda? Grey's hasn't been worth a shit since my junior prom, and Scandal is still amazing. Sigh… I should have gone into television. But back to the point. There's only one good way to say goodbye to our favorite political DC betch: With her fave meal, aka popcorn and wine. Fucking duh. In preparation for the big farewell, we've done a wine pairing for all the SkinnyPop flavors, so you can avoid getting fat off movie theater butter and not look like a total wine newb, by mixing shit that doesn't go together.
And if you're wondering who made me wine goddess and how I even know what I'm talking about, I consulted with my friend who's a level 2 sommelier, so this shit is legit.

Before all you SkinnyPop aficionados @ me about how there's aged white cheddar and regular white cheddar and which one goes with what, I'm putting them both here, because they're basically the fucking same. A cab is rich and full-bodied and brings out the intense flavor of sharp cheddar, making it the perfect wine choice for all you cheesy popcorn lovers.

2. Jalapeño + Sauvignon Blanc
This pairing doesn't just go for popcorn, you can pretty much use this with any type of green pepper-infused food. Sauvignon Blanc, specifically from New Zealand, has bright green pepper notes that complement the spicy jalapeño flavor.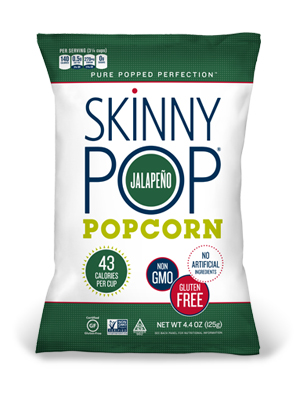 The newest popcorn to join the SkinnyPop fam, pepper jack is a perfect match for rosé. Because jack cheese is extremely mild, you're going to want a light wine that doesn't overpower it. Like the jalapeño/sav b combo, the brightness of rosé is great with the heat the peppers bring to the mix.

A buttery chardonnay with buttery original SkinnyPop? Groundbreaking.

At this point, you're probs picking up on the idea that you match the flavor of the popcorn with the undertones of the wine. So the sugary Naturally Sweet variety is going to be best paired with a sweeter wine like Riesling. And no. Not a moscato, because that's disgusting, and you're better than that. You might as well put fucking Welch's in a wine glass, if that's your vino of choice.

Tbh, you can pretty much pair this with anything, because it's just a little S&P. Nothing too crazy, flavor wise. But our profesh opinion is that if this is your go-to popcorn flavor, you pick up a nice pinot noir to wash it down. Pinots tend to have a peppery note to them that will enhance the, you guessed it, pepper.

Blac Chyna Talked Major Sh*t About Rob Kardashian
It's been about a week since Rob Kardashian's Instagram revenge porn spree, and Blac Chyna isn't wasting any time making sure people are on her side. On Monday she obtained a temporary restraining order against Rob, and now she's done an exclusive interview with ABC News to tell her side of the story. We got all the details so you don't have to.

She says that she felt devastated and betrayed by all the stuff that Rob posted about her, especially because she used to trust him. "I felt comfortable…sending these pictures and even talking to him about certain things," she said. It's not exactly surprising that they were comfortable talking about "some things" considering that they were literally engaged and had a child together, but clearly this isn't your average relationship.
Her explanation for the explicit video that Rob posted of her was pretty great stuff. She said that she and Rob had been broken up for months, but he still wouldn't leave her alone. So she decided to send him the video of her in bed with another man, hoping that he would just give up. Girl….

Chyna also said she's hurt that no members of the Kardashian family have reached out to apologize to her, especially because she was friends with Kim before she ever met Rob. To be fair, none of them are probably talking to Rob either. They're too busy Snapchatting their workouts and posting about Sugar Bear Hair gummies on Instagram.
In the interview, she took the time to respond to those who say she only dated Rob for the fame, saying that she was already Blac Chyna before dating a Kardashian. Okay, so that's technically true, but you didn't have your own TV show and you definitely weren't getting an exclusive interview with ABC News. Rob is obviously an idiot, but don't pretend that the Kardashians haven't helped your career.

Chyna's lawyer was also there to say all the things we already know about how what Rob did was fucked up, but we've been over that. Chyna isn't letting this go away, and we suspect this won't be the last interview she gives.
Calvin Harris Wants To Get Back On Taylor Swift's Good Side
Last summer, Taylor Swift reached peak snake status. Kim Kardashian posted that infamous video recording on Snapchat, and Taylor broke up with Calvin Harris like a week after he was in a car accident. But one of the best parts was when Calvin completely went off about Taylor on Twitter.
It was just after "word got out" that Taylor had actually written the lyrics for "This Is What You Came For," and Calvin was having none of it. He tweeted that Taylor should focus on her new relationship (Tom Hiddleston, RIP) instead of "tearing your ex bf down for something to do," and that she was trying to "bury him like Katy but I'm not the guy."

Cue applause, bouquets of flowers, Champagne, because it looked like Calvin was 100% fucking done with Taylor's bullshit and was ready to go on the warpath. Buuuuuut it was all too good to be true. In new quotes that have surfaced from an interview with British GQ last year, Calvin says that he acted on the wrong instinct, and that he just snapped after feeling like his talent was belittled.
He says that he doesn't blame Taylor but the media circus got to him and blah blah blah are you done yet? Like, sorry if Taylor's 12-year-old fans aren't buying your new album, but this is just lame. If Taylor went around apologizing after saying something bad about an ex, she literally wouldn't have any music left. Her Spotify catalog would basically be "Welcome to New York," and then some shit from the Hunger Games soundtrack.

Calvin, we liked you. Sometimes your taste in women is questionable, but you've given us no less than three Rihanna bangers, and for that we are grateful. Now grow a pair and don't say anything nice about Taylor Swift ever again.