The Best & Worst-Dressed From The 2020 Golden Globes
Last night, we all begrudgingly watched the 77th Golden Globes, officially kicking off the two-month long headache that is awards season. As always, the show was… whatever, with lots of shows and movies that you probably haven't seen winning the awards. Don't worry, we'll do a full recap on all the highlights and lowlights in a bit, but for now it's time to focus on what's important: the red carpet. This year, Hollywood's biggest stars paraded around in looks that ranged from stunning to stunningly bad. This red carpet really had it all: feathers, rhinestones, and Gwyneth Paltrow in a fully see-through Victorian gown. Yeah, idk either.
Here's our breakdown of the best and worst looks from the 2020 Golden Globes red carpet, and if you disagree, I'll see you in the comments. Drag me!
Worst: Jennifer Lopez

Jennifer Lopez has spent 20 years breaking the internet in gorgeous gowns, so I guess it was only a matter of time til she, well, f*cked it up, and I may be the only person brave enough to say it. Her dress looks like the Christmas poinsettia that my mom probably still hasn't thrown away. Honestly, if J.Lo ever doesn't know what to wear to one of these events, she should just throw on the jungle dress again. No one would complain!!
Best: Billy Porter

As has become tradition at every event he attends, Billy Porter said "f*ck gender norms" and shut down the red carpet. His sparkly white jacket with a full feather train is the exact amount of extra that I'm trying to bring in 2020. If you're getting married this year, sorry, but I'm going to wear this and look better than you.
Worst: Taylor Swift

Taylor's hair and makeup look great, and this is a pretty dress, but it looks like something I'd wear to a bridal shower, not the f*cking Golden Globes. However, the biggest joke of all was that Taylor Swift was at the Golden Globes not as Joe Alwyn's plus-one, but because she was actually nominated… for Best Original Song from CATS.
Best: Ana de Armas

Ana de Armas was nominated for playing a woman who can't stop puking in Knives Out, so I was hoping her look wouldn't make me want to vom. She f*cking turned it out in this sparkly navy gown, so good for her. She has like five movies coming out this year, so she's definitely one to watch.
Worst: Charlize Theron

To put it simply, Charlize Theron's dress looks like it was inspired by the slime at the Kids Choice Awards. (I'm also getting slutty Jim Carrey in The Mask vibes.) Honestly, this dress would've been painful in any color (an exposed corset? Is this an unfinished Project Runway look?), but the choice to go with lime green is puzzling. Also, can we please, PLEASE not do capes on the red carpet anymore?
Best: Saoirse Ronan

Of all the people who showed up in dance recital rhinestones, Saoirse pulled it off the best. She looked classical and effortlessly beautiful, and she looks like she's wearing a swipe of mascara and that's it. The bitch.
Worst: Sofia Carson

We love Sofia, which makes this look all the more painful. This is gonna hurt me more than it hurts her: she took the top half of Ariana Grande's fluffy pink top in the "Thank u, next" video (the one where she's Elle Woods doing the Bend and Snap) and the bottom of a shower loofah. Really, loofah dresses should have never started, but since I can't invent a time machine, they should have stopped last year. The hair didn't help either… this reminds me of New Year's Eve, when I tried to pin my hair up in a fake bob to look like a flapper, and it started falling out after one tequila shot.
Best: Kerry Washington

Olivia Pope don't need no shirt! Minus the jewels that probably cost more than my parents' house, this is the exact outfit I wore to every CEOs and corporate hoes mixer in college. I'm not mad about it.
Worst: Joey King

Joey King showed up in a couture look that's like an optical illusion, but it didn't quite trick us into liking it. Honestly, if she had just shown up dressed as Gypsy Rose Blanchard, I would've put her on the best-dressed list. Shame!
Best: Nicole Kidman

It feels like Nicole Kidman is nominated every single year, but she always looks great on the red carpet. Nicole is one of those people who can basically pull anything off, and she didn't disappoint in this simple but stunning red gown.
Worst: Dakota Fanning

Dakota is one of the most beloved child stars, but I think she missed the memo that she's no longer a child. This dress is pretty, but it looks like what the little girl wears to the fancy family Christmas party. I'm glad Dakota hasn't become a mess like some other child stars, but she could stand to edge it up a little.
Stay tuned for our full Golden Globes 2020 recap, and like I said earlier, drag me in the comments.
Images: Getty Images (11)
Male Awards Voters Are Reportedly Skipping "Little Women"
The phrase "Dream Team" gets thrown around a little too often. Whether it's someone referring to a bagel and iced coffee combo or when your coworkers talk about their trivia team that came in third, it's been a little overused. The only time in recent history that it was beyond appropriate, perhaps even understated? When referring to the new Little Women film adaptation.
Directed and written by Greta Gerwig, actual genius and force behind Lady Bird and Frances Ha, this film was immediately considered to be a Film Du Jour. On top of that, you have top female producers behind it and… a cast that is essentially Fantasy Football but for the Oscars: Saoirse Ronan, Emma Watson, Laura Dern, Timothee Chalamet and yeah, Meryl Streep. An aggressively white period piece with quirky mainstream talent is usually the definition of Oscar bait. Which is why so many people are confused as to why it's barely making any buzz in the award circuit this for? Oh yeah, men. 

The film's big name producer Amy Pascal told Vanity Fair that male critics and awards voters don't appear interested in a female-fronted film that tells the dynamic coming-of-age stories of a brilliant case of women.
According to Vanity Fair: "RSVPs for the first screening in October, as well as many others that Sony Pictures hosted around Los Angeles in recent weeks, were skewed about two to one in favor of women."
"I don't think that came to the screenings in droves, let me put it that way," Pascal told the outlet. "And I'm not sure when they got their DVDs that they watched them." She also noted she believes the skewed audience is more "unconscious bias" than "a malicious rejection,"
While women are mainly showing up for the screenings, men still dominate voting membership for major awards, though organizations are making progress towards gender parity.
It's unfortunately not shocking that men aren't flocking to this "coming-of-age period drama" because unfortunately John Wick is in zero scenes. Additionally, the title is a combination of two of their least favorite words: Little (unlike their penis, they swear) and Women. And no, this isn't an Elizabeth Banks defending Charlies Angels like reasoning, but it sounds like they quite literally just aren't showing up.
The snubbing has already begun with the Screen Actors Guild Awards COMPLETELY shutting out the film, which has a 97% Rotten Tomatoes score. (Don't worry, they of course nominated The Irishman five times). The Golden Globes only gave the film two noms: Best Original Score and Best Actress for Saoirse. Naturally, when you see Saoirse's name you immediately just write "Award Nominee" (which makes it very awkward for her at Starbucks) so her recognition was a given, but for the rest of this team to be snubbed is a bad sign for the Oscars—and just a harsh reality check about women-driven films. 
Pascal also noted that "Queen & Slim" which was directed by Melina Matsoukas and features police violence against an African American couple, has also been ignored by the awards.
"I think it's kind of the same thing. It's a different bias," Pascal told Vanity Fair. ", These kinds of stories are important to me, and these kinds of stories are less important to me."
Tracy Letts, one of the actors in Little Women, is tired of this (rightfully so), telling Vanity Fair that he "can't believe we're still having this f*cking discussion where movies by men, and about men, and for men are considered default movies. And women's movies fall into this separate and unequal category It's absurd."
See, men, it's not hard to make us swoon for you, just say that you believe things should be equally respected And I mean, Oscar nominations haven't been released yet, and on top of that the film hasn't even come out for the public, so hopefully the Oscar's end up making up for these snubs (which, is an lol considering their history) or at least public opinion can sway people's minds about this movie about a beautiful, important story. 
The Oscar Nominated Movies You Need To See & Where To Watch Them
The 90th Academy Awards are coming up, and unless you want to spend the entire night refreshing Instagram and wondering WTF Jimmy Kimmel is talking about, you're gonna need to watch some movies. This year's Oscars is gonna be good, and not just because of the endless shade-throwing at Harvey Weinstein. It's been a weird year for Hollywood, but the films have been great, so if you don't see some of the nominated movies beforehand, you're missing out on good movies and a ton of cultural references.  I've basically spent the past two months generously donating my paycheck to AMC Theaters, so I've seen like, every Oscar nominated movie. Here are seven Oscar movies you should watch ASAP, and some tips about where you can still find them.
1. Lady Bird
Lady Bird has been out for a while, so if you haven't seen it yet, I'm just really impressed that you've literally had social plans since Thanksgiving and haven't caved for a good movie night. I personally saw Lady Bird as soon as it came out, and I knew it would be nominated. It's like I have ESPN or something. It's nominated for best picture and four other categories too, so it's v relevant. Plus, Saoirse Ronan kills it as the lead and Greta Gerwig is the film's badass female director, so yeah, the future is fucking female. Unfortunately, the movie isn't in many theaters anymore, but it's being released on iTunes and Amazon on February 13th, so you have no excuse.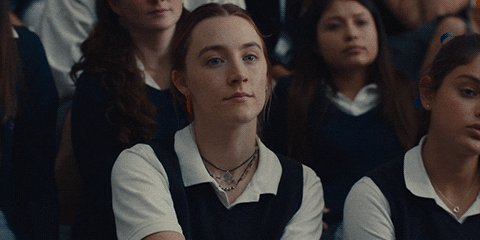 2. Three Billboards Outside Ebbing, Missouri
Also nominated for best picture, also amazing. If you're not familiar with Frances McDormand, she's the one who was cursing at the Golden Globes and accidentally wore navy when everyone else wore black. She DGAF and I'm kind of obsessed with her. This is one of those movies that you're literally passionate about after it's over. Go see it. It's still playing in a few theaters, but in case you can't find it, it'll be available on Redbox on February 27th.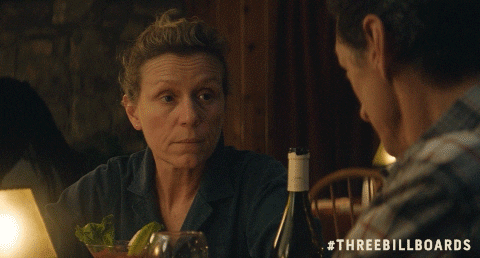 3. The Post
Some people told me they thought The Post seemed slow, but honestly I loved it, and it's not just because I have an actual crush on Meryl Streep. Tom Hanks kills it too. Have I mentioned Meryl Streep? The whole movie is about the Pentagon Papers being published in the Washington Post, and even if you don't care about journalism or politics, you'll love the story because Katharine Graham is literally an American icon. Oh yeah, and it's a true story. The Post is still playing in most theaters, so cancel your plans this weekend and go see it. Sorry, you're gonna have to leave the house. That's all.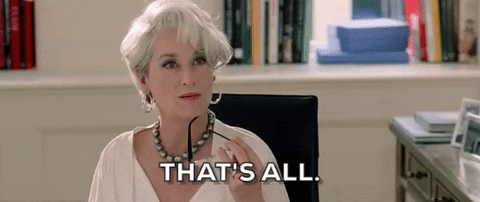 4. I, Tonya
Another American classic. I, Tonya is incredible because you basically follow a true story without really knowing what happened or who's telling the truth, even after the movie's over. The skating is sick, the costumes are great, and Margot Robbie might actually beat Nicole Kidman for my favorite Australian. Critics are saying the film is being snubbed this year because it only has three nominations, but, like, that's enough to see it. This one's also still in theaters. Go.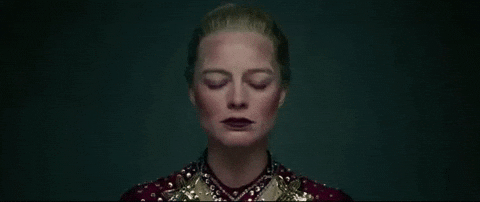 5. Dunkirk
Dunkirk is one of those movies that you hear about it and immediately dismiss it to go see Kate McKinnon in Rough Night, but then you hear everyone talking about it and reconsider your decision. Dunkirk is basically nominated for every category—best picture, director, cinematography, film editing, sound editing, production design—you name it. Again, even if you don't care about politics or war movies, it's worth seeing, because it's literally mind-blowing. It's also just a really important part of history, so like, it doesn't hurt to educate yourself a bit. The best part is that it came out in the summer, so it's already available for streaming on Amazon, YouTube, Google Play, and Blu-Ray. Blessings.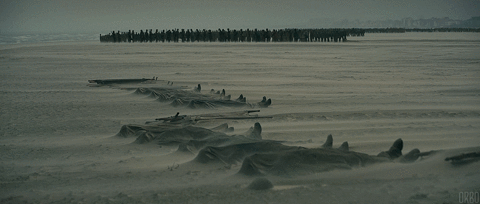 6. The Shape of Water
Okay, HEAR ME OUT on this one. When I first saw The Shape of Water, I was kind of weirded out by the whole girl/merman romance plot, and couldn't really get past that. But honestly, this movie has 13 nominations and it is sweeping every category. It's breaking records in film history, and for that reason alone it's worth seeing. Plus, the special effects and cinematography are actually really cool, if you're into that stuff. It's also v dramatic, so you're kind of on the edge of your seat the whole time. You know, once you get past the whole underwater sci-fi storyline. You'll be able to watch this on Amazon starting on February 27th, which gives you just enough time to squeeze it in before the Oscars.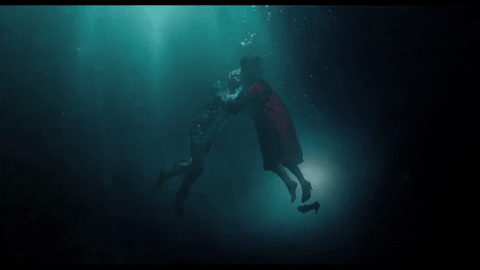 7. Molly's Game
People might hate me for this one because Molly's Game only got one nomination, and films like Get Out and Call Me By Your Name might be way more important. Those movies are good too, HOWEVER, I'm recommending Molly's Game because it totally deserved more than it got. I mean, aside from the fact that Jessica Chastain was literally at her all-time prime, the actual story is fascinating, and personally I'd like to meet the real Molly Bloom and ask her like, a million questions. It's a true story and it's fast-paced and super interesting. Even if you know nothing about poker you'll still love it. You just might need to Google a couple things afterwards. You'll also have to get your ass to a movie theater to catch this, but did I mention Idris Elba is in it? Yeah.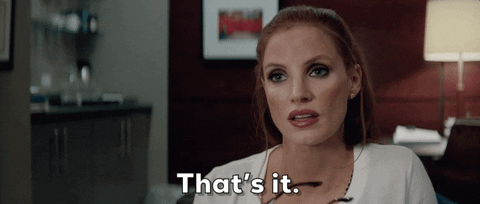 Images: Courtesy of NEON and 30WEST; Giphy (7)