What's 'Sex And The City' Without The Woman Who Brought All The Sex?
And just like that, another TV show reboot that we probably don't need is announced. On Sunday, Sarah Jessica Parker, Cynthia Nixon, and Kristin Davis graced our Instagram feeds with a short trailer alluding to the fact that the iconic 1998 show, Sex and the City, was coming back to life. I was fully prepared to leave this franchise behind me after their failed attempt at a third movie, but this revival has left me quite intrigued. As I watched the And Just Like That teaser three different times on each of the stars' accounts, I (say it with me now) couldn't help but wonder, where was Kim Cattrall? Surely, we couldn't have Sex and the City without the woman who brought all the sex?!
As bummed as I am, it shouldn't be a surprise that Samantha Jones would not return in a SATC reboot. Kim Cattrall mentioned in several interviews that she would not partake in another iteration of the iconic show. I mean, who can blame her? The off-screen drama with SJP and other members of the cast was even more dramatic than the scripted fights they got into. (In 2018, following the passing of Cattrall's brother, she dragged SJP on Instagram, writing, "You are not my family. You are not my friend. So I'm writing to tell you one last time to stop exploiting our tragedy in order to restore your 'nice girl' persona.") Kim perfectly put it when she said, I don't want to be in a situation for even an hour where I'm not enjoying myself."
Since we won't get an appearance from Samantha Jones, I'm having trouble figuring out who is going to bring all the entertainment, iconic one-liners, and even an ounce of flavor that this show lacked from its cis, hetero, all-white cast. (Though perhaps HBO will take this moment to shake up said cis, hetero, all-white cast.) Who will be the voice of reason when Carrie is full of sh*t? Who's going to remind Charlotte that she shouldn't be so uptight and stuck in her ways? Is there going to be a fourth character who is equally as successful and ambitious as Miranda, but not an absolute buzzkill? 
If the show "must go on", then I suppose all we have left is to reminisce on the hilarious and completely out-of-pocket moments that Samantha Jones brought to our televisions for six seasons and two feature films. Join me as I pour one out for the unapologetic, pleasure-chasing publicist, and look back at some of her best moments.
Season 1, Episode 1 "Sex and the City"

From the very first episode, Samantha was serving realness to her delusional dater friends. I actually love that the pilot is basically about Carrie deciding to live the way Samantha has always been living and turning this into a revelation all about herself. Kind of telling, if you ask me…
Season 1, Episode 10 "The Baby Shower"

Another moment where Samantha was anything but subtle! While there is absolutely no shame in those who choose to be mothers, it was hilarious (and empowering) to see her not fall to the pressures of society and live exactly the way she wanted. Tbh, I might throw an "I don't have a baby" shower for the gifts — and the Instagrams.
Season 2, Episode 6 "The Cheating Curve"

Okay so this was definitely one of the more problematic episodes. When Charlotte decides to hang out with lesbians because she got cheated on, Carrie gets back with Big, and the whole gang debates the definition of cheating. Even with her dumb views about what constitutes infidelity, Samantha manages to give this nugget of, dare I say, good advice, that is eerily reminiscent of what my therapist has been trying to tell me for years. Who knew I could have just watched Sex and the City and saved myself the copay.
Season 2, Episode 7 "Chicken Dance"

In this episode, Samantha realizes the guy she just slept with, she'd actually already slept with 15 years prior, and it feels like a bleak look into my future. Also, they all attend a wedding where Carrie is reading a poem, which is where Samantha delivers this one-liner that my mid-20s self can relate to all too well. Ok, who am I kidding, this quote is timeless regardless of my age.
Season 4, Episode 10 "Belles of the Balls"


I'm sorry, but does she or does she not spit the absolute truth? One thing about Samantha was that she played like a man living in a man's world (again, as discussed vis-à-vis the pilot episode and overall premise of the show), and did it well.
Season 5, Episode 4 "Cover Girl"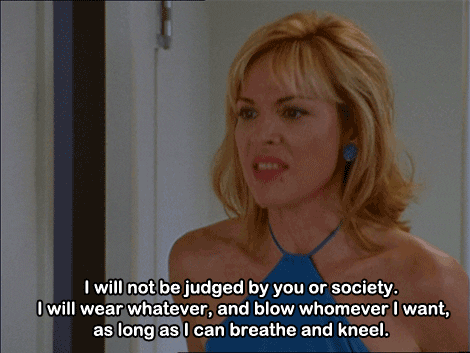 And just like that, we go from profound commentary on sexist double standards to a sexually explicit quote. Gotta love the woman's range. Even from her own best friends, Samantha had to defend herself from being slut-shamed, much like in this episode when Carrie judged her hooking up with a delivery guy. First of all, I would love to see that high-and-mighty attitude amidst the pandemic, when the delivery guy is the only person of the opposite sex with whom I regularly interact. Tbh if any of my friends did this, I'd be applauding them for (hopefully) getting a friends and family discount on Seamless.
Season 5, Episode 6 "Critical Condition"

Kind of conceited to think that any given person in New York City knows who you are, but I'll give her this one. I'll surely miss how unapologetic Samantha is, and how she does and says whatever she wants without worrying about how others will react.
Season 6, Episode 2 "Great Sexpectations"


Where would we be without that one friend who gives top-tier sex advice? Definitely not having as much sex as Samantha was, that's for sure. Thank God Carrie, Miranda and Charlotte had Samantha to remind them to not just have more sex, but good sex. Not sure they ever truly took her advice, anyway.
Images: HBO; Giphy
Recap Of The 'Sex And The City' Pilot From Someone Who's Never Seen It
Yes, what you just read is true. I, a living, breathing woman between the ages of 25-35, have never seen Sex and the City before. Why, you may ask? The answer is simple, honestly: my parents would have rather chopped off their own feet and cooked it up for dinner than let me watch a show that had "sex" in the title as a kid. (When girls in my grade made their bat mitzvah themes things like "Lex and the City", my mother was positively scandalized.) And yet in my house, we grew up watching Law & Order: Criminal Intent as a family, so what does that say about me? 
Anyway! Once I got older I really had no interest in watching Sex and the City, an opinion that has been reaffirmed by the countless articles pointing out just how cringeworthy and problematic it was. I thought that, coming upon my third decade of life, my complete ignorance of this cultural phenomenon would become irrelevant, much like the show's fashions. But now that a reunion has been confirmed, I feel the need to finally try to understand what everyone was talking about 20 years ago. I think I know the gist: Carrie is the annoying one, Samantha is the slutty one, Charlotte is the prude one, and Miranda is just kind of there. At least, that's what the memes tell me. We all are sooo one of these characters. We all want to be the Carrie (for reasons that elude me) and yet are probably all the Miranda. 
So, in an effort to finally be able to relate to people and not have to pretend-laugh at Sex and the City references, I decided to fire up my friend's HBO Max account and see what the fuss was all about. Here's my honest recap of the Sex and the City pilot.
The eponymous pilot opens with our narrator Carrie typing, "Once upon a time, an English journalist came to New York. Elizabeth was attractive and bright, and right away she hooked up with one of the city's typical eligible bachelors." I'm not going to retype this whole monologue, but the gist is, Elizabeth made the classic New York mistake of hooking up with a finance bro. And just in case you aren't from the city, Carrie makes sure to hit you over the head with how "quintessentially" New York the whole encounter is, by saying "in typical New York fashion" at least six times throughout this whole love story. If you don't live in New York, let me just say, that yes, it is in typical New York fashion to have a guy blow smoke up your ass and then completely stop speaking to you after he stands you up for plans that he proposed in the first place!! Sorry, I'm fine. It's fine.
Elizabeth's love story is much like my own, in that Elizabeth and our finance bro "dated" for two weeks until he ghosted her. The only difference is that at least Elizabeth got dinner out of it, when all I get are drinks and a vague promise to order a pizza if I were to come over to "watch Netflix". Or, at my lowest point, one 99-cent can of Arizona iced tea. So, I know this show premiered in 1998, but to me, the fact that this is a story worthy of an investigative-type piece in a literal newspaper is alarming. I wonder if I could get a job at the NY Post using my diary entries as writing samples at this rate?
Further underscoring my point that Carrie should not be a professional writer is this little gem of hers: "Cupid has flown the co-op," she says, with a self-satisfied smile. I hate it with every fiber of my being, and it's kind of sad to me that straight women in the late 90s apparently were getting treated like sh*t by men in the same way that we are now, but apparently nobody was talking about it? The only thing worse than getting ghosted left and right is thinking you're the only one who is getting ghosted left and right. I suppose if we can't get better treatment, at least we have the memes.
Cut to a montage that feels reminiscent of Hitch (don't come for me, I'm very aware of who must have inspired whom in this scenario) of random dudebros giving their takes on why so many amazing women are single. Oh boy, I feel a rage blackout coming on. One guy, in between chest presses at the gym, says that it's because in their 20s, guys are controlled in relationships by women. By their 30s, they're "devoured by women". He says that like it's a bad thing, but I feel like any straight man would be thrilled to be devoured by women. What do you all want!

Another dudebro doing bicep curls says, "you don't want to do it with someone over 35, because you have to have kids right away." He advises women over 35, "forget about marriage and just focus on having a good time". I almost shut the show off at this point, but decided to persevere at the expense of my blood pressure and general well-being.
Cue more sexist and ageist nonsense: older women don't want to settle, what women really want is Alec Baldwin (no thanks, if I wanted to get screamed at for no reason, I'd do more SoulCycle classes); women are too picky and turn down guys left and right for being too short, fat, or poor. Enter: Miranda with some sanity, to say that even the short, fat, and "poor" guys are still assholes. (It's almost as if you can't tell if someone's a good person by their height, weight, or bank account.) Gotta be honest — I did not come here to affirm how timeless this show is, but the degree to which I feel attacked is proving otherwise. 
At Miranda's 30-something birthday dinner — that was not me being lazy, they only specify it's a birthday in her 30s because, you know, women aren't allowed to age — Samantha comes prepared with some wisdom. She says, you can either bang your head against the wall and try and find a relationship or you can say "screw it" and just go out and have sex like a man. 
Charlotte: You mean, with dildos?
I mean, she's not wrong.
Miranda says that guys in New York don't want to be in a relationship with you, but they also don't like it when you only want them for sex. "All of a sudden, they can't perform the way they're supposed to," she says. I know this is not ~the point~ but Miranda saying that a man's only purpose is to provide sexual pleasure is kind of iconic. Am I too jaded to properly critique this show?
Carrie: Oh come on ladies, are we really that cynical?
Speaking for every single woman in New York:

I've decided that I'm definitely a Miranda because of this part where she's like, "this guy took me to dinner and read me a poem. What a serial killer, can you imagine?" *Scrolls up to earlier musing about how I don't even get taken to dinner* Interesting.
Carrie's like, "So you really think it's possible for women to pull off the whole 'having sex like men' thing?"
I will say that I do kind of resent that the premise of the entire show is built on this toxic double-standard where only men can have unattached sex. Do the women really have to be having sex "like men" or could they simply be having casual sex? The whole thesis is basically, "Women be catchin' feelings, am I right?" And look, I know this was 1998 and maybe that's the only lexicon they had at the time, but now it feels incredibly lame to have a writer's room that's like, "what if we have women… who date… now hear me out…. like men! Enjoying sex and everything! Genius, isn't it!!"
And just when I thought SATC might be somewhat timeless in its accurate portrayal of dating in New York, while at lunch with Carrie, Stanford hits us with this dumbass quote: it's straight love that has become closeted. Right, because I'm afraid to walk down the streets of New York holding the hand of my boyfriend for fear of vitriol or attacks. I bet the writer who came up with that one was real proud of themselves.
But they're back to realistic portrayals by giving Carrie a "loathe of my life" named Kurt Harrington (tracks) with whom Carrie kept hooking up throughout her 20s despite Kurt being a walking piece of trash (tracks again). I feel… reluctantly seen. However, Kurt was good in bed, and Carrie decides he'll be her guinea pig in the experiment of "can women indeed have sex without getting attached?" 
Carrie's big pickup line? "So, how's life?" Genius. I can see why they gave her a writing column. These two are practically gyrating against each other in what appears to be a crowded restaurant in the middle of the day. 
Me watching this: 

They make a booty call for 3 O'CLOCK IN THE MIDDLE OF THE AFTERNOON. Ok whatever, spoken as if I haven't done that exact thing after brunch. Ok, you're right, during brunch. 
So they bang at 3pm as indicated — or, actually, context clues lead me to believe Kurt just went down on Carrie, which is hilarious because you know Kurt is the type of guy whose face has never gone near a set of labia because he "doesn't like the smell" (you can tell by his teeth). When Kurt asks Carrie to return the favor, she says, "oh sorry I have to go back to work." Ma'am? I understand that you write a sex column, but I am pretty sure the newspaper would not count this as "necessary research" that needs to be conducted on company time.
After bouncing, Carrie is like, "I did it. I had sex like a man. I felt powerful, potent, and incredibly alive." And look, I'm all for being sex positive, but Carrie, the reason you feel powerful isn't because you had sex without immediately catching feelings (which take a minute to develop anyway—they're like Polaroids in that way). It's because you left a guy hanging. And truly, there is no feeling more powerful than that, and I support you, but let's not get ahead of ourselves. 
And it is while she's riding this high when Carrie literally bumps into the character who will be known as Mr. Big (it's amazing how much info you can glean from memes these days — maybe this is why people are so stupid). 
And there it is, the insensitivity I've been hearing so much about: When Skipper is complaining about how he hasn't gotten laid in a year because he… pause for collective gasp… respects women… Carrie says, "are you sure you're not gay?" I don't have the time or energy to explain all the ways in which this is wrong, and not a thing one person should ever say to another person. So let's just flag that and add it to the tab.
All the girls are spending the night at a club called Chaos (minus Charlotte, who's on a date with some rich guy and determined not to put out). I stopped going to clubs pretty much the second I stepped foot in Marquee, but I'm supposed to believe these 30-something-year-olds are willingly clubbing on a work night? No. 
Carrie is trying to set Miranda up with Skipper, but the problem is that Miranda will think Skipper is mocking her when he's actually just being sweet and direct. Me again. 
And I can see why Miranda is single, because she just used the phrase "ipso facto" in actual conversation. None of my lawyer friends have ever spoken this way, and neither has any real human. 
Who else happens to be at the club? None other than Mr. Big. Samantha spots him, and here comes the unintentional best line in the entire episode.
Samantha: You see that guy? He's like the next Donald Trump, only younger and much better looking. 
That line, and I sh*t you not, is followed by Carrie saying of Samantha: Samantha had the kind of deluded self-confidence that caused men like Ross Perot to run for President.
Or men like… Donald Trump. Wow, maybe we do need a reboot of this show.
Meanwhile, after Charlotte's date that apparently was at the f*cking Met Gala because she and Capote (who tf is named Capote) emerge wearing a tux and a ballgown, Char falls for the classic ruse of "want to come back to my place to check out my painting?" Except in my case, it's usually more like, "want to come up and see my roof?" when his roof is just his window and his window looks out over an air shaft.
Oh, Charlotte. Charlotte, Charlotte, Charlotte. You have fallen for the oldest trick in the book and still think you have the upper hand. The way this bitch is sighing and smiling to herself, she thinks she's some master pickup artist when she's clearly about to get ghosted.
I lied, it's even worse: Capote gets in the cab with her to go to the club! Lmaoooo is this how men acted before dating apps? Maybe millennials didn't kill dating after all. 
Speaking of the club, Samantha is over in the corner trying to fellate a cigar, and I am so uncomfortable I want to jump out of my skin. She shoots her shot, which I completely respect, although her methods are a little aggressive for my taste: inviting Mr. Big to the room downstairs. He doesn't take the bait, because we are supposed to believe he is ~evolved~ and ~sensitive~ when in reality he probably just likes being the pursuer and is turned off by a woman with confidence. Yeah, I'll say it!
In the end, Miranda and Skipper hook up and Capote takes Samantha home. And this is what we in the biz call a pretty successful night, we've got half the girls getting it in. Not bad for a club called Chaos, because if this stayed true to the name, there would have been a lot more vomit at the end of the night.
Carrie starts to walk home and then sees Mr. Big and just… gets in his car?? Is this the 1990s or the 1970s? This could easily be the intro to a Criminal Minds episode.
Carrie's bullsh*tting ability is somewhat respectable, though. When Mr. Big asks what she does for work, she calls herself a "sexual anthropologist" and says, "right now I'm researching this article on women who have sex like men." Like, you have a freelance writing assignment and you are talking to your friends about their dating lives. I do that all the time, should I be updating my resume?
Big: But you're not like that.
Carrie: Well, aren't you?
Big: Not a drop. Not even half a drop.
You can all but see the puddle that's forming in Carrie's underwear at this admission BLATANT LIE. Yeah, I'm beginning to see why people hate Carrie (aside from the terrible "cupid flew the co-op" puns). From what I've gathered (again, from the memes and a few headlines), Carrie will spend the next six seasons of this show on and off — and possibly a movie or two — doing Olympic-level mental gymnastics to justify this one statement made by Big in the back of a cab when almost everything else he does proves the exact opposite. And this is why you don't let the resident delusional dater give dating advice to the masses of New York City! Who knows how many generations of women she's led astray with her misguided musings? Okay, none, because this is a fictional show, BUT STILL. 
Carrie asks Big if he's ever been in love and he says "abso-f*cking-lutely". And that's supposed to be some groundbreaking admission? Lol, even the most twisted f*ckboys I know would admit they've been in love, but that's usually the problem: "one girl mildly hurt my feelings 16 years ago and that's why I will only lead people on from here on out." The 90s were whack. I think I've said all I needed to say on this pilot. They got the cynicism and general sense of uselessness with dating right; the rest was a lot of cringe. Samantha and Miranda are the only redeeming characters thus far. We didn't really need this reboot, and we definitely don't need it without Samantha or some sort of Samantha stand-in. 
Images: HBO; Giphy (3)
The 10 Worst Outfits From 'Sex And The City'
One good thing to come of this shelter-in-place situation is the much-needed excuse to catch up with my favorite and insane group of women. That's right, the iconic foursome otherwise known as "omg, which one are you?" is back in my life after more than a decade and, now that I am old enough to understand what's going on, better than ever! Sex and the City was the Gossip Girl of the nineties, which makes sense considering both shows have ridiculous plot lines that make no sense, absurd apartments that I'm pretty sure don't exist in New York and, of course, superb fashion, which we can blame on none other than Eric Damon, costume designer of both SATC and GG. 
Look, before I get into it, I just want to say that after wearing nothing but leggings and sweatshirts for the past three weeks, I admire the bold choices our boy Eric has made. However, after binging the whole series in an embarrassingly short period, I have seen… a lot. I can't unsee some of these outfits and I feel the need to share them with you. Full disclosure, lot of the train wrecks are Carrie's, which is to be expected, but that's not to say the other characters' wardrobes are much better. Here we go!
Guys!! What in the actual f*ck is this? If I had to write this article from memory (and not with the help of the amazing Instagram account @everyoutfitonsatc), I would still very much include this horrible look. There's so much going on with this offensively busy jumpsuit that I don't even know where to start. I admire the confidence it must take to wear this, but, like, no. She looks like a Bratz doll that never made it into stores because she's just too much and the manufacturers were at a loss on how to tone her down.
This is another outfit I would have included from memory. Tbh, I loved this midi skirt when I first saw it in 2002 and I still love it almost two decades later. The rest of this outfit, though, is an actual mess. First, what are the mechanics involved in tucking a button-down into itself without it being bulky af, and how did she manage to do the same tuck of the white tank under it? What purpose is this belt serving aside from assaulting my eyes?  I need answers, Eric! Aside from this skirt, the only good thing about this look are SJP's abs.
I swear I wore this exact same dress when I went as a Sexy Wench for Halloween 2009. Tbh, the dress isn't horrible (I'm biased, whatever), but the tragic accessories are really bringing it down. I mean, the boutonniere, chain, and silk scarf are too much. Spe
aking of which, could no one be bothered to tuck the corner of her stupid scarf in? I wish she'd swap all of the stupid accessories for a simple tennis necklace and call it a day. As Heidi Klum would say, "auf wiedersehen," honey.
Before anyone tries to drag me in the comments, let me just say that I love menswear-inspired looks on women. This unflattering disaster, however, isn't inspired by men's suiting because it is men's suiting. This would look hot af if Miranda undid a few buttons (at least enough for her to breathe) and invested some of her "I went to Harvard" money on a tailored blazer. Her only appealing accessory is the martini.
My friend got me one of these dresses as a joke when we went to Oktoberfest in Munich a few years ago and even then, I wouldn't wear it because it just looked too stupid. Why the hell, then, is Carrie wearing an actual dirndl in Central Park? The pigtails aren't helping the situation. I literally can't think of anything that would make this outfit better, so let's all agree that it's awful and move on.
Even though this chiffon top is allegedly Chanel, it's heinous, just like the rest of the outfit. Each piece is ugly in its own right and together, they make for one really unfortunate look. Eric, explain yourself! The only thing I can focus on are the little chode designs on the top. Am I a 12-year-old boy or are those tiny penises that are wider than they are long? Seriously, tell me I'm wrong.
I like to think of myself as a progressive and open-minded fashion-lover, but I've always hated overalls. These, however, are especially abominable because they look like they'd even be a little loose on the Michelin Man. I remember this episode: Miranda is on a really unfortunate dry spell and, with each passing and sexless day, gets more and more restless. Miranda, honey, this enormous overalls-puffer combination isn't helping your cause. For the love of God, put on literally anything else in your closet.
On a somber note, my dad recently battled (and won!) a tough war against cancer and watching him lose his hair was tough for everyone, so I get Samantha wanting to express at least some semblance of her glamorous self via wigs. An afro, though? Sam has been known to culturally appropriate on more than one occasion, so I'm not surprised that she actually wore this wig out of the house, but that doesn't make it okay! There are so many options, so why must you go with the most problematic?
Can someone have a bandana fetish? Is that a thing? These are not articles of clothing, Carrie! I hate to admit that the bandana-top crossover isn't even the worst part of this outfit. It's either the fishing net she's wearing as a sweater or the cowboy hat that, surprise surprise, also doesn't work. I remember she was on her way to the Hamptons in this episode, and something tells me she won't be well-received by the Serenas and Blairs out there.
If I had a body like Carrie's, I would literally wear a bathing suit every damn day. So why, god why, is she taking attention away from her amazing body and making us look at this foul bikini top with…are those men's board shorts? This is the second Hamptons-inappropriate outfit we've seen from Carrie, and I cannot handle a third.
There you have it, the 10 most offensive outfits from SATC. I know what you're thinking: where's Charlotte? Tbh, Charlotte has incredible style and is too good for this list. She's always tasteful and wears clothes that both fit and flatter her body. If you can find a pic of my Park Avenue princess in a gross outfit, lmk in the comments. Until then, I stand by my love for the Jewish Episcopalian. That's all.
Images: New York Daily News Archive / Contributor / Getty Images; everyoutfitonsatc / Instagram
The Most Ridiculous Plotlines From Each Season Of 'Sex And The City'
As a 90s kid, I was too busy binging Dragon Tales to tune into Sex and the City when it was actually on TV, but thanks to both my parents' iTunes and my ex boyfriend's HBO Go, I've since made up time lost by watching and re-watching the show so many times that I can literally just say all of the lines with the characters at this point. Am I proud? Honestly, kind of. So in honor of this ridiculous show's 21st anniversary, I am graciously taking on the responsibility of pointing out the most absurd plotlines of each season of Sex and the City. It's a hard job, but someone's gotta do it.
If one of the reasons you love Sex and the City so much is because of its sheer ridiculousness, I'm with you. With that in mind, I'd just like to point out that I am well aware of the many more stupid plotlines than the ones I mention below. I don't have the energy or word count to list them all, so help a betch out and lmk the ones I missed in the comments. Let's get into it, shall we?
Season 1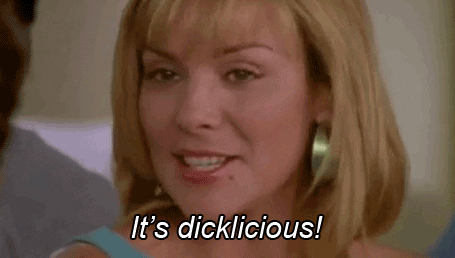 The most ridiculous plotline of this season is pretty easy. The threesome episode is so f*cking stupid it pains me to even talk about it. Why are all four women absolutely shaken to their cores when they learn that young men enjoy threesomes? Isn't this supposed to be a show that's like, pretty progressive when it comes to sex? Don't they live in New York where people are ~freeing the nipple~ left and right? Why are they all so shocked that their non-eunuch male counterparts are d for group sex? I'm pretty sure I learned that significantly earlier in my life than they did, and even I just kind of shrugged and carried on with my life. 
Anyway, I was pleasantly surprised that the most sexually vanilla character had the best reaction to the proposition of a threesome! Charlotte, you go girl! I'm sure it comes as a shock to no one that Miranda obv had the absolute worst reaction. She felt so #lame that all of her friends were having threesome drama, so she literally did the 90s equivalent of posting an ad on Craiglist to get in on the threesome game. Harvard-educated ginger seeking open-minded couples for a ménage à trois, anyone? Like, I'm sorry, but be a little more desperate, Miranda. Just because three of your friends are f*cking ignorant about men and their completely unrealistic threesome fantasies doesn't mean you have to be! The dumbest part of this whole plot line is that Miranda didn't even go through with it. Like, she somehow got this couple's hopes up and then "left to make a phone call" on her giant 90s cell phone and just left them high and, quite literally, dry. SMH, Miranda. This couple prob has some weird ginger revenge fantasy to play out now. Gross.
Season 2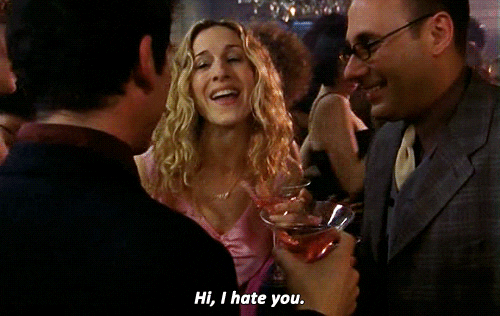 Anyone remember that episode where Carrie lost her sh*t because she ended up on the cover of The New Yorker looking like Frank Gallagher on a bender? I mean, you're a writer and you're on the cover of the f*cking New Yorker, so please explain why you're complaining. Be grateful, bitch! I can't even watch that episode anymore because it makes me so mad. To put things in realistic perspective, one time I ended up on the jumbotron at a Knicks game shoveling curly fries into the detachable jaw that I call a mouth, and I made my date (who I never saw again after that night) take a picture so that I could make it my cover photo for a whole two years. Carrie, live a little. She also let this amazing opportunity for self-promotion unflattering photo keep her from hooking up with one Bradley Cooper! I mean, he has a Porsche, girl. Let him give you a ride. As a struggling writer with an affinity for designer things and no man to pay for said affinity, I would do literally anything to get in/on The New Yorker. Writers are desperate for any notable editors to see their work or know their name in any capacity, so if you somehow land the goddamn cover of a reputable magazine looking like Shrek, you're f*cking thrilled about it. That's it.
Season 3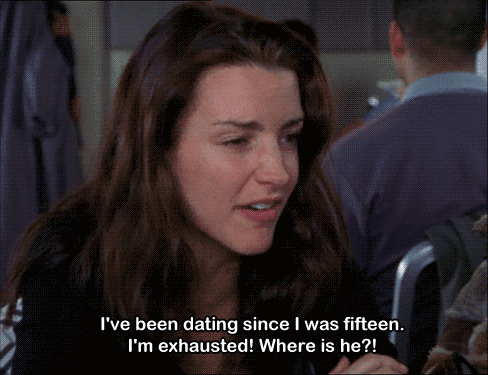 Charlotte and Trey. Like, is there an opposite hashtag for #couplegoals? I'd rather be single literally forever than end up on one single date with someone like Trey. First of all, he will always be Orson Hodge to me, so there's that. But, more importantly, he and Charlotte make absolutely no sense as a couple whatsoever. We already know that she has great taste in men because she ends up with my favorite Jew, Harry Goldenblatt, and his role in this show is a true mitzvah if I've ever seen one. Someone who could marry Harry would never be interested in the wet mop that is Trey MacDougal. The man says "alrighty!" for f*ck's sake!
The main reason this is just a ridiculous plotline is because Charlotte admits that she refuses to settle for anyone who isn't Prince Charming (how progressive of her…), so her engagement to an impotent Muppet is just so stupid, and I refuse to admit this season even happened because of it. Also, how does a Chanel suit-donning queen named Bunny produce such a waste of space? Like, if you look up the definition of "mommy issues" you will find a photo of Trey MacDougal, and there's no way Charlotte f*cks with a dude who lets his mother chill on the ledge of the tub while he's bathing in it naked. More importantly, Charlotte and Orson didn't even date! He paid for dinner a few times then said "alrighty" when she suggested getting married. Yep, sounds like a healthy relationship to me! I can't even get a guy I've been seeing for a month and a f*cking half to hang out with me more than once a week and she's over here proposing to herself and getting a big-ass Tiffany rock in return. This is not how things happen, y'all. Next!
Season 4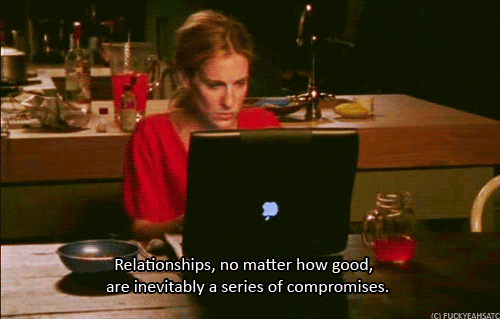 Ok this is a hard one for me to write because it involves throwing shade at my favorite SATC man, Aidan Shaw. As we know, Carrie and Aidan broke up because he didn't take her affair with Big very well. Is Mr. Big really that good in bed, or does he just like, live up to his name? I wouldn't cheat on Aidan for anyone other than Bradley Cooper, but Carrie lets this giant oaf screw up her relationship? I mean, at least she was honest about it, but that's beside the point. So after he and C called it quits, Aidan gets a serious revenge body/glow-up and Carrie is eating that sh*t up. I mean, same. Blah, blah, blah then they get back together. Like, I'm sorry, but he once threatened to break up with her because she had a f*cking cigarette during dessert. Remember that? Let me get this straight: he can forgive her full-fledged affair with an old flame who she ends up marrying (and then cheating on with Aidan, no less), but he draws the line at Marlboro Lights? Someone please explain this. Anyone? Bueller? Honestly, I am pro-second chances, so I would definitely give her another shot, too. But for someone who wouldn't bang her after a week and a half of dating because he didn't want to rush things with someone he really liked, he proposed to her pretty damn quickly after getting back together! Look, I love Aidan. Aidan is goals. I want to marry Aidan and have little woodworking babies with him, but he's giving us really mixed signals and I am not about it. Make up your mind, bruh. 
Season 5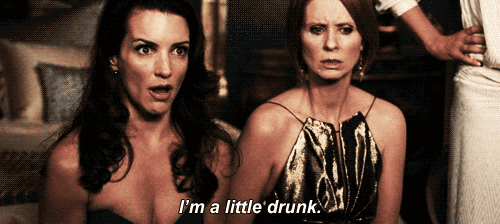 Charlotte's 36th-birthday-induced downward spiral was really confusing. She is like, hardcore trying to find The One, which isn't surprising since she's been playing the game since she was 15. But for some unexplained reason, the day she turns 36 is when she puts half of her thoughts and prayers toward finding her husband, and the other half into completely giving up. By that, I mean she attends inspirational love seminars right before she seriously takes up knitting. You can't claim you want to get married and be an avid knitter. You just can't. Sorry to all the knitters out there, but knitting is literally the most boring activity I've ever done, so I'm def not trying to fill the sexless void with handmade scarves.
Anyway, Charlotte is quietly having an emotional breakdown about not having a boyfriend, which is confusing because she's meeting a LOT of men in this season! The only time she looks pretty pathetic because she's literally flying solo is en route to Atlantic City, when she's third-wheeling Samantha and Richard f*cking on a private plane. Charlotte admits that she's pretty, smart, and cultured, so her breakdown seems kind of random, especially because there is only one episode during this season where she isn't dating someone. If I had that many men in my life, I would def not be complaining about being lonesome, honey. Also like, why 36?
Season 6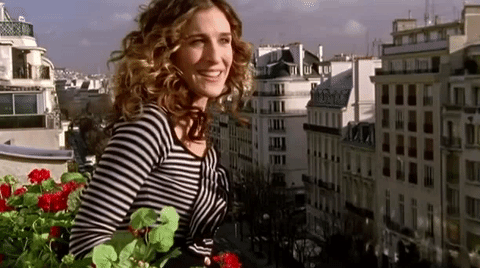 Carrie moving to Paris. Look, I get it. By the last season, Sex and the City was making so much money that they could have set up camp and starting filming on Mars. But, like, this whole plotline was so, so ridiculous that I just couldn't wrap my head around it. The only thing that made sense was when Big showed up and was basically just like, "wtf are you doing here? Can we leave?" And then they left. I wouldn't move to Paris with my f*cking husband, but Carrie is out here dating a former Studio 54 regular who she's been with for approximately two months. Quoi??? The fact that absolutely all of her friends, who she relies on for literally everything, were against this incredibly bold/stupid move should have been enough for her to not relocate her life in her late 30s for a man and a city she barely knows. But no, Carrie decides that now is the time to flee her very #blessed life in New York to walk the streets of Paris with a stranger. Don't get me wrong, I lived for the two Paris episodes, but I will never get behind the writers' choice to bring the ultimate New Yorker to a city where her disgusting attempt at a French accent would def not be taken lightly by the Parisians. Watching her eat sh*t in Dior, though, def made up for it!
If you're a tried and true Sex and the City fan, you prob noticed Samantha barely appeared in this article. Samantha's character was pretty on point throughout the entire show. She knew who she was and she did what/whom she wanted. The only thing she ever did that made me f*cking mad was in the series finale, when Smith flew all the way back to New York to surprise her with a succulent and she wouldn't even say she loves him in response to him saying he loves her. What a heartless wench! Like, it's the last episode of the most epic show, Sam. Tell the boy you love him.
Images: HBO; Giphy (6)
The Treatments Behind Celebs' "Natural" Beauty That Nobody Talks About
In 2018, we've definitely noticed that the way we use makeup is changing (unicorn brows, anyone? JK, this trend made my eyes bleed). Specifically, we've seen a lot more honesty from celebs and normals alike about how much of a role makeup plays. Think: Kardashian-esque contouring, YouTube beauty tutorials, #nomakeup selfies. And often, it's been empowering to watch people openly celebrate both natural looks and the transformative power of makeup. But recently, the tone has shifted. While the idea was once more "everyone has flaws and that's ok," it's now about having such naturally perfect features that makeup would only detract from them. These treatments are typically semi-permanent (aka not a full nose job/brow lift—so '90s), always expensive, and basically give you an Insta-filtered face. Here are some of the semi-permanent treatments celebs are using to get that perfect "effortless" look.
Botox/Chemical Peels
I'm lumping these two together, not because they're all that similar, but just because these are the beauty treatments we've all known about and made fun of since the '90s. Both treatments have gotten a lot more sophisticated—so the Samantha Jones raw meat face doesn't happen after peels anymore, and people with Botox can (kind of) still raise their eyebrows—but they're still the basic anti-aging treatments we all know and wish we could afford love.
Microneedling
Microneedling is a procedure in which a tiny needle pokes holes all over your face. (If you've ever used a dermaroller, it's the expensive version of that.) This then promotes collagen production as your skin heals, which reduces the visibility of fine lines, wrinkles, pores, and acne scars. You know, all the things that make you look like a human, which is no longer desirable. Treatments cost up to $1,000, but then your skin is as good as Kourtney Kardashian's. (You didn't really think it was her diet that made her skin good, right?)
Injections
Injections is kind of a vague way of putting this, but that's because injections can do so many different things. You can use filler to fix bad under eyes, smooth out your jawline and cheeks, and really just smooth out any imperfections you're worried about. While I'm certain that most celebrities over a certain age have had some sort of filler put in, some of the most vocal users are the cast of Vanderpump Rules. In fact, Lala Kent and Tom Sandoval recently took a joint trip, where Lala got something called "Diamond Facial Sculpting." (Fillers, but fancy I guess?) Lala says Tom was there for "moral support," but I swear I saw him in a chair in the background of her IG story. Hard to believe Sandoval would willingly skip out on a beauty treatment.
Laser Treatment
No, I'm not talking about laser hair removal. (Though I'm certain that any celebrity who's ever worn a bikini has gotten that too.) I'm talking about lasers used as facial treatment, which, like fillers, come in many varieties and have many uses. Basically, lasers can be used to fade pigmentation (*glares at rosacea-ridden face*), even out texture and tone, and basically act as "permanent concealer." MUST BE NICE. Both Kim Kardashian and Jhené Aiko have recently raved about their laser treatments—and if they're not #skingoals, IDK who is.
Microblading
This one is along slightly different lines, because it's not about skincare. BUT, now that we are officially living in the Age of Eyebrows, it's pretty freakin' important. Microblading is getting semi-permanent tattoos draw onto your brows with teeny tiny strokes that resemble real hairs. This then gives you the appearance of naturally full brows for roughly two years. It also costs around $1,000 upfront, plus a mandatory touch-up two weeks later. So yeah, I'll be getting that when I'm 70 and win the lottery, and will be drawing on my brows each morning until then. Irritatingly, I cannot tell you that celebs like Cara DeLevingne have used this treatment. Instead, it's a whole bunch of awfuls including Bella Thorne and Lena Dunham. Microfeathering is another version of this treatment, which basically just fills in instead of drawing you a whole new brow.
Do I have anything against these treatments, beyond the fact that I can't afford them? Yeah, a little. I definitely have a problem with celebrities who pretend they haven't had ANYTHING done. I respect their privacy and all, but I'm a grown-ass woman and I find myself getting upset about my own visible pores. This isn't something that bothered me even two years ago. But now, every picture I see on Instagram features skin that doesn't look like skin. And just a few years of being bombarded with those images has been enough for me to think there's something wrong with my face because of it. Which is all to say, I'm truly worried for young kids who are growing up surrounded by that kind of illusion, and not being repeatedly and aggressively told that it is, in fact, an illusion.
Ultimately, I think it's probably positive that these treatments are public enough that I can even write this article. Yes, the treatments themselves are becoming more mainstream. But the information is available—if you look—about why exactly these celebs can post #nomakeup selfies that make me feel like a garbage rat. Now if you'll excuse me, I'm going to start a GoFundMe because all these procedures cost more than my rent.
Images: drjasondiamond, thelipking, lalakent, jheneaiko, microbladingla_juliafaria / Instagram
It's Time To Talk About The Most Sexist Moments From 'Sex And The City'
The legacy of Sex and the City has been debated hotly and often since its debut. As an avid fan—like, own-a-SATC-branded-tote-bag avid—I've faced a wide range of reactions. More often than not, I'm made to feel I should be embarrassed, if not apologetic. It makes sense—SATC haters see, at best, a grating six-year chick flick. At worst, they see a cesspool of materialistic internalized misogyny. And while I see (and cringe at) those aspects, I also see an exploration of women's problems that no one else was putting on TV. I see a defense of the right to care deeply about things men laugh at, or dismiss. So, is Sex and the City sexist? In the interest of deciding once and for all whether I'm going to apologize for my love of SATC, I've compiled a list of the show's best and worst moments, sexism-wise. Let's dive in.
Best: Crying At Work
There's a hilarious scene after Samantha is called "emotional" at work. That's code, she explains, for "I don't want to hire this woman." Charlotte is still haunted from the one time she cried 10 years ago. Miranda has cried, but only in the privacy of her office. Samantha has never cried; Carrie faked crying to get out of a deadline. The girls inform her, with annoyance but no real anger, that she's making all of them look bad.
This is where SATC shines—it presents the expectations women are faced with, and explores their options. There's a huge power just in naming this dynamic they've all faced, and even more in not laying down a judgment on how they handle it. Even Carrie, who gets the most heat for playing to men's expectations, is gleefully frank in her reasoning: "Boo hoo, it was 80 degrees and sunny." I fully respect that, and I equally respect Miranda fleeing to her office. They're just doing what they can to live their best lives.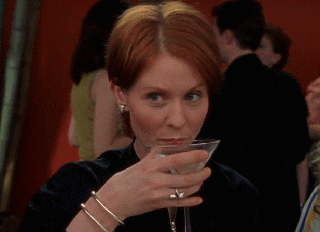 Worst: Working At Work
The depiction of the women's careers—other than Miranda's—I find troubling for a few reasons. Both Samantha and Charlotte frequently sleep with people they should be treating as clients, muddling the success they're then seen to enjoy with their desirability for men. Carrie by definition is sexualized in her work—and tops it off with a level of incompetence (that girl needs several months of computer classes) that brings any professional success into serious question. If three out of four successful women have their careers depend on men finding them sexy, and every single one of those instances is met with reciprocated desire instead of discomfort, that's a problem for me.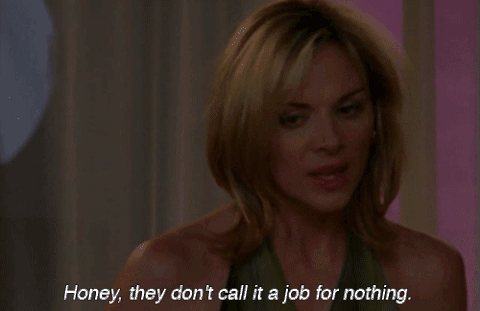 Best: Trey's (Literal) Impotence
Trey is both Charlotte's downfall and her saving grace. At first, he's everything terrible that she wants—he's the white knight of all her worst Victorian daydreams. But once the wedding's over, it's immediately hollow. They don't have sex. He refuses to discuss it. If she wants sex or openness in their marriage, she's on her own. And, as women do in a crisis, she handles it like a boss. Charlotte, a woman who has never willingly looked at her own vagina, becomes an overnight expert on the physical and emotional triggers for ED. She handles it with more comfort than her literal doctor of a husband. And eventually, she leaves him, giving up the option of continuing in a picture-perfect marriage. Charlotte realizes she needs an equal partner who will fight as hard as she does, even if it isn't easy. This is a lovely moment because Charlotte is almost strong in spite of herself. You can feel how badly she wants it to work.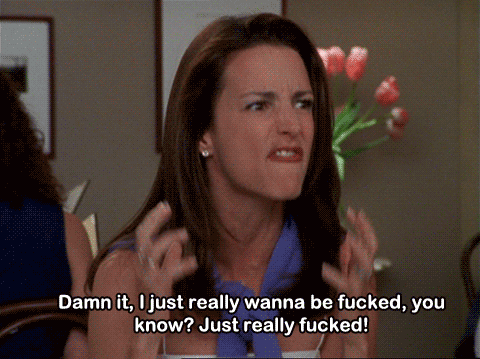 Worst: Big's (Figurative) Impotence
Speaking of women being strong, let's discuss Carrie's kryptonite: Mr. Big. (I'm totally Team Big over Team Aidan, no one from either camp @ me.) But Jesus Christ. It's oft repeated in the show and in subsequent interviews, like this one from Chris Noth, that Mr. Big is "honest." He's honest that he doesn't want a serious relationship, that he can't commit. You probably recognize this line from every college fuckboy, because 22 is the suggested age cap on accepting this bullshit.
The thing his, Carrie is honest too. She might not be as on-the-nose about it as Big, but that's because admitting you like someone and want to be with them is a lot scarier than saying you don't want those things. It's evident to anyone with half a brain that Carrie wants a relationship, that she loves him. And yet, the storyline here is largely of Carrie being dumb for letting a guy repeatedly ruin her life. Why is everyone on this show, Carrie included, forced to act as though Big was incapable of leaving her the fuck alone?
Carrie: Just let me be happy.
Big: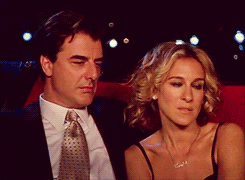 Best: Anal Sex
The scene where the girls discuss anal sex in the back of a cab is among the show's most iconic. In under five minutes, they lay out all the considerations a woman must make before engaging in sexual activity. Yes, desire is on that list, but as women, it's never the only thing we have to consider. There's the shift in power. The longstanding effect to your reputation. Whether the request contained adequate regard for your comfort and enjoyment. What it would mean if you said no. As with the discussion of crying at work, the options are laid out, not judged. What for a man amounts to "do you want to" is revealed in all its complicated, messy glory for women. Watch it just to see Carrie deliver this line: "Sir, we're talking up the butt. I think a cigarette is in order."
*Carrie during this conversation:*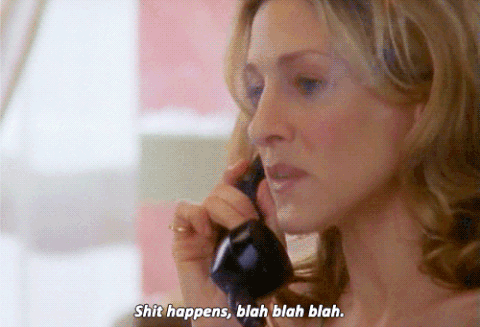 Worst: Gay Sex
I have neither time nor energy to delve into SATC's overall BAD treatment of gay people. To stick to specifically sexist moments, let's all admit that Samantha's brief lesbian relationship was more than a little embarrassing. It was a dull, insulting imagining of how men picture lesbian relationships. Samantha leaves her girlfriend because "too much talking" and because she can't live without a healthy amount of dick in her life. I'm not saying every minute aspect of this was unrealistic, but it was the most uninteresting scenario possible. It affirms absolutely nothing beyond dull tropes like "women are all talk and no sex" and "dick cures all." No, and definitely not.
The only acceptable type of Samantha breakup: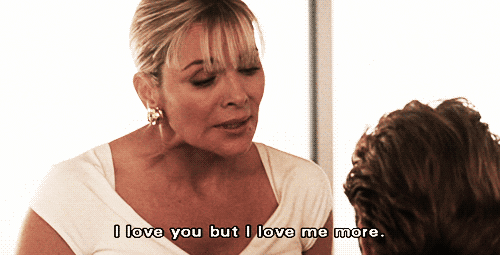 While SATC covers "small dramas"—dating, friendships, shopping—I refuse to call those issues petty in a negative sense. I care deeply about all of those things, and I love that SATC offers a defense of being "petty," of caring about things deemed too "small" in the face of Important Manly Tasks. Men scoff at so many so-called "feminine" things because they have the option of doing so. (If men faced the same judgment for going makeup-free, for example, they'd all be up at 6am with contour kits.) Sex and the City, in my opinion, is a portrayal of what it's like to simultaneously live within and struggle against society's expectations. It's not perfect, but it's not stupid or negligible either. Is Sex and the City sexist? Sometimes. But among so many other deeply sexist TV shows of the 90s, I'd argue it's a better choice than most.
Kim Cattrall Put Sarah Jessica Parker On Blast
We always loved Sex and the City, but honestly the drama between the ladies has been even better since the show ended. This weekend, Kim Cattrall blasted Sarah Jessica Parker on Instagram, and we're still recovering. In the past, Kim Cattrall (Samantha Jones, if you're new here) has been open about not always having the best time on the show, calling out SJP and others, but this new development is a whole other level.
It all began last Sunday, when Kim Cattrall put a text post on Instagram announcing the unexpected death of her younger brother. Now, we normally have some strong thoughts about text posts on Instagram, but these are really sad circumstances, so it's okay. Kim asked for privacy for her family and herself through this difficult time, and obviously tons of people commented their love and support. Pretty normal stuff. Among the commenters were Sex and the City costars Cynthia Nixon (Miranda) and Sarah Jessica Parker. Again, there's just nothing weird about this. Sure, SJP and Kim have had their differences in the past, but it's not that hard to put aside your beef and say you're sorry someone's brother died. But this story is far from over.

Kim responded to Cynthia's comment, thanking her for her kind words, but SJP got no such response. Well, not until Saturday, when Kim returned to Instagram like a bat out of hell, sent here with the sole purpose of destroying Sarah Jessica Parker's fucking life. This time, she went for the text post again, but it was 100% savage.
Um, should we be here for this? Do you want us to like, go outside so you can have this conversation in private? Nope? Okay, we'll happily stay and talk shit. So, like, what exactly was Kim going for here? We've all known for years that she's not exactly Sarah Jessica's biggest fan, but it sort of seemed like she was maybe just trying to be nice? Clearly that's not how Kim sees it. Instead, she calls SJP a cruel hypocrite who's exploiting their tragedy to restore her "nice girl" persona. Wow, is she practicing her SAT words? While we're not sure why anyone would want to be a nicegirl on purpose, Kim really thinks she's the fucking devil.

Sarah Jessica Parker hasn't made any sort of public comment on this whole debacle, but it seems safe to say that Sex and the City 3 probably still isn't happening. Oh well, guess I'll just have to watch all the old episodes on HBO Go like I've been doing for the last decade. We're eagerly awaiting the next chapter in the Kim/SJP feud, which will no doubt take place in a Vanity Fair interview or some classy shit like that where SJP calls Kim delusional while also being so diplomatic it hurts. We love drama, can you tell?
Images: Shutterstock; Giphy (2); @kimcattrall / Instagram
The Most Ridiculous Sex And The City Quotes
Let's be honest, back in the day Sex And The City taught us everything we ever needed to know about girl friends, boyfriends, cosmos and being absolutely ridiculous. It was simultaneously the most educational and unrealistic show of the 2000's—so today we're paying homage to our absurd spirit sister, Carrie Bradshaw and her BFFs.

Okay, been there.

Can you say eating disorder?

Okay this one's fine.

How do you have any female friends?

Get it, because they don't serve Cosmopolitans at drive thrus!

 Hear, hear!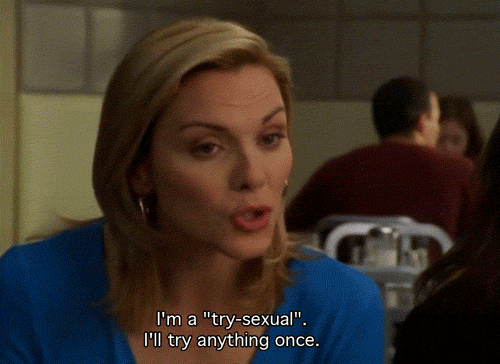 That's like, mildly offensive.

You could try Sears.

You have problems.

Please kill yourselves.

Nipples, so hot right now.

This might be the dumbest thing anyone's ever said out loud, ever.

This is not a good comeback.

Deep thoughts by Carrie.

How does Samantha not have like, 1 million STDs?

LOL, Charlotte, LOL.

No. Definitely Not.

You sound like a catch!

Definitely not true, idiot.

Keep running, Carrie, wild and free.