10 Beauty Products That Are On Sale Right Now That Will Sell Out Quickly
Betches may receive a portion of revenue if you click a link and purchase a product or service. The links are independently placed and do not influence editorial content.
If you've been looking for a sign to try out some of the most Internet-famous beauty products on the market, this is it. Amazon is running yet another sale so you can treat yourself to a little beauty haul before the holidays without feeling an ounce of guilt. It's called self-care, look it up.
I know what you're asking yourself now, "What's the catch?" Well there is none, except you need to get your shopping in before November 6th. Do deadlines give you the ick? Fear not and keep scrolling. As an early holiday gift, we've rounded up all the best beauty deals so you can spend more time doing the things that matter, like catching up on Taylor Swift's most recent album drop.
Gone are the days where you get a round brush stuck in your hair. This one-step hairdryer has become my new best friend for the perfect at-home blowout.

One-Step Volumizer PLUS 2.0 Hair Dryer and Hot Air Brush

Revlon
Just FYI, it IS possible to take the glowy makeup look a little too seriously. Don't fret, because we're obsessed with little device fits in your bag and will de-slick any oily situation.

Volcanic Reusable Facial Skincare Tool

Revlon
If you're still using your OG Naked Palette it might be time to trade it in for something new (and grab some eye cream while you're at it). This NYX Ultimate Eyeshadow Palette is the perfect for everyday use. 
As with anything in life, it's important to invest in basics. Words cannot explain how these brushes have changed by eyeshadow game for the better. Better yet? Get them now for 20% off.

Everyday Eye Essentials Makeup Brush Kit
Glazed donut nails at home? Sign me up! If you've been dying to try this trend but aren't sure which colors to get, this nail polish set is for you.

Nail Polish Glazed Donut Bundle

Essie
Who else can relate to the pain of having to wash your makeup off after a night out? It just feels like so much effort sometimes. Thankfully, the Makeup Eraser is on sale to help keep your skin clean with a minimal amount of effort.

Makeup Eraser

The Original Makeup Eraser
I don't think there's anything that makes you feel more like an adult than buying an electric toothbrush. You're one click away from being cavity-free, plus it's 35% off.
Speaking of clean teeth… This Prime Day best-seller is back. All I want for Christmas are sparkling white teeth—is that too much to ask?
We know TikTok is obsessed with the EltaMD Sunscreen, but have you tried their toner? This stuff is a triple threat with the benefits of repairing damaged skin, having a calming effect, and minimizing the risk of irritation.

Skin Recovery Essence Face Toner

EltaMD
What's better than treating yourself to flowers? Treating yourself to this English Rose-Infused Radiance Duo when it's 20% off, duh. This viral cleansing balm and matching facial oil is sure to make your skim calm & bright this holiday season.
The Best Amazon Early Access Sale Products You Can Shop RN
Betches may receive a portion of revenue if you click a link and purchase a product or service. The links are independently placed and do not influence editorial content.
Is it just me, or does it feel like just yesterday we were talking about New Year's resolutions and promising ourselves to take full advantage… and now here we are. I mean, I can't just be the only one who just saw a holiday commercial and went into full menty b mode, right?
The first thing I thought of when I heard there are 75 days until Christmas (yes, you read that right) is how the hell am I supposed to get all the gifts I need? As I've gotten older it feels like the number of people I'm getting gifts for is growing and growing—like, why do I feel the need to buy my doorman's wife a pashmina?! I digress. I guess my Alexa was listening to me because for the next 2 days (October 11-12), Amazon is hosting a Prime Early Access Sale. If you're reading this, I guess you're on the nice list, because I've rounded up the very best holiday deals for you to shop. Maybe get a little something for yourself while you're at it. You deserve it.
Gifts For Her
For the reader on your list, or the person who is always saying they want to start reading haven't picked up a book yet. The Kindle is perfect for traveling without a bulky book or reading in bed.

Kindle Paperwhite Signature Edition

Amazon
Slippers are one of those little luxuries that no one wants to buy for themselves but have always really wanted. These are super comfy and aesthetically pleasing for those who want their life to look like a perfectly curated IG feed.
While not only practical, this bag is incredibly cute and trendy. Did I mention it's made with vegan leather made out of recycled plastics?

Gabbi Ruched Hobo Handbag

JW PEI
Gifts For Him
What guy doesn't want a reason to use a torch? This cocktail smoking kit keeps things interesting (and safe) with four different flavor wood smoker chips of apple, cherry, pecan, and oak without artificial fragrance ingredients.

Cocktail Smoker Kit with Torch

Taigin
Ok, ok… This might be just as much a gift for you as it is for your significant other. Quality coffee in the morning? I'm in.

Pour Over Coffee Maker Set

KitchenBoss
No Shave November is right around the corner and I have a feeling a lot of men are going to keep the beard through the holidays. You're welcome.

Grooming & Trimming Tool Complete Set

Comfy Mate
Home Gifts
I wasn't kidding when I said I was getting this for my mom. It's one of the best purchases I've ever made—especially if you have a shedding dog, a child, or overall are just a mess (like me).
Okay, ice is having a moment on TikTok and we really should all invest in one of these.
For all your cheeseboard, butter board, dessert board, whatever-board dreams.

Bamboo Cheese Board and Knife Set

Smirly
Tech Gifts
Because honestly I feel like anything Kris Jenner Kim Kardashian touches is gold. Plus, I've found all the Beats products to be very functional and good quality.

Beats Fit Pro x Kim Kardashian – True Wireless Noise Cancelling Earbuds

Beats
Adding a record player into your life just makes everything 10 times more classy. This one even has a Bluetooth receiver so you can connect your phone and use it as a normal speaker.

Vinyl Record Player Turntable with Built-in Bluetooth Receiver

Kedok
Make your binge-watching days easier with a smart TV. It's worth it.
Fashion Gifts
Everyone could use a shacket for those in-between weather days. It's a great gift to use as a layering piece or as outerwear for the balmier winter days.

Women's Ruby Jacket

Free People
This dress has gotten me through so many weddings this year. It's perfectly trendy but still timeless, plus the ruffles and neckline allow it to be dressed up or down.

Crossed Halter Neck Tiered Maxi Dress

Endless Rose
Everyone needs a good blazer—they're so versatile and stylish. You can wear it to work, an interview, or just a night on the town.

Blake Long Blazer

Amazon The Drop
Beauty Gifts
The reviews are in—this balm is a 10/10. Get one for yourself, your sister, your aunt, your friend, literally whoever. Everyone needs this Cleansing Balm.

Pro-Collagen Cleansing Balm

Elemis
This stuff smells like heaven. On top of that, it's talc-free and has over 10,000 ratings & reviews. It's a great addition to anyone's beauty routine.

Perk Up Talc-Free Dry Shampoo

Amika
I won't lie, I originally bought these because I liked the look of them, but once I used them I was hooked. They are another little luxury you might not want to buy yourself but are perfect for a gift.

Gold Under Eye Patches

Wander Beauty
Stocking Stuffers
This lip mask is a cult favorite that every person should try at one point in their life. Once you start you won't be able to stop.
Want to put a smile on someone's face every-time they look at their phone? This'll do it.

Pink Dripping Smiles Positivity Radiate Face

MOSNOVO
This feels like something a father-figure would get you, but if we're being honest it's useful and replaces the need for a ton of tools in a pinch.

18-in-1 Snowflake Multi Tool

Desuccus
The Best Prime Day Deals On Every Kind Of Outfit You Need
Betches may earn a portion of revenue if you click a link and purchase a product or service. The links are independently placed and do not influence editorial content.
Amazon Prime Day is officially here, which means you can fill your cart to your heart's desire without feeling guilty about it. Although, let's be honest, you shouldn't feel guilty about treating yourself to a little something—I call it self-care. 
Let me get straight to the point: It feels like there are an infinite amount of deals happening, so we've done you a favor and curated our favorite sales on clothing. You may call it extra, but we've even plotted them out for all different occasions in your everyday life.
Get Your Fit Together
There's nothing quite like wearing a fresh 'fit to the gym. IDK about you, but sometimes all it takes to get that renewed sense of exercise excitement is a new pair of yoga pants. We also included some basics because it's no fun buying socks full price.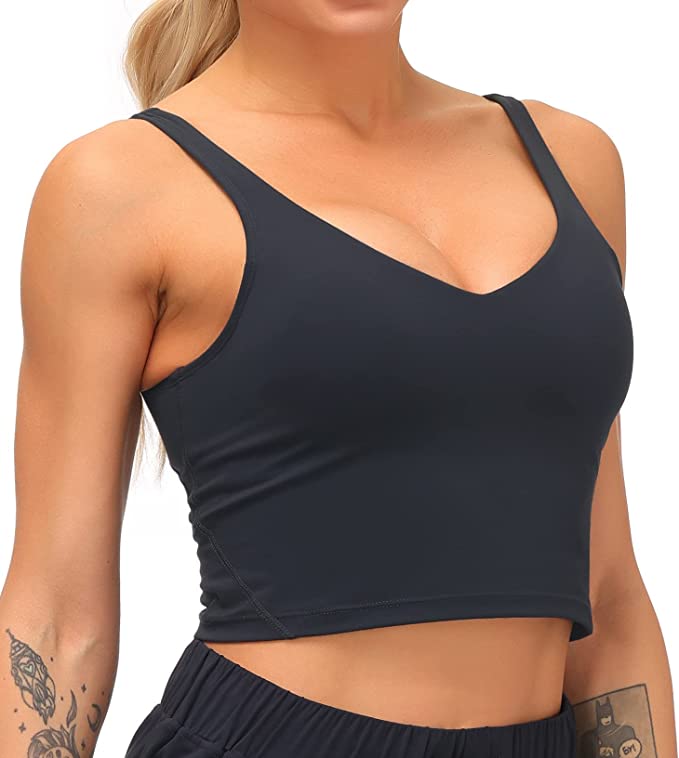 Longline Padded Cropped Tank Top
Dragon Fit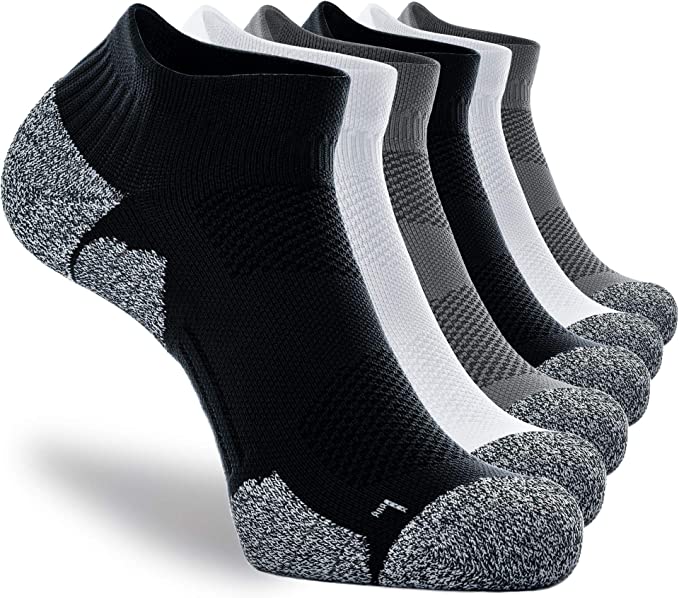 Cushioned Compression Athletic Ankle Socks
CWVLC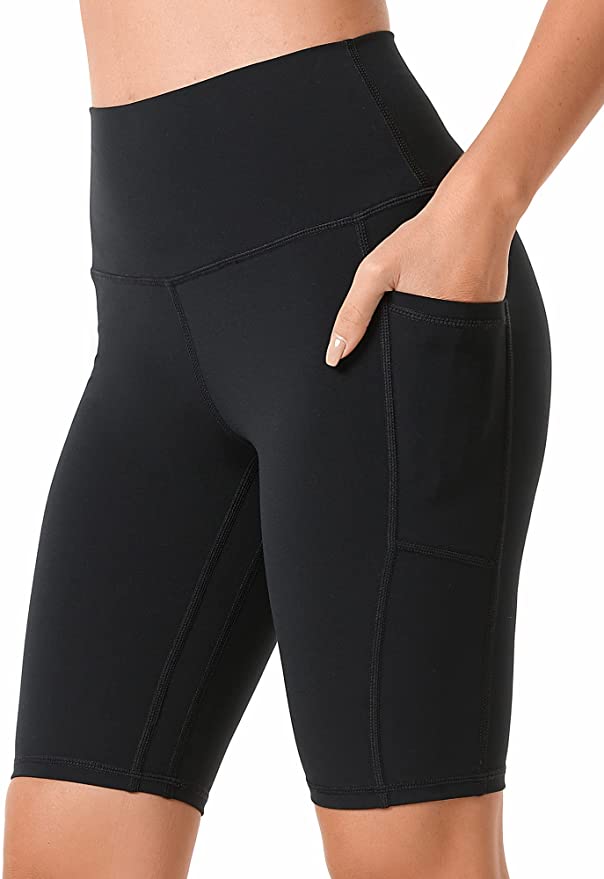 High Waisted Biker Shorts With Pockets
Sunzel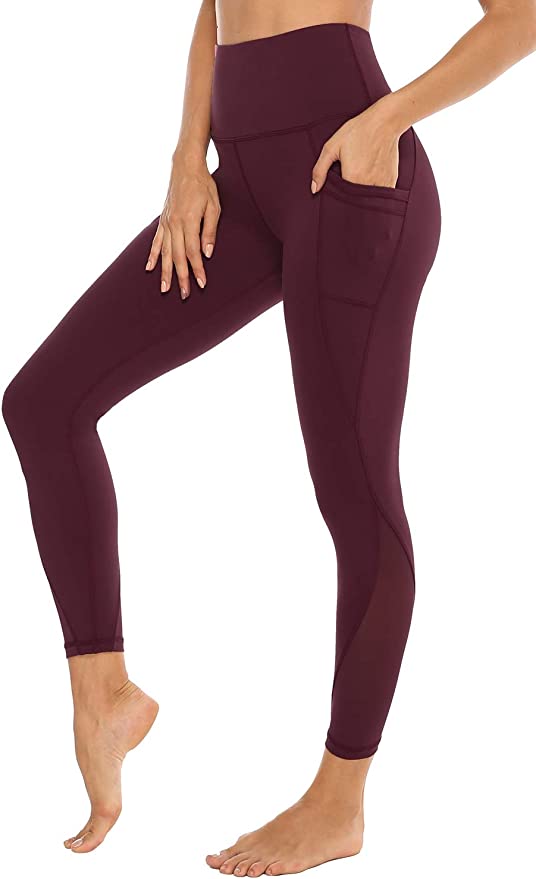 Mesh Yoga Pants With 2 Pockets
PERSIT
Night On The Town
From date night to drinks with the girls, these options are all great staples in the "going out" rotation. Shopping a sale is also a great way to test out a new look. Hint: Cut-outs aren't going anywhere, so try the trend without breaking the bank.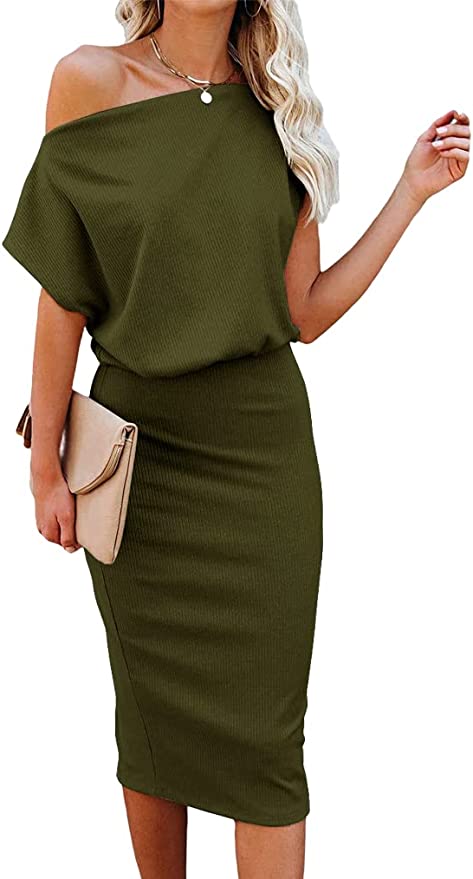 Off Shoulder Short Sleeve Ribbed Midi Dress
Miselon


Sleeveless Padded Shoulder Cutout Maxi Dress
ANRABESS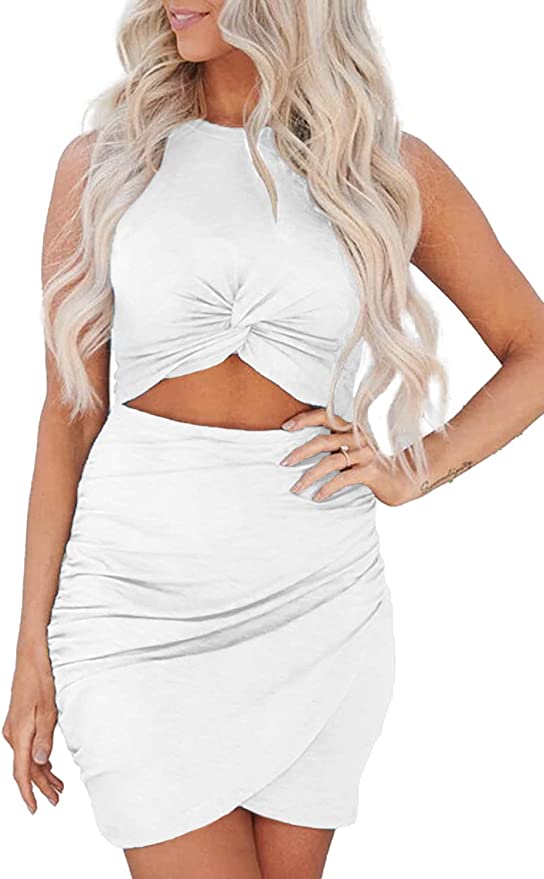 Sleeveless Casual Twist Front Dress
BTFBM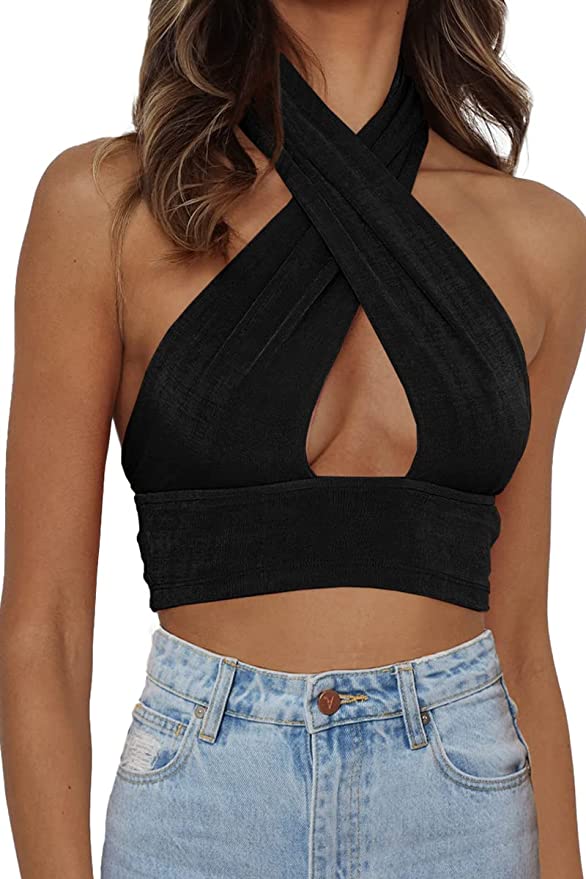 Criss Cross Sexy Halter Top
Dealmore
Comfy & Cozy
If you're feeling like your social battery is at an all-time low and it's time to hang at home in hibernation for a little while, we've got an outfit for that. There's even a stretchy romper to help you look like you're put-together (even if you aren't).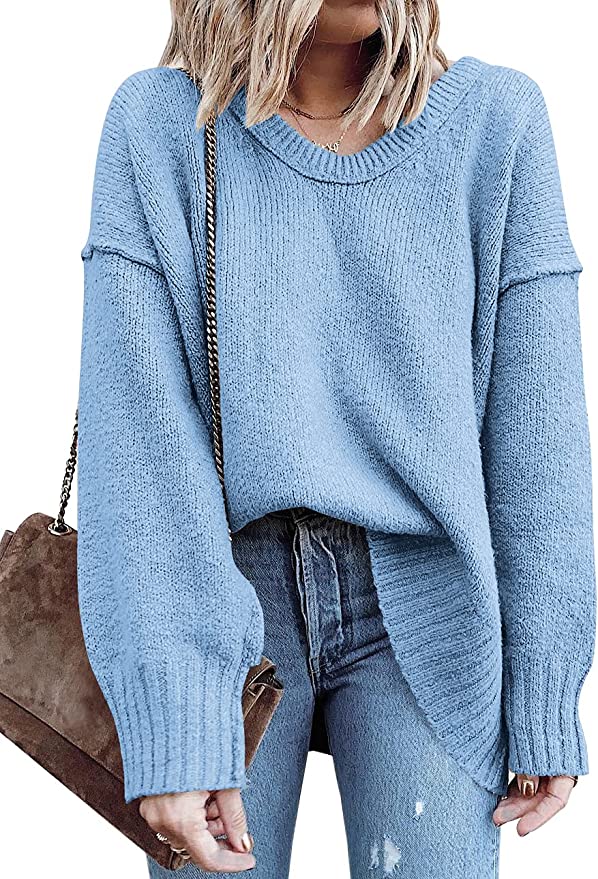 Casual V Neck Knit Sweater
ANRABESS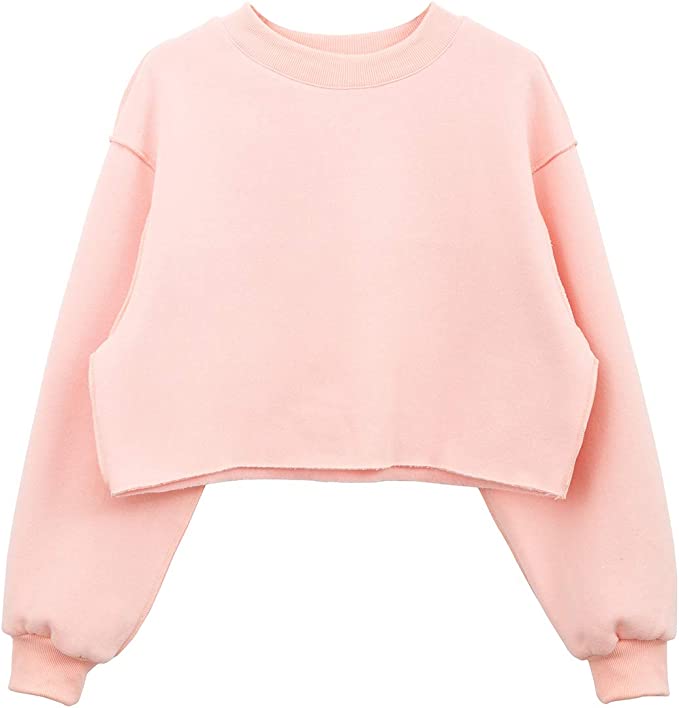 Pullover Cropped Hoodie
Amazhiyu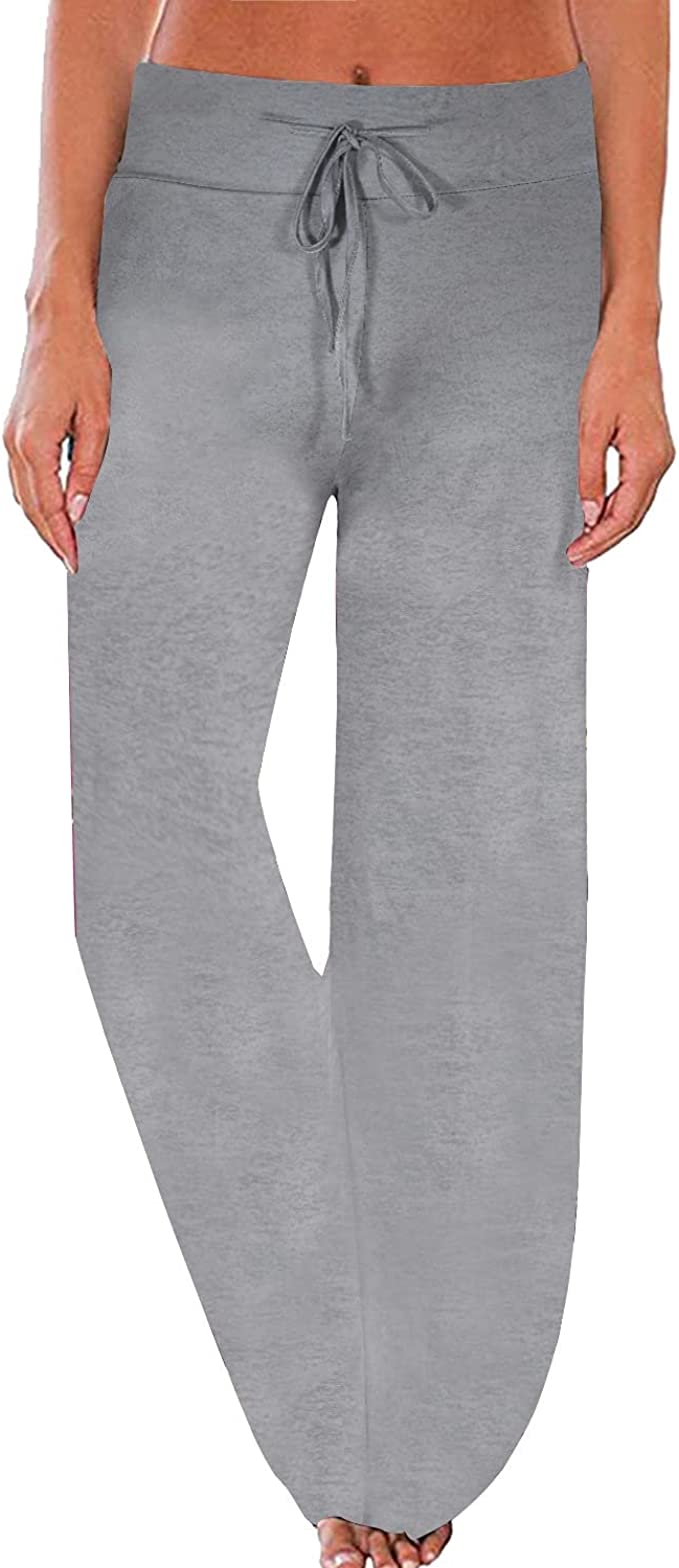 Casual Drawstring Palazzo Lounge Wide Leg Pants
NEWCOSPLAY


Long Sleeve Elastic Waist Stretchy Romper
PRETTYGARDEN
Your New 9-5
At this point if you aren't in the office 100% of the time, you're probably going in at least a few days a week, which means you might need real pants. Here are some basics that will help ease the pain of picking out office-friendly ensembles including a new pair of jeans (hello, casual Fridays!). P.S. Please don't look at us funny, Ballet Flats are back. 


Wide Leg Pant Jumpsuit With Belt
Pink Queen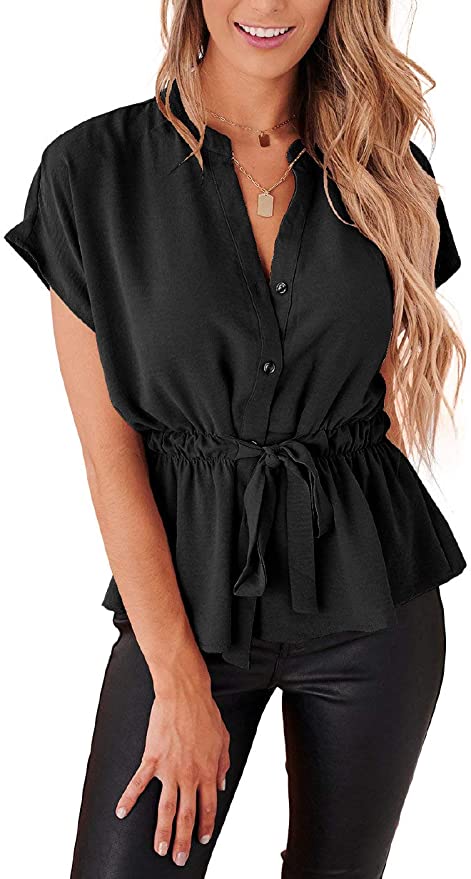 Casual Button Down Blouses
CiCiBird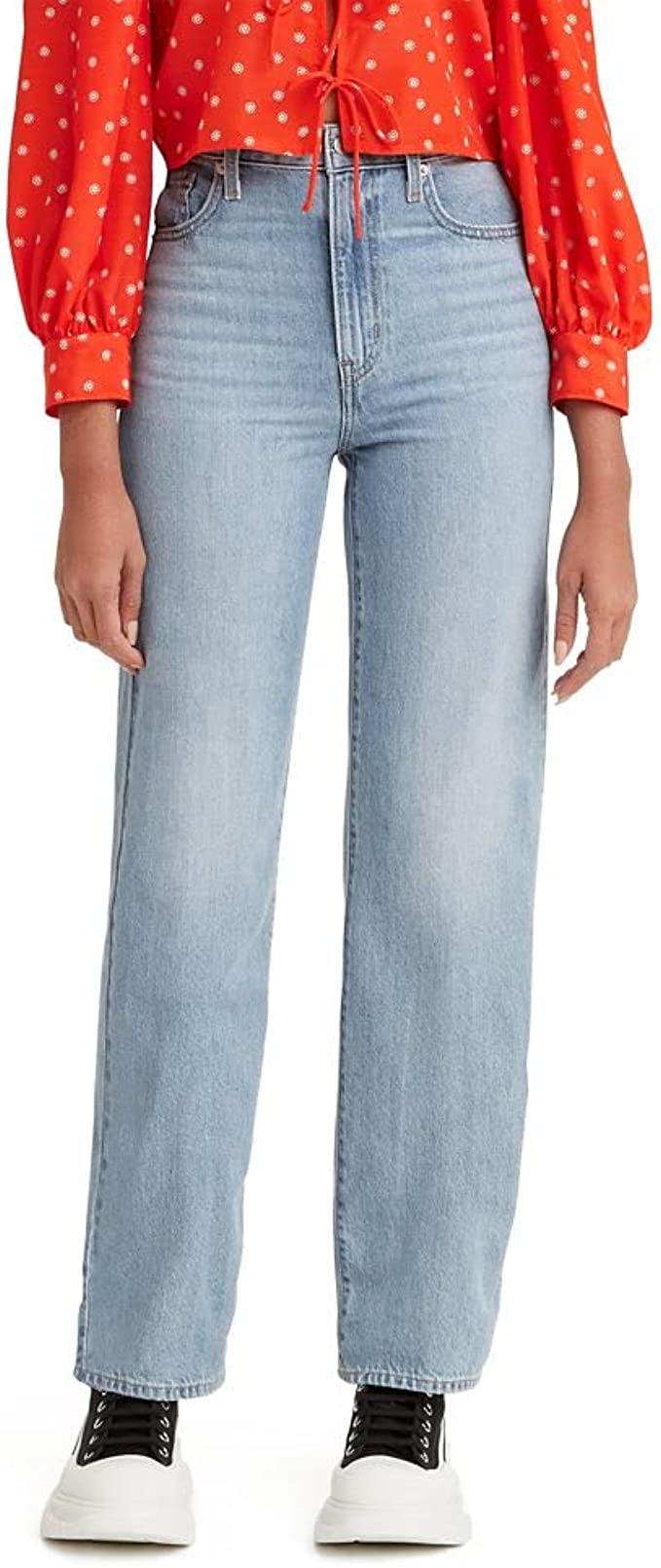 High Waisted Straight Jeans
Levi's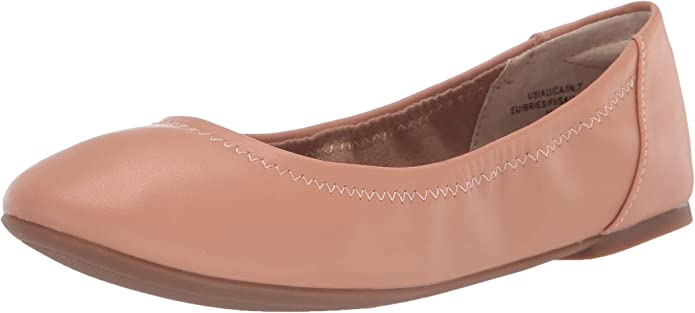 Belice Ballet Flat
Amazon Essentials
Vacation, All I Ever Wanted
It's time to use up all that extra PTO you've been stashing. While you're at it, go ahead and buy that vacation wardrobe you've had your eyes on. It'll make packing so much easier.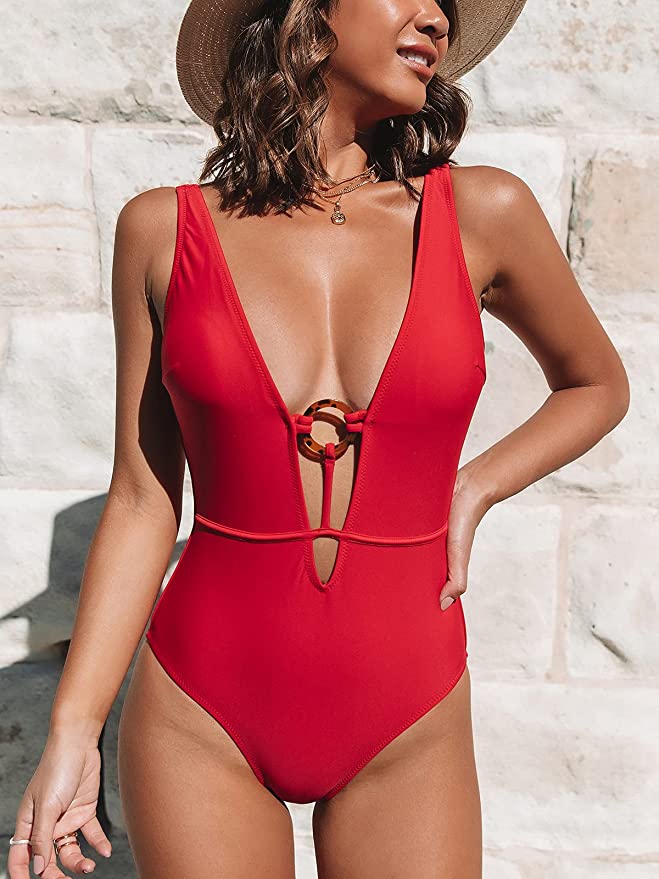 Strappy Lace Up Monokini Swimsuit
CUPSHE


Classic Aviator Polarized Sunglasses
SOJOS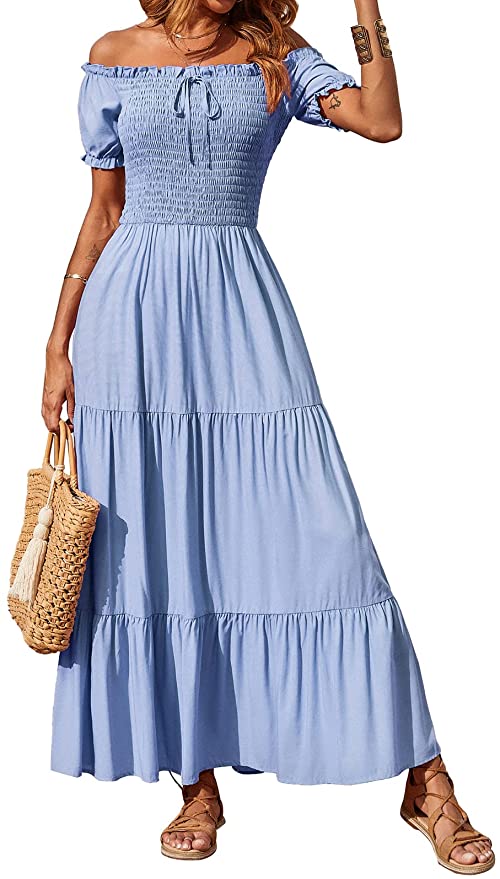 Short Sleeve Smocked Summer Casual Dress
BTFBM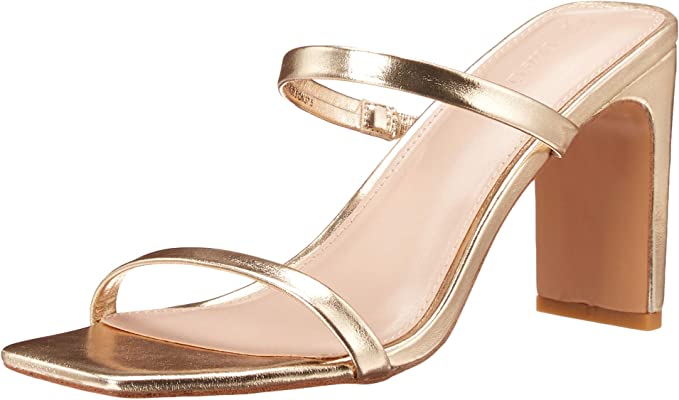 Avery Square Toe Two Strap High Heeled Sandal
The Drop
Image: AGUSTÍN FARIAS / Deathtothestockphoto.com
Affordable Items to Make Your Apartment Look Expensive
I, like many others during this time, have been itching to redecorate my apartment. Naturally, after 60-something days of staring at the same four walls, it's easy to get bored of the same decor. But, I like many others during this time, do not have money to splurge on fancy furnishings.
That being said, I did some digging, and I'm here to present you with the best items and accessories to make your apartment look expensive *Erika Jayne voice* on a budget.
Wall Art
Not only does Society 6 have the cutest wall art, it's always on sale. It's affordable and you can find some hidden gems.
Simple staples are your friend here, because a lot of the "abstract" choices on these sites are interpretations of famous artist's work. I recommend keeping it classy with a three-panel wall stack. My personal favorites from Society 6 are The New Yorker prints. Pair three classic covers with black frames and thank me later.

TheNew Yorker Art Print by Naveenart107, from $16.19
Coffee Table Books
Coffee table books are a super simple, affordable, yet impactful way to add some style to any table. Of course, my go-to here is my bffl, Target.
Whether or not you give a sh*t about fashion, I always recommend designer coffee table books because they're just about the only affordable thing with a logo.
If you've got a marble, black, or white coffee table, grab Chanel, Collections and Creations by Danièle Bott, and if you've got a wooden table or want a pop of color, grab Chanel: The Making of a Collection by Laetitia Cenac.

Chanel: The Making of a Collection by Laetitia Cenac, $24.49
Accessories
Candles and mirrors and plants, oh my!
Before anything else, a theme is the most important way to tie in accessories and make them look flattering. The more cohesive a space is, the more sense it makes. The end goal is always to have someone walk in and believe that an interior designer spent a ton of money to make your spot perfect, when in reality you are said interior designer, and all the items are affordable.
I'm currently obsessed with Jonathan Adler candles—they're cool, different, and… $90. BUT, they currently sell the candle holders for $28, and it's items like these that we call "expensive on a budget". You can even purchase the matching condiment bowl for a full ~lewk~. It will turn heads (literally).

Jonathan Adler Muse Votive Candle Holder, $28
Mirrors are hard because everyone has the same one, so you want to stand out. I found this cute mirror from Patten Wall Decor on AllModern, but it was $102 so I decided it was not going to fit into my "affordable" category. That is, until, I found the SAME mirror from Patten Wall Decor at Target for $42. My initial thoughts are wtf, but now that I'm over being mad at AllModern, I'm just happy to share it with you all. Throw this bad boy on an accent wall to double as an art piece.

Accent Mirror Gold – Patton Wall Decor, $42.49
I'm not going to mislead you with links to cute faux plants, because truth be told, they are not the same as the real deal. I DO recommend purchasing fresh plants and treating them with TLC and lots of light. I recommend a Fiddle Leaf, because they live for 25+ years when cared for properly, and that is super convenient when not wanting to spend money repetitively. You can purchase them at any local nursery, including Home Depot. Use your candles as a color guide to your pots, a subtle yet important way to tie things all together.

Kitchen/Bathroom
With a full-size home, the possibilities are endless, but my fellow city livers (whether it be NYC or not) know the kitchen and bathroom struggle. Peel and stick contact paper for your countertops and wallpaper is your best friend here, if applied properly.
For the bathroom, I recommend a busy print, because 9/10 times the appliances will be all white, allowing for some pop. I love this Speckled Dot Paper from Opalhouse™, available at Target of course.

Opalhouse Speckled Dot Peel & Stick Wallpaper, $34.00
For the kitchen, go marble for the backsplash and counters for a subtle, pretty moment. Less is more here, so I opt for a more gentle print like Brewster Carrara's Marble Peel & Stick Wallpaper.

Brewster Carrara Marble Peel & Stick Wallpaper, $35.99
Final Touches
I leave you with some final ways to accessorize and spruce your apartment that work in any space. We're getting a little fancy shmancy here, but West Elm is having a major sale, so take advantage!!!
These Agate Bookends are striking and unique, whether they live in your living room or bedroom. They look expensive AF, but are currently on sale for $40, so that's a win in my book.

Agate Bookends at West Elm, $42.70
These stackable Glass Shadow Boxes are also the perfect accessory to add in any room, whether it be jewelry and sunglasses, or statement accent pieces. They're a pretty and easy way to make a regular item look luxurious, and that's why we're here!

Floating shelves are a cute way to make handy wall decor, without having to purchase a bulky piece of furniture. I love the Shelfmate Collection at West Elm, because they are as aesthetically pleasing as they are practical.

Shelfmate Collection, from $50
Last but not least (in fact, maybe the most important) we have the ever popular bar cart. A bar cart has never been more important, because if you're like me, you've run out of room to stock the endless wine supply necessary to survive this quarantine. I love this Laurence Mid-Century Bar Cart from Wayfair, because the modern style shape and gold accent is the perfect touch of opulence but doesn't break the bank.

Laurence Mid-Century Bar Cart, $102.99
If you're scrolling through this list, there's a 50% you're thanking me, and a 50% chance you're mad at me. Either way, most of, if not all of this is currently in your cart so at least your apartment will be looking good.
As always, feel free to DM me with your favorite sales and I'll continue to provide you with mine.
Images: Cody Black / Unsplash; Society6.com; Target.com; JonathanAdler.com; AllModern.com, HomeDepot.com; Wayfair.com; WestElm.com
Betches may receive a portion of revenue if you click a link and purchase a product or service. The links are independently placed and do not influence editorial content.
ShopBop's Annual Fall Sale Has Arrived, And These Are The Pieces We Want
You know when you didn't even realize you wanted something until you see that it's on sale, then you must have it or you will burst into flames? Well, if you can relate, then you probably already know that aside from it being Ryan Gosling's birthday, today is also the first day of the Shopbop annual fall sale. Will I have 802 different Shopbop tabs open for three weeks straight? Probably, but you know what, when more than 5,000 just-added styles (I'm talkin' dresses for holiday parties, I'm talkin' boots of every heel height, I'm talkin' jewelry you can actually afford now) are finally up to 50% off, you better believe I'm spending the money I normally spend on rent on Shopbop. 
The best thing about the Shopbop annual fall sale, aside from the fact that it's happening at all, is that everything will stay on sale until it's gone. So, if those "The one thing you've always wanted in your closet, but could never afford is 50% off for exactly 31 hours!" kind of sales stress you the f*ck out, you should be experiencing some semblance of relief right now. But if you're feeling overwhelmed on the site because 50,000 pieces is 30,000 more than the amount of seats in Madison Square Garden, then allow me to guide you through the best of the best of the items on sale. You're welcome.
Shoes

Jeffrey Campbell Atone Bow Sandals, 60 $12-15
You might think it's too early to start thinking about sandals, especially because the temperatures outside hit below freezing today, but if you think about it, there's actually no better time than the dead of winter to start stocking up on your summer essentials. These Jeffrey Campbell sandals have cute bows and they come in two colors. Plus they are literally FIFTEEN DOLLARS! Hurry and put these in your cart ASAP.

Sam Edelman "Winona" Rain Booties, $90 $63
I have never owned a pair of rain boots, and my ruined Frye cowboy boots hate me for it. Look, hate on me all you want, but I think rain boots are cute on toddlers and toddlers only. They're also heavy af, so they're gonna be a no from me, dawg. However, I got these Sam Edelman rain booties and have to retract my earlier statement, because these are amazing. Unless you're looking at them up close, they just look like patent leather Western-inspired boots that happen to be waterproof. I've worn these with 501 jeans and an oversized sweater and have never been cozier. 

Schutz "Ionara Ankle Strap" Pumps, $180 $126
I am rarely wearing flat shoes, but there is a limit to how high my heels can go without me breaking an ankle. To me, three inches is the perfect height because they aren't kitten or CFM heels. They're the perfect balance between the two. They're also simple and can be worn with a pair of jeans and a white tee shirt or with a sparkly mini dress. They're also almost impossible to fall down in because the heel is pretty sturdy. Highly recommend for a betch seeking height. 

Diane von Furstenberg "Rhonda" Booties, $398 $199
At least one DVF item should be in every fashion-loving gal's closet because her stuff is amazing, and also because she herself is an icon. I mean, the woman basically invented wrap dresses and her hair is its own solar system. Anyway, as much as I love DVF, I simply do not have the kind of lifestyle that lets me blow $400 on shoes, but for $200, I can make some small sacrifices. These are great because they're high enough (three inches) to give you some some serious height, but not so high that you can't make it on your feet until the end of the day in them. Don't even get me started on the perfection of the color.
Accessories

DANNIJO "Fiji" Scrunchie, $45 $9
If I got a dollar for every hair tie I've lost, I'd have at least $2,000 to my name by now. The idea that someone would pay $45 for a f*cking scrunchie is truly insane to me, but to each her own, right? Scrunchies are making a comeback and I'm definitely down for it, so I would happily pay $9 for this cute metallic one that looks like it's tied in a bow. TBH if I wore it at the end of a long braid, I would look more like a founding father than this beautiful model does, but she's def selling it and I may actually buy it.

Kate Spade New York "Small Sunflower Stud" Earrings, $48 $33
Statement earrings are definitely having a moment right now. But just in case the moment eventually passes, you can get these cute earrings for only $33. Contrary to how massive they are, they aren't heavy at all. I wore them to an offsite meeting with a light wash chambray top tucked into dark wash skinny jeans and black heels and, I have to say, I felt like a J.Crew model… minus the part where I'm 5'10 or taller. Bottom line: they make enough of a statement without overpowering the rest of the outfit. You'll definitely get a "OMG I love your earrings!" at least twice.

For Love & Lemons "Roxy Inset Stone" Clips, $80 $64
Is it just me, or is everyone with hair wearing those oversized barrettes with pearls on them? Just me? Cool. Cool cool cool cool. Do I love the look? Yes, obviously, but I truly hate buying into a trend that I feel like literally everyone participates in. That's why I love these barrettes. They're the same idea as the pearl ones, just, you know, not pearls. The colors also have a sort of vintage feel to them, which is always a fun look to try. If I could get these in every color, you know I would! 

Lizzie Fortunato "Gala" Wristlet, $320 $224
Another reason that I love perusing giant sales like these is because I discovered designers I never would have found otherwise. Sorry, Instagram, I know that's like, your bread and butter, but y'all dropped the ball on this one. This is obviously not an everyday bag, but it is a personal belief of mine that, much like metallics, animal print is a neutral and should be worn as such. I would wear this bag with a black-dress-cool-coat combo on a Saturday night or to Sunday brunch with that pale pink J.Crew peacoat that literally three out of five women own. It's just big enough to fit the new iPhone 11 Pro, which, I'm sorry, is an iPad, but small enough to work as a microbag. Ya love to see it.
DRESSES

re:named "Aurora" Mini Dress, $68 $34
I'm a sucker for a fit-and-flare dress and floral prints, so obviously this dress ended up in my cart the second I saw it and ended up on my credit card the second I read the price. This shape is flattering on pretty much every body type, so you may as well just get it and be damn happy that you did. It's not aggressively pink, so if color scares you (hi, neighbor), you can mute the pink even more than the black does by pairing it with a pair of sheer tights and booties. Loving this already.

alice + olivia "Coley Crew Neck" Dress, $330 $221
Call me crazy, but the '60s are making a comeback, and shift dresses with colorful, bold prints are on my radar. Because it's freezing and will only get colder, I'd probably wear this dress over a black or white fitted sweater—maybe even a turtleneck, who knows? If you don't want to go full-on mod vibes, you could always wear the dress with a pair of sneakers or flats—as opposed to a pair of patent white platform knee-high boots and a pair of chandelier earrings. The bottom line is that this is giving me major Edie Sedgwick vibes, and I need it in my life now. This is definitely a special occasion dress that you probably couldn't get away with wearing every few weeks because people will definitely Kate Sanders you and publicly accuse you of being an outfit repeater. Honestly, whatever. At least the outfits I'm repeating are cute. 

Rhode "Ryan" Dress, $445 $333.75
Annnnnd I found my holiday party dress that I will shamelessly wear to more than one holiday party. Even though it looks a little shapeless, it's actually really flattering because it's so short. There's also a very subtle belt action happening at the waist if you want a little more definition. Lastly, generally a dress that's covered in the brand's logo isn't really my go-to look because #modestyiskey, but I will make an exception in this case because Rhode isn't a super recognizable logo. If it was, like, Chanel, that'd be a different story, but I think this is still a classic and elegant dress. I'd wear this with a pair of very simple pumps (because the dress is obviously a little loud) and a black clutch. 

LOVESHACKFANCY "Violet" Dress, $495 $371
This dress, which is mostly ruched save for the shoulders and hem, has a very retro feel to it. This is such a good look and can be dressed up or down. I'd wear it with flat black leather knee-high boots during the day and then change into a pair of silver heels at night. I mean, who doesn't love a multipurpose outfit, right? I also love this little number because you can wear it in the winter and in the summer, which, if you live in a city like New York, is saying a lot. Next!
TOPS

Z Supply "The Stripe" Shoulder Tee, $48 $19.20
If you work for a cool company that doesn't have a strict dress code, definitely get this top. It's the kind of thing you could wear on a date and say, "Oh, I just came from work" when your date says you look nice. I mean, technically, it's true. Also, this is the kind of thing someone who likes "dolled-up basics," as my grandmother calls them, because it's something you can wear different ways without looking like you're wearing the exact same outfit. Personally, I'd tuck this one into a pair of high-waisted cropped boyfriend jeans and wear it out with ballet flats. Then the next day, I'd rock it again but with a black flowy midi-length skirt and booties. Should I quit my writing job and become a stylist? LMK, but I feel like yes. 

Eberjey "Sadie Stripe Varsity" Top, $78 $39
Normally, I am personally offended when a T-shirt is more than $15, but this Eberjey one is the one exception because it's the softest thing I've ever felt. It literally feels like a kitten's ear. Yes, it's just a T-shirt, but it's also so much more than that. It's also cute, so you can also wear it in the company of your Netflix & Chill or whatever the youths are calling it these days. As the photo indicates, they come with a matching shorts, but if you don't care to look like you're about to saunter around Cape Cod while you binge Netflix alone, you could obviously just wear your college sweatpants or whatever else is conveniently already on the foot of your bed. These are the kinds of pajamas that I'd want to buy at Anthropologie, but would rather spend money on candles instead. So, all in all, I'm happy to buy it on sale here. 

ONE by DONNI "Tri Fleece" Pullover, $218 $87.20
This reminds me of that fuzzy Patagonia pullover that every single 16-year-old owned in 2010, except this one is way more of-the-moment, meaning it's not offensive to people's eyes. As you can see, two of the three colors are neutrals, so you can wear it with anything and, to be perfectly frank, I love it with the white jeans. Can we also talk about this insane deal? It's basically free! Thanks for the free pullover, ShopBop! For real, though, it's almost $200 off, so you know I'm adding it to my cart as I type these words. I also like that it's not aggressively bulky and can be worn as a sweater. 

WAYF "Vincent Intarsia" Sweater, $89 $62.30
Animal print is very in right now, and I'm not mad about it…unless it's, like, actual animal print. This sweater is cool because it's almost a turtleneck, but not quite. I also really appreciate a chunky sweater that's slightly cinched at the waist because, even though it's a big sweater, it's still flattering. Because this guy is a little looser, pair it with a pair of skinny jeans. That's all I've got to say about that!
Not to freak you out, but I had to replace at least one of these items on my list because I went back after writing it and realized it had already sold out. So if you like something, don't hesitate! You have my official permission to impulse buy.
Images: Brooke Cagle / Unsplash; ShopBop
Betches may receive a portion of revenue if you click a link and purchase a product or service. The links are independently placed and do not influence editorial content.
5 Labor Day Weekend Sales You Don't Want To Miss
Labor Day Weekend kicks off today, and my wish for you is two-fold: I hope today is not only the first day of your long weekend, but that it's also pay day. I'm not saying that just because you're going to need that direct deposit to fund your weekend of binge drinking spiked seltzers, but also because you're going to need sufficient funds to take advantage of all the incredible Labor Day Weekend sales, most of which have already started. LDW is the last big weekend for summer sales, and there are some good ones you don't want to miss out on. Here are the best Labor Day Weekend sales to blow your hard-earned paycheck on.
1. Urban Outfitters: Extra 40% Off Sale (No Code Necessary)

UO Zella Ruched Tie-Shoulder Tank Top ($59 $20.99)

Capulet UO Exclusive Elodie Smocked Square Neck Midi Dress ($239 $59.99)

Urban Renewal Remnants Blown Out Gingham Tiered Dress ($69 $17.99)

DL1961 Hepburn High-Rise Wide Leg Jean ($199 $65.99)

The East Order Janie Embroidered Peplum Top ($139 $47.99)
To celebrate this LDW, Urban Outfitters is doing an ADDITIONAL 40% off sale, which is amazing. You can get incredible pieces at even more incredible prices, like the above pair of light wash DL1961 jeans which are normally $199 and are now $65.99. That's a deal you can't argue with, especially for a high quality pair of super cute jeans. I mean, you're basically saving money by buying them.
2. Reformation: Up To 70% Off Sale (No Code Necessary)


Julia High Cigarette Jean ($128 $64)



If you're like me and are obsessed with Reformation, but don't have the finances to support your obsession, I have good news. Reformation is having their summer sale right now, with their sale assortment all currently up to 70% off. You can definitely snag some great deals and, considering Reformation rarely ever has sales, I'd say go all in. The "add to cart" button just became your new best friend (and your wallet's greatest enemy).
3. South Moon Under: Additional 50% Off Final Sale (No Code Necessary)

Juniper Blu Open Knit Pullover ($74 $22.48)

Winston White Ruched Front Cutout Mini Dress ($136 $42.48)

Minkpink Chambray Ruff Stuff Romper ($89 $19.98)

Fate by LFD Tie Dye Destroyed Sweater ($88 $27.48)

Show Me Your MuMu Ruthie Ruffle Dress ($154 $49.98)
If you're a proud member of #BachelorNation, then you know that Show Me Your MuMu is a go-to brand for many of the women of The Bachelor franchise. And, if you've ever looked up their stuff, then you know it's not exactly easy on the wallet. But don't get discouraged, because right now South Moon Under has a bunch of Show Me Your MuMu pieces on sale with an ADDITIONAL 50% off! Even if you're not an aspiring #BachelorNation influencer, I guarantee you'll love their clothes, plus all the other incredible pieces you can purchase at 50% off right now.
4. Anthropologie: Additional 50% Off Sale (No Code Necessary)

Pilcro High-Rise Flare Jeans ($150 $44.98)


Demeter Tiered Midi Dress ($160 $49.98)

Marta Puff-Sleeved Blouse ($98 $29.98)

Mackenzie Striped Wide-Leg Pants ($130 $34.98)
Another can't-miss sale is Anthropologie's holiday weekend sale, where they're doing an additional 50% off sale prices. If you're in need of workwear pieces, then now is definitely the time to shop. Of course, they have really great weekend-worthy pieces as well, and now with the sale you can actually afford this stuff instead of just choosing from what's left in the sad, picked-over sale room.
5. Forever21: Additional 60% Off Sale (Code: ADD2CART)

Satin Cami & Skirt Set ($38 $13.68)

Buckle Strap Bodycon Dress ($22.90 $8.00)

Jaguar Print Bodysuit ($22.90 $8.24)

Off-the-Shoulder Top ($35 $11.20)

Belted Surplice Cami Romper ($35 $12.60)
For all the "babes on a budget" (aka my fellow broke-ass bitches), brace yourselves, because Forever 21 is doing an ADDITIONAL 60% off sale. Like, you can probably get 1,579 things for a total of $100 right now. Yes, that was an exaggeration and, realistically, you might only get one wear out of each piece. But then again, who the f*ck cares when your top only costs $5 anyway? Plus, in today's Instagram-obsessed world, you tend to really only wear your clothes a few times, so it honestly works out fine.
Friendly reminder from yours truly that Labor Day Weekend sales are the last big holiday sale we have until Black Friday. That being said, please join me in doing the financially responsible thing of maxing out all my credit cards this weekend and then rebuilding my available balance so I can blow it all again come November.
Images: @max_libertine / Unsplash; Urban Outfitters (5), Reformation (5), South Moon Under (5), Anthropologie (5), Forever 21 (5)
Betches may receive a portion of revenue if you click a link and purchase a product or service. The links are independently placed and do not influence editorial content.
The Nordstrom Anniversary Sale Has Fall Staples You'll Want To Stock Up On
If you're not already aware via every fashion blogger on your Instagram feed, the Nordstrom Anniversary sale is officially here. And, per usual, this sale does not disappoint. The whole idea of the sale is to encourage you, me, and the rest of consumerism America to purchase all your new fall pieces now before you actually really need them. And, in order to convince us to do so, they offer great discounts on said pieces. This isn't like a normal sale, where they discount all the old sh*t—these are new pieces with limited-time prices. Of course, who's to say you'll still want these items when fall does finally roll around and there's a whole new set of covetable fall arrivals? But that's not the point. 
Given how good the deals are from the Nordstrom Anniversary sale, it seems like the financially responsible thing to do here is just go ahead and order these great fall pieces now, before the price shoots back up. But, fair warning, everything is going super fast… it was actually tough to even write this article considering how quickly all the sizes keep selling out. So, if you like something, don't hesitate. See it? Like it? Want it? You got it…if you order ASAP!

Now: $92.90
After Sale: $139
This oversize blazer, which is also available in plus sizes, is the perfect combo of cool and chic. You could totally wear it to the office with full confidence that you look super professional, then out to happy hour and still look stylish. Depending how strict your office dress code is, you could even just switch out your work blouse top underneath for a casual tank or tee. You could even wear this blazer out and about à la Hailey Baldwin Bieber with some cut-off jean shorts and chunky dad sneakers. Simply put, this blazer can pretty much be worn all year, so there's legit no reason not to buy it.

Now: $49.90
After Sale: $79
Slip midi skirts are a fall staple, and this floral one by Something Navy is a true fall wardrobe must-have. It also comes in that leopard print every single girl in New York City is wearing this summer. Whatever pattern you choose, you can easily pair this skirt with a cute graphic tee for early fall when it's still relatively warm out, then transition it for late-fall/winter with a chunky sweater. Not to mention, this too is a piece that works for both the office and the weekend because it's both stylish and HR-approved.

Now: $99.90
After Sale: $158
Okay, I already know what you're thinking—that's a deal for a flannel?! Hear me out, it totally is. That's because this isn't just a regular flannel, it's a Rails flannel. They're super soft, timeless, and just pretty much all around the sh*t. Plus, unlike your Forever21 flannel, this one will actually last you more than one season. I personally LOVE this navy one with the pink stripes, but they're all cute so I would highly recommend getting at least one. 

Now: $123.90
After Sale: $185
Everyone's fave Kardashian, Khloé, gave us 100 more reasons to call her our favorite with the creation of her denim-focused size-inclusive brand, Good American (check out the plus sizes here). And now, she gave us more reasons to like her with these incredible black high waist straight leg jeans that I NEED for fall. Everyone who has tried Good American denim raves about the fit, so if you haven't gotten on the bandwagon yet, now's the time to do so while you can get this pair for more than $60 off.

Now: $216.90
After Sale: $325
I obviously realize that not everyone is currently in the market for designer sunglasses but, if you are, the Nordstrom Anniversary sale is the time and place to treat yourself to a pair. They have all kinds of styles from top brands like Fendi, Dior, Tory Burch, Ray-Ban, etc. They even have less pricier styles from Rebecca Minkoff, Kate Spade, and Marc Jacobs. So, even if this gorgeous Givenchy style I've selected isn't exactly the style you personally want, there are a ton more options. 

Now: $52.90
After Sale: $80
Cropped jackets are the ideal transitional jacket from season to season. This oversize cropped one from Topshop can be just as easily worn now as it could be in a few months from now paired with a fitted turtleneck underneath. Okay, maybe not worn exactly now given we're in the middle of a heat wave, but then again, with everywhere blasting their AC as a result, you may want to have it with you just in case. Right now it's only $53, which is an unbeatable price for a jacket you can legit wear all year.

Now: $129.90
After Sale: $199.95
This is the perfect simple bootie that will pair with everything in your closet this fall. It actually comes in four different colors, all of which are chic and easy to pair. You obviously have to get the black pair to have as your basic staple bootie for fall and winter, but then you def need the red pair to elevate an otherwise basic outfit and make a statement. Of course, then you also have to have the dark gray pair for when you need something slightly softer than black. And then, you need the pale pink pair because they're honestly just beautiful. You basically need all four colors, so you might as well just go all in while they're on sale.
Like I said, if you haven't already checked out the Nordstrom Anniversary sale, then you need to head over to their site right now before your size is sold out. Honestly, that report that's due to your boss by end-of-day today can wait—this is important. Hopefully, they will understand. The prices go back up on August 5, so hurry hurry hurry!
Images: @dayinmydreams / Unsplash; Nordstrom (7)
Betches may receive a portion of revenue if you click a link and purchase a product or service. The links are independently placed and do not influence editorial content.
5 Favorite Brands You Should Never Pay Full Price For
I'm the kind of person that somehow always accidentally buys things. Like if I'm sad, I shop. If I'm happy, I shop. If my work is going well, I shop because I deserve it, and if it's going terribly, I shop to cheer myself up. However, as a semi-starving artist/writer, I don't have a ton of money to spare. So, I improvised, adapted, and overcame. I learned to how to be an expert bargain shopper. I also tend to like higher-end things, but who doesn't? As a sale connoisseur, I have figured out a few brands that are always on sale that you should never, ever pay full price for. Get the hell out of that Forever21, because here are some quality brands you can get at cheap AF prices.
Wildfox
A celeb favorite, Wildfox is actually my favorite brand of all time. Why, you ask? Because they specialize in sweaters and tees that are the softest things that have ever existed, like ever. That said, Wildfox is pretty expensive, with a basic tee costing ~$50 and sweaters ranging from $100-$400. They also have supersoft pajamas, sweatpants, jeans, bikinis, and sunglasses. It's definitely out of my price range for stupid graphic tees, or like the current sweater I'm wearing with a piece of pizza pictured on it (so soft though). That said, Wildfox is always on sale. My holy grail places to search for it are Hautelook and Nordstrom Rack, where you can get tees for $14 and sweaters for $40, but any department store's sale section usually has a ton of Wildfox items. The only downside is if you see something you have to have on their new releases, it may sell out before it hits the Rack. Splurge if you must, but for the most part, you can always find this high-quality brand for cheap.

WILDFOX Monday Mourning Knit Sweatshirt
Nike
One of my New Year's resolutions is to be less fat. I hate going to the gym but I definitely feel more motivated when I have new workout gear. Nike products are cute and fit well but can be totally expensive. Instead of buying cheap workout clothes and shoes that you feel meh in, buy Nike stuff on sale by hitting up their own factory outlets or department store sales. You can always, always find Nike at cheaper prices by doing a little digging. I even shopped at JC Penney recently (ew) because they had baby pink Nike sneakers at half price. That is the dream!

Bath & Body Works
If you have ever bought anything here full price, slap yourself. They have ~*~THE BEST~*~ sales. Never, ever buy a 3-wick candle for more than $12 (normally $24) and never buy body wash/lotion unless it's buy three, get three free. They stagger their sales and mail (and email) coupons, so sign up for their mailing lists to know when to shop. You may have to buy body wash one day and wait to buy candles for a couple weeks, but the money you'll save is worth it. Also? Always buy in bulk when they're having the sale, so you don't get desperate and pay full price because you've run out of candles and you need to destress right now. Their best coupons only work online, so don't even bother going into the store. You can always exchange products later for free if you hate the smell. They are having their semi-annual sale RIGHT NOW, btw.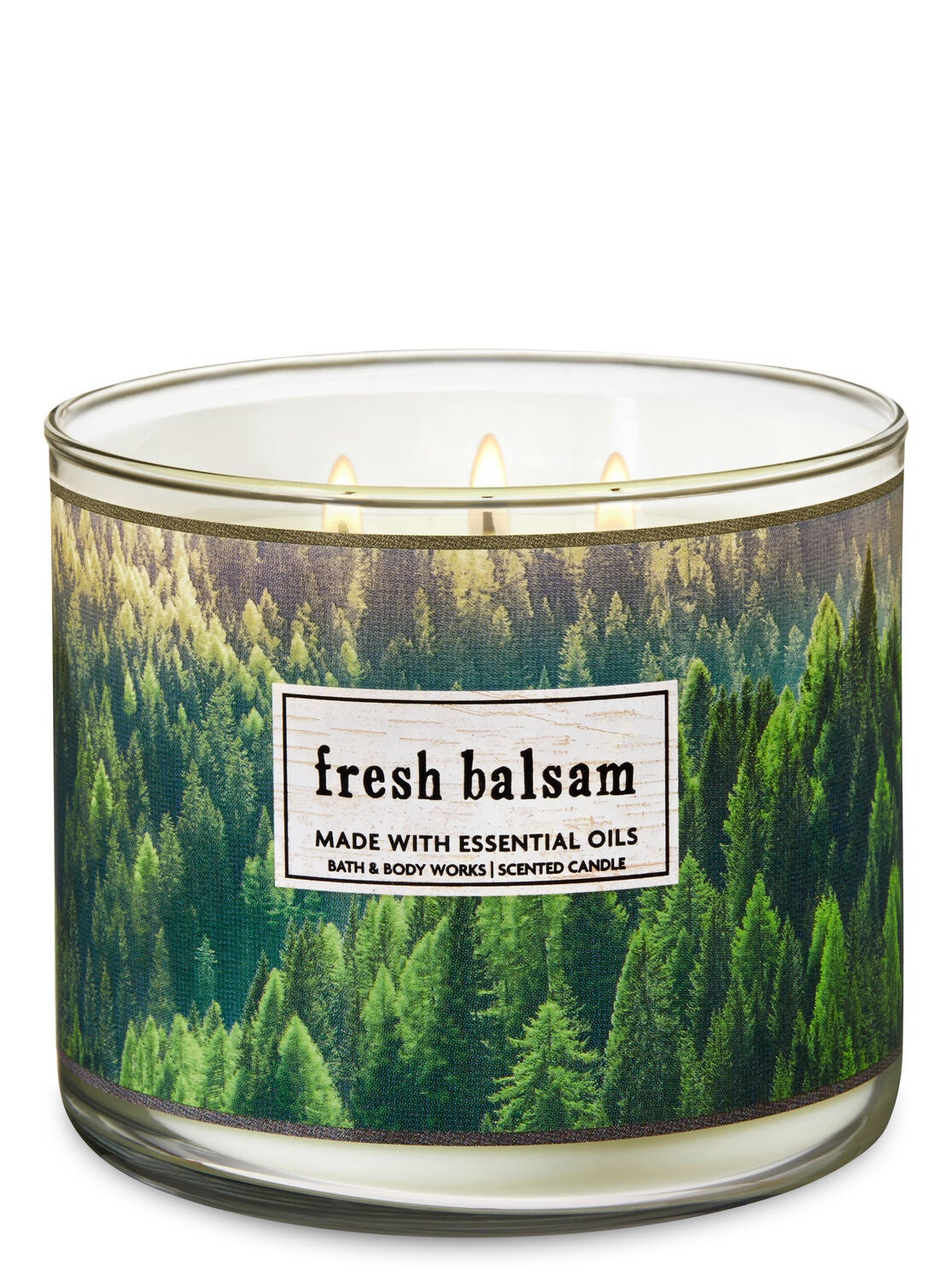 Bath & Body Works FRESH BALSAM 3-Wick Candle
Jeffrey Campbell
Jeffrey Campbell shoes are really trendy and fun, but although I adore them, they're not usually super practical and go in and out of style. Luckily, you won't have to spend a fortune on this pricey brand because they are also always on sale. Hit up the sales at Nordstrom Rack, Free People, Urban Outfitters, Shopbop, and many other stores to find these shoes discounted. These boots are currently 51% off!

Jeffrey Campbell Gamora Over the Knee Boot
Topshop
Another celeb fav, Topshop is soooo trendy, but I swear the quality is no better than Nasty Gal or Forever21, and it can be expensive. The Topshop website itself has really good sales, which you should always check first – it's currently 70% off! Since Nordstrom carries the brand, you can also always find cute Topshop pieces in their sale section, or on the Rack. It's the perfect place to pick up a trendy piece that you might hate by next year, but fits better than cheaper stores (yet you're paying the same price – ha!). Seriously, Forever, why is everything made for short people? Tall people are poor too, and we don't appreciate cameltoe and high waters!

Topshop Lace Trim Sequin Slip Dress
Images: Nordstrom Rack (3); Bath & Body Works; Topshop