How To Talk About Money At Every Stage Of Your Relationship
If you haven't yet thought about having the money talk with your partner, you're not alone. At this point, money is almost seen as more taboo than sex, politics, or religion. However, it's no secret that money leads to a lot of heartbreak in relationships. With close to 90% of divorces stemming from money issues or financial infidelity, learning how to talk about finances with your partner, especially early on, is key to the success and longevity of your relationship. From our experience giving financial consultations with couples, we've learned that many couples wait to discuss money until they're about to make a joint financial decision, but we would strongly urge you to have these conversations sooner rather than later. The reason? Imagine this: You're going to buy a car or a home with your significant other. The lender pulls your credit reports. And that's when you find out your better half has a credit score of like, 2. (Ever-so-slight exaggeration on the score, but you get the point: that is not the moment you want to find out about your partner's shoddy credit history.) Or maybe you're in honeymoon bliss after the wedding and then find out your new partner actually has a huge student loan to pay off or has maxed out his/her credit cards. While this debt may not be your responsibility per se, it will affect the life plans that you may or may not have been diligently keeping in your journal since age 7. Talk about a buzzkill. 
So, hopefully, we've convinced you that having the money talk is one of the most important (and ongoing) conversations you'll have with a partner, but now, where to start? Every couple is different, especially because money is a deeply personal and sensitive topic. While there is no one-size-fits-all approach, we're both in long-term relationships (6+ years) and have been able to navigate the topic successfully so far. Basically, we kind of know what we're talking about.
The timeline we both followed for our relationships may be a little different for you and your partner, especially based on when you plan to move in together and make joint financial decisions, but this will give you a general overview and questions to consider. 

0-6 Months (Or Newly Dating)
Every relationship moves at a different pace, but for both of us, the first six months of our relationships were just about having fun. We didn't get into the nitty-gritty, like exchanging credit scores or bank balances (chill out, Meredith Blake), but being attentive to details during these beginning stages can tell you a lot about how a person manages money. None of these observations are inherently good or bad, but picking up on habits and behaviors can tell you a lot about a person's relationship with money without doing a whole interrogation-style line of questioning. Some things to pay attention to:
☆ Does your partner ball out on payday and then live on Top Ramen for the rest of the month?
☆ Does your partner pay for everything with cash or credit cards?
☆ Does your partner say "yes" to every invite, trip, or activity, or do they decline occasionally to focus on other goals?
☆ Does your partner buy a new outfit for every event?
At the beginning of her relationship, Lauren asked her partner a ton of questions about every aspect of his life. Sounds a little intense, but, evidently, it didn't scare him off. When it came to money, by asking questions about what his childhood was like, what his high school/college jobs were, what scared him about the future, etc., she learned a lot about his approach to money before they had any "official" conversations.
At the beginning of a relationship, you should definitely focus on having fun and getting to know someone, but you can still learn about their approach to money just by paying a little attention.
6 Months-2 Years (Getting Serious)
Around this time, we both started to open up a little more about specifics with our finances. For instance, if you read our previous articles, you'd know we both love to travel, and it was important for us to have partners who enjoyed doing so as well. About a year into their relationship, Lauren and her partner were planning their first international trip as a couple. Lauren's partner was stressed about booking because he'd been been feeling stretched thin with always agreeing to go to all of the happy hours, dinners, etc. that she wanted to do. This led to them both breaking down and sharing their budgets to figure out what they could each afford to do and how to allocate funds. 
This also ties into one of our most important money principles: spend freely on the 2-3 categories that you value most, and cut costs as much as possible on the things that you don't. This is important in your relationship as well as your personal spending. By sharing our entire budgets with our partners, we learned more specifics, such as each other's incomes and how much we were paying for student loans, but more importantly, we learned more about what the other person valued spending money on. Learning this helped us cut costs in other areas—like, while we wanted to try all the best happy hour spots in Seattle, our partners didn't prioritize that. So we learned to start cooking at home with our partners to get that quality time, and Lauren and I still hit up all the happy hours…without the guys.
3 Years (Or Before You Move In Together)
We each moved in with our partners three years into our relationships. We've always believed that moving in together should never be about convenience, saving money, or anything other than wanting to start a life together. So, before we each moved in with our S.O.s, we wanted to lay everything about our financial health out on the table. 
We made sure that our partners were comfortable with this, then we set a date and made sure to have a great bottle of wine ready to go. Trust us, the money talk can be uncomfortable at first, so you'll want to make it as fun and relaxing as possible.
During these conversations, we kept track of EVERYTHING that the other person could possibly ask about finances. 

Credit Score: If you need a great place to find this information, Credit Karma is our go-to. Many people confuse a credit score with a credit report. You can check your credit score for free and as often as you like, without impacting your score. A credit report is what you can only check for free once a year. If you want to know more about the difference between the two, check out this Hello HENRYs post.
Salary: Obviously, your annual income. This is also a great place to list any bonuses or additional incentives that are part of your total compensation.
Assets: This is where we listed all of our accounts and the balances in each. Checking accounts, savings accounts, 401(k), investments, real estate, etc. Anything that has a value and that you personally own. It's helpful to break down each asset, as well as include a total. That way you can understand how your partner's assets are allocated.
Seeing the breakdown can help you to have important conversations, such as whether he/she is risk-averse versus opposed to investing, if they have been saving for retirement, etc. Then you can come up with an approach together.
Debts: In this section, we listed any money that we owed to someone else. Student loans, car loans, medical bills, all credit cards (plus the balance on each). Even if the balance is zero, it's still helpful to know how many cards your partner has and their overall history on each. For example, you may just have one credit card for emergencies, while your partner is the type to open a new account just to save $10 at Pottery Barn. Again, no judgment on either—it's just important to understand how you both differ in your approach to credit.
Net Worth: This number is determined by subtracting your total debts from your total assets. Ideally, this number should be positive. If not, you should understand why and be actively working to increase it every month. Net worth is the single most important indicator of your financial health and well-being. So many people assume a person's income is the most important predictor of their financial future, but this is not the case. Let's say your partner is making $250K a year but has a negative net worth. There may be valid reasons for the difference; maybe your partner has student loans that resulted in a higher-paying job but will take some time to pay off and get out of the negative, whereas you have no student loans. However, if your partner is simply spending more than they make, you may need to have a bigger conversation about how you can get on the same page and not live beyond your means.
4 Years + Beyond
A year after moving in together, Zach and Lauren bought their first home and have continued to have open, honest conversations about money. They have a finance "meeting" on the calendar every three months, which may seem intense for some, but for them, it has prevented many disagreements about money. During these meetings, they continue updating the same spreadsheet that they used before they moved in together with all of their debts, assets, etc. It's been really cool to have a log to see how far they have come with their finances over the past two years.

Even if you aren't in a serious relationship, we would strongly suggest keeping a similar spreadsheet for yourself to track your progress and to easily see which areas you want to focus on!
And that's pretty much everything you need to know about how to have the money talk with your partner, no matter what stage your relationship is in. The important thing is, once you've started the conversation, it's never truly over. Continue to have honest and open communication to avoid any surprises later on. 
Images: Kelly Sikkema / Unsplash, Giphy (4)
How To Talk About Finances With Your Significant Other
If you've already made the big step of deciding to move in with your significant other, congratulations! I can tell you that living with your boyfriend, girlfriend, or partner is one of the best things in the entire world. Unfortunately, you probably won't be smoothly sailing into Bed Bath & Beyond together just yet. Before you move in together, you need to discuss your finances. Which, according to every advice column ever created, should be 100 percent transparent (!), easy (!), and totally NBD! Well, that's bullsh*t. Money is a big deal, and you should treat it accordingly. You don't have to make a ton of money in order to feel empowered and in control of your wallet, but you do need to be strategic. 
Moving in together, right next to getting engaged, is one of the biggest commitments you can make in your relationship. Don't do it unless you've flushed out the logistics. Super romantic? Not so much. But necessary? Absolutely. You have the most leverage and the best opportunity to set the tone for your new living situation before you move in together. Here are the best ways to go about talking about your finances with your significant other: 
Set Aside A Specific Time To Have The Conversation
it has been a few months and my boyfriend still likes to venmo me $5 every tuesday as a "girlfriend subscription"

— natalie (@natatruthh) October 16, 2019
Most people, no matter how much money they make, get a little uncomfortable discussing it. Try to coordinate a time with your partner when you know the both of you won't be as stressed out (read: avoid doing this Sunday night before the work week) so you can be entirely focused on the conversation at hand. Set aside a good 30-minute window to really review everything about your new arrangement. Make an agenda and sample expense list of what the both of you anticipate to spend month to month. Treat it just as you would a work meeting. If you don't come up with an exact cost or answer for something, be sure to follow up. 
You should also decide on who will be listed on contracts or leases as the person responsible for each expense and how/if you'll go about splitting certain costs. Will one of you cover cable while the other handles internet? Is Venmo your go-to? Or will you open a joint credit card to share expenses?
Figure out your money personalities. Is one of you more into going tit for tat? Or is one of you a Virgo and needs to split everything down the middle by the penny? Decide now and be clear with what you choose. It pays, literally, to be meticulous now versus later when one of you starts holding a grudge for being the sole purchaser of your apartment's toilet paper.
You Don't Have To Tell Your Partner Exactly What You Make Or Go Into Details About Unrelated Spending
After moving in with my boyfriend we had a talk about what money should be spent on and what it shouldn't… i just spent $300 on my hair.. let's not tell him 🙂

— Destinyyyyyyy (@LaLaDessie) November 21, 2018
Unless you two are tying the knot and have decided to share 100 percent of your finances, you actually don't need to divulge exactly how much you make or exactly how you spend your money. Realistically, you two have been together for a long enough time where you have some idea about the other's paychecks. If you're clear with what you can afford or are willing to contribute with your monthly expenses, then whatever you have left over is your business. It may seem like a great idea to be super transparent because it comes off more trustworthy or open about your relationship, but it's not required. In fact, you may even be a little relieved to have more independence over how you spend your money. Your boyfriend need not know that you accidentally spent $250 at Sephora when you were tipsy after happy hour. (Heh, sorry babe.) If you want to, that's cool too. But if you're not into that idea, don't feel like you have to.
Be Prepared To Negotiate 
The only bad part about living with my boyfriend is that I can't just spontaneously get another dog. Like I have to get approval this time? So rude tbh

— ashh (@ashh_olmsted) October 15, 2019
As any couple who lasts longer than two weeks can attest to, relationships are all about compromise. You exclusively watch reruns of Law & Order: SVU on Hulu. He needs every single sports channel known to man. All of a sudden your single girl binge watching expenses have blossomed from a cool $11.99 to $100. Find the middle ground. There will be some expenses on both sides that one of you won't want to cough up for. (I mean, do we really need 20 different channels of ESPN?) And if you can't reach an agreement for something the other person wants, then be prepared to pay for it on your own. 
What If Your Salaries Are Completely Lopsided?
Whether you make a lot more (I love living in 2019) or your partner does, I'm a big believer in paying your portion. If your partner is making a quarter of what you do, or vice versa, again, negotiate. Just because you're sharing a space does not mean you have to share expenses 50/50. There are also other factors to consider outside of just income. Is one of you more inclined to clean? Is one of you the dedicated pet parent? While some of these things aren't factorable into an Excel spreadsheet, they do matter when it comes to sharing a space. 
Bottom line, the most important thing to do when talking to your partner about sharing your living expenses is to be honest and realistic. The more you can stay in front of your finances and any additional expenses or problems that might arise, the less likely money will ever cause a problem in your relationship.
Images: Joshua Ness / Unsplash; @ashh_olmsted/Twitter;@LaLaDessie/Twitter; @natatruthh/Twitter
What Each Character Of 'Friends' Would Earn In 2019
There are few things in life considered timeless, among them are The Beatles, red lipstick, and, of course, Friends. Seriously, that show kept me alive during my junior semester abroad in a city that's tied for least things to do and worst food. If you're ever in Spain, be sure to not visit to Salamanca. Anyway, as an English major, I was trained to genuinely believe that characters live past the end of the story, so I'm really hoping that 15 years after the last episode aired, the Friends have all been promoted many, many times and can now afford their multi-bedroom apartments in one of New York's most expensive neighborhoods.
That got me thinking, what are these guys up to in 2019? Not IRL, of course, but in Friends land aka a set in L.A. the streets of Greenwich Village. Did Joey ever get cast again? Did Chandler graduate from his internship? Are they still spending 23 hours a day in a f*cking coffee shop? And more importantly, what are they actually earning in order to afford these multi-bedroom apartments in one of New York's most expensive neighborhoods? Let's find out!
Monica: Chef
Monica is my favorite. She's loud, she's pushy, and she's clean af. Yep, she's a Jewish mom, alright. In the last episode, she, Chandler and their twin babies moved upstate to Westchester County. If you've ever been there, you know that it is a beautiful place with absolutely nothing to do. Before she moved, Monica worked hard for her head chef position at a ritzy resto called Javu's (fictional, I checked), and I'm guessing she didn't just give that dream up to push a double stroller around the sidewalks of Chappaqua, New York. Nothing against moms—in fact, I hope to be one some day in the distant future—but Monica has always fostered a serious and not-to-be-f*cked with work ethic and I can't imagine she'd work her butt off to throw her professional goals away just because she moved upstate. My guess is that, after a few years, the Bings moved back to Manhattan so that Monica could open her own French fusion restaurant on, like, the Upper West Side. To put things in perspective, a head chef at Union Square Hospitality Group, which owns Gramercy Tavern and Union Square Cafe, makes between $53k and $96k. Given Monica's extensive time spent in kitchens/diners all over the city, I'm guessing she'd make a salary closer to the right end of the spectrum. Good call saddling up next her, Chandy.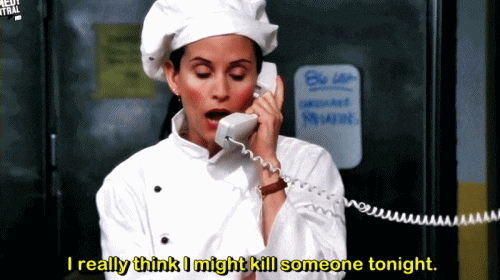 Ross: Paleontologist
Good god, I hope he at least got tenure at NYU after what must feel like 75 years of studying fossils. Assuming he did get tenure, I'm also going to assume he'd be the director of the paleontology department at this point in time. Mostly because there prob weren't too many people up for never getting laid as the most academic department's leader. So the average salary of a department director role at NYU is $101k. Excuse me, what?! Are young Americans buried in student loans because their disgustingly expensive tuitions are being used to finance department heads' six-figure salaries? As a young American who graduated from college, I think I speak for all of us when I say we need answers on this. Knowing Ross, he is spending his influx of cash money on more wannabe vintage decor from Pottery Barn and, like monthly Birchbox Man subscriptions. That's honestly all I have to say about him because I refuse to discuss the least likable character for more than 200 words.

Rachel: Fashion "Executive"
I put "executive" in quotes because wtf does that mean? Whenever I'm swiping through Bumble and land on a guy with something vague af like "Associate at Company" as his job title, I just assume he's unemployed and waiting for his trust fund to become available. So, in the last episode, Rachel gets an offer from Louis Vuitton for a "fashion executive" position in the company's Paris office and she almost goes, but doesn't because Ross's whiney bullsh*t gets to her before the plane takes off. After Rachel decides to stay in New York, we don't really get answers about what she does re: her job. I am guessing she just decided to work for LV's New York office, but who knows? And given her experience in buying, I'm also going to assume that she's a buyer at Louis Vuitton, in which case, she's making around $40k. Sounds about right. Good thing she has Ross' income to fall back on. As a survivor of the fashion world, I can confirm that it's a terrible industry if you want to be able to enjoy simple pleasures of life like wifi or electricity.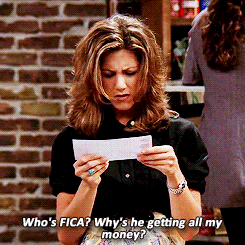 Joey: Actor
This is another favorite Bumble job title. When I see "actor" on someone's profile, it's safe to say that he's a Flywheel instructor. I honestly have no idea how much Joey made during the show, but considering he was, like always out of work, his typical income was prob close to zero. And because I'm a cynical New Yorker who's seen everyone in film except for Emily Ratajkowski's sneaky bastard of a husband get f*cked by the industry, I'm assuming the most prestigious work Joey has to offer is supporting roles in NYU student films. Since Joey clearly didn't realize that he could be living rent-free in a beautiful Noho loft courtesy of the New York Multiple Dwelling Law (the only kind thing New York government workers have done for creatives), Joey is probably a bartender at a dive bar, where he'd be making a whopping $3/hour, not including tips. As a former waitress, I'm not totally shocked by this considering most people in the service industry earn their income through tips, and something tells me this Italian meatball is doin' just fine.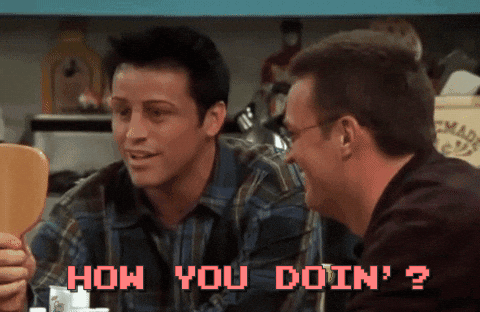 Phoebe: Masseuse
After her failed massage van idea, I'd really hope Phoebe would get a stable job at a spa or something. The mystery of how she affords her apartment will forever be one of the best kept secrets to date, but maybe after she gets hired by a place like Red Door Spa, she can make her living situation more believable. Knowing Phoebe, though, she probably works at some parlor in Korea Town that offers happy endings after a mediocre rub down. Let's hope not. Either way, she'd be taking home between $15-$35 plus tips. We know her music career won't be taking off anytime soon, so I'm really hoping she put the guitar down and took on a few extra hours at the spa.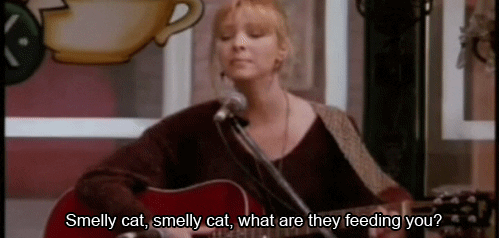 Chandelier: Transponster
One of Friends' most famous plot lines is that no one knows what Chandler does for a living. I've seen the show at least five times since it ended, and I still don't know what he does, even when I actually pay attention to the office scene. So after hours of research, I discovered that Chandler's official job was data processing and statistical reconfiguration for multi-national corporations (???) before he became a junior advertising copywriter at some young agency. I don't even know what to Google for his first job, so I am assuming he stayed in advertising and climbed up the ladder until he reached Don Draper boss status. Chandler is prob working at a mid-level agency that earns between $2-$6 million in revenue, but he's a senior account executive, so he's making around $100k. Not bad for someone who was an actual unpaid intern in his 30s. Good thing he and Monica are raking in the cash because, if my twin brothers taught me anything, it's that twins are f*cking expensive. Lastly, I'm glad he finally got his sh*t together because he really hated being a transponster and no one should work at a job they hate, even if the money is good, and that is why I will never understand why people become traders on Wall Street.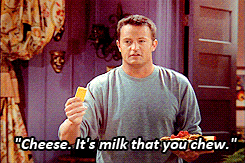 Images: Netflix; Giphy (6)
How I Survive In Portland On A $50K Salary: Realistic 'Money Diaries'
As long as Refinery29 keeps recruiting socialites to write about their budgeting woes for their Money Diaries segment, we will keep flaunting the finances of our freelancers to remind the world what suffering really looks like. While not nearly as expensive as
LA
,
New York
, or San Francisco, Portland, OR, where I currently live, is rapidly moving up the ranks of American cities that young people flock to for overpriced beverages and an astronomical disparity between their rent and wages. Thanks,
Portlandia
. Here's what a typical day looks like in the Pacific Northwest's second favorite city (fuck you, Seattle).
The Basics
Occupation: Officially I'm a global communications planner at a media agency, which is one of those made up titles that means I majored in journalism in college and then shrugged my way into job. It's worked out spectacularly well for me thus far, so if everyone could keep their mouths shut and not ruin that, I'd be very appreciative.
Industry: Advertising. My office could not be more stereotypically "millennial advertising" if we tried. Portland's latest warehouse loft-turned-office has it all: exposed brick. unfinished floors. open floor plans. a three-legged dog who named Cooper who loves burritos as much as any of the rest of us. Welcome to media, it's just as glamorous as you were promised.
Age: 26
Location: Portland, OR
Salary: Approx. $50K
Paychecks: I get paid twice a month, on the 15th and the 30th. Sometimes this seems like a rational spacing of time, and sometimes it seems like four years have passed between the 15th and the 17th. If pay day happens to fall on a Friday, I am guaranteed to be starving for the next week and a half because my drunk self has no concept of not spending her entire paycheck mere seconds after she receives it on drinks for her all her friends.
Bonus: Much like debt-free college and social security, bonuses are a myth perpetuated by baby boomers to make us hate ourselves. No one tell them how well it's working.
Shit I Pay For
Rent: For rent and utilities, I pay a grand total of $705 a month. I realize that this is a screaming deal, and there's likely a reason. I live in the corner apartment of a building on a bustling street that hosts no less than four ambulance parties a night. We have no dishwasher, which means I could be stricken down with salmonella at any given moment. About once a month, someone tries to break into our basement storage/laundry room, which means I am unable to clean my clothes or access my storage unit for days at a time while the door is being replaced. Sometimes this means you have to wrap your cat in a blanket and carry her to her vet appointment because you physically cannot access her carrier. Don't mind me, the quirky twentysomething strolling down a busy thoroughfare, gripping a struggling, screaming, overweight cat as if her life depended on it. I'm a rom com waiting to happen.
Car: I'd say I fill my car up about twice a month, and it's probably $40 each time because I wait until there are literal tumbleweeds rolling around in the tank before coasting to the gas station that is only slightly downhill from my apartment.
Comcast:
I pay $40 a month for moderately reliable wifi and access to the most basic cable package so that I can watch two shows in real time:
Riverdale
and anything from
The Bachelor
franchise. I initially positioned this as a work necessity, just in case I have to write a recap or reactionary piece. That has never happened. I'm just trash who needs immediate access to
Riverdale
and
The Bachelor
.

Hulu: My first big move into adulthood was taking over my family's Hulu payment because it felt weird making my grandma pay for it while I handed out the password to all my friends. You could say I'm selfless. We sprang for the $11/month plan so that we can skip commercials. This is how the other side lives, my friends.
Gym Membership: I pay $89/month for a Class Pass membership that gets halfhearted use at best. Some weeks I'll remember that one day the sun will return to this god forsaken city, and I go to barre religiously for four days in a row. Then I discover Hawaiian food and don't move for another three weeks. Moderation is everything.
Going Out/Eating/Stupid Shit: I'm so offended that you would even think I'd subject myself to the trauma of checking these numbers. It's too much okay? Is that enough? Are you not entertained?
Savings: I try to put away anywhere from $200 – $400 a month for a month long trip I have booked in October. "Try" is the operative word here, because I usually end up dipping back into that savings a couple days before pay day. My Mint app is furiously buzzing just hearing me type this.
Student Loans: I have come to accept that I will be paying these until the day I die. My 10-year plan is that the United States government crumbles in some kind of YA dystopian anarchy plotline, and I don't have to finish paying for my college degree. That's it. That's as far as I've gotten in the realm of financial planning.

A Typical Day
8:00am – Eat what I've convinced myself is a healthy cereal alternative but what I know deep in my heart to just be a Trader Joe's branded version of Cinnamon Toast Crunch. Sprinkle a couple blackberries on top and voilà, I am a health guru.
8:20am – Get into my car and notice that my gas light is on. How long has it been on? Only God knows. Immediately decide that this is a problem for later me to deal with.
8:35am – Stop on my way to work to buy an iced latte that I can hardly justify because our office provides coffee. But it's the closest thing Portland has to Blue Bottle and so we all have to make our scarifies, I guess. My favorite part about spending $5.75 on an iced latte is that it only takes me 30 seconds to drink it and immediately wish that I had another one. Sure, it could have been $4.75, but I tipped a full dollar in my ongoing efforts to get the hot barista to remember me. This strategy has yet to pan out.
8:37am – While waiting for my latte, I openly gawk at a woman at a nearby table who has managed to pull off the heavy bang/oversized overall/struggling yet chic artist look that I was convinced, until this moment, only worked on people like Alexa Chung and Rachel McAdams. I wonder if she also tipped the barista a dollar.
10:00am – Walk to the cafe by my office because it's such a nice day and why not get some fresh air! Definitely no ulterior motives here! Just accompanying a friend and basking in that sweet Oregon sunshine!
10:05am
– Order a side of bacon, because I'm a growing 26-year-old girl and if
keto
taught me anything, it's that we should be celebrating this perfect piece of meat.
12:30pm – Ventured to New Seasons to stock up on cheese for my weekly Riverdale viewing party. If you don't spend your Wednesday nights devouring entire wedges of jalapeño gouda and mocking Archie Andrews, I honestly don't know what to tell you other than to get your shit together.

While there, I realize that I have yet to drink a single liquid today that isn't coffee, something that is definitely not helping eradicate the cold that has slowly taken over my body in the last 24 hours. In the name of self-care, I spend $4 on 11 oz. of hand squeeze orange juice and another $2.50 on a giant-ass bottle of Fiji water. I recognize that spitting in the face of sustainability is a bold choice to make in Portland, but I don't have a dishwasher and don't trust my own paltry cleaning skills to remove whatever bacteria may have accumulated in the four reusable bottles I actually own after months of use/baking in the backseat of my car.
I didn't buy lunch because Tuesday night I decided to meal prep for the week to make myself feel better about a solid week straight of takeout. This didn't stop me from standing in front of the hot bar mac and cheese and just sighing for five straight minutes. But, in the spirit of full disclosure, if we were talking a typical day I'd spend five minutes hemming and hawing about saving money and then drop $9 on a boxed salad, likely rife with e. Coli.
2:30pm – Consider eating the "afternoon snack" I packed this morning. It's a healthy and dissatisfying combo of carrot sticks and white bean basil hummus, something that sounded enjoyable while I was furiously grocery shopping the night before but now just makes me want to die.
2:40pm – Eat it anyway. Even Cooper is unimpressed.
4:30pm – I head to the store to buy some stupid expensive sunscreen for my stupid pale skin because the stupid lovely sun came out in Portland for the first time this stupid year. God forbid I go to an outdoor happy hour before slathering myself in SPF60 and praying that whatever well alcohol I've selected for myself won't interact with the sun and result in a cute rash across my chest.
4:45pm – It is now time for later me to deal with the fact that my car is running on literal fumes. I stop at the gas station near my office where the taxis fill up, because it's cheaper and still pull the "just $10 regular" move because I have never heard of foresight. Sounds like a problem for two-days-from-now me.
6:30pm – Spend the entire drive to happy hour convincing myself to just get whatever cheap cider they have on draft and then don't even hesitate before ordering the $10 cocktail special because it sounds festive and tropical. I also spring for an order of chips and salsa for the table because I'm the backbone of my friend group and also plan on eating them almost entirely by myself.

7:20pm – Head to my friend's house for our Riverdale viewing party, where I eat no less than five different kinds of cheese. It's easier to listen to Veronica say "Daddy" 150 times per episode when you're uncomfortably full of brie and jalapeño gouda.
8:15pm – This episode is dark. Like, are we really all going to pretend we cared that much about Midge? And are we going to have to spend the rest of this season dealing with the return of tortured Archie? Because there isn't enough cheese in all of New Seasons to make that okay.
9:30pm – Have to physically restrain myself from getting ice cream on the way home. I don't know when I became this monster that eats entire meals consisting solely of dairy, but I blame Whole30. There's no logic there, I just like to blame them for anything that goes wrong in my life.
Total Spending for One Weekday: Not counting the sunscreen but including the salad I typically would have bought, we're looking at $49.42. I've had worse days, but it's still not great.
Total Spending for One Week if I Spent Like This Every Day: $345.94. Refinery29, if you're still looking for people with zero understanding of how money works, give me a call.
It probably goes without saying, but this could have been a lot worse. If you factored a weekend brunch into this plus even the tamest of nighttime activities, were' looking at $500 a week. Who do I think I am? Bill Gates?
I know that, compared to a lot of people in a lot of places, I'm doing pretty well. I have an apartment that is cute when I actually clean it. I manage to eat enough food to feel bad about myself. My cat goes to a vet that's nicer than my actual doctor. I feel safe spending at least $7 extra dollars a week just to gain the affection of a barista who will never know my name. I've done okay for myself.
Shout out to people living in more expensive cities with less means. You're the real MVP's. Feel free to teach my your ways, unless they require that I stop spending $20 a week on extravagant cheeses to accompany my CW shows. That's just not a sacrifice I'm willing to make.
Images: Giphy (5)