4 Healthy Foods That Are Surprisingly High In Fat
Over the last few weeks, I've been tracking macros on MyFitnessPal. Initially, I was doing it to try and get back on Keto. (By "back on," I mean I did it for two weeks before a vacation once.) Unsurprisingly, I bailed on Keto (nothing is low-carb enough!!!). and I then decided my #newyearnewme would be about counting macros instead. I'm currently using this calculator, which I found via this highly reliable fitness Instagram. I'm not even being sarcastic—there's very good advice on there. My biggest challenge with macros so far has definitely been keeping my fat content in check. Within a week, I realized I knew way less about which foods are high fat than I thought. For example, I had a day of what I considered very healthy eating (salads! oats! grain bowls!), and then discovered my diet had been 60% fat. And this is why I have trust issues. So, I did some research into which of my "healthy" choices were causing that high fat content. I'm not talking about obvious fats—you should all know that baked goods are full of bad fats and avocados are full of good fats. These are the sources of fat you're not as likely to guess as, say, a fried chicken sandwich or a BLT with mayo.
Disclaimer: Everyone's dietary needs are different, and many diets may call for higher fat content. I am not advocating for a universal low-fat diet, so do not come for me. Rather, I am hoping this information may be illuminating to some of you (read: I don't want to be the only one who didn't already know all this).
I'll be honest, I've never really known a lot about the nutrition content of falafel. It felt like a kind of dietary gray zone. Not as healthy as a vegetable, but probably better than cheese. Right? Not really. While trying to design a low-fat grain bowl at Tender Greens, I was pretty shocked to see that the steak topping was lower in fat than the falafel option. While falafel can be a healthy dish (the ingredients themselves are nutrient-rich), I'd somehow forgotten that it's typically deep-fried. This adds, in scientific terms, a sh*t ton of fat to your meal. FWIW, the "baked falafel" option at Tender Greens was way healthier—but unless a menu specifies "baked," you should assume it's deep fried, and therefore higher in fat.
Tofu is a similar deal to falafel—it's all about how it's prepared. While tofu isn't deep-fried quite as often as falafel (though still more often than you'd think), it's really good at soaking up whatever it's cooked in. And given that tofu on its own has just about zero flavor (it's okay, we can all admit that), it's usually cooked in a bunch of oils, sauces, etc. So tofu on its own? Low-fat, healthy option. But the way it's usually prepared in restaurants can make it a higher-fat option than something like chicken.
Okay, this one errs more on the side of "foods we knew were high in fat." But take a minute and actually consider how many "healthy options" feature nuts as a key ingredient. Protein bars that pride themselves on not adding sugar? Full of nuts. Overnight oats? Probably filled with nut butter (or WTF are you doing). Even a lot of salads and bowls will add nuts as a topping, plus, almonds are constantly touted as the ideal mid-afternoon snack. We also all know the problem with nuts—they are impossible to portion for how calorie-dense and fat-dense they are. And anyone who says they're full after 6 almonds is a dirty liar.
So, while nuts are full of technically good fats, it's still super easy to go over on your fat content goals if all the healthy options you're choosing are nut-heavy. So if my breakfast included 2 tbsp of almond butter (18 grams of fat and it never feels like enough), maybe I don't also have have a nut-based Lara Bar at 4pm (9 grams of fat), and snack on nuts at 6pm (19 grams of fat). That brings my fat content from nuts alone (not even the fun fats, like sauces and cheese and sugar) to 46 grams, when my daily goal is 48. (Let it be known that my total fat content for that day wound up being 90+ grams. This sh*t is hard!!!)
I know! I said this list would be about non-obvious sources of fat. Yet here I am basically listing the liquid form of fat and saying "surprise! This is fat." Sue me, but also listen because this is probably the #1 thing that people forget to count in their diets. One tablespoon of olive oil has 14 grams of fat. One tablespoon of butter has 12 grams of fat. (The type of fat they offer is different. Here is a long article on different fats and how they affect you.) Even at home, I struggle to cook something edible using less than 2 tbsp of one of these. It can be super tempting to just log the one chicken breast you cooked in there, but unless you're using a cooking spray, you have to account for the fats it absorbed.
Well, that's the end of my tirade on fat, and now I never want to look at a nutrition label again! Remember, the worst thing you can do with your diet is eat in a way that makes you miserable, because you know that sh*t won't last. My fat content is still way too high most days, but I'm figuring out what a low-fat day I can live with looks like. At least it's not Keto!
8 Ingredients That Are Sabotaging Your Salad
Omg it's like, almost summer. Time for salads and smoothies until you can't see straight but you're like, super fit and skinny. But heading to the salad bar or opting for the fast food power salad isn't necessarily the best choice. We all have a tendency to overindulge, add too much shit, or not add enough good stuff. If you're going the salad route because your beach bod is more reminiscent of a Pillsbury mascot's than a fitness Instagrammer's, it may be time to take a hard, investigatory look at what you're putting in your salad and how you're sabotaging your bod.
1. Croutons, Wontons, And Tortilla Strips
I know a little handful of toasty, crunchy bread snacks doesn't seem that bad, but anytime you're adding on croutons, wontons, tortilla strips, or another deep fried (or even baked) bread snack, you're adding empty calories. They're literally just unhealthy carbs in every case, and they greatly up your caloric intake. Just say no to bread (unless it's pizza).
2. Dried Fruit
Sugar central. Dried fruit can be great when pooping isn't happening (much love, apricots and prunes), but topping your salad with shit like dried cranberries or raisins is raising the sugar levels. Just a ¼ cup of Craisins has 29 grams of sugar. Way harsh, Tai.
3. Creamy Dressing
No surprise here, but if you're layering on the ranch, creamy Italian, or really anything that isn't oil and vinegar, your salad just became hundreds of calories heavier. A lot of creamy dressings use mayo or cream as a base, which, isn't as healthy as say, lemon juice or balsamic vinegar. Try making your own with Greek yogurt or just sucking it up and not layering lettuce with blue cheese dressing, you unhealthy fuck.

4. Nuts And Seeds
Yes, adding a handful of walnuts or almonds boosts the healthy fats in your salad, but adding more than ¼ cup of nuts or seeds can sabotage your diet big time. Keep in mind that healthy fat is still fat, and a ½ cup of walnuts is like, 190 goddamn calories. Sunflower seeds? Just ¼ cup has 186 calories. Stay woke, fam.
5. Avocado
Like we said, healthy fats are still fats. Adding four to six slices of avocado to a salad may not seem like a lot, but it's almost half of an avocado, weighing in at about 115 calories. On the flip side, this is one of the healthiest toppings you can get for nachos, so it really just depends on your situation.
6. Iceberg Lettuce
If you eat Iceberg lettuce, you're trash. I'm not even sorry. Who goes out of their way to get this shit when you have the option of non-contaminated Romaine, beautiful artisan spring mix, kale, spinach, and our bestie, arugula? Garbage people do. This has no flavor, is mostly water, and, yeah, has like no calories, but it sucks in every way. Fuck you, iceberg lettuce. Stop ruining America's salads.
7. Cheese
Yo, I'm sorry. I shouldn't have had to add this, but I did. Yah, you'll get some extra calcium (strong bones AMIRITE), but half a cup of cheese is like, 250 calories and 20 grams of fat. That's gonna go right to your thighs, which are already causing some chub rub, aren't they?

8. Bacon
C'mon.
9. Getting The Biggest Bowl
Not a food item, but heading to the salad bar and grabbing the biggest bowl or plate you see and LOADING it with shit isn't going to help your arteries. Opt for a medium size or even a small bowl or plate, then go for seconds if you're really THAT hungry.
10. Eating Only Lettuce
If your goal is to be hungry in two and a half hours, grab a bowl and load it with only lettuce and cucumbers, then top it with straight vinegar. That isn't going to keep you full for very long (and probably tastes very sad). You can add some of the things on this list—like nuts and seeds and avocado—just in moderation. It'll keep you fuller longer, i.e. you'll borderline forget about the trash bag of popcorn in your desk or the gummy worms you found on the floor that still look okay.
Images: Giphy (7)
This Is The One Food You Need To Be Eating To Cure Your Hangover
You wake up, slowly. Open one eye and survey last night's damage. Pounding headache. Nausea. A cut on your right kneecap, when the fuck did that happen? Face and pillowcase full of smeared makeup. Oops, one shoe still on. At least you're in your own bed, although you can't quite remember getting home. Pretty standard Saturday and/or Sunday morning.
Every self-respecting betch has figured out her signature hangover cure by now. Some have their scrambled eggs down to an art form. Others head straight to brunch and re-tox on mimosas and Bloody Marys. Russian betches eat pickles. Stoner betches light up.
You're all doing it wrong.
My nutritionist (yes, I have a nutritionist, get over it) has imparted such wisdom that we should probably turn her clinic into some kind of altar. Betches all around the world will embark on pilgrimages to worship at her desk.
The best way to kill a hangover is to eat a salad.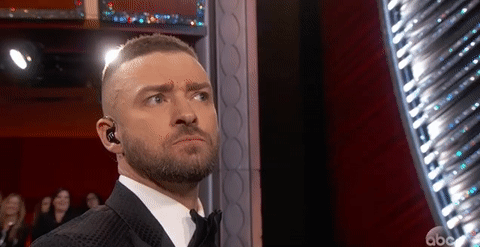 How is this possible, you may ask. Why are all the brunch places serving up aesthetically-pleasing eggs and carbs when our hangovers could all be broken by a bowl of leafy greens? Answer: Because they're fucking dumb too.
It actually makes sense if you think about it. Vegetables are packed full of water. Water is what your poor abused body needs. Chop up some lettuce or baby spinach or whatever and mix with any and all vegetables you have in the fridge. Bonus if it's cucumber and celery which are like 80 percent water. Add healthy fats such as avocado and olive oil to help with the "healing process"—yes, she actually called it that.
You also get the bonus of not feeling like a cow after consuming several thousand alcohol calories and a heavy brunch in the same 24 hours.
I was skeptical too, betches. But trust me. This shit actually works. You're welcome.
5 Ways To Cook Kale
Ugh, kale. Like starting our 401k, getting yearly physicals, and reading CNN, we know deep down that it's good for us, but actually getting to it sucks. It's bland, it's blah, and whoever eats it plain and steamed is seriously disturbed. Kale crept into our psyche several years ago, and since then it's been assaulting us with its dark green leafy-ness and ability to be in everything from our smoothies to our salads. It probably has something to do with the insane amount of nutrients in this shit—one cup contains about 33 calories, 3 grams of protein, 2.5 grams of fiber, vitamins A, C, and K, folate, omega-3 fatty acids, and several nutrients that are proven to protect against macular degeneration and cataracts. Plus it has calcium, zinc, potassium, and phosphorus, so it's a fucking nerd overachiever all around.
In the interest of being responsible (told you, mom) we rounded up five easy ways to cook kale this shit without driving yourself insane—so embrace the kale in all its rubbery goodness and be healthy for like, at least this afternoon.
1. Add It To Your Smoothie
If you aren't already doing this, fucking duh. Blend together ½ banana, ½ cup chopped kale, ½ cup blueberries. ½ cup plain Greek yogurt, and ½ tsp cinnamon. You can like, add protein powder if you're that kind of person, too.

2. Make An Egg And Kale Scramble
In a bowl, whisk 2 eggs, salt, pepper, and ½ tbsp. of water. In a medium skillet sprayed with nonstick, add half a chopped shallot and stir until golden, then throw in about 1 ¾ cup chopped kale leaves and cook until it's wilty and shit. Add in the whisked egg mixture and ¼ cup cheddar cheese, then mix until the eggs have set. I assume you've made fucking scrambled eggs before.
3. Make It Into A Healthier Pesto
Grab your handy-dandy food processor and combine 1 ½ cups packed torn kale leaves, ¼ cup walnuts, ¼ cup shredded parmesan cheese, 1 tbsp fresh lemon juice, and 2 garlic cloves. Process until totally smooth, then season with salt and pepper. Use this shit on pasta, as a pizza base, on garlic bread, drizzled over a salad—the possibilities are fucking endless.

4. Use It Instead Of Rice For Your Stir Fry
Yes, you can. Just steam or sauté the kale in a skillet with salt, pepper, and possibly a bit of broth and seasoning, and spoon whatever stir fry you were planning to make over top. This also works with stews and curries. Look at you, bein' all low carb. Plus, you don't have to worry about the kale being bland, because the taste is literally going to be covered up by whatever delicious dish you're making.
5. Make Chips
Sigh, I know. But it really is stupid easy and healthier for you. Preheat the oven to 350F. Wash a bunch of kale and pat it dry, then break the leaves into bite sized pieces. Toss with about 2 tbsps olive oil, salt, and parmesan cheese then spread on a baking sheet in a single layer. Bake for about 10 minutes or until kale is crispy and slightly brown.