The Most Savage Things The Kardashians Have Said To Each Other
Every family is dysfunctional, and if you think your family doesn't have any issues, you might be the one causing them. That being said, most of our family issues are nothing compared to the Kardashians. Their family is so f*cked up that they have an entire TV show about it. I mean, it's one thing to joke with your siblings and take shots at each other in jest, but these women say things to each other that I wouldn't even say to people I actually hate. Okay, that's maybe an exaggeration, but they are savages to each other. I don't know about you, but it warms my cold, cold heart whenever I think about Kourtney Kardashian laughing at her sister's crying face after making her cry to begin with. LOL, same Kourt, same. In honor of National Siblings Day, here are some of the most epic clap backs the Kardashians have ever given each other.
When Kim Picked On Kourtney For Having No Career
Personally, Kourtney is my favorite sister, and that's why I make fun of her. And to my credit, it's probably infinitely meaner that I don't make fun of Kendall because I legit forget she even exists. When I make fun of Kourtney for having no career, it comes from a loving place. But when her sister lashes out at her for it, it's not. From calling her "the least interesting to look at" to saying "I bought her a career," Kim has no problem throwing it in Kourtney's face over and over again that she has no drive. But joke's on Kim, because Kourtney just dropped a website that has the crème de la crème of content we read on Well + Good, like, two years ago.
When Khloé Thanked Kim For Making A Sex Tape
Don't even get me started on how much I hate when people say Kim Kardashian's career got started because of a sex tape. It is mystifying that we're still throwing in her face that her POS ex leaked an intimate video they made, like, a decade ago, but Louis C.K. gets to show face on stage after getting #MeToo'd and most people (*cough* privileged white men *cough*) are like "Well, at least he (half-assedly) apologized." *Takes deep, calming breaths* Anyway. Half my paycheck is making fun of this family, but the sex tape jokes are where I draw the line. Usually. Unless it's really, really funny. When the Kardashians won an award for best reality show, Khloé took it upon herself to give a faux acceptance speech where she said they would be nothing without her sister's home movie. It was honestly as lethal of a verbal lashing as the voicemail Kim Kardashian left for Ray J after she found out he leaked the tape. With that being said, if voicemails are a thing of the past, I think the "Kim Kardashian is a whore who got famous from a sex tape" narrative can be left in the past, too.
Whenever They Like Shade On Nori's Black Book
The Kardashians are the reigning family of social media, so it makes sense that they take their toxicity to Instagram. Nori's Black Book is basically a satirical account that pokes fun at the Kardashians, and it is one of the funniest Insta accounts out there. Whoever runs it (I seriously think it's North that runs it, btw) has the ability to bash the Kardashians with no repercussions (except getting blocked by Jonathan Cheban like the rest of society). Surprisingly, the Kardashians absolutely love it. Most of the fam follows the account and will gladly throw a like whenever North shades Kim for being way too narcissistic, or Kourtney for being unemployed. Khloé is especially liberal with the double tapping on the pics from this account. So basically, with every like, they are shading each other for whatever behavior "North" is calling them out for. With that being said, I can't help but think throwing a like is actually worse because it's a little bitch move compared to straight-up calling someone out.
When Kris Yelled At Kim About Her 72-Day Marriage
Whenever someone questions me for having a collage of Kris Jenner as my shower curtain, I show them this clip of Kris sticking up for Rob as a rebuttal. For the record, I feel awful for Rob. There, I said it. I know he's done some really sh*tty things, and for a while there, he was canceled in my opinion. However, he seems to be manning up and coparenting with his baby mama peacefully. I know it's patronizing to give a guy credit for being a decent human being, but it's pretty easy to see how and why he devolved into a hollow shell of a man. Rob was obviously suffering from from really bad depression. A lot of us have been there and a lot of us have been on the other side supporting someone going through it. Both roles are really, really difficult. It's understandable why Rob's own sisters were fed up with him after he wouldn't help himself get better, but it's still sh*tty to unapologetically knock a guy when he's down. So it was epic to see Kris finally put Kim in her place for the first time by taking a shot at her 72-day marriage. I like to think Kris was sticking up for her son, but we all know deep down Kris also did it because Kim got demoted to her second-biggest form of income since Kylie became a billionaire.
When Kourtney Waxed Her Sister's Vagine

So remember Kourtney and Khloé Take Miami? I barely do, because that was the period where we were still acting like Kim was the only one who mattered. And remember when Khloé was married to Lamar? I barely do, because Khloé's baby voice when speaking to Lamar was so high-pitched that I physically couldn't register it. Only dogs could hear it. Anyway, Lamar was planning on visiting Khloé in Miami while she was living there to work at DASH. LOL. Khloé had Kourtney give her a bikini wax to make things picante in the bedroom with Lamar. Seriously, WHYYYYY???? And Kourtney got off on inflicting the searing pain upon Khloé more than she ever did during the nine-year relationship with Scott. Again, WHYYYYYYYY????
When Kourtney Threatened To Do Something Very Specific With A Taco

Also, remember Kim and Kourtney Take Miami? Wow, they really went to great lengths to give Kourtney a storyline by acting like they cared about DASH, huh? During the first go-around of KAKTM, Kourtney was so sick of Kim that she basically lost her sh*t during a photoshoot. She swore she was being professional while also threatening to shove a taco up Kim's ass. Uh, what? I swear, between the bikini wax and this bizarre moment, this family is more borderline incestuous than Cruel Intentions. But it's weird sh*t like this that makes Kourtney my favorite.
When Kim Lost Her Earring In The Ocean

Don't get me wrong, I felt absolutely awful for Kim during the time she was with Kris Humprhies. She obviously got wrapped up in the pressure to be married and successful, and honestly who would say no to a guy who's 6'9? This was clearly a stressful time in her life. How can we forget when the family was on vacation in Bora Bora, and Kim lost an earring worth thousands of dollars while swimming in the ocean. Sure, her ugly crying was pretty funny, but Kourtney had to make matters worse with perhaps the most iconic Kardashian comeback of all time: "Kim, there's people that are dying". Again, this is why she's my favorite.
When Kylie's Sisters Made Her Cry About Tyga
Kylie is still so young that it's crazy to remember that she had another serious relationship before Travis Scott. Her relationship with Tyga was always causing drama, and (surprise!) her sisters weren't always the most supportive. In this scene, it was pretty uncool that Kendall & c0. made Kylie cry, when she was obviously already not in a great place. Her own sisters ride a merry-go-round of undateable dudes, so they're in no position to talk. Note: this is way more entertaining to watch when you take a shot every time Kendall says "experience." Alcohol may be the trick to finally make Kendall interesting.
Images: E! / YouTube; @kardashianvideo, @norisblackbook, @kuwtkardashian, @krdashtube / Instagram; E! (3)
Kim And Kanye Are Having A Fourth Baby
2018 was a big year for Kardashian babies. Within the first half of the year, Kim, Kylie, and Khloé all had new additions to the family, and so there was plenty of baby drama to go around. But as we all know, the devil works hard, but Kris Jenner works harder. If you were worried there would be a lack of Kardashian babies in 2019, you can safely put those fears to rest. Multiple sources are confirming that Kim Kardashian and Kanye West are having a fourth child via surrogate, and it's a boy. We're less than 36 hours into 2019, and I'm already exhausted.
You probably all remember that, after having her first two kids herself, Kim had a lot of issues with getting pregnant again. That led them to use a surrogate to have their third child, Chicago, who was born last January. They're using a surrogate once more, and the sources are saying that the baby is due in early May. Thankfully, that gives us plenty of time to mentally prepare for the newest Kardashian-West arrival, because I'm still reeling from when Tristan cheated on Khloé the week before she had her baby.
The sources say that Kim has always wanted four kids, so this is, like, the final addition to her perfect family. That's nice, but I think there's another reason. Honestly, Kim probably decided to pull the baby trigger once she heard that Meghan Markle was pregnant, because our American royalty has to keep up with the Brits at all costs. We haven't gotten any confirmation about Meghan's due date, but I really hope that both of these babies are born on the same day, so we can see who's really more famous. Meghan Markle is definitely thirsty for good press, and I would love to see the Palace scramble to get top billing over Kim and Kanye.

In terms of baby names, I'm still working on a full list of ridiculous possibilities, but given that they went with Chicago last time, it would seem very fair to name this child Calabasas. It's what they deserve!! Congrats to Kim and Kanye, and to all 40 of the other family members that I don't have the energy to list. This family is never going away!!
Images: Shutterstock; Giphy
UPDATED: Which Kardashian Had The Best Halloween Costume This Year?
There's no better part of Halloween than getting the chance to judge everyone's costume choices. Who's going as a basic slutty cat and who will wildly offend everyone at the party? But of course, the most intriguing and expensive costumes come from celebs. So who better to judge than the Kardashians? Year after year, the Kardashians tend to go all out—especially Kim. At press time, Kim has not yet posted a picture of her Halloween costume, but we're sure it's going to be iconic. Some of her best past looks were Jasmine from Aladdin, a mermaid (but like, not in a basic way), and Poison Ivy, so we can't wait to see what she's going to do this year. But the other Kardashians posted their Halloween costumes, so we get to judge those. Who did it best? Here is our ranking of the Kardashian Halloween costumes.
1. Kylie And Stormi
Obviously, first place must go to the butterfly duo of Kylie and Stormi. If this isn't mommy-daughter goals, IDK what is. Ky went full-out and DIYed had someone make her beautiful wings. Of course, her mini-me had to look just as ~fly~ with her own set of baby wings. In true Kylie fashion, the base of her outfit (a skin-tight bodysuit) is understated but still serving major MILF vibes. Points for attention to detail with Stormi's hairclip, perfectly matching her attire and Kylie's butterfly details on her shoes.
View this post on Instagram
2. Khloé And True
A very close second place goes to the Mama Koko and True! These two went for the matching bodysuit tiger look. Initially, we were disappointed by Khloé's lack of creativity (a unicorn is basic, sorry), but she really one-upped herself. Khloé's makeup is also fantastic and really makes her look like a YouTuber sexy tiger. But can someone please tell her The Lion King is about lions, not tigers. So like the circle of life lift doesn't totally apply…cute pic either way though.
3. Khloé And True
In third place, below themselves, are Khloé and True in their unicorn outfits. Just when you thought True couldn't get more adorable, she literally became a stuffed animal. Her cheeks might be the most perfect things I have her seen. I just want to pinch them! Wait, who am I? Anywho… Mama Koko kept it cute with her matching onesie, but still managed to glam it up with some jewelry and a matching manicure. Also, a special shout-out to Chicago for making an appearance in her own unicorn headband.
 4. Kylie
Back on the list in third place is Kylie for her solo Barbie look. Although the costume on its own wouldn't be that impressive, Kylie went for it and added in the whole f*cking box. You also KNOW she didn't wear that sh*t out, so that was totally for the Insta. That's what Halloween looks like when you've got 900 million followers, I guess? Points also go to her for the slightly ironic caption, because truly, her life in plastic really is fantastic.
View this post on Instagram
5. Saint
Not gonna lie, Saint's costume was kind of lame, but he's too cute to be in the last place. According to Kim's caption, Saint is supposed to be a pumpkin, but like, maybe a Yeezy baby pumpkin? I'm all here for the minimalist Halloween looks, but I feel like Saint is for sure capable of producing a more extravagant look. Perhaps there's more to come…we'll be waiting!
View this post on Instagram
6. Kendall
Our bottom of the list is, unfortunately, Kendall for her basic AF Austin Powers sex-doll costume. Usually, this would be fine and totes creative, but it looks like she bought it from Dolls Kill and put literally no money effort into her look at all. Listen Kenny, when your job is basically to post Instas, at least give us something with a little more wow. But I mean, if you want to dress up as Kendall as a fembot, you can go buy it on sale.
View this post on Instagram
Images: kendalljenner, kimkardashian, kyliejenner (2), khloekardashian / Instagram
Ranking The Kardashian Baby Names From Bad To 'I'm Calling CPS'
The last Kardashian baby of the year has finally emerged from her mother's womb, wiped clean of her 24-karat gold amniotic fluid, and is ready to post her first topless pic on the Instagram account her grandmother so lovingly set up. She has been swaddled in Gucci blankets and her placenta has been commandeered by Kourtney for snacking purposes. True has officially arrived, and now it's time for reflection. Since we have a (probably brief) break in Kardashian procreation, I thought it might be a good time to take a look back at all the Kardashian baby names from over the years and rank them.
I realize most rankings usually go from best to worst, but so many of the names are terrible, horrible aberrations that I would not even deign to name my dog (Hi Macaroni! Mommy loves you!) so "best" is really a stretch. Our ranking will go from a scale of least ridiculous to I'm sending in Child Protective Services. Let's start the judging process, friends.
Me rn:


1. Penelope
Penelope is obviously the most normal of all the Kardashian baby names, and maybe Kourtney is on to something with all that placenta pill popping, because her children have the least insane names of the bunch. It's gotta be because they weren't as famous when Kourt's kids were born, right? I'm pretty sure the more famous you are, the more brain damaged you are, and therefore the more fucked up names you choose for your spawn.
2. Mason
Mason is also not a ridiculous name, so congratu-fucking-lations, Kourtney, you've impressed me and not made me want to jump out my window. But, I was poking around the internet trying to see where she got it from, and I stumbled upon an article in the Daily Mail that said Mason means the same thing in English that Kardashian means in Armenian. What a beautiful sentiment, Kourtney. But also a little weird because Mason's middle name is Dash, after David Schwimmer (her dad), and a part of the name Kardashian. I like that she's honoring her dad, especially since no one else seems to give a shit, but it's a little redundant, no?
3. Reign
This is where it starts to go off the rails for Kourtney. Reign is not a name. Reign is something a king or queen does. Your child is not royal, just the product of unprotected sex between the 4th best sister on a reality TV show and a basic white dude from Long Island. Prince George would spit in your face, Reign, and make you carry his knapsack like the peasant you are. Although, I guess Reign is descended from a Lord…

4. True
I don't even like the name True, so that's how you know what absolute dumpster fires I think the other names are. This name is bad, but I'm gonna give her a break because this poor baby girl is going to have other things to worry about. Like the fact that her dad's a cheating sack of shit or that she may or may not share DNA with the most famous murderer of the 90's.

5. Dream
I mean, Dream Kardashian is the product of a famous stripper and a man whose greatest accomplishment is the fact that his mommy bought him a sock company, so tbh this could be a lot worse. I guess it's like how my lawyer friends use the "Supreme Court Justice" test to give their kids names that would be appropriate on the bench; Rob and Chyna did the "Las Vegas Strip Club" test to give their kid a name that would be appropriate on the pole.
6. Stormi
I know Kylie Jenner is barely old enough to drive, so I shouldn't have expected much, but don't rich people get the news? Even if Stormi was Kylie's number one choice since she dreamed it up during recess in second grade, I would think the fact that it is also the name of the most famous porn star in recent history would at least give her pause. And no Kylie, the "i" at the end does not class it up.
7. Saint
Naming your kid Saint puts quite the expectations on them. Saints are holy, they live a life inspired by Jesus, they make sacrifices to help those less fortunate than themselves. They most certainly do not fly in private planes, have their diapers changed by a team of night nurses, and a mother that got famous because of a sex tape. Or wait, is that Mother Teresa's origin story?

8. Chicago
CHICAGO IS A CITY. IT IS NOT A NAME, YOU MORONS. It's windy, cold, and filled with murder. I don't care if that's where Kanye is from, that's not lovely imagery to associate with your brand new bundle of joy. Like what could have possibly possessed these morons to name their daughter Chicago? Did she look like a deep dish pizza coming out of the surrogate's birth canal? It's the only explanation.
9. North
Ding, ding, ding! North West, you are the winner of the fucking worst Kardashian baby name award! You get a blue ribbon, latent rage toward your parents, and a never-ending parade of expensive psychiatrists. I also was not even kidding about this ranking system, I legit called CPS on the Wests when I heard this name. Apparently they "have better things to do," and "don't appreciate prank calls." Well CPS, I was deadly serious. This is a living human, they should not be allowed to give her a name that is basically a joke. If you want to give something a punny name, get a goldfish for fuck's sake.

We've reached the end of our ranking, and honestly, that was exhausting. I guess in the end it doesn't really matter what these children are named, they're growing up on reality TV and being raised by plastic surgery-obsessed narcissists, so their mental health issues are inevitable. This family should have been sterilized.
Images: Wifflegif (2); Giphy (2); Gifer (1)
Kimye's Third Baby Has A Due Date And We Know The Gender
While Taylor Swift has been busy cooking up lame revenge plots against Kim Kardashian and Kanye West, they've been a little busy with some exciting plans of their own. Way back in July we told you that Kimye's surrogate (still upset I was not contacted for this position TBH) was pregnant. This week, most likely to distract us from the 15 category five hurricanes that are currently brewing in the Atlantic, Kim and Kanye gave us their due date. This means Kim will tie Kourtney with three children each, while Khloé still has none. She really is the Gretchen Wieners of this family.
Kim has been public about how difficult it was for her to get pregnant, so using a surrogate seemed like the obvious choice for baby number three, and now it's really happening. We've always felt strongly that the movie Baby Mama is highly underrated, so hopefully Kimye will help bring awareness to surrogates everywhere, or something.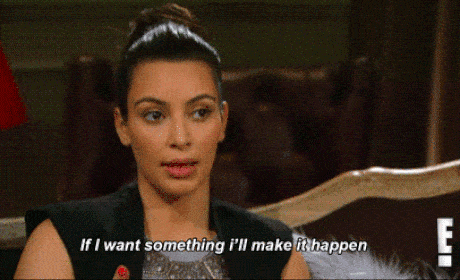 The newest Kardashian-West arrival is due in January of next year, and according to the always reliable "sources," the baby is supposedly going to be a girl. We're very happy about this. Obviously Saint is a cute kid, but North is literally the most beautiful child since me the baby Jesus. Hopefully the new baby will look just like her and everyone will be jealous happy.

Some additional sources also claim to have details about the surrogate herself, who is reportedly a black woman in her 20s who already has two children. Sounds about right. She's also reportedly a registered Democrat, which will probably cause drama with Caitlyn on a future episode of Keeping Up.
Kim has talked about wanting a third child, so she must be super excited, and is probably already making a list of baby names that will sound the best on contouring kits and reality show spin-offs. We can't wait for January 2018 when we find out what rich person name they choose, because the last two haven't disappointed.