The Betches Sup Is Going To DragCon, Henny!
Hold on to your wig, hunty because The Betches Sup is absolutely gagged to announce that we will be participating in RuPaul's Dragcon this year for a podcast extravaganza eleganza. We're calling it The F*ck Mike Pence Show because . We'll be serving you piping hot takes, fabulous celebrity guests, and a show that would absolutely make Karen Pence say "oh my!" and leave the room. What? Like it's hard?

click here for tickets
And for those of you who are just tuning in, The Betches Sup Podcast is your twice-weekly rundown of all the crazy sh*t that's happened in the news, explained by your funniest friends at Betches. You can subscribe to the podcast here and start getting informed now so you're ready for the big show. (Also you should probs start planning your outfit ASAP because the lewks are gonna be fierce.)
Ready to buy your ticket? Werk. RuPaul's DragCon will take place in LA from May 24-26 and in addition to seeing the Betches Sup live, you'll get a whole weekend of all things pop-culture, art, and drag, honey! Head on over to RupaulsDragCon.com where they're offering Sup fans 10% off weekend passes with the promo code BETCHES.
Now sashay away and we'll see you and your fabulous self in May for DragCon. Get your tickets now and in the immortal words of Ru…
Heads up, you need to keep up with the news. It's not cute anymore. That's why we've created a 5x weekly newsletter called The 'Sup that will explain all the news of the week in a hilarious af way. Because if we weren't laughing, we'd be crying. Sign up for The 'Sup now!
The 70th Annual Emmy Awards Recap: Hollywood Loves Itself
Hello all! Last night was "the biggest night in television" (no, not the Super Bowl), the 70th Annual Emmy Awards. It's the night that Hollywood pats itself on the back for adapting books creating innovative and thought-provoking TV. So basically like the Dundies, but not at Chili's and Steve Carell is only there sometimes. Lots of your favorite shows and people were nominated, even though I looked it up and unfortunately they couldn't legally give all the awards to Law & Order: SVU. So here we are. Since I'm sure you all watched very attentively, I've broken this recap into sections instead of transcribing the entire blessed event. If you'd like a full transcript, I'm sure you can find it in Colin Jost's sad, handwritten book entry from last night. Let's do it.
The Hosts/The Opening
The show opens with Kate McKinnon and Kenan Thompson, and I'm immediately wondering if the hosting duties were passed off to them. Might be a better show! Instead of hosting, they naturally burst into a song called "We Solved It," where they mock the fact that Hollywood is so proud of the limited strides they've made in diversity. They're joined by people including Kristen Bell, Tituss Burgess, Sterling K. Brown, RuPaul, and Andy Samberg in the role of "sad straight white boy".
I appreciate the song because it's probably the most self-aware that Hollywood is going to get all night. Although, is the joke with Aidy Bryant pretending to harass Milo Ventimiglia a little awkward? Not saying I wouldn't do it, but maybe not on TV? And considering the amount of actual sexual misconduct that goes on in Hollywood, perhaps it's a little distasteful. Let's ask Terry Crews!
The hosts finally come on stage and look visibly relieved that other people have killed 10 minutes for them. Only 2 hours and 50 minutes to go, guys! You're doing amazing, sweeties! Hosts Michael Che and Colin Jost look very handsome in their tuxedos (those are tuxes, right? I know nothing about men's suits so DON'T @ ME). I don't know much about them in general since I'm usually already asleep out partying when SNL comes on. What I do know is that Scarlett Johansson has finally let Colin out of the friend zone, and that one time I saw my friend Jocelyn comment fire emojis on Michael Che's Instagram, and she knows comedy.
The whole monologue is basically  70% Roseanne jokes and 30% calling out the diverse nominees. I have a feeling this diversity conversation is going to be the main theme of the show, at least until they start giving the awards to all the white people.
The best part of the monologue is clearly when the camera pans to Chrissy Teigen (Tie-gen), who visibly recoils. That will be good for about a week of memes.

The world is Chrissy, Chrissy is all of us.
I do appreciate that Michael and Colin finish up the monologue and jump right into announcing the awards. At this rate I can be asleep by 11pm, thank god.
The Winners
So now let's move on to who won the award show, literally and metaphorically.
The presenters/the audience. At first I was confused by the fact that the nominees were announced before the presenters even came out. I felt like I was taking crazy pills! But, as the show was wrapping up on time, I came to appreciate the fact that I didn't have to listen to a C-list TV star stumble through Nikolaj Coster-Waldau's name for 15 seconds. But yes, it did feel a little like I was having a stroke every time they did it.
Alex Borstein. BRAS ARE THE ENEMY! And she knows it. When Alex went up to accept her award for The Marvelous Mrs. Maisel, she proudly marched on stage without that straitjacket for the chest we all call an undergarment. Now, I'm not saying I wanted to see her nipples, but if her nipples wanted to see us, we should have let them. Another round of applause for Mrs. Ungermeyer from The Lizzie McGuire Movie having a f*cking Emmy.
The Marvelous Mrs. Maisel. Y'all, Amy Sherman-Palladino CLEANED UP last night. She won for Writing, Directing, and Outstanding Comedy Series, and she did it all while dressed as Britney Murphey's character in Drop Dead Gorgeous. Hooray! I always want my Gilmore Girls crew to go on to great things! Plus, she said she's going to put her Emmys in her panic room and now I know we need to be friends because I'm in the market for one of those. (Talk to me about conspiracy theories, fellas, I'm very stable.) She also called her husband the "Sid to my Nancy," and her "consigliere" which makes me wonder if she was trying to send a subliminal message that her husband might kill her? Again, come to me for all your conspiracy theory needs.
Angela Bassett. Did you guys see Angela Bassett last night? She looked like a flawless angel who lives in an Instagram filter. She is SIXTY!! And damn it, she looks better than us all. She must have learned some tricks when she played a VooDoo priestess on American Horror Story, because there is clearly witchcraft at work here. Angela, if you're reading this, drop your skin care regimen. But maybe take one look at Rachel Brosnahan's name before announcing the winners? Just sayin'. 
Leslie Jones. Leslie got to be a part of the best presenting duo with RuPaul, she was visibly shocked and delighted by the surprise proposal, and was SO vocal and supportive when Regina King won. I would watch an entire TV show that's just Leslie Jones reacting to things. Tbh, that would probably be more entertaining than the Emmys. Isn't that basically what SNL is nowadays?

Cute Couples. Um can we all take a minute to appreciate that Matthew Rhys' accent ups his hotness factor by like, a lot? I'm obsessed. Plus, I love that he and Keri Russell are a couple and that she told him if he proposed she'll "punch me clean in the mouth."

Sandra Oh-My-God. Sandra may not have won her category (boo), but she brought her adorable parents to the ceremony with her. Her mom is a STAR, and when we saw her whispering to Sandra during Claire Foy's speech I imagine she was saying "you're still my person," or maybe telling her she's a big disappointment. Either way, her presence was appreciated. 
The Losers
Ted Danson. It is CRIMINAL that Ted is the only one who got nominated from The Good Place. I'm basically just using this space as my plea to all of you to watch that amazing, hilarious, and creative show and that we all collectively find a way to give D'Arcy Carden an award soon. Anyway, Ted's still a winner in my book. Take me to the Bad Place, Ted! I'll go there willingly with you.
The Maya Rudolph/ Fred Armisen bit. What WAS that? I feel like there were a lot of useless time wasters in this show, and this was definitely one of them. If you're going to use Maya Rudolph, please do better, and DON'T dress her up as an American Girl Doll from the 1600s. Homegirl looked like Annabelle. Maya is a treasure and she should be treated as such.

Betty White. I mean, we all love Betty White, but once again I ask: what WAS that? I don't think they gave her an award, unless I missed something? This was another time waster. When they were storyboarding the Emmys, did some drunk producer just say "This is where we'll bring out Betty White and let her riff off script," and everyone was too tired to argue? It's the only thing that makes sense.  
Will Ferrell. Another time waster! "Will, we have 10 more minutes on this telecast, and only two awards to give out. STALL!"
The announcers. Why didn't they announce when winners were coming up on stage how many times the person had been nominated and how many times they had won? I like to know who is a first-timer and who is a greedy motherf*cker. Is that too much to ask?
The OMG
The proposal! Leave it to the guy that directed The Oscars to know what will make a good show. Glenn Weiss got up there and shot his shot. Men, take notes. And whoever directed last night's Emmys needs to be sending Glenn an edible arrangement or something today. And the kind with chocolate covered strawberries, not the cheap stuff.

Hannah Gadsby. In the 30 seconds or so that Hannah had to present, she hilariously summed up how women are feeling right now. Her take was pitch perfect. Michael & Colin WISH they were this funny. Netflix is about to see an absurd increase in Nanette viewings starting today.
Final Thoughts
Guys, is The Marvelous Mrs. Maisel really that good? I never watched it based on my mother's poor review, but I've been noticing lately she only likes "good, clean fun," so maybe I should be looking elsewhere for recommendations? Let me know what you all think if you watched!
All in all, the show was mercifully short and light on Justin Timberlake, which is really all I can ask for in an awards show. Thanks for reading!
Images: Giphy (5)
5 Celebrities With Iconic Resting Bitch Face
Labor Day has come and gone, which means it's time to pack away your white clothing resting betch faces that are officially so last season. While RBF never goes out of style, we highly recommend freshening up your look every few months to stay trendy and keep your acquaintances on edge so they're genuinely afraid of you. As always, we've got the chicest betch faces for you to choose from, that are certifiably terrifying and extremely on brand.
Here are our top five picks for Fall 2017:
1. RuPaul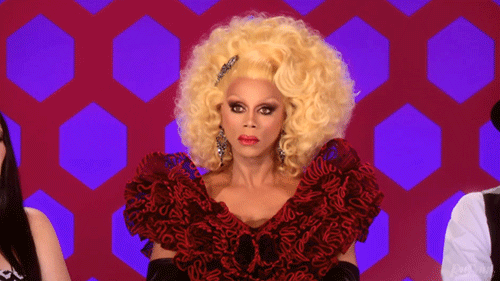 It's no secret that drag queens have been slaying RBF since forever, but RuPaul's look is currently shining especially bright. With a hit TV show and better bone structure than anyone on the planet, her look is one that says "You're wasting my time" before you even get the chance to speak. As we enter winter/cuffing season, we love RuPaul's betch face for first dates, work meetings, and other situations where your superiority must be instantly known.
2. Bella Thorne

Bella Thorne is obvi a trainwreck, which is why her resting face of pure washed-up exhaustion will speak to betches who barely survived the summer and are not excited for fall. Her chaotic life has clearly taken a toll, both mentally and physically, and her resting face somehow captures all of it. The Bella Thorne is a must-have for hungover brunch, waiting in line for birth control at the pharmacy, and any time this fall when you simply cannot and will not.
3. Prince George And Princess Charlotte

Prince George and Princess Charlotte aren't even five years old yet and they're already over smiling to keep the peasants entertained. With a third sibling on the way, they're more than ready to let the newest royal child be the nice one and focus on being as bougie as possible instead. Their signature stank faces are versatile and can be worn anywhere, but we recommend trying them on an elevated surface for a fresh way to look down on other club-goers.
4. Anderson Cooper

Anderson Cooper has about fucking had it with all the shit that's gone down this year, and his RBF is simply stunning as a result. His look of utter disgust is completely effortless, and his spirit seems truly hardened after being forced to engage with the current state of American politics on a daily basis. Will he ever recover? We're not sure, but that's what makes his look so hot right now and perfect for letting people know you're woke and therefore permanently pissed.
5. Raven Symone

Just in time for the That's So Raven reboot, we're seeing the Raven Symone betch face make an impressive comeback this fall. Raven has always wowed us with her ability to be joking in one instant and then all of a sudden dead-ass serious in the next. Her resting face in between lets everyone know she's not just sassy, but will also legit ruin your life if you cross her. It's all we can ask for out of a great RBF, which is why you little nasties can find us sporting this staple betch face pretty much every day this week.
A Definitive Ranking Of 'RuPaul's Drag Race' Season 9 Queens
RuPaul's Drag Race premiered season 9 this week, marking the show's move from the niche LGBTQ-focused Logo channel, to VH1, a technically bigger channel that none of us have really thought about since Flavor of Love ended. For anyone who has been following RuPaul's Drag Race for the previous 8 seasons, you know that the queens on this show are basically a treasure trove of betchiness. For example, Shangela's "You Will Never Have A Sugar Daddy" speech from Season 3 is basically a primer in how to completely tear another woman apart in 30 seconds or less. It's basically The Bible. And let's not forget the term "throwing shade" literally comes from drag queens, as does the concept of "reading" someone. Plus, the RPDR contestants are basically walking advertisements for aggressive contouring and highlighter use. So, naturally, with a show so clearly betchy and with with the stakes (and the stilettos) so high, it's only appropriate for us to determine which of the season 9 queens are sickening, and which need to go back to Party City where they belong.
14. Charlie Hides
Charlie Hides is some kind of YouTube celebrity impression person who clearly thinks that she is the shit despite the fact that she made 0 impression in the first week's episode. Idk. Something about this queen just rubs me the wrong way. Like the way she kept name-dropping her YouTube channel, and claiming that Lana Del Ray called her an "asshole." Plus her hometown look was literally just a pilgrim costume from Amazon. An annoying YouTube star in Halloween store clearance? Oh hunty, no thank you.

13. Jaymes Mansfield
Okay, so first of all, I don't like drag queens with male names. But that's just a personal preference thing. Jaymes Mansfield's entrance is what puts this queen at the bottom of our ranking. It was just far too awkward. The puppet? Girl, please. Aren't you supposed to like, plan the entrance out? She looked like she had no f'ing clue what was going on, and that continued throughout the episode when her "hometown" look had absolutely 0 relevance to Milwaukee, Wisconsin. Like, I was expecting her to serve us some full-on dairy realness ensemble and instead we got…black and white checkers? Not. Good. Enough. Girl. 

12. Aja
According to Sasha, Aja is the "number one name in Brooklyn that people are talking about right now," and like vinyl records and other things that Brooklynites love, IDGI. Her personality was fine, and she looks good enough, but, as several people pointed out, her makeup was totally fucked. Like, she looked like maybe she'd done her face on the L Train on her way to drag race. Which like, no shade to doing your makeup on the L, I've definitely been there, but just make sure you have a LuMee case or something so you know wtf you're going to look like when you finally get out onto the runway. Also, I have a strict "no septum piercings" policy, and drag queens are no exception. 

11. Trinity Taylor
Trinity Taylor's whole "thing" is that she got plastic surgery and doesn't have to pad her ass which, to me, is less impressive than the girls who literally mold their bodies out of pillows and foam and shit. IMHO, Trinity was too catty without the the humor to back it up. Like, she talked a lot of shit, but wasn't ultimately that good at reading people. Her ass does look amazing, though, so I guess that's money well spent.

10. Alexis Michelle
Alexis Michelle is our Broadway queen. While she didn't really stand out this episode, she did do an amazing Gaga at the Emmys, so you gotta give it to her for that. All this queen really needs is one live singing challenge to move her up to the top, but until that happens, Alexis is pretty thoroughly middle of the pack.

9. Sasha Velour
Sasha Velour is our bald, artsy queen. She takes herself too seriously, and that was p obvious during her hometown look, where she came out with like, a thousand props to make some clumsy statement about art and culture in New York. It just didn't make sense. Also, I like my queens to be wigged. The bigger the better when it comes to wigs, honestly. That's why, despite Sasha being one of the judges' top 3 picks, I just don't think Sasha is going to make it. The whole "bald artist" thing gets old pretty fast—like, within the span of one episode I was already over it. Her eyebrows are fucking on point though. 

8. Farrah Moan
Farrah Moan is gorgeous and skinny but she also seems like an idiot, and not in a cute way. Like why was she having such a hard time finding a work station? Didn't you watch like every episode of this show in preparation for this day? Also her runway looks were meh. I want to like Farrah, just based on the strength of her pun game alone, but I don't think she really impressed anybody this week. 

7. Peppermint
I put Peppermint exactly in the middle of this list because she performed exactly in the middle of this episode. Her looks weren't stunning, but they weren't bad either. She seems to have a nice personality. All in all I could see her sticking around for a while, or maybe she'll really blow up next episode. Either way, Peppermint def has the potential to become a fan favorite along the way.

6. Kimora Blac
Kimora Blac earned her spot solely based on the strength of her body. Like, hooooly shit that's some amazing padding work. Even if she doesn't win, I may call her up and just see if I can make use of her padding services for myself. Her body is probably the best of the season.

5. Valentina
Valentina has only been doing drag 10 months, and she is straight-up amazing. Every season has its signature "Latin Queen" and Valentina might be the best one yet. She absolutely slayed her hometown look, and anybody who thinks she casually brought up how young in drag she is for no reason in particular knows nothing about Drag Race. Valentina obvs brought up her drag infancy to either intimidate her opponents or to lull them into a false sense of security regarding her drag abilities. Either way, I think Valentina will be with us through the end of the season.

4. Nina Bo'Nina Banana Fofana Osama Bin Laden Brown
Nina Bo'nNna not only found a way to incorporate Osama Bin Laden into her drag name (a hard sell) but she won the Miss Charisma Uniqueness Nerve and Talent title, making her the first challenge winner. Normally that would make someone the frontrunner, but IDK. Nina is obviously a very talented and fishy queen, but something about the animal/peach face motif just freaked me out. She looked like if a Snapchat filter came to life. It was unsettling.

3. Eureka
Eureka was in the top three this week and for good reason. She seems to have everything you want in a queen: tons of personality, genuinely funny, fierce on the runway. Eureka is the whole package. However, she did totally lose her cool when Lady Gaga showed up in the runway, and while it was def a very sweet moment, it was also a little extra and shows that Eureka def has some emotional weaknesses that could hurt her later on in the competition. Keep it together sister, and maybe you'll win the whole damn thing!

2. Shea Couleé
Sure, she didn't win the challenge. She didn't even place in the top three. But something about Shea Couleé tells me she's in it for the long hall. Like Eureka, Shae has tons of personality and appears to be genuinely funny. She made that giant hotdog hat, and it somehow looked very chic? In my humble opinion, Shea Couleé is this season's queen to beat. There's just something about her—a certain drag ne sais quoi—that says "winner" to me. 

1. THE 14TH QUEEN!!!
The mysterious 14th queen gets the #1 slot just because she's a mystery, and nothing is more glamorous than a mystery. We won't know who she is until next week, but I think it's safe to say she's a returning queen from a previous season, based on the others' reactions. Why else would they bring her on so late in the game? She must be fierce AF to be used as an end of episode cliffhanger. Either that, or she's so boring they had to come up with some kind of giant stunt to introduce her. We'll have to wait until next episode to find out. 
Honorable Mention: Lady Gaga
Lady Gaga is literally such a drag queen in her day-to-day life that when she came workroom everyone thought she was just another one of the contestents. She then went on to talk a lot about what drag meant to her, while the queens literally broke down into tears over her presence. So like, is what Lady Gaga does considered drag? Can Lady Gaga be a drag queen even if she is technically a cis-woman all the time? I will defer to the queens on this one and say that even if Gaga isn't technically a drag queen, she is an honorary drag queen in all of our hearts, meaning that this year's Super Bowl was essentially a drag show. Love it.