UPDATED: We Called It—Bella Hadid And The Weeknd Broke Up
UPDATE: I wanted to say that I called it, but really, our lovely tipster Tamara called it. E! News is now reporting that Bella Hadid and The Weeknd have called it quits again, after a source exclusively confirmed it. The source claimed that distance played a role in their breakup and explained, "They are in different places right now, physically and mentally." The "physically" qualifier seems unnecessary, but ok. On the one hand, Bella is prepping for fashion week stuff and The Weeknd is working on his new album and—get this—"his upcoming acting debut".
According to the source, Bella and Abel hope to get back together at some point but for now "are focused on themselves and their projects." I mean, don't we all? Anyway, wow. Now that we know for sure that The Weeknd and Bella Hadid are broken up, all I can say is: I cannot wait for the new Weeknd album.
There are a lot of celebrity couples I'm constantly thinking about, but I'll be honest, The Weeknd and Bella Hadid are not one of them. That's not to say I'm not a fan—I am actually a huge fan and never understood his relationship with Selena Gomez—but they seem pretty stable. As a couple, they're not really in the news all that much, and we don't hear a lot of drama about them. As far as celebrity couples go, they seem like a nice constant presence I can take for granted without having to constantly monitor. That is, until a hot tip came into my inbox this morning from Betches fan Tamara Barracosa, who thinks The Weeknd and Bella Hadid have broken up.
First, a brief timeline of The Weeknd and Bella Hadid's relationship. Bella and Abel got together in May 2015 and broke up in November of 2016. He dated Selena Gomez for 10 months, and then in November of 2017, was spotted leaving Bella Hadid's apartment. (Who among us has not hooked up with an ex as a rebound?) They have more or less been together since May 2018. However, there might be trouble in paradise… literally. Our girl Tamara noticed that Bella Hadid has been on vacation a lot, with no sign of The Weeknd. To be fair, he could just be busy with other things (he's working on an album), but it's a little out of the ordinary for there to be no sign of The Weeknd on Bella's social media in months. In June, she posted him to her Instagram story when he surprised her with a visit. And on May 23, Bella was missing her mans, so she posted a TBT pic of them in Abu Dhabi, writing "I miss my king". So, even though they're a pretty private couple, they do post about each other. Or at least, Bella will post about Abel regularly enough. His absence could be telling of something more serious.
Sadly, all good things must come to an end, and their relationship might be on the rocks. Two weeks ago, tabloids were reporting that their relationship is "at an all-time low" and they're constantly fighting. On July 31, The Weeknd posted a selfie to Twitter (weird move, but ok), where he's drinking a cocktail and living some semblance of his best life.
— The Weeknd (@theweeknd) August 1, 2019
Noticeably absent from that selfie? One Bella Hadid—though, to be fair, a browse through The Weeknd's Twitter history shows that he doesn't really post about her on there, ever. (He mostly retweets news articles about himself.) So it's not that weird that he wouldn't tweet about his girlfriend, especially since Twitter isn't really the platform you go to to post about your relationship—Instagram is. But guess what's on The Weeknd's Instagram?
Nothing.
UPDATE: !!!!! he deleted his insta and she deleted recent pics of him!!!

— Tam Hanks (@TamaraBarracosa) August 1, 2019
That's right, The Weeknd deleted his Instagram. That's definitely suspicious, and could point to a breakup, but there are easily other explanations. Mainly, The Weeknd is currently working on a new album, Chapter VI, and according to some music blogs, his fans have been bugging him nonstop on social media about it. Yeah, if strangers were constantly DMing me about my latest article or whatever, I'd be annoyed too, and might just go nuclear and slash and burn my entire account. Also, artists delete their Instagrams in the time leading up to a new release all the time. Taylor Swift did it for Reputation, and Cardi B did it as well after the 2019 Grammys. Fans thought it was in response to the backlash of all her wins, but then she ended up back on Instagram a short time later to promote a new song. With The Weeknd deleting his Instagram, I'd bet this is less of a sad boy thing and more of a PR maneuver.
However, Bella's Instagram is also kind of suspect. She hasn't posted a picture of The Weeknd since March 30th, which is a long time ago, but then again, Bella Hadid's Instagram is mostly professional shots of her anyway. It makes sense that she's not actually using Instagram for its intended purpose, i.e. posting real photos of her life taken on an iPhone, considering she's a model and also a celebrity. Unless Bella Hadid has a finsta, this is kind of a dead end. Could it be indicative that their relationship has come to an end? It could. But it could just mean that she doesn't post her boyfriend to her feed to begin with. I don't have a photographic memory of Bella Hadid's Instagram feed, so I can't say for sure that she did have photos that were taken down. I checked out a few Bella Hadid fan accounts (I know), and even they don't have many photos of her with The Weeknd. So could it just be… that she doesn't take many photos of him to begin with? Sometimes the most obvious answer is the correct one.
Basically, when an already quiet couple goes even more quiet, it's hard to determine what's up. It's equally likely The Weeknd and Bella Hadid broke up as it is that The Weeknd has just been sequestering himself away somewhere while he finishes his album, so I'm sorry to give you all blue balls, but it's impossible to say for sure. Looks like I'll be adding The Weeknd and Bella Hadid to my roster of celebrity couples I need to keep constant tabs on to make sure they're okay, right after Chrissy Teigen and John Legend.
If you have a tip you need the one and only Sgt. Olivia Betchson to investigate, send us an email to [email protected] with your piping hot tea.
Images: Shutterstock; TamaraBarracosa, theweeknd / Twitter
There Are More Claims That A-Rod Cheated On J.Lo
Unless you live underground, you're likely aware that A-Rod (of Yankees fame) and J.Lo (of the block) decided to consciously couple and announced their engagement on March 9. There was a 10-carat ring. A picturesque sunset over a bay we've never heard of. A previously great baseball player and his big bootied love, just soaking up each other's awesomeness, as they've been doing since they started dating in 2017. Everything was literally great. I mean, J.Lo even managed to look surprised, which is shocking considering she's had somewhere between four and six men propose to her. Based on their social media alone, they seem like couple goals. But only 48 hours after the ex-baseball star got down on one knee, there were accusations flying regarding Mr. Rodriguez's wandering eyes (and d*ck). Can't say we're surprised, because we can never have nice things. But here's a refresher for you on what's going on in paradise, and why there might be new troubles on the horizon.
We told you all about part one of this "is he or isn't he" bullsh*t in that ex-baseball dude Jose
Canseco accused A-Rod
of actually being the cause of his own marriage ending. He threw these accusations like a sh*tty ground ball just two days after A-Rod popped the question. He also tried to get A-Rod to box him, which I would 100% be down to watch, but that's neither here nor there.
ARod what happened to your eye? Did one of your girlfriends do that to you? Stop being such a liar and a cheat

— Jose Canseco (@JoseCanseco) March 17, 2019

Canseco's ex-wife, Jessica Sekely, quickly denied those rumors, seemingly squashing the whole "is he cheating" rumors. Did they bone? I have no idea, and I kind of don't care, since it seems like the attempt of a disgruntled sad ex-baseball player to throw his ex-wife's reputation under the bus.
However, now there's another person coming forward with claims that A-Rod is doing our BFF, Jenny, dirty on the DL. Let me be the first to say, "hasn't J.Lo been through enough?" I mean, the woman has been engaged several times and isn't eating carbs (probably). There's only so much she can handle. Unlike the Canseco rumors, these newest claims seem significantly more interesting, since they involve a lot less sad baseball players and a lot more (alleged) d*ck pics. Who's throwing shade? British Playboy Playmate Zoe Gregory claims that A-Rod sent her inappropriate (and seemingly one-sided) texts for about three months before he decided to hitch his wagon and now dead career to J.Lo with that sunset proposal.
Ex-Playmate claims A-Rod was sexting her just a few weeks before proposing to JLohttps://t.co/IESV8AVbr4 pic.twitter.com/T1Rr5N1E4e

— Barstool Sports (@barstoolsports) March 26, 2019
Zoe Gregory, Playmate and alleged A-Rod d*ck pic recipient
Gregory, 44, lives in L.A. and says the texts, sent over WhatsApp, ranged from asking how many times she'd "been" with a few of her girlfriends (ew), to if and when she could fly out to San Francisco, to requesting "naughty videos." Apparently, A-Rod also gifted a d*ck pic to Gregory, which allegedly showed his "manhood" (gag) and his "muscly thigh." What a charmer. The texts started around Boxing Day, which is in December, of 2018, and continued right into February. There's no word on why the texts and communications stopped (did they even?) but Gregory alleges that J.Lo "doesn't deserve this." Weirdly, we agree on that point.
View this post on Instagram
The couple in happier, more engage-y times
On the one hand, this isn't the first time A-Rod has been accused of being sketchy. His first marriage ended because of his supposedly numerous extra-marital activities. Then you have the whole Canseco thing, and the fact that celebrity gossip guru, Enty Lawyer, has been claiming for a while now that A-Rod has been cheating.
Based on his history, it seems like sending gross texts to an ex-Playboy model is right in this guy's wheelhouse. However, these texts seem awfully one-sided and, I'm sorry, but until I see the blurred-out d*ck pic, I'm not sure I buy it.
Neither J.Lo or A-Rod have outright addressed the claims yet, but I wouldn't be surprised if Jenny puts a kabash on what would be her fourth marriage. Girl, go have some you time.
Images: Getty Images; jlo / Instagram; barstoolsports, josecanseco / Twitter
Why Was Brad Pitt At Jennifer Aniston's Birthday Party?
Want to feel old? Jennifer Aniston celebrated her 50th birthday this weekend. Want to feel even older? Enough time has apparently passed that she and ex-husband Brad Pitt are cool enough for him to attend the party. I guess there's no better way to say "I'm still getting over my second divorce" than by bringing the f*ckboy from your first divorce back into your life.
So obviously, the question on everyone's minds is are Brad and Jen getting back together? The answer is a resounding "maybe". According to some of Aniston's F.R.I.E.N.D.S. who attended the party, Brad was there but the two didn't really interact. Though Pitt did reportedly have a "great time" and spent most of the night hanging out with George Clooney and Orlando Bloom. Sidenote: how do I get invited to a party with Brad Pitt, George Clooney, and Orlando Bloom?
Since their divorce in 2005, Brad and Jen have reportedly remained in touch, and are reportedly friendly with one another, despite the whole him dumping her for Angelina Jolie thing. (And here I am unable to forgive my high school boyfriend for getting the wrong prom corsage.) But rumors that the two have rekindled their iconic romance have been swirling ever since Jen's recent split from Justin Theroux in early 2018. While a source told ET at the time that the two were "absolutely not" dating, everyone's favorite purveyor of juicy-yet-not-officially-confirmed celebrity gossip, Enty Lawyer, has some other insight to offer.
The back of Brad Pitt's head spotted at Jennifer Aniston's 50th and what does it all mean? https://t.co/qgbNhNeyUm pic.twitter.com/0kwLkqlCmJ

— SimpleNews.co.uk (@Simplenewsuk) February 10, 2019
If you don't read Crazy Days And Nights, you need to. An abridged explanation is that Enty, the man behind the site (not his real name), publishes what are called "blind items" in which he spills celebrity gossip that hasn't officially been confirmed yet. Only, he doesn't name names, which is how he manages to do this without getting in trouble with the celebrities he writes about. Basically each blind item is like a fun riddle that you can piece together using the clues in the items. It's hard to explain, so just go read it, and then say goodbye to your life.
So, Crazy Days and Nights published a blind item months ago alluding to the fact that Brad would make "a return to Jen's life," and not just for the purposes of friendship. Enty revealed to us that being seen together would be a good PR move for both Brad and Jen, considering Brad's rep has suffered considerably since his messy divorce from Jolie, and Jen needed to take some heat off her "awful relationship" with Theroux. Brad was also apparently "not the only ex at the party," though Theroux was not in attendance. If that's true, then is Jen's birthday party basically the real-life version of when I text all my exes at 3am to see who will respond the fastest to give me attention?
So is Brad being at Jen's birthday party a sign these two will do a reboot of their relationship? I guess we'll have to wait and see if Brad changes his hairstyle to match Jen's find out.
The birthday party of a one year old made a way bigger splash than Jennifer Aniston's 50th WHERE HER EX BRAD PITT MADE AN APPEARANCE so yea we really are in the sunken place

— samifish (@samifish1) February 10, 2019
Follow Enty Lawyer on Instagram for more celebrity gossip.
Images: Giphy (2)
Jenna Cooper And Reality Steve's Feud Has Escalated
Bachelor Nation never ceases to amaze us with the absurdity that puts their contestants people in the limelight. The Jenna Cooper-Jordan Kimball drama continues but this time, Jordan is nowhere to be heard (but we'll get to that later). Instead, Jenna Cooper and Reality Steve now have beef. Jenna posted a public statement on Instagram this weekend addressing the text messages Reality Steve posted in his article exposing her fake relationship. Nine hours later, Reality Steve posted his statement on Twitter in response. This is a classic "he said, she said" dilemma told via screenshots from the Notes app, so let me break it down for you.
The Plaintiff: Jenna Cooper
Jenna has accused Steve of publishing "fake texts" and telling "vicious lies" about her. Her lawyers have requested he hand over the text files so they can "forensically examine" them (see below). As well, Steve has been asked to identify who sent him these files and how he was able to "vet" their authenticity. See below for Jenna's full statement (and gratuitous glamor shot).
I have a few issues with her statement. I get it girl, if these texts weren't from you then I'd be v pissed. But not once did you mention in your statement that you didn't cheat on Jordan. Steve explained in his statement that she neglected to mention that the cheating rumor was false. Even Shakespeare would agree, "the lady doth protest too much" aka she's denying everything so much, it's basically admitting she did it.
The Defendant: Reality Steve
Steve posted his counter-statement on Twitter following Jenna's allegations. He stated that Jenna's lawyers demanded he release the information on who sent him the text messages in question. If he refused to do so, they would assume the messages were "fabricated to harm Jenna." That seems like a rather large jump to conclusion, but whaetvs, I'm not a lawyer. Keep in mind, which Steve also includes in his statement, that he has dealt with his fair share of drama when it comes to releasing spoilers about The Bachelor so he has done his research on what he is legally allowed to post or not. Here's Steve's rebuttal to Jenna's allegations.
Here is my response to Jenna's silly Instagram post she put up at 12:30am this morning. Go check it out if you haven't had a good laugh to start your day… pic.twitter.com/AVIz8mcCRw

— RealitySteve (@RealitySteve) September 22, 2018
Sidenote: lol that Steve's first instinct was to call out the modeling pic.
The Breakdown
Reality Steve publishes an article containing what he claims are text messages between Jenna and a man who is not Jordan, basically expressing that she was never in love with Jordan.
Jenna released a public statement about the messages 10 days after Steve's original article was published. Why did she wait so long to release a statement? Weird.
Jenna accuses Steve of hiding behind his lawyer during this whole confrontation but she began this fiasco with her lawyers reaching out to him. Seems rather hypocritical.
Jenna is asking Steve for the original messages so they can be "forensically examined." IDK how you forensically examine text messages. Also, Steve was sent screenshots of messages from his anonymous source so that's not going to help her in a forensic examination (whatever that entails).
Steve claims that these messages have "been verified they are from Jenna, these are confirmed from her phone number, so in case you have any doubts, just know this has been vetted out." I have a few issues with this statement in his original article. Firstly, is the only way they were verified is from the anonymous source who sent them? Not so reliable. Secondly, how were they confirmed they were from her phone number and how do we know for sure someone didn't just spoof Jenna's number? (Yes, I watch Law & Order: SVU.)
Jenna is asking Steve to reveal his anonymous source. But by doing this, Steve risks losing his reputation as a reliable source of information and breaking the trust he has with those who provide him with information. He's also not legally obligated to reveal his sources. Also, unless Jenna has cheated on Jordan with multiple men, why does she need to know the identity of the source?
Where is Jordan in all this? Would love to get his thoughts.
The Verdict
TBH I'm no lawyer so I can't say for sure. BUT, I can say that I think Jenna looks pretty ridiculous. If she spent half her time denying the cheating allegations as much as she denies those texts are from her, then maybe she'd be in a different situation. Also, by getting lawyers involved in all this, she's only prolonging the amount of time it's going to take for people to forget about this scandal. Like, I don't really get the point of this. Jenna already lost Jordan; what good is going to come out of this "investigation"? I think it's also telling that when Reality Steve's lawyers wouldn't comply to Jenna's requests, she took everything public to social media. Would you really do that if you had a winning case? Not according to the fake, honorary law degree bestowed upon me by Dick Wolf.
In any case, I love a good scandal, so I'm excited to watch this circus continue to play out in the media, if for nothing else, so that I can put off thinking about Colton for a little longer. I will be waiting for updates with bated breath.
Giphy: Images (2)
This Rumor About Paul Ryan Is The Best Thing We've Heard All Year
As a wise and noble prophet once said, "Middle fingers up, put them hands high, wave it in his face, tell him boy, bye."
According to reports, Paul Ryan told his "closest confidants" that 2018 might be his last year serving as Speaker of the House. Lol cya wouldn't wanna be ya. Also dude, you need better friends. If your absolute closest confidants are willing to sell out your secrets the second a reporter knocks on their door, imagine how bad this could get if they accidentally leak some nudes we don't know about or let it slip that you made out with a hot dog.

Politico interviewed three dozen of Paul's coworkers, aides, and friends, and literally not a single one of them said they believed Ryan would stay in Congress past 2018. I mean, duh. Who would want to be the leader of the most volatile combat arena since McGregor/Mayweather? Those Congressmen and women get petty af and thinking about being the punchable face to blame every major decision on gives me hives.
As Speaker of the House, Paul Ryan has been known for, quite frankly, lacking a spine or a moral compass, or a hairline that makes him look like something other than a cartoon vampire. Republicans and Democrats both think he sucks – Democrats because they think he's too conservative, and Republicans because they think he's not conservative enough. Damn, that's so rough I almost feel sorry for him. Oh wait, no I don't, because he wants to cut benefits and scale back Medicaid and healthcare for the poor and middle class. Raise your hand if you feel personally victimized by Paul Ryan.

Ryan's main obsession lately has been the controversial tax bill, which he has been trying to pass since the day he came out of the womb. After the first version of the bill passed in the House and Senate, DJ Pauly R got understandably cocky that the government was well on its way to completely passing his tax overhaul plan. The speculation of his retirement comes with the assumption that if Ryan's tax bill does actually make it to Trump's desk before Christmas, he's definitely trying to peace the fuck out while he still looks successful. I respect this, not as someone who is objectively looking at the integrity and tenacity of a lawmaker, but as someone who also likes to leave every room on a high note before people realize I basically wing everything on the spot.

It's not a done deal, though, and now that some Republicans are starting to express doubt about the bill, Ryan might end up getting stuck in his Groundhog Day loop for a few more years, repeatedly squawking "lower taxes for the rich" until his little pointy head explodes. At a press conference Thursday morning, Paul tossed a quick "no" over his shoulder when asked if he was planning on leaving soon. How revealing, how eloquent. That's also not what three dozen of your closest friends seem to think, but it's ok, you'll get there.
Actual footage of Paul Ryan leaving the press conference:

Presumably, Ryan also wants to try to distance himself from anything to do with Trump. He accepted one too many late night booty tweets, and got a little too chummy with Trump, which has been a major contributing factor to some of the criticism surrounding him. Plus, the Speaker of the House is second in line if both the President and Vice President get impeached or removed from office, which probably wakes Paul from his upside down cave slumber in a cold sweat every night because, honestly, it's not too crazy of a possibility at this point.
Of course, this is all just a rumor as of right now, and Ryan may decide to stick around and toss some more matches onto the garbage fire in Washington for a few more years, seeing that he gets re-elected in the 2018 midterms. I hope he does take retiring seriously, not only because I'd love to see him slither as far away from any Congressional influence as humanly possible, but also because then he can spend his free time doing what he loves – living in Wisconsin with his family and getting swole. Obviously.

Heads up, you need to keep up with the news. It's not cute anymore. That's why we've created a 5x weekly newsletter called The 'Sup that will explain all the news of the week in a hilarious af way. Because if we weren't laughing, we'd be crying. Sign up for The 'Sup now!
Taylor Swift Says She's Not Shading Anyone On 'Reputation' And We Call Bullshit
As anyone with access to the internet can tell you, Taylor Swift's new album Reputation dropped today, and despite months of my own personal haterism, it is like, v good. Now obviously, any time Taylor drops an album it is our duty as Americans to speculate wildly over who the songs are about. In the past, Taylor's made this pretty easy, hiding acrostic poems special clues in the liner notes of her songs, her music videos, and her live performances. This time, however, New Taylor (RIP Old Taylor) isn't fucking with any of that. In an essay released with hard-copies of Reputation (Sidenote: They still sell hard copies of albums?), Taylor tries to preemptively shut down the rumor mill by saying, "When this album comes out, gossip blogs will scour the lyrics for the men they can attribute to each song, as if the inspiration for music is as simple and basic as a paternity test." Umm okay, Taylor. If you want to say something to me, you can say it to my face.
So the main question we're left with after reading Taylor's sad handwritten book essay is, is this bullshit? On the one hand, Taylor makes her case very eloquently. It's almost like she writes her own songs or something. On the other hand, these songs are definitely about specific people, right? Like, how dead is the old Taylor, really? Is she actually-in-the-ground dead, or just-read-something-funny-and-have-to-dramatically-express-how-I-feel-literally dead? It's an important distinction to make.

In "Look What You Made Me Do" alone, there are a bunch of pretty obvious references to specific people that seem to debunk her essay. I mean, just the sheer number of snakes that appear in that video are pretty clearly directed at the whole Kimye thing. Plus there's the fact that she literally stands in front of a grave that says "Nils Sjoberg," which just happens to be the pen name she used while writing songs with ex-boyfriend Calvin Harris. And then, of course, there's the fact that she literally referenced several past iconic moments in Swift history (aka Swiftstory) with a 30-seconds-too-long 30-second skit at the end of the music video.

Then there's "Gorgeous," a major contender for best song on the album, and another one that is chock-full of fairly obvious references to real relationships. She references making fun of the way her bf talks, which could be about one of her three British boyfriends (girl has a type, and I respect that). She also references "ocean blue eyes," which, tbh, could be about any man Taylor's ever dated. It's mostly the lyric "And I got a boyfriend, he's older than us / He's in the club doing I don't know what" that got people thinking the song might be about both Tom Hiddleston (36) and her current bf Joe Alwyn (26) because like, they met when she had a boyfriend that was older than them.

As for "…Ready For It?" the jury is out on who it could be about. Some people say Joe Alwyn, some say Harry Styles. Personally, I think it's about Harry Styles due to the many island references (the two went on a trip to the British Virgin Island in January of 2013 and it's actually not lame at all that I know that). There's also the lyric "Younger than my exes, but he act like such a man," which technically could apply to Alwyn but seems more likely about Harry because he's so much younger than her other boyfriends. (He was just 18 when the two dated, and again, it is very cool that I know all this information.)

So basically, what I'm saying is, Taylor, I'mma let you finish, but this album is definitely about specific people and incidents from your life.
Now please return my messages. I need to speak with Meredith.
Someone Please Explain These Khloé Kardashian Instagrams
It's been a full, like, eight days since one of the Kardashians has decided to announce her pregnancy at the very end of the work day and send the entire media into a frenzy. Given all that's been happening in the world, it makes sense, and I for one am glad that Kris Jenner has been able to put aside her thirst for publicity for the time being. But that doesn't mean I've stopped thinking about Khloé Kardashian's pregnancy. I have not. I'm still losing sleep over it, and it's gotten to the point where my boss has had to "gently" remind me that Khloé Kardashian pregnancy rumor-induced sleep deprivation is not a valid excuse for calling out of work. But I still have so many thoughts. Mainly, is Khloé Kardashian really pregnant? I've stalked her Instagram lately, and I have some doubts.
First off, I'd just like to say that between Khloé and Kylie, I find it much easier to believe that Khloé is pregnant. She's older, she's wiser (not that the bar is that high, but still), and she's in a steady relationship of more than five months. She's also reportedly wanted to get pregnant for a long time. So I would very much support her as a new Kardashian mom (because my support is really what matters here). I'm just genuinely confused. We haven't heard anything from Khloé either way, which is just weird. Like, what are you all gaining here by remaining silent, other than my continued speculation?? Please advise.
Okay anyway, now onto the conspiracy theories. Khloé is supposedly pregnant, and she's probably the most likely one out of anyone to be pregnant, and yet, she posted this Instagram five days ago: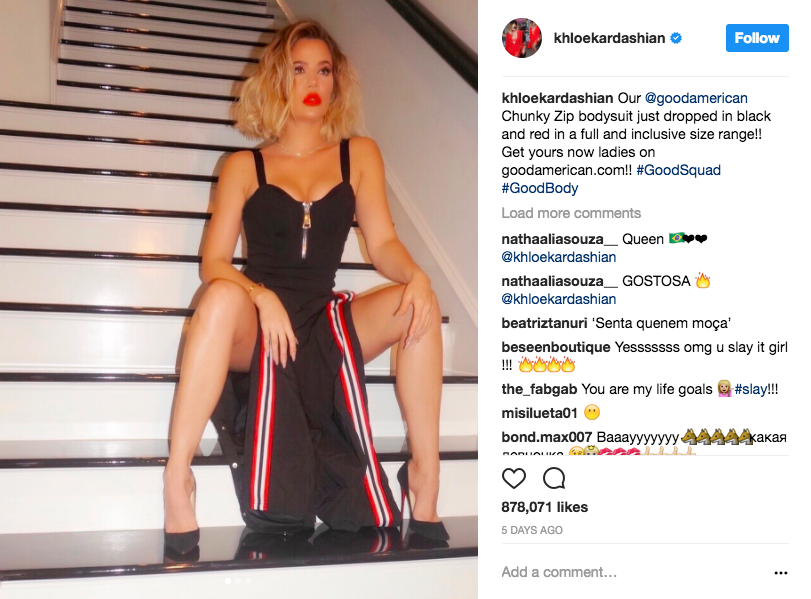 Normally I'd say this photo could have been taken a long time ago, but this is supposedly a new item that just dropped. How long in advance could she have gotten a new item to take a picture of it? And seriously, look how skinny she is. Someone please PM me the name of Khloé's personal trainer. Jokes, I can't afford him or her and half of that is probably lipo anyway.
But I'm not done. Khloé posted the following Instagram on September 23rd, which again, wasn't that long ago.

Not only does she not look pregnant, homegirl has ABS. Now note the caption: "Last swim before we're off to Cleveland!" I had to do a lot of extra Googling to compensate for my nonexistent sports knowledge, but basically here's the gist: Khloé's boyfriend and maybe baby daddy, Tristan Thompson, plays for the Cleveland Cavaliers. Khloé was in Cleveland with Tristan on September 26th, according to PEOPLE. If on September 23rd, she took her "last swim" before heading to Cleveland, and she was in Cleveland no later than September 26th, then we're talking a maximum of three days difference. Incidentally (or not really, I just like using that word), news of Khloé's rumored pregnancy also broke on September 26th. Like I said about Kylie before, people typically wait to start telling family and friends they're pregnant until they're around 10 to 12 weeks along, and like I also said about Kylie, women can start to show at that point. So if she's supposedly nearly three months along at this point, and has abs like that, again I say, somebody PLEASE PM me her personal trainer.
Seriously, HOW??? How can Khloé be pregnant with a six-pack when I'm over here, decidedly NOT pregnant, and rocking a mini keg? *Looks down sadly at loaf of garlic bread in my lap*
That's all I've got for today, folks. If Khloé is pregnant, which is looking increasingly likely to be the case, mazel tov to her and Tristan and apologies to their future child for all the "your mom is a MILF" comments they're going to have to deal with.
The Internet Thinks Taylor Swift Is Hiding In A Suitcase And We're Here For It
Today is the one year anniversary of Kim Kardashian ruining Taylor Swift's life via Snapchat, and you'll be happy to know that Taylor is now a fully-functioning, completely normal human being who takes reasonable methods of transportation to and from her various appointments. Yeah, no she's not. Taylor has stayed out of the spotlight in the last couple months, which is why this story is all the more incredible: Taylor may have hid in a suitcase so she wouldn't be seen by the paparazzi.
A FUCKING SUITCASE.
I mean, I get why Taylor would need to hide from the paps. You know what they say, "People throw rocks at things that shine." Here's what we know: Taylor Swift has an apartment in Tribeca. It's probably scary nice on the inside, but that's not what we're here to talk about. The other day, a fleet of cars showed up outside the apartment, and then nearly a dozen security guards helped to move an enormous black suitcase into the trunk of one of the SUVs. They were extremely careful with the baggage, not putting it on the ground even though it had wheels.

So what could it be? Because the internet is the best place in the world, the leading theory is obviously that Taylor herself was in the bag. This is only a theory, but it's a fun theory and we're bored so let's roll with it.

She hasn't been seen out and about recently, but guests have been regularly coming and going from her apartment. How else is she getting in and out?? Fans are also suspicious because Taylor didn't host her annual 4th of July party this year, but tbh she probably just couldn't get anyone to put up with her shit. She's definitely the girl that takes 40 tries to get the perfect Boomerang.

So was Taylor actually in the suitcase? We may never know, but we fucking hope she was, if for no other reason than her hair would probably look a mess when she got out. Bye Taylor, you're still a snake.