The Most Unbelievable Claims Celebs Have Made About How Their Skin Looks So Good
In my free time, I like to overthink all of the potentially embarrassing things I've ever done or said in front of other human beings. On the off chance that I have run out of things to cringe over, I give my nerves a break from roasting myself and instead put the heat on a topic that's been hammered into my little noggin since I first developed spatial awareness: why do celebrities look so good, and how can I do it, too?!
Although I could be reasonable and focus on the facts (entire teams of people are paid to primp them and they generally have incredible genetics), there are a few incredibly cursed claims that I simply cannot unhear. If my brain sounds like a horror movie, that's because it is. Except, instead of a bloody figure popping up in the mirror while I'm winding down for bed, it's the ghost of a celebrity sponcon post touting a holy grail beauty product and a discount code that will essentially shave $1 off the retail price. Here are a few unrealistic things celebs have said about how they look so good. These tend to pop into my head usually when I'm perusing CVS for a product that will drastically change my appearance (without breaking the bank), or when I'm simply in a phase of blissful self-confidence, during which I'm convinced simply drinking enough water is making me objectively stunning.
Don't Let Your Body Tell People How Old You Are
Do you have at least five Kardashian-Jenner quotes floating around your head at all times of the day, or are you normal? (I am truly just a girl caught between "phone eats first," and Kim's deranged mantra: "Instagramming photos of food isn't sexy.") Ever since Khloé shared her "new mom beauty routine" with Vogue, I've been unable to shake the sound of her voice from my subconscious when I get ready each morning. After toning, Khloé says she lathers SPF 46 on her face, hands, neck, and chest, "because this is where we all show our age." Sorry, but that's essentially my entire body? You mean to tell me that my entire body… shows my age? Damn. It really do be like that. Now, when I moisturize and apply sunscreen, I make sure to work the product all the way down to my toenail cuticles, lest anyone do the math and find out when I graduated college. Next, I cycle through five different photo editing apps and gaslight anyone with access to photos I haven't doctored first. (But trust: I owe it all to the SPF.) 
Stop Being A Potato
You know what will totally save you after a long night out? Potatoes. Unfortunately, you will not be eating hash browns, but you will be rubbing them on your face if you subscribe to the ways of Lauren Conrad, who once suggested, "to reduce puffiness, slice up a few refrigerated potatoes, soak them in water for a moment or two, and then place them over your lids for 15 minutes. Works like a charm." Although, I have to wonder: if I am the kind of person who is whimsical enough to calmly sit with chilled potatoes on my face, what lifestyle mistakes am I making to suffer from puffiness in the first place? There must be some other habit I can eliminate. LC, LMK. 
Enough With the "I'm Practically A Vegan!" Charade
During a chat with Extra, Halle Berry revealed that if you want to glow, you simply cannot be vegan. Relax, vegans, she did not call it out like that, but if you want to be beautiful, you'll have to be able to stomach potentially seeing an animal carcass. Her skin care secret is simple: homemade bone broth. "You can go to the butcher and get all the bones they're going to throw away and he'll give them to you for free. Take the bones, boil them up for 24 hours… and you drink the broth. It's so full of collagen that it's crazy." You heard it here, folks. It is officially free to look like Halle Berry. 
Beauty Is Pain
Oh, the $28 Glossier serum you use to decrease inflammation isn't working wonders? You should probably trash it immediately and opt for nature's fix: letting a bunch of bees sting you. If you're feeling skeptical, let Gwyneth Goop Paltrow calm your nerves: "I'm open to anything. I've been stung by bees. It's a thousands of years old treatment called apitherapy," she told the New York Times. "People use it to get rid of inflammation and scarring. It's actually pretty incredible if you research it. But, man, it's painful." Perhaps the best part of Gwyneth's suggestion is that even she doesn't sound sold on it… which somehow makes me want to try it even more? It's like when you meet a friend for a Starbucks run, and when she takes one sip of the $11 unnaturally colored drink and says, "This tastes like shit," your first instinct is to grab it and try it for yourself. 
But Also, Don't Worry Because Everything Is Optional!
Bella Thorne has done a lot of things that made the internet collectively scream, "Oh no!" so it's understandable if you missed the day everyone was spiraling over her beauty routine. The former Disney star revealed, "I don't use moisturizer or anything," which is simultaneously the most reassuring and troubling statement I've ever heard in my life. When a casual happy hour turns into all-night karaoke, the one thing I can typically manage to do when I get home is slap some kind of hydrating concoction over at least a portion of my face. If I lose sight of the most foundational skin care rule, I'm not really sure where I'll end up next. But on the other hand, I know that even if I finally pull the trigger on the $70 Drunk Elephant moisturizer that's been sitting in an online cart for a week, I'm still going to wake up and reenact Mia Thermopolis' "This is as good as it's going to get" scene from The Princess Diaries every day for the rest of my life. 
Images: Alexander Tamargo/Getty Images for Good American
This Is The Best Order For Your Skincare Routine
Judging from all the "gifts to give yourself" guides out there this season, I gather I'm not alone in treating December as "spend yourself blind" month. (Also: go get the Skin Laundry facial that list recommends; it's amazing.) And what better way to spend a sh*t ton of money invest in yourself than by amping up your skincare routine? In the past two weeks, I've added a serum, a facial oil, and an "elixir" to my fairly basic four-step routine. But within twelve hours of my exciting new purchases, I realized I had no idea how to use them correctly. Skincare products all tend to list "apply daily to clean, dry skin," but that's about it. So, in an attempt to not waste my new goodies, I actually sat down and researched. Here's what I've learned about the best order for your skincare routine.
Step 1: Cleanser
All authorities I consulted concurred on this. The first step in any skincare routine should be cleaning your face. If this strikes you as surprising, then I have the perfect gift for you. Enjoy!
Step 2: Toner
Byrdie offers a little dissent here, suggesting that Step 2 should be exfoliator, not toner. However, my skincare-savvy readers will know well that not all skin types require and/or take well to regular use of an exfoliant. And very few exfoliants are suitable for anyone for daily use. (You can go shave your back now Byrdie!) Anyway, exfoliate if you need to, but consider it part of the cleansing step of your routine. Toner then clears away any remaining makeup/product, as well as doing whatever else the bottle promises (tightening pores, evening skin tone, giving you eternal life, etc.).
I've written more about toner types here, but Cosmo offers a key tip I'll include. If your toner contains an AHA (like glycolic acid or lactic acid) or BHA (like salicylic acid), you'll want to wait a "full five minutes" before moving on to your next step. Otherwise, you'll neutralize the acids, rendering the active ingredient useless. (Moment of silence for all the toner I've wasted on my face please.)
Me @ my toner:

Step 3: Serums/Eye Cream
Once again, all my sources voted to use a serum as step 3. Cosmo describes serums as "shots of extremely concentrated nutrients, hydrators, and antioxidants." Like with toner, you'll want to pick the specific one based on your skin's needs. The one I've recently invested in contains Vitamin C, a common dermatologist recommendation. But you can also use different serums in the morning and at night, in which case you could swap in a hydrating serum at night. Again, all depends on your skin.
Eye cream, which I've realized over the course of my research is still lacking in my skincare routine, is a slightly more conflicted issue. Cosmo says to apply after serum and before moisturizer, since eye cream "tends to be lighter and thinner," and can't "penetrate thicker products," AKA your moisturizer. Dermstore suggests using it before serums in the morning, but after serums at night. (And it stresses the importance of applying twice daily from a young age—good thing I have endless money and time, am I right??) For Dermstore, the key thing is to apply eye cream before your "treatments" (more on that in a minute), to "protect your eye area against potent ingredients." Both of these rules make logical sense to me, so if your serums has potentially irritating ingredients, do eye cream first. And def do it before moisturizer.
Side note: this research has also convinced me that I've been applying my new serums at the wrong time, in addition to neutralizing my toner.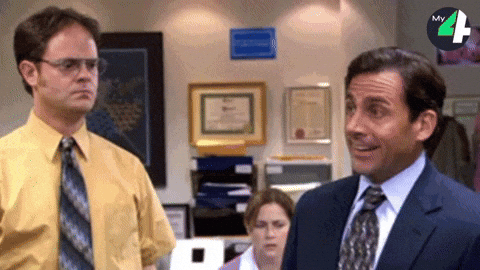 Step 4: Treatment
If you're thinking "treatment? what's that?" you either have perfect skin and I hate you, or you need to get to a dermatologist ASAP. "Treatment" can refer to a spot treatment (active ingredients will vary depending on whether you're treating acne scars or regular old pimples), or prescription treatments for acne or rosacea. (For example, I use my Finacea foam for rosacea during this step—though for the past two weeks I've been using it before my serum. Ugh.)
Dermstore again recommends different things for your night routine here. At night, they suggest you add any "mists, essences, beauty waters, or hydrating (hyaluronic acid) serums" to your toner step—applying "from thinnest to thickest." (I can't really begin to wrap my head around what those products are, but Dermstore sums them up as "skin care boosters" whose purpose is "mainly to hydrate." Cool.) Then, Dermstore recommends chasing your nightly eye cream with whatever treatment serum your skin needs that night. So, not just blindly slathering on every product you own (strike three for me).
Specifically, they advise against using an exfoliating treatment (AHA/BHA pads, peels) the same night as any prescription meds or retinol creams, since the potency can quickly become irritating. And they recommend using an exfoliating treatment no more than three times a week. In simpler terms, it sounds like alternating a prescription treatment or retinol with an exfoliating treatment is the best way to go.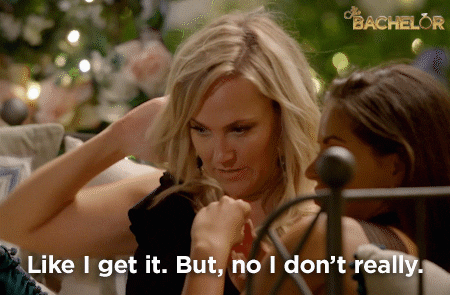 Step 5: Moisturizer/Face Oil
Once you've gotten to moisturizer, you know you're nearly there. (Good job! Now you just have a 16-step makeup routine to get through). For your nighttime routine, Dermstore recommends adding face oil before your moisturizer, with the warning note that "if you are using the right moisturizer…nothing is going to get through it." Cosmo, however, vehemently disagrees, stating "no products can penetrate an oil, which means they need to be applied last." Cosmo also recommends putting a retinol-based product between moisturizer and face oil, while Dermstore lumps in retinols with your pre-moisturizer treatments. One of my new products is a face oil that contains retinol, so no matter what I do I'll be f*cking up one of these rules.
My best advice here is to try it both ways (the order of your oil/moisturizer/retinol), and see what feels best to you. Since oils and moisturizers vary in thickness and active ingredients (and everyone's skin is different!), do whatever feels best for your face. In my case, I've found that mixing the face oil with moisturizer is most effective for absorbing both products.
Step 6: Sunscreen
This is a morning-only rule, obvs, but it's also one you need to follow every single day. Is it annoying? Yes. Does it feel like it will solve all your problems, like serums and essences do? It does not. But just do it, because otherwise you'll get dark spots and sun damage that only a laser can fix. And that's way more expensive than even the fanciest sunscreen option.
Hilary Duff may not be able to name babies, but she can still give good skincare advice!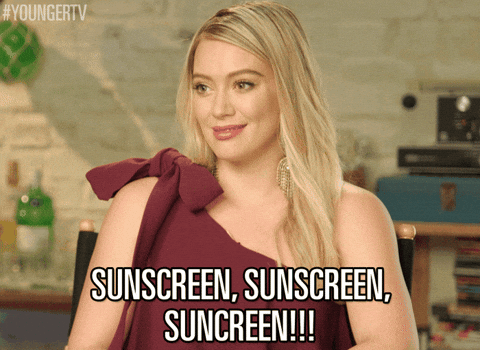 What have I learned from this article? Well, I've wasted at least $50 of skincare products in the past week, that's for sure. And my vague inkling that I was loading on too many products every day was validated. My final note here is that if any of this advice goes against what a dermatologist has told you—go with the dermatologist. My dermatologist gave me the simple outline of "cleanse, treat, moisturize, sunscreen," and actively warned me against incorporating anything else. It's only because I've followed her advice faithfully for six months that I feel comfortable building back in other products. So, listen to your doctor, listen to what your skin tells you, and if you have an eye cream you like, hit me up in the comments—I'll be spending the rest of my afternoon shopping.
Images: Shutterstock; Giphy (4)
What I Learned From Living Like A Bodybuilder For A Week
After nearly starving to death on Gwyneth Paltrow's low-carb diet, I decided to try something different for my next experiment. I thought about other celebrities' diets to try, but they all looked so boring. Ever since I started lifting weights, I began following some female bodybuilders on social media to get workout ideas, and I remember being floored by how they train and how much they eat. Like, these girls look amazing and they're definitely not ordering a juice cleanse before the holidays. So I thought, is the bodybuilder diet (and lifestyle) realistic for the average person? I obviously had to find out for myself.
The Diet
I did some research into the typical bodybuilder's diet, and as you'd expect, there's a lot of protein involved. Lesson one is macros, which is bodybuilding slang for macronutrients. These macronutrients consist of protein, fats, and carbs, and the typical bodybuilder works with a coach to figure out the exact macros they should be eating each day. But apparently the bodybuilder diet changes throughout the year, depending on if you're "cutting," "maintaining," or "bulking." From what I've gathered by eavesdropping on dudebros at the gym, cutting is getting leaner and losing fat, bulking is gaining a bunch of muscle, and maintaining is staying the same (duh). Basically, you eat according to your fitness goals. Once you have a certain number of each macronutrient, you try to hit that number every day. Plus, in addition to hitting macronutrient goals, most bodybuilders drink a gallon of water each day. That's a lot of water. I'm all for staying hydrated, but like, all this eating and drinking sounded exhausting.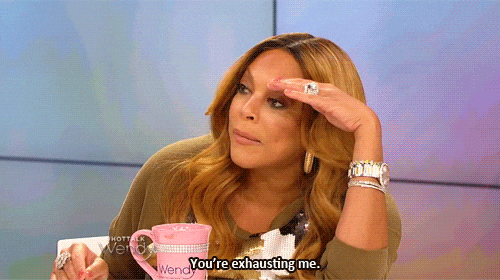 After a quick Google search, I found an online macro generator, filled out a few things about me, and found out my maintenance numbers for each macronutrient. One thing that bothered me is that I noticed a lot of the products these people love are packed with artificial sugars and additives. There are plant-based, clean-eating bodybuilders out there, but the majority are stocking up on protein bars and Halo Top. I decided to do a slightly cleaner version of the typical bodybuilding diet while still hitting my macronutrient goals.  
The Workouts
Anyone who knows me is pretty aware that I like working out. But this week would be different, because bodybuilders follow "workout splits," where they work certain body parts on each day of the week. They also take one or two days off, or "active rest days," which basically means light jogging and foam rolling. I did some research on a typical workout split, and decided to break up my workouts into two leg days, a day for back and biceps, a day for chest and triceps, and a day for shoulders and abs. That gave me room for two rest days in which I would stretch my crying muscles and judge all the girls on the elliptical. I even met with a trainer in my gym who showed me the most effective exercises for each body part and told me how many sets and reps I should be doing for each day. I was ready to go.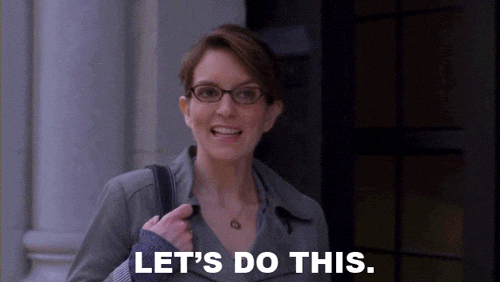 Day 1
As I expected, the first day was the biggest adjustment, mainly because bodybuilders usually eat 5-6 meals per day. I had to figure out how to squeeze in my meals, my workouts, and my gallon of water while still being a functioning member of society. Lesson one is that breakfast has to be a substantial meal. These girls aren't running out the door with half a Kind Bar and a cold brew. I read that it's important to incorporate proteins, fats, and carbs into the first meal of the day, so I went with a coffee, three sunny-side up eggs, a sizable bowl of oatmeal, and an apple. The eggs provided the fats and protein, and the oatmeal and apple are both carb sources. Bodybuilders don't eat that much fruit and prefer to get a lot of their carbs from rice and oats, but like, it was 8am and I wanted a piece of fruit. I also managed to get down a liter of water with my breakfast, so I was off to a decent start.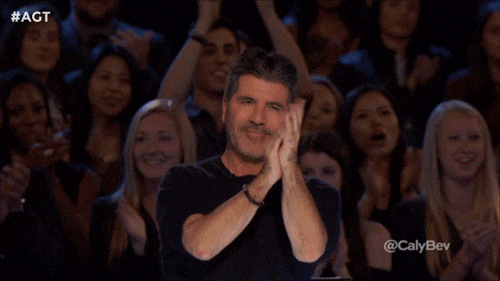 Apparently the next golden rule of bodybuilding is that the most important meals of the day, contrary to what you heard in kindergarten, are your pre- and post-workout meals. It sounds fair, but I struggled with the pre-workout part. I was still pretty full from my breakfast, and I don't usually like working out while feeling full. I also wasn't down to start taking the pre-workout supplements that a lot of pros take, but I still wanted to feel that sort of energy boost that a pre-workout drink provides. For dramatic effect. I went with a rice cake, a plain Greek yogurt, and another cup of coffee. IDK what pre-workout feels like, but after two large cups of coffee in three hours, I was sufficiently buzzed.
Then came the workout. It was leg day. Looking back, this day was probably my best workout of the week because I wasn't sore yet and I had a ton of momentum going. I did a leg and glute workout that resembled this one, but I used heavier weights and did fewer reps to focus on slowing down the movements (instead of getting my heart rate up). I basically did simple barbell squats and deadlifts on the Smith machine instead of using dumbbells, and I took out the kettlebell swings and jump squats to substitute them with the leg press machine and the hamstring curl machine. My legs were shaking by the end, but I felt good about it.
The rest of the day wasn't that important, so let's fast-forward to 7 pm. I struggled with dinner because I'm not much of a meat-eater, but I figured I couldn't go through this week without meat because like, #gainz or something. Plus, meat is an easy source of protein, so I can see why these bodybuilders are pounding steak filets after their workouts. You get like, all your macros in one sitting and don't have to think about scarfing down Quest bars later on. So, I bought a raw chicken breast from the grocery store and cooked it on a grill pan with some olive oil, lemon juice, salt, and pepper. I had brown rice on the side for carbs, and chugged water until I thought I was gonna puke. At the end of day one, I looked in the mirror and still wasn't jacked. Just full. 


 Day 2
I knew I had to be smarter about eating day two, because I didn't want to get to the end of the day and want to die. I had the same breakfast as day 1, but I skipped my pre-workout meal to feel a bit lighter and more energized in the gym. This day was the back & bicep workout, which basically consisted of a few rowing variations, lat pulldowns, and bicep curls. I was pretty hungry by the end of the workout, but it was still too early for lunch so I went with a post-workout shake. The post-workout meal is supposed to be a protein and carb together, and most bodybuilders avoid all fat sources during this meal because something about fat slowing down muscle-protein synthesis. Bodybuilders swear by their whey protein shakes, but TBH whey doesn't agree with my stomach. I bought a vanilla vegan protein powder instead, which seems fine. I mixed it with almond milk and had a banana on the side. Protein and carb. Check. And obviously more water.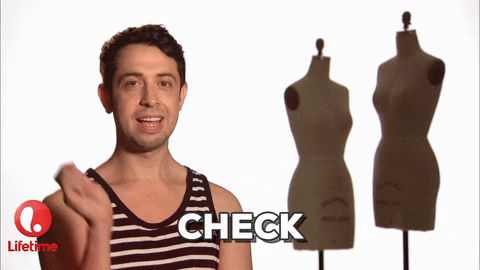 By lunchtime, I wasn't even super hungry, as opposed to my regular "about to pass out in the Sweetgreen line" starvation level. I picked up a huge piece of grilled salmon with roasted sweet potatoes from Whole Foods. Even though I wasn't that hungry, I basically forced myself to eat the whole salmon because I realized I was way behind in my protein count. Salmon is a protein and fat source in one, and sweet potatoes are carbs. I was killing these macros.
I had leftover chicken and rice from the night before, which came in handy because I was NOT down to start cooking again. IDK how these bodybuilders do it. Down went the chicken and rice, but I kinda wished I was eating sushi instead. I finished the whole portion to hit my macros for the day, but honestly it was kind of nauseating. I def could've done without the last few bites, but I wasn't backing down at that point. I'm a pusher.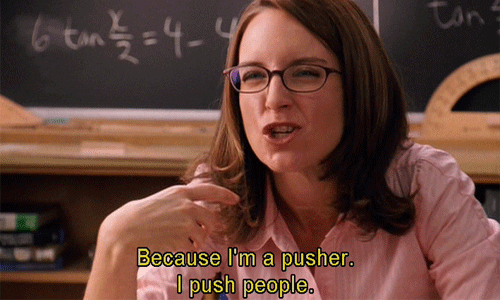 Days 3-6
If I went through every moment of this week, we'd be here forever. So I'm just gonna sum up the next few days because they were pretty consistent. The first thing I realized was that I was getting super sore from my workouts, so I made sure to stick around the gym for a few minutes after the workout to stretch and foam roll and take selfies. I also realized that hitting my carb goal was pretty easy, but the fats and proteins were harder to incorporate. What saved me were these vegan protein bars called No Cow Bars, which have like 22 grams of protein per bar and don't taste like complete shit, so those were helpful.
I also realized that I never wanted a huge dinner, but I always wanted a little dessert, so I had to figure out how to factor that into my macros. I usually have a sweet tooth at the end of the night, but most bodybuilders don't believe in the whole "one square of dark chocolate before bed" motto that all the healthy celebrities swear by. Instead, most of the bodybuilder girls I found online like to create a sweet concoction with protein powder that helps them hit their protein goals for the day. Most nights I nailed my carbs and fat, but needed more protein to hit my macro goal. I learned that you can mixed a scoop of vanilla protein powder with almond milk and some baking powder and pop in in the microwave for a little makeshift mug-cake. I made my concoction and it definitely came out kinda grainy and weird, but it wasn't terrible. On day four I caved and bought a Cookie Dough Halo Top. I ate the entire pint in one sitting. That's the point, right?
Day 7
I was really fucking happy to reach the last day of this experiment. Every muscle in my body hurt and the thought of that post-workout shake was making me gag. I also have to admit that I was barely drinking any water by the end, so I definitely failed on that front. If it were summer I may be compelled to drink more, but at this point I couldn't stomach the gallon. It was a lot. I did manage to finish my No Cow bars despite buying a 12-pack, so call me a hero.
The last day was also my rest day, which was convenient considering I could barely sit. I'm also pretty sure I tore something in my left shoulder. The basic betch inside me couldn't wait to get back to SoulCycle and hot yoga. But first I need like, a three week nap.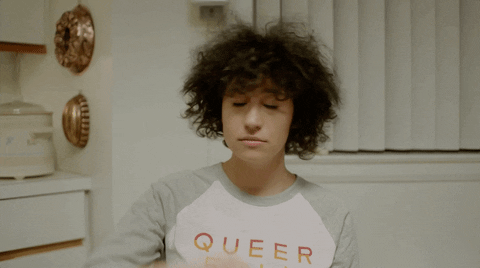 The Results
After a week of eating a ton of protein and pushing in the gym, I can confidently say that the bodybuilder lifestyle is respectable. It's also not for me. One positive thing I'll say is that I really enjoyed the weight-lifting, despite my tragic soreness. The more I learn about weight training, the less I feel compelled to do cardio to burn a million calories. Getting stronger is so much more rewarding than cycling off the cheesecake you ate last night. I intend on keeping up with this sort of training, with maybe a couple extra rest days in between.
I'll also mention that I weighed myself before and after the week, and I only gained about two pounds. For me, that's nothing. My weight fluctuates all the time, so two pounds is like, having an extra cup of water before bed. I was pretty pleased with this, not only because I wasn't looking to gain weight, but because it's cool to know that by eating a little more and doing less cardio, you're probably not gonna get fat. I think that's something a lot of people are scared of (including myself), so that's important to note.
The Takeaway
In the end, I'm retiring as a bodybuilder. Aside from the fact that I'm actually *not* one, I don't want to live in a world where I crave a salad after eating chicken and rice all week. People obviously get amazing results from eating and training this way. It's also a huge commitment to be so particular about all the macro numbers you have to hit. I'm not sure I need that stress in my life. And what's with the bullshit protein desserts? Can't we just eat cake and not tell our coaches about it? Am I too invested in the role?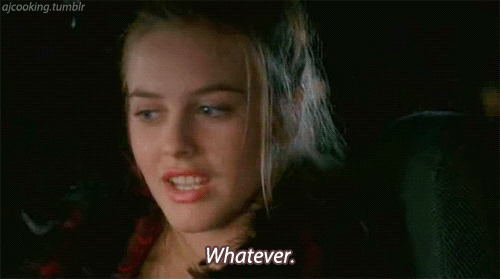 Anyway, LMK what I should try next. I'm gonna go eat a carrot stick.
Images: Scott Webb / Unsplash; Giphy (6)
The 6 Muscle Groups You're Neglecting & The Best Exercises For Them
91 percent of Americans give up on their New Year's resolutions, and I'm guessing they just got bored on the treadmill and decided to call it a day. Working out is boring, obviously. Every online fitness article shows us the same squat challenges and stupid 10-minute ab routines, but like, how many times can we keep working the same muscles? It's repetitive and annoying, and it's time we start working the muscles that we're not always told to care about on Instagram. Before you dismiss these muscle groups because you're "scared of machines" or "don't wanna get bulky," listen to why you should definitely pay attention to them. I mean, you can do burpees and sit-ups forever, but don't complain when you completely plateau and start Googling Gigi Hadid's workout routine. Here's a breakdown of the muscles you should stop neglecting, and what exercises you should start doing for each one.
1. Deltoids
What Are They?
Your deltoid muscles are basically your shoulder muscles, and there are different parts to the muscle, but the two you should care about are the front delts and the lateral delts. You might be scared that by working your shoulder muscles you'll bulk up like a football player, but realistically, that's not gonna happen unless you're literally lifting your bodyweight and consuming a shit ton of protein. Toning your shoulder muscles will make your whole arm look more defined and just so much better, and the most ideal way is to work the front of the muscle and the side of it in one workout to tone every angle.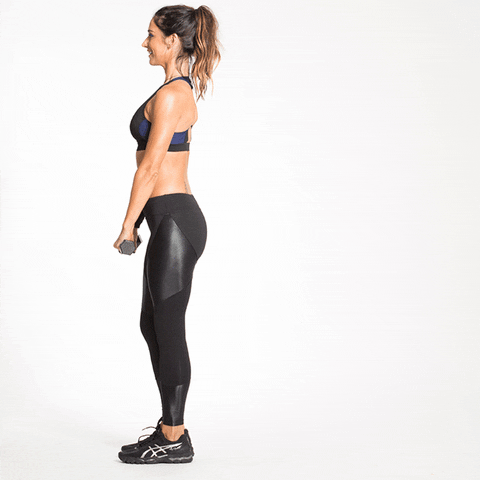 What Exercise Should I Do?
The Lateral Raise to Front Raise. Choose two dumbbells that are lighter than what you'd usually pick up. Your shoulder muscles are strong, but the side and front parts of the muscle can usually only handle very light weight, so think anywhere between three and eight pounds—maybe 10 if you do these regularly. Standing up while holding a dumbbell in each hand and your elbows slightly bent, raise the weights directly in front of you, bringing them to shoulder height with your arms extended. Then, lower them back down, and raise them again, this time laterally to the sides of your body. It should reach shoulder height again, but they're raised out to the sides instead of in front of you. You can even add in a lunge if you want to make this a total body move. Aim for 10 reps total, then rest for a minute and do another 10.
2. Lat Muscles
What are they?
The biggest muscle in your back is called the Latissimus Dorsi, and it basically gives your whole torso its shape. It's technically the muscle that makes up your upper back, which you've probably never even thought about.  When you  work your upper back, you're strengthening the muscles all around your core and back, which will actually help your back get stronger, your posture get better, and your waist look smaller. You've neglected this muscle till now, but it's never too late to start sculpting a sexy back.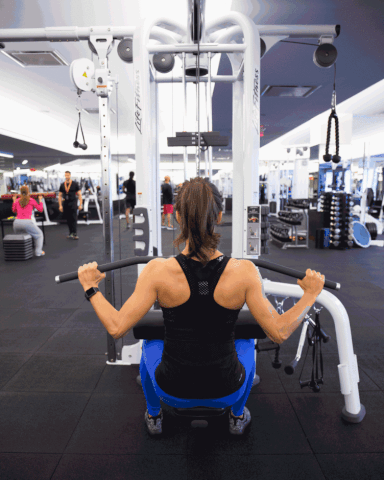 What Exercise Should I Do?
Lat Pulldowns. Find the lat pull-down bar at your gym. You've probably passed this in fear a million times, but it's really not that scary, so it's time to use it. Start by choosing a light weight, and then add weight as you get the hang of it. The idea is to put your hands on both sides of the pull-down bar, sit down on the seat facing the machine, and pull the bar down, squeezing the muscles under your armpits and around your upper back to bring the weights down. If you feel like you're using your shoulders too much, think about keeping your shoulders as far away from your ears as possible. You're using your arms, but the strength should be coming from your back, so it's super important to think about the muscle here.
3. Lower Ab Muscles
What are they?
If you spend your time in the gym doing planks, crunches, and twists, you're doing really good work for the top of your abs and your obliques, but most people tend to neglect the lower muscles in their abs because they're the hardest to hit. Most people's bodies tend to store fat in this region, so it can be hard to picture what I'm even talking about, but think about that V-shape at the bottom of Zac Efron's abs. Those are the lower abs.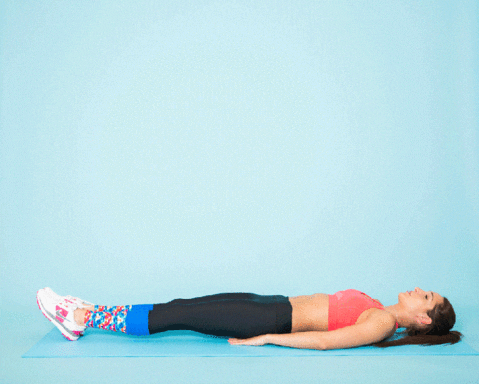 What Exercise Should I Do?
Lying Leg Raises. Start by lying on your back with your hands under your low back/the top of your butt. This will help protect your lower back from getting injured. Then, lift your legs off the ground, keeping them as straight as possible as you bring them up to 90 degrees. Then, SLOWLY lower them back down to the ground. These are meant to be done slowly and carefully, so if you find yourself kicking around and screwing up your form, slow the hell down. Also, a lot of people tend to hold their breath when doing this exercise, but don't. Inhale as you lift your legs up, and exhale as you lower. Your breathing makes a huge difference here, so don't forget about that part.
4. Hamstrings
What are they?
Your hamstring muscles are located on the back of your legs, right under your butt and above your knees. People neglect their hamstrings because we're so into squats and booty donkey kicks, but by strengthening your hamstrings, you'll actually help tone your butt at the same time. Plus, if you're into spinning, you'll get SO much better at it by strengthening your hamstrings. Like, your FlyWheel score will literally double.
What Exercise Should I Do?
Swiss Ball Hamstring Curls. This exercise is based on using a swiss ball or stability ball, but if your gym doesn't have one, this can also work using TRX bands or the rowing machine. Begin on the floor by lying on your back with your feet up on top of the ball. You want your ankles to be on top of the ball when your legs are fully extended. Raise your hips off the ground, keeping your weight in your shoulders and your feet. Then, flex your knees, pulling the ball inward toward your body while squeezing the backs of your legs. Once the ball is "curled" inward, straighten out your legs again, rolling it outwards. Do 10 reps, then take a quick break and do another 10.
5. Inner Core Muscles
What are they?
Let's clear something up.  There's a difference between your ab muscles and your core muscles. You can do a thousand unweighted sit-ups everyday, but that doesn't necessarily mean you're strengthening your core. Your pelvic floor, for example, is part of your inner core, and it's important to strengthen these inner muscles—not only to make us better at planking, but also to pretend our internal organs and actually have better control over our bladder. Most women don't even know about these muscles, but they're super important, especially if you plan on giving birth at some point in your life.
What Exercise Should I Do?
Oppose Arm and Leg Raises. Aside from your gyno-prescribed kegels, it's important to work on core stability to work these inner muscles, and working opposite sides of your body at once is the best way to challenge your core. Starting on your hands and knees, lift your right arm out in front of you and your left leg out behind you. Hold for five seconds, and then return to starting position, preparing to do the same on the other side. Try doing five reps on each side and remember to keep your core tight the entire time.
6. Back Extensor Muscles
What are they?
These muscles make up your lower back, and if you're used to doing ab workouts, squats, deadlifts, or even spinning, you've probably had some pain in your lower back at one point or another. This is because these muscles are easily injured if you don't warm up before exercising. Your extensor muscles are connected to your spine and to your glute muscles, and you'll find that once you get stronger in your lower back region, picking things up and other regular activities will actually get easier.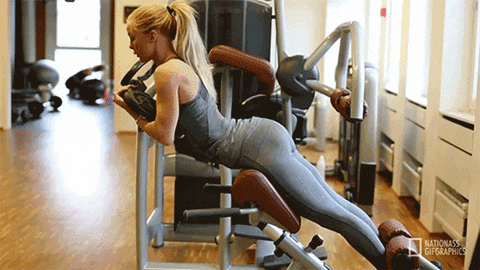 What Exercise Should I Do?
Hyperextensions. Most gyms have a specific bench that these are performed on, but any regular bench will do the trick if you're limited. Lie down with your stomach on the bench and your head facing the floor. If you're on the hyperextension bench, put your feet under the ankle pads. With your body straight, put your arms behind your head or crossed on your chest and bend slowly forward at the waist while keeping your back flat. Then, slowly raise your torso back to your starting position, and remember not to round your spine or swing your torso. If you're advanced, hold a weighted plate at your chest for extra resistance. Either way, remember to go slow and take your time on your way down and up. 
Images:  Geert Pieters / Unsplash. Giphy (5)