The Best 'Bachelor' Recap You'll Ever Read: Not Here To Make Friends, Just Here To Eat Shrimp
Welcome back to your regularly scheduled Bachelor recap! Last week ABC gave us a brief reprieve from the madness that has been Clayton's season. I'm sure that decision had everything to do with ABC's utmost respect for our mental health and nothing at all to do with the PR carnage that would have ensued had they hyped Clayton's lily white ass on a day meant to celebrate the legacy of Martin Luther King Jr. I guess we'll never know…
Girl Code Is Dead
This week picks up right where we left off, at the last rose ceremony. For those of you who don't remember: Cassidy was doing her absolute best to make a grown man ejaculate in his khakis on national television. Tbh, her strategy seemed to be working. After ruining a child's birthday party during the group date ("I didn't come here to hang streamers!") and living out every Marissa Cooper bad-teen-with-daddy-issues fantasy with Clayton by the pool, Clayton was officially smitten. The only flaw to her plan? Equating "girl code" with the legal standing of attorney-client privilege. Oh, sweetie.
Just before the rose ceremony kicked off, another woman in the house revealed that Cassidy had been talking to a hookup buddy from back home. A hoe in a different area code? How novel. Immediately after finding this out, Clayton asked Jesse Palmer if it was possible to take back Cassidy's rose, to which Jesse Palmer responded, "does it look like I care? I was in the middle of drinking this martini" and leaves Clayton to ponder his romantic dilemma. He's not contractually obligated to do more than that. I get it. We all have to protect our time for work-life balance!
Clayton decides to confront Cassidy, and it's truly a joy to watch. Here we have two blond, conventionally attractive people, who are completely unaware of their own hypocrisies. On the one hand we have Cassidy, who was definitely sexting a man up until the point that a producer pried her phone away from her gel manicured hands. On the other hand, we have Clayton, a wronged man, a man who was *checks notes* saying "I love you" to a Minnesota school teacher not but eight weeks ago? Hmm…
CLAYTON: You were seeing someone right before you came on this show?
CLAYTON RIGHT BEFORE COMING ON THIS SHOW: 
View this post on Instagram
I think what's most fun for me to watch is Clayton acting completely scandalized at having dated a girl who also has a guy on the side. Are you telling me this has never happened to you before, sir? That's the confidence of an average white male right there. This is 2022. Everyone has a side piece! Monogamy is dead. 
Though Cassidy eventually comes clean and tells Clayton that she does have some sort of situationship back home—but her feelings for Clayton are real now!!—Clayton is unimpressed. He wants commitment! He wants to be the only person in Cassidy's phone sending her texts about as sexy as lukewarm soup! He tells Cassidy he just can't deal with her and sends her home. 
Do I feel for Cassidy in this moment? I absolutely do. She tried to do what every man who can marginally pass for 6'0 has been doing since the dawn of time: have his cake and eat it too. The real glass ceiling, if you will. If Clayton knew what this man was texting her (half-hearted "yeah I'd love to see you"s in between asking her what she was wearing) would he really be threatened? Does this mean everyone has to be celibate before coming on this show? It's all crap. I didn't even think it was legally possible to take a rose back at this stage in the game, but I'm pretty sure this dismissal would not hold up in a court of law. Cassidy, have your people call my people. This is a wrongful termination if I've ever seen it.  
Clayton Joins The Women's Movement
The theme for this week's dates appears to be inspired by Christina Aguilera's iconic 2002 album Stripped—except it's all decidedly less sexy. Clayton wants the ladies stripped down—he wants real, raw vulnerability. And, you know, also to see them half naked. 
The first group date of the week delivers all of this and more. Former Bachelorette and Bachelorette host Kaitlyn Bristowe leads the ladies (and Clayton) in a group therapy session where they all must divulge their biggest body insecurities. I think I've seen this activity before and I think it came straight from The American Girl: The Care & Keeping of You.
I'm not sure what Clayton was expecting from this date, but it sure as hell isn't what goes down during this sharing circle. It seems like almost every woman in the room has a story about a man in their lives inflicting some sort of horror on their bodies. As they tearfully discuss the atrocities done to and said about their bodies, Clayton looks on in horror and confusion. He seems surprised that women have actual bodies and aren't just brainless bags of flesh. More than women having bodies and relationships to those bodies, he seems surprised that his gender is capable of, well, acting like his gender. Welcome to the feminist movement, Clayton! I can't wait until you find out how much tampons cost. 
View this post on Instagram
Resolving to treat women better, Clayton takes this newfound outlook into his one-on-one date with Sarah, where his resolution promptly evaporates into a plume of Axe body spray. Sarah and Clayton will be doing a scavenger hunt around the city in—get this!—only their underwear. Sarah looks appropriately scandalized, but if it were me on this date it would absolutely not be possible for me to compete. How does one tell a producer on national television that underneath your Revolve outfit you are Kim Kardashian body taped to within an inch of your life? Hmm?
Sarah soldiers through the date despite being forced to rap (why??) practically nude about wanting Clayton in "her spot" as an elderly woman in full-on COVID gear watches on in horror. The CDC is certainly getting a call about this tonight. 
You would think that ABC would be content with only objectifying one woman's body, especially after devoting the first half of the episode to body positivity. You would think wrong. The stripped theme continues through to the last group date of the week, a Baywatch themed group date (yes, feminism is dead) in which the women compete to be the best lifeguard. Or was it the best-looking lifeguard? I honestly can't say for sure. I do love that Clayton, not but 48 hours earlier, spent an entire day in a workshop about respecting women's bodies only to immediately sport a hard-on at the sight of grown women in bathing suits. 
CLAYTON: I never want women to feel like I'm only attracted to their bodies. I respect women so much.
CLAYTON, THE MOMENT A WOMAN SHOWS UP IN A SWIMSUIT: 

I can see he learned so much this week!
Shanae Update: Shrimply The Worst
Last week we saw the origin stories of two emerging villains: Cassidy and Shanae. Cassidy had the drive and the dynamics to make meh television into great television. Meanwhile, Shanae had the drive and dynamics to make the audience extremely uncomfortable. With Cassidy on the way home to have subpar, noncommittal sex with her situationship, where does that leave our other intrepid villain? Committing crimes against culinary. 
During the episode, Elizabeth, Shanae's sworn enemy for reasons that have yet to be revealed, cooked garlic butter shrimp for the girls in the house. This was eye-opening for several reasons. First, that these women would willingly ingest anything with the words "butter" and "garlic" in the name is breaking the fourth wall for me. Secondly, do these women have to cook their own meals? I was under the impression that a chef, or at the very least a catering service, was involved while they're marooned in that house. And if they do indeed have to cook their own food, are they only allotted eight shrimp a meal?? Is that the budget??
Shanae takes Elizabeth up on her offer for shrimp—and then some. Instead of eating one or two, she damn near ingests the whole pot. (Sidenote: I'm not suggesting that eight shrimp is a lot of shrimp, it's just all that Elizabeth made for the house. Eight shrimp is a light snack in my eyes, a thing I would eat and then immediately feel hungry after eating. However, eight shrimp is apparently enough to start the end of days in this house). The other ladies in the house are pissed they didn't get to eat their one allotted shrimp. Though, again, I think the real crime is that there were so few shrimp cooked to begin with. Shanae must realize the wrath of a hungry woman, so she quickly makes amends by cooking more shrimp. To her dismay (and outrage), the house eats her shrimp but doesn't deign to thank her for her efforts. 
THE GIRLS: *breathe*
SHANAE: I hate them
She is a vibe. My vibe, if you will. 
Shanae takes her beef with Elizabeth to Clayton where she describes in minute detail the shrimp incident. Can you imagine telling your grandkids this story about how you met their grandmother? She tells Clayton that she feels bullied by the other women in the house with Elizabeth leading that charge. He interrupts her outcry about bullying to make out with her. Our ally, ladies.
SHANAE TO CLAYTON: I'm the victim of bullying
SHANAE TO THE CAMERAS: 

My god, give this girl an Emmy. She's the most interesting thing to happen to this episode. As the cameras cut to Clayton chastising a sobbing Elizabeth about being a bully, they pan back to Shanae's maniacally laughing in the confessional about having pulled a fast one over Clayton. Perhaps I didn't give this girl enough credit. 
As Shanae basks in her victory, Clayton vows to go full-on Mary-Kate and Ashley detective agency in getting to the bottom of this mystery. He will solve any crime by dinner time.
SHANAE: *shows Clayton exactly who she is*
CLAYTON: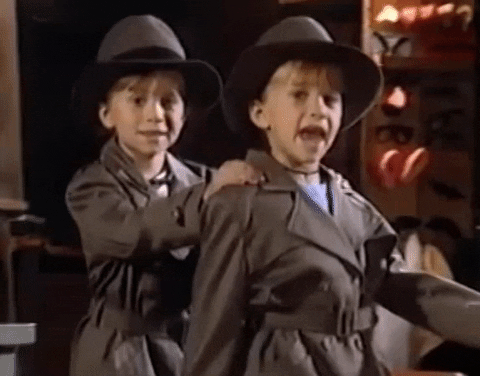 Christ. 
Like the previous episode, this week things end on a cliffhanger. We'll have to wait until next Monday to see if Clayton is able use his eyes and ears to figure out who's there for the right reasons and who's there to just eat shrimp. Until then!
Roses & Eliminations
For those of you looking for, like, actual information about this episode, that's fair. I don't let a little thing like "facts" steer the narrative arc of these recaps, but alas I realize it's important all the same. Here's a breakdown of roses and eliminations:
Roses:
• Eliza (therapy group date rose)
• Sarah (one-on-one date rose)
• Gabby (Baywatch group date rose)
Eliminations:
• Cassidy
• Ency
• Tessa
• Kate
Images: John Fleenor / ABC; Giphy (3); @bacheloretteabc /Instagram (1); @bachelorettewindmill /Instagram (1)
The Best 'Bachelor In Paradise' Recap You'll Ever Read: Week 3, Night 1
Welcome back to Bachelor in Paradise! The show that keeps on giving leaves us shackled to our couches for 4-6 hours a week. When last we left off, Chris was interrupted in the middle of comparing living, breathing women to courses in a meal by Tia who, hopefully, came armed to this conversation with a shoe so she can beat him to death with it. I'm rooting for you, Tia!
TIA: You told me that I deserve the best.
CHRIS: You do.
TIA: But you made out with Krystal.
CHRIS: I did. But I'll fight for you.
TIA: 

Okay, see this is what's wrong with modern dating right here. They keep talking in circles around each other and Chris might as well be speaking in Pig Latin for all the sense he's making rn. Tia is pissed because Chris told her he would commit to her, meanwhile Chris is saying that he did mention commitment to her but will actually do the opposite. But, hey, at least he said the word commitment! That's got to count for something, Tia!
Jesus. This talk is making me want to call my internet company and abandon the sh*tty internet plan that makes it possible for me stream this abomination on clear, cloudless days only. Tia keeps saying Chris's argument doesn't make sense—and it doesn't—but what really doesn't make sense is how either of these women can fight over him while he's wearing that fugly bandanna.

HOW.
Moving on. Oh, that poor parrot needs to stay far away from Kendall. Next time we see it it will be on her wall.
Tia thinks that because Colton warned her about Chris, Colton is in love with her. It's flimsy evidence at best, but her crazy ass will take anything she can get.
HAHA. Tia yelping "help" after realizing she's insane is me in the mirror every morning.
Jacqueline and her monotone voice emerge from behind a palm tree. Idk why, but there's something v unnerving about Jacqueline to me. I think it has something to do with the full set of baby teeth hiding in that tiny mouth of hers.
Bibi's like "she doesn't smell like Paradise yet. I'm screwed." Bibi, this girl has the personality of a mechanical pencil. I think you'll be fine, girl.
Jacqueline pulls Colton aside as Tia is literally in the middle of professing her love to him again. Lol this should be good.
JACQUELINE: Can I steal you for a second, Colton?
TIA: 

WHAT. Colton turns Jackie down?? First of all, you can do that? Second of all, he can't say no to a date! What does he think he's here for?  To sip on his Mike's Hard and work on his tan? Absolutely not. You're never going to lose your virginity with an attitude like that, Colton!
Colton tells Tia that he's still into her but he doesn't want to, like, do anything about it. Now, if you'll excuse me, I'm just going to stick my head in an oven. Are you effing kidding me with this, ABC? Honestly, this Colton/Tia thing has gone on far too long. I've had enough. Someone murder them both already. For f*ck's sake.
Jackie picks Kenny for the date because one of the producers lost a bet and had to make this happen. That's the only way these two on a date makes sense. I'll be shocked if they find anything to talk about. Fingers crossed the producers don't have to resort to poking them with sticks to generate any sort of human emotion!
KENNY: You're pretentious, aren't you?
JACKIE: 

Clearly this love story was written in the stars. Good luck, kids!
Back at the beach, Annaliese is patiently waiting for Kenny to get back from his date. She's like "I have to find love get a rose tonight. I. have. to." Damn, this girl did not come to play. She immediately pulls Kenny aside to show him the pink goo she picked out for dessert.
OH MY GOD DID ANNALIESE JUST SAY SHE WANTS TO OPEN HER SEXUAL DOOR TO HIM? Does she mean, like, her back door? Is that what she's trying to say? I'm confused.
Okay, Venmo John is killing it this season. Who would have thought a man with a decent job and a 401K would be more of a hot commodity than a former pro athlete? No, seriously. Who.
Meanwhile, Chris and Krystal are heating up. It's disgusting. He's like "I really appreciated you having my back when I was trying to dump my side chick. That was hot." Krystal, is this what you've been dreaming about your whole life? Because if so, then I'm so glad you found your knight in shining armor!
Okay, Bibiana is a goddamn therapist at this point. She should honestly be charging by the hour for the amount of time and effort she's putting into getting these losers to express basic human emotion.
COLTON: So my only choices are to date Tia or go home? Guess I'm going hom—
BIBIANA: B*tch, what did we just talk about?
Damn. Tia really wore Colton down. Colton decides he wants to give their relationship a chance and Tia actually screams in ecstasy. It's v disturbing.
Also, Tia all you ever wanted was for him to "give it an honest chance." No, that's not true. You wanted to bully him into dating you. And it worked. Congratulations, you sociopath. (And can I DM you for tips?)
Moving on to the rose ceremony. I never thought we'd get here. I'm genuinely worried Bibi is going home, though. And what will her patients cast mates do without her saving their boyfriends in rose ceremonies when they're mad at them? Hmm?
MY GOD. What is Jordan wearing on his body rn? It's like a vest/pant combo made out of the vacation section at a Goodwill.
Elsewhere, Caroline has Venmo John cornered on a couch listing off her demands for the rose ceremony. 
CAROLINE: I just hate this campaigning for roses. I'm not that kind of girl.
NARRATOR: She absolutely was that kind of girl.
Then there's Jubilee, A WAR VETERAN, who's reduced herself to handing out back rubs for a rose. Is this really a back rub or  is she actually using a tactic they teach in the army to get the enemy to submit? She could have some real tricks hidden under that crop top.
Lol David is over here trying to give Bibi a pep talk. He's like "Kenny said he's into you. He said you have a good booty." What a strong foundation to build a relationship on! It's worked out so well for the Kardashians.
WHAT. Kenny and Bibi start making out and I AM HERE FOR IT. Never mind that Kenny all of the sudden has half of Paradise vying for his attention. SAVE OUR GIRL, KENNY. I beg of you.
Jackie grabs Kenny next and is like "I hope you'll still give me a chance now that I just turned 27. I read an article in the New York Times that says I'm past my prime now."
ME:

Um, this man is the father of a 12-year-old college graduate, I'm pretty sure he doesn't give a sh*t if you're old enough to pay for your own health insurance now.
Meanwhile, David pulls Jenna aside and gives her a giant-ass stuffed animal for her birthday. Omg. It's literally a washed-up street dog. What was that, like, the only available thing in the prop room?
Jordan is piiissseddd. He starts dragging the dog down the beach AND THROWS IT INTO THE OCEAN. That is actually so f*cked up. I mean have I done the same thing to my ex-boyfriend's beloved Kurt Cobain T-shirt after he dumped me in the middle of a beer pong game freshman year? Yes. That's neither here nor there.
Jordan is losing it and starts going OFF on Chelsea and Jubilee. And it's, like, Jordan, you can't start yelling insults at women to their faces. This isn't MTV.
ANNALIESE: I would not be with a man who speaks to me that way. Nope.
JORDAN: Will you accept this rose?
ANNALIESE: Omg I would be honored.
JORDAN: Sike!
Eric confronts Jordan and tells him he needs to apologize to all the ladies or else. Damn. I forgot how attractive Eric is. There's just something about a man treating women like actual human beings instead of just props for their next Instagram post that's so… sexy. I guess I'm just a hopeless romantic like that!
Eric is the perfect man. I rest my case.
Chris Harrison hauls ass and shows up at the rose ceremony before any other drunken fights can break out. F*cking finally, Chris! The rose ceremony goes as such:
Jordan picks Jenna, who can barely open her eyes with all of that glue holding her eyelashes on. It's possible she doesn't even know Jordan is the one who picked her. Who can say.

David picks Chelsea.

Kevin picks Astrid.

Chris picks Krystal. God help her.

John picks Jubilee.

Joe picks Kendall.

Colton picks Tia. Vomit.

Eric picks Angela.

Kenny picks Annaliese. WAIT WHAT. HOW. OVER BIBIANA. How f*cking dare you.
And on that note, I'm out y'all. I have to go try and not have nightmares about Jordan chasing people in the rain. BYE.
Images: Giphy (5) @bachelorinsider /Instagram (1); @bachelorinparadise /Instagram (1)
The Best 'Bachelorette' Recap You'll Ever Read: We Need To Talk About Dean's Dad
Could these hometown dates have BEEN anymore terrifying? From Eric's corner boy tour of Baltimore to Dean's abandonment confrontation with his asshole dad, to Peter's mom's hair, that was honestly one of the most real slash scary slash awfully depressing two hours of television. Let's just get into it before I start crying for wittle baby Dean again.
Date with Eric:
"Murder, drugs, and crime… Baltimore is the perfect place to fall in love"
Eric Taking Rachel On Some Twisted Disney Tour: Oh look they're selling drugs over there right now! Shall we take a look!?
Turns out Eric's hometown date isn't exciting enough for the Bachelorette producers so they just show footage from The Wire.

Eric then plays basketball with some guy who seems like he has no idea what the Bachelorette is.
Friend: Eric got straight A's in school growing up
Eric: Yeahhhh man I did.
Rachel: *thinks back to when he spelled façade PSYDE*
Anyone catch Eric's gigantic smile when Rachel hugs him before they go in to meet his family? Was she like touching his dick? I was confused.

We meet Eric's family, and it's hard to pay attention because I'm fully FLIPPING over every one of his family members' outfits: pink pants, an off the shoulder top sequin top, sparkly choker, and serious up do. Somebody knew they were gonna be on TV today.

Rachel: Tell it from the beginning. About how we first met!
Eric: Rachel we are on a dating show, everyone knows how we met. There are fucking cameras in my living room.
Aunt Verna: What's it like being the first black bachelorette?
Rachel: It's chill. Made out with a ton of white dudes.
Eric's mom (who looks 45)'s face during every conversation with every person on this show:

Erics dad: So what are you gonna do next Eric?
Eric: I'm tryina shut it down maaaaan
Date With Bryan:
First of all, OF COURSE Bryan is from Miami. It all makes much more sense to me.
Rachel: Miami just screams Bryan, it's hot, it's steamy, it has cheek implants.

Bryan is wearing an ombre shirt that blends into his pants. He's clearly living his best life.
Rachel: The fuck…dominos? I thought we were going to Liv.
When Bryan was like "I heard you like dominos" I honestly thought he was going to take her to get pizza. What if Bryan was lying about his job as a chiropractor and he's actually a club promoter? Could happen.

Nothing hotter than bringing someone on a date where you speak a different language that they don't understand in front of them the whole time.
Bryan's house reminds me a lot of The Birdcage.
Bryan's obsessive mom: If he's happy, I'm happy. If not, I will kill you.
Everyone watching:

His mom sounds just like my mom except my moms not in love with me: "You skinny Bryan. Are you eating good? Your hair. It is different. Did you cut it? They did not do a good job."
Bryan's mom has a very valid point: You have lots of girls, you went out with LOTS OF GIRLS and you go on a show and you fall in love with the girl on the show? Dis is crazy.

The sister talking about his ex girlfriend's demise sounds like the family killed her and hid her body, especially considering his mom threatens to kill Rachel like two seconds later. Can we get the cops on this, please?
Date With Peter:
Wiscooooo. Are they gonna go to the KK? I lost my sunglasses there in 2010 maybe they can ask a bartender for me? K thanks Pete.
Serious question: Did Peter hire the actors who play the friends in The Devil Wears Prada to pose as his multi-ethnic Midwestern squad?

That couch with the cup holders between every chair looks mad comfortable and amazing for pregames. True Wisco hospitality right there.
Peters mom to his hairstylist: Give me Long Island Medium.

At what point do people like us decide that we would look much better with a hairdo like Lynn's? Like when do we start looking like moms? I don't get it.
I'm bored. Peter is a fuckboy. Doesn't want to commit. Thinks his gapped teeth are too good for Rachel.
Rachel: Omg I totally did not come on The Bachelorette to come away with ONLY a boyfriend.
SIGN UP: Our Bachelor emails are the only thing more scandalous than the Fantasy Suite.
Date With Dean:
How come people are always laughing every time someone opens a champagne bottle? CHAMPAGNE YOU'RE ONE HILARIOUS MOTHER FUCKER!!!!
TBH, if I was this emotionally unprepared for Dean's hometown visit I cannot imagine how Dean felt.
Earth to Dean, maybe the best time to see your dad when you haven't seen him in 19312 years isn't on national television in front of a girl you plan on marrying in 3 weeks.

Realtalk though – total respect for Deans dad's newfound Sikhism. Zero respect for his choice of outfit color.
Liteally so many emotions during this hometown date. First you're SO uncomfortable for Dean. Then you're so sad for his dad. Then you're like really mad at his dad for being an asshole. Then you realize this is being filmed so its like 10x more awkward in real life. How did the Bachelor producers get their entire family on board!? How did Dean's dad raise someone who looks like his job is to stand shirtless outside of Abercrombie and Fitch?!?!? I need answers.
Dean's father the penniless citar player. Does that make Rachel Satine, the courtesan? Come to think of it, Dean does look/act like Ewin Mcgreggor's character in Moulin Rouge. I smell a remake!

"Dinner is made of lots and lots of mung bean…" are they all just going just sit around mediating and farting later?
Dean: I just thank the Lord your mother didn't live to see her son as a mermaid.
Dean's Dad:

Dean's Dad: I'm here honoring you, I made you a lovely curry dinner, I gave you a flower. I AM FATHER OF THE YEAR!

Dean: I love you regardless
Dean's Dad: Well, whatever
Also, like where the fuck do they live? This shit looks like a Lord Of The Rings movie. Also, I feel like the beanbag chairs they are making out on are v unhygienic.

So is Dean like, sleeping over at his dad's place? Surprised he didn't jump on the back of Rachel's Uber XL. "TAKE ME WITH YOU!!!"
Rose Ceremony.
Tbh I hate when she wears so much eye shadow. But her dress is gorgeous so it makes up for it.

Me When She Didn't Call Dean's Name: I AM SHOOKETH!!!!!!!!
Like that was a seriously bold move to let Dean go home even after she said she was falling for him. It made sense and was a logical move because he's a baby and has serious issues he needs to work through but poor baby Dean!!!
It's really a fucking shame she didn't let Eric home because it would have made for an excellent opportunity for him to shout "I DID NOT LEAVE SOUTHSIDE FOR THIS."
The Best 'Bachelor' Recap You'll Ever Read: The Finale
Catch up on last week's recap here!
And like that, the most boring season of The Bachelor ended just as quickly as Nick Viall's post-Dancing With The Stars career. It's so sad. Almost.
RAVEN MEETS THE FAM
We begin the episode with Raven, who has no idea that despite the fact that the other woman in the equation has spent literally every second of every one of her dates fighting with Nick, she is not the frontrunner and the entire audience knows it.
Raven: I think Nick really likes me! This is going well.
Narrator/The Universe: It was not, in fact, going well.
Raven gets to meet Nick's family for the second time, and does all the things one normally does when meeting someone's family on a reality dating show. She toasts "to family" and tells everybody who can listen that she's in love with Nick.
Raven: I feel really great about mine and Nick's relationship. I am in love with him. I've never felt this way about someone before.
Nick's Dad: How do you think Nick feels?
Raven: …………….. 
Most importantly, she gets in good with Nick's little sister Bella, who will now learn the hard way that nobody gives a fuck what a 12-year-old girl has to say about anything.

Nick's Mom: After meeting Raven, she just seems like such an honest, true person. I just can't imagine her hurting anybody.
Me, Three Champagnes Deep: Lol yeah except that dude she stabbed with a shoe. 
VANESSA MEETS THE FAM
Then Raven fucks off pretty fast so that the audience can be treated to 30 full minutes of Vanessa's bullshit as she meets Nick's family and somehow manages to turn a delightful dinner into a full-on Viall family cry-fest, so at least we finally understand why Nick cries so fucking much. It's a genetic thing.

Vanessa starts out strong by telling Nick's family about the time that she puked on him, which she is able to Kellyanne Conway-style spin into a beautiful love story.
Vanessa: And then, I vomited on him.
Nick's Dad: Wow, I'm crying.
Nick's Mom: I am also crying.
Nick: I have been crying for three weeks straight.
Bella: Where is Raven?
Vanessa, who has repeatedly said she's never watched a full season of The Bachelor, then reveals to each parent that she's not sure if she wants to get engaged and give up her weekly Sunday spaghetti festival with the fam, which would be cool if "getting engaged" wasn't kind of the entire fucking point of the show. Like, did Vanessa not know that she lived in Canada before applying to be on The Bachelor? She seems to be genuinely confused about the whole immigrating to the U.S. thing. Though, in her defense, that whole process is a bit more complicated these days.
Also, did anybody else know that Nick and his dad have the same crying face? Because they totally do. 


NICK & VANESSA'S DATE
We then segue right into Nick and Vanessa's date, where Nick manages to do the impossible yet again: pick a date that's somehow EVEN WORSE than the last one (which, if you'll recall, was the Ice Bucket Challenge). Because after a segment of Vanessa and Nick crying, the audience was obviously hungry for more.
And by "more," of course, I mean "Santa," because that's what Nick and Vanessa's date is. Meeting Santa.

Why Santa? Why now? Why does this Santa live in such a tiny house with no reindeer, elves, or Mrs. Clause to be found? Why does this Santa have such a deep, sultry voice? Why is Vanessa sitting so close to Santa? She's kind of all over him? Now she's all over Nick? Are Nick and Vanessa going to have a 3-way with this Santa? Is Nick going to CHOOSE SANTA?!?
Sadly, none of these questions are answered—I maintain that the three of them did hookup off camera—but the Santa does bestow upon them his blessing and the gift of a wood carving.
Santa: Here is a wood carving. It says "Niko and Venla" and it will bring you happiness and fertility.
Vanessa: Umm…I specifically asked you for an iPhone?

NICK & RAVEN'S DATE
Okay, thank God, Raven is back. And oh look, they're going on a normal date for normal individuals, aka ice skating. A little bit high school but, hey, at least there isn't a random sexually charged Santa involved. Also, given the amount of snow and ice everywhere, both of them need at least three more layers, a hundred scarves, and to zip their fucking coats up. The mom in me was losing my shit watching these two slowly develop pneumonia. 
Raven and Nick have what looks to be a legitimately fun time ice skating. Nobody cries. Not even Raven when Nick tries to recreate their mud makeout sesh by plopping her ass down on the cold AF ice and attacking her face.

Sidebar to Raven: In the future, you can totally tell dudes you don't want to make out on top of a pile of ice. You are a strong 25-year-old woman who has had (maybe) one orgasm in her life and you deserve to make out at a reasonable temperature. #Feminism. 
Nick then does something that literally every girl has dreamed of seeing on a date and reveals that there have been puppies here the whole time. Why Raven didn't just take the puppies and bolt at that moment I'll seriously never know, but instead she spends her final moments letting Nick know that she, unlike Vanessa, is a U.S. citizen with no outstanding Sunday commitments and is totally DTGE—Down To Get Engaged. 

THE FINAL ROSE CEREMONY

As soon as we see the end of Raven's sparkly-ass I-think-I'm-at-the-Met-gala dress coming out of the limo, all our suspicions are confirmed: Nick is a messy bitch who lives for drama, and for that reason he has chosen a life of fighting with Vanessa over an eternity with Raven in (possibly faked) orgasmic bliss.
Raven handles her rejection like a boss, doing something that very few Bachelor contestants have ever managed to do and just shutting the fuck up for the entirety of her rejection. Unlike her now-ex boyfriend, Raven doesn't even fucking cry. She just stares at him with a look that says "I would beat the shit out of you with my stiletto if there weren't so many cameras on me rn."

Then Nick shoves Raven into a limo without her coat, so that she can get her cold ass out of Finland and start getting ready for BiP where she belongs. 
Cue Vanessa, who also opted for sparkles paired with a fur coat. Wonder if she'll get to keep hers. 
Vanessa arrives and tells Nick how, despite her thinking he'd "never notice her," he actually "noticed every part" of her, which I consider a confirmation of the whole Santa-threeway theory. 
Nick finally proposes to Vanessa who, after a very long and drawn-out voice over where she describes not wanting to accept Nick's proposal if he's "only doing it to put a ring on her finger", immediately accepts his proposal and allows him to put a ring on her finger.
So what is the lesson that we learned here, betches? It is totally okay to be annoying AF and constantly pick fights with your boyfriend, you can even throw up in his face on your first date, just so long as you back that shit up by looking amazing in a high-cut blue onepiece. How fucking sweet. 

Continue on to our After The Final Rose recap here!