Roommate Horror Story: Bad And Boujee, Literally
I go to a university, like many, where roommates are completely random your freshman year, so I didn't have the luxury of scrolling through a Facebook group to shop for someone who had the same degenerate tendencies as me. I was lucky in that the worst I had to deal with was a snoring Wisconsinite with good intentions and poor taste in decor, but this also means that I have little to show for any spicy roommate drama. I thus have to live vicariously through others when it comes to terrible roommate experiences, and my best friend from home provides the perfect example. I was constantly receiving text messages about the absolute barbarian she called a roommate, so strap in thots, it's story time. 
My friend showed up to school freshman year after her roommate had already moved in, and given, like, the rules of college, this means that she got the sh*ttier room situation. Yes, you read that correctly. ROOM. Apparently her school is a f*cking resort, because not only did she have her own room, but she also had a built-in kitchenette and bathroom. Would I ever use said kitchen? No, absolutely not. But would I also love the opportunity to pretend that I'd cook more than a literal Dorito for myself every once in a while? Hell yes. Anyway, enough about me. 
The storage in their suite was complete with two built-in drawer/walk-in closet combos, presumably one for each roommate (I know, like they live in the f*cking Ritz or something). Given this built-in/walk-in situation, the beds, and other pieces of furniture, there was little room left for any extra storage in the suite. My friend finally makes it to campus to move in, and while unpacking, she slowly starts to realize her roommate has put her clothes in literally every single storage space; both closets and all the bathroom storage are completely filled with her sh*t. Not just any sh*t, we're talking designer everything: a fugly Gucci tracksuit à la Jeffree Star, Balenciaga sneakers, Hermès belts, the works.

My friend texts this girl to let her know she'll be moving some of her things, because you know, she needs to have clothes accessible like a normal human being. This girl responds saying, "Don't! I left you storage in the KITCHEN CABINETS." Bitch what!? My friend understandably gives the girl a heads up and tells her won't be using the spice rack as a closet, and is planning to move some of her roommate's things out of the walk-in and onto her bed. My friend claims to have laid everything out nicely, but the way this girl reacted would make you think that my friend flushed this girl's LV bag down the toilet.
My friend notices her roommate didn't come back for the night, but decides to chalk it up to her wanting to spend more time with her mom before orientation in the morning. The next day my friend leaves her room for orientation, having not seen her roommate all day, and when she gets home, there's a 50-something-year-old woman sitting on her bed. I'm not trying to be dramatic, but this is the point where I'm calling the RA.
Turns out the woman is the roommate's mom, who begins to lecture my friend by explaining how my friend, and I QUOTE,  "does not understand the price nor value" of the things she "treated so recklessly" and how she's willing to forgive her for her actions because she, "would not expect her or someone of her background to understand." Ugh, what a saint! I'm so thankful that she was so understanding—I hate when the middle class touches my things too. She really went out with a bang, however, by telling my friend if she ever "assaulted" her daughter again, she would call the cops, get her scholarship revoked, AND get her tossed out of the university. Lol. Ok, Nancy, how about you watch one episode of SVU and get back to me with some more substantive charges?

Needless to say, my friend decided to GTFO and is now living with two amazing girls in an apartment off campus. Personally, I would've stuck around a little longer to see if I could cop some designer items, but to each their own. Just remember, if you think your roommate is crazy, at least you don't have a psychotic, entitled mother in your bed threatening to call the cops on you! Or, if you do—submit that sh*t to [email protected]!
Images: giphy (2)
4 Warning Signs You Should Not Move In With Your Boyfriend
When I first started giving dating advice, I was in a new relationship and truly thought I was the sh*t. I was confidently calling out red flags and commenting "DUMP HIM HONEY!!!" on every r/relationships thread I could find. If everyone else's boyfriends weren't as good as mine, I figured, they shouldn't settle for less. Two years later, I still kind of feel that way—but I've also come to understand a whole new world of relationship problems (especially once you move in together) that I'd been too quick to dismiss as dealbreakers before.
Mostly, this is due to the fact that I've been living with my boyfriend for nine months, a development that often leads to fights I couldn't have imagined myself having two years ago. Last week alone, I fought with my boyfriend about both our WiFi password and how we store our towels. It's nuts. We're also closer than ever (thanks for asking), and I can honestly say I have a better understanding of what it takes to make a relationship work long-term. So basically, this is all to say: now that my advice is even more flawless than it was before, here's a rundown of the warning signs you shouldn't ignore if you're thinking about moving in together.
He Doesn't Remember Things You Tell Him
This is the number one most important thing in a roommate. They need to be conscientious and reliable—if you ask them to take care of something in the apartment, they have to remember it. For the sake of your sanity, they also have to remember it without you reminding them 6-8 more times. If your boyfriend is the kind of guy who conveniently "forgets" every time you ask him to do something more than five seconds into the future, or every time you have a conversation about behavior of his that bothers you, he is going to be a sh*tty roommate. Frankly, it sounds like he's a sh*tty boyfriend too. But this is a trait that could be a mild annoyance in a boyfriend, but it becomes a major, non-negotiable issue when you're sharing a living space.
He Doesn't Like Your Friends
He doesn't have to be best friends with your friends—sadly, that only seems to happen on Vanderpump Rules. But if he's said to your face that he doesn't like your friends, acts unpleasant around them, or discourages you from hanging out with them, those are all major red flags. It's fine for him to have an opinion (kind of), but he shouldn't think that opinion entitles him to exert control over your social life. For one, he shouldn't be rude enough to insult people you like, but the key issue here is that he should not be showing classic signs of manipulation, and testing the limits of how much you'll cut out your friends to preserve the relationship. You cannot move in with a guy like that, or his efforts to isolate you will only scale up. Honestly, just break up now if you are seeing those signs.
You Can't Pee In Front Of Him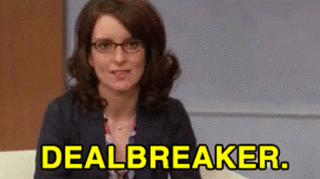 I want to clarify that it's perfectly okay, even 10 years into your relationship, to be the kind of person who always prefers a closed bathroom door. I am largely in that school of thought myself. What's a dealbreaker, in this case, is if you felt you couldn't pee in front of your boyfriend, even in some sort of fictional scenario where you're trapped in the woods and waiting for a circling bear to leave. If the idea of your boyfriend seeing or hearing you pee makes your skin crawl, or makes you genuinely worry about how it would affect the state of the relationship, please don't move in together. Certainly, don't move in together in NYC, where the average square footage of available real estate will ensure that your boyfriend hears you pee every single day. But even if you're rich (or Midwestern), know that moving in with someone will erase some boundaries you have now. You will have less privacy than ever before, and feel incredibly naked and incredibly seen by your boyfriend.
So, if he's a guy who has some weird obsession with "keeping the mystery alive," or would otherwise make you feel uncomfortable for doing something human in front of him—don't do it. You will do something human, embarrassing, and never-before-seen in your relationship within the first month of living together. If you know your relationship won't survive it, that's your answer.
He Refuses To Talk About Money
Yes, this is on every list about moving in together, but that's because it is the most important. To be clear, I don't care whether your boyfriend has been paying for your entire lifestyle and is offering to do the same with an apartment—that's equally, if not more of, a red flag as a guy who doesn't pay for anything. If they're not willing to openly discuss their financial situation, and set clear expectations for what each of you will contribute going forward, you cannot move in with them. In the case of the guy paying for everything, you could suddenly find yourself homeless. In the case of the guy paying for nothing, you could suddenly find yourself with a squatter who refuses to leave your apartment even when you break up with him. And either situation will be a lot harder to get out of if you don't have it in writing somewhere (even iMessage) what the guidelines of your living arrangement are.
That's it from me! Please comment with your worst moving-in-with-a-boyfriend stories below.
Images: Shutterstock; @betches, @uuppod / Instagram; Giphy (1)
UCLA Freshman Wins Batshit Crazy Roommate Of The Year Award
You probably thought the rando you got paired up with freshman year was a psycho. Well, think again. A freshman at UCLA definitely takes the cake this year for craziest roommate ever, thanks to an email she wrote that got leaked by her own roommates.
Let's just take a little look at what she wrote here.
"Okay so I'm not sure why neither of you responded back to my emails…"
Bitch, this ain't the first email you sent?! Homegirl definitely double-texts dudes and then cant figure out why they don't like her. Is there something she should be taking that she's taken none of, or something she shouldn't be taking that she's taken a lot of? Pro tip: one Xanax should do, hun.
"I'll take the top bunk bed that has a bottom and top bunk bed. I DO NOT want the single bunk where it has a desk underneath the top bunk so don't try to leave me that."

Flag on the play for flagrant misuse of caps lock with people she doesn't know. I don't know about you all, but my first interactions with my roommate made me seem like Mother Teresa so they wouldn't hate me and fart on my pillow and give me pink eye. This girl gives absolutely no shits about a proper first or second impression.
"I'm also taking one of the white closets. There should be two white closets and I'm taking one of them. I don't care for which one it is, just know I'm taking one of them. I want the desk near the window. Plain and simple.

"I won't be in the mood for any arguing or other nonsense because one of you two decided to deliberately disregard this email. If needed be I'll turn it into a bigger situation so don't try me."
This is the point where I show my dad the email so when he moves me in he can disassemble the loft kit for that coveted top bunk and put it in the hallway along with the desk next to the window. This girl definitely needs to be removed from the situation, and not just like, moved to a different room. She literally needs to be put in the back of a van and taken to a mental institution.
One of the roommates clapped back with a pretty sane response for how much crazy was delivered in that email.

And apparently the girls tried to vote this little psycho off the island like it was Survivor and the year was 2002.
The roommate, of course, responded again admitting she has anger issues. Hey, the first step is always admitting it.

These roommates should just find some off-campus housing or they're going to wake up to all their hair being cut off in their sleep. I can't even. I do not miss roommates like this.
Best of luck, girls, and the entire UCLA campus. Yikes.