A Holiday Rom-Com Main Character's Guide To Getting A BF By Christmas
Are you tired of being alone during the holidays? Do you wish your life was like a made-for-TV movie? Full of love, laughter, and Christmas magic? Well, you're in luck! Follow these foolproof options to live your life like a rom-com and you'll be Decking the Hallmark as the klutzy main character in no time!
"Christmas Inn Love"
Step 1: Inherit an old inn from a long-lost relative and move to a small town with big Christmas traditions.
Step 2: Butt heads with a rugged, flannel-wearing stranger at the local diner. 
Step 3: Begrudgingly accept help from said rugged stranger after learning that he is the only handyman in town. As the two of you work to restore your inn together, he'll also "restore your heart." 

"Baking Love"
Step 1: Buy a small bakery in an ambiguous urban city. 
Step 2: Have your sassy best friend/business partner enter you both into a local baking competition. 
Step 3: Get off on the wrong foot with a fellow sexy and single baker in the competition. Reluctantly team up with the aforementioned sexy baker after each of your respective sassy best friends get food poisoning right before the semifinals.
Step 4: You'll be "baking love" before your cake has a chance to cool!  

"Return to Santa"
Step 1: Be a high-powered businesswoman who cares more about her career than Christmas. Your holiday tradition should include eating Chinese takeout while you work late at the office, crunching numbers, and avoiding phone calls from your sister who wants you to spend the holiday at home with her kids. 
Step 2: Go into work on Thanksgiving Day even though your office is closed. 
Step 3: Realize that the files you need are in the back filing room on the very top shelf. Discover that the step ladder is broken and make the terrible decision to climb the metal filing cabinet by pulling out drawers strategically and scaling the wall. When you reach the top shelf and find the file you need, lose your balance and fall 10 feet into the arms of the building's sexy mail guy who happened to also come in on his day off and heard the commotion. 
Step 4: Shaken up, you let the gallant mailman make you a cup of hot cocoa. You find out his name is Nick and you're instantly attracted to him. As you sip on your perfectly made beverage, the two of you work together and clean up the messy filing room, laughing all the way. 
Step 5: He invites you to get out of there and have a makeshift Thanksgiving dinner with him. Uncharacteristically, you agree. There's something about his twinkling eyes and button nose that you just can't resist. 
Step 6: As you walk the streets of your nondescript metropolitan city together, you realize that you'll never find a restaurant that's open on Thanksgiving. So you grab a bag of chips and a bottle of cheap champagne from the only store that's open and go back to his place, where he makes a feast out of leftovers and junk food. You laugh, drink eggnog, and share a romantic kiss by the fireplace before excusing yourself to use the bathroom. 
Step 7: Get lost on the way to the bathroom and stumble across a room full of mail. Check the envelopes and realize that every single one of them is a letter addressed to Santa. Confront him about it and get him to confess that he's not just "Nick the Cute Mail Guy" he's actually Nicholas Clause Jr. aka the Son of Santa AND his official mail carrier. 
Step 8: Tell him that he's delusional and say that you're leaving. As you try to storm out of his apartment, he throws himself into the crackling fireplace. You scream as you watch him disappear through the chimney. Moments later there's a knock on the door. You open it and there he is, dashing as ever, completely unscathed by the fire. He asks if the two of you can talk…Numb, you open the door and he takes your hand and sits you down on his knee. He tells you of his life and about his magical childhood in the North Pole. How, when he got older, he needed to go out and explore the world, which is why he became his father's official letter carrier. He says he'd always dreamt of living in your Unnamed Urban City (which is actually Vancouver) and working in a vague corporate environment which is why he decided to base his operation out of a magical mailroom in your company's generic office building. He explains how he uses chimneys to transport himself around the world, collecting letters to Santa. He asks if you'd like to come with him. You do. Together you travel via chimney across the globe. Along the way you fall madly in love—not just with his spirit, but with the spirit of Christmas. 

Step 9: Go to his parents' house and be proposed to in a romantic mail-themed way on Christmas after Santa's back from delivering presents. The elves will sing and you'll live happily ever after with your sexy mailman husband and the world's best in-laws. 
Warning: If he proposes to you on any other day besides Christmas, you can forget about getting a wedding sequel. Remember, the Hallmark of a good relationship is one that revolves entirely around Christmas. 
 "Write Christmas"
Step 1: Be born and raised in a small town in Middle America where everybody knows each other. It's important that you've spent your entire life in this town, so if you've ever moved, I'm sorry but this advice isn't for you. Why don't you go back to "Baking Love" where you still might actually have a shot at love, spinster. 
Step 2: After a lifetime of small-town Stars Hollow bliss, you decide to reopen your family's old bookstore. Ideally, your name is something like Paige Turner, but I'm willing to be flexible if you name the bookstore something equally kitschy.
Step 3: Get roped into helping your best friend since childhood throw the town's 100th anniversary Christmas Eve Ball. 
P.S. If your town doesn't have a tradition dating back at least 100 years? Good luck finding love.
Step 4: Discover your dead father's secret manuscript hidden in a stack of old books at the back of your impossibly quaint store. Read it from front to back in one sitting and dramatically wipe away a single tear as you whisper, "It's a masterpiece, Dad. A masterpiece." 

Step 5: Send it off to the top publishing house in New York or London and then receive a phone call that your dead dad's book is a hit and that the fancy publishers want to rush to get it out by Christmas. They have a few notes, so they'll be sending one of their very best agents down to you so you can make the final edits by their Christmas Eve deadline. 
Step 6: Butt heads with the impossibly handsome big-city publisher, preferably named Read, with whom you have undeniable sexual chemistry. 
Step 7: Deny that sexual chemistry. Fight him on every single edit he tries to make to your father's book. Tell him that he doesn't understand the book because he doesn't understand the meaning of Christmas. 
Step 8: Resolve to show that city slicker the true meaning of Christmas. Tell him that if he wants you to approve the changes to your dad's book he has to help you with your volunteer duties for the town's Christmas Ball. You'll develop the feels as you deck the halls and soon you'll share a steamy kiss followed by a brief commercial break. 
P.S. If you don't get him to understand the true meaning of Christmas by midnight on Christmas Eve, you will be cursed from here until eternity. 
Step 9: Receive a troubling call from the publishing house that leads to a simple misunderstanding between you and your bookish beau. You're left in the lurch when he leaves town with your book and your heart. 
Step 10: Star in a melodramatic montage of you looking sad as you sell books to your attractive and happy customers while a jazzy Christmas song plays underneath. Your best friend will bring you hot cocoa and tell you to forget about the book and the boy, but you just can't.  
Step 11: Depressed but dressed, you show up at the Christmas Eve Ball to fulfill your volunteer duties. Stare longingly out the window at the town gazebo.   
Step 12: Be swept off your feet when your publishing paramour appears at the coat check with the first edition of your father's book and it's everything you wanted it to be and more. The reviews are in and they say it's the best story ever written about Christmas since the Bible. With the misunderstanding solved and your father's legacy preserved, yule head straight for the mistletoe and live happily ever after. 
Disclaimer: If your dead dad's book isn't about Christmas, you will die alone. 
The End 
If none of these ideas worked for you, well sorry but you just don't have main character energy. Don't worry, though. You can always throw yourself down a flight of stairs in front of a men's class at Equinox! I'm sure you'll get invited to a Christmas or two!
Images: Jovana Rikalo / Stocksy.com; Giphy (4)
6 Lies 2000s Rom-Coms Taught Us About Sex
Ah, the rom-com. The classic and predictable formula that consists of meet-cutes, cliches, some goofy sidekicks, and a heart-warming ending that we all saw coming is a tried and true one. Throughout the 2000s, Hollywood churned out rom-coms at a rapid rate, and we don't blame them. These movies are the perfect re-watch, and their predictable endings provide a sense of certainty we could all use right about now. 
While Hollywood may have mastered the rom-com formula in the 2000s, there were some major things they got wrong about sex. Watching these movies growing up, before experiencing sex and relationships for myself, I feel that I was grossly misled. What they show in the movies and what actually happens is like apples and oranges—and it's time we called B.S. Here are some of the most unrealistic expectations rom-coms gave me for sex.
Lie #1: No Foreplay Necessary
An actual quote from the movie The Holiday:

Jude Law: "How do you feel about foreplay?"

Cameron Diaz: "I think it's overrated. Significantly overrated."

Jude Law: "You are quickly becoming one of the most interesting girls I've ever met."

CUT TO: The worst sex ever

— Chloe Dykstra (@skydart) May 19, 2019
If you've ever been asked "are you ready?" 10 seconds into a hookup when you've barely had time to process what's happening, you can thank 2000s rom-coms like The Holiday that teach us that after a mere 20 seconds of making out, you should be ready to have hot sex. Cameron Diaz's character Amanda even told Jude Law's character Graham that foreplay was overrated. I'm sorry, foreplay is never overrated, especially when it's with Jude Law. These depictions of sex with hardly any build-up do women everywhere a disservice. You're supposed to stretch before you run, aren't you? The same is true of sex. Not only is foreplay essential in getting you in the mood, but it also makes sex less painful, according to expert Kiana Reeves, a doula, certified sex educator, Certified Innate Postpartum Care Provider, and Certified STREAM (Scar Tissue Remediation, Education, and Management) Practitioner, who told Betches that pain during sex can actually be caused by a lack of lubrication. Don't sacrifice great sex for speed—take the time to get warmed up, you won't regret it. 
Lie #2: Orgasms Happen Quickly And Are Guaranteed

Not only are the women in these rom-coms having great sex with no foreplay, but they also have an orgasm in the blink of an eye, which couldn't be further from reality. Take the famous "It still isn't over" scene in The Notebook when Noah and Allie finally have sex. While yes, I admit, this is an iconic love scene that earned its spot in rom-com history, her speedy orgasm that takes all of 30 seconds and only one position change is just a bald-faced lie. I don't care how many years of sexual tension you have built up, a female orgasm does not happen that quickly. In fact, only 8-25% of women can cum from just vaginal penetration. 8-25%! Why isn't this a more well-known stat? Can we get this on a bumper sticker?
Lie #3: Your First Time Will Be Magical And Incredibly Romantic

If you're one of the few people who had a romantic experience that wasn't filled with awkward, painful and fumbling moments, please come forward and share your story, because you're one in a million. Some of our favorite rom-coms led us to believe this moment would be more sweet and tender than painful (HA!). In Love & Basketball, Monica loses her virginity to Quincy, but not before they exchange a series of sensual looks as they slowly undress before the kissing portion of the program even begins. Quincy's lips must have magical powers because there is NO way she's ready when Quincy reaches for the condom. She inhales slightly, which apparently is to be representative of the pain she's feeling? LOL. If they wanted to show us what it's really like, Monica should've displayed a contorted facial expression and let out a blood-curdling scream. This depiction of losing your virginity is even further from reality than the most recent season of Vanderpump Rules.
Lie #4: You Will Wrap A Bed Sheet Around You After Sex
 
Again, if any of you have actually done this (and not just to imitate a famous movie scene) please come forward. I'm not sure which director started this rom-com trend, but it doesn't make any f*cking sense. However, movies like Fever Pitch tell us otherwise. If you actually did this you'd have to wrap it around yourself a number of times to avoid tripping over it and you'd have to keep your arms tightly by your side to make sure it doesn't fall. Why in the world would you go through all of that hassle to rip the flat sheet off the bed and wrap it around you like you're going to a toga party when you could just throw on a T-shirt or stay naked? I'd consider this one of life's greatest mysteries. 
Lie #5: Sex In Cars Is Hot 

Despite how sexy Katherine Heigl and James Marsden made it look in 27 Dresses, or how hot it was in Titanic, there's no way drunk sex in a broken-down car is hot. Do you really think a 5'9" woman and 5'10" man can have great sex without injuring themselves or contorting their body into unnatural positions? I doubt it. Aside from the issue of the size of the car, don't they have anxiety about the broken-down car? Maybe I'm high-strung, but the thought of being stranded forever would inhibit me from enjoying myself.
Lie #6: If You Meet A British Guy In A Bar, You Will Have Sex With Him

Okay so this is oddly specific, but when I saw the scene in Love Actually when Colin meets a group of American women in a bar who fawn over him and later bring him back to their apartment, I audibly groaned. I know the entire movie is based on the suspension of disbelief, but COME ON. Give women a little more credit, we're not going to pull our dresses up just because a guy in a bar has a foreign accent. And even if we do, we're certainly not asking our three best friends to join us. 
So, who's ready for a modern day rom-com that depicts what sex is actually like? I wish someone had warned me about the lies that are laced throughout 2000s rom-coms and beyond, maybe I could have avoided a lot of disappointment. Well, probably not but a girl can dream, right? I'd like to think adding some sense of authenticity into these movies would result in more realistic expectations for women and their sex lives going forward. 
Images: WAYHOME studio / Shutterstock; Giphy; skydart / Twitter
Cameron Diaz Is Out Of Retirement That Nobody Knew She Was In
If you grew up  in the '90s and 2000s, there's a good chance that you loved Cameron Diaz. Whether you were big into rom-coms, or you preferred other movies for some reason, she really did it all. After her breakout role in 1997's My Best Friend's Wedding, Cameron Diaz spent more than a decade as one of the top-earning stars in Hollywood. I mean, it doesn't get more iconic than the Shrek movies. But whether or not you've noticed, it's been years since Cameron Diaz last made a movie.
A quick look at Cameron's filmography shows that, up until 2014, she was booked and busy. She was making multiple movies a year, and she built up a net worth of over $100 million through her acting work and endorsement deals. But five years ago, after playing Miss Hannigan in the remake of Annie, Cameron Diaz completely fell off the map, with pretty much no explanation. In fact, it wasn't until 2018 that we actually got any confirmation of her decision to leave acting behind.
Cameron seemed content to just disappear without a trace, but that didn't mean her famous friends weren't being asked about her. Last March, Selma Blair was asked in an interview if she would ever do a sequel to her 2002 movie The Sweetest Thing, which also starred Cameron Diaz and Christina Applegate. In response, she said that she "would have liked to do a sequel, but Cameron's retired from acting, she's like, 'I'm done.'"
Wait…what? It's one thing for Cameron Diaz to take a break from making movies for a few years, but…retired? Soon after, Diaz did an interview with Selma Blair and Christina Applegate about The Sweetest Thing, and she confirmed her retirement. When Applegate made a joke about being "semi-retired" and not working in years, Cameron responded that she is "actually retired." Luckily, Christina Applegate is working again (god bless Dead To Me), but Cameron Diaz is staying retired for now.
Since her retirement in 2014, turned her attention to more low-key projects, like publishing her second book, about the science behind aging. She also married Benji Madden in 2015, which makes her and Nicole Richie sisters-in-law. Yeah, I'm gonna need an invite to that Thanksgiving ASAP. But Cameron's interviews and appearances since 2014 have been few and far between, so it was a big moment when she reunited with her My Best Friend's Wedding costars earlier this year.
While those photos were fun, and incredibly nostalgic, we still didn't get to hear much from Cameron about where she's at in life. Luckily, she recently sat down with InStyle's Laura Brown to talk about what she's been up to, and if she's ever coming back to the big screen.
On the reasoning behind her decision to step away from the spotlight, she got real about the toll that being famous for so long takes. "The way I look at it is that I've given more than half of my life to the public," she said. "I feel it's OK for me to take time for myself now to reorganize and choose how I want to come into the world. If I decide to." Based on that, Cameron isn't 100% ruling out a return to acting at some point, but it doesn't sound like something that's happening any time soon.
Throughout the interview, she makes it clear that she's happy to be out of the endless grind that comes with being a celebrity. "It's fun to just not have anybody know what I'm up to. Because my time is all mine. I'm not selling any films, and because I'm not selling anything, I don't have to give anybody anything. I'm not doing this anymore. I'm living my life."
In her interview with InStyle, Cameron did tease some upcoming projects, though she said it's "little too early to talk about them." She did say that she loves Gwyneth Paltrow's Goop and Nicole Richie's House of Harlow, so it wouldn't be surprising if Cameron branches more into the health and wellness space that she's already explored with her books.
While I'm sad that Cameron Diaz won't be participating in a sequel to The Holiday (her best movie, don't @ me) in the near future, I'm glad that she's living her best life now. Some people want to be famous for their whole lives, but it's definitely not for everyone.
Images: Shutterstock; juliaroberts, instylemagazine / Instagram
Noah Centineo's New Movie 'The Perfect Date' Is So Bad It's Made Him Less Hot
Guys, I know it feels like all I write about on this website are Hollywood's favorite barely legal thirst traps and Bella Thorne, but the heart wants what it wants, and I won't apologize for that! Speaking of my limited interests, a few weeks ago I was over here hyping my boyfriend Noah Centineo's new movie The Perfect Date. I may have alluded to it being the next To All The Boys I've Loved Before on the rom-com scale of one to I WOULD DIE FOR PETER KAVINSKY, and, y'all, I may have spoken too soon on this one. I know what you're thinking: how can the guy whose big acting break involved playing "Jose #2" on a network that does nothing but cater to the whims of 8th grade girls (and myself) ever do any wrong? Well, Sierra Burgess was strike one, not responding to my thinly veiled come-ons in his DMs was strike two, and Brooks Rattigan is goddamn strike three.
Even though I did call out sick from work to watch this movie the minute it dropped on Netflix (and, no, HR apparently doesn't consider looking at Noah Centineo's abs a proper mental health day. This means war, Melissa!), I had, like, so many emotions after watching it, and most of them weren't great. So, to spare you from the same fate I suffered, here's my cautionary tale recap of the movie.
The movie opens with us immediately being introduced to Noah's character: Brooks Rattigan. We learn that Brooks is both smart and hunky, but was born on the wrong side of the tracks. Being poor means that of course Brooks can't get laid to save his life )despite the fact that he has that face and presumably people in this movie have working eyes) or get into college (despite the fact that it is established that he is a smarty pants). K. And I thought his character's name was going to be the hardest pill to swallow. Sighs. Nevertheless, I shall persist.
We quickly find out that it's not that Brooks can't get into any college; it's that he can't get into Yale. I guess his dad's professor pension wouldn't cover much of a bribe. He wants to go to an Ivy League school because, just like every f*ckboy I've ever matched with on a dating app, his  idols are Steve Jobs and Elon Musk. If he did even one simple Google search on his idols he would have learned that neither of his idols actually attended an Ivy League, but fine.
DAD: Why don't you want to go to UConn? I teach there so the tuition is virtually free. You'd have no debt and get a great education!
BROOKS: 

Actually his exact words were "UConn is like that girl down the street who eats food in bed and smells like it," which I take personal offense to because I am that girl and THOSE ARE FIGHTING WORDS, BROOKS.
To hammer this "I'm poor" point home, we find out that Brooks works at an off-brand Subway in the hopes of paying for college, one five-dollar footlong at a time. Just as he's losing hope, a rich guy from his high school shows up complaining about having to take his cousin, whom he all but describes as Quasimodo, to her school dance.
RANDOM RICH GUY: I have to take my cousin to her school dance tonight even though Madison said I could put just the tip in later tonight!!
BROOKS:

I've seen the trailer for this movie so I knew this was coming, but I'm still so alarmed. Brooks, a virtual stranger to this guy, immediately asks to step in so long as he can drive his nice car and get paid AND THE GUY SAYS YES. This is your flesh and blood, and you're willing to foist her off to the first guy who offers just so Madison can give you a half-hearted blow job later?? I'm disgusted.
Enter the sad girl aka Celia Lieberman. We find out that the reason Celia is sad and undateable is because she's a feminist and hates wearing strappy heels! Her family not only doesn't question that a stranger is picking her up instead of her cousin, but they actually seem grateful to get this shrew off their hands for an evening. The life lessons I'm taking away from this movie are… astounding.
Cut to the dance, where we get a lot of forced banter and lukewarm chemistry from the two of them. It's like the writers are trying too hard to make Celia quirky and Brooks charming and it's just not working for me. After coercing Celia onto the dance floor even though she says she doesn't want to dance and she's the paying customer here (Haven't you heard, Brooks? The customer is always right!) he all but hobbles Celia with his sh*tty footwork as he tries to spy on beautiful, rich girl Shelby, who's taking shameless selfies in the corner.
So, let me get this straight. He steps on his date's foot while BLATANTLY checking out another girl right in front of her and this is supposed to be a perfect date? I mean, this is a date that I've been on before, but I wouldn't call it perfect by any means.
Brooks, despite all of his actions proving otherwise and Celia even saying she did not have a good time, decides he's so good at being a date that he will create an app to turn this stand-in thing into his side hustle! First of all, he makes creating an app sound about as easy as creating a Gmail account. Second of all, THIS IS TEENAGE PROSTITUTION. He is essentially pimping himself out for money! If the roles were reversed and a girl was playing Brooke Rattigan, the movie would end with her death!

Brooks gets his tech wizard of a best friend to help him create the app. To convince him to help he implies that this app will look great to colleges. As if an app that promotes the prostitution of a minor is the equivalent of joining the drama club. K. They fondly refer to the app as Grubhub but with a human trafficking twist. I paraphrase.
Cut to a montage of him going on various dates with women. I know it's several dates based off of all the costumes. Why does this town have more themed events than my sorority did in the entire 4 years I was in college? 
Celia ends up calling him because she needs his services for a second date to make her crush, Franklin, jealous and Brooks shameless drops the name of his app. Again, he sounds like every f*ckboy I've matched with on a dating app. Celia does not look appropriately enough disgusted by this info.
They show up at Shelby's party where Brooks immediately tries to ditch Celia so he can shamelessly flirt with Shelby EVEN THOUGH HE'S SUPPOSED TO BE CELIA'S DATE. Celia, sweetie, I'd be taking that out of his tips if I were you.
They both separate to flirt with their intended targets: Shelby and Franklin. Both conversations feel about as painful as listening to a recording of your own voice. I'm cringing. Brooks finds Celia after he's done hitting on another woman (remember, ladies, he's the perfect date!), but it's all good because he found ice cream. Celia compares Brooks to her favorite flavor of ice cream, vanilla, and it's the most I've appreciated her wit all movie.

Brooks and Celia's weird pimp/hoe relationship continues to blossom. Celia gets Brooks an interview at Yale, Brooks tells Celia she's weird and confident and someone might find that attractive eventually, and Celia learns that Brooks has mommy issues. This is the real turning point here. She goes from "you're a cocky asshole I would never date" to "you're a cocky asshole because your mom abandoned you and now I'm wet." See, Brooks, she is just like all the other girls!
Celia tries to deny her feelings by going on a date with Franklin. Remember, this is her crush, the guy she was into because she thought he was artistic and real. She quickly finds out that he's got about as much artistic integrity as a bride-to-be trying to defend her farmhouse chic aesthetic. Ain't that the way the cookie always crumbles, Celia?
FRANKLIN: You and Brooks remind me of a couple of dung beetles.
Honestly, I couldn't have phrased it better myself, Frankie.
Moving on to the scheduled breakup. Celia wears strappy heels for the evening letting us know that she's ready to compromise her sense of self for a dude who has commitment issues. Honestly, so relatable. During the very public breakup he throws her private insecurities that she divulged to him in secret in her face in front of the entire school. While Celia is getting emotionally eviscerated, Shelby is trying (and failing) to look like the whole thing isn't getting her wet.
SHELBY: I heard you just verbally assault your girlfriend back there…
ALSO SHELBY: 

Like, am I taking crazy pills here? Why does everyone think this guy is a catch? Is being the "perfect date" synonymous with being a perfect d*ck? Because I do not understand why all of these girls are into him. Shelby and Brooks immediately start making out while I question my entire gender. 
Fast forward to Shelby and Brooks' date, and it's not going well. Shelby is starting to find out what we've known for the past 60 minutes of this godforsaken movie: that Brooks has no personality and zero ambition other than getting into Yale. He's really lucky he has that great smirk tbh.
Upon entering yet another high school dance (how many can this school possibly have in the span of a few weeks?) Shelby finds out about Brooksie's little side hustle. Okay, I know she's supposed to be the big shallow bitch here, but she is the only one in this entire movie who has an appropriate reaction to finding out Brooks is a teenage gigolo. THE ONLY ONE.
It's only after Shelby dumps his ass out of sheer disgust that Brooks crawls on back to weird but confident Celia (his words, not mine). 
CELIA: It turns out I'm more into oblivious, self-absorbed pricks.
BROOKS: 

God! She's insulting you, Brooks! Could you just this once not look like a smug piece of sh*t?
After two different girls dump Brooks, he starts to realize that maybe pimping himself out for money isn't the desirable of a quality to have. I'm slightly alarmed that there'e only eleven minutes left in this movie and he's only just figuring this out. I'm even more alarmed that upon telling his dad he's a male gigolo all his dad says is "I was wondering what those late nights were about." That's it, I'm calling child services. 
BROOKS: I just feel like you gave up on life. You're a loser, dad.
BROOKS' DAD: Um, I'm actually a tenured professor and we live in a modest home and I can afford to send you to college for virtually nothing so why don't you get off my hump?
THANK YOU, SIR. I've only been yelling this at my TV for the last 90 minutes.
Brooks realizes there's only one girl he wants and it's Celia the one with self-esteem issues who might take him back. He lures her to a coffee shop under the pretenses that he wants her to read his college essay, when really, it's a letter of his intent to be with her. It's the only cute thing he's done all movie. She takes him back, and, let's face it, I would too. The end.
Despite the fact that I have done nothing but sh*t on this movie for the entirety of this post, I didn't completely hate it. But the reason I watch these rom-coms is to find a little of that rom-com hero magic we got from Peter Kavinsky, and Brooks Rattigan was no such hero. If you were on the fence about watching this one, I'd say maybe wait and hold out until Noah actually reprises his role as Peter Kavinsky because this one left me with more feelings of rage than that absurd excuse for a Mueller report. 
Images: Giphy (6)
7 Romantic Movies To Watch With Your S.O. This Valentine's Day
I have to be honest, I'm not a huge Valentine's Day person. It probably stems from spending 19 Valentine's Days as single as it gets. But regardless, I now have a boyfriend (yay me) and have no excuse to shove my face with chocolates and cry alone in my bedroom every day of the year on February 14th. But even if you're ~boo'd up~ Valentine's Day kind of blows. You need to get gifts and shave your legs, and it's a whole production I'm just not so down for. But staying in and watching the best Valentine's Day movie with your SO doesn't sound half bad. So I've done the research of rounding up the best romantic movies to watch with your SO. Or your galentines. Or by yourself. The point is, these Valentine's Day movie choices will probably put you in your feelings and make you believe in the ~power of love~ or whatever.
Disclaimer: Titanic is not on the list because I've never seen it and I don't need to ugly cry this time in front of my boyfriend right before we are going to bang.
1. 'How To Lose A Guy In 10 Days'
This rom-com is the perfect Valentine's Day movie because it's a great balance between romance and comedy. Kate Hudson stars as a magazine writer (honestly, did any other job exist in 2000s rom-coms? And do they exist anywhere else, like in the real world? Asking for a friend) who's tasked with dating and subsequently getting rid of a guy for an article. Fun, right? Not to mention Kate Hudson's character will make your SO think you are way less crazy than you are. That is, unless you also decided to buy a dog to raise together after less than a week of dating, in which case I can't help you.

2. 'Definitely, Maybe'
The heartwarming story about a father telling his daughter about his slutty days how he met her mother is adorable. Definitely, Maybe was also originally released on Valentine's Day, which basically means Universal Studios agrees with me that this is the perfect V-Day movie. Even though the suspense is lost after you watch it for the second (or twentieth) time, it's still a great movie and I'll take any excuse to watch Ryan Reynolds, even if my boyfriend is next to me. Lol.

3. 'Friends With Benefits'
Justin Timberlake, Mila Kunis, and lots of sex. Something for everyone, right? Friends with Benefits centers around the age-old question: can friends sleep together without someone developing feelings? (Spoiler alert: they can't, at least not in Hollywood. Your sh*tty FWB, Tyler from SAE, does not apply.) But what's great about this Valentine's Day movie is how it'll make you appreciate the uncomplicated nature of your relationship. I hope. Sidenote: I just realized Mila Kunis and Ashton Kutcher both starred in movies about being friends with benefits in 2011. Commence conspiracy theories here.

4. 'What Happens In Vegas'
When Cameron Diaz and Ashton Kutcher drunkenly get married in Vegas (as one does), and then one of them wins a ton of money, it makes for a hilarious Valentine's Day movie choice. They need to remain married for at least six months to keep the money, which doesn't seem like that long (especially for a cool $1.5 mil), but also Kim Kardashian only lasted 72 days with Kris Humphries so what do I know. This also results in a great conversation with your SO—what would you do with a ton of money? I said shopping, my boyfriend said to invest it. You can tell we are very similar people. However, I do NOT recommend asking your boyfriend what he would do if he won the lottery, unless you're trying to have a fight on Valentine's Day.

5. 'The Proposal'
I think Ryan Reynolds may replace my boyfriend as my Valentine's Day date. But anyway, this movie is phenom. Picture this: Sandra Bullock and Ryan Reynolds. Green card marriage. Oscar from The Office as a stripper. Have I sold you on it yet? The Proposal is equally funny and romantic with its fair share of nudity—in not always the most romantic way (see below). Plus, Betty White singing "Get Low"—can any other Valentine's Day movie top that? I think not.

6. 'The Princess Bride'
I'm hoping by watching this movie with my SO that it'll teach him to use the phrase "as you wish" from now on. This fantasy romance movie will definitely pull on your heartstrings and make you feel all warm and fuzzy. It is filled with torture, massive rodents, and suspense, while still remaining light-hearted and romantic. I know that sounds like an oxymoron, or the plot of a true crime podcast episode, but trust me, this movie is a classic! It's also full of countless iconic lines, like "My name is Inigo Montoya. You killed my father. Prepare to die," which is surprisingly easy to slip into a conversation. This movie is perfect for the couple that can never agree on a genre, because The Princess Bride is like a comedy, romance, and action movie all in one.
 7. 'Crazy Stupid Love'
One of my personal favorites, partly because you see Ryan Gosling topless. (Can you tell I have a thing for Ryans?) About a just-divorced man who begrudgingly finds a guide to single life, this movie proves that Steve Carell's game has come a loong way since The 40-Year-Old Virgin. These intertwining love stories are hilariously dramatic, between Steve Carell rolling out of a moving vehicle and Gosling's egotistic mentality. Crazy Stupid Love also provides hope for any person who has forgotten how to date. Rule 1: a tiny straw in your drink makes it look like you're sucking on a tiny schvantz. Inspirational.

Images: Gipgy (7)
Every Thought I Had While Rewatching 'How To Lose A Guy In 10 Days' In Honor Of Its 15 Year Anniversary
If you were a true betch in the early 00's then you know you weren't shit unless you were watching the latest and greatest rom-coms that graced your television screen. And the best rom-com in the early 2000s was How To Lose A Guy In 10 Days, which was arguably a national treasure of its time. It's been 15 years since the release of the movie—yes, let that sink in, FIFTEEN YEARS because Jesus we are old—and I'm still learning new shit every day from watching it. For example, I don't need 10 days to lose a guy, all I need is 10 minutes and the mere mention of commitment. *sips wine* In honor of the movie's 15 year anniversary I've decided to re-watch it and gift you all with every thought that ran through my head while I watched it. You're so welcome. Now, shall we begin?
1. Okay I've spotted my first problem with this movie already, and it's not that this girl somehow managed to get a job at a huge women's magazine in New York City as a FULL-TIME PAID STAFF WRITER right after grad school. No, HOW did this bitch manage to flirt her way into court side Knicks tickets? I can barely flirt my way into a text back…
2. I'm listening to Matthew Mcconaughey talk to his female competitors, and it's good to know that 15 years later sexism is still just as much alive and well in the workplace.
3. (But low-key Matthew McConaughey still looks fucking amazing in this. Seriously, gift that keeps on giving on my TV screen rn.)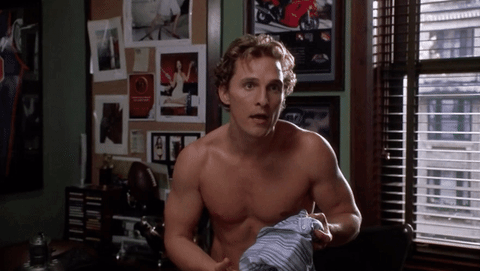 4. Okay this Michelle girl is a fucking psycho. She cried during sex? Said I love you after two days? If I were Andie I'd ghost her as a friend just listening to that story.

5. This editorial meeting is an absolute joke.
6. 10 dates in 10 days is fucking insane. The only thing I can commit to doing for 10 days in a row is my Netflix account, and even that is pushing it.
7.  Problem #2 with this movie is that Andie thinks she can just "find a guy" at a bar. Well good thing this story is about Andie and not about me, because I've been looking for a guy at a bar going on five years now and have yet to be successful. It would make a boring comedy, but perhaps a compelling horror movie. 
8. Why is this bar so well-lit? The only way I will speak to strangers when I'm out is under an extreme cover of tequila darkness. Also, why is the median age at this drinking establishment 55? The assignment was for her to find a guy to date, not help him exercise his mid-life crisis. Andie, honey, if you're looking for bar whose patrons are terrified of commitment then let me introduce you to Hair of The Dog.

9. I can't believe Andie is just going to ride off into the dark with this absolute stranger. Sober. That's the real inaccuracy here.

10. LOL he took her to Red Lobster. I know I've seen this movie, like, 100 times but I'm still waiting for Ben to creepily insinuate that shellfish is an aphrodisiac.

11. Ben, a white male in advertising, just chose Nelly's "Hot In Herre" as mood music. I now know why seventh grade me was so attracted to him…
12. Things I whisper to myself when I get a new match on Hinge: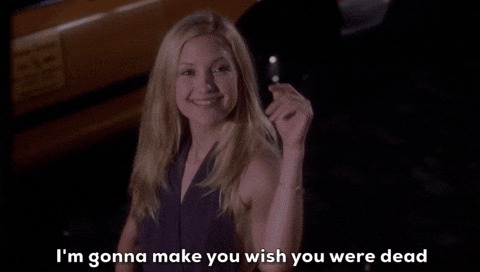 13. YO THAYER IS REAL AF. Case in point:
BEN: It's a marathon, not a sprint
THAYER: A marathon is 10 days?
14. So in order to get a guy to go on a second date with you, you need very expensive basketball tickets? And here I was thinking you could just put out.

15 OMG KRULL THE WARRIOR KING. I'm fucking screaming. This whole penis naming scene is pure gold.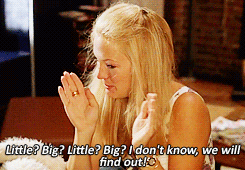 16. This entire plaid/khaki ensemble happening on my screen rn is so 2003 it hurts. Also, Thayer continues to kill it with the savage one-liners:
THAYER: You're a vision in khaki.
Seriously, Thayer, you are a national treasure. Don't let anyone tell you different.
17. Sooo making a photo album of your future kids with a guy is the equivalent of tagging a him in something on Instagram today? Interesting. One seems crazy and the other just seems like something that should be socially acceptable to do with a person after seeing each other for four months? But idk.

18. Is this her own personal rooftop that Andie and her friends are drinking/sunning on? WITH LOUNGE CHAIRS AND FLORA? And she can afford this on a writer's salary?? I mean, I too have access to my building's rooftop but there's less of a lounge chairs and flora situation happening and more of a potential lawsuits and liabilities.  
19. I'm watching this poker game and all I can think is Ben can fit an entire pool table in his apartment and my "bar cart" is an empty bud light box. Similar, but different.

20. The most unrealistic part of this movie is Ben being upfront with Andie about how "crazy" she's acting. If this were today he'd just never answer any of her phone calls and evaporate into thin fucking air only to resurface six months later between the hours of 2 and 4am.
21. BEN: You have more than enough personalities to keep me occupied
ME: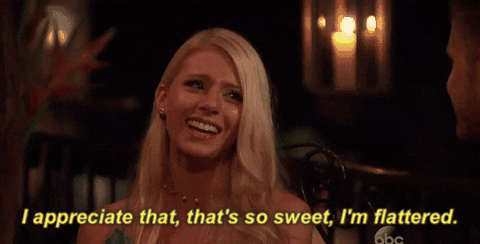 22. This therapist just said the words "positive idea" and "Staten Island" in the same sentence. K.
23. I love that the moment Andie starts to feel emotionally and physically attracted to Ben is the moment she realizes one of his greater strengths is bullshitting other people. It really comes full circle here, doesn't it?
24. Why does Ben's family sound like they're from Texas? Is this what Staten Island people are really like? Is this really where I can find a Southern sounding man who looks and dresses like Matthew McConaughey? Because if so, I've been seriously misled about wtf happens in Staten Island.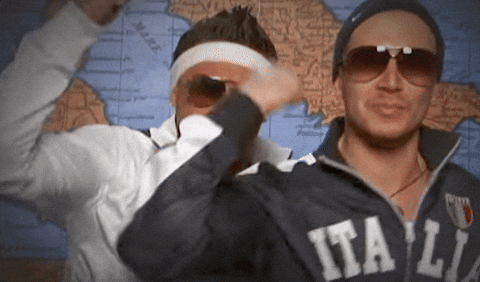 Seriously. Misled.
25. Let me get this straight. The first time they have sex is in his parents' hall bathroom? Why did I ever find this sexy? Are they full-functioning adults with paying jobs or college freshmen home for Thanksgiving break? 
26. She lives in a building with GOLDEN doors and an actual doorman. That rooftop is starting to make more sense, the salary of her profession and current fashion statement of wearing her jeans unbuttoned for the chic-ness of it are not:

Fashun. 2003 was wild, people
27. LANA: Do you see any patches or insignia on my outfit? No? That's because I'm your boss, not your girl scout leader.
Lana is me. I am Lana.
28. 15 years later and I'm still obsessed with this yellow dress.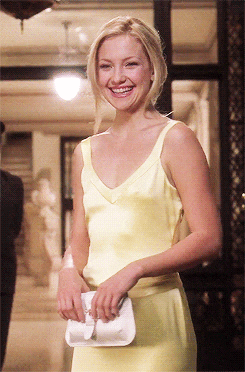 29. This party is littttt. It's also making me want to email my boss and ask her why I don't get to "frost myself" with millions of dollars worth of diamonds at our corporate happy hours. (I only get to sample the house wine.)
30. Ben's boss keeps asking Andie if she loves Ben and she's like, "Noooo, I can't? But I might?" and it's like, NO YOU ABSOLUTELY CAN'T BECAUSE IT'S ONLY BEEN 10 FREAKING DAYS. And he's been lying to you this whole time! Because he is a literal stranger to you.
31. Looking back,  "You're So Vain" was a fantastic song choice for this scene. I'll make note of it for the next time I want to publicly drag my ex for all the world to see.
32. Wait, this whole time I thought Mike was some huge player and instead he looks like he'd be more comfortable selling Verizon cell phone plans than trying to steal your girl. Are you kidding me with this?
33. Tbh the most realistic part of this whole movie is Michelle taking back a fuckboy with the flimsiest of excuses as to why he stopped seeing her.

34. Wait this is the high-end advertisement campaign they came up with for the diamonds? I have seen more high brow advertising come out of a Forever21 campaign. 
35. Looking back, this car chasing scene might be the reason I bang preppy looking fuckboys have trust issues.
36. So let me get this straight. She was leaving New York to advance her career and decided to stay because a guy she's known for 10 days asked her to? By romantically declaring his "love" for her by yelling "bullshit" at her? Seems right.
37. THEY JUST GAVE AWAY HER LUGGAGE TO A RANDOM CAB DRIVER? Yeah, be prepared to never see those belongings again, sweetie. I have a feeling their first official fight is about to happen 30 minutes after this scene when she realizes he just handed over her laptop to get sold on the black market.
38. Well this movie taught me that the more you push a guy away the more he'll realize how good he's got it and will fight for your relationship. Lol KIDDING. Nah, I didn't learn shit from this movie except that lies are an important step towards accepting love, and that if a beautiful man who works in advertisement approaches you at a bar, it's because he's just using you to win a bet. But you'll be into it anyway. Okay BYE.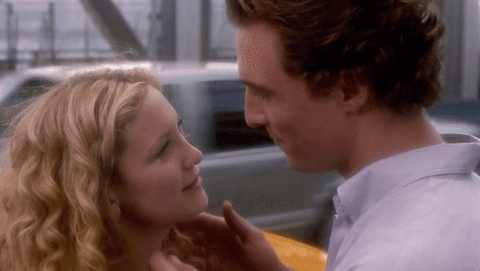 Images: Giphy (9); Netflix (5); Movieclips.com / Youtube (1)
6 Rom-Coms That Make No Sense In 2018
The perfect woman has the capability and work ethic of being a CEO, but also the cashmere sweater closet of a trophy wife. Where does this woman exist? Rom-coms, duh. There's a special place in hell for women who don't support other women people who pretend they're above rom-coms. What isn't to absolutely love? They are the dessert of movie – indulgent and you will sneak in extras without telling other people.
Some of the most beloved rom-coms, however, do not stand the test of time. That isn't necessarily bad! Times are a changin' and it's hard to keep up. The only love story that is truly applicable to all eras is Romeo & Juliet, which we saw expertly modernized with Leo and Claire. I digress. Here are some classic romantic comedies that wouldn't pass our #woke modern standards.
You've Got Mail
YGM might be the first online dating romance story? But let's face it, things have gotten a whole lot more complicated since the innocent heyday of AOL chat rooms. If you're still DM-ing with a dude after weeks of not meeting him, call up Nev Schulman because you're being catfished. Also, in 2018, there's simply no way modern woman Kathleen wouldn't have snooped out who Joe was through his LinkedIN or Twitter.

When Harry Met Sally
When Harry Met Sally is a story predicated on the two main characters weaving in and out of one another's lives. This isn't the olden days where you don't know what someone is up to since college. Sally would have been bombarded with Harry's obnoxious Facebook updates and Harry would know all about Sally dating Joe because of endless #mcm posts. There's no wondering if the other person has changed when you can see the nineteen Breitbart articles they've shared in the last week. Also someone in that restaurant def would have posted a video of Sally orgasming at her table, only to have it go viral and ruin her life.

Pretty Woman
Sure, the idea of a fun-loving, self actualized and non-traumatized sex worker is actually *very* 2018, but there's one scene in this movie that is neither rom nor com, and would certainly be far less well received in the cold light of the #MeToo movement. We're talking of course about the scene where Jason Alexander's character literally attempts to rape the Pretty Woman and the consequences are…he loses a friend? Given the fact that this scene literally takes place in a hotel room, between a powerless young "entertainer" and a powerful male businessman, I don't think I need to explain why it is problematic today.

Annie Hall
Woody Allen doesn't fly in 2018. Next question.

Never Been Kissed
Donald Trump is our president and every male celebrity over the age of 13 is being outed as a predator. The press is under attack by half of the country and is fighting tooth and nail to earn the respect of Americans. If you think for one fucking second an editor at a newspaper is going to use resources to send an adult reporter undercover amongst underage high schoolers to write a piece on a place where teens hang out called "The Court," you are literally fake news.

500 Days Of Summer
There's a lot about 500 Days of Summer that could still work in 2018, aka the year of the sad boy. But one glaring discrepancy is that our economy is nowhere near strong enough for a greeting card company to employ as many people as it did in that movie. Also Zoe Deschanel's bangs would be much blunter and shorter if she wanted to pass as an indie darling these days.

Heads up, you need to keep up with the news. It's not cute anymore. That's why we've created a 5x weekly newsletter called The 'Sup that will explain all the news of the week in a hilarious af way. Because if we weren't laughing, we'd be crying. Sign up for The 'Sup now!

How Much Carrie Bradshaw, Jenna Rink & Other Rom Com Characters Would Pay In Rent IRL
Since we've practically been able to walk, we've been tricked into some serious romance fuckery that modern-day love stories always pan out like the end of a Disney movie—as if Prince Charming would actually search every apartment up and down all of Brooklyn for the woman who perfectly fits into the shoe she left on a date. Umm… Pretty sure the chances of me seeing my left Aldo pump or my dignity after last weekend's walk of shame are slim to good-fucking-luck. But that's not what's important here.
What I'm actually here to tell you is that, shocker alert, nothing is what it seems when it comes to romantic films. Hate to break it to you, but not every eligible bachelorette in the tri-state area also owns a spacious duplex with an interior design replica of Z Gallerie. Like, I'm still waiting on a rom com where Katherine Heigl lives on a strict diet of Top Ramen and Frosted Flakes in a dumpster studio after going broke from being forced to purchase 27 fugly bridesmaid dresses not even Sears would stand to carry. But thanks to my diligent Google research, I'm now well aware that my poor career choice has forced me to become financially dependent on a rich male these bitches would prob be living in hole if not for this thing called skewed perception, or rent control for that matter. So here are the actual prices of their humble abodes IRL, and it's literally just as un-shocking as it is annoying.
Carrie Bradshaw's Apartment, Sex and the City
If you seriously thought that Carrie Bradshaw actually lived comfortably (and by comfortably, I mean living on an every day diet of brunch at the Plaza and weekly Chanel shopping binges) on a columnist's salary, you're out of your batshit mind. Her one-bedroom apartment on the Upper East Side cost her a whopping $700 a month (good one, rent control), but in reality, the place would go for about $3,000. Actually, in REAL reality, the building is located in West Village, and is actually a 4,100-square-foot house with four stories, 10 rooms and six fireplaces. In 2012, it sold for $9.85 million aka Mr. Big's slutty pocket change.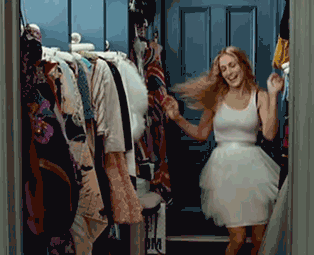 Carrie And Big's Apartment, Sex And The City
Speaking of the devil, idk what the fuck Mr. Big even did for a living, but clearly money was all Carrie was after considering he's an actual piece of shit (#TeamAidan). Literally the only reason she stayed with him was because she forgot her Manolos, and also that closet, but like, I get it. Their apartment was located on Fifth Avenue across from Central Park, but the interior was actually shot in a four-story walk-up on 62nd Street, costing $190,000 a month to rent, or $40–$50 million to buy. K fine, I guess this was worth settling for.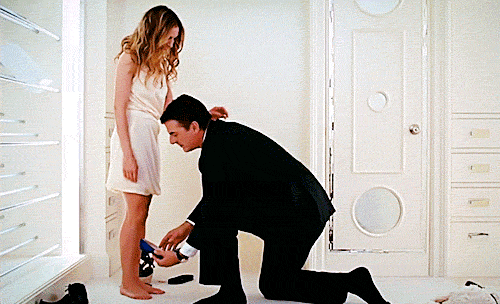 Beth And Neil's Loft, He's Just Not That Into You
Such a typical fuckboy Ben Affleck move (or just what I feel is something Ben would do) to have all the benefits of a marriage without the actual marriage itself, including the beautiful brick Baltimore loft on Federal Hill. Bless Jen's heart for playing a character she actually had to live out in real life, but like, at least they were only paying $2,280 a month for a 2-bedroom. Steal.

Noah's Waterfront House, The Notebook
Noah's fairytale fixer-upper was actually built in 1772 as a 4-bedroom waterfront property on Wadmalaw Island in South Carolina. Its current monthly rental price goes for a whopping $12,000—again, that's PER MONTH—which translates to about $695 a month back in 1940. Fat chance Noah's carpentry salary could afford that, so idk maybe they offered him a sick 2-for-1 discount on wood panels. But tbh, that man could've built me a dumpster behind the house and I'd still be naked on his wrap-around balcony in record time.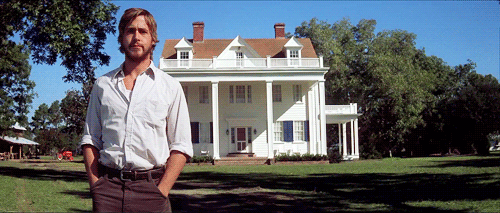 Jenna Rink's Apartment, 13 Going On 30
Jenna's epic glow-up and Regina George complex led her to become a big-time bitch magazine editor, so being able to afford an apartment on Fifth Avenue is semi-believable. On average, a one-bedroom in the building where she first stumbled out in lingerie goes for about $4,000 a month, or $1.3 million for purchase. Unfortunately, she traded her hot pro-hockey player boyfriend and his thingy for her formerly fat friend, so none for Jenna Rink bye.

Marisa's Apartment, Maid In Manhattan
I don't care what you say, Maid in Manhattan is the most underrated J.Lo film of all time, and this is not up for debate. Mostly because we got a real glimpse of actual "Jenny from the Block", as seen by her 2-bedroom Bronx apartment on E. 175th Street, which would cost $1,300 a month today #gentrification. But also because if J.Lo can marry rich, then so can I. Speaking of hot wealthy men, the hotel suite rented by Christopher Marshall at the make-believe Beresford Hotel was actually filmed at the Roosevelt Hotel and the boujee Waldorf-Astoria Hotel, which would go for $12K a month. Tell me love don't cost a thing now. I'll wait.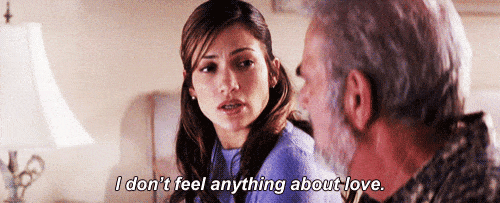 Sam's Houseboat, Sleepless In Seattle
This giant houseboat shacking it on Lake Union in Seattle is the reason I have trust issues. If I was never forced to sit through the already mystifying plot of this movie, I'd think this thing was straight out of some lakeside horror film. The houseboat has four bedrooms, two bathrooms, and a lakeside dock and was last sold for $2 million in 2014, so it's a nice setup. Still, something about taking a woman you literally don't know back to a floating house on a dark lake just screams R.I.P.

Vivian's Apartment, Pretty Woman
I'm not sure how a hooker can't afford a little nicer of a place, but Viv's rates were apparently not cut out for big city income. Her apartment in LA's Las Palmas hotel went for a whopping $185 a month, although average room prices per night are now $300. This was yet another classic case of damsel in distress saved by fuckboy and his wallet, seeing as Edward's 2-bed, 3-bath penthouse suite at the Regent Beverly Wilshire Hotel went for $38,500 per week. No wonder I'm so fucked up.