The Case For Getting Engaged With A Hideous Manicure
Great news! It's no longer necessary to keep up with the time-honored tradition of hoping your best friends break their backs to get you into a nail salon for a totally inconspicuous manicure before you get engaged. And no, it's not because the planet is literally on fire and we're probably just a few short years away from never having to worry about Instagram ever again. It's because I just accidentally stumbled upon the greatest life hack of all time, and am pleased to report that getting engaged with an ugly manicure is the best thing you can do for your relationship and your personal brand. 
Now, I know that every little girl dreams of the day she'll be able to post a photo of an engagement ring on her hand, writing "I said yes!" as the caption, leaving her loved ones (read: group chats of sorority sisters she no longer speaks to) wondering how she knew to get her claws perfectly groomed for the surprise occasion. But after recently getting engaged with a manicure that was the exact same color as Shrek, I'm here to challenge that standard. If the nail technician isn't palpably disturbed by the color chip you've presented upon sitting in the chair, you're not doing enough. Hear me out.
You'll Immediately Have A Unique Instagram Caption
Second only to which engagement ring style you will choose to send your significant other subliminal messages about until they're finally forced into popping the question, the most important decision you can make as a future bride is the caption you will choose to announce the fact that it's time for your followers to buckle down for your official shift to wedding content. If you're hard-pressed to think of something smarter than "Today, I said yes to forever with my best friend," let your ugly manicure do the heavy lifting. For example, I went with: Do you think there's anything on Etsy that says "she said, 'OH MY GOD MY NAILS ARE GREEN, BUT YES!'" 
There's An Easy Answer To The Dreaded 'Were You Surprised?' Question
If there's one thing I've quickly learned as a newly-engaged person, it's that people ask a lot of the same ridiculous questions, one of which being, "Did you know?" While everyone sporting a rock on their left ring finger probably had some inkling that the day would come eventually, it would be truly unhinged to expect your partner to drop down on one knee every time you enter a remotely photo-worthy space. Although I did not wake up thinking, "Might f*ck around and get engaged today," convincing nosy people that this particular life event caught me by surprise has proven to be difficult. 
Luckily, if you have unsightly nails when it happens, you won't ever have to waste your breath explaining why you just so happened to be having an incredible hair day and wearing an actual bra when you said yes. You can simply point to the messy heap of slime green SNS powder that was slopped upon your nail beds and quip, "Did you see my nails? I obviously wasn't expecting it." 
You'll Seem Like A Quirky Risk-Taker
Nothing signals that you are the antithesis of cheugy quite like a bold manicure. Sure, the words "dog mom" are in your IG bio and you've purchased Tory Burch Miller sandals as recently as last month, but a calculated shellac color choice can really cancel that out if you play your cards right. This will also dupe people into thinking that you'll be making some similarly wild decisions for your wedding, motivating your followers to prioritize watching your Stories every time they open the app. Not to mention, a scared bridesmaid is a loyal bridesmaid. If your girls can be tricked into thinking you're reckless enough to select a heinous color for your wedding, they'll be so relieved when you tell them they're wearing blush dresses, that they'll hardly bat an eyelash when you reveal how much they're expected to cough up for hair and makeup. 
It's An Excuse To Post At Least One More Ring Photo
Engagement rings beg to be photographed, but the last thing you want to do is clog the timeline with too many photos from the same occasion. (Although this used to fly… you can thank photo dumps for destroying your right to double post.) The simple fix for this, of course, is to get a redemption manicure, which would technically qualify as a separate posting event from the proposal. "Don't worry guys, I have a pretty manicure now!" just might be the new "So a lot of you have been asking about my skincare routine…" in the sense that both statements require the speaker to hold quite a bit of naivety in regards to how much other people actually care. 
Next time a friend invites you on a trip to the salon or you find yourself torn between two manicure options, my advice for you is: choose the worst option. Reach for that weird yellow bottle of polish that looks like it's never been opened. Say yes to the nude that clashes most with your skin tone. Visit the spa with over a dozen horrible Yelp reviews. It's the number one best thing you can do for your engagement. (Your Instagram engagement, by the way. Not your relationship status.) 
Images: Lyuba Burakova /Stocksy.com
7 Questions To Stop Asking Newly Engaged Couples
'Tis the season to get engaged, amiright? Just about two weeks ago, my fiancé (still feels weird typing that) proposed to me and I've been over the moon ever since. I've had more people reach out to me in this short time period than I have in my entire life combined, and while most of the interactions are super fun and positive, there are some repeated questions popping up that are simply getting on my nerves. While most of these questions are asked innocently, they've gotten old quickly, so here's the 101 on questions to *please* stop asking newly engaged couples.
1. When And Where Is The Wedding?

Don't get me wrong, I am excited about the wedding too. I've been dreaming about this sh*t since I was a little girl. That being said, it's almost mind-boggling how many people have asked me WHEN the wedding is. Ma'am, I got engaged one week ago. If you think in seven days' time I toured multiple venues, picked the venue and booked it, you're buggin. What's even more fun is when I say "I'm not sure yet" and it's followed up with a, "well you should really get on that because weddings are likeeee booking into 2022". Thank you, I know. Your added stress is not necessary, especially when you're just stating the painfully obvious. Sorry if this sounds cold, but on behalf of all the newly engaged people out there, it had to be said.
2. Are You Stressed About COVID-19 Impacting Your Wedding?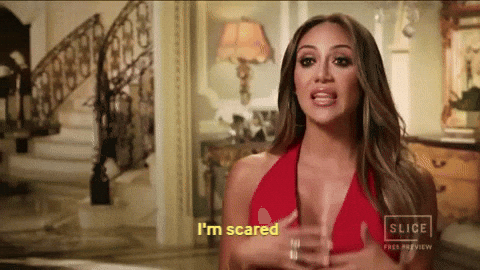 Short answer, DUH. Given the uncertainty of the virus, I'm absolutely nervous about COVID-19 impacting my wedding. That being said, I find this question oddly irritating. As someone who had the virus myself, there are so many more important things to worry about being impacted by COVID-19 than a giant party. I'm nervous for my family, my friends, my loved ones, our world as a whole. While I'm less worried about the virus impacting my wedding day and more overwhelmed that it will result in me getting married two to three years from now, it feels like a slightly obnoxious inquiry. If COVID-19 doesn't make you stressed, you scare me.
3. Who Is in Your Bridal Party?


There are two parts to this question. It typically starts with, "So, who's going to be your Maid of Honor???" followed by, "Actually, who is in your bridal party in general?" When my family asks me this question, I'm cool with it. They've watched me grow up, they know my friends well, and they are genuinely curious. The problem is when *others* ask. If I haven't asked my bridesmaids yet, why would I tell YOU who they're going to be? Half the people asking are subtly hoping to be in the bridal party and the other half are asking just to be nosy and get the scoop. This question makes me super uncomfortable because I'd never want someone to feel left out, but at the end of the day, it's my business and my business only.
4. Are You Going on a Diet? Are You Getting a Personal Trainer?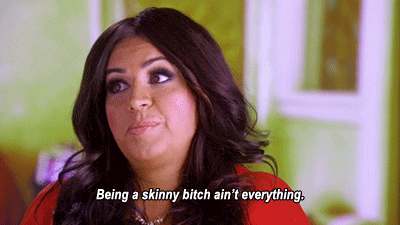 This is perhaps my LEAST favorite question of all because it's just genuinely rude. I've been a bit taken aback by the amount of people who have asked me this, because I just can't wrap my head around thinking it's appropriate. To be honest, I don't know the answer. If I decide that I want to tone my arms for my dream dress, maybe I will. If I decide I want to change the way I eat for health and wellness purposes, maybe I will. That being said, it will most certainly not be influenced by anyone else trying to pressure me to do so. This question is tacky and unnecessary and I know my fellow fiancé(e)s out there will agree.
5. So Like, How Much Was Your Ring?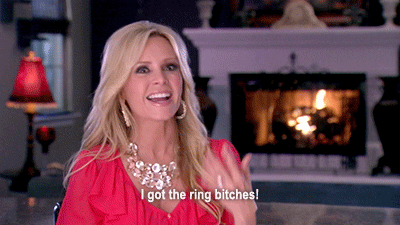 On the theme of tacky… this question is just beyond me. There is a zero percent chance someone has good intent when asking this question. You're either asking because you think it looks expensive and you want the tea, or because you think it looks cheap and… you want the tea. If you hit me with the "DiD hE sPeNd ThReE mOnThS sAlArY" please go away. I'm in love with my ring and that is the only thing that matters to me. That being said, if you've complimented my ring without asking about the cost, I appreciate you. I'd be lying if I said I wasn't basking in glory from any/all positive feedback so… KEEP IT COMING!!!!! (Put that under the category under things you should say to a newly engaged person. Accolades are always allowed.)
6. Am I Invited?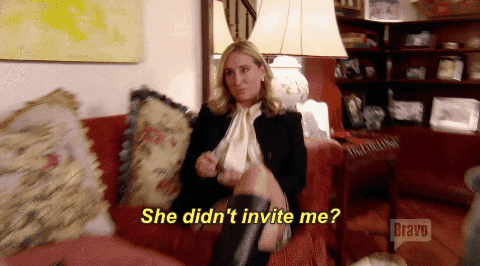 If you have to ask, it's probably a no. Weddings are expensive. Like… really expensive. Would you treat me to a $200 dinner? No? Then I probably won't do the same for you. Half kidding, but I personally am not trying to recreate My Big Fat Greek Wedding, so chances are my list will be narrowed down to the real ones. This question falls under the category of super uncomfortable because I hate leaving anyone out and, despite my evil sarcastic tone throughout this article, I actually love to make people feel warm and welcome, so by default I'll feel guilty about those who don't make the cut. Long story long, please don't ask me this question, because it WILL keep me up at night.
7. Can I Give You Some Advice?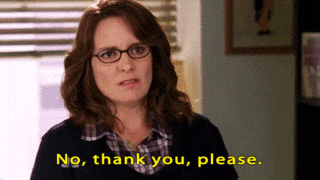 This question is super circumstantial, because some people offer fantastic advice and it's extremely appreciated. Advice about how to conquer visiting multiple venues and what to look out for? Yes please. Advice about how to budget and what is and isn't worth splurging on? I'm all ears. The problem is, people typically offer advice that is opinion-based rather than fact-based, and that's where it gets hairy. I don't want your advice on things personal to me, because it's my wedding. When it's your special day, you call the shots. When it's mine, let me enjoy. (LMK if this is giving bridezilla vibes so I can stop before I start.)
Bonus: Questions I Enjoy

In order to redeem myself for all the spiciness above, I want to include some questions that I enjoy getting. Those exist too, I swear. I'm happy to answer questions about the engagement because quite honestly, I still get butterflies. How did he ask? Easy, I have a response saved in my notes that I can send along to anyone and everyone who wants to know. Were you surprised? Excited? Nervous? Yes, all of the above. What kind of style is your ring? More than happy to answer this (mine is emerald) and I'm also happy to answer personal questions about the ring if they are productive and helpful for my fellow future brides (or friends looking to get engaged soon). What is your dream dress? Oh, I'm glad you asked… let me show you my Pinterest board. You get the point.
If you take away one thing from this piece, it's to be respectful of others privacy and to know what questions are appropriate vs. uncomfortable. Pre-engagement I likely asked half of the above questions myself, so we're all learning here. The more you know!
Images: Scott Broome / Unsplash; Giphy (9)
4 Holiday Gift Ideas For Your Newly-Engaged Friends
Between the cozy weather, Christmas music that's already started playing, and the abundance of holiday gatherings on the horizon, this really is the most wonderful time of the year. And on top of that, it's become one of the most popular times of year to get engaged. If you're at the point in life where lots of people are getting engaged, there's a good chance that your BFF, family member, or work wife might be getting a ring this holiday season, so there'll be one more reason to celebrate.
While giving gifts is great, when you have a long list of people to remember around the holidays, it's also nice to be able to kill two birds with one stone. It can be tough to think outside the box with gifts, so we're helping you out. Here are some unconventional gift ideas that will make great dual-purpose holiday and engagement presents, 
Anniversary Wine Boxes

Artificer Woodworks' patented Anniversary Wine Boxes or Keepsake Ceremony Boxes are the perfect gift ideas for the newly-engaged. The Anniversary Box is a gift designed to be the perfect wedding or engagement gift. It toasts the couple on their future anniversary celebrations, so it's a gift that's perfectly designed to celebrate the happy couple's love and longevity. The Keepsake Ceremony Box is a great way for the couple to create a new anniversary tradition. Tell the couple to add a bottle of wine each year to open on their next anniversary, and they can also add keepsakes in the larger compartment, either from their wedding day or other big life events. What better way to celebrate your anniversary than looking back on your best memories? 
A Gadget To Protect Your Ring

If your friend just got engaged, she probably doesn't kn0w all the proper ways to care for her engagement ring. While there are lots of times you should take your ring off, you should also be protecting your ring while you have it on. Buffr is the perfect solution for protecting your ring, especially if your friend can't bear to take her bling off while she's at the gym. It's barely even visible while you're using it, so all eyes will still be on the ring, while making sure that it stays safe.
At-Home Wine Tasting Subscription

Okay, what bride-to-be doesn't want wine and a pre-planned tasting party to celebrate with her girls? If your group is always looking for an excuse to drink wine and talk sh*t, getting the newly-engaged friend a wine tasting subscription from Experienced Simply is the perfect gift idea. Surprise her with a one-of-a-kind gift that she is sure to love and will definitely remember, at least after the wine hangover wears off.
Bridal Subscription Box

So your best friend just got engaged and won't stop texting you about how she has no idea how to plan a wedding. Maeven Box is the perfect saving grace to get your BFF in the wedding planning spirit, and off your phone notifications. Sign her up for a monthly subscription box filled with top-notch wedding products and tools to help with the wedding planning process. Each box is guaranteed to have the newest and trendiest bridal sh*t, so she's always up to date on what's in season and on trend. She might never stop texting you about her planning process, but at least she'll have some guidance.
Images: Be Inspired PR
8 Times You Should Take Your Engagement Ring Off
So you got engaged, the proposal was perfect, and the ring is everything you asked for (because you helped pick it out). Now you're going to be spending the next few weeks/months staring at your hand constantly and angling your hand just so in photos so you can not-so-subtly show off your ring. And you're probably never going to want to take it off, which makes sense, but in order to keep it in mint condition, you're going to have to remove it from your finger on certain occasions. They say diamonds are forever, but they won't be if you're not taking proper care of your ring. We've asked wedding and jewelry experts Kelly Villarreal from Ada Diamonds and Mary Claire Newcomb from Here Comes the Guide about when you should be taking off your ring and how to keep those diamonds shining bright. 
 1. 

Working Out

Kelly Villarreal suggests that when breaking a sweat and handling machinery in the gym, it's best to have your precious ring removed… even if that means its presence can't be used to deter creepy gym bros from hitting on you. She explains, "Lifting heavy objects or pushing into your hands can put pressure on the base of your ring, causing it to compress or bend out of shape. In extreme circumstances this can lead to fractures and breaks in the metal." Yes, this even applies to those of us who don't identify as Crossfit queens or bodybuilders. No amount of calories burned is worth a dent in a band that is supposed to last you forever. Not to mention the fact that your fingers tend to swell after an intense sweat sesh. Just put it in a safe place before you leave the house, and be thankful your attempt at a Kayla Itsines workout didn't cost you thousands.
2. When Your Hands Will Be Wet Or Submerged
My wedding ring fell off in the shower. Instantly broke down. I'm just a skeleton with skin now. Take care of your health folks.

— Special Agent Smith (@ItsMrSmith) June 2, 2019
Villarreal emphasizes that it is very important to be mindful of your ring when, "doing the dishes, doing laundry, cooking, waitressing/bartending, house cleaning, or swimming." She explains, "cleaning products and harsh chemicals (such as chlorine) can cause build up on diamonds and dull the polish/rhodium from the metal of your ring more quickly." Ideally, you should try to milk the fact that you're donning a precious gem 24/7 and use it as an excuse to avoid the housework that might endanger it…but when that excuse stops working (and the stack of dishes in the sink start driving you crazy), store it in a safe place. 
3. Sleeping
The diamond needs its beauty sleep just as much as you do. Villarreal warns that when sleeping, "the prongs of your ring can catch on your sheets, or rings can be knocked against things in your sleep, damaging prongs or causing diamonds to become loose or fall out." There's really no point in risking damage to your ring for the sake of leaving it on while you get your eight hours—one of the only times you won't be able to show it off. Plus, we all read that story about the woman who swallowed her engagement ring in her sleep, right? Let that be a cautionary tale for you. 
4. When Applying Lotions Or Cosmetics
View this post on Instagram
Just like other chemicals, cosmetics and other products can cause your ring to lose its shine. Villarreal explains that when applying products with your ring on, "it can wear away the polish and rhodium more quickly." She adds, "Lotions and cosmetics also result in build up over time that dulls the look of your diamonds, or in cases of small melee diamonds, can completely cover over stones." And finally, she advises, "Keeping your ring away from these products, along with regular cleaning, can keep rings sparkling brilliantly for much longer." Truthfully, I'm probably never going to remember to take my ring off before applying hand lotion, because I do that approximately 50 times a day. But knowledge is power. The more you know, and all that.
5. When Wearing Gloves
If you're going to listen to any of this advice, listen to this. You wear gloves more often than you'd think, especially if you live in a place like New York, where winter lasts for more than half the year (or so it seems). Mary Claire Newcomb declares, "Ski gloves and rings are archenemies, since your ring size naturally decreases when it's cold outside—leading to a loose ring that can easily slide off." I'm going to go ahead and equate "ski gloves" to regular-ass winter gloves because I'm not bougie enough to go skiing often enough to have special gloves just for that. And it's not just when wearing cold-weather gloves that you should take your ring off; in addition to winter gloves, Newcomb says, "Gardening gloves can accidentally pull an engagement ring off upon removal." She adds, "And for those in the medical profession who wear latex gloves, oftentimes the prongs of the ring get bent over time as they get caught on the latex material." I guess this means that I'm never wearing gloves again. The idea of keeping my engagement ring in a jacket pocket for the sake of wearing gloves seems far more dangerous than subjecting my hands to the winter cold. 
6. When It's Not Insured
Your diamond ring is probably expensive, and just as you would treat anything valuable, get insurance! Newcomb recommends, "Look into homeowner's insurance, renter's insurance, or straight-up jewelry insurance for that baby. It's super inexpensive and a lifesaver when needed!" Like, don't be an idiot. Just think about all of the things you have insurance for that you care much less about! I don't know about you, but I would happily forego dental visits for the foreseeable future if it meant protecting my new diamond. If Taylor Swift can insure her legs, you can surely insure your engagement ring. 
7. When It Doesn't Fit Properly And/Or Is Damaged
I know you want to wear your ring, but if it doesn't fit properly, it's an easy fix and you'll get back to wearing it ASAP, promise. Newcomb explains, "Whether it's too big or too small, you can damage an ill-fitting ring (or even worse, lose it) quite easily." She points out, "if something is already amiss with your ring, don't take chances—just take it to a jeweler as soon as you notice it. Wearing it could make a simple fix a more difficult one in the end." If you are anticipating a proposal from your hopeful forever-plus-one, take this as a cue to make sure he knows your ring size (or, in the case of my boyfriend, realizes that rings have sizes). If you're too traditional to help him pick out the ring, you shouldn't be fine, but at the very least help the guy out by leaving some of your rings around the house so he has something to reference. 
8. When You're Traveling
It takes a lot to take off your engagement ring but safety and security should always take priority. There are two main reasons to take your ring off while traveling: potential damage and unwanted attention. If you're traveling on a bachelorette party, chances are you're going to be getting a lil' too drunk, making your ring a liability. Keep in mind, most insurance companies will only let you take out one major claim so don't waste it on something as preventable as this. Traveling foreign countries is another time you'll want to leave your ring at home. You're inadvertently drawing attention as a tourist, don't give someone a reason to make you their target. 
Images: Jad Limcaco /Unsplash; @ItsMrSmith/Twitter; betchesbrides / Instagram (2)
Why Rushed Engagement Is The Newest Celebrity Trend
It's been a weird summer. Trump keeps interrupting The Bachelorette, the heat wave broke everyone's spirits, and all our least fave baby celeb couples are getting engaged. And by "baby," I mean that both the celebs themselves and the actual relationships are very, very young. First we had Ariana Grande (25) and Pete Davidson (24), and now we have Justin Bieber (24), and Hailey Baldwin (21). Yes, TWENTY-ONE. I too spat out my coffee upon reading that. Doesn't that just seem awfully young to ruin your life in such a permanent way make such a long-term decision? While Justin and Hailey have had an on-off thing for years, neither couple was publicly together earlier than, say, May. All of which begs the question: why the rush? Is this a hot new celeb trend we'll all hate for a year and then emulate forever? WTF is really going on? Here are some theories.
They're Being Massive Trolls
This is one of my preferred theories, though probably unlikely. After decades of the media zooming in on left hands and perceived "bumps," it'd be really fun if these couples were just trolling the shit out of all of us. If nothing else, it would explain why they keep describing the news as "lit." I think it's fair to say that if there's even a small chance your wedding vows will contain that word, you're too young to get married. So, there's a small chance this is a wildly self-aware and meta interpretation of what the media expects of today's just-past-teen celeb. Then again, "Justin Bieber" and "self-aware" aren't used in the same sentence much. Which brings me to my next theory…
They Wanted To Change The Conversation
At this point, I feel we should address that in both couples there is a More Famous and Less Famous party. I bet you anything that Google searches for "who is Pete Davidson" and "who is Hailey Baldwin" have both skyrocketed this June. Not that either party is actually unknown, mind you—just less of a household name. Justin and Ariana, the slightly more famous, are both pop stars who the public has some trouble taking seriously. Ariana because she profited off a "sexy baby" aesthetic for some time, Justin for…darker reasons. I don't need to remind you. However, the public is also consistently obsessed with their music, so they have a ton of star power. It's possible that these engagements just came about as mutually beneficial arrangements. The Less Famous parties get a boost in name recognition, and the More Famous parties get an image boost by linking themselves to someone the public doesn't yet openly mock.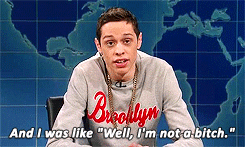 They're Working With An Apocalypse Mentality
You know how you feel when you open your email and we're on the verge of war with North Korea? Or Roe v. Wade is about to be overturned? Or children are being held in cages? You know, the gut-wrenching feeling you've been getting every day for months on end? Well, if celebs are indeed #justlikeus, maybe they aren't quite so immune to that, either. The general "the world could end at any moment so let's go all-out now" feeling. If I were a twentysomething celebrity, I'd be buying million-dollar diamonds and holding my loved ones close too. Seriously though, uncertain times do breed a lot of sudden-onset heavy relationships. Think back to your senior spring: how many couples you'd expected to last a week suddenly pledged their undying loyalty to each other? When the outside world is frightening, it helps to have a constant.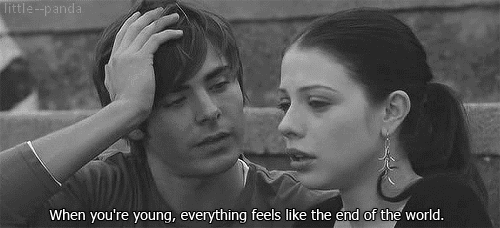 They're Really Just In Love
Yeah, this is totally possible. I'm not saying they AREN'T in love, I'm just saying that alone isn't quite enough to explain the hastiness of these decisions. Jupiter has also been in retrograde since March, which I'm low-key convinced played a major role. But you don't see me going around calling it the ONLY reason.
Justin Would Dump Hailey In A Second If Selena Called
Does this have anything to do with theories about too-soon engagements? Nope, it's just one of my more firmly held beliefs and I have nowhere else to put it. When it comes to Biebs, nothing will convince me he did this for any other reason than to post an IG story of Hailey's ring and obsessively check his phone to see if Selena watched it. Selena JUST released a song called "Back to You," guys. Somehow, somewhere, these two will run towards each other in the rain while this song plays.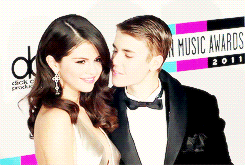 So yeah, these celebrity couples aren't the first to get married after a short period of time. But they're too young, too insanely quick, and too close together not to note. Who knows, maybe Ariana just opened the floodgates and we'll be seeing a continuing wave of 24-year-olds tying this knot to people they met at the club last week. Honestly, I can think of worse things.
Images: Giphy (3)