What Your Favorite Wine Says About You
If there's anything betches love more than wine, science has yet to invent or discover it. Not that I've ever been known to refuse alcohol of any kind, but vino will always hold a special place in my heart/liver. If I were to have a superpower I'm pretty sure it would be the ability to sense a bottle of Chardonnay being opened from miles away. Not only is wine fucking delicious, but it has a higher alcohol content than beer and lets you get drunk while kinda-sorta maintaining an air of sophistication. You might be passed out on the couch, but as long as you're unconsciously clutching a wine glass, you're passed out in, like, a classy way.
Basically, it's a law of the universe that at any given moment, some betch somewhere is downing some variety of wine—you're probably doing it right now. You can tell a lot about a person based on how they consume their alcohol, so here's what your fave wine says about you.
Bubbly
If your favorite wine is a sparkling one, you probably don't really like wine all that much and would rather be drinking a vodka soda (wouldn't we all?). Irregardless, you're a laid back person who doesn't care that much about semantics and refers to all sparkling wines as Champagne—or at least, you better be for the purpose of this list, or else you're just fucking obnoxious. Someone who only drinks wine with carbonation is the type who pretends they're classy even when their life is an obvious train wreck—like when you throw up in the back of your Uber but it's totally fine because you only got it on you and not any of the passengers or the driver's back seat. You may post "poppin' bottles" Insta stories, but we all know you were popping André. "Sophisticated with a hint of slutty" is your favorite Leslie Knope quote, as well as how most people would describe you.

Riesling
Summer is your favorite season, and you're either a novice drinker or have the kind of sweet tooth that's led to way too many drunken Oreo binges. Either way, you have yet to figure out your limits, so you're always the one to get way too drunk too fast and get carried out of the bar by your friends who can actually handle their alcohol. But whatever— you're the life of the party before then, so people don't hate you all that much for now. Just don't expect the goodwill to last forever.

You always talk about getting out and seeing the world, but you never actually do because you're a bit of a homebody. Maybe when you graduate you'll get around to it.
Pinot Grigio
You don't like to make waves, and while you're not shy, you can usually be found getting drunk with your BFF in the corner at parties. You love fitness almost as much as you love wine and judging people, which is partly why you've stuck with pinot g. for so long—it's a totally acceptable day drink, so you can sleep before your half-marathon in the AM. (Ugh.) Honestly, you can be a little insufferable, but your six-pack is super impressive.

Chardonnay
Subtlety isn't a Chardonnay drinker's strong point. You know what you like, and you stick to it. Among your friends, you're known for having a dry sense of humor. Sometimes, people say it's a little too dry, but whatever, you're confident enough to know anyone who can't take teasing isn't worth your time. Besides, you'd think people would want to know when they're having a bad hair day. You work in, like, finance or something, and you fully expect to own a house in the Hamptons one day.

Rosé
If your favorite wine is pink, you walk the line between nicegirl and betch with care. Every Saturday night, you can be found making regrettable decisions in a series of shitty bars, and every Sunday morning, you're arranging brunch, rain or shine, because you believe day drinking is the best cure for a hangover. (Duh.) You watch The Bachelor religiously and pretend not to be as invested as you are. You like to think you're unpredictable, but really, you just hate making decisions—even between red and white wine. Good thing we're entering rosé season, when it's socially acceptable to be tipsy at all times. Just try not to let the cumulative hangover kill you in September.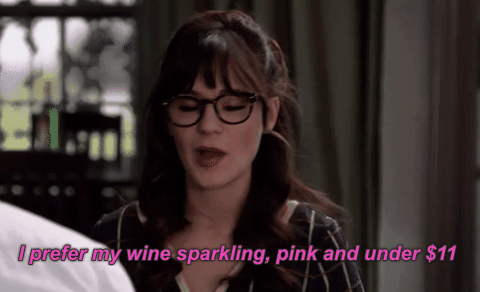 Pinot Noir
You started drinking red wine because whether you like to admit it or not, you judge the shit out of white wine drinkers. The only problem is you can't bring yourself to buy the dry, bitter stuff, so when you discovered you like pinot noir, you stuck to it. You're a secret romantic with an account on every dating app, and you're always complaining about the dating scene in whatever city you live in. A word of advice: Stop doing that.
You like to tell people you're low-key, but you're less responsible than you let on. (TG, because responsibility is boring.) After you've drunk an entire bottle of the pinot you brought to the pregame, you're the one doing shots and rallying the troops. Then you decide you're never drinking again and spend the next weekend going on disappointing Tinder dates and watching Netflix until you stop feeling sorry for yourself.

Tempranillo
You're one of those people others describe as headstrong. You kept a bottle of hot sauce in your bag before Beyoncé made it cool, and you're down to try pretty much whatever. Admit it: You've thought "YOLO" unironically before doing something stupid like drinking the vodka some dude offered you in a parking lot.
You list "world traveler" on your Instagram bio, and you love meeting new people you can force to listen to your many stories. People tend to like you at first, but you've also been told to STFU about your exotic vacation because it's all you talk about. You'll settle down when you feel like it and not a moment before.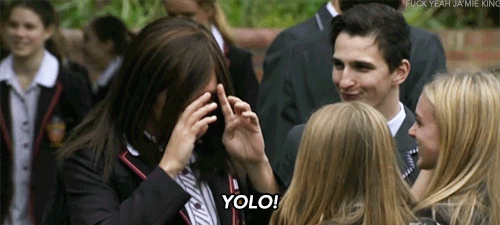 Cabernet Sauvignon
You come from money—you've been knocking back wine since your mom started turning a blind eye at fancy family parties, so a cab's dry bitterness doesn't bother you. You like to take charge and go for what you want; if life were a reality show, you'd be the one who isn't there to make friends. (You also tend to speak in clichés.) TBH you're pretty judgmental, but you're not terrible to be around once you decide to like someone. Even when blackout, you're more likely to carry a Riesling drinker out of the bar than be carried out yourself. After all, you have appearances to maintain.

Is it too meta to propose a toast to wine using a glass of wine? Whatever, I'll drink to it anyway.
The Top 10 Kosher For Passover Wines That Aren't Manischewitz
Drinking as a Chosen One is a tough job. At least twice per year we have to throw our tastebuds to the wind and partake in Kosher food AND wine that sometimes, really, does not cut it in terms of taste. I mean, I'm still not convinced that Manischewitz is a wine and not just mislabeled juice. It's a centuries-long conspiracy, I'm telling you! Anyway, lucky for you and my tinfoil hat, we scoured the internet for the best kosher for Passover wines so you A) don't have to suffer through another glass of Manischewitz and B) can get Passover drunk like an adult. Check out lists here, here, here, oh—and here, for even more suggestions.

1. Drappier Carte D'or Brut
Literally any holiday calls for some bubbly, and this Champagne is Kosher AND palatable. Mostly Pinot Noir grapes make up this dry, crisp, and fruity bubbly drank. Pop this shit and feel like Drake at his bar mitzvah.
2. Domaine du Castel Grand Vin
Since this blend of Cabernet Sauvignon and Bordeaux varietals is produced in the Judean Hills of Israel, it's no wonder it's decent kosher for Passover wine. It's smooth, it's got tons of berry and (non-bitter) herb flavor, AND it works perfectly with brisket.
3. Yarden Odem Chardonnay 2008
If Bubbie usually puts out a bowl of matzah ball or chicken soup for Passover, bring this Chardonnay. It's produced by Victor Schoenfeld, a true baller in the Israeli wine arena. It smells like spring fruit and is made with organically grown grapes from northern Galilee, so you know it's legit. If your family is legit and you typically have both soup and brisket, bring wines 2 and 3—fucking duh. I mean, you are supposed to drink at least four glasses, so. It's what Elijah would want.
4. Capçanes Peraj Ha'abib Flor de Primavera, Montsant, Spain 2009
It's a mouthful to explain, so you know it's good. This red is a blend of Grenache, Carignan, and Cab Sauv, so it goes nicely with something like a roast chicken or turkey, if that's how you do Passover. It's one of the more popular Kosher wines in Spain—which, I'm not really sure how big of a sample size that is. But, shit, you know Spanish people know their wines. Trust.
5. Bartenura Moscato
The famous blue bottle of Moscato from Italy has been a staple in kosher households for years. You might have even seen those "Hello Bluetiful" ads on a nearby bus stop or billboard and thought to yourself how cheesy and/or dumb of an ad slogan that was. Well, this is that wine! The wine is better than the marketing campaign, trust me. It's smooth, sweet, but not overtly sweet. Sound familiar? That's cause DJ Khaled has been known to drink it out of the bottle. Kosher wine being featured in a hip-hop video—that's what Moses was really fighting for.

6. NV Laurent-Perrier Cuvée Rosé Brut
Rosé Champagne for the win—the berry-forward, bubbly, and almost nutty drank goes really well with anything salty, like your aunt Sharon's attitude towards your dating life. JK, break out the fried smelts and brisket.
7. 2014 Covenant Israel Syrah
Yeah, this bottle retails around $70, but it's also dark with fruit, licorice, cloves, and is intense in the best way. I don't really know who reading this is spending $70 on kosher wine—or any wine, for that matter—but if you are, more power to you. And also: adopt me?
8. 2013 Carmel Kayona Riesling
This isn't your normal honey-sweet Reisling. It's more of a dry variety, with some citrus and nuttiness. It goes well with chicken, soup, and other light fare, so knock this back during appetizer hour and/or sip it on the low when your dad is passing out the matzah/bitter herb/charoset sandwiches.
9. Baron Herzog Chenin Blanc
What goes with matzah? This Chenin Blanc which is inexpensive, not too dry, and highly rated. It also pairs well with veggies and white fish, so you're pretty much set on the whole Passover wine pairing thing. Honestly, though, if you eat matzah of your own volition and not just because it's forced upon us AND like it so much that you're pairing it with wine, I'm calling the police. You are not well.
10. 2014 Flam Classico Judean Hills
Bordeaux and a hint of Syrah make this wine great with literally (like, almost) anything. The winemaker behind it studied in Italy before heading back to the Promised Land, and it shows.

The Best Wine & Cheese Pairings For 'Bachelor' Night
The age-old question of what cheese to pair with our wine rears its head just about every Monday, Tuesday, and Wednesday evening. With The Bachelor finale coming up—THANK GOD—we need to prepare ourselves for the cheese and wine fest about to ensue. But like, let's be classy.
Here are our fav ten cheese and wine pairings that you need to know or else risk looking like a plebian. 
1. Zinfandel And Jalapeño Cheddar
Find a spicy cheddar in the poor cheese aisle and grab a Zinfandel. The dry red wine works super well with spicy shit since the wine itself is fruity and kinda spicy thanks to hints of black pepper. Shit, go crazy and grab some of the pre-sliced habanero cheese if you're feeling wild. 

2. Port And Blue Cheese
If you're an 80-year-old man, you love Port! So, grab one of those old bottles you have lying around the house and pair it with the cheese that smells most like old people—in this case, blue cheese. The rich, sweet Port balances nicely with the bold (to say the least) flavor of blue cheeses like stilton and gorgonzola. 

3. Pinot Noir And Goat Cheese
Yeah, you could be basic and throw some triple crème brie out with your Pinot Noir, but better yet, pair it with a goat cheese like chèvre. The creamy factor works to bring out the flavor of the wine, and you'll feel fancy nomming on this combo.

4. Pinot Grigio And Feta 
Did you make a Greek salad and buy too much feta? Never fear—pair that shit with some Pinot Grigio and treat yo'self. The fruit background in the wine works with the salty yet mild taste of the feta. Look at you, bein' culinary.

5. Merlot And Monterey Jack
Are you too poor to buy cheese from the nice section of the store? That's okay. Grab a box of the finest Merlot and pair it with your favorite poor people cheese, monterey jack. Because the cheese is on the less-intense-flavor side (see: bland), it pairs well with an easy drinking Merlot. Now you too, can enjoy a fine wine and cheese night, regardless of how in debt you are!

6. Malbec And Aged Cheddar
So, as opposed to the shitty cheddar you can buy in block form near the tubs of cream cheese and sugar-yogurt, head to the fancy cheese section and pick up an aged English or farmhouse cheddar to nom with your Malbec. The smooooooooth jazz sounds flavor of the wine cuts through that super hostile aggressive attitude put forth by the cheddar. We can relate.

7. Prosecco And Parmesan
If you're craving bubbles but are too poor for Champagne, grab some Prosecco and pair it with a rind (or a bowl of shredded) parmesan. The bubbly happiness cuts some of the supernsalty taste of the parmesan, so you'll be able to eat and drink without feeling like your mouth is a salty desert. Unlike your DM's.

8. Chardonnay And Mild Cheddar
If you're a middle-aged soccer mom, you have at least six bottles of Chardonnay in the house at any given time. Pair it with the mild cheddar you use in your kids' sandwiches, because you didn't get a chance to go to the store for fancy shit this week. It's okay, you can still have "me time" with these meager (but delicious) rations.

9. Cabernet Sauvignon And Aged Gouda
According to VinePair, this pair works because the gouda is super, extra nutty and the Cab Sav is a pretty bold, full-bodied wine. Now, given, you could also use this salty, nutty cheese with a sweet wine—but since we aren't in fucking high school, let's try to drink like adults.

10. Reisling And Mozzarella
If you dig on sweet wines like Reisling, Gewürztraminer, Moscato, and Chenin Blanc, grab a fresh, soft cheese like ricotta, mozzarella, or burrata. According to Serious Eats, the sweet and soft combo works because, like, why wouldn't it? You don't have some big bold wine showing up your delicate mozzarella—and you wouldn't make that fucking rookie mistake anyway. Plus, tannins will fuck your flavors up, so stay away if you're looking to sit, alone, with a tub of ricotta and a bottle of Moscato. Cute. 

Every Official Wine Drinking Holiday To Add To Your Calendar Right Now
There are holidays that every betch regularly celebrates: New Year's Eve, Skanksgiving, any religious holiday we can use to get out of work, etc. These holidays ensure a chance to drink to the point of near liver failure, or serve merely as an excuse to Day Drink. TBH these days, a new episode of The Bachelor is one hundo p a reason to celebrate with a large glass of Sauvignon Blanc. But if you want don't want to be labeled as an alcoholic by your friends/family/therapist there are actually days to drink with less shame. They may be completely arbitrary and fake holidays, however, that you need to add to your calendar like, yesterday, because they all involve wine. And anything that involves wine is a great fucking reason to celebrate. Jot down the dates of these official wine holidays, and stock up on your wine in preparation. 
We would also just like to point out that just because many of these holidays celebrate a specific wine doesn't mean that you necessarily have to follow it to a T. Like, if you don't want to drink red wine on National Red Wine Day because it falls on August 28th and what kind of monster drinks red wine in the summer, we're not going to judge you. So long as you celebrate with some type of fermented grape, you're doing the right thing.
February 18: National Drink Wine Day
We just missed this one (sad!), but mark it for next year. Any holiday that's dedicated to drinking wine specifically—as opposed to swirling it around in your glass and pretending to know shit about it, I guess—is an automatic yes in our books. Is "National Drink Wine Day" basically just every Monday night for me? Maybe, but who asked you, mom?
April 24: Sauvignon Blanc Day

Good for all of you Kim Crawford lovers out there. Sauvignon Blanc Day was created in 2010 specifically to encourage consumption of this delicious white wine. So, drink up.
May 9: World Moscato Day
This holiday is even newer, with its humble beginnings originating in 2012. This holiday was actually founded by a winery (Gallo Family Vineyards) and its moscato production has risen 2 percent since. So yeah, another great holiday (and marketing ploy). But we're not mad. Maybe call out of work the next day so you can tend to your inevitable sugar hangover.
May 25: National Wine Day

If you don't know what a holiday called "National Wine Day" entails, you definitely can't fucking sit with us.
May 26: National Chardonnay Day

A personal favorite, this floating holiday is designed for you to celebrate it in tandem with Memorial Day. So break out the Kendall Jackson and get ready to spend a weekend drowning in wine. For the troops—or whatever Memorial Day celebrates. 
June 11 (and/or/and August 14th): National Rosé Wine Day

Rosé all fucking day. A wine so special, it deserves two dates for optimal celebration.
Will You Accept This Rosé? Buy our rosé tank here!
July 25: National Wine and Cheese Day

Wine and cheese: the greatest food pairing in the history of time (it's a scientific fact). Naturally, this is a great excuse to eat all of the cheese and chase it with all of the wine. Just don't do it in that fucking gross cheese-y wine shooter. Buy some brie like a goddamn adult.
August 4: National White Wine Day
Moscato, Pinot Grigio, Chardonnay, Sauvignon Blanc. The more, the merrier to celebrate.
August 28: National Red Wine Day

We really don't discriminate against any varietal of wine, even if it's not exactly seasonally appropriate.
November 4: National Wine Tasting Day

How does this differ from National Drink Wine Day? I really have no clue, but then again, why am I complaining? Carry on, nothing to see here.
November 7: International Merlot Day
This one is going global. Around the world, raise your glass to all of our alcoholic soul sisters. Then, pour one out for them because apparently America is the only country that gets not one, but 13 ways to celebrate our favorite drink. 
December 31: Champagne Day

Definitely not a coincidence this falls on New Years Eve. Now we just have to get national boozy brunch day to become a thing…
Cat Has 3-Day Hangover Following Wine Binge, Is Our Literal Spirit Animal
In news we're still fucking shocked we missed, a cat had a three-day hangover, and I've never been so sure I have a spirit animal in my life.
Here's the setup. It's a warm day in Germany, and local Turkish Angora cat, Aljosha, decides to do some cat shit and wander around his quaint German home.

According to the owner, Claudia, Aljosha usually did his own shit all day e'eryday, but always came home for food and snuggles—much like me. However, on this particular day, Aljosha was nowhere to be found. When he was gone the next day, too, Claudia began to worry.
She handed out flyers with the cat's photo, annoying pressing neighbors, friends, strangers, and tourists for info. But alas, days passed—no Aljosha. Claudia was presumably upset and probably starting knitting "RIP ALJOSHA" sweaters, hats, and gloves—you know, in lil cat sizes, since I assume Claudia had more than one cat. Just extrapolating based on evidence here.
Then, suddenly, one day SEVEN FUCKING WEEKS LATER, the cat fucking showed up. So where the fuck was this pussy? Judging from the cat's staggering and blackout condition, Claudia—who immediately rushed the cat to the vet—began to put two and two together.
APPARENTLY, this motherfucker found his way to a wine cellar near his house. Somehow, he became trapped in the cellar and instead of meowing for help or singing the Meow Mix commercial to draw attention to himself, the cat decided to smash and lick up the contents of three bottles of wine. Expensive bottles, too.

Obviously, three bottles of wine for an average 10-pound cat is kind of a lot. So, Aljosha recouped at the vet for three days, where he was diagnosed with alcohol poisoning. He had a drip and lots of time to recover, so we assume he ate pizza and chugged Gatorade while planning his next fucking outing.