Photoshop Fail Of The Week: WTF Revolve?
For today's Photoshop Fail, I was sent this horrible, horrible photo from Revolve. Look, I love to shop online. I love avoiding the store—no lines, no wearing pants, and no carrying heavy bags. The only true flaw of online shopping is when OnTrac holds your packages hostage but says it'll be delivered "tomorrow" and then does this for 10 days. Okay, there are two flaws. The second is that it's impossible to know what looks good on you without trying it on. It doesn't help when websites use superhumanly thin models that are also 10 feet tall as a gauge of what it looks like. Some brands are on it, and show clothing on a variety of body types and do minimal editing. But most tend to do what I'm about to show you. This is one of those things that gives women unrealistic expectations for their bodies. They will hire extremely thin models and then edit them to make them even thinner. Like, what? The thinnest women in the world are not thin enough for you still? Here is the offending photo that is the subject of today's Photoshop fail:

There are so many fails with this, it's hilarious and also very sad for women on a whole. As if we're not dealing with enough right now. The first thing is that she is airbrushed absolutely everywhere—which is pretty typical and IMO totally pointless. Even worse and terribly common, is that her body has been cut down EVERYWHERE. You can tell because she has soft, blurry edges. If you look at a real photo of a person, you have hard edges, because your arm or whatever does not blur into the background. Since this is a pure white background, it's normal to "cut out" the model to get rid of what was behind her, but they went into her body too far to make her look thinner. Also? NEVER use a soft, airbrush eraser on hard edges. Here it is close up of what I mean:

You can especially see the sloppy erasing where her wrist connects, but the soft edges are pretty much everywhere. Then they went and shaved down her rib cage too, because women aren't allowed to have ribs in today's society. It actually looks like they made the stomach lines too soft so they went back and drew in a VERY crude outline in an attempt to fix it:

It's like some asshole took the brush tool and just drew back a hard edge on her stomach? It looks like he traced her with a marker? SO, so sloppy. But hey, if even the super thin model needs to be erased out and then drawn back in to fit into today's standards, that just shows that you should NEVER feel bad that something doesn't look the same on the model as it does on you.
To compare what an unedited person looks like, Modcloth doesn't do excessive editing to their models. I say "excessive" because I'm sure they fix lighting, color, and maybe get rid of a pimple or two here and there. But just look at the difference:

ModCloth x Dupenny The Geena High-Waisted Bikini Bottom
Four for you, Modcloth, you go, Modcloth. This model has hard edges everywhere, none of which look like they were drawn back in with a Sharpie. This is most likely the model's true body and how the swimsuit looks on a real person. This is what everyone should do—just dress your models in flattering cuts! If they wanted to cut out the background, they could start cutting outside of her body lines, not shaving parts of it away with a soft brush the way Revolve has.
These issues are the least of this poor model's problems though. This very thin woman does not seem to have large breasts. Apparently that's not okay with Revolve, because they decided to do this to her:

I actually laughed out loud when I saw this. Can you see the problem? In an attempt to give her breasts when she clearly does not have large ones, they used the Burn tool to shade in huge lumps on top of her chest. This is so poorly done, because the only way to get top of boob lines is if you're pushing up your breasts or have implants. In either case, you would have cleavage. Which she doesn't. So they've only truly succeeded in giving her some scary, half-assed pecs. Which, again, would still have some kind of central line cleavage. It looks so much worse than—gasp—a woman with small breasts.
However, we're not even done. Let me introduce the TRUE STAR of today's Photoshop fail.

Quick question: Does that look natural to you? That just isn't how your thighs/butt work. It doesn't connect with a line through part of it like these are separate pieces sewn together. This is the part that jumped out to me immediately that something was off here. Also? How saggy would her butt need to be for you to see it through her thighs and hanging down the back? It makes zero anatomical sense.
It looks like she didn't have a thigh gap, so they put one in. In an attempt to make it look less like they cut a rectangle out of her vagina (looking at you, Target), they cut down her thighs but left that weird top portion. That is her true thigh width. Then they cut in some white lines on either side to make it look like a separate piece. It doesn't make any sense though, because if this was truly her butt cheek, it wouldn't be highlighted, it would have shadows. They literally put white divider lines around it so it didn't look attached to her thigh. Also? Your butt is attached to your thigh, you just wouldn't see it at this angle, unless you have an extremely saggy butt. The result looks more like she has some weird inner thigh tumor. Apparently tumors are now better than having your thighs touch in today's fashion. Who knew?
Hopefully this opens your eyes to how full of sh*t our models and advertising are. Don't compare yourself to these images, they are generally all lies. It's okay that you don't have an inner thigh tumor in your photos. It's okay to be flat-chested and not have superhero top pecs. You do you.
Play This Game Of Coachella Bingo While You Scroll Though Instagram
As most people do, I have a love-hate relationship with Coachella. Every year, I find myself scrolling through Instagram, complaining about how Coachella is basically just Disneyland for influencers, and a way for Vanessa Hudgens to cling to relevance for two weeks a year. Instead of flying across the country and lighting all my money on fire, I prefer to celebrate Couchella. For those wondering, "Couchella" is the fun way of saying "eating a ton of junk food and wallowing in self-loathing as I scroll Instagram and half pay attention to reruns of The Office."
As much fun as Couchella is, it can get a little depressing by weekend two. But don't worry, because now we've turned Coachella into an opportunity for comedy and drunkenness, with a special game of Coachella Bingo. Tell everyone in the group chat to come over, because you have some serious Instagram stalking to do. Let's get to the game.
Some guidelines:
To play, don't bother printing out the Coachella Bingo card. Save the trees and yada yada yada, but also I don't know a single person who owns a printer anymore. Just screenshot the sheet and use the markup feature on your phone to put X's on the spot.
Take a shot every time you finish a line. This will almost make it feel like you're at Coachella, except you have cell phone signal, and you also don't have to share a bed with six other people in an Airbnb.
When you get blackout (both on the bingo card and from drinking), the prize is that you don't have to risk sharing a toilet seat with Bella Thorne or Jax Taylor, you don't have to deal with creepy dudes trying to proposition you for port-a-potty sex, and you don't have worry about being in shape for a half-clothed Insta for at least two more months. It's the small things in life.

Just some quick notes on squares that may cause some confusion:
Someone who is too old to be at Coachella: any Real Housewife, or any guy who is actually old enough to be your father.
Changing into a bikini does not count as an outfit change so long as you don't wear it to the festival, but it counts if you change into an outfit after.
Villains from The Bachelor who the rest of the cast refuses to hang out with do NOT count as seeing a girl gang from The Bachelor. They will, however, fall under the umbrella of fake Revolve sponsorship and/or Diff Eyewear.
Leonardo DiCaprio's ex-girlfriends only count if he bought them a hybrid car or dated them during his Oscar campaign to make it seem like he will get married someday to pander to the Academy. Leo sleeps with everyone, so knowing which flavor Juul pod he uses when he vapes during sex does NOT count as being his girlfriend.
Getting wayyyy too tan can count as cultural appropriation if you need it to.
Pretending to be sponsored by Boohoo, VICI, or Fashion Nova counts as pretending to be sponsored by Revolve
And that's it! Happy hate-stalking, and see you next year!
We're Obsessed With Chrissy Teigen's Collab With Revolve
Chrissy Teigen is our spirit animal IRL. I know no one ever says "spirit animal" anymore, but she's the most relatable, real af, down-to-earth queen woman who rarely ever gives a fuck on social media. So, literally all of us. She's fucking hilarious (RT @ChrissyTeigen), hella smart, has a family that's #goals, can cook better than we ever could, gives clothes away because she is just so nice, and even pissed Trump off enough to get blocked by him on Twitter. It's no surprise that we all aspire to be as betchy as her in every way possible. Not only does she have a bomb af makeup line, but now, we can channel our inner Chrissy in more ways than one. Chrissy's fab collab with Revolve just launched and naturally, I'm buying one of everything as we speak.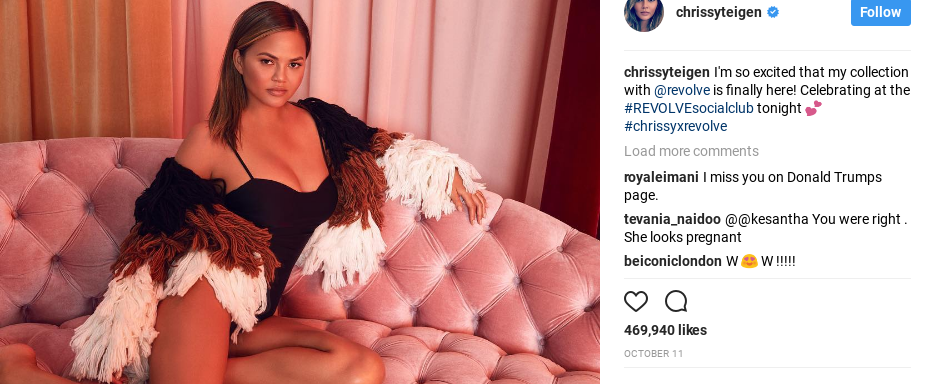 It's mostly in black, so clearly, she knows what's good. From little black dresses to to-die-for matcha pants to risqué tops that show off our "developing" abs, here are just a few of my faves (which doesn't even cut it because I love everything, tbh). I'm not even mad that I'm spending every last dime to my name, though. Peace. Love. Chrissy.

Chrissy's take on a LBD turns up the sex appeal by like, 10 notches on this little number. With cut-out sleeves, a deep neckline, and cinched waist to hide our bloat, the dress is perfect balance of slutty and classy. Those words are normally never in a sentence together, but Chrissy makes it fashion.

All I've seen on the street is everyone wearing these pants. At first, I was hesitant to buy such an item of clothing, but now I def see why everyone's obsessed. They're comfy as hell and still fashion-forward enough to wear to a low-key office (or maybe just my office, but I can't speak for everyone's profession here) and of course, out to happy hour. Plus, with a black pair, you can wear them with anything. Duh. Pair with sock boots, block-heeled booties, flats, or—fuck it. Any shoe looks just as good.

This is the next best thing to add to your closet after a LBD, because it's v versatile so you can wear it like, more than a once a week and still get away with it. Since you can pair this top with any bottom of your choice, you can elevate even the laziest look (sweatpants, anyone?) to appear as though you made an attempt at dressing yourself.

Bodysuits are such a necessity if you're striving to look both v stylish and skinny at the same time. They come in so many styles and colors, it's a wonder why we still own tops, honestly. That is, if we're willing to look past the whole peeing shenanigans. This black off the shoulder bodysuit is plunging enough without actually showing a nip, and is so ideal for all those times when the weather is simply bipolar.

These are the biggest shoe trend of the season, in case you haven't noticed every celeb or store as of late. I basically have a pair in every color at this point, because they make my legs look long af, and I can honestly walk forever in them. Not only are they comfortable AF, but I still get compliments every time I wear them… Even though I wear them on a weekly basis. Needless to say, these are 100% worth every cent, so I def 10/10 recommend you cop this pair ASAP.