Rep. Katie Hill Resigns Amid Affair Allegations and Revenge Porn Scandal
Rep. Katie Hill of California has announced that she will resign amid an ethics investigation into her alleged relationship with a staffer. The allegation claims that Hill had a sexual relationship with her legislative director, Graham Kelly, which she denies. Such a relationship would violate a new House ethics rule that was implemented at the height of the #Metoo movement and forbids House members from having sexual relationships with their subordinates.
While Hill denies the alleged relationship with her legislative director,  she has admitted to previously being in a throuple with a former campaign staffer and her soon to be ex-husband. Hill has conceded that this consensual relationship was inappropriate given that she was the individual's boss, but there are no official laws that bar someone from engaging in a consensual relationship with their campaign staff members.
"During the final tumultuous year of my abusive marriage, I became involved in a relationship with someone on my campaign," she said in an earlier statement. "I know that even a consensual relationship with a subordinate is inappropriate, but I still allowed it to happen despite my better judgment."
But the real story here is that all of these allegations became public after Hill's estranged ex-husband leaked nude photos of her without her consent, making Hill a victim of revenge porn.
The supposed-to-be private photos were published by a right-wing, conservative website called Red State and later published by the British site the Daily Mail. The photos have since been taken down after Hill threatened legal action, as she should.
Nudes are the best, but they are never, ever meant to be leaked to the public without someone's consent, and doing so is abhorrent.
Plus, the fact that Katie Hill is the first openly bisexual House member is not an irrelevant factor here. Her sexuality is a problem for people, so naturally, it is going to be the first thing her opponents use against her. Exposing nude photos and private information about her sexual relationships is a clear attempt to paint her as a sexually "promiscuous" or "immoral" person. And the fact that she is a woman makes it even easier to weaponize her sexuality, seeing as women are constantly shamed for daring to be sexual beings.
It is with a broken heart that today I announce my resignation from Congress. This is the hardest thing I have ever had to do, but I believe it is the best thing for my constituents, my community, and our country.

See my official statement below. https://t.co/RO8B0znc6C

— Katie Hill (@KatieHill4CA) October 27, 2019
Still, Hill says she made the choice to resign "so that the good people who supported me will no longer be subjected to the pain inflicted by my abusive husband and the brutality of hateful political operatives who seem to happily provide a platform to a monster who is driving a smear campaign built on cyber exploitation."
In regards to the allegations, if Hill is being honest about never having had a relationship with her legislative director, then technically she has done nothing wrong here. She has labeled her relationship with her former campaign staffer as improper, but it didn't violate any official rules. She herself has decided to admit fault for not recognizing that such a relationship with a subordinate could be irresponsible, which I think is more than a lot of other politicians would do.
Katie Hill is resigning amid allegations of inappropriate relationships with staffers *and* after a campaign of harassment, including revenge porn, allegedly from an ex-husband who she calls "abusive." Reporters should mention both those things!

— Molly Hensley-Clancy (@mollyhc) October 27, 2019
As a bisexual woman, Hill is being held under greater scrutiny, and apparently she is holding herself to a higher standard as well. While men before her have been caught having affairs with their subordinates and remained in office *cough Bill Clinton cough* she has taken it upon herself to resign. I imagine this is because she feels the moral obligation to set a precedent and because she is feeling defeated and fearful from a stunning violation of privacy and repeated attacks against her.
I imagine Hill knows from experience that these kind of shaming tactics will not end for someone like her.

I think those of us who have been forced to navigate the world as people who are not welcome at the table are more prone to holding ourselves to a higher standard than those who were raised to believe that they absolutely deserve to be in power (white men). With this, I think it's noble of Katie Hill to admit her shortcomings, but I also think it's unfortunate that it means we lose someone with integrity like her, while literal sexual assaulters remain in the Supreme Court and the Oval Office.
Also, fuck her ex for leaking those photos, as that is the real crime here.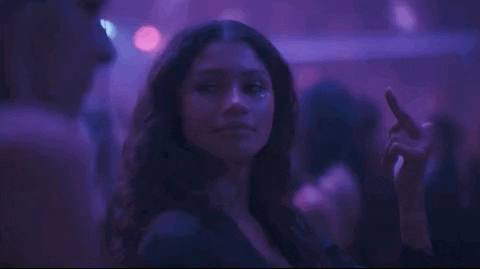 Images: Twitter (1), Giphy (2)
What Rob Kardashian Is Doing To Blac Chyna Is Not Even Remotely Okay
As you probably know by now, Robert Kardashian Jr. (the saddest and least hot of the Kardashians) has had something of a mental breakdown on Instagram this morning. Honestly, every day that Rob doesn't have a public mental breakdown is a miracle, so I'm not surprised. In a series of truly insane Instas that included grammatically dubious notes, videos, and photos of both Blac Chyna (Angela Kardashian if ya nasty) and the man she is supposedly cheating with, the most weed-addicted Kardashian accused his baby mama of cheating with multiple men, getting plastic surgery, and honestly it's still going on as I type this so who knows what else he'll accuse her of by the time this is done. Probably Russian hacking or some shit. The posts also included several now-deleted nudes that Blac Chyna had sent to him over the course of their relationship, putting literally her entire body on display for all 9.5 million of his followers.
Side note: 9.5 million people are down to follow Rob Kardashian but I can't even get a text back? Unbelievable.

Based on Rob's posts, he clearly believes that all of this is just providing the "receipts" and that he has the moral high ground in this situation. If these allegations of cheating "in the bed baby daughter lays in" are true, that's pretty bad, but you know what's worse? Leaking your ex's nudes on social media for revenge.
There's actually a word for that. It's called revenge porn, and not only is it the shadiest fuckboy move known to man, it's also illegal in California. Add the fact that he just 'grammed her personal phone number (known to creepy internet people as "doxxing"), and Rob may finally get what he's been trying to achieve since KUWTK season one: becoming the first Kardashian to end up in fucking jail.

And here's the thing, if Rob wanted to shame Blac Chyna for cheating, he could do that without including the nudes that she sent to him privately. He keeps claiming that he's posting the "receipts," but what are these photos the "receipts" for? That two people who have a baby together were sexting? These posts were literally only made to embarrass Chyna, slut-shame her, and put her entire body on display, and in posting them Rob lost every shred of credibility he had. Which was not much to begin with, TBH. I mean, he uses the word "whore" a lot. Like…a lot a lot…and to talk about his own sisters, so it's not really shocking he'd have such a huge lack of respect for the mother of his child.

Sure, being cheated on sucks, and people do things in the heat of the moment. But posting sexual images of your ex is not a heat-of-the-moment thing. It's fucked up, it's a crime, and it has real consequences. Like yes, we've all done things during breakups that we'd like to take back. But those things are usually sending too many drunk texts that you thought were "empowering" at the time but make no sense in the sober light of day, or making out with his ugly friend to annoy him. This does not include committing a criminal sexual act for the entire world to see. It's like, the difference between flaming someone in a subtweet and actually going to their house and lighting them on fire. One is a natural part of the breakup process. The other is a crime and makes you a crazy person. Critical distinction.
This is what so many men have yet to realize—you can dislike a woman and make a case against her without trying to "expose" her (literally) as a slut to the world. Chyna sent those photos to her baby daddy (Rob) and they were meant to be private. I get that Chyna is not necessarily the most wholesome person in the world, but she still has a right to keep her private images between herself and the person she sent them to. Every woman has that right. Every PERSON has that right. These images have absolutely nothing to do with the alleged cheating that took place, and even if they did, Rob could make his case without putting her body on blast.

And not to combat body shaming with body shaming, but maybe Rob should think about how he would feel if nude photos of his chest, ass, and genitals were leaked to the internet? I'm sure Blac Chyna has them, and I fully appreciate her reluctance to force those images on the public, but it's definitely hypocritical for Rob to act like the sexting didn't go both ways here.

Side note: Always ask for return nudes from a fuckboy if you doubt his loyalty. It's called mutually assured destruction, and it's very powerful.
Look, Blac Chyna isn't perfect. She tried to trademark the name Angela Kardashian and stole all of Rob's Eggos (horrifying). But just because someone has snake-like tendencies and a questionable Instagram persona, doesn't mean that the rules of feminism basic human decency and THE FREAKING LAW don't apply to them. Chyna has just as much a right to not have compromising photos of her put online as a the ultra-Christian girl who your parents are always trying to make you be friends with. And if you don't think those girls have nudes, you've never been to a Christian sleep-away camp.
The bottom line here is that revenge porn is never okay, and once you stoop to that level IDGAF if your baby momma cheated on you 100 times in your bed with your baby, you are no longer deserving of sympathy and must take literally every seat. Rob, this shit wasn't cool when someone (your mom) did it to your sister, and it's not cool for you to do it now.
Mischa Barton Just Scored A Major Victory Over Her Fuckboy Ex
Here's a story that will make you nostalgic for the early 2000s, when George W. Bush was the most psycho politician you had heard about and you could still get away with wearing a charm bracelet. It was also the era of The O.C., and Mischa Barton was the ultimate teen queen. But all good things must come to an end, and 2017 has been a rough year in general.
It's now been a full decade since The O.C. ended, and to be honest we're not sure what Mischa Barton has been doing that whole time. She's been pretty off the radar the past few years, but on Tuesday she scored a major personal victory when a judge ruled that her ex-boyfriend couldn't release their sex tape.
The ex, Jon Zacharias, was apparently trying to distribute explicit photos and videos of Mischa, but the court banned the release of the images, and said that he has to stay at least 100 yards away from her forever. Mischa says that Jon took the videos and photos without her knowledge, and her lawyer said it was a classic case of revenge porn.
The ex-boyfriend seems like a really nice guy, especially considering his lawyer made a statement saying he still wasn't going to apologize to Mischa. Not to be dramatic, but we really hope he dies a painful death and gets buried in a shallow grave. Or just that he has a super low Uber rating and can't get rides anywhere, either way would work.
So, ladies, here's your PSA to never hang out with a guy named Jon Zacharias, because he's a misogynistic asshole who will videotape you without your consent and then try and plaster it all over the internet. In a world of pathetic bros and revenge porn, we've all got to help a betch out.