Khloé Kardashian's 'Revenge Body' Trainer's 5 Moves For Toned Abs & Glutes
I don't know about you, but my favorite moment in television history was when Bella Hadid strutted past The Weeknd on stage during the Victoria's Secret Fashion Show, looking hot as hell, while he just stood there looking mad regretful. Honestly, I would do just about anything for that kind of high, because I can't imagine that anything feels quite as good as reminding a guy who didn't want to be with you just how hot you are. If you are feeling a little meh and want to change that, getting in shape is a good way to start. To quote the great Elle Woods, "exercise gives you endorphins; endorphins make you happy…" The rest isn't really relevant to my point, so I'll just stop there. So if any of this sounds appealing to you, you'll love what's to come!  Trainer to the stars Autumn Calabrese—you probably know her from Khloé Kardashian's Revenge Body—created a special ab and glute workout just for Betches readers! What's more, Khloé's revenge-seekers aren't the only people Calabrese has whipped into shape. She used to be Kendall Jenner's personal trainer, too. Tbh, this workout is not for the meek. It's hard af, but so is life, so get to work.
Weighted Side Bend
This one is pretty straightforward, so I won't spend too much time explaining it, but I will take a second to tell you why it's amazing. Ok, so you know how Jennifer Grey in Dirty Dancing has those really subtle yet very enviable ab dimples on either side of her torso? That's probably because she was doing weighted side planks all damn day! 
Even though it does a lot, the actual movements aren't super challenging. To start, grab a weight that feels heavy, but not so heavy that you might drop it. Stand with your feet parallel and about hips-width apart. Place the hand that isn't holding the weight behind your head like you would for crunches, and then, without breaking your posture, lean sideways toward whichever side the weight is on. So your upper body bends sideways at the waist and your lower body doesn't move at all. Calabrese says, "I love this move for sculpting the obliques. Perform two sets of 15-20 reps on each side." You'll def feel this one the next day. 
Dumbbell Hip Hinge
Or as I like to call it, the weighted bend-and-snap. Grab two weights and stand with your feet hip-distance apart. Hold the weights in front of your body (as opposed to down at your sides) with the backs of your hands facing forward. Now, without curving your back, slowly bend your body forward at the waist. Your legs should also bend as your upper body hinges forward about 45 degrees. Then, snap back up. Don't lift slowly; you want that part to be pretty fast. Calabrese says, "This move is great for lifting your butt. It works the hamstrings and the gluteus maximus. To build your butt, you need to lift heavy, so pick a weight that allows you to perform 10-12 reps where you can't do any more with proper form by rep 12." And then you will probably keel over and need a nap, but you'll get results. 
Single Leg Tap Back
Hearing the phrase "tap back" is giving me major SoulCycle PTSD, but I'll pull it together. Doing single leg tap backs every day will give you a Kardashian butt…in that it will be round and shapely, not full of silicone. For this one, start with your feet touching and a weight in one hand. Just for simplicity's sake, let's say the weight is in your right hand. Bend your left leg and step your right foot all the way back so that your toes are touching the ground. It's kind of like you're in a modified runner's lunge. Now, the hard part! Without sacrificing your flat back, lift your right leg up slowly so that it's at the same height as your hips. Do not, I repeat, do not let your upper body dip down. Keeping that weighted balance is what strengthens your butt and will ultimately make it look like a peach emoji. Calabrese says, "This move is great for working the gluteus maximus and helping lift the butt. It's also going to help you build your backside. You want to pick a weight that allows you to perform 10-12 reps and  you'll want to do three to four sets of the move." Ugh, ok fine. 
Plank Triple Knee Tuck
Luckily, there are no weights involved in this ab exercise, so if your hands were starting to develop calluses, congrats, you're done with the weighted portion of the program. You do, however, need two gliders, which are cheap af on Amazon. To start, get in plank position with your arms extended, and place the gliders under your toes. Then, glide your knee to the opposite elbow and then extend back to plank position. You're going to alternate each knee and do both knees toward their same-side elbows at the same time. This kind of looks like the position you do in leapfrog right before you leap. Good visual, or did I just make that more confusing? You decide. Calabrese says, "This move works the whole body with a strong emphasis on the core. It will help tone your obliques as well as your lower abs." I like the sound of that. 
Glute Bridge With Knee Opener
Get a mat for this one if you don't want a bruised tailbone. Lay on your back with your knees bent and feet together on the floor. Cool, you're done! Kidding. Place a resistance band around both legs right above the knee, slowly lift your hips up and then spread your knees, but keep your feet together. Move your knees back together and then slowly lower your hips. This may sound easy because you're lying down, but don't be fooled. Your butt will feel like it's falling off the next day. Calabrese says, "This move is great for shaping and toning the sides of the glutes or the gluteus medius.  You want to use a heavy resistance loop for this. Perform two sets of 15-20 reps." 
I did this on a Sunday morning and seriously considered working from home the next day so that I could take an ice bath every few hours. It hurt so good. I fully trust Autumn Calabrese because I've seen her magic unfold on Revenge Body, so if you need an at-home workout that will actually challenge you, you're welcome. 
Images: Courtesy of Per Bernal, Autumn Calabrese (5)
7 Tricks Celebrities Do To Make Their Stomachs Look Flat
People say the camera adds 10 pounds, but like, I'm convinced that only applies to when you open your iPhone camera and it's accidentally on selfie mode. Celebrities are known to have perfect bodies, and despite a few bad paparazzi shots of a hungover Amanda Bynes, I fully agree. I mean, I know they spend a lot of money on personal trainers and nutritionists, but I think we deserve to know some of the tricks they use to get their stomachs to look perfectly flat and feel amazing despite all the flying and drinking they do. After doing some thorough research on the topic, I'm ready to share. Here are some celebrities' favorite tummy hacks.
Jessica Alba: Probiotics
Jessica Alba is a client of celebrity nutritionist Kelly Leveque, and her clientele also includes Chelsea Handler and Emmy Rossum. This woman knows how to make women look great, and her trick is probiotics. In fact, Jessica Alba doesn't even diet or watch her calories, because she's mainly focused on eating in order to improve her gut health. Apparently your gut health helps regulate your hormones and control your weight, so by improving the microbiome in your gut, you'll slim down and feel great.
Kourtney Kardashian: Green Tea
As much as we love our coffee, green tea is having its moment right now, and the Kardashians are totally funding it. Kourtney Kardashian can probably write a book about her list of health hacks (Kris Jenner, great opportunity here), and we've already tried a few of them. The flat tummy hack she swears by right now is her daily green tea latte. She drinks it with honey and almond milk, and she says it makes her stomach feel and look its best.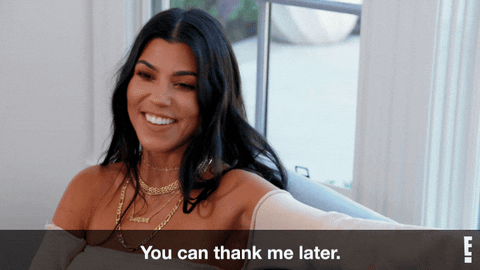 Meghan Markle: Water
An article recently came out about how Meghan Markle can take long flights all the time and still avoid bloating and puffiness. Important news right here. Anyway, it turns out she swears by her probiotic and drinking tons of water. She says this combo actually helps with jet lag and it prevents your body from bloating and even becoming constipated. Especially when flying at high altitudes, your stomach becomes filled with air, so loading up on water while traveling is a must. Start chugging.
Adriana Lima: Breakfast Smoothie
If you thought all Victoria's Secret models skip breakfast and eat three unsalted cashews for lunch, Adriana Lima says drinking a filling smoothie in the morning is actually what makes her look so good. Obviously aside from all the ab workouts she does, Lima says she looks her best in a crop top when she drinks a breakfast smoothie, usually with avocado, honey, or yogurt. She claims it boosts her energy and kick-starts her metabolism for the day. And I mean, it seems like it's working for her.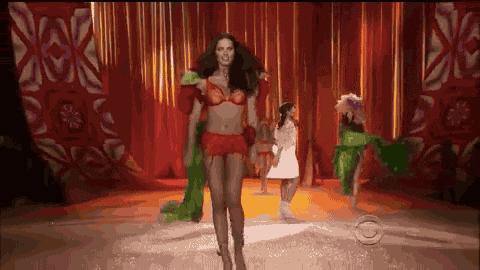 Khloé Kardashian: 5 Staple Foods
Khloé has obviously hired a team of health and fitness professionals to get her body to look its best, but she has her own tricks when she's not getting her ass kicked by Gunnar Peterson on national TV. Apparently Khloé sticks with five foods that give her that slim stomach look: avocado, ginger, watermelon, tomatoes, and oats. I assume she eats other foods aside from these five, but she likes incorporating these into her diet and says they helped her see results that complement her hard work in the gym, and they obviously work. I mean, there's a reason Revenge Body exists.
Emmy Rossum: No Fructose
I haven't heard the word fructose since freshman year biology, but apparently Emmy Rossum avoids fruit when she wants to de-bloat and feel her best in a tight dress. Fructose is the natural sugar in fruit, and although fruit is obviously good for you, having too much of it can make you bloated, and that's because the fructose feeds the gut bacteria that could make you look puffy and full. Honestly, if we're talking about giving up FRUIT, I'm scared to see what else she avoids, but like, it's her life.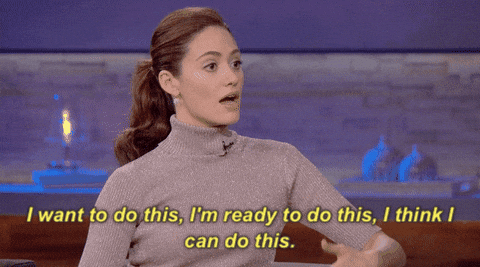 Miranda Kerr: Dandelion Tea & Goat Milk
Okay, this could be the weirdest hack of all, but Miranda Kerr is literally goals so let's talk about it. People always ask Miranda what she likes to eat, and she usually has normal answers, like toast and eggs and green juice. BUT Miranda also swears by this mixture of dandelion tea with goat milk. She says it has cleansing and detoxifying effects. I looked it up, and it turns out dandelion root actually has a ton of antioxidants and it can work to detoxify your body and reduce inflammation, so she's not crazy. She doesn't explain why she adds goat milk, but dairy from goats tends to be easier to digest than from a cow, so that's probably the reason. Personally I don't plan on trying this one right now, but if anyone does, please report back. I need to see what this girl's raving about.
Images: Giphy (3)
Khloé Kardashian Is Getting Another Reality Show
Khloé Kardashian really did get her shit together post-breakup from Lamar Odom. From countless hours in the gym and throughout what I'm sure were tumultuous recovery times from her many plastic surgery procedures, Khloé knows a thing or two about looking hot after the guy you married becomes a huge drug addict and cheats on you with a multitude of other women. Definitely one of the better glow ups of 2016. Apparently one reality show and trillions of spin-offs aren't enough for the Kardashian Klan because Khloé has a new show premiering January 12th and it's about exactly what you think it's about.

Revenge Body With Khloé Kardashian, an eight-episode series being shown on E! (of course), gives participants "the opportunity to reinvent themselves from the inside out with the help of Kardashian and top fitness and nutrition experts," according to Deadline Hollywood. They explain, "Over the course of the series, Kardashian personally gets to know each participant, finds out what has broken them down, and gives them the tools they need to build themselves back up." WTF does Khloé Kardashian know about what could break a person down? Sure, girl's had a tough time of it in the love department and is the third hottest out of all the Kardashians, but she's not a fucking therapist. She doesn't know shit about how to treat actual problems.

Whatever. I'm ready to watch this train wreck get cancelled after 10 minutes like the rest of her reality show attempts have, but hey, if Rob & Chyna can be renewed for a second season, there's hope for Khloé too.