This Retinal Serum Is My Holy Grail (And Is 10x Better Than Retinol)
Betches may receive a portion of revenue if you click a link and purchase a product or service. The links are independently placed and do not influence editorial content.
Calling all skincare enthusiasts! There's a new player in town that's about to take your beauty routine to a whole new level. Introducing Peach & Lily's Retinal for All Renewing Serum, the latest sensation that's causing quite a stir in the beauty community. If you're ready to bid farewell to fine lines, wrinkles, and dull skin, this transformative elixir is about to become your new best friend.
Now, you might be wondering, what exactly is retinal? Well, here's the 411. Retinal is the advanced and powerful sibling of the well-known skincare ingredient, retinol. Think of retinal as retinol on steroids but without the intimidating side effects. It's like giving your skin an anti-aging shot without the risk of irritation, inflammation, and peeling.
Okay, how else are they different? Retinal is like the overachiever who always comes out on top. While retinol needs to be converted by your skin before it can work its magic, retinal swoops in and starts the cell turnover process almost immediately. It's a one-step wonder that's bound to make your skin look softer than a baby's bottom after each use.
Now, here's the best part. This serum is perfect for everyone, from those just dipping their toes into the anti-aging world to seasoned veterans. If you're new to the retinal or retinol game, this serum will gently introduce your skin to the wonders of retinal, offering all the benefits with minimal irritation. And for those of you who are no strangers to the powerful ingredient, get ready for a whole new level of potency and efficacy. This serum will leave you wondering why you didn't switch to retinal sooner.
But enough with the technicalities—let's talk about what you all really wanna know: the results. Picture yourself looking into the mirror and seeing skin that's basically like glass, with a radiant glow that rivals the sun itself. Say goodbye to fine lines and wrinkles, as this serum works its magic to promote collagen production and improve skin elasticity. And did we mention it also helps with pesky dark spots and uneven skin tone? Consider it your secret weapon for that flawless complexion you've always dreamed of.
Applying the Retinal for All Renewing Serum is like giving your skin a luxurious treat. With its silky-smooth texture and fast-absorbing formula, it glides on effortlessly, leaving you feeling like you've just stepped out of a spa. Plus, it's packed with skin-loving ingredients like hyaluronic acid and antioxidants, giving your skin the extra dose of love it deserves.
So, if you're ready to take your skincare routine to the next level, this serum is the holy grail you've been waiting for. Get ready to see results and see them fast. So go ahead, add a little retinal magic to your life, and let the compliments roll in.

Shop It: Peach & Lily Retinal For All Renewing Serum, $55, Ulta
Yes, These Drugstore Anti-Wrinkle Products Actually Work
Betches may receive a portion of revenue if you click a link and purchase a product or service. The links are independently placed and do not influence editorial content.
Everyone's been there—you wake up one morning and just notice creases and fine lines that weren't noticeable before. Suddenly, you're on a Google quest to learn more about Botox, filler, and all the wrinkle-fighting ingredients you could imagine. But, what if you didn't have to dish out serious cash to get your anti-aging routine on? Behold, the drugstore skincare duo that could rival the powers of the most expensive creams and retinol products, and all without leaving your bank account gasping for air.
Picture this: Instead of strolling into the bathroom and letting out a gasp of fear as you catch a glimpse of your reflection, you're glad to see a youthful, glowing complexion staring back at you. Is it a magic potion? A fairy godmother's touch? Nah, it's just this incredible anti-wrinkle skincare duo.
Our hero, the RoC Retinol Value Set Duo, consists of two mighty soldiers in the fight against aging. First up, we have the eye cream, which boasts a powerful blend of age-defying ingredients supercharged by retinol. It's like a superhero cape for your under-eye bags, fighting off the evil forces of time. With each drop, the cream targets fine lines, wrinkles, and crow's feet, leaving you looking fresher than a daisy.
Now, the duo wouldn't be complete without its trusty sidekick, the deep wrinkle night cream. Together, this dynamic retinol-infused duo takes on the battle against aging with unrivaled vigor. The cream nourishes and hydrates your skin, creating a protective shield that keeps those wrinkles at bay. With each application, it'll feel like time is merely a suggestion, and youthful skin is the norm.
Here's the twist that sets these products apart from the rest. While most quests for eternal youth come with a hefty price tag for skincare enthusiasts, this duo is surprisingly affordable. Forget dropping hundreds on expensive creams and retinol products that leave your wallet whimpering. This duo offers a budget-friendly solution to your anti-aging needs, allowing you to save your pennies for something truly worth it—like that dream vacation you've been dreaming of.
So, there you have it, this drugstore duo helps defy the laws of aging, all without making your credit card scream for mercy. Are you ready to embark on your own journey to wrinkle-free skin? Head over to Amazon, click that "add to cart" button, and let the transformation begin. Say goodbye to wrinkles and hello to a youthful, radiant complexion.

Shop It: RoC Retinol Value Set Duo, $30, Amazon
11 Lightweight Skin Care Products To Add To Your Routine For Summer
I think I can speak for all of us when I say that this summer definitely hasn't gone according to plan. With travel plans, romantic entanglements, and social lives mostly on pause for the foreseeable future, it can be hard to feel like you have control of anything. But amid this miserable roller coaster of a year, one small thing we can stay on top of is our skin care. Instead of focusing on how lame this summer is compared to years past, put that time and energy into getting your summer skin care routine on lock.
If you don't normally put much thought into your skin care regimen, switching up your products every season might seem extra, but it makes a lot of sense. While you might spend the winter fighting dry skin with heavy creams and moisturizers, summer is a whole different ballgame. Of course, each person's skin care needs differ based on location, climate, and skin type, but generally speaking, summer skin care is all about keeping it light and breezy. Here are some must-have products that will keep you glowing (not from sweat) all summer long.
If you know about Laneige's Cream Skin line, you KNOW how exciting this launch is. I admittedly was never a huge mist person until my friends coerced me into keeping a spray in my bag at all times, and now I'm actually unsure how I survived without one. The Cream Skin Mist is great because it gives your skin a natural glow, with or without makeup. A product like this is particularly important in summer, especially during quarantine, when the chances of me wearing makeup are about the same as the odds of me shaving my legs in the winter. This final step makes any routine feel complete, and the mist itself is super hydrating, long lasting, and perfect to bring on the go. The formula is lightweight, and enriched with amino acids from White Leaf Tea water.

If you're looking for a clean, natural mist, look no further. When I heard the Limited Edition of the cult-favorite Beauty Elixir is back in stock, I had ~a moment~. There is something about this pretty pink bottle that makes this already great product even better. If you can't relate to my passion for packaging, that's fine. This product is filled with natural plant extracts that help visibly smooth the skin and tighten the pores. As someone with pores the size of planet Earth itself, this is quite important to me. This product preps and sets makeup, which is extra important in the summer months, because as you can imagine, sweat + makeup = a dangerous combo.

I once won a giveaway for a year's supply of Kiehl's, and have since considered myself an expert on each and every one of their products. In winter months, my skin literally feels like sandpaper, so a heavy moisturizer is a MUST. But come summer, the Calendula Serum-Infused Water Cream is my number one. I'll be honest, this little guy is on the pricier side. That being said, if you know me (or if you've read any of my articles) you know I am cheap AF and that me splurging on a product means it is the real deal. The water cream claims to boost radiance (I see this claim from all brands, IDK what it actually means, but I do know that my skin is dewier using this product), reduces redness (can confirm this is true) and helps improve dry skin by softening and hydrating (also can confirm this is true). This is the kind of product that makes me want to skip foundation because my skin is actually glowing, and despite being ultra-hydrating, it's lightweight and breathable. As I reread this *passionate* rant, I hope Kiehl's sponsors me. My DMs are open.

I've got to say, this name is very overwhelming to type, but this Hyaluronic Cloud Cream is my other go-to in summer. Even if you're into skin care at all, you still know hyaluronic acid is ~all~ the buzz right now, and for good reason. It's hydrating, it's not heavy, and it's most definitely summer-approved. I love using this moisturizer after a beach day, because it's cooling to the skin and helps calm any burning or peeling I may have obtained. It's lightweight, super moisturizing, and wears well under makeup. This, like the previous cream, is worth the splurge.

If you don't already know this, SPF is the most important thing in your skin care routine. As someone with textured skin (again, pores the size of planet Earth), I am very picky about my sunscreen. If sunscreen has any sort of white cast, it's an instant horror show. If the sunscreen doesn't agree with my skin type, my texture is exaggerated and it's not a good look. And with that, I find myself reaching for my Supergoop! Glowscreen on the regular. It's dewy and pearly (great for my dry skin pals) and allows for the true no-makeup makeup look (because you literally don't need makeup). It's hydrating, too, which is not always true for sunscreen.

Something that is not spoken about enough is the fact that SPF should be worn inside. Yes. Groundbreaking, I know. bUt ThE sUn DoEsN't ShInE iNsIdE! Correct. However, now more than ever, our skin is exposed to harmful blue light. From scrolling for hours, to being glued to our computer screens on work days, and of course binging Netflix, I am excited and impressed to see that TULA has launched Protect + Glow to protect you from damaging pollution and blue light. If you've purchased blue light glasses, add this to your list of must-haves. Even if you haven't, still add this to your list of must-haves.

Retinoids are the industry's best kept secret if you ask me. Summer is fun, but sun exposure leads to skin damage and wrinkles, and I for one want neither of those. I never knew (or cared) what Retinoids were until I was introduced to a local NYC business, Peachy (support local!). Retinoids are the prescription version of Retinol—and clinical studies show that they both increase collagen production and prevent collagen degradation. Increasing collagen results in plumper, stronger skin and the minimization of fine lines and wrinkles. So, in less science-y words, Retinoids are the botox of skin care (without the needles). It's important that you get the right prescription from a trusted dermatologist and still take care of your skin in the sun (USE SPF), but this product is my secret weapon.

"Foundation, but make it skincare" are the first words that can be read under Kosas' Tinted Face Oil description, and it sums this product up flawlessly. During summer months, a cakey foundation is awful, to put it simply, and this has been my personal solution. The product does a great job of giving your skin the "blur effect" but doesn't overdo it. Think "is she wearing makeup or does she just have amazing skin???" type vibes. Overall as a brand, Kosas has multiple products that dabble in both the skin care + makeup category, but this stands out above the rest for me.

Summer Fridays is one of those brands that is actually worth the hype. Their products are great, their branding is great, their social media is great, their packaging is great, even their p-page images are great (few will understand, but those who do will appreciate this callout). Anyway, during summer months I often love replacing my lipstick with a clear balm and letting my lips go natural-ish. This Lip Butter Balm is actually considered a mask, and it's created to soothe parched lips while sealing in moisture. I'm a big fan of this product because it's not like other lip balms that feel amazing for the first 10 minutes and then leave your lips needing more soon after. This lasts what feels like hours, and it makes my lips look glowy like a gloss, but without the sticky feeling.

If you prefer a little color in your summer lip look, an oil lip color is a great way to go. YSL Beauty launched their new Milk Tea collection (I'm fittingly sipping on milk tea as I write this) and the colors are reaaalllyyy pretty. I feel like we're all on the permanent hunt for the "perfect nude" and this just might be it. The hydrating formula drenches lips in moisture while leaving a high-shine finish. Think lipstick-meets-balm. All day color and comfort? Yes please.

Summer brings an excess of oil and enlarged pores (sorry, I know you're sick of hearing about my pores). SheaMoisture African Black Soap is THAT product that will help you maintain your natural glow while conquering oil and sweat (we all have it, so don't pretend you're better than me). More importantly, the soap won't dehydrate your skin, which for obvious reasons is important here. This face and body bar is super affordable ($4.99) and is specially formulated with organic Shea Butter, Oats and Aloe to cleanse, moisturize and comfort irritated skin.

LAST BUT NOT LEAST. I used to think body scrubs were a myth, but then I tried one and realized it wasn't. Thrilling, I know. I'm a big fan of Sol de Janeiro's OG Bum Bum Cream because it smells like vacation—even after being trapped inside for 100 days. The Bum Bum Body Scrub texture is soft yet gritty, and literally leaves my skin glowing. I think it's important to be careful with body scrubs, because while you do want to exfoliate the skin, you don't want the product to be abrasive. I think that BBBS (I've made up this abbreviation because Bum Bum Body Scrub is a mouthful) is the perfect happy medium, and the scent alone is enough to keep me coming back for more. WOULD recommend for *summer smooth* skin.
And there you have it, summer skin care, head to toe. Check back in winter for my 100-step routine.
Images: Margot Pandone / Unsplash; Provided by Laneige; Caudalie; Kiehls; Peter Thomas Roth; Supergoop; TULA; Provided by Peachy; Provided by Kosas; Summer Fridays; Provided by YSL Beauty; Provided by SheaMoisture; Provided by Sol de Janeiro
Betches may receive a portion of revenue if you click a link and purchase a product or service. The links are independently placed and do not influence editorial content.
I Actually Believe In Day And Night Creams Now—Here's Why
As someone who reads and writes about skincare on a daily basis, I find myself hitting something I call "skincare fatigue." Just when I'd mastered toner (kind of), I start hearing about serums, retinol creams, and whatever the f*ck an "essence" is. Thankfully, the concept of day cream vs. night cream isn't new to me—but actually using a different moisturizer for morning and evening is. I'd always kind of figured that "needing" two different moisturizers was just a way for companies to sell you more products. But three weeks in to my new regime, I'm sold. Here's why.
Night Cream Needs Time To Sink In
The purchase that kicked off this whole venture is Tatcha's Dewy Skin Cream, a moisturizer I feel confident in calling pure magic. From the moment I got my hands on all that silky lavender goodness, I loved it so much I wanted to take a bath in it. This moisturizer has brought my skin back to life after a night out, scared burgeoning pimples back into hiding, and—praise be—NOT activated my rosacea, which just about every other celeb-approved moisturizer does. (Looking at you, La Mer. I wanted so badly to love you.)

Now that my shameless Tatcha evangelizing is out of the way, on to the real point. Because I was so excited about this moisturizer, I was using it morning and night—and quickly realized my mistake. I have a four-step routine I stick to: cleanser, toner, treatment, moisturizer. Because the sun exists, and because my skin is so dry that sunscreen alone does not moisturize it, I have to follow up that four-step routine with an SPF cream in the morning—all before adding any makeup.
Now, anyone who's tried to quickly apply five different face products and then add foundation on top will immediately see the problem here. My beloved Tatcha moisturizer is on the thicker side, which is perfect for my dry skin—but it takes a solid 15-20 minutes to be completely absorbed. That would be fine if it were my only morning skincare step, but I also have to give my toner and treatment steps 5-10 minutes each to sink in. That gets us up to 30 minutes on pre-make-up skincare, minimum. In my week of trying to use the Dewy Skin Cream as a day cream, I don't think I managed to put foundation on once. Since I never had enough time to let the moisturizer sink in all the way, even my sunscreen was barely getting absorbed—which means I was going out looking like a greasy, white-tinged mess.
Note: Dewy Skin Cream isn't advertised specifically as a night cream—there's a different night cream from that product line—but that's how it works best for me. As a rule, night creams will be thicker than day creams, and are formulated to moisturize while you sleep.
Me, waking up post-Tatcha moisturizer: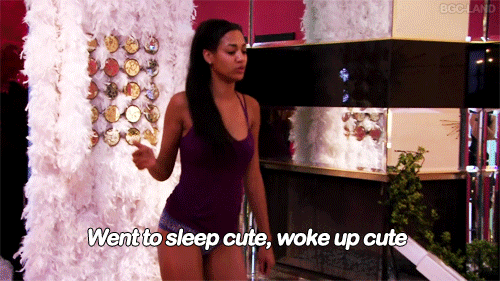 Day Cream Protects; Night Cream Repairs
Day cream, I learned, has one major job: to protect your face from the sun, so basically to contain as much SPF as you can stand. (For reference, I use SPF 46—do not come at me with your SPF 15 liquid foundation). Like I said before, I have a special breed of lizard skin that requires me to pair said SPF 46 lotion with a second day cream—but if you have the option of combining these steps, I strongly recommend you do. I love this one from Origins (so brightening), or this SPF 50 IT Cosmetics CC cream. (No, I don't know what a CC cream is, and my head will explode if I research further.) I own this cream, and would refer to it as somewhere between light coverage foundation and tinted moisturizer.

Scott Disick knows what's up, a sentence I never thought I'd utter.
If you are like me, and SPF products aren't moisturizing enough on their own, I recommend a super lightweight cream that sinks in quickly. My personal fave for this is Cerave, which makes both a day cream and a night cream.
While day cream bears the brunt of sun protection, your night cream can and should have active ingredients too. We've already discussed the benefit of adding retinol to your daily routine, and 2019 is heading toward being the year of glycolic acid. These ingredients are both great, because they help speed up cell turnover, AKA get rid of the dead skin and bring in the new, better skin. Very scientific, I know. However, both of these ingredients also make your skin more sensitive to the sun. I can personally attest to this—this past December, I used a retinol oil and then went out for a day of skiing. Within 24 hours, I developed dark, rough patches of sunburn on my face like I'd never seen before, and they lasted well through New Year's Eve. Happy 2019 to me!
So, while retinol and AHAs are a good addition to night creams, they should absolutely be avoided in your day creams. On the flip side, you're welcome to put on SPF at night—but unless you're sleeping at a campsite, I'm not sure why you would.
Ultimately, you could just say f*ck it and use the same lightweight moisturizer with zero active ingredients for both day and night (plus sunscreen, obv). But if you have skin that's on the dryer side, I highly recommend investing in a thicker night cream—and not making the mistake I did of piling it on in the morning, too.
Images: Tatcha; Giphy (2)
This Is The Best Order For Your Skincare Routine
Judging from all the "gifts to give yourself" guides out there this season, I gather I'm not alone in treating December as "spend yourself blind" month. (Also: go get the Skin Laundry facial that list recommends; it's amazing.) And what better way to spend a sh*t ton of money invest in yourself than by amping up your skincare routine? In the past two weeks, I've added a serum, a facial oil, and an "elixir" to my fairly basic four-step routine. But within twelve hours of my exciting new purchases, I realized I had no idea how to use them correctly. Skincare products all tend to list "apply daily to clean, dry skin," but that's about it. So, in an attempt to not waste my new goodies, I actually sat down and researched. Here's what I've learned about the best order for your skincare routine.
Step 1: Cleanser
All authorities I consulted concurred on this. The first step in any skincare routine should be cleaning your face. If this strikes you as surprising, then I have the perfect gift for you. Enjoy!
Step 2: Toner
Byrdie offers a little dissent here, suggesting that Step 2 should be exfoliator, not toner. However, my skincare-savvy readers will know well that not all skin types require and/or take well to regular use of an exfoliant. And very few exfoliants are suitable for anyone for daily use. (You can go shave your back now Byrdie!) Anyway, exfoliate if you need to, but consider it part of the cleansing step of your routine. Toner then clears away any remaining makeup/product, as well as doing whatever else the bottle promises (tightening pores, evening skin tone, giving you eternal life, etc.).
I've written more about toner types here, but Cosmo offers a key tip I'll include. If your toner contains an AHA (like glycolic acid or lactic acid) or BHA (like salicylic acid), you'll want to wait a "full five minutes" before moving on to your next step. Otherwise, you'll neutralize the acids, rendering the active ingredient useless. (Moment of silence for all the toner I've wasted on my face please.)
Me @ my toner:

Step 3: Serums/Eye Cream
Once again, all my sources voted to use a serum as step 3. Cosmo describes serums as "shots of extremely concentrated nutrients, hydrators, and antioxidants." Like with toner, you'll want to pick the specific one based on your skin's needs. The one I've recently invested in contains Vitamin C, a common dermatologist recommendation. But you can also use different serums in the morning and at night, in which case you could swap in a hydrating serum at night. Again, all depends on your skin.
Eye cream, which I've realized over the course of my research is still lacking in my skincare routine, is a slightly more conflicted issue. Cosmo says to apply after serum and before moisturizer, since eye cream "tends to be lighter and thinner," and can't "penetrate thicker products," AKA your moisturizer. Dermstore suggests using it before serums in the morning, but after serums at night. (And it stresses the importance of applying twice daily from a young age—good thing I have endless money and time, am I right??) For Dermstore, the key thing is to apply eye cream before your "treatments" (more on that in a minute), to "protect your eye area against potent ingredients." Both of these rules make logical sense to me, so if your serums has potentially irritating ingredients, do eye cream first. And def do it before moisturizer.
Side note: this research has also convinced me that I've been applying my new serums at the wrong time, in addition to neutralizing my toner.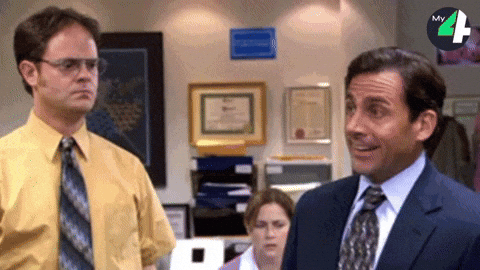 Step 4: Treatment
If you're thinking "treatment? what's that?" you either have perfect skin and I hate you, or you need to get to a dermatologist ASAP. "Treatment" can refer to a spot treatment (active ingredients will vary depending on whether you're treating acne scars or regular old pimples), or prescription treatments for acne or rosacea. (For example, I use my Finacea foam for rosacea during this step—though for the past two weeks I've been using it before my serum. Ugh.)
Dermstore again recommends different things for your night routine here. At night, they suggest you add any "mists, essences, beauty waters, or hydrating (hyaluronic acid) serums" to your toner step—applying "from thinnest to thickest." (I can't really begin to wrap my head around what those products are, but Dermstore sums them up as "skin care boosters" whose purpose is "mainly to hydrate." Cool.) Then, Dermstore recommends chasing your nightly eye cream with whatever treatment serum your skin needs that night. So, not just blindly slathering on every product you own (strike three for me).
Specifically, they advise against using an exfoliating treatment (AHA/BHA pads, peels) the same night as any prescription meds or retinol creams, since the potency can quickly become irritating. And they recommend using an exfoliating treatment no more than three times a week. In simpler terms, it sounds like alternating a prescription treatment or retinol with an exfoliating treatment is the best way to go.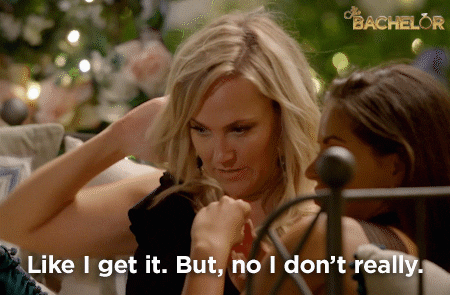 Step 5: Moisturizer/Face Oil
Once you've gotten to moisturizer, you know you're nearly there. (Good job! Now you just have a 16-step makeup routine to get through). For your nighttime routine, Dermstore recommends adding face oil before your moisturizer, with the warning note that "if you are using the right moisturizer…nothing is going to get through it." Cosmo, however, vehemently disagrees, stating "no products can penetrate an oil, which means they need to be applied last." Cosmo also recommends putting a retinol-based product between moisturizer and face oil, while Dermstore lumps in retinols with your pre-moisturizer treatments. One of my new products is a face oil that contains retinol, so no matter what I do I'll be f*cking up one of these rules.
My best advice here is to try it both ways (the order of your oil/moisturizer/retinol), and see what feels best to you. Since oils and moisturizers vary in thickness and active ingredients (and everyone's skin is different!), do whatever feels best for your face. In my case, I've found that mixing the face oil with moisturizer is most effective for absorbing both products.
Step 6: Sunscreen
This is a morning-only rule, obvs, but it's also one you need to follow every single day. Is it annoying? Yes. Does it feel like it will solve all your problems, like serums and essences do? It does not. But just do it, because otherwise you'll get dark spots and sun damage that only a laser can fix. And that's way more expensive than even the fanciest sunscreen option.
Hilary Duff may not be able to name babies, but she can still give good skincare advice!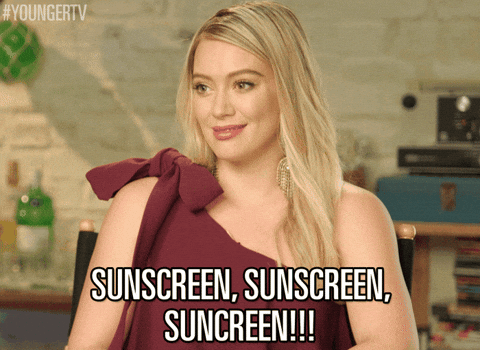 What have I learned from this article? Well, I've wasted at least $50 of skincare products in the past week, that's for sure. And my vague inkling that I was loading on too many products every day was validated. My final note here is that if any of this advice goes against what a dermatologist has told you—go with the dermatologist. My dermatologist gave me the simple outline of "cleanse, treat, moisturize, sunscreen," and actively warned me against incorporating anything else. It's only because I've followed her advice faithfully for six months that I feel comfortable building back in other products. So, listen to your doctor, listen to what your skin tells you, and if you have an eye cream you like, hit me up in the comments—I'll be spending the rest of my afternoon shopping.
Images: Shutterstock; Giphy (4)
Why Is Everyone Talking About Retinol & Should You Use It?
Maybe it sounds like a foreign word or maybe you have actually heard it before in like, Sephora, but have no idea what it means. It's fine, we're fine. I'm only about to let you in on your dermatologist's biggest secret: retinol. What is retinol? Long definition short, retinol is a form of Vitamin A that is essentially the key to fighting skin aging, preventing acne, and enhancing collagen production. As an added bonus, it can also ease some side effects of sun damage. If you're wondering why you haven't heard of it sooner, consider it a gift from yours truly. Oh, and Google, I guess. You're so welcome. Being that summer is basically over, you'll probs want to consider adding retinol to your everyday routine ASAP since you're bound to have concerns that involve wrinkles, stubborn blackheads, and an uneven skin tone (hello, it's me). However, before loading up your cart on Sephora, you should know that retinol is like, pretty powerful stuff. A little goes a long way, and when the concentration is high in a product, it may cause dryness and irritation for those with sensitive skin types. So like, be sure you're following up with your fave moisturizer to reduce these side effects. Okay, moving on. On to the good stuff. Here are the 5 best retinol products you need to incorporate in your daily regimen.

If you're new to retinol, then this is exactly what you'll want to start out with. This helps smooth out and lessen the appearance of lines and wrinkles. Its ingredients are comprised of soothing oatmeal, aloe, and Vitamins C and E to ease any minimal irritation.

This loaded formula easily absorbs into your skin, evening out tone and making it look brighter. Colloidal oatmeal, jasmine, and algae are just extra boosts to calm and exfoliate your face while reducing pore size.

It's always comforting to see a familiar face in the crowd. I'm looking at you, Neutrogena. This drugstore brand offers the same benefits of retinol without breaking the bank. Praise be. The regenerating cream fades deep wrinkles, brightens your skin tone, and leaves you with a youthful glow.

I feel like anything that is labeled "overnight" always works better. It's just assuring to wake up and feel as though you got a makeover in your sleep, am I right? This overnight treatment features pure retinol to increase collagen production, fight signs of aging, reduce wrinkles, and repair skin discoloration.

Again, I already am a fan for the sole reason that I can grab it at my local Target. This is a super affordable retinol cream that comes with an anti-wrinkle moisturizer, too. It keeps you looking not a day over 21 by reducing those hard-to-reach wrinkles like crow's feet by our eyes. Thank the heavens.
Photo: Sephora (1); Amazon (1); Ulta Beauty (2); Target (1)
Betches may receive a portion of revenue if you click a link and purchase a product or service. The links are independently placed and do not influence editorial content.

The Best Anti-Aging Products For Every Skin Type
It doesn't matter if you're super classy or a Real Housewife, there is something we can all agree on: getting old sucks. The thing is, you don't even have to do it. Okay, that's a total lie, sorry not sorry. You have to get old or else you die young, and while that means you get to be pretty forever, that is generally a worse alternative. Unless you have student loan debt.
But if you have to get old, you might as well do your best to preserve yourself as much as possible, so while you actually are ancient, you still look amazing and still get carded. However, skin care is not a one-size-fits-all thing, and what works for some doesn't work for all. Hopefully these products will keep you looking so fresh that you don't need to have so much Botox that your face doesn't move and you look like the cast of Jersey Shore. Here is what anti-aging product to use based on your skin type.

Dry
Dry skin people, you are so fucked. I'm sorry. Dry skin is the most likely to age poorly due to the lack of oil in your skin. You have the least amount of elasticity, so when you frown or make any faces at all—like the grimace you're doing reading this right now—your face is likely to crease and stay that way forever. Is that dramatic? Probably. BUT I'm not sure if you're aware, I'm not a fucking doctor, so like, this is what happens when you take advice from the internet. Anyway. To prevent aging and wrinkles, you need to load up on moisturizing your Sahara Desert face so that you preserve that elasticity and movement. Try something heavily moisturizing, like Estée Lauder Advanced Night Repair. Yes, it's expensive af. But it's a serum that is a holy grail product people swear by. It will revitalize your skin and smooth out your cracked, peeling face; uneven tone; and any fine lines you already have.

ESTÉE LAUDER Advanced Night Repair Synchronized Recovery Complex II
Oily
Hi, my oily friends. I also have oily skin. It sucked my entire life. I had regular acne, body acne, cystic acne, adult acne, and I have maybe one thousand unusable photos because my shiny forehead blinded out the rest of my face once the flash hit it. But guess what? We WIN anti-aging. Yes. Hahahaha, you old-ass motherfuckers. Oily skin is the least likely to age because our nasty-ass facial fluids keep our skin from overly stretching out. It's like science, or something. That said, we still need anti-aging products, but since we def don't need to add MORE FUCKING OIL to this disaster, we need something that won't dry us out (because then our faces will riot by producing even more oil), won't trigger our acne (does every oily skinned person have adult acne or did I just hit the worst genetic lottery ever?), and will keep those wrinkles from ever coming. The secret to wrinkle prevention with oily skin is constantly shedding skin buildup by using a retinol cream. This keeps our oils evenly distributed so we get optimal skin flexibility, and it prevents acne. Also? Insider tip? If you have health insurance, it's probably cheaper to get a retinol cream from a dermatologist and it's even stronger.

Murad Retinol Youth Renewal Night Cream
Combination
If you have combination skin, it means you're oily in some places and dry in others. Unfortunately for you, this means you may have to use different products for different parts of your face. Sucks. Most combo skin means you're oily in the t-zone, which means forehead, nose, chin, and cheeks. For these spots, especially if you have acne, use a retinol cream (like the one above) to keep that oil distributed. It also means, though, that really delicate skin areas, like your eyes and lips, are dry and these are the worst spots for wrinkles to pop up. So either stop talking so much and stop, idk, blinking, I guess, or get a heavy eye cream to shove some moisture in those areas. Use it around your mouth too, because we all know what it looks like when people have Grandma lips.

OLEHENRIKSEN Banana Bright Eye Crème
Sensitive
You poor sensitive babies are also prone to dryness, so you need something that will keep you from getting wrinkles, but also mild enough that it doesn't cause your skin to rebel against you and break out in a rash, peel, or otherwise ruin your life. Your safest bet for minimal irritation (assuming you aren't generally acne prone) is to use an oil. It calms redness, burning, and itching that is really prevalent in sensitive skin, while smoothing out lines and rough patches. If only it also worked on the rough patches in my life. ALSO! This product has our anti-aging Lord and Savior, Retinol!

SUNDAY RILEY Luna Sleeping Night Oil
Normal
What the fuck is normal skin? Apparently this is an actual skin type. Which I find offensive because my greasy pizza face is perfectly normal, thank you very much. But apparently, apparently, there are some assholes out there who have pH-balanced skin that isn't dry, isn't oily, isn't sensitive, and doesn't have acne, pores, or imperfections. Sounds fake, but k. Also, go fuck yourself. If you have perfect skin and you're reading this article just to fuck with me, you can go use anything and I'm assuming you'll be perfect no matter what because my life isn't fair. I'd personally go with the one with the prettiest bottle, which is the one above. Or, if you're worried an oil may cause your perfect skin to break out, you can use a very generalized anti-aging moisturizer that won't make your skin too oily or dry it out. The secret for you is to keep your normal oil levels steady as you get older, like with this moisturizer from Belif.

BELIF Peat Miracle Revital Cream
Sidenote: all of you, put SPF on your hands. Seriously, the biggest giveaway to someone being old is their hand skin. No one thinks to protect them from the sun until it's too late, and I don't think they do hand Botox. You're welcome.
Edit: Oh, fuck, they actually do hand Botox.

Images: Shutterstock; Giphy (2), Sephora (5)
Betches may receive a portion of revenue if you click a link in this article and buy a product or service. The links are independently placed and do not influence editorial content.