The NYC Restaurants Where You're Guaranteed To Run Into Everyone You Try To Avoid
You'd think that in a city of over eight million people, you'd rarely, if ever, run into anyone you know—"you'd think" being the operative phrase here.
But even in a city like New York, with amazing restaurants on virtually every corner, it seems like everyone I know is still going to the same 10 or so. And if I had to guess, a restaurant or two just popped into your head as soon as you read that sentence.
What? I don't make the rules.
Don't get me wrong: Most of these spots are actually really great, and I'd be lying if I said I don't go to a majority of them pretty frequently, too. But if you're planning on showing up to any of them thinking you're going to have a low-key night and stay under the radar, well, I've got news for you. Be prepared to run into your best friend from camp's college roommate's friend from high school, with whom you'll inevitably have to make small talk and consider merging reservations.
Momoya
If I had a dollar for every time a girl in Golden Goose sneakers walked into Momoya (Chelsea location, always) and said, "We'll get the spicy tuna crispy rice and/or the spicy tuna pizza for the table, and then I'll have a spicy tuna naruto roll and a spicy salmon hand roll without rice," I could buy a full-price retail Chanel double flap bag, new price increase included. This is like, the unofficial meeting spot for anyone who went to Syracuse, Michigan, Penn State, or Wisconsin.
Kotobuki
Kotobuki is the Momoya of the east side. Chances are you also have very strong opinions about which one you prefer and will defend it like you're rooting for your Color War team during Sing Night. You were probably introduced to this place because a friend of a friend is from Roslyn, and now you'll rave about how good the spicy tuna sandwich is to anyone who will listen. (But also, the K-Mac slides are fire. I would know. I'm literally from Roslyn.) When you come here, expect to run into a group of 22-year-olds who are all rooming with their best friends from college in Windsor Court. That is, if they ever look up from their phones.
Sushi Seki
If you didn't know any better, you might think Momoya, Kotobuki and Sushi Seki were the only sushi spots in all of New York City. You're going here if you want a slightly more ~upscale~ experience than the first two, and to eat spicy tuna crispy rice while listening to the table of girls next to you talk about how they need to make a return at Zara tomorrow. They're probably at least in their mid-20s and work in marketing or media buying but are considering going to law school. Naturally.
Marinara Pizza
Ok, technically you won't really run into anyone you know here because getting delivery is always the move, but you get the gist. I mean, if you ordered Marinara but didn't post a picture of the MVP cauliflower pizza and house salad to your Instagram story, did you really order Marinara? I think not. The free marketing they're getting from girls who live in one-bedroom flex apartments in Murray Hill is truly next-level.
Sadelle's
You're going here for the bagels and lox tower, and also maybe to spot Arielle Charnas. Honestly though, the bagels and babka here are worth the run-in with your best friend from middle school who you haven't seen in 10 years but *promise* that you'll grab lunch and catch up with (soon!!). 
Mark's Off Madison
We get it: You miss Barneys. Tell us more about how you dream about the Madison Avenue Salad from Freds on a daily basis. But while you're at it, get an order of the Belgian fries, a margherita pizza and probably some bagels and lox for good measure. You're virtually guaranteed to see that girl you stalk on Instagram but don't know personally—you know, the one who just got engaged and posted a picture of herself in the jean jacket.
Hillstone
There's no thrill like finally seeing that 7pm Resy notification for the Park Avenue location pop up on your phone and knowing that the kale and rotisserie chicken salad, spinach and artichoke dip, and coconut shrimp roll are just a few short hours away. Word to the wise: Order yourself a martini so that you're prepared to inevitably run into the finance bro you once went on a few Hinge dates with before he ghosted you.
American Bar
Is it just me, or did this place just appear out of the blue one day and now it's… everywhere? Specifically, that damn chopped salad with the sun-dried tomatoes. Yes, yes, I know: Order it SFK style with the negroni. Noted. It goes without saying you're pretty much guaranteed to run into one of those girls you grew up with who wants to be the next Bravolebrity.
Pastis
You're coming here to break your low-carb diet and get your hands on that burger and fries if it's the last thing you do. That is, after you awkwardly wave hi to the girl in your sorority a year or two older than you that you a) never exchanged more than five words with, and b) haven't seen in at least five years. But that encounter will be worth it if you spot Tinx while she's in town.
Lola Taverna
Dinner at Lola Taverna is like walking into an unplanned high school reunion. You're coming here to order a Greek salad and a side of the scene. It's not Scorpios Mykonos, but it's pretty damn close. Prepare to see girls who are really just here for Instagram and wouldn't go near the pita bread with a 10-foot pole.
Tasti-D-Lite, Murray Hill
Need I say more?
Images: Javier Díez / Stocksy.com
All The Classy Date Night Spots You Can Find On Skorch
I'm not going to sugarcoat it, finding a bar in a big city is hard. It's especially hard if you're looking for a date spot, and you want to fool convince your date that you are a classy individual who does not choose establishments solely based on happy hour prices. Life is hard, but there is good news! If you're based in Los Angeles, New York, Chicago, San Francisco, San Diego, Austin, Miami, Nashville, Dallas, Washington DC, Phoenix-Scottsdale, Houston, Seattle, Orange County, or Toronto, there's an app to help you out. Skorch is a new app that can help you pick bars, restaurants, lounges, and other hotspots in your city. 

And the best part? Every locale is specifically curated to what you're looking for. You can refine your results based on "hotness" and distance (which is, incidentally, how I choose my dating app matches), plus you can filter by category: bar, club, lounge, cafe, restaurant, event, attraction, and outdoor.

Basically, Skorch takes all the effort, difficulty, and indecision out of picking a place to eat and drink. So I decided to put Skorch to the test and see what classy date spots I could find in NYC using the app. Let me tell you, I was not disappointed.
When Gallow Green came up on Skorch I knew I had to include it, because it's so classy I could only afford to go there when my cousin was the bartender. Excuse me, the mixologist. Thanks for the free drinks, Kev!
Gallow Green is a rooftop bar at the McKittrick Hotel in Chelsea, and it makes you feel like you are in a secret tranquil garden atop this dirty trash city. You can order drinks or dinner, or drinks AND dinner. Plus, you can say things like, "I'll have the Scottish Law. Do you only have Glenlivet 18-year, or can you substitute with Glenlivet 21-year?" and then throw a suggestive wink at my guy. Locked. It. Up.
Jack's Wife Freda is located in my absolute favorite part of New York City, the West Village. You can't get much classier than a neighborhood where I saw Liv Tyler every morning on the way to work, am I right?
Not only is Jack's Wife Freda in a great spot, but it also has a menu that's the bomb, relatively reasonable prices, and is in a small space, so you'll be able to get pretty close to your date. So ideal! And when you're finished, you can stroll down the quaint streets together, pointing out all the beautiful brownstones and pick out the one you'll buy together once you've scraped together $12 million.
Oh HELLO, do my eyes deceive me or is this a still from a rom-com?
Just admit it, we all love to day drink. The sun is shining, the possibilities are endless, and you can get to bed at 9pm. I know you're thinking that day drinking might not be all that elegant, but you're wrong. Sure, maybe it's not classy when you're in the backyard of the Sigma Chi house doing keg stands, but at a luxury boutique hotel where you might find Solange assaulting Jay-Z in an elevator? Abso-f*cking-lutely.
At the Standard Biergarten you can get, you guessed it, beer, as well as the other traditional German fare. And if you like a little competitive element to your dates, you can pass the time at the ping-pong table, since every dude likes a girl that can hit a winner.
Sure, Magic Hour Rooftop Bar & Lounge is in Times Square, but some of us work in Midtown! And everyone likes a quick commute to their cocktail. Magic Hour is owned by the Tao Group, who also own Tao and Lavo, two of my favorite high-class places. The $19 dumplings are to go broke for die for.  
Magic Hour has expensive cocktails and a great view, but it also has cheeky elements that make it a perfect date spot. It's got a mini golf course that is called Foreplay and features sexy animals in suggestive poses. Yes, I did just say "sexy animals." And sure, a mini-golf course called Foreplay might not be coy, but sometimes you just have to be forward about what you want. Am I right, ladies?
And those are just a few of the many ideas that Skorch gave me for my classy date night! It's available in a bunch of cities, so if you're trying to snag husband material in say, Austin, you should definitely check it out. And you can use Skorch for way more than bars, like planning your next group dinner, finding a cute cafe to work at, or deciding where to go for your best night out.
Imags: Shutterstock; magichourny, standardbiergarten, jackswifefreda, gallowgreen / Instagram
The 5 Worst Foods To Eat On A Date
With first dates come lots of nerves and pressure. You want to look cute, but not like you tried too hard. You want to seem interested so he asks you out again, but you don't want to look desperate. With all these things on your mind, what you're going to eat on the date is definitely the last thing you're thinking about, but it shouldn't be. What you order at the restaurant says a lot about you. But don't worry, here's a list of the worst foods to eat on a date so you'll be prepared.
1. Side Salad
If you want to look like someone who eats like a rabbit, then go right ahead. Most restaurants have plenty of acceptable menu items for if you're trying to lose three pounds, but just a side salad is not one of them. If you're just ordering a side salad to go next to your water because you're worried about the cost, then maybe going on a date at a restaurant isn't for you. Besides, you don't want to set expectations for your relationship that you don't eat and you won't cost him a lot. We both know neither of those are true.
2. The Most Expensive Thing On The Menu
Being overly cautious about what your meal will cost your date (assuming he's paying) isn't the best way to go about ordering on a date. But also, purposefully ordering the most expensive thing on the menu as some sort of test is not a cute look either. Unless you've already talked about ordering some famous special dish, don't go for the most expensive item. You don't want him to know how high-maintenance and pricey you are. Keep that on the DL until at least the third date.
3. Ribs Or Wings
I don't think there is anyone on planet Earth who can come out of a dinner after eating ribs or chicken wings without looking like an animal. My boyfriend admitted to me that he still won't eat ribs in front of me because he's afraid I'd be so turned off. In my opinion, there are some things that you don't need to share with your SO, and the murder scene you leave behind after a rib fest is definitely one of them.

4. Sushi
Specifically, maki rolls are the worst foods to eat on a date. Either the roll is too big to fit in your mouth, so you end up biting it in half and it falls apart, or you stuff it all in at once and look like a chipmunk. Both options are less than ideal.
5. Spaghetti
I don't think I have ever left an Italian restaurant without some sort of pasta sauce on me. Similar to ribs, there is no ladylike way to eat spaghetti that will make your date think "Damn, I want to sleep with her rn." How one is able to eat pasta without the slurping noise *gag* is beyond me. If Julia Roberts in Eat, Pray Love couldn't take a mouthful of spaghetti without looking like a slob, then you definitely can't.

Images: Giphy (2)
The Best NYC Restaurants To Visit When You're Not Paying
As much as we'd love to act like we can eat at trendy restaurants year-round, sometimes we need our parents' help to support our expensive taste (and obsession with finding Amy Schumer at Carbone). I mean, I spent last month's paycheck on alcohol and Uber, so how do you expect me to eat celeb-status food three nights a week? If your parents are in town, it's your right to milk their visit as hard as you can. This includes putting your debit card in a drawer for the week, finally getting around to getting those Stuart Weitzman boots, and taking them out to the best (and most expensive) restaurants. This also applies to dates where you can tell he's rich. Here's where to go:
1. Babbo
Babbo is Mario Batali's Italian restaurant located in the West Village, so you're basically eating designer ravioli, which makes every calorie completely worth it. I mean, you're not saying no to carbs when the bread bowl is worth more than your rent. Babbo's setting is also adorable, so you basically feel like you're getting drunk off Italian wine in a little yellow house. The menu is amazing, so if you can't decide between the caprese salad and the black spaghetti, just get both. You're not paying, so it doesn't really matter.

2. Sushi Yasuda
There are a ton of exclusive sushi restaurants in the city, but if you're dining with your parents, Sushi Yasuda should be your go-to. First of all, it's not as loud and trendy as Morimoto or Gari, but who wants to be in a loud room with David Guetta blasting in the background when you're out with your parents? Sushi Yasuda is quieter and the lights are actually on, so you can see the single piece of sushi that was imported straight from Japan. The menu is all Omakase and they serve traditional sushi, so don't expect to order a spicy tuna crispy rice roll as a starter. Act like you're above all that shit and you'll fit right in.
3. GATO
Bobby Flay might be the most pretentious guy on the Food Network, but he's honestly kinda hot, so we're down to eat at his restaurant. GATO serves Mediterranean food in a super sleek atmosphere, so you kinda feel like you're in Europe. But then you realize everyone at the table next to you is Snapchatting their meals, so you realize you're back in the great USA. If you're a vegetarian, you might be better off staying home, but if you're down to try cool Mediterranean food, get the lamb pizza and the seared yellowtail. You'll (maybe) start to understand why there's a show about challenging this guy's cooking skills. His food is dope.

4. L'artusi
If you're really down for Italian food but never indulge because you're trying to lose three pounds, you'll love the dishes at L'artusi. It's basically a fancy Italian restaurant with tiny portions, so you can try one piece of every pasta on the menu and not feel guilty. L'artusi is a West Village classic, and it hasn't even become touristy or trendy over the years because only legit New Yorkers know about it. (Until now. Shit.) You'll eat housemade ricotta desserts, order a $600 bottle of wine, and love every second of it. Thanks, mom and dad!
5. Gramercy Tavern
Gramercy Tavern serves American food based on seasonal ingredients, so the menu changes depending on when you're going, which is clutch because you can convince your parents to keep going back. The menu is built on fixed priced options, and tips are included, so you're basically just buying a ticket to a restaurant. Because all their cheese is straight from local farms, they're SUPER into it, so it's probably not the time to stick to your dairy-free diet. I mean, the waiters can literally talk for 20 minutes about their specialized cheeses from specific pastures in the countryside, so you'd be letting them down by not eating it.

6. Boucherie
In case the name didn't give it away, Boucherie is one of the most posh, high-class French bistros in the city. They serve traditional French dishes, so expect steak, butter, and a lot of random words on the menu you can't pronounce. The atmosphere itself is also super French, so try not to speak too loudly or do anything that you would do at like, Joe's Pizza. Basically, get your parents to leave their 2008 Nikon camera at the hotel for the night. Or just get rid of it completely. It's embarrassing.
7. The Palm
The Palm is one of those places where the Filet Mignon doesn't have a price listed on the menu, but you order it anyway because you're at The Palm. Celebs like Kim Kardashian, Jonathan Cheban, and Rita Ora have been spotted here, so you better make a reservation at least two weeks in advance. If you really have money to spend, you can even become a club member, which allows you to try feature cocktails that change every month at the restaurant. The Palm is one of the most exclusive dining experiences in the city, and if your parents are in town for a special occasion, it's worth going just to say you've been.

The NYC Restaurants You Have To Take Your Friends From Out Of Town
So your friends are in town for the weekend and their knowledge of New York is more limited than the Birthday Edition Kylie Lip Kit. I mean, you can't blame these poor non-New Yorker souls. For whatever terrible reason, they decided not to follow the rest of the post-grad world to New York after college and now they're just SO confused by the city. (It's on a grid system, you simple bitch!) You want to give your guests the best New York experience while taking them to places that are trendy but also amazing—and for the record, that doesn't include the goddamn cookie DŌ line. Here's where you need to go out to eat.
1. Emily West Village
Emily recently opened its West Village location after swarms of hipsters went crazy for its sister restaurant, Emmy Squared. While Emmy quickly became the pizza mecca of Brooklyn (debatably second place after Roberta's, but no one has the time for that line), Emily totally kills the pizza game too. The reason we love this location is because it's SO much more than good pizza. The vibes are fun for a night out, and they also serve burgers and side dishes that will make you forget how many man buns are present at the table next to you. It's basically very good food in a very cool atmosphere. You can't not love it.
2. Cafeteria
Cafeteria is probably our favorite Chelsea spot, and we like that it's close enough to Meatpacking so that you can get drinks before or after dinner without having to get on the subway (ew) or get in a cab. Cafeteria has those NY late-night diner vibes with a chic twist, and the tables outside are amazing for judging people watching. They also have a downstairs area that seats more people per table, which is helpful if you're with a big group. FYI, the truffle fries are crack. Don't say we didn't warn you.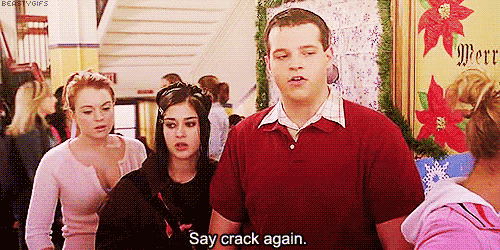 3. La Esquina Brasserie
If your visitors love Mexican food but the thought of a Saturday night at Dos Caminos makes you cringe (good girl), take them to La Esquina in Nolita. The location itself is a ton of fun, and the food and cocktails are amazing. The vibe is a bit more Latin American than your typical tacos and margaritas place, so if you're into trying unique combos, you'll love this place. Even if you're not, just go. Like, does anyone have anything bad to say about tequila and guac? Seriously, let me know because I'll unfriend.
4. Lure Fishbar
Lure Fishbar is one of those places that has been around for over a decade, but it's always a good time. It's also managed to remain a New York staple without being cliché or overdone, like Levain Bakery or Serafina's. Lure is obviously a more expensive dinner, so make sure you're with the right crowd that wants to drop over $40 on slow baked Halibut. Or just wait until your parents visit and want to take you out for dinner. Seriously though, if you're looking for good seafood and a fun bar scene, Lure is a great place to go. You basically feel like you're dining on a yacht when you're really like, 20 feet from Brandy Melville's Soho location. It's magical.

5. Atla
Atla opened pretty recently, and we're pretty sure the line to get inside is filled with people who don't have day jobs or are just scouting the area in the hopes that Gigi Hadid will come out of her across-the-street apartment building. I mean, every table has a pair of sunglasses on it, and we're starting to think it's just an accessory to have in the background of the goat cheese toast Instagram. Either way, Atla serves casual, Mexican-American style food made by the chef who owns Cosme, aka where the Obamas eat on vacation. It's super cute and it's worth checking out.
6. by CHLOE.
If you have visitors who are vegan or vegetarian, you'll need an option that will make you forget the fact that you're eating $16 sponges tofu on a Thursday night. By CHLOE. kills the veggie game without killing any animals in the process. The burgers are too good to actually be healthy, and the kale caesar salad will literally change your life. Try to go during off-peak hours to avoid a line of Postmates guys and NYU students wearing chokers. They have a few locations around the city now, but the Flatiron location prob has the most seating if you're with a few people and don't want to squeeze at the community table with randoms. I'd rather stay home.

7. Minnie's on Clinton
Minnie's is one of those Lower East Side restaurants that's too cool to have an actual defined cuisine, but that's why we love it. Whether you're with people who are into extreme comfort food or just want some light sides, Minnie's has all of that, and they do it really well. The brick wall atmosphere is super intimate and cute, and you definitely don't have to worry about being underdressed. It's basically low-key dining done right.
8. SushiSamba
Out of towners love to complain that New York sushi isn't as good as *fill in the random-state blank." While we're not sure where this kind of hate is coming from, we're down to challenge it. SushiSamba serves amazing sushi and it's unlike any other place your guests have ever been (unless they've been to the Miami location.) SushiSamba's food is actually a Japanese-Brazilian-Peruvian fusion, so the rolls are unique and really cool. If you've never considered fresh mozzarella on your crispy rice roll, it's time to rethink your sushi palette. Not judging though. You're not from here.

7 Healthy NYC Lunch Spots That Aren't F*cking Salad Bars
There's something about lunchtime in New York City that's just so tough. I mean, the line at every salad bar within a 20-block radius is more painful than starving till dinner, and as much as we love our Sweetgreen, sometimes we just need a break from salad. Like, if Chrissy Teigen can eat fried cheese for lunch, we can have our raw kale hiatus. In the meantime, it can be tricky to find good lunch spots that are healthy and affordable, so we tried like, every restaurant in the city and found the best ones around. If you're looking for a healthy lunch that won't make you hate yourself, try out these spots:
Westville isn't new or particularly trendy, but the menu is amazing and the ingredients are healthy, so we're down to keep going back. However, they don't take reservations, so you should probably go during an off hour to avoid waiting in line with a bunch of bloggers debating between the dijon brussels sprouts or the Asian bok choy. Either way, Westville has a ton of options for anyone, whether you're hardcore dieting or literally just want a burger and fries. If you're trying to be healthy but don't want a salad, get their grilled chicken, salmon, or veggie burger, and their list of vegetable sides is longer than Caitlyn Jenner's memoir. You won't leave hungry.

Usually when someone suggests getting a poke bowl for lunch, it's a hard no. I mean, I'd rather die than eat raw salmon out of a tin that looks like the clearance bin at Sephora. Luckily, we've found a gem that actually makes poke bowls classy, and that gem is Chikarashi. Unlike most poke places in the city, Chikarashi isn't buffet style or gross, so you just order something off the menu and don't have to waste your time choosing ingredients to go in your bowl. The genius behind this place is the former executive chef of Neta, Michael Jonh Lim, and there's a reason for the long lunch line. Chikarashi even offers seared toro, which you won't find at any other poke spot. Right now they're only on Canal street, but apparently there's a NoMad location on the way, and we're pumped about it.

If you love the taste of curry but won't admit it because Indian food is unhealthy AF, meet your new Indian bff, Inday. Inday is build-your-own bowl style, and all of their food is antibiotic-free, local, and organic. Their slogan is "Good Karma Served Daily," and we're totally on board. Inday is all about healthy food with good vibes. Their traditional Indian flavors will destroy the bland salad you've been eating everyday, and the food is legit healthy. Think cauliflower rice, coconut tahini, golden curry chicken, and herb quinoa. For dessert, get their dairy-free dark chocolate avocado cocoa bowl. Sounds funky, but don't knock it till you try it.

Mulberry & Vine is one of those places that are perfect if you're out to lunch with the healthiest friend you have, or the friend who would rather die than eat a salad. You basically make a plate or a bowl, and you can pick a protein and sides. They let you sample anything before you get it, which is a huge plus since we tend to have commitment issues. In terms of ordering, people love the chicken and salmon, but the tofu is also amazing if you're vegetarian. Plus, the roasted sweet potatoes with coconut oil are low key crack. Like, better than sweet potato fries.

If you're vegan, vegetarian, or just need a break from your regular salmon avocado roll, Beyond Sushi offers amazing plant-based sushi rolls that are super healthy, obviously. First of all, they use black rice and six-grain rice instead of regular sushi rice, and their rolls are filled with roasted veggies, tofu, and really interesting combos. I mean, your lunch will literally look like a rainbow-colored sushi platter, so it may seem slightly extra, but the food is actually really good. They have a few locations in Union Square, Chelsea Market, Midtown West, and Herald Square, so there's definitely one close to you.

Bluestone Lane is one of those West Village Instagrammable spots with Free People models and Australian food bloggers, but don't let the crowd deter you. I mean, at least it's not tourists, or even worse, families with small kids. We love Bluestone because the dishes are super simple and not boring at all. Like, I think they have a salad on the menu, but people only order that to add some color to their Instagram. The avocado smash is obviously a go-to, but if you're feeling adventurous, go for the portobello mushroom toast with pesto or the Balthazar toast with ricotta and berry jam. You could also just order everything and convince your friends to split it with you.

When Union Fare first opened, everyone thought all they served was a croissant that looked like the result of a one night stand between the gay pride parade and a Funfetti cake. But after everyone finally got over the photogenic 5000-cal baked goods, people started realizing The Hall at Union Fare is actually pretty healthy without making you feel like you're eating a bowl of rabbit food. If you're into cute toasts, the avocado smash and banana berry toasts are really good, and if you want seafood, we recommend the tuna tataki or salmon skewers. The brussels sprout flatbread is amazing if you want to split with friends and pretend you didn't realize it came with bacon on top.

8 BYOB Restaurants In NYC Where You Can Get F*cked Up
While Manhattan residents enjoy overpriced cocktails as much as anyone else, the fact that we're rent poor and like to get extremely fucked up when going out means we need to be resourceful about our choice of drinking location. Cue the BYOB restaurant, where you can bring your own alcohol to accompany dinner, usually because the place doesn't have a liquor license and the food is best enjoyed while extremely intoxicated. There are actually plenty of NYC restaurants that will let you booze to your heart's content and have great food, but like anything you have to know the right places. We've found eight for you to try out, because if there isn't a strong chance that you're blacking out during dinner then what's even the point?
1. Eleven B (East Village)
Eleven B comes highly recommended as a place to have a few glasses of wine with dinner or hold a full-on pregame for a rowdy group of people. If you're doing the latter, you should definitely call and make nice with the wait staff in advance since it's a smaller place. They accommodate big parties and the food—pizza, salads, pasta, etc.—is very very good although I haven't ever eaten there sober so can only be 99% positive about that.
2. Peking Duck House (Chinatown)
An instant classic, Peking Duck is birthday party central or just another place to get trashed with your 15 best friends if you guys enjoy family style Asian food. I guess you could also come here for dinner on a normal night, but that's what Seamless is for. Order the duck, bring a lot of wine (they don't allow hard alcohol) and you'll be guaranteed to have a fab time here.
3. Panna II Garden (East Village)
Panna II Garden is liiit, and we're not just talking about the fact that it looks like a Christmas tree exploded in there all year round. It serves Indian food, which may be a questionable cuisine before going out, but allows all the liquor, wine, and beer you can carry which makes it worth trying if your goal is to be wasted before 9pm.

4. Ponche Taqueria (Hell's Kitchen)
This place is legitimately a hole in the wall so definitely won't work for a huge crew, but Ponche Taqueria has some of the best Mexican in the city, which is saying a lot since there are like 15 different Dos Caminos's in midtown alone. Bring wine or beer for this one and save the tequila for pre-dinner margs which we know you were planning on getting anyways.
5. Sticky Rice (LES)
Conveniently located where you'll most likely be heading out for the night, Sticky Rice is the perfect dinner and drinking combo. They serve great Thai food and play bumping music at night so you'll be ready to stumble over to the bars nearby after, and you'll likely be joined by everyone else at the restaurant who has the same idea.
6. Poke (UES)
We know the UES might as well be upstate New York, but if you do happen to venture uptown Poke is a dope sushi spot that won't destroy your bank account. It's cash only and there can sometimes be a wait, but if you're committing to that area anyway it's NBD. You might as well drink some of that wine you brought while you wait.

7. Tartine (West Village)
Tartine is adorable AF and would be the perfect place to bring a date you actually like or small group of friends. This French restaurant offers BYOB dinner AND brunch which means bottomless mimosas and great food for extremely cheap. Need we say more?
8. BK Jani (Bushwick)
Yeah I know, "She doesn't even go here!" But if you're hanging out in Brooklyn because, say, your Bumble match lives there, this is the place to go. BK Jani—like most places in Bushwick and, now that I think about it, Bushwick in general—is a hole in the wall. BUT their burger is divine. Just trust me on this. Their other Pakistani-inspired offerings are delicious as well (I am told, I don't branch out), and there's a liquor store like, three doors down—meaning you don't have to lug a liter of wine on the L train. Seating is a bit of a shit show, so make sure at least one member of your group comes on time to stake out a table.

A Strongly Worded Letter To People Who Can't Decide What To Order At Restaurants
Dear everyone who takes 30 minutes to decide on an appetizer,
When it takes the better part of the work week to decide where to get dinner on Friday night, we can let that slide. After all, there are a lot of restaurants to choose from before ultimately deciding on the first place suggested 50 messages ago in the group chat. At that point the hardest decision should be made, though, instead of your panic that ensues as soon as the menus arrive.
While everyone else can chose an entree within a few seconds or decide on the spot, when it's your turn to order, time stands still. As if completely caught off guard, you look at the waiter helplessly and tell him you "have no idea!" This isn't because you have any dietary restrictions or there are a lot of options, you're just under the impression that the entire purpose of this restaurant is to support you through the most difficult decision you'll ever make in your life.
After spastically scanning through the menu, you'll explain you've narrowed it down to two choices which are always the healthier option and the thing you actually want. "Would you recommend the Caesar salad or the double cheeseburger with truffle fries?" you ask, which is obviously an absurd fucking question. Sensing your need for approval, everyone will tell you to get the burger, and at this point 45 people have had to help you decide it's a cheat day.
Even after you've ordered, your meltdown continues as soon as the food arrives and you instantly hate the person who got the best looking meal. You stare longingly at their plate to the point where everyone feels uncomfortable and they basically just give you their food. By the end of the whole ordeal you'll leave telling us the restaurant was "just okay," and that you've had better, meanwhile we've started a separate thread vowing to never eat with you again.
Basically we don't know how you survive any daily decisions, or why you think food is so stressful. But whatever, we're getting cheese fries.
Sincerely,
The Betches