Science Says Our Phones Might Be Making Us Gain Weight
In today's episode of "Bad News to Our Waistlines", science has just found that our cellphones could be making us gain weight. To get specific, it's the type of light being emitted from our cellphone screens that's at fault and not our dependence on Postmates and GrubHub at 3am—although I suspect that could play a role.
This scientific study from the University of Strasbourg and the University of Amsterdam was presented earlier this month at a conference in the Netherlands. The study was based on the premise that blue light from LED screens found on our phones, laptops, and tablets have an impact on the areas of the brain that regulate appetite. The retinal sensitivity to these kinds of lights causes our bodies to send a message to our brain telling us to consume more sugar.

The study specifically looked at the effects of blue light exposure on diurnal rats (that are awake during the day and asleep at night, like humans—as opposed to regular rats, who are nocturnal). The rats were exposed to the blue light at night for one hour. The day after exposure, the rats were given options to choose between rodent food (standard, nutritionally balanced), water, lard, and sugar water. After the nights with exposure to blue light, the rats consumed more sugar compared to nights with no exposure. The light also seemed to alter their glucose tolerance.
There are a few things to consider. Because the rats were all males, the scientific study does not show if the outcome would be the same on female rats. The rats were also only tested on for one night, so we have a very short time period to work with. If these effects were repeated, then over time, the rats would experience weight gain and develop diabetes with exposure to blue light. Still, even given the limited scope of the results, the authors of the study recommend limiting the time spent in front of screens at night, using night mode on devices, and/or using blue light filtering goggles to lessen the impact of LED lights on our appetite.

Now while this study was conducted on rats, I do think the results send a message of the impact electronic devices have on our human bodies. The recommendation of limiting screen time and using blue light filtering apps and goggles make a lot of sense, not only in terms of appetite control, but also because previous studies have shown blue light impacts quality of sleep. There are more studies on the internet on blue light's effects on sleep, so I did further research. I was able to discover that the shorter wavelengths in LED light affect our bodies' ability to produce melatonin, which is the sleepy hormone. To connect the dots further, melatonin also directly effects weight gain/losses, in that it helps your body regulate leptin and adiponectin hormones. These two hormones regulate your appetite. So while the original study suggests that the appetite change is due to blue light affecting the appetite-regulating part of our brain, it could be possible that the blue light is also disrupting our bodies' ability to create essential hormones.
Our parents and grandparents used to read a book (real, not electronic) before bed, whereas nowadays we're scrolling through IG until we're close to passing out. Turns out, they were on to something. Personally, I'm terrible at staying off the phone immediately before bed and immediately upon waking up. I am constantly laying down, reaching for my phone, which evidently is not the healthiest habit. With all this research on the negative impacts blue light has on our health, I will definitely be making a conscious effort to step back from the phone. Will you be lessening screen time with me? Sound off below, I would love to hear your thoughts!
Images: Giphy (2)
Are Selfies Actually Ruining Your Skin? We Asked An Expert
Yesterday, I woke up to a text from my mom. Was it an emergency? Of course not. Instead, she was sending me a story she heard about on the radio about how selfies are apparently "as damaging to skin as sunbathing." Naturally, she heard this story and automatically thought of me. How sweet! I really don't think I take a lot more selfies than the average millennial, but nonetheless, I don't want my skin to be ruined just because it takes me 50 pictures to find the right angle. I wear sunscreen every day, so should I be wearing selfie-screen too? I need answers!
First, let's go through what this new report actually says, because I'm a little skeptical. According to "nurse and beauty therapist" (idk what that means) Sara Cheeney, the electromagnetic rays emitted from our phones can accelerate aging at an "alarming" rate. Cheeney says that she "has noticed a sharp rise in the number of patients suffering from selfie-induced skin damage and claims 'the results are quite alarming. I get a lot of bloggers and patients who take selfies every day coming to me and complaining about the issue, and it's an issue which seems to be getting worse'".
First of all, I love the phrase "bloggers and patients," as if bloggers are some different form of humans who don't count as regular patients. Sounds about right. The original article also quotes dermatologist Zein Obagi, who says that he can tell which hand patients use to take selfies based on their skin damage. "You start to see dull, dirty looking texture that you cannot identify on one side of the face."

Excuse me? Are they trying to say that even with a seven-step skincare regimen, the selfies that you can take are making your skin look dirty? This just doesn't seem fair. Also, what makes taking selfies specifically so bad when we're all looking at our phone screens all day long anyway? Needless to say, I was left with some important questions.
In order to get a little more context, I reached out to Deanne Mraz Robinson, Assistant Clinical Professor of Dermatology at Yale New Haven Hospital. She broke things down for us:
"Electromagnetic radiation extends across a spectrum from high energy to low energy. High frequency (energy) radiation can penetrate our skin deeper than low frequency energy.  Cell phones emit blue light, which is also known as high energy visible (HEV) light. This is a form of high frequency and high energy light.  There is evidence that excessive HEV can damage our skin, break down collagen in addition to causing issues such as hyperpigmentation."
Essentially, she's saying that the initial report was more or less correct. The blue light emitted from your phone can damage your skin. But I think the most important thing to note, both from the original story and from Dr. Robinson, is that none of this is specific to taking selfies. Sure, it's more attention-grabbing to say that selfies are going to kill us all, but your phone is emitting blue light the entire time you're using it. Basically…we're fucked?

Dr. Robinson does recommend using protection against the blue light from your phone, and her recommended product for this is the ISDIN Mineral Brush 50, a facial sunscreen powder that "contains iron oxides that protect skin from photoaging and blue light." It's  new product that's not available in the US yet, but once it is, I'll definitely be giving it a try. We could probably all benefit from using our phones a little bit less, but products like this are a more realistic way to protect our skin.
So, should you stop taking selfies? Perhaps. But you're probably not going to, and it's okay, neither am I. But it's good to understand what potential side effects technology has on our bodies, and to make choices with these side effects in mind. That being said, don't ever let anyone tell you your skin looks dirty, because you are not the one.
Images: Vinicius Amano / Unsplash; ISDIN
What Your Zodiac Sign Reveals About Your Sex Life
We all love reading about our zodiac signs, even though horoscopes might not be the most scientifically accurate. The brand just revealed the results from their 2019 SKYN Condoms Sex & Intimacy Survey, which asked 2,000 Gen-Z adults (18-22) and millennials (23-38) in the US and Canada detailed information about everything from condom use and sexual education to favorite sexual positions and fantasies. Some of the results were kind of surprising—like how 65% of Gen-Z reports using a condom all or some of the time, while only 54% of millennials could say the same. Some were disappointing, like how Gen-Z fakes orgasms more often than millennials (10% of the time versus 6%, respectively). But in addition to breaking down their findings by generation, we worked with Skyn to break things down by astrological sign. It's the perfect mix of astrology and science. So read on to find out what your zodiac sign reveals about how you are in bed.
Aquarius

According to Skyn's research, if you're an Aquarius-born person, you use lube most frequently and toys while you masturbate. While those are all great characteristics for a partner, if your SO is an Aquarius, don't bother asking for a threesome. They are least likely to have one. On top of that, they are the least adventurous when it comes to locations to have sex, so keep it in the bedroom.
Pisces

If you're a Pisces, you're freaky. You are most likely to have filmed yourself and a partner having sex multiple times. But!! If you're going to film yourself having sex, make sure everyone involved consents and is over 18 (*cough* Rob Lowe *cough*). As well, you're more likely to be in an open relationship and are the biggest fans of vibrators. But beware of calling your partner the wrong name, since you are most likely to do so. Yikes.
Aries

Ahh Aries. Lucky for you, you last the longest during sex—an average of 31 minutes. You're also most likely to use a sex toy. Fun! However, you are also most likely to have had a dry spell (aka no sex) for over 2 years, other than when you lost your V card. Maybe that has to do with the fact that you are also most likely to fake an orgasm. 12% of Aries reported faking an orgasm every damn time they had sex. Unless you're imitating Sally, STOP IT!
Taurus

If you're a Taurus, you're least likely to want to spice things up in the bedroom. So either you're intimidated or super vanilla. No shame in the latter, but if it's the former, maybe work on it? It's worth it to switch things up, I promise. Skyn also found that you would prefer to give up social media for a year instead of sex, and like honestly, I agree. Finally, if anyone is interested in having an open relationship, hit up a Taurus 'cause they are most likely to consider it.
Gemini

Beware of Geminis. While you are least likely to fake an orgasm (take note, Aries), you are most likely to overreport the number of people you've slept with. Why? Just keep it real. But on the flip side, Geminis are also most likely to still be a virgin. I was hoping Steve Carell was a Gemini, but he isn't. Is Colton?? Whatever. Unlike a Taurus, you are most hesitant to give up social media for a year over sex. So either you're v attached to your phone or the sex you've had is not very good.
Cancer

I've never been happier to be referred to as a disease until today. As a Cancer, I have the most sex out of all the signs and am most adventurous outside the bedroom. Seems fitting for the things I write about (sorry mom). Cancers love cowgirl—37% rated it in their "Top 3 Fav Positions." And, when it comes to one night stands, Cancers are most likely to find someone on a night out. Get it, Cancers.
Leo

If you're a Leo, you're most likely to use social media DMs as a way to sext. You love dirty talk and find it a major confidence booster. You also love a good blindfold, so partners of Leos, take note. But buyer beware: the majority of Leos believe that size is "very or somewhat important" for sexual pleasure. Listen, it isn't about the size of the wand, it's about the skills of the wizard (or however that saying goes).
Virgo

Since Virgos are "supposedly" the most studious, you are most likely to meet your SO at school. Unlike Aquarians, you are most likely to be open to a threesome. Fun! While you are also more likely to have sex on the first date, you are the least likely to experiment with sexual fluidity. No shame in that, though—you know what you like and you stick to it.
Libra

Your fav sex position is probs doggy, since 67% of Libra's rated it in their "Top 3 Fav Positions." You are least likely to use a condom (I won't lecture you, but be safe pls). You are most likely to judge someone with multiple partners, and maybe that is you just being bitter, given that a quarter of Libras said they masturbate more than five times a week. Maybe lessen up on the judgment, k?
Scorpio

You are most likely to buy condoms online, and while you're at it, throw some cuffs into your Amazon cart since you are also most likely to use some sort of restraints, you kinky people. As well, Scorpios are the most successful when it comes to datings apps. You are also most likely to think foreplay is overrated. I disagree but again, I'm a Cancer so …
Sagittarius

You are smart and safe. You are most likely to use condoms, and I commend you for that. Maybe you should talk to your Libra friends about the wonders of protection. While you are most likely to wrap it before you tap it, you are least likely to lube it up before you use it. Uh, ouch? You also play hard to get, being among the least likely to have sex on the first date. Finally, you prefer giving over receiving oral sex. You generous soul.
Capricorn

You find it difficult to be in a relationship, making you the most likely to stay single. Although you may be single, you experiment and are the biggest fans of flavored condoms (don't worry, Skyn makes condoms inspired by our fav cocktails). While you may like flavors, you are rather vanilla when it comes to positions. Missionary is the favorite position among Capricorns. And luck you, Capricorns are most likely to orgasm more than once during sex.
Images: Giphy (12)
There's A New Way To Make Money Off Pornhub And It's Not What You Think
Good news to those of you who like to fuck! Erotic short film site Pornhub is offering a $25,000 grant to college students who want to research human sexuality. Professors and students can use the grant to conduct any research that'll bring about a better understanding of human sexuality and " help people lead happier and healthier sex lives." But, heads up, this isn't an excuse to try and bang your cute TA. We're not telling you to do that (for legal reasons.)
With those guidelines, I'll gladly accept the money and just start telling all my friends to stop hooking up with dudes who text them after midnight. Done. I'm a scientist now.
Really, though, Pornhub is very open about what you do with the money and what kind of research it can be. It can be sociological, biological, or technological. You can get paid $25k to analyze dick pics if that's what your heart desires.
Obviously, it has to adhere to like scientific guidelines and ethical standards, so you can't like shame anyone's dick pics or porn habits. You have to leave that to your group chat. But it is very cool to see a porn site want to promote sex positivity and knowledge and help more people get off. Aw, Pornhub is like the Mother Theresa of smut sites. 
You have till May 1st to think of your sexiest ideas and apply for the grant. And no, your Spring break trip to Cabo does not count as "research," no matter how sexual it may have been.
Heads up, you need to keep up with the news. It's not cute anymore. That's why we've created a 5x weekly newsletter called The 'Sup that will explain all the news of the week in a hilarious af way. Because if we weren't laughing, we'd be crying. Sign up for The 'Sup now!
There Is Now A Scientific Reason Your Friends Keep Marrying Losers
Here's some unsurprising news: researchers at the University of Kansas found that men are more likely to "marry up" (aka marry someone better/hotter/smarter/richer) than women are.
Excuse me while I pretend to be surprised:

So why is this even a study? I could just look at the dumpster fire that is all my besties' boyfriends and tell you this shit, but apparently this hasn't always been the case. It used to be that women were the ones who "married up," snagging highly educated and professionally successful men because like, they weren't really allowed to be highly educated or professional themselves.
Now, thanks to feminism, women are allowed to work, and after studying Census data between 1990 and 2011, University of Kansas researchers found that "women's personal earnings have grown faster than men's earnings during this time." So basically, these researchers asked "Who run da world?" and the answer was:

As a result of this rapid growth, the number of female pros in the marriage market "exceeds the number of highly educated men (read: male pros) in the marriage market." So basically, you and your friends are all dating down, and it's because you're just too damn educated. Which is more or less what I've been trying to tell my dad every time he asks why I still don't have a boyfriend, even though he didn't like my last boyfriend because he worked at a smoothie place and didn't have a career. It's not my fault, dad! In fact, it's kind of your fault for paying for my college education. So there.
Who run this mutha?

Your Friend Who Takes A Lot Of Selfies Might Be Depressed
Here's something we all know: Instagram is an emotional roller coaster. One minute you're looking at all your old selfies thinking about how pretty you are sharing memories with friends, the next you're sent into a rage spiral because your-man-who's-not-really-your-man commented the heart eye emoji on some thot's belfie and it reminded you that you haven't gone to the gym in three years weeks. So yeah, while the highs of a 100+ like beach pic are pretty high, the lows of a vulnerable selfie that never even hits the double digits are pretty fucking low. All of this is to say, Instagram can be depressing as fuck, and now we have the science to back that up. A new study from Harvard University (what, like it's hard?) found that your Instagram posts hold clues to your mental health, and I'm not just talking about how we all know you're fucking depressed when you post a picture of you looking longingly out a random window and caption it with some emo song lyrics from the early 2000s. But that too.
The actual study found that people who are depressed (aka you all winter), "tended to post photos that, on a pixel-by-pixel basis, were bluer, darker and grayer on average than healthy people." So basically, your grainy-ass black-and-white food pics aren't just fucking up the flow of my feed, they're actually revealing to the entire world (assuming your account is public) that you're depressed.
Researches came to this very obvious stunning conclusion by identifying participants as "depressed" or "healthy" based on whether they reported having been diagnosed with depression in the past.
Side note: Who are these healthy, non-depressed people? Where do they live? What is their secret?

Researchers then "used machine-learning tools to find a pattern in the photos and to create a model predicting depression by the posts," which is basically fancy science speak for "We taught a computer how to scroll through Instagram."

So what exactly in your posts reveals that you are depressed? Well, they found that depressed IG users tend to use "fewer filters," which supports my strongly held belief that people who post
#nofilter selfies are seriously disturbed. When they do use a filter, they tend to use Inkwell aka the fancy Instagram way of saying black-and-white, whereas healthy people use Valencia because…IDK. I guess the greenish hue brings people joy? Unclear.
Depressed participants were also more likely to post photos of just their face, which means that someone needs to drive to Brentwood and check on Kylie Jenner ASAP. I'm seriously concerned.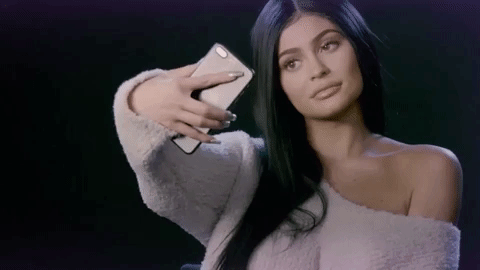 One thing these researchers found that I def could have told them myself is that depressed users tend to post more frequently. I mean, fucking duh. Anyone on Earth can tell whether or not I'm going through a breakup based off my daily post rate. Two or more selfies a day and you are fully justified in sending me a "U OK?" text. (I'm most definitely not okay.)
They also found that depressed people also tend to get more comments and less likes, which is really unfortunate because, as I previously stated, there's nothing better to get you out of a funk than a fire candid with 100+ likes. If they could find a way to turn that feeling into a pill, depression would be a thing of the past.

All in all, this study is, for lack of a better word, depressing. Mainly because all the things they said are signs of depression describe the social media use of literally every human person in my feed, including myself. That being said, I think the moral of this story is clear: Inkwell is just not an acceptable filter anymore and using Valencia is the same for your health as like, a really good cardio workout.
New Study Finds You Literally Can't Help It That You're So Popular
You know that feeling you get that you're better than everyone else? Well, you're actually right about that. It turns out the ability to social climb is embedded into your genes. So you literally can't help it that you're so popular. Sorry for letting you fall, Gretchen. You were right all along. A new study by Kings College in London found that your genes actually determine 50% of whether or not you will be socially mobile. The other half is basically determined by being rich which like, yeah duh we knew that already. According to the study, children who were born with the popularity genes tended to score better on all of their tests, regardless of how educated or wealthy their parents were.
This probably explains why even when we don't want to do work, we still succeed at everything we do. Think Elle Woods in Legally Blonde just casually taking her LSATs and getting into Harvard.

This study was the first to find substantial proof of "genetic influence on children's social mobility" aka, what we've known all along, that some people are just born popular. Using a sample of 6,000 twin families (it's always twins, isn't it?), researchers measured whether or not children were able to measure up to the education status of their parents. So like, if your kid scores high on their tests even though you didn't go to college and just run like an Etsy shop or whatever, that child is upwardly mobile. If you're rich AF and went to an Ivy but your kid failed their tests, then your kid doesn't have the popularity gene and isn't upwardly mobile. Honestly, this test seems kind of mean, which I guess is perfect for popular people.

Unfortunately, this also means some people are just born to fail, which explains the trust fund bro we dated who had everything handed to him yet still ended up arrested for selling oregano to a police officer. Even when their parents were already educated and successful, the kid could still end up becoming a DJ or street magician so like, thank god we were born with the right genes. Can't help that things come so easy for us!
There's A Scientific Reason You're Such A Bitch During The Summer
If you're looking for the perfect excuse to get out of doing shit for other people this summer, we've got just the thing for you. There's a new study in the European Journal of Social Psychology that says people in uncomfortably hot environments are much less likely to help others. Basically, summer is making you a bitch.

We've always loved complaining when we're too hot, but now we have science to back us up. The researchers found that there's a strong link between temperature and "prosocial behaviors," which means that when you're hot, you're not going to do anything that doesn't actually benefit you and you'll have zero tolerance for socializing or making small talk.
Anyone: How are you doing?
Me:

One of the examples they use is employees in retail stores. If the store is too warm, the employees are going to be bitches and not offer to help you with anything. If you need something in a different size, you'll be stuck sweating in the fitting room while the employees, like, sit around and talk shit about you. We're always complained that stores are too cold, but at least that means you'll be getting better service?
The study also found that people who are uncomfortably warm are way less likely to agree to fill out surveys, which is very useful information. Next time you're in a parking lot and some lady harasses you to sign a petition, just mumble something about it being hot and run to your car. You're not being rude…

Lastly, the researchers concluded that hot environments made people more fatigued, so it's completely reasonable to take two naps a day in the summer. Basically, this whole study is just giving you excuses to do all the things you already do, and we're totally here for it. Thanks science, gotta go take a nap now!