The Most Important Underrated Moments Of Taylor Swift's Decade
Love her or hate her, you can't deny that Taylor Swift has had a pretty iconic decade. Today, she turns 30, which surprised me at first, but then I remembered that being born in 1989 is like, a major part of her image. We've followed along with Taylor's life since she was a teenager, so I guess this should make me feel old, but really I'm just taking this as an opportunity to reflect. Not on like, my personal growth or some boring sh*t like that, but on all the amazing moments Taylor has given us this decade.
It might sound like I'm sucking up to Taylor here, but I don't just mean "amazing moments" like her winning awards and selling a bunch of albums. I mean all the petty, passive-aggressive, and cringeworthy moments that only Taylor Alison Swift could possibly have created. My personal relationship with Taylor has come a long way in the last 10 years, so it's time to take a walk down memory lane. Here are all the best Taylor Swift moments that you might have forgotten about in the past decade.
The Kanye Phone Call
Kim exposing the phone call between Kanye and Taylor about his line in Famous. RT to save a life pic.twitter.com/FLBkEXkJTZ

— claire 🌻 (@ohaiclaireee) July 18, 2016
Okay, so no one has really forgotten about Taylor's decade-long feud with Kanye, but this one specific moment felt a pivotal moment in our pop culture history. After Taylor Swift publicly called out Kanye West for his lyric about having sex with her in his song "Famous", Kim Kardashian defended her husband by releasing a video of Kanye calling Taylor to get her approval before the song ever came out. It was the Snapchat story heard around the world, and it re-ignited one of the biggest celebrity feuds ever.
In response to the video, Taylor clarified that she was actually angry about the use of the word "bitch" to describe her, and that she would very much like to excluded from this narrative. Her lawyers also reportedly sent Kim and Kanye a letter demanding that they destroy the video, which, as you can see from the video embedded above, was too little, too late. Taylor then went on to release an entire album inspired by Kanye being mean to her, and it's fair to say that they'll probably never truly get along. God, I love Kim for being messy and posting this video.
The Time She Was (Allegedly) In A Box
Taylor Swift has reportedly been carried out of her house in this massive suitcase https://t.co/iIeamTRfFM pic.twitter.com/bdmZyIKIsB

— SPIN 1038 (@spin1038) July 17, 2017
This is a deep cut from the Taylor Swift vault, but I felt it was vital to include. Back in 2017, paparazzi service Splash News published a bunch of photos with the caption "Taylor Swift being transported in a huge suitcase from her Tribeca apartment into her truck." They later retracted the caption, saying that it wasn't verified, but a huge rumor had been born nonetheless. We've never gotten confirmation one way or the other, but I personally 100% believe this to be true. If you asked me which celebrity would make people carry her inside a giant case to avoid photographers, it would absolutely be Taylor Swift.
We'll probably never know for sure whether Taylor is inside the box, but we got a major clue last year, when Zayn mentioned in a British Vogue interview that Taylor "was traveling around in a suitcase." SEE?!! Say what you will about this theory, but it's basically confirmed in my mind.
The Scarf
As if the box mystery wasn't compelling enough, let's move onto another legendary mystery about Taylor Swift's life: the infamous scarf. In her 2012 song "All Too Well" Taylor sings about her relationship with Jake Gyllenhaal, which you also may have forgotten about. The song is masterfully written, but there's one lyric that fans couldn't stop thinking about: "I left my scarf there at your sister's house, and you've still got it in your drawer even now."
For years, people fixated on this scarf, and whether or not Jake (or Maggie) Gyllenhaal knew its whereabouts. Then, in 2017, the pop culture gods smiled down on us, and Andy Cohen asked Maggie about the scarf when she appeared on Watch What Happens Live!. Maggie said that people always ask her about it, but had no idea about what the song was actually referencing. She did say, though, that "it's possible." Case closed, Maggie Gyllenhaal has Taylor Swift's scarf somewhere.
No It's Becky
If you know anything about Taylor Swift, you know she's always been a Tumblr girl at heart. She prefers a petty text post to a Notes App apology any day, and she's also not afraid to troll the good people of Tumblr. To understand this story, we have to go back to a vintage Tumblr meme:

God, I loved Tumblr. This whole post is iconic, but "no its becky" literally needs to be carved on my grave. This post made its way around Tumblr for a few years, and then in 2014, it reached a peak. Taylor Swift stepped out in New York wearing a T-shirt that said, and I cannot make this up, "no its becky."
PEOPLE IN NYC WILL BE CONFUSED THATS BECKY OKAY NOT TAYLOR SWIFT SHES BECKY pic.twitter.com/o566D7fPo1

— chels (@taylorspurr) September 25, 2014
Tumblr, and the internet as a whole, obviously ate this sh*t up, and I have to hand it to Taylor. This was really an epic moment in pop culture, and it proved that despite being annoying sometimes, she really does have a sense of humor.
The Tom Hiddleston Relationship
Is there anything more cringeworthy in Taylor Swift's history than her short-lived relationship with Tom Hiddleston? I mean, maybe she once waved at someone she didn't actually know, but I haven't heard about that, so the Tom Hiddleston relationship it is! We all know how this began—with that awkward dance at the Met Gala. I'll take any opportunity to use this gif, so feast your eyes on this baby.  

I guess they really did find love in a hopeless place. If your eyes aren't bleeding after watching that, let's continue. Taylor and Tom had a brief but intense relationship, getting photographed up-close in multiple locations (Rhode Island, Italy) that some people thought it was a fake relationship just for a music video. The embarrassment culminated in his appearance at her Fourth of July party wearing an "I Heart T. S." tank, which thankfully, Robert Downey, Jr. won't let us forget. You're doing the lord's work, sir. 
After that, they quickly broke up, and Tom Hiddleston presumably burned that hideous f*cking tank top. I hope he spent a lot of time thinking about what he had done, because honestly, what was he thinking?
Her Relationship With A Kennedy
Of course we haven't forgotten about Taylor Swift's high-profile relationships with celebs like John Mayer or Harry Styles, but when was the last time you thought about Conor Kennedy? He and Taylor dated in the summer of 2012, and my favorite moment was when they crashed the wedding of another Kennedy family member, an event which thankfully made its way to the tabloids. Specifically, the bride said that Conor texted her an hour before the wedding asking if they could come, and she specifically responded "Please do not come." Well, they came anyway, and the bride asked Taylor to leave. Why don't more people know about this??
taylor meeting an american man after dating conor kennedy pic.twitter.com/MGERoH1XDx

— giselle🧚🏼‍♂️ (@inagetawaycar) September 24, 2019
Additional fun fact: since her relationship with Conor, Taylor has never dated another American guy. Guess he ruined Americans for her, sad!
The Apple Music Letter
While the wedding crashing wasn't her best behavior, Taylor has frequently used her power for good. In 2015, she penned an open letter to Apple Music, bashing them for their announcement that artists wouldn't be paid for streams during users' free trial periods. This was obviously a f*cked up decision, and Apple quickly walked back their earlier announcements, but the damage was done. Taylor withheld her new album from the streaming platform, and also pulled her music from Spotify over their less-than-ideal payment system.

In the years since this went down, Taylor Swift has fixed her relationship with Apple, and her music is also back on Spotify. But in that moment in 2015, she proved that she wasn't afraid to use her voice to fight for what she believed was fair. She d0esn't always get it right, but this was a pretty great moment.
The "Bad Blood" Video
No one does petty like Taylor Swift, and what's pettier than assembling an entire group of friends to sh*t on someone you don't get along with? For Taylor's "Bad Blood" video, she did just that, giving life to the "girl squad" trend and basically throwing Katy Perry under several buses. 

While Katy obviously didn't make an appearance (that would take a few more years), this sh*t had Selena, Gigi, Martha Hunt, Cara Delevingne, Karlie Kloss, Jessica Alba, Lena Dunham, Mariska Hargitay, Ellen Pompeo, and Cindy Crawford and other people that I haven't even listed here because I'm sick of commas. It was a huge deal, and premiered during the Billboard Awards. And then Taylor continued to trot out her celebrity friends like pretty little show ponies for the entirety of her tour. Still mad I didn't buy tickets tbh. 
The Scooter Braun Feud
This drama recently unfolded, so if you don't remember what happened you probably need to use more anti-aging cream than me. DM me your address and I'll share my routine. We've covered the multiple stages of this feud in detail, so I'll just link info here and here, but we can't just not mention it here. This summer, Taylor Swift made everyone choose sides (and Google "what are masters") when she accused Scooter Braun and Scott Borchetta of basically ruining her life by buying her entire musical catalogue.
Then, a few weeks ago, she started phase two of this war when she claimed that these men weren't going to let her perform her old hits at the American Music Awards. Scooter finally posted a lengthy statement, refuting her claims claiming that he was receiving death threats, and Taylor performed her old songs without a mention of the drama. I don't know where this feud is headed in the future, but it's definitely been a bumpy ride this year.
I could talk about Taylor Swift all day (and I kind of feel like I have), but if anyone deserves the attention, it's her. Whether you love her, or love to hate her (or fall somewhere in the middle), she's had a massive decade, and I'm sure her 30s will be no different. Taylor—keep being petty, I literally don't know what I would do without you!
Images: ohaiclaireee, spin1038, taylorspurr, inagetawaycar / Twitter; Watch What Happens Live / YouTube; dundermilfflin / Tumblr; Giphy (5); robertdowneyjr, scooterbraun /Instagram
Why Is Ariana Grande Celebrated For Doing What Taylor Swift Is Mocked For?
Like most sentient Americans, I've spent the past few weeks in a world where Ariana Grande's "thank u, next" is the only soundtrack. It's passed well beyond the point of "great song!" and into the realm of "if I don't get my daily fix, I will probably die." I am certain I'm not alone in this, given that "thank u, next" has shattered multiple records in the streaming world. More importantly to me, the song and its accompanying video have secured Ariana Grande's transition from pop star to icon, from whom every social media nugget and on-screen appearance are nothing short of gospel.
As I've watched (and wholeheartedly approved of) the reaction to "thank u, next," one question continued to bug me. When Taylor Swift sings about her exes, she causes a similar flurry—but one filled with sneering, eye rolling, and the suggestion that she can't be taken seriously as an artist for choosing such diary-like content. Then Grande releases a track in which each of her exes are called out by name, and she's hailed as the ultimate badass for it. As someone who both genuinely loves Taylor Swift's music and feels that 90-95% of songs should be about one's exes, I couldn't help but wonder: why is Grande celebrated for the very thing Swift is mocked for? I've outlined my theories below.
Ariana Grande Is Cool & Confident
Let's be honest—a huge part of the appeal of "thank u, next" is the fact that, given the option, we would all present ourselves like Grande did after a breakup. "Thank u, next" is perhaps the coolest emotion one can evoke when facing an ex—even more so if done with genuine gratitude and while looking insanely flawless. "Thank u, next" is a song we can all caption our pictures with while drunkenly "accidentally" tagging exes, and the worst thing that happens is you've been overly polite to someone who wasted a year of your life. You tag an ex in a pic captioned "got a long list of ex-lovers / they'll tell you I'm insane," and you're not coming back from that so quickly. This brings me to my next point.
Taylor Swift Is Earnest & Emotional
Taylor Swift, almost determinedly, does not put up a "cool girl" façade when she sings about her exes. She painfully scrutinizes where it went wrong, often down to the minute of their breakup. She lingers on their ultimate incompatibility, mourns for the good times, and explicitly details the extent to which both she and her ex will suffer for this loss. Swift is, in my opinion, a far more realistic version of what you look like after a breakup. Contrary to what Grande's rom-com mash-up video would have you believe, most people do not soar from broken engagements feeling validated in all of their choices and loving themselves like never before. They come out feeling lost, broken, and all too likely to dwell on all the most unhelpful and unattractive things.
In other words, they look like this: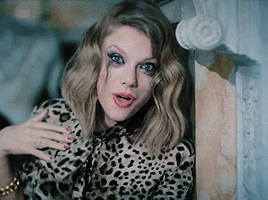 Not this: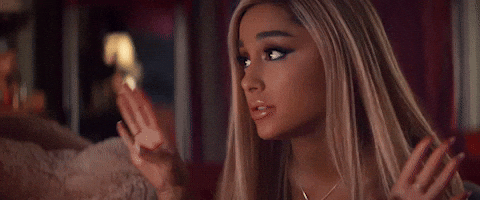 So, if Swift is ultimately more relatable, shouldn't that mean more critical success? F*ck no! Please. Name the last time someone wanted an honest reflection of themselves, particularly if it's unflattering. From the bathroom scale to the pop soundtrack of your life, you want to be fed beautiful lies. People yell at Swift for being vulnerable about her exes the same way you yell into the mirror the morning after drunk-dialing your own ex 12 times the night before. Swift isn't critiqued in spite of being relatable; she's attacked precisely because of it.
Ariana Grande Is Gracious & Direct
First and foremost, we have to acknowledge that Grande takes the high road with "thank u, next." She betrays not one scrap of vitriol toward her exes, talks no sh*t about them or the relationship. She simply thanks them for their time, and reaffirms her commitment to herself. So, that alone is easier to get behind than one of Swift's "remember those three minutes in 2004 when you said we would die together" tirades.
On top of that, there's the fact that Grande seems to have no fear of confrontation (can't relate). She names each of her exes plainly, and even gave many of them a heads-up before the song's release. So, if her exes themselves don't have an issue with the song, it's a little harder for the general public to decry it.
Taylor Swift Is Petty & Secretive
Swift, on the other hand, does everything short of attaching a treasure map to each album with hints to which lyric refers to which ex-boyfriend. Yes, the national obsession with tracking those connections, and stalking her love life in general, has gotten totally out of hand. But when she describes the relationship down to the month ("Back to December"), memorable holiday (4th of July), eye color (too many to count) and so on—it's a little hard not to engage. Add to that the fact that she decidedly doesn't take her exes' feelings into consideration on this—and given the contentious nature of many of her songs, it's not hard to see why.
To clarify, I'm not in any way saying that artists should have to poll their exes before releasing a breakup track. The world would be a much sadder place if that were the case. I'm just saying that Swift's refusal to do so—and Grande's respective decorum toward exes—makes Swift the much easier target to criticize. Basically, Grande is doing all the things you're supposed to do after a breakup; Swift is doing all the things you hope people never find out about after a breakup. And one of those girls will get dragged a lot harder than the other—it's just a fact of life.
Moral of the story here? We should all try to be more like Ariana Grande. JK—you guys knew that coming in. But honestly, that is the hidden message behind the song's unequivocal success. When Swift sings about her exes, she does it emotionally, vindictively, and evasively. She speaks about her exes with all the bitterness of someone still deeply invested in the relationship, or at least actively wounded by it. When Grande sings about her exes, she's singing from the point of view of someone who's moved on—and ultimately, just singing about herself. So yeah, do be more like Ariana Grande. Move on from relationships that didn't work, stop emotionally investing, and celebrate yourself. Apparently, the world has a much harder time tearing that down.
Images: Giphy (2)
'Reputation' Is A Year Old: Do We Still Hate Taylor Swift?
Today, November 10th, marks exactly one year since Taylor Swift released Reputation. Wow, it's been a long year. Remember when every week we had a wild new Taylor Swift video to make fun of? When the album came out, I didn't have the kindest things to say. Honestly, I've never had the kindest things to say about Taylor or her work, and I have no regrets. However, not everyone at Betches shared my thoughts about Reputation. Obviously, Taylor has lots of fans, and some of them are even smart, well-rounded adults. Go figure.
So how is my relationship with Taylor, one year after she released what was supposed to be her magnum opus, full of shade and hip hop influences? Well, as I would have said on Facebook back in 2010, it's complicated. I still don't love her, and at this point I probably never will, but what can I say, 2018 has been a weird f*cking year.
The biggest point I have to bring up is Taylor's recent foray into political activism. After years of showing absolutely zero interest in using her influence as a force for good in the political sphere, Taylor finally spoke up about the Senate race in Tennessee. While her condemnation of Republican Marsha Blackburn probably got a lot of young voters out to the polls, it was ultimately too little too late. So, at least now we know that Taylor isn't a secret Trump fan, but I'm gonna need her to keep this political streak up.
Musically, Taylor hasn't done anything since Reputation came out, so I'm still gonna judge her on that. Honestly, it's not like I hate the whole album. My review from a year ago was just my first impressions, and certain songs have definitely grown on me since then. I'm glad "Gorgeous" was a successful single, and I really do like "I Did Something Bad," but I stand by my disdain for "Look What You Made Me Do." It's just, like, not a good song.
So yeah, I don't hate Reputation, but I really don't think it's some groundbreaking musical statement, or even one of Taylor's best albums. A lot of the songs already sound dated, and no one is really talking about it anymore. It'll probably get some Grammy nominations this year, because the Grammys are obsessed with Taylor, but I'll be shocked if it really competes for any of the biggest awards.
So what do I think about Taylor these days? Honestly, I don't think about her much. Sure, it's fun to analyze her artistic choices and make fun of her for thinking she's the world's biggest badass (she's not), I'm not like, obsessed with her or anything. Next year, we can look forward to Taylor's appearance in the movie version of Cats, which will surely be just the right combination of cringeworthy and kind of good. Until then, I probably won't have much to say about T-Swift, unless, you know, she gets political or drops new music or wears a really bad outfit.
Is Taylor Swift's New Music Video A Cry For Help?
Hey friends, long time, no talk (shit about Taylor Swift)!  Taylor dropped her the "Delicate" music video on Sunday evening, so naturally I had to fire up the old YouTube and see for myself what our favorite relatable icon has been cooking up. The song itself is one of the least terrible songs on Reputation, but the "Delicate" music video is a fucking doozy. Buckle up betches, because the Taylor Swift Crazy Train is going full speed ahead.
The majority of the video takes place in like, a fancy train station lobby or a hotel or some shit like that. IDK, I wasn't trying that hard to figure it out. Taylor actually looks good in a blue fringe gown and a slick ponytail with bangs, but everything else she's doing in the music video is highly questionable. For the first part of the video, Taylor is being ignored by everyone around her, and she's never looked so needy, which is saying something. In some sort of dressing room (seriously, where is this taking place?), she gets ignored by a group of models who are dressed like extras from Gossip Girl season one, which is extra funny because Taylor Swift literally built an entire friend group of supermodels.
Whilst in the dressing room, we are also subjected to a full 13 seconds of Taylor making funny faces at herself in the mirror, but I can assure you that it feels like a fucking hour and a half. I'm barely getting paid enough for this not to turn it off.
Completely shooketh from her experience in the dressing room, Taylor heads back to the lobby, where she decides, once and for all, that she has zero fucks to give. After getting ignored by some bodyguards, Taylor rips off the bottom two layers of fringe from her dress, which leaves her with only three layers of fringe. Yeah girl, you show 'em!! Nothing says "I'm a badass" like a dress that juuuuust barely breaks the dress code that we had at my middle school. Proud of her.

She starts dancing around while everyone still ignores her, and it's like a cross between an amateur production of West Side Story and rejected choreography from a Sia video. Taylor is no Maddie Ziegler, that's for sure. The dancing goes on for a really long time, and I feel like I'm not exaggerating that much when I say that my wheelchair-bound grandma is probably a better dancer than Taylor Swift. Too far? See Taylor, look what you made me do.
Taylor dances some more in a subway station, and I'd just like to point out that she is fully barefoot at this point. I swear to god, if I ever even thought about walking on a subway platform without wearing shoes, I'd catch a million diseases known to man and several known only to rats. After crawling onto a train, Taylor takes this party to the streets. She dances in the rain like this is her audition tape for the La La Land sequel, but Emma Stone could do better in a blindfold and a straitjacket.
The climactic moment of the video is supposed to be the very end when Taylor walks into a bar (which sounds like the beginning of a very bad joke, so I guess it's fitting) and people finally acknowledge her presence, but I will choose, instead, to focus on the moment when Taylor drops into the splits on the hood of a car. WHAT DOES IT MEAN??? First of all, I'm impressed with her flexibility, considering that she usually gives off more of a robot/cardboard vibe. But also, like, why? Is Taylor just letting her thot side out? Is she really committing to this delusional idea that she's a ~dancer~ now? I have no clue, but the "Delicate" music video will keep me awake tonight.
Images: Giphy (2)
Why Taylor Swift Is Amazing, But We Hate Her
On this week's Betch Slapped, Sami and Jordana discuss Taylor Swift's new album and Ed Westwick's alleged rape scandal. They answer questions from a listener looking to get promoted and another who's having trouble making friends. They play games involving The Parent Trap and public transportation.
Subscribe to Betch Slapped on iTunes and listen on Spotify!
We Broke Down Every Song In 'Reputation' So You Don't Have To Give Taylor Swift Your Money
Welcome home fam, you've arrived. At long last, Taylor Swift's new album, Reputation, is here, and we have all the details so you can let your group chat know which songs require the most attention. Fasten your seatbelt, we have a lot of shit to talk.
Before I even started listening to the album, I was already annoyed. In a classic move, Taylor decided not to put her album on Spotify and other streaming services for the first week of its release (she clearly needs the money), so I spent $13.99 on iTunes just to get you this review on time. Don't ever say that the Betches have easy lives.
"…Ready For It?"
We've talked about this before. Even if this was the best song ever, I still can't get the image of that naked Taylor mannequin body shit from the music video out of my mind. This song is a little bit of a banger, but only in the most annoying possible way. It at least makes sense as the first song on the album?

"End Game" (feat. Ed Sheeran & Future)
First of all, "Taylor Swift feat. Ed Sheeran & Future" is one of the most confusing things we've ever read. Future looks like he would eat Ed Sheeran for breakfast, but whatever. Taylor shouts (tries to rap?) something about big reputations at the beginning, but tbh she's very overshadowed here by both Ed and Future. She is clearly the third best rapper on this song. Also shout-out to the MVP worst lyric: "I swear I don't love the drama, it loves me." Girl, next.
"I Did Something Bad"
Okay, the title of this song is literally me texting my roommates after every single night out. Taylor thinks narcissists are obsessed with her, but narcissism means…being…obsessed with…yourself? Yeah, she doesn't know what that word means. The chorus of this one is kind of cool, but we could do without the gunshot noises. Taylor probably doesn't even support gun control, ugh.
"Don't Blame Me"
This one has more of a sensitive, mellow vibe, which lets Taylor open up about all the hearts she's broken, and it really doesn't seem like she has any regrets. She says that love makes her crazy, which we can honestly relate to, considering that we make psycho decisions about boys who literally don't know we exist. We have our shit together, don't worry.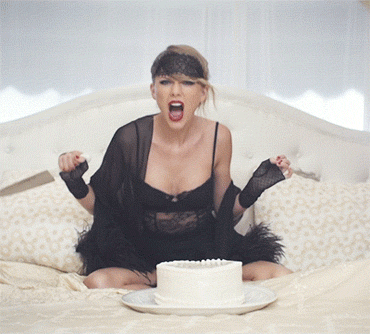 "Delicate"
Taylor says her reputation has never been worse, and she's not wrong. Glad we're on the same page, girly! This sounds like it could have been on one of her old albums, except if she was singing through a robot voice machine. Sad!
"Look What You Made Me Do"
Still hate it. No other comments at this time.
"So It Goes…"
I'm pretty sure four of these songs so far have had the exact same chorus? She's not a bad girl, but she'll do bad things with you. Oooh, sick burn. Is Taylor one of those adults who still think "doing bad things" is, like, letting a guy feel you up?

"Gorgeous"
If you've ever heard of the band CHVRCHES, this is exactly like their music, but worse. These lyrics are very cookie cutter Taylor Swift and we could fall asleep at any minute. The old Taylor is certainly not dead.
"Getaway Car"
"It was the best of times, the worse of crimes." Sometimes her lyrics make me want to throw my computer out the window. This song sounds exactly the same as the rest of the album so far. Have I said that I'm bored, because I'm fucking bored. Also, why is she singing about being at a motel bar? I refuse to believe Taylor Swift has been to a motel in the last decade.
"King of My Heart"
This sounded exactly the same as the rest of the album, but then Taylor started rapping, so it got worse. But then the chorus sounds the same again? There are some cool drums happening for a minute, but seriously she is out of ideas and it's a little sad. And no, Taylor, you're not my American queen, whatever that means.

"Dancing With Our Hands Tied"
I really don't hate this one, mainly because it actually sounds different from the rest of the album. It's pretty catchy and there's no rapping, thank God. There's a reference to an invisible locket that's a little middle school for my taste, but really I'll take what I can get from Ms. Swift.
"Dress"
Sweater! Scarf! Sock! See, I can do it too. OMG, there are lyrics about being drunk and taking a dress off and is Taylor…a badass?!?!? Nah, just a 27-year-old white woman doing normal shit and expecting a medal. *pours another glass of wine*
"This Is Why We Can't Have Nice Things"
Okay for real, this bitch is so extra with her song titles. I hate this one a lot. She says something about "feelin' so Gatsby," and then the chorus sounds like someone put a basic hip-hop beat under a children's song. There's more angsty speak-singing, which is definitely my least favorite thing about this album.
"Call It What You Want"
I'll call it a lame, misguided attempt at a career reinvention, thanks! Taylor says she brought a knife to a gun fight, which is funny considering I'm positive Taylor has been invited to 0 (zero!) gun fights ever. This is not one of the worst songs on the album, but I'm still bored.

"New Year's Day"
Last song!!! This one is actually kind of nice, just a piano and some convoluted story about some promise she made some dude about holding onto memories. All this shit about memories sounds annoying, but at least there aren't like, airhorns during the chorus. Remember when Taylor, like, played instruments? Man, those were the days.
So what's the verdict? The album has a few high points and a lot of low points. Like her shaggy hair, it could use a trim and some additional styling, but there will always be the next album. Or, maybe she'll quit music and just be an annoying cat lady full-time. We wouldn't complain. And if you see me singing this shit at the club, don't @ me.
'Reputation' Is Taylor Swift At Her Best
Buckle up betches, because I'm about to offer a hot take on Reputation that you likely won't find anywhere else on this site: It's good. Feel free to light me up in the comments.
Full disclosure: I'm a Taylor Swift fan. Have been since Fearless. It's a dangerous stance to take these days and one that I don't generally discuss, unless I'm drunk and yelling at someone in a bar about Red's tragic Grammy snub, something that happens far more often than I'd care to admit.
That being said, I was skeptical when it came to Reputation. The singles, while enjoyable in their own ways, hadn't reached the caliber of what I've come to expect from Taylor. If I'm being honest, they are some of my least favorite songs on the album, which I'm starting to think was purposeful.
Say what you will about Taylor Swift, but she's smart. No move she makes is without meaning, without intention. The singles painted a picture that the internet relished in mocking: Perpetual snake and die-hard romantic Taylor Swift has decided to become a bad girl in the way that you did after one trip to Hot Topic in 7th grade. It was laughable, predictable, and, what I'm now realizing after one listen through of the entire album, 100% planned.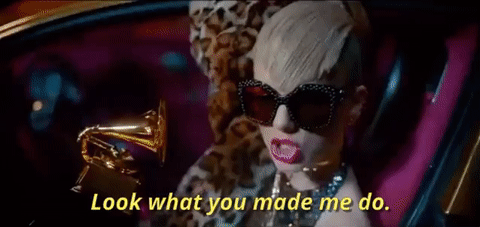 Maybe this new Taylor isn't the one we needed, but it's the one we deserved: darker, sultry, kinda pissed off, synth heavy, unapologetic af, and most importantly, honest. She's open in a way that she never was before, and it's provided me with something I never thought I'd get: Taylor Swift songs that I can pregame to. God bless.
Sure, the old Taylor drank, and had sex, and made mistakes, but the new Taylor actually talks about it. At 28, Taylor Swift has finally cursed in a song. She's finally talked about intimacy. She's not only recognized her reputation, but owned it.
Nowhere is this more obvious than in the Hiddleswift songs ("Getaway Car" is a BOP), which offer up a side of Taylor that we haven't really seen: one who has fucked up and doesn't give a shit. She's open about the fact that maybe she didn't treat Tom the best, but what's important is that she's not apologizing or asking for forgiveness. It's a refreshing stance for her, and one that I want six more albums of.
Reputation represents a new era for Taylor Swift, that's been clear from the start. But it's so much more than just an "edgy" image and some questionable fonts: It's extreme character development. After being nonstop shit on for a year (or if we're being honest, her entire career) Taylor has stopped defending herself. She's stopped trying to win people over and, ironically enough, that might be what actually does it in the end.

You can mock Reputation all day long, but at the end of the day you're still talking about it. Hate her, love her, make money by talking shit about her on the internet—it doesn't matter, because she's already won. Now excuse me while I spend the rest of the weekend listening to this shit on repeat.
Peace and blessings.
Taylor Swift Says She's Not Shading Anyone On 'Reputation' And We Call Bullshit
As anyone with access to the internet can tell you, Taylor Swift's new album Reputation dropped today, and despite months of my own personal haterism, it is like, v good. Now obviously, any time Taylor drops an album it is our duty as Americans to speculate wildly over who the songs are about. In the past, Taylor's made this pretty easy, hiding acrostic poems special clues in the liner notes of her songs, her music videos, and her live performances. This time, however, New Taylor (RIP Old Taylor) isn't fucking with any of that. In an essay released with hard-copies of Reputation (Sidenote: They still sell hard copies of albums?), Taylor tries to preemptively shut down the rumor mill by saying, "When this album comes out, gossip blogs will scour the lyrics for the men they can attribute to each song, as if the inspiration for music is as simple and basic as a paternity test." Umm okay, Taylor. If you want to say something to me, you can say it to my face.
So the main question we're left with after reading Taylor's sad handwritten book essay is, is this bullshit? On the one hand, Taylor makes her case very eloquently. It's almost like she writes her own songs or something. On the other hand, these songs are definitely about specific people, right? Like, how dead is the old Taylor, really? Is she actually-in-the-ground dead, or just-read-something-funny-and-have-to-dramatically-express-how-I-feel-literally dead? It's an important distinction to make.

In "Look What You Made Me Do" alone, there are a bunch of pretty obvious references to specific people that seem to debunk her essay. I mean, just the sheer number of snakes that appear in that video are pretty clearly directed at the whole Kimye thing. Plus there's the fact that she literally stands in front of a grave that says "Nils Sjoberg," which just happens to be the pen name she used while writing songs with ex-boyfriend Calvin Harris. And then, of course, there's the fact that she literally referenced several past iconic moments in Swift history (aka Swiftstory) with a 30-seconds-too-long 30-second skit at the end of the music video.

Then there's "Gorgeous," a major contender for best song on the album, and another one that is chock-full of fairly obvious references to real relationships. She references making fun of the way her bf talks, which could be about one of her three British boyfriends (girl has a type, and I respect that). She also references "ocean blue eyes," which, tbh, could be about any man Taylor's ever dated. It's mostly the lyric "And I got a boyfriend, he's older than us / He's in the club doing I don't know what" that got people thinking the song might be about both Tom Hiddleston (36) and her current bf Joe Alwyn (26) because like, they met when she had a boyfriend that was older than them.

As for "…Ready For It?" the jury is out on who it could be about. Some people say Joe Alwyn, some say Harry Styles. Personally, I think it's about Harry Styles due to the many island references (the two went on a trip to the British Virgin Island in January of 2013 and it's actually not lame at all that I know that). There's also the lyric "Younger than my exes, but he act like such a man," which technically could apply to Alwyn but seems more likely about Harry because he's so much younger than her other boyfriends. (He was just 18 when the two dated, and again, it is very cool that I know all this information.)

So basically, what I'm saying is, Taylor, I'mma let you finish, but this album is definitely about specific people and incidents from your life.
Now please return my messages. I need to speak with Meredith.