And Just Like That, Society No Longer Needed Carries
Before we had the phrase "main character moment," we had Carrie Bradshaw, the woman known for her credit card debt, kitten heel collection, and love for a man we pray was not based on D*nald Tr*mp.
With a weekly column in the New York Star, a few best-selling books, and a stint at Vogue, Bradshaw was the original influencer—a quality it seems she's holding onto. In a recently leaked script for And Just Like That, the upcoming reboot of the HBO hit that ran from 1998-2004, we learned that Carrie Bradshaw will be ushering her vintage narcissism into the new era in exactly the way we would expect: from behind a podcast mic. Where will Carrie's Sex and the City pod land among modern competitors like U Up? While her insights may have been revolutionary in '99, her tired tips don't hold a candle to today's sex positivity, and her narcissism doesn't translate either. 
Carrie Bradshaw was supposed to be the ultimate It Girl: career focused but not too busy, sexually free but hopelessly romantic, an enigmatic quirky Manhattan elite. She was written as the dream girl of every type of man, from finance guys in suits to artists to comic book enthusiasts. She sat front row at every fashion show, despite having worn a literal bird in her hair on her wedding day. She represented an impossible standard of perfection, one that every 2000s girl aspired to before ascending to adulthood and coming to the realization that Carrie Bradshaw is actually humanity's shared nightmare. 
Between leaked scripts and the mysterious set photos of Natasha, we can't stop thinking about the HBO hit that taught a generation of women to choose between four basic archetypes of femininity. We've spent decades taking Cosmo quizzes seeking the answer to an age-old question: which Sex and the City woman are you? We've refreshed the page so many times that we've missed the point: be anyone except Carrie.
Be a Samantha, a Charlotte, and a Miranda—a blend of our three supporting characters would make a classy, optimistic, sexually liberated woman who values her career, independence, friendships, and style. Imagine a world where a woman can wear Jimmy Choos without talking about it all goddamn day. 
If your vision board is still anchored by photos of Carrie Bradshaw's hundred-pound body in 10 pounds of tulle, we have the solution for you. The best way to combat Bradshaw levels of narcissism is to perform a self-check. Let's evolve the "which character are you" quiz into something actually helpful. Instead of asking, "am I a Carrie?," ask yourself, "am I the problem?" Here are some useful tips:
If your friend invites you to the opera, but you spot your ex mid-show,

do not

leave her stranded at the Met. 

If you're someone's maid of honor,

do not

choose their wedding day to confess you cheated on your boyfriend. 

If your friend gets you on the cover of

New York

magazine,

do not

black out the night before.

If your friend throws her neck out and is stuck on the floor naked,

do not

send your boyfriend to help in your place. 

If your friend buys you real cashmere for your birthday,

do not

ask if you can return it for cash. 

If you're a sex columnist who doesn't believe in bisexuality, get a new column. 

If you cheat on your boyfriend with your ex-boyfriend,

do not

write about it in the newspaper. 

If your boyfriend takes you to the country, take off the f*cking kitten heels. 

If you have a friend like Samantha Jones,

do not

take her for granted.
Maybe I'm bitter because Carrie Bradshaw is the person who convinced me I needed a collection of dresses for the classic last-minute gala. The summer before moving to the city, I spent my days rewatching all six seasons of Sex and the City and ordering countless pairs of heels that would never see the inside of a subway car. The first few weeks in New York make anyone feel like a Carrie, like the main character; but a few morning commutes, a failed Hinge date, and a phone call with ConEd are there to bring you back down to Earth all too quickly. Remember this, city girls: there is nothing chic about credit card debt.
In its time, Sex and the City turned the tides for single women. At dinner tables and crowded bars, four women created space to talk openly about subjects that were once taboo, even introducing the world to the Rabbit. The show laid a foundation, albeit a thin one, for 20 years of sex positivity and female empowerment, even if aspects of it failed to hold up to modernity. With the evolution of modern feminism and the introduction of the Bechdel Test, Sex and the City's mortal nemesis, longtime fans began looking to the show for nostalgia more than wisdom. Headlines once dedicated to "Carrie Bradshaw's Best Fashion Moments" were replaced by roundups of "Carrie's Worst Decisions on Sex and the City," "10 Times Carrie Bradshaw Was A Jerk," and "9 Times Carrie Bradshaw Was The Actual Worst."
When it comes to nostalgia, HBO is a bloodhound, and they caught the scent and ran with it. So now here we are, counting down the days to the reboot that we never asked for and the main character we never liked. That said, when And Just Like That does finally drop, don't reach out for at least three days, I'm busy. 
Be the main character without being a Carrie. Romanticize your life, but don't forget that the people who will meet you in a diner at midnight to have another conversation about your Mr. Big are not your supporting characters. Look at your life the way Sex and the City should have always been seen, as an ensemble.
Oh and—justice for Samantha Jones. 
Image: Courtesy of HBO Max
What's 'Sex And The City' Without The Woman Who Brought All The Sex?
And just like that, another TV show reboot that we probably don't need is announced. On Sunday, Sarah Jessica Parker, Cynthia Nixon, and Kristin Davis graced our Instagram feeds with a short trailer alluding to the fact that the iconic 1998 show, Sex and the City, was coming back to life. I was fully prepared to leave this franchise behind me after their failed attempt at a third movie, but this revival has left me quite intrigued. As I watched the And Just Like That teaser three different times on each of the stars' accounts, I (say it with me now) couldn't help but wonder, where was Kim Cattrall? Surely, we couldn't have Sex and the City without the woman who brought all the sex?!
As bummed as I am, it shouldn't be a surprise that Samantha Jones would not return in a SATC reboot. Kim Cattrall mentioned in several interviews that she would not partake in another iteration of the iconic show. I mean, who can blame her? The off-screen drama with SJP and other members of the cast was even more dramatic than the scripted fights they got into. (In 2018, following the passing of Cattrall's brother, she dragged SJP on Instagram, writing, "You are not my family. You are not my friend. So I'm writing to tell you one last time to stop exploiting our tragedy in order to restore your 'nice girl' persona.") Kim perfectly put it when she said, I don't want to be in a situation for even an hour where I'm not enjoying myself."
Since we won't get an appearance from Samantha Jones, I'm having trouble figuring out who is going to bring all the entertainment, iconic one-liners, and even an ounce of flavor that this show lacked from its cis, hetero, all-white cast. (Though perhaps HBO will take this moment to shake up said cis, hetero, all-white cast.) Who will be the voice of reason when Carrie is full of sh*t? Who's going to remind Charlotte that she shouldn't be so uptight and stuck in her ways? Is there going to be a fourth character who is equally as successful and ambitious as Miranda, but not an absolute buzzkill? 
If the show "must go on", then I suppose all we have left is to reminisce on the hilarious and completely out-of-pocket moments that Samantha Jones brought to our televisions for six seasons and two feature films. Join me as I pour one out for the unapologetic, pleasure-chasing publicist, and look back at some of her best moments.
Season 1, Episode 1 "Sex and the City"

From the very first episode, Samantha was serving realness to her delusional dater friends. I actually love that the pilot is basically about Carrie deciding to live the way Samantha has always been living and turning this into a revelation all about herself. Kind of telling, if you ask me…
Season 1, Episode 10 "The Baby Shower"

Another moment where Samantha was anything but subtle! While there is absolutely no shame in those who choose to be mothers, it was hilarious (and empowering) to see her not fall to the pressures of society and live exactly the way she wanted. Tbh, I might throw an "I don't have a baby" shower for the gifts — and the Instagrams.
Season 2, Episode 6 "The Cheating Curve"

Okay so this was definitely one of the more problematic episodes. When Charlotte decides to hang out with lesbians because she got cheated on, Carrie gets back with Big, and the whole gang debates the definition of cheating. Even with her dumb views about what constitutes infidelity, Samantha manages to give this nugget of, dare I say, good advice, that is eerily reminiscent of what my therapist has been trying to tell me for years. Who knew I could have just watched Sex and the City and saved myself the copay.
Season 2, Episode 7 "Chicken Dance"

In this episode, Samantha realizes the guy she just slept with, she'd actually already slept with 15 years prior, and it feels like a bleak look into my future. Also, they all attend a wedding where Carrie is reading a poem, which is where Samantha delivers this one-liner that my mid-20s self can relate to all too well. Ok, who am I kidding, this quote is timeless regardless of my age.
Season 4, Episode 10 "Belles of the Balls"


I'm sorry, but does she or does she not spit the absolute truth? One thing about Samantha was that she played like a man living in a man's world (again, as discussed vis-à-vis the pilot episode and overall premise of the show), and did it well.
Season 5, Episode 4 "Cover Girl"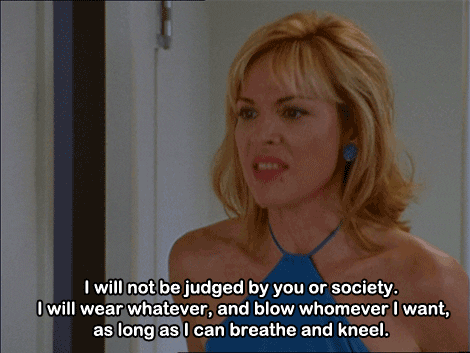 And just like that, we go from profound commentary on sexist double standards to a sexually explicit quote. Gotta love the woman's range. Even from her own best friends, Samantha had to defend herself from being slut-shamed, much like in this episode when Carrie judged her hooking up with a delivery guy. First of all, I would love to see that high-and-mighty attitude amidst the pandemic, when the delivery guy is the only person of the opposite sex with whom I regularly interact. Tbh if any of my friends did this, I'd be applauding them for (hopefully) getting a friends and family discount on Seamless.
Season 5, Episode 6 "Critical Condition"

Kind of conceited to think that any given person in New York City knows who you are, but I'll give her this one. I'll surely miss how unapologetic Samantha is, and how she does and says whatever she wants without worrying about how others will react.
Season 6, Episode 2 "Great Sexpectations"


Where would we be without that one friend who gives top-tier sex advice? Definitely not having as much sex as Samantha was, that's for sure. Thank God Carrie, Miranda and Charlotte had Samantha to remind them to not just have more sex, but good sex. Not sure they ever truly took her advice, anyway.
Images: HBO; Giphy
Is 'Saved By The Bell' Getting A Reboot?
Is Saved By The Bell getting the reboot treatment? That's the word around the halls of Bayside High, at least. At Fan Expo Canada this past weekend, some cast members from the hit show that ran from 1989-1993, then again for the college years spin-off from 1993-1994, teased the possibility of a remake. Mark-Paul Gosselaar, Mario Lopez, and Elizabeth Berkeley, who played Zack, Slater, and Jessie, respectively, all teased the idea of a Saved By The Bell reboot, saying they've heard inklings of it. "There's talks, there's always talks. I just heard recently there's talks," Mark-Paul commented before Mario mentioned they'd obviously have to do something to account for their age. Elizabeth remarked they've yet to be brought a fully realized idea, but it's something they'd all like to do.
The fact that the whole cast is down shouldn't surprise anyone, since you'd have to be an idiot to not take a job that's literally being handed to you. The show concluded 25 years ago, so like, yeah Mario, they'd have to do something to account for the age…although the idea of a 45-year-old AC Slater running around in gym shorts isn't something I'd have a problem with.

With the recent reboot of Beverly Hills, 90210 premiering as the summer's highest rated show, it's obvious people are thirsty to see how their favorite teenage classics would age, but with the ratings plummeting since the premiere only four episodes in, it's probable we won't be seeing a season two. Tiffani Thiessen, who starred as Valerie in the last six seasons of the original 90210 and as Kelly Kapowski in Saved by the Bell, has yet to even be mentioned in the 90210 reboot so far. Let's hope this SBTB reboot gets made simply for Tiffani—she needs this! Remember when she couldn't afford to go to prom and had to lie about washing her hair!?
As someone who fully realized he was gay watching a sleeveless Zack Morris come down the stairs of Bayside High to a yelling Mr. Belding and a very toned AC Slater, I would be lying if I said I wouldn't watch the reboot with hopeful glee. The show would be a welcome career boost for the bulk of the cast, from Elizabeth Berkeley, whose biggest role since Jessie Spano was a nine-episode stretch on CSI: Miami; Lark Voorhies, who has only had a handful of guest spots since being Lisa Turtle; to Dustin Diamond, who released his own sex tape in 2006 (disgusting, by the way—don't even bother). I kind of doubt Dustin would be invited back, though, considering he released a tell-all book, Behind the Bell, that painted himself and his cast members in a very negative light. It alleged things like Mark-Paul using steroids, Mario assaulting a woman, and Dustin himself peeing in an extra's purse for embarrassing him on set. Mark-Paul denied the book's claims in an interview shortly after its release but it seems like it would be a pretty awkward first day for Screech!

Other cast members including Mark-Paul Gosselaar have had rather illustrious careers since their teenage roles on the show. Mark-Paul has starred in several long running shows from NYPD Blue and Franklin & Bash to the new Fox sitcom Mixed-ish, a spin-off of Black-ish, set to premiere at the end of this month. Mario Lopez has made himself into quite the reality TV personality, hosting The X-Factor in 2012-2013 to coming in second on ABC's Dancing with the Stars, to reportedly soon taking over as host for Access Hollywood. Tiffani Thiessen, who no doubt is watching the 90210 reboot with a Tori Spelling voodoo doll in hand, has scored several acting roles as well, most recently starring in Netflix's Alexa & Kate in 2018.
Whether or not the reboot is actually on the table is a mystery, but I imagine it would look something like an episode of The Real Housewives of Orange County, with lots of yelling, secret feuds, constant relationship swapping, and someone getting a DUI after a parent teacher conference. (Never forget the episode Jessie got addicted to caffeine pills!) Either way, Mario Lopez's arms will forever be the star, and that's something we'll hopefully never lose.
Images: Getty Images; Giphy (2)
5 Ways 'The Office' Would Be Different In 2019
As the modern world crumbles around us, The Office remains a beacon of hope, a reminder of simpler times, and hands-down one of the best ways to put off solving your actual problems. Whether you're pre-gaming, recovering from a hangover, or not an alcoholic, The Office is the perfect soundtrack, and the number of hours I've spent watching and re-watching in my life is probably frightening. Because fans in 2019 can't leave well enough alone, there's of course been an uproar about getting an Office reboot. But Steve Carell says a reboot would never work—and when Michael Scott talks, you listen.
Carell makes some decent points: "The show is way more popular now than when it was on the air," he noted, adding, "I just can't see it being the same thing, and I think most folks would want it to be the same thing, but it wouldn't be." When people still wouldn't leave him alone, he clarified further: "I just wouldn't want to make the mistake of making a less good version of it." TBH, I'm on board for that kind of thinking—how many really successful reboots have we seen anyway? Aren't they always at least a little disappointing? That being said, all this talk of a reboot got me curious about how The Office would be different in 2019. Here are all my predictions—just in case Carrell changes his mind.
Even Michael Wouldn't Have An Office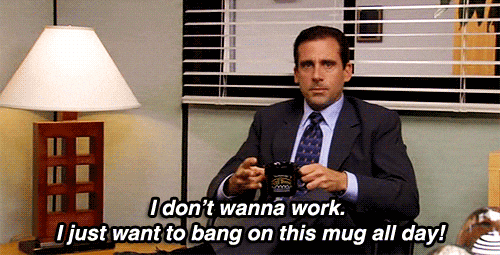 The first and most obvious: 2019's obsession with open-plan offices would ensure even Michael didn't get a space of his own. (And Ryan can forget about having a divider between him and Kelly.) While Michael might fuss initially (remember when he and Jim traded jobs for a few hours?), ultimately he would use the new arrangement to distract his employees more than ever. Also, can you imagine what he would do with access to Slack? He'd send inappropriate GIFs all day long—and because he can see everyone around him, he wouldn't leave them alone until they responded. Honestly, the whole branch might have shut down if Michael didn't have an office—so in that sense, Carrell is right that it couldn't work in 2019.
Dwight Would Be Obsessed With Bitcoin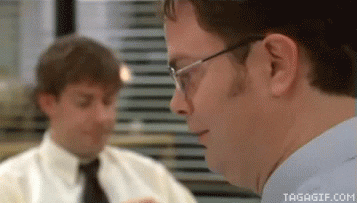 Knowing almost nothing about Bitcoin, doesn't this just seem true? Dwight's all about unusual forms of currency (Schrute bucks, anyone?), and while his battle against the machine to sell more paper left him less than fond of technology, I'm sure a modern-day Dwight would come around. A 2029 Office reboot would probably show Dwight having become a billionaire from investing in Bitcoin early, and Jim feeling like a real idiot for how much he mocked him.
Ryan Would Be Selling Everyone's Data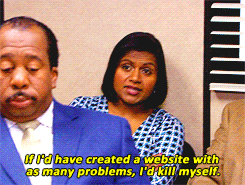 In keeping with 2019's obsession with scammers, Ryan—already a scammer in his own right—would have gladly upped the ante of his schemes. The Dunder Mifflin website wouldn't have just been a way to inflate sales data, it would have been some Zuckerberg-meets-Fyre Festival hoodwink that actually didn't work as a paper-selling website at all, but had people enter enough information that third-party companies were willing to pay. Ryan would have planned to secretly collect all the profits and finally take that trip to Thailand, but being Ryan, he would have messed up and gotten caught anyway. Kelly might have caught him, actually—she knows enough about what online shopping sites look like to know a scam when she sees it.
Creed Would Be Exactly The Same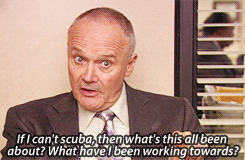 Creed is timeless. He would have equally little idea what his job entails, continue growing mung beans in his desk, and still be selling fake IDs to kids in town. Nothing Creed is involved in has substantially changed in 2019, because Creed lives in a world of his own creation. Things like "current events" and "logic" do not apply to him, and for that we are grateful.
Angela Would Be A Pence Supporter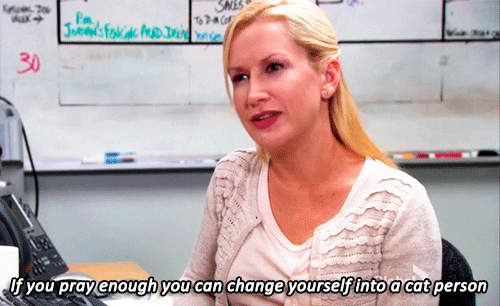 This one's a little darker, but too obvious to ignore. Hyper-religious Angela would be thrilled to have such a vocal (or rather, non-vocal) Christian in the White House. Remember when Pence said he wouldn't eat with a woman who wasn't his wife? That kind of comment is like catnip to Angela (even more than regular catnip, which she probably enjoys too.). Instead of fighting with Oscar over a poster of babies dressed up as jazz musicians, she would have fought with him over a Pence poster she wanted to hang. On the bright side, her eventually marrying a straight-laced politician who turns out to be gay could have been a fun and pointed allegory for what's really going on with Pence.
Ultimately, The Office in 2019 would be a little more grim and a little more high-stakes for our beloved cast of coworkers. Hey, that's what happens when we're facing eight different versions of the apocalypse—and looking at my predictions, I'm very glad that Steve Carrell isn't down to reboot anytime soon.
Images: Giphy (5)