The Best 'Bachelorette' Recap You'll Ever Read: Let's Get Ready To Rumble
Hello and welcome back to your regularly scheduled Bachelorette recap! Last week Tayshia took over as Bachelorette, and so far her reign has had a lot of highs and lows for me. The highs being a grown man whispering, straight-faced at the camera, "I'm hanging on by a piece of floss" and the lows being ABC trying to pass off basic activities any person can do on a hotel's property as romantic, once-in-a-lifetime dates. But, you know, I ran out of high hopes for Tayshia the minute she described John Paul Jones as "serious" and "emotionally mature." 
The Grown-Ass Man Group Date
Moving on! This week there is absolutely no preliminary bullsh*t as we dive headfirst into the first group date. I, for one, cannot wait to see how far the producers have strained their creative muscles to contort one menial hotel guest activity into some sort of extravagant date. Perhaps a romantic one-on-one during the hotel's continental breakfast hour? A fun-filled group date of walking to the ice machine? The world 190,000 sq. feet of property is truly their oyster. 
For this group date the men are going to compete in a Grown-Ass Man competition, because apparently that is the only way to tell if a grown man has actually reached maturity. Ladies, take note. The competition will contain three components: brains, brawn, and chivalry, and will be judged by human tear duct Ashley I and her former Arby's manager husband, Jared. Yeah, that feels legit. While we're at it, why not bring the men's mothers over to judge which one of their special snowflakes is the specialest out of all the snowflakes?

Well you certainly won't find one here, Tayshia!
Now, that we've established the rules of the game, let's take a moment to fully process where such an esteemed competition is taking place: the basement of this resort. That's right, in order for Tayshia to find herself the elusive and very rare "grown-ass man", she needs to be sequestered in a bunker listening to a bunch of dudes try and answer 2nd grade math questions. *looks skyward* You're right, God, we did deserve 2020. 
Okay, Bennett went to Harvard like Olivia Jade went to USC. Why doesn't he know basic math and spelling??
The brains portion of the competition will absolutely haunt my nightmares. I know there are a lot of former pro athletes this season but MY GOD how did this many children get left behind in their education? The brawn portion is not much better. Each guy is paired with another guy to face off in some weird feats of strength thing that involves dragging the weaker man's body over a finish line where… flowers are waiting? Yeah, that doesn't scream toxic masculinity AT ALL. 
Finally, we arrive at the chivalry portion, where the men are instructed to wine and dine Tayshia with breakfast in bed. I have a feeling most of these guys consider "breakfast in bed" to be providing a woman with water and Advil before sending her off in an Uber, so this should be interesting.  
CHASEN: I am the main course.
ALSO CHASEN: 

I'm glad my bar was set exactly where it was supposed to be!
Ed wins the Man Child award and is forced to carry around a fake baby for the remainder of the date. Tayshia says she's proud of him for being such a "good sport" and I'm glad that this is where the bar is at in 2020 for men: hoping he won't cause a scene after losing at something trivial and meaningless. Got it. 
Meanwhile, Bennett, who butchered more of the English language than any of my 7th grade MySpace posts ever did, somehow wins the Grown-Ass Man award. I guess Ashley I confused "intimacy" with willing to breathe the same air as a woman? Well, she did marry Jared, a man who tried and failed to date literally anyone else in Bachelor Nation before marrying her, so that tracks. 
As we move into the cocktail hour the word "grown-ass man" has been thrown around no less than 25 times in the last five minutes. If this were a drinking game I would be in a hospital somewhere getting my stomach pumped.
Mr. Man Child and Mr. Grown-Ass Man are showing real growth and maturity this evening as they sit in a corner and pettily talk sh*t about everyone else on the date. I just think it's rich that Ed and Bennett are going to talk smack about Chasen not knowing very many adjectives when the below spelling atrocity happened mere hours before:

Tayshia seems to be having a good conversation with Ben. She says that she's looking for someone to build an empire with her, and I'm worried she doesn't know the meaning of "empire." Selling his and hers FabFitFun boxes is not an empire, Tayshia!!
Tensions are HIGH between Ed, Bennett, and Chasen. It's unclear how the beef started exactly, but Ed wants to bring up his "concerns" with Tayshia. His biggest issue with Chasen? That he's here for the Instagram followers. Oh my god, SO IS TAYSHIA! She needs that kind of ambition for her empire!! 
CHASEN: I don't like that you're getting in the way of my relationship with Tayshia.
ED: Why don't you and your medium sized shirt sit down. 
WHY DON'T YOU AND YOUR MEDIUM SIZED SHIRT SIT DOWN. I just spit out my wine all over my poor, unassuming dog. I'm dead. 
As Chasen and Ed continue to exchange barbs that would embarrass even a kindergartener, the rest of the men watch from afar with the smuggest of expressions on their faces. Too smug, in my opinion. I hate to break it to you, kids, but you're not better than those losers. You're all losers! Ivan, I suppose, is the least loser-y of them all because he wins himself the group date rose. Amazing. 
The Rose Ceremony
Because this is 2020 and nothing makes sense, ABC has decided to immediately transition into a rose ceremony. I would say I have emotional whiplash but that would suggest that 2020 has left me anything else to care about. 
Ed and Chasen's beef continues into the rose ceremony. Chasen says that, yeah, he did use the word smoke show to describe both Clare and Tayshia, but how else is he supposed to compliment a lady? Take the time to learn about her life and personality in ways that feel genuine and meaningful? Don't be crazy!! Also, I love how Chasen announced his adjective to them all like he was proud of himself for coming up with one at all. Oh, sweetie. It was a good try!

Okay, Ed needs to stop bringing up his Chasen drama with Tayshia. Doesn't Carlos's dad know that the lead never keeps the guy that rats on the other guys? Ed says that Chasen "got physical" with him and that feels like an extreme exaggeration of what actually happened, but fine. And you know what? Chasen actually attempts to apologize! I mean, I'm sure this apology comes from the most sincere places in his heart and has absolutely nothing to do with the sponcon deals he's worried he'll lose if he's branded the villain this season… right?
In typical Man Child fashion, Ed will not accept Chasen's apology and proceeds to make a scene. Now, I ask you, what kind of example is that to set for Carlos, Eddie? Hmm?
As the fight escalates, Zach C lets us all know that he couldn't give a flying f*ck about this drama. I believe his exact words were something like: "I couldn't care less, let's just party" and then he pulled out some molly. I paraphrase. 
The rest of the rose ceremony goes on uneventfully. In the end Montel, Peter, and Jay get sent home, which tracks because before I wrote those names down I had never heard them before in my life. I'm sure you were great though, boys!
The Wrestling Group Date
Ah, yes, another group date that will take place in the hotel basement. It looks like ABC is really going to embrace the whole "finding love in a hopeless place" thing. For the second group date of the week, the men will be participating in a live wrestling match. I say "live" as if the audience will consist of more than just the hotel cleaning staff and whatever guys production was able to scrounge up who weren't too sloshed off their hotel mini bars. 
Chris Harrison asks Tayshia if she thinks the men are any good at wrestling, and she answers with the most half-hearted "yeah" that has ever been uttered in history of yeahs. It's less like a "yeah, we're going to see some real examples of athletic prowess" and more like a "yeah, does this hotel have a first aid kit?"  
View this post on Instagram
Christ.
I can't believe they're oiled up. I feel like we're watching Old School. Also, are you f*cking kidding me? They put Joe against Eazy in the line up? Joe is going to get destroyed! How are these two in the same weight class?!

What was marketed as a day of friendly competition and wholesome fun has quickly turned into an all-out bloodbath. I love that they encouraged people to fight to the death in this cage match and then are surprised that these people actually bleed. 
Ed must see the bloodlust in Chasen's eyes, because he quickly comes up with some half-hearted reason for him to get out of their match. He says something about his knees, but I've had more concrete excuses to get out of my high school gym class. Maybe next time say "it's a lady thing" and pair it with an embarrassed shrug? That always worked for me!!
CHRIS HARRISON: What do you mean you can't fight? You're built like a brick outhouse. 
Chris, WHERE are you getting these phrases from, bro?
With Ed out of the picture, Chasen has no one to challenge him. This prompts Noah, who wasn't even on the group date, to volunteer as tribute for the fight. Side note: I didn't write the recap last week so I didn't get to give my first impression of Noah when he strolled into this season. I know you've all been on the edge of your seats,  so here it is: that boy is FINE. I'm not sure if it's the porn 'stache or the entitled way he walks into a room like he's got his daddy's lawyers on speed dial, but it is all working for me. 
But back to the fight: Noah decides to whip off his shirt and lube himself up in oil before bouncing over that fence with all the youthful energy of a guy who has literally never been turned down for anything a day in his life. Though he doesn't actually win the fight, Tayshia lets him finish out the group date with the rest of the guys. She says it's because Noah was willing to "jump a fence" for her and I would just like to point out that the last man who jumped a fence on this franchise turned out to be a legitimate stalker. So. 
Not only does Noah get to go on this group date, but he monopolizes most of Tayshia's time. She seems transfixed by his mustache and I'm telling y'all, that thing has power. It's unexplainable. 
View this post on Instagram
The rest of the men are naturally livid at this turn of events. I think it's interesting that they think Tayshia couldn't possibly be interested in Noah because he's a little younger than her. Honestly, I think Tayshia's type is blonde idiots. I mean let's take a look at her dating history: First, she dated Colton whose fence jump was a national punchline, and then she professed her love to John Paul Jones, who is the human equivalent of a golden retriever. The history speaks for itself!
OH MY GOD IS SHE MAKING HIM SHAVE HIS MUSTACHE?! The 'stache is his entire personality! The whole source of his charm and power! Why is she making him do this?And why is she waving that razor around like this is some weird, erotic form of foreplay?
View this post on Instagram
Just as Tayshia is about to hand out the group date rose, Ben asks to steal some time with her. She shoots him down, and now I'm starting to remember why I hate Tayshia. She kind of sucks. There aren't strict rules about when the night has to end, so nice try sweetie!! Instead Noah, a man who wasn't even on the group date, wins the group date rose and a nude from me in his DMs. 
Before I end this recap I just wanted to give an honorable shout-out to Joe. I know I barely mentioned him here, but don't you worry, he is definitely on my radar. Joe, if you're reading this, you are a rare gem and a national treasure. Here's hoping ABC doesn't do you dirty. And on that note, I'm outtie. Until next week, hoes!
Don't miss out on anything happening in Bachelor Nation. Subscribe to our weekly newsletter here. 
Images: ABC/Craig Sjodin; Giphy (3); ABC (1); @datecardpod /Instagram (1); @thesnactchelor /Instagram (1); @thebachelorbruhhh /Instagram (1); Halloweencostumes.com (1)
The Best 'Bachelorette' Recap You'll Ever Read: Show Us Your Balls
Welcome back, friends, to your regularly scheduled Bachelorette recap! For those of you who missed last week's episode, congratulations! You're not better than me. Here's what you missed: despite its usual difficulty vetting contestants each season for racism and toxic masculinity, The Bachelorette somehow managed to thoroughly vet each and every man vying for Clare's heart for an extremely infectious disease in the amount of the time it takes for a blowout to go to sh*t. Seems very chill. Other things that feel permanently seared into my brain: Clare coming dressed for her big Bachelorette debut like she walked right out of the lyrics to Taylor Swift's "Mirrorball," hearing Tyler C blubber "but his DMs!", and watching Clare mentally sift through the one improv class she took in undergrad when Dale stepped out of the limo and she had to pretend like they weren't actually dating already. Fun!
Which brings us to this week's episode. We start with a close up of Clare lounging by the pool asking the viewers back home if we think Dale likes her or if he likes likes her. Christ.  
The First Group Date
So does Chris Harrison not even read the date cards anymore? He's like, "welcome to the house guys, I'll just leave this scrap of paper here and hope one of you knows how to read something longer than a 134 characters!" Oh, sweetie. Why would you ever assume that? 
Clare shows up to the group date, and once again I'm going to need to speak to the manager of her wardrobe team this season. I mean, why is she dressed like the head of a Girl Scout troop?? And not even a cute one! Phyllis Nefler would be AGHAST.
I'll be seeing those khaki green shorts in my nightmares.
This date is all about the men learning love languages, which I'm all for. Knowing your love languages are important, as it helps you communicate with your partner and better understand their needs. It's nice to see that they're taking this whole mature bachelorette thing seriously and aren't planning any super gimmick-y dates. But just as I'm about to applaud ABC for their maturity I see that their version of "love language" involves a set they stole from a local high school's rendition of  Romeo and Juliet. So, I guess I'll go shave my back now. Touché, ABC. Touché. 
As much as we're told this is a group date, the main focus is clearly Dale. He steps up to the papier-mâché  tower with all the confidence of a man who has only played one actual minute of professional football in his entire adult life. He says something about wanting to give her everything he has physically, so I guess his love language is boning? Subtle, Dale. Real subtle. 
DALE: I'll give you everything I have.
ALSO DALE: 

Look, it's not that I dislike Dale exactly. It's just that he's SO boring. He's definitely attractive, don't get me wrong. But that's good for a two-episode character arc on Riverdale, not as the only defining quality in the man you leave your sponcon deals for. 
Clare says it's been a while since a man has been kind to her, and I love that the men are all nodding in unison as if none of them have ever left a girl on read before. Please. 
Apparently part of learning love languages involves gifting Clare with loose bits of trash the men found in their hotel rooms. Wow, this is bleak. I'm half expecting one of the guys to be like, "and here's this complimentary soap that made me think of you. Not complimentary in the sense that it was free with the room, but complimentary in the sense that I am complimenting you with it." Christ. 
And finally, the last love language the men learn about is touch. I'm guessing ABC was hoping this would make for some hot, romantic moments, but last time I saw this much giggling and caressing on my screen it was from a documentary on the underground world of professional tickling. 
Dale steps up to the plate and Clare immediately has a small orgasm. Why is she sighing that much! Clare, you're in public!  
MY ROOMMATE: Did they date before the show or did they just DM?
ME: Is that not the same thing?
Asking for a friend!!
As we move into the cocktail portion of the evening, Clare's expectations are high. And why shouldn't they be? She just spent the better part of an afternoon being showered with adoration and praise—praise I'm sure that wasn't at all manufactured by an ABC intern holding up helpful cue cards with potential compliments written on them behind Clare's back.
Guys, I want to f*cking disintegrate into my couch. WHY IS NO ONE ASKING TO STEAL HER FOR A SEC?! She's like, "so, should we get the night started??" and it's CRICKETS. They do know this is the part where they're supposed to pretend to be interested in her, right? Damnit, where are those cue cards when you need them!
Harvard takes pity on Clare's groveling and offers to spend five minutes alone in her presence. You're a real prince, sir! Despite the fact that he was the only one to show an ounce of interest in her, Clare can't focus on their conversation because she needs to go pick a fight with her boyfriend Dale for not whisking her away like he's contractually obligated to do. 
Also I love how Clare just ditched Harvard to scream at the other guys and then doesn't even go back to him. I guess she was done talking about how his love language is his timeshare in the Hamptons. 
Speaking of which, now that Clare and Dale have run off together I'm starting to think this was maybe her plan all along… 
DALE: Why do I scare you?
CLARE: You scare me because I'm worried about breaching my contract with ABC.
You're right, that's downright terrifying. 
The rest of the evening carries on uneventfully. Clare has some meaningful conversations and slow dances with Riley to a knock-off version of Boyz II Men, which weirdly wins him the group date rose. 
Jason's One-On-One Date
Jason gets the first one-on-one of the season and I know this not because Chris Harrison graced us with his presence, but because, once again, a contestant was made to read his own date card. Look, I'm starting to think Chris didn't even need to come out of quarantine for this. Couldn't they just have Zoomed him in for his allotted 20-60 seconds of snarky commentary? 
Clare wants Jason to write a letter to his younger self before their date, because there's no sexier form of foreplay than assigning homework. Well, if they didn't wish the bachelorette was an illiterate 22-year-old Instagram model before, they certainly do now. 
Guys, I don't even know what to make of this evening. First, they scream into the night to purge themselves of their past traumas, then they read aloud negative words exes have called them… and this is a date? This is usually an activity I reserve for the hours of 2-3am after drinking two bottles of wine and FaceTiming every man in my phone, but I guess we're defining everything a little differently in quarantine. 
Oof, Jason starts listing some things people have said about him, and he might as well be regurgitating words under the Merriam Webster definition for "sociopath." He's like, "people have said I'm manipulative, cold, and mean, can you believe it?" And it's like, well what is the context here? Did someone call you cold and mean after you beat them up, because that would be valid. I'm gonna need a little more from you here, Jason. 
Finally, they read the letters they wrote to their younger selves, and I'm starting to understand why Clare has been single for so many years. Daddy issues make her wet. 
JASON: *reads from his letter*
CLARE:


Okay, is Clare getting paid for the therapy she's giving him? Because she absolutely should be. 
Listening to Jason discuss the demons from his childhood is weird because I'm not used to seeing sincerity with this franchise. Like, he might not even be reading from cue cards!! I feel like I'm taking crazy pills!
This burning of Clare's dress from Juan Pablo's season feels random, but I like that Jason is into pyros. Somehow when I do things like that with a guy it gets twisted into being "arson" and "in need of police involvement," but Jason chalks it up to a fetish. It's nice to know there are still good ones out there!
JASON: I'm glad you burned that dress, it was fugly
HAHAHA JASON. You can't just say that to her face! This is why people call you cold and mean!
The Second Group Date
Clare starts the second group date off by declaring she needs a man with balls, and what better way for the men to prove their toxic masculinity than a sadistic game of dodgeball? The men are broken up into two teams and a lot is on the line. By "a lot on the line" I mean literally nothing. Seriously, the stakes could not be lower. We're told that the winners will get to move on to the cocktail portion of the evening, while the losers have to endure being emasculated on national television. Fun!
Sensing that their pride and fragile masculinity aren't high enough stakes, Clare tells us that she would like to up the ante by turning this into strip dodgeball. STRIP DODGEBALL?! At the mention of potential nudity, Chris Harrison lets out a small squeak of abject horror and then pointedly looks at the producers off screen with eyes that say "I don't get paid enough for this sh*t." You and me both, buddy. 
Let's keep in mind that half the men on this date are or were professional athletes at one point in their lives, and now they're here. Wearing nothing but their jockstraps in front of God and Chris Harrison at a resort gym. Oh, how the mighty practice squad players have fallen.
Clare decides to throw the blue team a bone by saying she'll even the playing field: the red team has to strip too!! I'm sorry, but is this an orgy? These are the kinds of things my mother warned me about when I told her I was moving to Bushwick. 
Live footage of Clare's dodgeball date #TheBachelorette pic.twitter.com/FvLEXOQcHL

— The Betchelor🥀 (@betchelorpod) October 21, 2020
Clare declares the game over after the blue team, stripped of their dignity and their little blue thongs, has been thoroughly ogled by her. Honestly, there's really no need for them to go to the cocktail hour now anyway. She got to see their d*cks. That's really all the info she needs at this point in the season. 
The cocktail hour is super blah. Having all bared their, um, souls, the men are now looking to make deeper connections with Clare. Plus, they heard from Jason that she's really into emotional trauma porn. I mean, I'm guessing that's the reason for why Chasen decides to make a sob story out of being short. He's like, "at one point in my life I wasn't 6" feet and I played video games and people made fun of me for it." Short and played video games? So… he was 12? His trauma is that he had an adolescence. Got it. 
CHASEN: They called me hermit crab!!
EVERY WOMAN IN AMERICA WHO HAS SURVIVED THE NUCLEAR WARFARE THAT IS 7TH GRADE: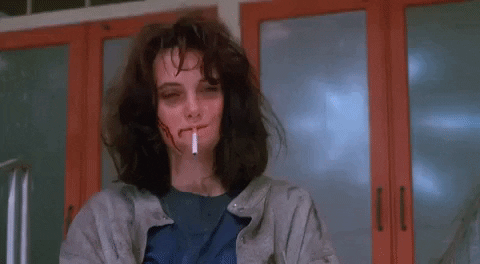 Mr. Wildlife Man whose name I can't remember and will henceforth be called Ranger Rick for the remainder of this recap, decides to crash the cocktail party despite being a dodgeball loser. Why do I feel like the first thing he's going to say upon arrival is "look, I'm not a shower, I'm a grower." 
Ranger Rick says he's "breaking the rules" for Clare. I think I'd be more inclined to believe this "rebel" act if he didn't just soil his khakis at the sight of five grown men confronting him about the sanctity of dodgeball game outcomes. 
On his way out, Ranger leans in for a kiss AND SHE GIVES HIM THE CHEEK?? Hahahahahahaha. Oh god, that's so painful to watch. Do we think this is more or less humiliating for him than having to strip to a g-string on national television?
Clare tries to save the evening by hanging out with Brandon, and that promptly blows up in her face. He makes the mistake of saying that he came on the show for her but all he knows about her is that she's hot. Honestly….. I don't think it's that horrible of an answer. At least he didn't say I hated her fugly green dress, amiright Jason?
And while it's not that bad of an answer, I sort of understand where Clare is coming from with this temper tantrum. Like, he could have said ANYTHING else. He could have said "that dodgeball thing was super funny" or "your dog is cute" or "I want to know more about you than just what I've seen on TV,"  but instead he settled for an easy answer, and she's too old for this sh*t. She wants more from a connection than "you're hot." She wants romance and commitment and for Dale to talk dirty to her in that monotone, robotic voice of his. God, Brandon, get with it!!
The group date ends with Chasen and his hermit-sized hands getting the rose. He's really showing those middle school bullies now! They may be selling a pyramid scheme on Facebook, but he is the pyramid scheme, bitches!!
The Rose Ceremony
Yosef is still throwing a fit that this show has mild nudity on it. He says that after the stunt she pulled on the group date, he's lost all respect for Clare. He calls her "classless" and does so with a straight face as he stands shirtless in front of the cameras.  K. 

Wow. For once I have no complaints with Clare's ensemble. It's sleek, it's chic, her boobs look great. Carry on. 
Clare grabs Ranger Rick first and apologizes for her dismissal of him on the group date. He just has to understand that had she shown him an ounce of kindness that mob of khaki wearing men would have drawn and quartered her on live television. You get it, right?
The rest of the rose ceremony is all about Dale. And by "all about Dale" I mean "all about the back of Dale's throat." Seriously, that is a LOT of tongue. I fear for Yosef's delicate sensibilities. What if he were accidentally to happen upon this scene! Shield your eyes, Yo Yo! 
And that's all she wrote, kids! We'll have to wait until next week to see the rest of the rose ceremony and if Yosef ever self-combusts at the sight of Clare and Dale's writhing bodies. Until then!
Don't miss out on anything happening in Bachelor Nation. Subscribe to our weekly newsletter here. 
Images: ABC/Craig Sjodin; Giphy (3); ABC; @thebetchlor /Instgram (1); @betchelorpod /Twitter (1); @bachelorusaspoilers (1)
Is 'Too Hot To Handle' Sexist?
In the time of quarantine, one of the few things keeping us going is trashy television. That might seem dramatic, but being able to watch wannabe influencers normal people f*ck their lives up on TV is a blessing unlike any other. While the production of basically every show in the world has been placed on hold due to The Virus The Must Not Be Named, we've still been graced with a few gems to guide us to mindless joy. The most exciting of which is Netflix's newest dating show, Too Hot To Handle. What's not exciting, however, is the narration throughout the entire series. At best, it's made me not even remotely attracted to these painfully attractive people, and at worst, it left me feeling kind of, well, sh*tty.
In case you haven't been spending all of your free time pantless in front of the TV, allow me to explain. Too Hot To Handle is Netflix's newest reality show with a sexless twist. Released on April 17, the premise is basically that a whole bunch of hot people who are for some reason really cocky about how often they get it in (so 2010, btw) are put on an island, given alcohol and sexually charged situations, but aren't allowed to bang. Or kiss. Or masturbate. There's a $100,000 prize, from which money is deducted each time a rule is broken. Keeping the group in-check (or shamed, if you will) is an Alexa-style robot named Lana who (is most likely just a producer voiced over, but who am I to be cynical in the name of reality TV love?) spies on the contestants and narcs on them when they break the rules.

It isn't the (most likely fake) robot, the cast of characters as unoriginal as they are hot, or the tame-yet-taboo intercourse that made the show unsexy, however. It was the narration. Granted, it still a solid train wreck of a watch, and if you're a fan of trashy reality television (guilty), some over-the-top commentary is to be expected. After filming for hours and filing down the events to mere minutes, viewers sometimes need someone to explain wtf happened in the parts they cut. While The Bachelor does it in a cheesy-yet-endearing way, Too Hot To Handle's is snide to the point of cringe-worthy, and worst of all, it's borderline sexist.
Don't get me wrong, I love a good diss, especially when it's at the expense of people whose bodies I could never obtain. But between comments about the contestants' interests, remarks concerning femininity and masculinity, and general slut-shaming, I finished the show feeling supremely unsexy, and not because I don't have a midsection like Francesca's. With nonstop remarks throughout the entire 10-episode season, there were times I considered muting it and just watching the sexual tension silently unfold. 
In regards to some of the female contestants, the narrator, Desiree Burch, made comments such as, "they're talking about their favorite topic: The environment. Just kidding, sex." Because apparently, you can't be interested in sex and care about the environment. Or I guess if you are sexually adventurous, you don't have the mental capacity to think past your own libido. If that isn't detrimental enough, the narrator went on to say things like, "The girls are showcasing their personal growth by objectifying the men," and, "What a minx. She just can't help herself."
These offbeat comments weren't just targeted at the women, though. Time and time again it was indicated that men generally aren't in touch with their emotions and that these guys are d*cks because they like getting laid. I just want to say that in 2020, no one is an asshole for liking orgasms, no matter what a weird robot who spies on you says. 

Something about it all just felt very "sneering old guy in a Trump hat telling a girl to smile." Acting like enjoying sex takes away from your emotional, intellectual, or romantic intelligence—or that if you're sexually adventurous and active, your urges are so strong you literally don't have any control—is absurd. While the general concept was interesting—put hot, horny people on an island and tell them they can't bang—the stated reasoning behind it felt very backward and as a result, was a major turn-off. 
As described in Wired, " basically says that physical intimacy is a barrier to emotional intimacy, that liking sex is a character flaw, and that twentysomethings should get off dating apps and just settle down already." "Chronic swipers" being put in a situation they were unaware of and then subsequently mocked for felt bad. Add to that the fact that there's nothing wrong with having a "slut phase" (whether that's in high school, college, or your entire life), the point seemed to be that these attractive people who like f*cking are lesser than others, just because of their preferences. Did I like watching the show when I was bored and drunk and didn't feel like rewatching Gossip Girl? Sure. Did I feel good about the outcome, the reasoning, or the way the contestants were treated and portrayed? Not even a little bit. 
Basically, as someone whose only dream is to be cast on a reality show and immediately be shot to stardom for no reason other than appearing in 10 episodes of a Netflix special, I have to say, I was pissed. When my 15 minutes of Instagram fame finally happens, Netflix better pull this sexist stick out of its ass and not do me dirty like that.
Images: Netflix / "Too Hot To Handle"
A Breakdown Of Everyone Competing On 'Are You The One?' Season 8
After every season of Are You The One?, I think to myself while laughing maniacally, "I may have just eaten an entire large pizza all by myself, but at least I have my life together more than these Girls Gone Wild rejects," followed quickly by, "SURELY they're never going to renew this live-action dumpster fire again, will they?" And then every season I. AM. WRONG. Not about the pizza, of course, but definitely about the show getting renewed. Year after year, MTV continues to prove to me that they do not care one bit about ratings, critics, or decency standards, and keep on making a show where contestants regularly lick chocolate syrup off each other's nipples. Not all heroes wear capes. And now, MTV is breaking barriers with season 8 of their drunk social experiment "dating show" by casting the first sexually fluid reality dating competition in the United States. Damn, MTV is over here making history, and ABC still refuses to cast the first black Bachelor. Ball's in your court, Mike Fleiss!
So what does having a sexually fluid cast mean? I'm not quite sure, but I think it's fair to assume that instead of just the men and women sneaking off together to the bare mattresses haphazardly thrown on the floor by an MTV intern, everybody will be f*cking. And now we get to take a look at this groundbreaking cast! I'm sure they'll make history in more ways that just their sexuality—perhaps they will also be the first reality TV cast to all share the same STD. Or maybe they will cure cancer! Who can say? (They won't cure cancer.)

Aasha is from Miami Beach and just graduated with a degree in Communication and Journalism from Florida International University. She wants to be a TV journalist, so I really hope she doesn't engage in a threesome in the boom boom room because that will probably hurt her chances of becoming a Today Show anchor. Not exactly something you want on your sizzle reel.

Amber is cute, but I swear I've seen this girl on every single previous season of Are You The One?. Her name was definitely Kayla last time. And Alivia. And Cam. And Jenna. And you get the point.

Now that I've sent Basit's picture to my coworker for Mermaid Parade inspo, I can confidently say that Basit is the one everyone will go to for outfits when they throw the theme parties. Having a jungle party? He's got something for that. Having a Beyoncé party? He's got something for that. Having a '90s party? He's got something for that!!

Brandon's official cast photo is cute, but I have many, many questions about this photo I found on his Instagram: 
Me after listening to "Old Town Road" one time. No but actually, I'm calling the police.

So Danny is clearly the nerd of the group. But he did post a picture of an entire box of donuts on Instagram that he was rewarding himself with for hitting a weight loss goal, so I think we have the same disordered eating habits. Now I'm rooting for him. Danny, I hope you find love for all of us f*cked up eaters!

Jasmine revealed on Instagram that she'll be on this season of Are You The One? by saying "I wasn't out getting botox, friends!" I'm sure once your friends see that your perfect match is a dude or lady that works at a mall kiosk and has rage issues, they're gonna wish you were just getting botox.

Jenna looks like she wants to shove me into a locker. No problem, Jenna! I see you coming, I'll just jump in here myself! Same place, same time, tomorrow?

Okay news flash, Jonathan—you're not Tarzan. You're not even George of the Jungle. Get a f*cking haircut.

Justin is one of the many men from this season who has posted pics of himself on Instagram with a purse. They are clearly the accessory of this Are You The One? season. Well, purses or leather chokers, it could go either way.

Kai Wes looks like one of Edward Cullen's cousins that showed up at the end of the series to take on that rival vampire gang. You're about eight years too late, Kai! They already won!

Kari is a "Harley Cosplayer." Oh, honey. Getting dressed up in a shirt that says "Daddy's Little Monster" and paddling someone on the ass with a baseball bat to spice up your sex life doesn't qualify as cosplay. But it does apparently earn you nearly 35k Instagram followers, so maybe she knows something I don't.

Kylie looks like a model, so she's definitely the one everyone will be fighting over. Or at least the one they're fighting to do a body shot off of.

Judging from his Instagram, Max appears to be very into the rave scene, which makes me think his personality has to be the stuff of my nightmares. He's definitely the guy who took one for the team and smuggled the drugs through airport security.

Nour is yet another Jersey girl in this cast. What is it with my home state and trashy reality TV? I promise you it's not a law that we have to degrade ourselves on a Z-list show at least once before we hit 30. Or is it? Do I have a bench warrant out for my arrest?

Paige looks like someone who would lecture me for using a plastic straw. If you're that against them, Paige, please don't look in my top desk drawer. I've got enough straws wipe out all the sea turtles in the Atlantic. Whoops!

Remy is wearing a mesh T-shirt with a silver chain necklace, so that's gonna be a no from me, dawg.
And those are our contestants this year! I'm skeptical that this will work, but excited to see it all go down in flames. Are You The One? season 8 airs on June 26th at 9/8 central. See you there!
Images: MTV (17), officialbrandondavis / Instagram