Heather Dubrow Alone Can't Save 'RHOC'
Last month, The Real Housewives of Orange County finally came back after a bit of hiatus with a "reboot" of the show. With Shannon Beador, Gina Kirschenheiter,  and Emily Simpson joined by Heather Dubrow and two newbies, Dr. Jen Armstrong and Noella Bergener, I was excited to see the beloved original Housewives franchise back with a new vibe. I originally loved the fact the show had a new "classy" element to it, and that we were finally getting to see new stories, new people and Heather Dubrow's massive mausoleum of a home. However, the excitement, the flashiness, and the cast quickly bored me, and I started finding the show a bit monotonous—and I'm not alone in thinking this way. It made me think, if we don't fix what's happening on the show at the moment, we might not get another season of RHOC. Here's what I think the show needs to address in order to avoid that. 
Heather Is Iconic, But She Isn't The Main Girl
I love Heather Dubrow. I find her fabulous, hilarious, and she's obviously rich as hell. However, what made Heather so good on her original run on the show was her role as the voice of reason and, at times, the villain of the show. She's snarky—she plays it up for the cameras and can be a bit of a smart-ass. That's why she's an amazing Housewife. However, I feel like Bravo kind of f*cked up by pushing her to be the matriarch/center of the show. Sure, she could give us a Bethenny Frankel tease and be the alpha of the group, but the reason why that worked for RHONY was because each of the women on RHONY had their moments of standing up to Bethenny. I feel like most of the girls on RHOC, except for Noella, have a tendency to kiss Heather's ass. It makes the show boring, and eventually could make Heather think she's above this group. We for sure don't want that. 
The Direction Of The Show
I'm happy that we have a reboot, and everyone (including me) wanted the show to go in a different direction—especially after such a dark season—but I feel like this season's direction isn't what RHOC needed. Yes, we love wealth, and yes, we love opulence, but not every franchise needs that for it to be good. Each Housewives franchise is amazing because they all have their own special qualities: RHONY has a comedic vibe to it while RHOBH is more focused on opulence and wealth. What made RHOC special was the dynamic between the women and the show's casual vibe. I don't know if pushing the show in the direction of RHOBH is the right idea. It comes across as a bit jarring, especially to longtime viewers. In addition to the direction of the show, the cast feels a bit disjointed. For instance, the reason the Real Housewives of Miami reboot is working so well is because there's a good balance of newbies and OGs in different capacities. RHOC needs to bring back some OGs to balance out the cast and stir the pot a bit. Those vets would be Vicki and Tamra. 
Vicki and Tamra
Vicki and Tamra were the foundation for RHOC. While I was happy to see them go at first, I deeply regret that decision. They knew how to stir the pot in such an organic way that it made the show incredibly worth watching. From Bass Lake-Gate to Vicki being a complete hater to Meghan King, those girls understood the assignment. I think bringing them back in a friend role in the same way RHOM has done with Marysol and Adriana would balance out the cast, and we all know that Vicki and Tamra would keep everyone on the cast accountable. Plus, with their recent fallouts with Shannon, it only would make sense to bring them back. 
I absolutely love RHOC, and I'm not saying this season is bad. But, it is definitely missing something that could bring it from being a 6/10 to a 10/10. We need the show to change its direction a bit, bring back Vicki and Tamra, and not push Heather so much to be the centre of the show. I know for a fact that if these changes were made, RHOC could be back in its prime. 
Image: Nicole Weingart / Bravo
The 9 Most Toxic Husbands In 'Real Housewives' History
The ladies of The Real Housewives are the gifts that keep on giving. I love the franchise because it's a space where women are not only allowed, but encouraged, to be unabashedly themselves. Many are quick to dismiss the show as frivolous and superficial, but for me and my fellow Bravoholics it's a fascinating sociological study on what it means to be a woman in today's world. This inevitably gives us a glimpse into the men our gals choose, and more often than not, the results are pure, unadulterated trash not pretty. Because I'm a glutton for punishment, I ventured into the deepest, darkest depths of House Husband Hell and compiled a list of the most garbage men to grace our screens over the years.
9. Bill Aydin

Bill is a relatively new addition to The Real Housewives of New Jersey, but he immediately made an impression with his condescending attitude towards his wife, Jennifer, and insistence that she stay at home with their children at all times. Jennifer memorably had to ask Bill for permission to go on a "girls' trip" (in other words, do her job), a request that displeased her controlling traditional husband. This should end well.
8. Brooks Ayers

While not technically a husband (despite Vicki's numerous attempts to make him fill her love tank), Brooks may as well have been one with the amount of screen time he took up during his tenure on The Real Housewives of Orange County. He immediately pinged fans' creep radars when Vicki's daughter Briana recounted that he sexually harassed her while she was pregnant. Brooks really cemented his status as the Dirty John of Bravo when it came out in season 10 that he perpetrated a cancer scam that Vicki was definitely *not* in on. Just thinking about him makes me want to take several showers.
7. Michael Darby

Ashley's marriage to Michael was shaky even in the earlier seasons of The Real Housewives of Potomac, with the two arguing over their fledgling restaurant and having children together, culminating in a separation just two years ago. Unfortunately, Michael is looking even worse this season with allegations that he sexually assaulted a cameraman on the show. Despite the charges being dropped, more allegations persist. And now he and Ashley have a baby together, which won't complicate things at all.
6. Jim Edmonds

This marriage always seemed suspect to me, not only because it was lucky number three for Jimbo, but also because he appeared completely and utterly checked out in every interaction with his wife. His abandonment of Meghan during her painful IVF treatments was particularly damning. Just when it seemed he couldn't be more awful, news broke earlier this year about Jim's involvement in a nude text message scandal in which, among other things, he was sexting a woman while Meghan was about to give birth to their twins. Inexplicably, they are still together.
My advice to Meghan:

5. Shane Simpson

There's no way around it: Shane sucks. This human embodiment of the word "twerp," as he was brilliantly called by castmate and certified genius Kelly Dodd, has been a walking wet blanket since his debut last season on The Real Housewives of Orange County. He threw Gina out of his home last season for being too loud during a party and proceeded to handle the aftermath with the same grace as a whiny toddler who's been denied his binky. Shane has done nothing to redeem himself this season and can't be bothered to hide his disdain snark in every scene with Emily, even going so far as to leave his family at home to escape to a hotel under the guise of "studying for the bar" (which he failed, btw). Instead of being grateful to his wife for singlehandedly taking care of their children and throwing a party for his parents in his absence, he snaps at her for disturbing him. Emily can do so much better.
4. Jason Hoppy

This is where the list really starts getting dark. Like many serial killers eligible men, Jason initially seemed like the dream guy Bethenny had been searching for her entire life. He supported her dreams and together they started the family she always wanted. For a while, it looked like Bethenny really did have it all. But cracks started to show in her spin-off Bethenny Ever After and it quickly became clear that Jason had a dark side he'd been hiding from the viewers. Once Bethenny filed for divorce, Jason fully unleashed his crazy by refusing to leave their apartment, threatening her, and bad-mouthing her to their daughter. Yikes.
3. David Beador

Seeing old footage of David Beador and his White Walker eyes still sends a chill down my spine. Shannon was completely humiliated when she revealed during season 10 of The Real Housewives of Orange County that David had a long-term affair. Though the pair did try to work through their problems, David's attempts to reconcile always seemed forced and inauthentic. During season 11, Vicki alleged that David was physically abusive towards Shannon during their marriage. Though both David and Shannon denied any physical abuse, David was arrested for domestic battery years earlier. The stress of the allegations led Shannon to gain 40 pounds, and instead of supporting his wife during this difficult time, David began aggressively working out as if to mock her and would eat in front of her in a way that can only be described as hostile. Thankfully, Shannon divorced him.
2. Jim Marchese

Until I began preparing this list, I had somehow forgotten that this O.T. (Original Twerp) ever existed. Jim was hated by just about every cast member during his mercifully short run on The Real Housewives of New Jersey for getting in the women's faces repeatedly like a rabid dog on crack and saying unspeakable things about his castmates. Jim has continued to reach new lows after his stint on the show. He revealed during his appearance with Amber on Marriage Bootcamp that he blamed her for getting cancer, was arrested shortly thereafter for felony domestic violence against Amber and, most recently, has been accused by his own son of refusing to continue paying his college tuition because he is gay. What a mensch.
1. Joe Giudice

It admittedly doesn't get much worse than Jim Marchese, but Juicy Joe still reigns supreme as the worst of the worst husbands. The repeated rumors of infidelity were bad enough. Who could forget that uncomfortable scene where he was caught on camera talking to his mistress one of his workers and referring to Teresa as "my bitch wife" and a "c*nt"? But Joe cemented his status on this list by committing fraud and implicating Teresa, causing her to serve time in prison and miss out on valuable time with her mother, who died less than two years after her release. It's unforgivable, but it does look like karma is coming for Joe and he's probably getting deported.
Of course, this isn't a complete list because choosing among the toxic men on these shows is an embarrassment of riches. There were many more I wanted to include (looking at you, Jim Bellino, Kelsey Grammer, Slade Smiley, Paul "Peekay" Kemsley and Simon Barney), but I can't afford to quit my day job. Sound off in the comments with your worst House Husbands!
Images: Getty Images (7); Shutterstock (2); NBCU; Bravo; Giphy (2)
Photoshop Fail Of The Week: Tamra Judge Calls Out Bad Edits
So, this week's Photoshop Fail is actually a little different. Because instead of calling out a celeb (or fake celeb) for their horrible mistakes that give away their personal mutilations, this one has already been done for us. As in, I don't even need to find the photo because the subject of the bad editing found it and called it out herself. I was actually going to write a completely different article, but then I saw Tamra Judge, of Real Housewives of OC fame, post this.
Can we talk about how awesome it is that Tamra decided to call out these dumb f*cks for Photoshopping her (and soooo poorly) because they were too cheap to pay for new photos? Which is insane considering how much money this franchise makes. Someone call Andy! But also, as a side note, woman, how much work have you had done? That first photo is unrecognizable. But, I appreciate that Tamra doesn't seem to edit her body in her photos. I mean, when you're fit as f*ck, I guess you don't need to. Which makes sense because she owns a gym.
Take note, celebs. This is what fit looks like. Her waist size actually fits a rib cage and even organs! The perspective is weird due to being taken in a mirror, but those are some pretty straight doorways and background pipes, IMO, so I think this one is legit. Again, take note, everybody.
So back to the problem photo. Apparently she said this is from Season 9, but she wasn't in the first couple seasons, so from my research, it seems like the photos are actually promos from Season 10 and 11.
Season 10:

This, according to Tamra, was the real pic.
And Season 11:

Clearly the same outfits, but uh…. something's a bit wrong with Tamra's smile. Which is really funny because the other ladies look pretty identical in both pics. Here's closer view of the same face with a different background.

It honestly does not even look like her? Who smiles like that? It's like they took the smudge tool and went, "look, she's extra happy." Like they're drawing a smile in third grade.
Tamra: 🙂
And since I know you guys love GIFs:

Sorry for the quality, I couldn't find a bigger version of the scary smile. It literally looks like some editor was like, "hmmm, not happy enough." And just pulled her face up. She looks like Wybie from Coraline when his cheeks are sewn into a smile.

Horrible work. Also, he made her eyes bigger and her face smaller, which, f*cking rude. But really, it looks nothing like her. The budget for this show is insane, I cannot fathom why they couldn't just take new pics. And also? Why was Tamra the only one edited? Everyone else has their original faces?
This reminds me of when Pretty Little Liars took photos from one of their early seasons, edited the sh*t out of them to make all the girls look like blowup dolls, and posted it as their promo for one of the last seasons. I believe it was Ashley Benson who was so ragey and called it out. It was horrific. Maybe I'll do it as a Photoshop Fail for a later week, even though it's old now. But like, wtf man? You can afford to take new photos? And these are supposedly PROFESSIONAL edits?
Thankfully this season's photos look much better (although definitely scarily airbrushed and no one has their original faces, but it's Orange County, so what can you do?):

Tamra was at least allowed to make the face of her choosing for this one. (Sidenote: Emily and Gina are back? Uggggghhhh.)
Someone get Andy Cohen on the phone right now for the injustice that was Season 11. And btw, while we're at it, we need to tell him how PISSED I am about Vicki Gunvalson being demoted to a friend. That is NO WAY to treat the OG of the OC!

Send me any Photoshop Fails you want me to check out! See you next week.
Images: Instagram (@tamrajudge) (2); Bravo (4); Giphy (2)
What Your Favorite Real Housewife Of Orange County Says About You
Last night was a big night on Bravo. And not because those rednecks from Oklahoma returned or because Kathryn dyed her hair fucking nuclear maroon for the Southern Charm reunion, but because the OG housewives out in Orange County are officially back. Now, it must be said that these women might be my least favorite because they're all trashy af and they ran off queen Heather. But my god do they make good TV. I mean, they fake cancer for Christ's sake. There isn't anything they won't do for ratings, which I can respect. But because none of them are betchy in the slightest, ranking them really wouldn't make sense. So instead we're here to tell you what your favorite wife of the OC says about you. And no. I didn't include that new Peggy lady because she wasn't on last night's episode and I don't know jack shit about her except that her debut tagline sucks. You can go shave your back now.
Vicki Gunvalson
If Vicki is your fave, you became lame af post-undergrad and are really trying to hold on to your previous way more fun life. You were the social chair of your sorority and got voted biggest lush senior year, but got a boring job like accounting or, idk, selling insurance, and now you just look desperate screaming "Whoop it up!" at company happy hours. In terms of your love life, shit isn't much better there. You're super thirsty for guys to like you, but they just don't. You should probs go on sabbatical or at least intensive therapy to try to turn things around.

Tamra Judge
Every squad has one and it looks like you're it: the annoying af girl who won't shut up about fitness and eating healthy. Like, hi. I literally couldn't give two fucks about your power greens salad or how high you were on the torque board this morning. You have friends but you probs don't even know about half of the group hangs because they don't want to hear you bitch about calories and how bloated you are in your size 0 pants. Do yourself a favor and eat some pizza and stfu.

Lydia McLaughlin
People who like Lydia better than the other wives are the stereotypical nice girl, my personal least favorite of all types of people. Sorry. You listen to Taylor Swift and wear Uggs while sipping pumpkin spice lattes and just bask in your basic way of life. Anytime there's an inner clique fight, you're the first to try and make peace and bring everyone together again. You work for a nonprofit or are a nurse and you host weekly bible studies. Your mere existence threatens to put me into a coma.

Shannon Beador
Shannon Beador fans find themselves somewhere in the middle of the pack. You're not the HBIC but you don't get walked over, either. Well, at least not by your friends… fuckboys are a totally different story. You keep it real, which makes cool normal people love you and fake betches hate you. Every once in a while you let your crazy side show and whip out a crystal or give yourself an enema, but for the most part you're chill.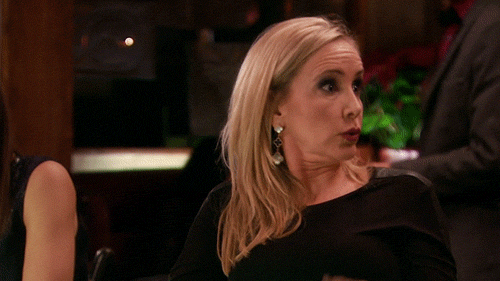 Meghan King Edmonds
A lot like Shannon fans, if you like Meghan, you're probs pretty normal. You've been super popular your entire life so it only makes sense that you grew up to a rich skinny betch married to a professional athlete. Fucking duh. You're pushing the verge of being a nice girl, but you also have enough of an edge to not take people's shit. Tbh, sometimes you're a little boring but that may be because everyone you hang out with is a legit psycho.

Kelly Dodd
You're a BSCB. There's really nothing else to say about it because that's the fact. You have a handful of friends but they only hang with you because you're always down to get shit faced and you're a good person to have on your good side. Because you'll cut a bitch. Maybe one day you'll reel it in, but chances are you'll just end up someone's drunk aunt.

Read: The Disney Princesses Ranked By Their Real Housewife Alter Egos