12 Ways To Shop To Support Pride & LGBTQ Organizations
We may not have a Pride Parade this year, but we can still celebrate in various ways, including donating to LGBTQ organizations and buying from LGBTQ-owned brands. There are also a number of brands out there that are supporting Pride and giving all or a significant portion of proceeds to organizations advocating for the LGBTQ community. From makeup to candles to cookie dough, justify your next online shopping trip with these brands and products that are supporting the LBGTQ community in a variety of ways.

Morphe launched their "Free to Be" Collection, and the colors are a rainbow DREAM. I have gotten almost too comfortable being a hermit in my home, but I swear this palette makes me want to go out, just so I have an excuse to put on R-E-S-P-E-C-T. The shade names will make you smile, and so will the brushes and lip gloss that complete this set. 100% of net proceeds from the sales of this collection (purchased through Morphe.com and Morphe Stores) during Pride will be donated to GLSEN to help create safe and supportive school environments for K-12 students.

Youth to the People's "With Pride" Kit is made up of three existing minis, formulated to cleanse, resurface, and hydrate your skin. As someone who uses this brand religiously, I can confirm the products are amazing, but what makes this kit even more worth purchasing is the fact that 100% of profits are being donated to GLSEN as well. (In case you forgot, they are the leading education organization working to create safe and inclusive schools for LGBTQ+ students). P.S. This kit works on dry, combo, and oily skin, so regardless of your type, this is worth the purchase.

If you're covered in glitter and glam post-Pride celebrations, Bliss' Makeup Melt Wipes will be your new best friend. Originally, Bliss pledged to donate 100% of net proceeds from the Limited Edition wipes with the rainbow design (pictured above) to The Trevor Project, but with Pride events being canceled nationwide, Bliss is now extending the donation to include 100% of net proceeds from its complete collection of Makeup Melt Wipes. The Trevor Project is the world's largest suicide prevention and crisis intervention organization for LGBTQ youth.
innisfree's "Spill the Equali-tea" mini lip balm set is great, because we all know that lip balms go missing faster than anything else in the world (aside from maybe bobby pins) and backups are always necessary. innisfree has partnered with the It Gets Better Project for Pride month, and will be donating to help support and empower the LGBTQ+ youth in our global community.

NOTO is a natural, multi-use, gender fluid cosmetic line packed with high-performing organic ingredients. They focus on representation and celebrate those choosing to be their most authentic self. Every sale of NOTO's Agender Oil (pictured above) goes to non-profits including LGBT Youth Center LA, Planned Parenthood, ACLU, the Audre Lorde Project, Black Mamas Matter, and more. Founded by Gloria Noto, a queer woman, the brand has raised $22,000 and counting in donations.

Marc Jacobs Beauty sometimes goes under the radar, but I am actually obsessed with this product. The Enamored (With Pride) Hydrating Lip Gloss Stick is basically a dream come true, as someone who loves lip gloss but could do without the mess it makes. All of the colors are fairly neutral and wearable, and work with every skin tone. Marc Jacobs Beauty will be donating to two charities—SAGE, the world's largest and oldest organization dedicated to improving the lives of LGBTQ+ older adults, and Le Refuge, a French organization dedicated to preventing the isolation and suicide of LGBTQ+ youth by providing shelter and support.

Hi Wildflower was created and founded by queer Bangladeshi novelist, Tanaïs. Their muse was wildflowers, hence the name, and the brand is for the socially conscious consumer looking for luxury goods. Ranging from fragrance to candles and lipsticks too, Hi Wildflower's well sought-after products are as good as they sound. The Dianthus Lipstick is the perfect universal red, and the Mojave Extrait de Parfum is the best thing you will ever smell, and is unisex!

I have a freakish obsession with candles, so I was thrilled to see that my favorites, Boy Smells, made a six-candle set titled Bundle of Pride to illuminate inclusivity. Founded by partners Matthew Herman and David Kien, you can feel the love when lighting any of these candles. The collection will support The Trevor Project, with all purchases contributing towards a $26,500 donation minimum. The smells vary from citrus to floral, woody and warm. They also make for a beautiful display!

I've been a long-time fan of (MALIN+GOETZ) because, you guessed it, candles. Founded by couple Matthew Malin and Andrew Goetz, M+G brings you an "uncomplicated" regimen for body, hair, and personal/home fragrance. Their Bergamot Hand Wash and Grapefruit Face Cleanser are two fan favorites, but the candles are the bread and butter. Neroli is my personal go-to, but the Dark Rum is a rumored must-have.

As someone with a very intense sweet tooth, edible cookie dough is music to my ears. This year, dō launched their love is love pack, which, as you can see, is a rather intense but very delicious scoop of rainbow deliciousness. The pack comes with four flavors: signature chocolate chip, cake batter, sugar cookie, and rainbow dō (which is also sugar cookie flavor). 20% of every purchase of this pack will be donated to the National Black Justice Coalition, a civil rights organization dedicated to the empowerment of Black LGBTQ and same-gender loving (SGL) people.

This year, Reebok launched an entire Pride collection. I can say with confidence that I would wear every single thing out of this collection, and it varies from the brightest of rainbows to the most simple of designs in the form of sneakers, athletic wear, and accessories. As part of their campaign, Reebok is donating $75K to the It Gets Better Project.

I feel like I must put a disclaimer here that I am 6 feet tall and even two inch heels makes me nervous, but I could not resist adding this collection in for obvious reasons. This Pride Pump screams "love" (literally), and Ruthie Davis is donating 20% of sales from the Pride Pump (pictured) and Pride Kick to the Lesbian, Gay, Bisexual & Transgender Community Center of New York City. Both styles are offered in extended gender fluid sizing up to 43.
I am thankful to see more and more brands using their platforms to advocate for LGBTQ+ rights and donate to help organizations on the ground doing the work. Happy Pride, everyone!
Images: Isi Parente / Unsplash; Morphe.com; Youthtothepeople.com; Courtesy of Bliss; Innisfree.com; Marcjacobsbeauty.com; Cookiedonyc.com; Courtesy of Vivrelle; Reebok.com; Courtesy of Ruthie Davis; Boysmells.com; hiwildflower.com; notobotanics.com; malinandgoetz.com
Starbucks' Unicorn Frappuccino Is Somehow Even More Basic Than The PSL
Starbucks just launched a new drink today called the Unicorn Frappuccino, and it's basically the Mountain Dew of coffee. I mean, even more so than the Frappuccino already is, because that's barely coffee TBH. It's more like a coffee-based method for 14-year-old betches-in-training to ingest 500 calories of pure sugar. And in case you were wondering exactly how extra this drink truly is, here's the description from Starbucks: "Like its mythical namesake, the Unicorn Frappuccino blended crème comes with a bit of magic, starting as a purple beverage with swirls of blue and a first taste that is sweet and fruity." Ughhh. Excuse me, I think I just rolled my eyes so hard I need some OJ to help with the comedown.
First of all, it just doesn't seem that hard for a drink to change from pink to purple. Mermaid Barbie pioneered that technology in like, 1995 to make our bathtimes more magical—so sorry Starbucks, but I am not impressed. Second of all, and most importantly, this sounds disgusting. Like drinking a glass of liquid Nerds.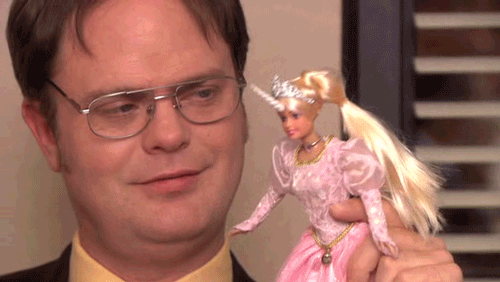 The monstrosity drink is only available from April 19-23, or at least that's what Starbucks is claiming, though just like when your man says the Insta model whose photos he keeps liking is "his friend from high school," we're a little suspicious. Much like an actual unicorn, we hope this drink also disappears and goes extinct (Unicorns went extinct, right?). Starbucks wanted to get in on the rainbow trend because apparently the key to getting kids to buy your shit is to make it look like a Kesha music video. We've already talked about why the rainbow trend is basic, and this drink is no different. I'm sorry to all the boring nice girls out there who think buying colorful shit makes them interesting, but liking mermaids and unicorns and shit as an adult is not a personality. It is a disorder. Seek help.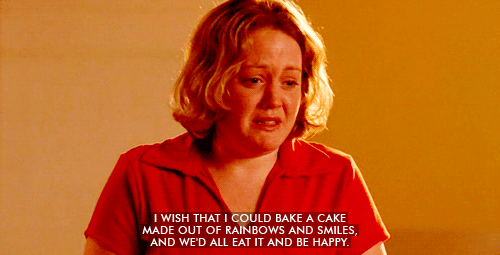 So like, WTF is actually in this drink? According to the ingredients page on Starbucks' site, there's Mango syrup, Blue Drizzle, Pink Powder, Sour Blue Powder, and Whipped Cream. The blue drizzle is made of "Condensed Skim Milk, Coconut Oil, Cocoa Butter, Natural Flavor, Salt, Potassium Sorbate, and Monoglycerides" so basically neither fruit nor coffee. Let's be real though, nobody's buying this for the taste. This is strictly an #eatingfortheinsta situation.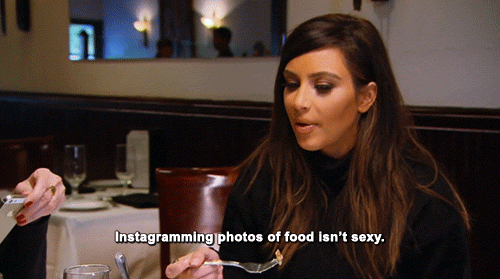 Bottom line, people who like this drink probably liked the movie Suicide Squad and dressed up as Harley Quinn for Halloween. The only thing that could save us here is if this is all one big Banksy prank about capitalism, or at the very least a Dumb Starbucks situation. If we really think about it, this is probably our fault in some way. We all used the rainbow Snapchat filters, and now Starbucks is just giving us the Frappuccino version of that. You know what they say, one great Snap Story halfway across the world can have huge affects here at home. They call that shit The Unicorn Effect.
People Who Wear Colors Are Seriously Disturbed & It's About Time We Said Something
As we all know, black is the official uniform of both witches and betches (in the case of the Olsen Twins, it's a little bit of both). It has been this way since the beginning of time, and will remain this way until we all upload our consciousness to the iCloud and colors don't matter anymore because we can see both forward and backward in time. So in like, 2-3 years. Sadly, despite the long-standing tradition of black being the betchiest color, we have seen a rise in number of people out in public wearing rainbow and it's embarrassing, to say the least. Rainbows belong on flags and in sherbet, not your outfit. Unless you're 12 years old, please reconsider before dressing up like a My Little Pony character when you go out.
Sure, it's spring time and a little bit of floral is like, fine. We all have at least one vintage dress for when we're feeling slightly less dead inside, but stop trying to make rainbow happen. No, it's not cute to dress like a Lisa Frank folder. You are a grown woman. Put on a power suit and some black sunglasses and lean the fuck in. Nobody is earning equal treatment in the workplace by looking like a 50s housewife. The reason we've been seeing so many more colors come back is probably because some nicegirl thought she'd be "creative" and come up with the new black. But guess what? There will never be a new black. Black is the only black. If we could wear black at our wedding, we would do that. At least we know everyone at our funeral is going to be chic because black makes everyone look good. Ugh, can you imagine having to watch some TTH in a full skirt with little unicorns on it mourn for you from Heaven? It would kill us all over again.

When in doubt, just take fashion advice from the French. French girls wear black on black whether they're out with girls, on a date, or like at the dentist, and that is why they are always skinny and chic AF even while they subsist on freshly baked bread and gourmet cheeses. If you're one of those girls that thinks wearing obnoxious colors adds "personality" to your wardrobe, then you probably have no personality. I mean, if you need to rely on Pantone to make you more interesting, you've probably got more wrong with you than just your fashion sense. And honestly if your personality matches any other color than the one of death, you sound like a nightmare to be around. 

Black is always in, and anyone who thinks we need a replacement color every few years to be the new "hot" thing is wrong. That's like saying ugly is the new pretty—no. Not to mention, can we stop making up names for colors every year just so the people at Pantone can keep their jobs? Serenity is a state of mind. It is not a color. Anyway. Wearing all black says "I am in a dress, I have gel in my hair, I haven't slept all night, I'm starved, and I'm armed. Don't mess with me." Covering your body in some awful combination of Play Doh colors says "I had trouble learning the alphabet and ate crayons until I was seven." Clothes: Black. Hair: Blonde. It's not that hard. 

We're basically here to assure you that black is the only color you need to take seriously. Don't listen to anyone that tells you any differently. Stick to black and you'll die chic AF surrounded by your skinny friends and family.
The Rainbow Food Trend Is Back, And This Time It's More Extra Than Ever
Food trends are weird. Sometimes, it's basically just everyone discovering a food that already existed, like avocados in approximately 2011. (Seriously, what did we put on our toast before? I honestly can't remember.) But some trendy foods are a little more questionable, like turning every kind of food into sushi, or a burrito, or the invention of cronuts. But while these fad foods are a bit strange, this new food craze is fucking batshit. It's basically the rainbow food trend of 2016, only this time it's somehow even more hipster-y and annoying. Brace yourselves.
People on Instagram have started using weird ingredients to make foods that look like a "galaxy" pattern, or with super bright colors to look like "mermaid" or "unicorn" shit. Yes, this is real. We've already exposed the horror that is mermaid toast, and unfortunately, moldy-looking cream cheese on bread is only the beginning. People Hipsters are not stopping at toast, and there's no telling what they will fuck up next in the name of a few Instagram likes.
These monstrosities foods as a whole have been dubbed "Lisa Frankenfoods," and that's scary accurate, but also it makes us want to kill ourselves. These nightmare people spend way too much time and energy making all their food weird colors, and in case that wasn't extra enough, they usually add some stars and moon shapes on top for good measure extra basicness. Because it's totally normal to spend hours wandering the sprinkles aisle at Kroger to find some stars to put on your fucking toast. 

The most popular example you've probably seen is the rainbow bagel. But like, why does it need to be a rainbow? The colors don't even taste like anything, and you know it's a complete pain in the ass to make. But either way, some hipster in Brooklyn had an idea and now the damn thing is Instagram famous. Honestly though, that's just the tip of the iceberg, and we've been dealing with the rainbow bagel for a year now, so it's nothing new.
"I've got 99 problems, but a bagel ain't one" [email protected]__christina

Enjoy the world's most beautiful bagel! https://t.co/Q62XrT0JeQ #NYC pic.twitter.com/fxXAW7ve4l

— The Bagel Store (@thebagelstore) March 26, 2017
The real issues are the new mermaid and galaxy foods because they typically combine the two worst people alive: hipsters and vegans. These people love foods like chia pudding and smoothie bowls, and they ruin them by adding this powder shit called "Blue Majik," which is apparently an Australian superfood but we're not convinced. Really, should you be eating something from a company that spells "Majik" like that? No? We didn't think so.
Blue Mermaid Smoothie Bowl with E3Live Blue Majik https://t.co/fTYetXm7cb via @GOTSA_ pic.twitter.com/QvzbKiyG1N

— Oh Snap! Let's Eat! (@ohsnapletseat) August 16, 2016
Also, how does the above bowl qualify as "mermaid," exactly? It's just blue.
Introducing the latest foodie trend – vegan galaxy toast https://t.co/7jScKL0Vff pic.twitter.com/dBQQuPZA3n

— Harper's Bazaar UK (@BazaarUK) March 20, 2017
We won't lie, the galaxy shit looks kind of cool, but wouldn't you rather have it on like your computer background, or maybe some basic leggings if you're going to EDC Vegas? There's really no need to ruin your cream cheese by adding swirls of black food coloring, so just don't. We like visually appealing food, but it's food, not your fucking middle school art project. Also, please stop trying to make everything into a mermaid or a unicorn or Lisa Frank. Like, we get it, you miss the 90s and you can't let go of your childhood and you have some lingering daddy issues that you're attempting to deal with by eating your feelings, literally. But please stop assaulting my Instagram feed with this nonsense. Just do what everybody else who still harbors resentment towards their absent father does, and fuck a bunch of old dudes. Or buy a Disney princess bikini. Your call.