What Is Environmental Injustice, And Why Is It A Problem You Should Care About?
Fighting systemic racism is not limited to ending police brutality and voter suppression; an often overlooked aspect of racial inequality is environmental injustice. Environmental injustice, defined as "the fact that some communities or human groups are disproportionately subjected to higher levels of environmental risk than other segments of society," often goes unnoticed because environmental activists have feared for some time that "concerns about racial justice would distract from efforts to reduce emissions." This is a problem, because this mentality has allowed for the shunning of the very group who is impacted most by environmental problems. 
I spoke with sustainability consultant, blogger and video creator Jhanneu Roberts to learn more about the unjust factors that contribute to environmental racism and why we should care about it. Here are the top five.
1. Race Is The Number One Contributor To Whether Or Not You Live Near Toxic Waste 
View this post on Instagram
According to one horrifying statistic, each person dumps seven pounds of material in the trash every single day. While some of us never come face-to-face with America's trash problem, not everyone has that luxury… or should I say, privilege.
"A landfill would never be in a rich white neighborhood," explains Roberts. "You'll never find a whole bunch of trash or dirty streets there, but you'll find that on the south side of Chicago, because certain things are just unacceptable in certain areas. So when it's acceptable in low-income communities of color, but not in rich, white areas, I think it's just very clear that there's injustice there." 
A study published in Environmental Research Letters found "a consistent pattern over a 30-year period of placing hazardous waste facilities in neighborhoods where poor people and people of color live." Take West Jefferson, Alabama; LaPlace, Louisiana (an area otherwise known as "Cancer Alley"); and Chester, Pennsylvania as examples, though there are many more low-income cities and towns being impacted by toxic waste sites. "Cancer Alley is an 85-mile mile stretch of pollution that runs along the Mississippi River from New Orleans to Baton Rouge that's made up of a bunch of oil refineries and petrochemical plants producing plastic," says Roberts. Ingesting these toxins and being surrounded by polluted air can lead to an array of health problems (shocker!), and in the worst case, death. "The cancer rate there is 50 times higher than the national average. So when we talk about plastic, we have to tell the whole story of it, and not leave out the fact that it's polluting certain environments more than others."
2. Black Communities Typically Don't Have Proper Waste Systems
Unlike in affluent neighborhoods where you have the pleasure of throwing out your trash and not having to think about where it goes afterward, low-income communities don't have the same waste systems. "All of this just goes back to segregation, where Black people lived in one area, white people lived in another, and of course they're going to put these toxic facilities in the low-income Black minority area," explains Roberts. A 1990s regulation created to limit the number of local landfills "led to a rise in private companies transporting commercial waste across state lines." And we can guess which group carries the burden of this transported waste from various states.
Ingesting toxins from leftover trash can lead to a multitude of health problems including air/water pollution, respiratory diseases, infections, and much more. An even more glamorous result of all of this excess trash is vermin. "If you go to the projects, you'll see mice and roaches and rats all around," explains Roberts. "And these critters are carrying all these toxic things in them. That impacts your health." Besides being undesirable to look at, these critters can indirectly transmit diseases through the transportation of parasites like mites and ticks, according to the CDC. Rat problems are also linked to depressive symptoms, as found in a Johns Hopkins study. 
3. Black Americans Living In Low-Income Communities Don't Have The Same Access To Nutritious Food, Which Has Broad Negative Implications 
Affordable, easy access to nutritious meals—which are important for maintaining a healthy weight and reducing the risk of type II diabetes, high blood pressure, high cholesterol, cardiovascular disease and some cancers—is unfortunately not a convenient or affordable option for everyone. For example, as Roberts explains, "If I wanted to go to a good, healthy grocery store as a kid living on the south side of Chicago, I'd have to take an hour and a half bus ride." Traveling so far via public transportation is completely unrealistic for working people with families.
"It shouldn't take that long to get healthy food," she continues. "I did a post on people not having access to grocery stores in food deserts and someone was like, 'I don't get why they can't just take public transportation!' But imagine if you're a single mom, working two jobs—you shouldn't have to be on the bus for an hour with your three kids trying to get groceries. No one should have to do that." In these areas which are often referred to as food deserts, many families rely on convenient and affordable fast food and cheaper grocery options that tend to be more processed. 
4. There Is Unequal Representation In The Sustainability Movement—Which Leads People To Think You Have To Be A Certain Type Of Person To Practice Sustainability 
Only until recently did sustainable brands and people passionate about sustainability start posting about environmental justice. "Everyone that talks about sustainability is white. It's important to have diverse faces talking about these issues if we want to actually solve the problem," says Roberts. 
The proof is in the pudding: after being called out for racist practices, a well-known sustainable clothing brand reached out to Roberts to do a post on their IG page on environmental justice. "But that's just putting a Band-aid on it if you just want me to come on for one video and call it a day," says Roberts. "If you're going to work with me, or any other person of color, it has to be some sort of contract, because then that tells your audience, Okay, we're trying to earn your trust back and not just put Black faces to seem like we're inclusive." Roberts suggested a few different ongoing ways for her and the brand to work together (such as consulting and becoming a part of their diversity board). And not a word was to be heard from them ever again! Where's the actual behind-the-scenes effort from brands in creating equal representation? "All these brands are under scrutiny because of racism and not including any Black people at the table," continues Roberts. "These issues wouldn't have happened if the people making these decisions had been a diverse group in the first place."
What Can I Do?
"I think a lot of people just don't know these things even exist, and how can people help if they don't even know it's a problem?" says Roberts. "Make sure you bring these into conversations with your other white friends. And if they're ever saying something that's ignorant, take the time to educate them on why what they're saying is wrong. I feel like the conversations have to start at home, because if you're not having them with your family members or friends, then how are we really going to shift the broader conversation?" So have those difficult discussions, educate yourself online, and make an effort to shift the mentality in your day-to-day. 
As far as more tangible actions we can take, see below for a list of people to follow, organizations to donate to, bills to support and black-owned sustainable brands to shop from.
People To Follow:
– Dr. Ayana Elizabeth Johnson / @ayanaeliza – marine biologist, writer, founder of @OceanCollectiv and @UrbanOceanLab and co-editor of @allwecansave 
– Marie Beecham / @wastefreemarie – environmental racial justice activist, consultant and founder of wastefreemarie.com  
– Diandra Marizet / @diandramarizet – environmental fashion influencer and co-founder of @intersectionalenvironmentalist 
– Isaias Hernandez / @queerbrownvegan – environmental educator and founder of queerbrownvegan.com 
– Lauren Ritchie / @itsecogal – climate activist and founder of theecogal.com 
Organizations To Donate To:
– Intersectional Environmentalist – A platform for resources, information and action steps to support intersectional environmentalism and dismantle systems of oppression in the environmental movement, led by environmental activists and sustainability advocates. 
– Energy Justice Network – A grassroots energy agenda, supporting communities threatened by polluting energy and waste technologies.
– WE ACT – An organization created to build healthy communities by ensuring that people of color and/or low income residents participate meaningfully in the creation of sound and fair environmental health and protection policies and practices. 
– Stop Formosa – A collection of resources and organizations fighting against Formosa Plastics, which wants to build a massive plastic factory in the region known as "Cancer Alley". 
– Ocean Collectiv – A collaborative of experts supporting clients in advancing ocean sustainability, grounded in social justice. 
– The Power Shift Network – A network mobilizing the collective power of young people to mitigate climate change and create a just, clean energy future and resilient, thriving communities for all.
Bills To Support:
– The Environmental Justice COVID-19 Act (under the HEROES Act) – This bill would provide $50 million for environmental justice grant programs to monitor pollution and investigate COVID-19's impact in frontline communities. It has not yet been approved by the Senate.
– Golde – Superfood health and beauty products. 
– Brother Vellies – Handcrafted shoes and handbags from South Africa, Ethiopia, Kenya & Morocco.
– Galerie.LA – Curated selection of ethical and eco-friendly women's clothing and accessories from emerging brands worldwide.
– KINTU New York – Handbags designed in New York, co-developed with global artisans, and made in Italy.
– SOKO – Innovative, ethical jewelry and accessories from sustainable materials in Nairobi, Kenya.
– The Narativ – Sustainable, ethical, social-good house of artisan brands from around the world.
Image: AndriiKoval / Shutterstock
I Am A Black Woman. The System Has Not Served Me. Here's Why I'm Voting Anyway.
The matriarchs of my family have always treated voting as a sacred ritual. Not a single election went by during my childhood that my mother did not bring me to the polls to watch her vote. Whether that meant waking up before the sun to drive to our nearest polling place so she could cast her vote before she dropped me off for school, or being among the last voters in line, exhausted after a long day's work, quelling an inconsolable tween whose primary concern was whether we'd be going to Burger King after, my mother always upheld her civic duty to vote. And she always made sure that I, her only daughter, was present to watch. 
See, to my mom, a child of the civil rights movement, born in the 1950s, voting was a privilege. It was the be-all and end-all. It was a right that had been legally and systematically withheld from Black people—Black women—for so long, she felt it would be nothing short of a slap in the face to her ancestors to voluntarily deny that privilege. My grandmother, born in the 1920s, felt the same. After all, her great-grandparents had been slaves, hardly able to visualize the prospect of freedom, let alone the ability to exercise the right to vote—a power that was historically reserved for white male property owners. It simply was not an option for my mother or grandmother to choose to forfeit their voting rights given the historical gravity and laborious terms surrounding the acquisition of universal suffrage. 
Our family's voting ritual culminated in 2008, when my grandmother, mother, and I went to the small church two blocks away from my grandmother's house, which doubled as a polling station, to cast their votes for Barack Obama. The act was monumental at the baseline because two Black women were exercising their rights to vote, a radical act that the founders of the Constitution never intended. But that day was made infinitely more significant because two Black women were voting for a Black man, who would, of course, become the 44th President of the United States. (The day was significant for me because I got to go to Burger King after.)
The generations that preceded me rightly held voting to such a high standard because they directly had ties to a world where Black enfranchisement wasn't the norm. My generation, on the other hand, is significantly more disillusioned. While we are keenly aware of our history and the struggle endured to acquire the universal right to vote, we also are able to see the cracks beneath the surface. The radical injustices associated with a system that proclaims itself as just. If my mother and grandmother's generations saw the right to vote as the be-all and end-all, the almighty Oz, my generation's unique gaze beholds Oz as just a man—and he's white, self-interested, and a master puppeteer. 
It's no secret that the relationship between voting and Black America is a long, complicated one. From its inception and for almost the first 100 years of American history, Black people were denied the right to vote—simply because they were not white, not property owners, and not regarded legally as a full person. The 15th Amendment, ratified in 1870, technically granted Black (men) the right to vote, however many southern states utilized a plethora of tactics to prevent them from actually being able to do so. Literacy tests, poll taxes, gerrymandering, and grandfather clauses were among the many strategies employed to promote Black disenfranchisement. The Voting Rights Act of 1965 sought to rectify these unjust practices, as it was the first piece of legislation to formally prohibit racial discrimination in voting. But still, racist officials and lawmakers found loopholes within the system to prevent Black people from exercising their voting rights. The creation of voter ID laws, the illegitimate closing of polling places, and the reduction of early voting rights are all ways in which voter suppression still, to this day, plagues the Black community. So while the triumphs of acquiring Black enfranchisement were at the top of mind for my mother and grandmother's generations, the somber realities of discriminatory disenfranchisement practices are jarring truths that mar my generation's outlook on the subject of the vote.
I want to be very clear: I am a Black woman and I will be voting in November. And, at the risk of sounding like an episode of Schoolhouse Rock, you absolutely should too. Maybe it's naïveté, or maybe my mother and grandmother's voting had tremendous lasting power, but I am of the unwavering opinion that if you can vote, you must. And if you are Black, I mean this tenfold. No, not because our ancestors fought for this right (I do not believe in guilting people to vote), but because far too much is at stake to deny ourselves this right. In the words of Aubrey Stone, President of the Black Chamber of Commerce, "We cannot expect to win with every vote, but if we don't vote, we can certainly expect to lose." 
I'll admit, it is exhausting to vote in a political system where your community is not only underserved, but systemically under attack. Almost 50 years after the Civil Rights Act, the racial wealth gap suggests Black men still earn 87 cents for every dollar earned by white men. Almost 66 years after Brown v. Board of Education, racial inequality in our education system still persists as Black students graduate at drastically lower rates than white students, and are more likely to be expelled, less likely to be invited into gifted student programs, and more likely to be overlooked by teachers. According to the Bureau of Justice, 1 in every 4 Black men is likely to go to prison, whereas 1 in every 23 white men is projected to serve time in prison. Black women who give birth in hospitals that primarily serve Black communities are far more likely to have serious health complications than women who give birth in "white-serving" communities. And as we all were reminded this year after the deaths of Breonna Taylor and George Floyd, even though Black people account for less than 13% of the American population, they are still twice as likely to be shot and killed by the police. The system is downright abhorrent for Black Americans. But the answer isn't for us to not vote. The answer isn't to self-serve defeat because defeat is expected. I can't recall any victorious historical movement that was achieved through the passive act of surrender. 
The truth is, while suffrage isn't the all-powerful Oz that my mother and grandmother once proclaimed it to be, voting is a tool that has considerable power and influence in drastically improving our daily living standards. In the upcoming November election, specifically, we're voting in the hopes of increasing the federal minimum wage, ending the cash bail system, restoring the Voting Rights Act (which was compromised by the Supreme Court in Shelby County v. Holder in 2013), and increasing federal funding for public schools. For minorities, in particular, we're voting to reinstate DACA, advance the enactment of the LGBTQIA Equality Act, rescind the Muslim-targeted travel ban, and decriminalize marijuana. Access to affordable healthcare, tuition free college, and investment in climate change programs are also all among the many political initiatives that will ultimately be decided by your vote.  
And yes, I do specifically mean your vote. I'm cringing at the children's television-level soapbox I've unintentionally found myself standing on, but your vote sincerely does matter. Every vote does. Overwhelming data shows just how many elections have been decided by a mere handful of voters. In 1991, a House seat in Virginia was determined by one single vote. In 2002, a GOP House primary in the state of Washington was decided by just one vote. George W. Bush infamously won the deciding state of Florida in the 2000 presidential election by roughly 500 votes. And, of course, in 2016, Donald Trump secured the presidency by winning just enough votes to secure the Electoral College. Roughly 43% of eligible voters did not turnout to the polls in 2016. And for that, we are paying dearly. 
The presidential election next month is one of momentous importance because we are quite literally voting for our lives. And again, if you are Black, I mean this tenfold. A considerable amount of voter apathy comes from the erroneous and, quite frankly, dangerous idea that a Biden Presidency would be just as bad as a Trump Presidency. And while it is absolutely correct that Biden's political record is not squeaky clean when it comes to his previous political platforms that affected the Black community (i.e. The 1994 Crime Bill and his former anti-busing stance), it is paramount to affirm that re-electing Trump for a second term (either actively by voting for him or passively by choosing not to vote) would be far more damning to Black America than electing Biden. Neither candidate provides the prospect for a perfect presidency, but one candidate refuses to denounce white supremacy, which freely and directly puts Black America under siege. If the leader of the free world cannot merely condemn the malignant threat and oldest form of racism that has plagued our nation, the floodgates of unbridled bigotry will be jolted open and a second-term presidency would terrorize our worlds in unfathomable ways. As Sonya Renee Taylor so poignantly directs, "vote like you are picking the enemy you want to fight." Be clear that we would all be better off fighting the enemy whose political record is considerably tainted, than the enemy who wholly rejects the validity of our existence. 
No, voting is not the ultimate answer to all of the injustices that plague the Black community. Only a complete and total societal reckoning can even begin to tackle that monumental feat. But voting is an essential step that can be utilized to affect necessary and transformative change. Your vote has tremendous power; you simply must use it forcefully and strategically. But we mustn't stop our work after we've cast our votes at the polls. My mother and grandmother were correct that voting is paramount, but they were wrong about it being the be-all and end-all. We must vote in November, and continue our civic engagement in other proactive ways. We must vote in November, and continue to protest—since the protests that ensued after George Floyd's death, Minneapolis, D.C., Chicago, and Denver have banned the use of chokeholds and many city governments have removed public sightings of Confederate monuments. We must vote in November, and hold our representatives accountable—in 2006 an immigration reform bill that would increase fines and prison sentences for undocumented immigrants was not enacted because of a successful citizen uprising in the Latinx community. We must vote in November, and continue to act. Voting is merely a single action item, on the thousand-page to-do list of "how to fix America." But it's a critical step, nonetheless.
Image: Element5 Digital / Unsplash
5 Black Women And Femmes You Should Be Following
There can be no discussion of the year 2020 without the mention of the name George Floyd, the 46-year-old black man who was brutally murdered at the hands of Derek Chauvin and three other police officers in Minneapolis, Minnesota this past May. And while George Floyd did not ask to be martyred, his brutal and untimely death awakened the world, and was undoubtedly the inciting incident for what many are calling the civil rights movement of 2020. Although it's tough to say definitively if the uprisings we've seen this year can be compared to the civil rights movement of the 1960s (as that movement tenaciously lasted for more than 10 years), it is fair to say that the Black Lives Matter movement is certainly moving in that direction. And if, in fact, we are headed down that historic route, it would absolutely be because of the bold, radical, unapologetic voices guiding us, leading us down the path to revolution. 
It is no secret that black women and femmes have played a central role in the current Black Lives Matter movement—after all, it was a 17-year-old Black woman, Darnella Frazier, who bravely filmed George Floyd's death, providing the world with the concrete video footage that made the misconduct surrounding his murder indisputable. But Black women and femmes have always had a unique perspective into structural injustice, probably because they have always been at the receiving end of most of it. Black women's rights and interests routinely take a back seat to those of white women and cis black men. As such, you may have heard (whether directly from the source, Malcolm X, or indirectly from a pretty good source, Beyoncé) that "the most disrespected person in America is the black woman." And perhaps it is because of this regular disrespect that Black women and femmes have sought to reclaim agency and use their voices to speak.
Over the past few months, Black women and femmes from all industries have been using their social media platforms to mobilize and educate the masses, creating a revolution for the digital age. They are leading the anti-racism conversation by saying what many people don't have the courage to say; pushing the boundary and not accepting performative or shallow attempts at change; ensuring that the revolution will be televised (via Instagram), and that it will be inclusive and intersectional. This is by no means an exhaustive list, but here are some of the Black women and femmes that I follow who regularly challenge me to learn and do better—I highly recommend you consider following them as well. 
If you are like me, you first encountered Sonya Renee Taylor back in June after a video of hers went viral. The video was in response to another viral video on Tik Tok, which featured a well-intentioned yet slightly misguided teen attempting to have "the anti-racism talk" with her family. While most of the internet was applauding Haley for having any semblance of a talk with her family at all, Sonya Renee Taylor's response video challenged us all to think more critically about what exactly it was that Haley and her family were debating: "Haley was arguing with her parents about whether or not Black people were worthy of life. The fact that that is a conversation is the problem." Taylor was able to shift the conversation from the localized issue of Black lives simply mattering (a conversation that really shouldn't be a conversation at all) to the more comprehensive, structural issue: "the delusions of white supremacy." And that, in a nutshell, is Sonya Renee Taylor's enthrall—she has the wonderfully unique ability to shed light on matters that challenge and defy the obvious perspective. In addition to her keen insights concerning racism, blackness, and white supremacy, she also commits to spreading discourse surrounding gender, fatphobia, and radical self love. So if you are looking to learn, be challenged, and pick up some lessons on how to love yourself radically and without apology, you must dive into the work of Sonya Renee Taylor and follow her on Instagram. 
Noname, Twitter (@noname)
if we believe black lives matter, we must also believe capitalism needs to be destroyed. as long as that system is in place and maintained by powerful elites, black people will die forever.

globally.

— 🌱 (@noname) July 26, 2020
Admittedly, it sort of feels weird telling you to follow Noname, because her whole thing is that we should divest from structural systems, celebrity culture being one of them. With that being said… you should follow Noname. Noname has been making music and uplifting POC interests and voices for years now, but she gained mainstream traction this past year. She's been a dominant voice in the digital Black liberation conversation, regularly challenging her audience to read, learn, and think for themselves. What's most compelling about Noname's Twitter presence is she uses it as a means to not only talk the talk, but also walk the walk. You can find her calling out imperialism, the industrial prison complex, and the patriarchy; but, you can also find her calling herself out, owning past mistakes and gaps of knowledge she had before she learned better. As she poignantly points out, "growth is an embarrassing yet necessary part of the process." 
Perhaps Noname's biggest digital moment occurred this past June, when rapper J. Cole thought it would be constructive to derail from the movement and drop a tremendously odd single, accusing Noname of using a "queen tone" and thinking " better than" him and other rappers in her efforts to speak up against structural oppression on Twitter. Noname's eloquent retort came in the form of a 1 minute and 10 second song, the thesis essentially being: "he really 'bout to write about me when the world is in smokes?" With concision and flair, Noname defended herself while effortlessly redirecting the conversation back to the serious issues at hand. Noname uses her Twitter presence in a similar way, calling out problematic mainstream pop culture while consistently shedding light on critical societal issues. So if you want to be a part of her "new vanguard," follow Noname on Twitter and consider joining her book club.
I wish I could say that I've had the pleasure of following and engaging with Ericka Hart's content long before this year, but alas, I, too, fell victim to bandwagon culture, and only discovered this dope account this past May. A self-proclaimed "racial/social/gender justice disruptor," "sex educator," and "breast cancer survivor," Ericka Hart uses their social media platform to cover tons of ground on the journey to liberation and is, by far, one of the most engaging accounts I follow. Ericka Hart's social media presence is unique in that their dialogue concerning social justice is dynamic—not only do they foster conversations that discuss plain truths about race and Blackness, but they also add unique depth to the discussion by examining matters of colorism and ableism. However, what specifically drew me to Ericka Hart's account was their advocacy for the protection and uplifting of Black lives that exist beyond the scope of cis Black men. They were a dominant voice in May insisting that we not only demand justice for George Floyd and Ahmaud Arbery, but for Breonna Taylor, a Black woman, Tony McDade, a Black trans man, and countless other Black women and trans folks that have been murdered at the hands of injustice. I, myself, am constantly challenged by Ericka Hart, as they constantly provide the reminder that the revolution cannot be complete or effective if it does not seek to liberate all Black lives. Ericka Hart's Instagram presence is also a healthy one to follow because they also use it as a platform to celebrate Black joy and Black love—regularly posting content with their partner, Ebony. It's a radical reminder that the Black story is not one of plight but one of joy and abundance. So do yourself a favor and follow Ericka Hart.
One of the most powerful adages that has come out of the last couple of months is "the revolution has many lanes." And I think it's safe to say that the lane of the revolution that's "activism through humor" has been monopolized by writer and comedian, Ziwe Fumudoh. Hosting a weekly show on Instagram Live, Ziwe attracts crowds in the thousands as they eagerly watch as she talks with notable people—predominantly white people—about race in America and skillfully baits them into an incorrect, often cringeworthy answer. What's most fascinating about Ziwe's show is that her practice of "baiting" really isn't baiting at all—she just asks questions and simply waits for answers. Without fail, and despite days of preparation and sometimes even tangible notecards, guests will always say the wrong thing—revealing that even the most well-prepared, well-intentioned white people have some kind of implicit bias that they need to reckon with. Previous guests have included infamous white women like Caroline Calloway, Alison Roman, and Alyssa Milano, but Ziwe has also interviewed people of other races, like Jeremy O. Harris, forcing him to discuss his use of Black women's bodies on stage in his seminal work, Slave Play. At the end of every interview, Ziwe asks her guest what the audience has been wondering the whole time: why the hell did you agree to come on this show? And the guest's answer is almost always the same: part of doing the work is being made to feel uncomfortable and humbling yourself in order to learn. And that's the Ziwe influence—she's created a public platform for those willing to be challenged and learn, while allowing her audience to heal through community and catharsis as they watch the process take place. If you're not familiar with Ziwe, please join us in the year 2020 and give her a follow!
If there is any account that I am 90% certain you've encountered over the past few months, it's Rachel Cargle's—and it should be Rachel Cargle's, as she uses her platform predominantly as a means for education and activism. Upon scrolling through her IG feed, one of the first things of note is that her academic and mobilization efforts far precede this year's events. Cargle has been guiding the conversation on race and womanhood in support of the revolution for years, even though many of us have only come around recently to receive her words. She regularly promotes the work of "unlearning" through learning, and curates monthly reading lists and lectures via her online platform The Great Unlearn (a patreon you should subscribe to!). 
But what sets Rachel Cargle apart from other activists is that a central part of her work is providing tools and resources for her audience to ensure that learning doesn't stop at required reading, but is further translated into action. For example, when much of the world was posting open letters to their schools, universities, and workplaces to expose them for unjust practices and racist ideals, Rachel Cargle took to her Instagram account to take it one step further: providing her audience with a template for how they, too, can hold the institutions in their lives accountable for structural injustice. In addition to these accountability templates, she also curated a 30-day Do the Work challenge and posted tangible ways to decolonize your bookshelf, continuing the idea that activism must be combined with action in order to really effect change and mobilize a revolution. So if you're looking to become a student in the masterclass on effective activism, follow Rachel Cargle on Instagram. 
A prevailing question on the minds and lips of many this past year has been: "How long will this movement last?" "Is this movement just a moment?" But it's been three months since the murder of George Floyd, and the movement is still prospering. While the momentum has, naturally, oscillated, its heartbeat is still strong. Why? Because we have leaders: Black women and femmes, the new generation of activists—our new vanguard—who have committed themselves to the endurance of this movement. While it may be easy at times to be defeatist and feel overcome and overwhelmed by how far we have to go, optimism lies in the comfort that we are being led in this revolution by some of the brightest, most talented minds out there. And we can access all of them through the proximity of our smartphones. We simply have no choice but to stan these women and femmes (and send them some coin to pay them for their labor).   
Images: Angelo Moleele / Unsplash; sonyareneetaylor, ihartericka, ziwef, Rachel.cargle / Instagram; Noname / Twitter
People Are Asking Questions About Change.Org
There are many ways to continue to support anti-racist work, one suggestion being to sign petitions. These petitions have a variety of functions: some aim to raise awareness of and bring justice for victims of police brutality, such as demanding that all of Breonna Taylor's killers get fired and charged; some urge city leaders to remove Christopher Columbus statues. But if you're finding these petitions via social media, then they all probably have something in common: they are hosted on Change.Org. 
With Change.Org petitions demanding justice for George Floyd, Breonna Taylor, Oluwatoyin "Toyin" Salau, Rashard Brooks, and the countless other lives lost to police violence flooding everyone's social media feeds, it's easy to assume that Change.Org is one of the companies supporting BLM. But it isn't as clear cut as it seems, and as the recent confusion between the Black Lives Matter Foundation and Black Lives Matter Global Network proved, before you give your time or money to an organization, it's necessary to do a little digging to ensure it really backs the causes you intend to support.
Here's some background: Change was founded in 2007 to connect individuals to causes and advocacy actions that they care about. In the early operating stages, Change promoted mostly progressive causes but didn't have any petitions. It wasn't until 2010 that the company started to host petitions and became a for-profit organization. 
Ok, sit tight because here is where this gets really technical. Change.Org is a certified B corporation, which means that they are responsible for both making a profit and for their social and political impact. Everyone's favorite ice cream company, Ben and Jerry's, is another B Corporation. Ben and Jerry's has a long history of making their political and social commitments public and participating in advocacy, such as with their now-famous Black Lives Matter statement. 
That said, the assumption that Change.Org is a nonprofit organization makes a lot of sense. The website hosts petitions, many of which call for positive change, which gives it the appearance of an advocacy group. They also use a ".org" web address, which can lead visitors to infer that they are a nonprofit organization. In reality, as a for-profit organization, ".com" would be more honest to their users. 
Change reported that the petition titled "Justice for George Floyd" is the most signed petition on the platform, with over 18 million signatures to date. Like with any petition on the platform, when you clicked the link, you were taken through a series of steps. First, you signed it, which is the obvious step. After that, you were prompted to donate to further the cause and "get the petition on the agenda" with a pop up message asking: "Can you chip in $3 to help get the petition further?" As of June 24, this message no longer appeared.

While the prompt never directly stated that the collected funds would go to grassroots organizers or the subject of the petitions, the message that giving money will put the petition "on the agenda" gave the impression that giving $3 would help the petition go somewhere that would inspire direct action. I, personally, have made the mistake of donating to Change petitions after signing them under the assumption that my donation would go to the cause I support. 
In reality, donations made on Change.Org's petitions are used to pay operation costs and cover marketing campaigns that promote petitions internally and promote the platform as a whole. Over the years, articles and Twitter threads have raised concerns about Change.Org's unclear donation prompts. However, with petitions calling for justice for the victims of police brutality, criminal justice reforms, and demanding change in race relations going viral, past and present employees are now taking Change.org to task. 
An open letter signed by 130 current and former employees on Medium is calling attention to the way that Change.Org handles donations, specifically citing donations made through the Justice for George Floyd petition. The letter states: 
The petition calls for signers to "become a hero" by "chipping in," but these donations do not go to George Floyd's family, or to organizations fighting for Black lives. Rather, these contributions serve to market the petition and Change.org itself via billboards and digital ads. Change.org is siphoning resources away from organizations that are accountable to Black people and equipped to do deeper, long-term, community-based organizing for Black lives and liberation. At the same time, Change.org continues to host numerous petitions advocating against racial justice, and leaders of color — including multiple petitions calling for Black Lives Matter to be labeled a terrorist group — and generates revenue from those as well.
We verified such petitions exist but decline to link them for you here.
The letter also explains that part of Change.Org's business model involves the company making money by collecting more emails. With petitions involving racial justice hitting record levels of engagement, those who signed the letter have expressed their frustration and anger with the company in no uncertain terms, "these actions constitute Change.org profiting from the death of Black people."
Betches asked Change.Org to address concerns about how donations through their website are solicited and distributed. When asked how the company uses donations made to specific petitions, a Change.Org spokesperson said via email: "People who sign petitions on Change.org are offered the opportunity to pay for Change.org to promote the specific petition they care about to the 100 million people who visit Change.org every month," adding that contributions are "invested into tools and support" they offer petition starters. 
Even though the Justice for George Floyd petition does not redirect users to an invitation to chip in after signing anymore, that prompt does still appear when you sign other petitions—for example, this one calling for Juneteenth to become a national holiday. Now, at least, it clarifies what the money will be used for.

It remains unclear why Change.Org has to pay itself to promote its own petitions on its own website. Asked what efforts Change.Org has made to ensure transparency when it prompts signers to make a donation, a spokesperson told Betches: 
On the payment form, we explicitly state that by promoting a petition, users are advertising the petition to other users on Change.org, and we're proud to show promoters the number of people who will see the petition because of their promotion. The more promotions that a petition receives, the more people are exposed to that petition, and the more signatures it is likely to receive. And the more signatures a petition receives, the more likely it is to have impact in the world because of that support. 
If Change.Org uses donations to fund promotion of its petitions for racial justice, rather than racial justice itself, it's worth considering how successful petitions can be. While they are certainly helpful in increasing public pressure and raising awareness—when millions of people signal support for a cause, it's a pretty good hint to politicians they will lose their jobs if they don't accommodate demands—most petitions are not binding. Yet many suggest that hitting a certain goal will automatically result in the requested action.
The "goals" that go with each Change.Org petition are actually fairly arbitrarily. According to Change's website, "Change.org supplies a default petition goal when you start your petition, and once you near the signature goal, it will increase automatically… Once you have achieved the goal behind your petition, you can declare Victory regardless of what the signature count is or how far you may be from the goal listed on the petition page." 
This basically means that with increasing popularity and engagement, the site's algorithm automatically pushes back the petition's goal. That means the petition continues to stick around to generate more signatures (and more money for Change.Org) after the initial goal is reached, and it's up to the individual who started the petition to cap or change it. 
None of this is to discount the importance of petitions or the tech infrastructure often required to manage tens of millions of users who want to sign them. Still, it is crucial to consider where petitions come from and who they go to. At the bare minimum, they can raise awareness for different causes. When they are most successful, they provide the necessary amount of public pressure needed to push officials to make a change.
A Change.Org spokesperson said the company is honoring requested refunds as quickly as possible and added that they have solicited feedback from users about their understanding of, and satisfaction with, how their donations are used. When asked how much money the "Justice for George Floyd" petition has earned the company, the spokesperson said Change.Org planned to announce how those contributions "will be used to drive impact on this petition and support issues of racial justice, very soon." We will look forward to that.
In the meantime, if you're looking for alternatives to Change.Org, ColorofChange.Org is a Black-owned and -run nonprofit that fights for racial justice. They host petitions and amplify the voices that matter the most in these conversations. If you do sign a Change.Org petition and would like to donate money specifically address racial justice, check out some of the groups in our Good Influence Fund.
Additional reporting by Amanda Duberman 
Images: Change.org (2); Postmodern Studio / Shutterstock.com
The College Admissions Scandal Isn't Funny, It's Infuriating
By now we are all far too familiar with the college admissions scandal involving Desperate Housewive's Felicity Huffman and Full House's Lori Loughlin (aka Aunt Becky). The two celebs were brutally and rightfully roasted, shots were fired, memes were made, and the trash fire that is the internet blazed on (though perhaps with one less YouTuber.)
Just as a quick recap: the FBI (yes, that one) recently indicted 40 people in a huge college admissions scam, where parents were doing things like paying to bolster their children's SAT scores. You know, just some casual fraud. And while the whole story blew up due to celebrity involvement and some absolutely clickworthy details (like how photos were edited to make it look like these kids were on sports teams that they were not lololol), the entire mess is actually less scandalous than it is inevitable. How? Great Q. Because what happened here is one of the many outcomes of a broken education system in the US, where those with privilege and money are able to create opportunities for themselves that others aren't. It's a system that rewards people with money and leaves behind people who dare to be born without it. And yes, what happened in this "scandal" is hella illegal, but the most disturbing part about it is that it's not that far off from how the legal system works. Moreover, the fact that these people thought in their right minds that they could use their money to get their kids into colleges over other hardworking students makes sense when you look at how we have built the college admission process.
did any one else just assume that celebrities paid to get their kids into college and are shocked that it's actually illegal

— jaboukie (@jaboukie) March 12, 2019
So let's take a deeper look at just how fucked up this system (take a shot every time I say system) is, shall we? From the moment parents enter their children into school, privilege already plays a major role. Areas where people with higher incomes live have more money to fund their schools, and therefore better education systems. Race comes into play here as well, as many non-white neighborhoods lack the resources to build up their schools.In just one recent example of how this works, the New York Times ran an exposé on NYC's "elite" high schools (think Gossip Girl) and found that of nearly 900 students admitted to Stuyvesant High School this year, only seven of those students were black. Seven. So, from day one, being white and being wealthy will put you ahead. That is lé fucked.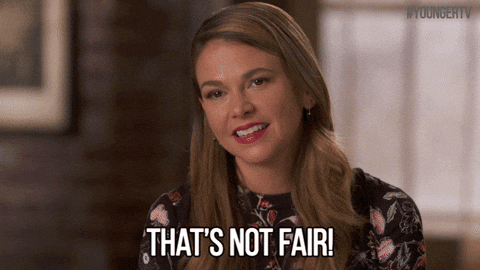 By the time kids get to a college application, the system has already made the playing field uneven. Those who could afford to live in a district with good schools are more ready to move on to college. And then there's college tuition. As you may have heard from Bernie Sanders and/or me at the bar the day my loan payment is due, college tuition is BULLSH*T. The tuition is too damn high! And aside from college costing an insurmountable amount of money for most families, it also creates a situation where people who come from lower income families cannot attend college. And if you're thinking, "Well they can just get a scholarship! or financial aid!" think again. Scholarships and financial aid are not things you can just *get.* You have to work really damn hard for them and neither are guaranteed, so this again creates a system where those who are less fortunate literally have to work harder to get the things that rich or well off people get while making YouTube videos in their dorm. Again, that is…loco.

And now we arrive at the topic of filthy rich parents using their money to get their kids into schools they wouldn't be able to otherwise attend. It's no secret that certain families that hold legacies at Ivy League schools often make large donations, and because of that the schools let their kids in, even when they are not smart enough. *cough George W. Bush cough*  Yet again, wealth and privilege are two of the requirements when it comes to easily getting into good colleges. And where there's wealth and privilege, there's racial injustice as well. And that's not to say that people of color are never wealthy (of course that is not true), it's just the reality that white people created a system where we are on top, and because of that it's much easier for us to obtain/maintain privilege.
When you take all of this into account, it actually isn't that wild that these celebrities assumed they could pay their kids' ways into college. That's how the whole system works; if you have money, you have power, and you have the right to get what you want. I mean, what they did was completely heinous and illegal, and the photoshopping part is objectively hilarious, but it's really not that far off from what is legally allowed. In the end, what's the difference between paying $500k to a fake SAT proctor and paying $500k to put your name on a building if the result is the same? You get your C-student into an Ivy, while hardworking, exceptional students struggle to afford their safety school. America's education system is broken, just like the criminal justice system, and just like many others in this country. They need reworking and revolutionizing, and the time is now. Wow, am I…running for president?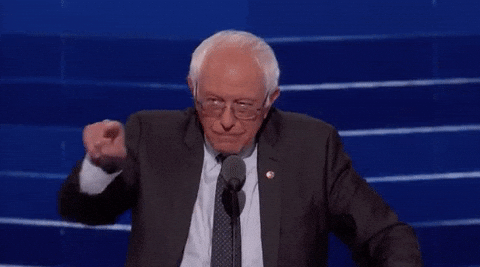 Heads up, you need to keep up with the news. It's not cute anymore. That's why we've created a 5x weekly newsletter called The 'Sup that will explain all the news of the week in a hilarious af way. Because if we weren't laughing, we'd be crying. Sign up for The 'Sup now!
Images: Giphy (3), Twitter (2)