The Best New Year's Eve Movies To Watch At Home This Year
One of the reasons why New Year's Eve is one of my favorite holidays is because you never know what to expect, *sigh* but this year isn't like the others… As we are all aware, celebrating New Year's Eve this year will be a lot different than what we are used to, and we just have to make the best of it. That's why my winter break has been filled with quality family time watching holiday movies in the comfort of my home, and I have been loving every minute of it!  
So I figured this would be the perfect time to give you my favorite NYE movies that will get you in the spirit of the new year. For anyone that is looking for a classic, a romantic comedy, or a crime/thriller/suspense film, look no further!
'New Year's Eve'

This is a given. The star-studded cast is giving all of the NYE vibes that we can't really have this year, so it's the perfect substitute. If you are a Love, Actually fan and you're all about the multiple storylines that eventually come together at the end of the movie, this one's for you. Ever since this movie came out, I don't think I've ever gone through the holidays without watching it!
'Bridget Jones's Diary'

I think I can speak for everyone when I say that we can all relate to Bridget Jones to some degree. After her parents' New Year's party, she decides to keep a diary to track her New Year's resolutions, which include losing weight, quitting smoking, and finding the man of her dreams. But shortly after, she ends up being stuck in a love triangle with her childhood acquaintance Mark Darcy and her boss Daniel Cleaver (so basically, all of us trying to stick to our own resolutions). 
'About Time'

How could I not include a rom-com with Rachel McAdams? For any of you that may not know this movie, the main character Tim Lake learns from his father that the men of his family have the ability to travel back in time. When Tim first tries it at a family gathering on New Year's Eve, he decides he'll only use it to improve his love life (if only we had the ability to do the same). 
'The Godfather Part II'

For anyone that wants to kill time on NYE and forget 2020 ever happened, this movie is over three hours long and it will definitely take your mind off everything. I'm all for classic, intense films, and the fact that this has an iconic cast with an eventful New Year's party makes this a must-see around this time of the year.
'When Harry Met Sally'

Whenever you last watched When Harry Met Sally, it's always time for a rewatch. Billy Crystal and Meg Ryan (aka Harry and Sally) share a car ride to New York City, and they basically have nothing in common. Throughout the movie, over a span of 12 years, Harry and Sally run into each other at the most random times, and we see their relationship grow and evolve, all leading up to a New Year's Eve party. This one gives me all the feels.
'Sleepless In Seattle' 

You can never have too many Meg Ryan movies, right? Anyone that loves When Harry Met Sally will also love this timeless classic rom-com. This love story is a total must-see and will definitely get you in the mood for the new year.
'High School Musical' 

Before you start asking questions, just remember that the beginning of this movie takes place on NYE, where Troy and Gabriella have their fateful first meeting while on vacation. I honestly look for any excuse to watch this Disney Channel classic. Whether you're celebrating solo or in a small gathering this year, this movie is great for anyone that is looking for a singalong film to end 2020 on a positive note!
Images: Disney Channel; Giphy (7)
The Best Shows And Movies Coming To Netflix In October
October used to remind everyone that there are other climates aside from violently hot, but we are already two days in and it is 88 motherf*cking degrees outside. Not to worry, though, Global Warming is totally some really elaborate and well-executed prank by China, everyone! Anyway, hopefully October will stop feeling like the inside of an oven sometime soon, because Netflix just added a plethora of amazing new content and I want to be able to binge without feeling guilty about never going outside. When it's hot out, I feel like I should be tanning at the beach, swimming in a lake or drinking on a rooftop. You know, just enjoying the great outdoors. When it starts getting chilly, as it is supposed to do in October, I am pretty content laying in bed with some SkinnyPop and a solid queue on deck. If this sounds like a great way to spend every night of the week, keep reading for our top new Netflix picks for October.
'Charlie's Angels'

Because I always arrive exceedingly early to movies, I was able to see the trailer for the new Charlie's Angels starring the most random cast ever Kristen Stewart, Naomi Scott and Ella Balinska, and I have to admit, I'm not impressed. Am I wrong for being loyal to the OG girl gang? Even though the jokes were corny af and the special effects were the definition of amateur hour, Charlie's Angels was and will always a masterpiece that should have stayed in the early 2000s. If you need reminding, the original and Full Throttle will both be gracing Netflix in October, so do yourself a favor and give it a watch. 
'Ocean's 13'

I'm getting aggressive nostalgia vibes with Netflix's new lineup, because Ocean's 13 is finally here. Matt Damon, George Clooney, and Brad Pitt? I wasn't old enough to appreciate these smokeshows when the movie came out in 2007 because I was too busy obsessing over Jesse McCartney, but now, as a 26-year-old woman with taste, I am all for this trio in Hollywood's most epic fictional heist. If you were also too young to understand the plot when it premiered during the simpler time that was 2007, watch it now because it's the kind of amazing that only these three foxes could serve. It's also the third and final movie in the Ocean's trilogy, so even though it marks the end of an era, there's always the female reboot of Ocean's 8, which came out last year. Obv not as good because it's not the same without Clooney, but I'm all for a cast of badass bosses making Anne Hathaway look like a f*cking idiot.
'Peaky Blinders' Series 5

On a very long train ride, I stumbled upon the show's Instagram account and, I have to say, Cillian Murphy looked damn good. So I spent the remainder of the train ride  watching the entire first season, and I'm not mad about it. The British show follows the exploits of the crime-ridden Shelby family in a post-World War I England. The family is actually based on a real gang who called themselves, you guessed it, Peaky Blinders, which has got to be the cutest gang name I've ever heard. The show is really good and feels like a cross between Downton Abbey and The Sopranos. If that didn't pique your interest, I don't know what to say to you. 
'Schitt's Creek' Season 5

I am very behind on this show, so I wish I could be as pumped about the fifth season as some of my coworkers are. Even with my limited exposure (I'm on season 2), I can tell it's amazing. It's the kind of show you can quote endlessly. I put this on when I need to chase a scary movie with some witty banter, or when I'm painting my nails and want some background noise. Also, if you've ever seen Best In Show, the couple who owned the terrier is in Schitt's Creek! They're also essentially playing the same characters minus the dog, so, there's that. Highly recommend this show if you need a laugh or are in the mood for something made in 2019 that isn't a sh*tty remake. 
'Blow'

The only word to describe Penelope Cruz in Blow is "goals." Like Peaky Blinders, Blow is based on a real gang and a real event, but that's about the only thing these two productions have in common. Blow, as the name indicates, zeroes in on American cocaine smuggler George Jung, and his time spent doing business with the Medellin cartel. As you can imagine, things didn't go well for our boy George (played by Johnny Depp). Penelope's character ends up marrying George, but the two do not live happily ever after. For those mad about spoilers, you've had 18 years to watch it, so sorry, I'm not sorry. This movie reminds me of a more romantic Sicario, so do with that observation as you will. 
'The Time Traveler's Wife'

Not to be that person, but the book is significantly better than the movie. The Time Traveler's Wife is f*cking sad, so if you're in the mood to drown in a pool of your own tears, put this sobfest on. I feel like the title says it all, but if you're unfamiliar with the plot, here it is in one sentence. Regina George meets her future husband when she is a child and he is a full-grown adult, but their marriage problems are a little worse than most because he travels through time unexpectedly. Even though it sounds painfully cheesy, it's actually great and Rachel McAdams' performance is reminiscent of a slightly older Allie Hamilton, but with her sh*t together. 
'Haunted' Season 2

Truth be told, I do not watch this show because I have the fear management of an infant, but if you're into scary sh*t, you'll like this show. Netflix says, "This reality series, which comes from the producers of The Purge and Lore, provides viewers with a chilling glimpse into first-person accounts of supernatural events." Yep, I will not be watching this since I couldn't even make it through the preview of The Purge. 
'No Reservations'

I saw this movie by myself in a theater because the girl I was supposed to see it with got into her first fight with her boyfriend as we were standing in line to purchase our tickets. Unfortunate circumstances aside, I still loved this movie because Catherine Zeta-Jones and Aaron Eckhart have some seriously steamy chemistry. The movie is a classic rom-com with a tiny sprinkle of untimely death, so you will laugh and you will cry. Head chef at a swanky New York restaurant, Catherine Zeta-Jones is your typical no bullsh*t perfectionist whose world gets turned upside down when her sister dies and her niece becomes Catherine's responsibility. Great movie that I highly recommend for a night in with Pinot. 
'Shine On with Reese' Season 1

Horrible name, but our favorite mini human Reese Witherspoon gave into the public's demand and started her own talk show! She only interviews women, which I am definitely down for, and she does a fantastic job. Her guests are also super varied, so get ready to hear from people like country music icon Dolly Parton and Spanx founder Sara Blakely and everyone in between. Why didn't she start doing this decades ago? I would have definitely watched an early 2000s Reese interview America's fiercest female leaders. 
'Living with Yourself'

The only allure of this show is the fact that Paul Rudd is in it. It hasn't come out yet, but the trailer looks a little suspicious to me. According to Wikipedia, LWY "follows the story of a man who, after undergoing a mysterious treatment that promises him the allure of a better life, later discovers that he has been replaced by a doppelgänger." I mean, minus the doppelgänger part, this sounds exactly like the plot of Deadpool. Tell me I'm wrong. 
A few goodies saying goodbye in October include,  Julie & Julia, Charlie and the Chocolate Factory, The Sisterhood of the Traveling Pants, Pineapple Express and The Carrie Diaries: Seasons 1-2, which honestly doesn't sound like a huge loss to me. we'll be busy enough with the new shows and movies to cry over Pineapple Express leaving.
Images: Thibault Penin / Unsplash; Giphy (10)
The Saddest Celebrity Breakups Of All Time
There's nothing quite like getting far too invested in a celebrity relationship, am I right? The unadulterated joy you get from projecting your fantasies onto total and complete strangers. The inexplicable rush upon seeing photos of them on a red carpet, looking better than you probably will in your whole life. The perverse satisfaction derived from "insider news" from "trusted sources" that definitely wasn't planted by either of their publicists. It's one of the simple, incredibly invasive pleasures of living in the 21st century.
But as the saying goes: celebrities, they're just like us! Which means their relationships fail, even though we swore this time they wouldn't. Except what's different here is that the entire world watches and interjects their unwarranted opinions into what is already a horrifying and traumatic period of two people's lives. Remember that time, in a blissful era where he wasn't the leader of the free world, that Donald Trump tweeted (repeatedly) about Robert Pattinson and Kristen Stewart's breakup? Imagine that, but coming from every mother with a Facebook account across the entire world.
While many celeb breakups are expected, pre-ordained from the moment that first paparazzi photo hits TMZ, there are a handful of splits that managed to send shockwaves around the world, that seemed to rock the very foundation upon which the notion of love so perilously rests. These are their stories.
Vanessa Hudgens And Zac Efron

Listen. I know some of you don't care about this couple at all and to that I have one thing to say: you're wrong. Zanessa kicks off our list because, at the tender age of 14, I sat directly behind them on the Pirates of the Caribbean ride at Disneyland and nearly burst into tears afterwards, so believe me when I say my world was rocked by this breakup.
Some of you weren't in the midst of your painful and pivotal middle school years when High School Musical dropped—meaning your mid-pubescent romantic renaissance wasn't awoken by the young love between Troy Bolton and Gabriella Montez—and it SHOWS.
Zanessa were the embodiment of young Hollywood from approximately 2005–2010. They were simultaneously everything we wanted to be and everything we could never have. To this day I couldn't tell you which one I was actually more jealous of, but just that I still think back on them fondly, quietly hoping that they do the same of each other.
Rachel McAdams And Ryan Gosling

Listen: God doesn't give with two hands. You don't get to look like Rachel McAdams or Ryan Gosling and then end up with Rachel McAdams or Ryan Gosling. You don't get to play one of the most essential romantic couples of the 21st century and then live happily ever after together, okay?? That notion, while comforting for the rest of us, doesn't make this breakup any less sad.
What did, however, make it almost unbearable was knowing that this kind of passion existed in the world and now no longer does. As if we needed one more reminder that nothing good can last forever.
That video looks like it was filmed on a flip phone in the pre-historic era, and that's because it probably was, but it doesn't even matter! No amount of terrible camera quality can dampen the raw passion of this scene. Please indulge me for a moment as we all take a stroll down memory lane to the 2005 VMAs.
The award was "Best Kiss" and the competition was nonexistent. The era was peak The Notebook fever, a time when we all actually waxed poetic about Alzheimer's. This sequence, so choreographed, so perfect, so effortless in its ability to remind us that we are mere mortals existing at the leisure of an indifferent God, will live in infamy.
The "come hither" finger gesture? The effortless lift? The goofy smile on her face afterwards? The casual way Ryan Gosling strolls to the podium with Rachel McAdams resting on his hip like a basket of freshly washed laundry? Unparalleled, all of it. I don't care if the rest of their relationship was utter garbage; it was all worth it for this sacred moment in pop culture history.
Will Arnett And Amy Poehler

You know how every time any notable celebrity couple breaks up and every single person in the universe takes to Twitter to say the exact same thing: love is dead!!!! Amy and Will were that first couple for me.
These two were a beacon of hope in my early-adolescence, a North star by which I could guide my own life. You see, Will and Amy instilled in me the (wildly naïve) belief that one day, I too could marry a man just as funny as I, and then we could live the rest of our lives together being funnier than everyone else. What can I say? I was young. I was innocent. I was still under the incredibly mistaken impression that Will Arnett was as funny as Amy Poehler.
Regardless, the end of Will and Amy was the end of an era, one in which we all breathed a little lighter and dreamed a little higher. At least we have their adorable, inexplicably red-haired children to remember them by.
Jennifer Aniston And Brad Pitt

This breakup wasn't sad so much for the end of the relationship itself, but more so because of what it created. The end of Jennifer Aniston and Brad Pitt kicked off a decade long, unnecessarily cruel Spinster Hunt, targeted at a woman who deserved not one bit of it, instead of the man who cheated on her. Weird, right? Almost like double standards exist or something.
You want to talk about life being unfair? Let's talk about Jennifer Aniston. I mean, sure, she gets to look like Jennifer Aniston. But I think she earned those arms and the rest of that age-proof body after going through what she did.
First, her husband cheats on her with Angelina Jolie, another woman so inhumanely beautiful that it breaks my brain to imagine them existing on the same plane of existence. Then the two suffer a public, nasty divorce, during which constant media coverage compares and contrasts two women who have no business being pitted against one another.
From then on out, no matter the circumstance, Jennifer will be harassed throughout every relationship she pursues. If she's happy and thriving, it's a countdown to the inevitable doom. If it ends, for any reason whatsoever, headlines everywhere read "Will Jennifer Ever Find Love Again?" or "Jennifer Alone Forever."  The woman can't win.
And now, nearly 14 years later, the rumors have started up again! Will they? Won't they? What does Angelina think? What kind of woman takes back a cheating husband? How much more money can we squeeze out of this tired story?
Leave Jennifer alone! Let her live! Let her f*ck her stupid hot ex if she wants to! Thank you for coming to my Ted Talk!
John Krasinski And Emily Blunt 

JUST KIDDING! But please take this as my formal notice that, in the event of this ever happening, I will be shipping myself to the convent that Katy Perry keeps trying to steal from those nuns.
Images: Giphy (5)
The Surprising Jobs Your Favorite Celebrities Had Before Getting Famous
Gather 'round children, I'd like to tell you a story. Once upon a time, in a land far far away, there were celebrities that became famous after lots of hard work, years of failed efforts, and many sh*tty jobs, and not because they were a pre-pubescent performer with a YouTube channel. I know! It's hard to believe, but it happened. That time was known as the dark ages the 90s. Some famous people had to waitress or bartend, and the idea of an Instagram model was just a twinkle in Kevin Systrom's eye. I myself had to work at the movie theater on my way to the top middle management, where the Icee machine constantly exploded on me and I spent hours explaining that I did not set the prices of the food and I too thought that $9 for a small popcorn should be illegal.
But this is article not about me. This is not even about Kim Kardashian, who we all know spent her early days arranging the underwear in Paris Hilton's closet. It's not even about Channing Tatum, who was the real life Magic Mike before he gyrated to "Pony" on the big screen. No, this is about the other celebrities. The celebrities that had surprising jobs before they hit it big, the ones we rarely hear about because we're busy reading about another basketball player that cheated on poor, innocent Khloé Kardashian. So today I'm here to tell you about your favorite celebrities that had surprising jobs before getting famous.

The Patron Saint of Mean Girls herself, Regina George, actually deigned to ask "would you like fries with that," for three years straight when she was in her teens. At the time she was also directing kid's theater which "didn't pay the bills." I'm sure! It didn't pay the bills and she probably ended up with the poop of a tiny human on her hands at least once (the kids I know poop everywhere). Thankfully she has been quoted saying she was an obsessive hand washer, so we know they were clean by the time she got to Ronald McDonald's house. A major relief to all of you who frequented Canadian McDonald's in the mid-90's, I'm sure!
Taylor Swift grew up on a farm in Reading, PA, and just like with my parents, they didn't give birth to her because they wanted her to become an international popstar, they just wanted the free labor. Taylor's family had a Christmas tree farm on the property, and she has said it was her job to get rid of the praying mantises that resided in the trees so they wouldn't hatch their babies in customers' houses. It would be better for my jokes if her job was to remove snakes from the trees, but I'm sure I can come up with something about bugs too. How about this one: I'm sure Taylor just kindly asked the vermin to exclude her from their narrative, one she never asked to be a part of, and they got tf out of those trees. Okay that was bad, but I've only had one coffee today so please take pity.
Everyone's favorite X-Men (or is it man?) once worked at a 7-11. I feel like this job has its pros and cons. On the one hand, you get unlimited slurpees. On the other hand, every time I'm in a 7-11 I get the feeling that I'm 90 seconds away from a meth addict robbing the place with a sawed-off shotgun. Thankfully that never happened to our friend Hugh, probably because he was in Australia and not in Florida, but also because he's chattier than the girl that sits next to you talking about her Keto diet, and it got him fired. That's right, some lady complained that Hugh talked too much and 7-11 would NOT stand for that. Good to know they draw the line somewhere. My male boss just volunteered to search the ladies' bathroom in the event of a fire, and everyone laughed. Brb going to 7-11 to fill out an application.

This one is a little perplexing, since Miley Cyrus has been getting that Disney paper since her Hannah Montana days, but the internet says she used to clean houses. And obviously everything on the internet is true. Word on the street is that she used to work for a company called "Sparkles Cleaning Service." Are we sure this was not a plotline on her show, because it certainly sounds like a company an 11-year-old would make up. It's a good thing she got that experience, though, because years later she offered herself up as a naked maid for charity. God, I forgot there was that period of time where Miley was imitating in real life everything she saw in a porno. Liam and I are glad we've moved past that.
See, celebrities are just like us! That is, until they make enough money for their own private jet and the closest they ever get to a McDonald's again is when their assistant forgot to fast-forward through that commercial on their DVR. Here's hoping we all get that rich one day!
Images: Shutterstock; Giphy (2); taylorswift/Instagram
Celebrities Who Secretly Hate Each Other
It's hard to keep up with all the celebrity news these days. There are countless feuds between singers who hate each other that we are all aware of (hi Cardi B and Nicki Minaj). But there are some celebrities who hate each other that do so in a more tasteful private manner. Ever think actors really aren't that good at their job? Well, there are a bunch of co-stars who can't stand one another and you'll be shocked when you find out. I apologize in advance for possibly ruining your favorite movies or shows when you learn about these celebrities who hate each other. Whoops.
1. Rachel McAdams Ryan Gosling
This one broke my heart. Apparently, when they first started filming The Notebook the chemistry was not there. Gosling even asked the director to replace McAdams but instead, the two were forced into a couples therapy session. LOL. This ended up working because their acting in the movie is v compelling and the two even went on to date on and off for four years after filming.
2. Leonardo DiCaprio and Claire Danes
During the filming of Romeo + Juliet, Danes found DiCaprio to be immature and avoided him at all cost when they weren't in scenes together. DiCaprio was 21 while Danes was 17 at the time. She didn't like that he would prank others on set, while he reportedly thought she was uptight. I guess it's true when they say girls mature faster than boys.
3. Mariah Carey and Everyone
Carey has a reputation of being a diva. And the celebrity feuds she is involved in are endless. The list includes Nicki Minaj, J.Lo, Demi Lovato, and probably continues to grow as we speak.

4. Kelly Osbourne and Christina Aguilera
This one is rather one-sided. After Osborne said, referring to Aguilera, "Maybe she is just becoming the fat b–ch she was born to be. I don't know." Fat shaming is never cool. Although this duo has a long history of snarking comments to one another, Aguilera stayed quiet in this specific instance. Only time will tell if this feud will continue.
5. Sarah Jessica Parker and Kim Cattrall
Ugh. It's v depressing to know that your fav BFFs on TV are actually part of the list of celebrities who hate each other. That said, Parker and Cattrall have been pretty public about their *lack of* friendship. In February, Cattrall posted to her Instagram (see post here) to call Parker out for being a fake friend and to tell her to leave her alone after her brother's death. Ouch. Fans, including myself, were devastated to learn about this feud, especially since that meant no third Sex and the City movie.

Images: Giphy (3)
Regina George's 10 Most Iconic Quotes In Honor Of Rachel McAdams' Birthday
It's been 13 years since Rachel McAdams blessed us with Regina George, and while she may have moved on to Oscar-winning movies and a season of True Detective that never should have happened, we are still upset that she isn't married to Ryan Gosling IRL obsessed with her role as the most iconic member of Mean Girls.
So in honor of McAdams' 38th birthday (she looks better at 39 than you ever will, get over it) let's remember all the times that Regina George said exactly what she wanted to say when she wanted to say it and was literally us without a filter. One day I hope I am as brave as Regina—and that I'll just order cheese fries if I want some fucking cheese fries.
1. When you remember that Donald Trump is President AND Peter isn't Bachelor

2. When your Grandma gives you clothes for Christmas

3. When your Bumble date texts you the next day

4. When you think you might have a gluten allergy

5. When your girl refuses to get blackout with you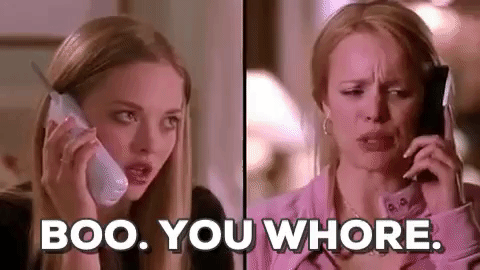 6. When your Lyft is arriving in 1 minute and your friends go to the bathroom

7. When you eat pizza for dinner

8. When your mom gives you wise, thoughtful, and reasonable advice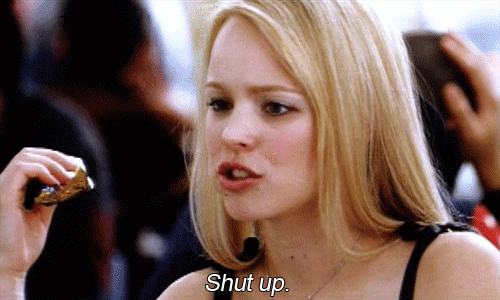 9. When everyone at group dinner orders a salad

10. When your friend says she's trying to save money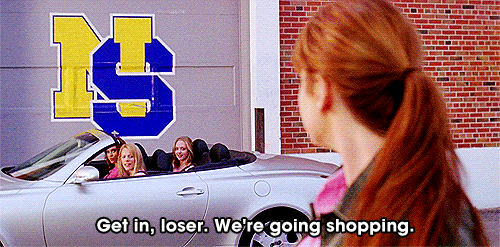 Happy Birthday Rachel—you're a true queen.

Throwback Thursday: An In-Depth Analysis Of 'The Notebook'
For the past 10 years there has been one movie synonymous with cheesy love stories and crying while eating Ben & Jerry's: The Notebook. While I appreciate this movie for its beautiful actors and calming lake visuals, it's time to explain what's really going on in the sappiest nice girl film of all time.
The movie opens with about 15 minutes of a scenic sunset lake with birds flying all over the place as old-ass Allie Hamilton stares out the window not knowing what the fuck is going on. Cut to the narration by old Noah who mumbles a bunch of nonsensical inspirational mumbo jumbo that could only be thought out by the likes of literary pussy Nicholas Sparks. "I've led a common life. In one respect I've succeeded as gloriously as anyone who ever lived. I've loved another with all my heart and soul and for me that has always been enough." Um, what kind of fucked up message is that to send out to the world, old-ass Noah? How about paying your goddamn bills, you freeloader.
The nurse comes in and introduces Noah as "Duke" saying he's going to read to her. "Idk about that," mumbles old-ass ungrateful Allie.
We then get into the story:
Noah is at the fair chilling with E from Entourage when he introduces him to young Allie, who is hot and rich. Score. Noah asks Allie on a date and she's all like "no I don't know you" then some other bro with a weird mustache comes over and asks her to "ride the ferris wheel" and she's outie.
Then this stage 5 clinger jumps on to the ferris wheel in the middle of her and her date. Noah then attempts suicide if Allie doesn't go out with him because #confidence. Now would be a good time for an Instagram but this is like the 40's so we'll let it slide.
Then Allie rescinds her date offer but Noah's all like "You promised. Here's the thing about me. When I want something I have to have it." #confessionsofarapist
Then Noah manipulates Allie into going on a double date where they watch their friends make out at the movies. Then they walk home together and Allie's all like "I haven't seen a movie since I was a little kid because I'm mad busy with piano lessons and reading and shit." Then Noah's like "wow you're a huge loser sounds like the road to success."
Then Noah shows how adventurous he is by lying in the middle of street. Allie's like, chill bro I know you're poor but I'm not going to get hit by a car because you called me a loser. Then naturally she does it anyway. Then Allie reveals her deep dark FUN PERSON secret: She likes to paint.
Cut to Noah and Allie falling in love. Romantic bike rides, shoving ice cream in each others mouths, making out in public.
Noah reads his sad book of poems and the two fall deeper in love. They chill at the ocean and Allie forces Noah to say she's a bird in the first of many mutually emotionally manipulative conversations to come. "If you're a bird I'm a bird."
Cut to a black kid dancing and Noah, like Juan Pablo, cuts into show he's a kid lover.
Allie returns one night from making out with Noah when her mustachioed father is waiting smoking a cigar on the porch (as all 1940's mustachioed fathers do) and is all like "you been spending a lot of time with this boy I wanna meet him." And she's all like "of course daddy."
Then Noah goes to meet the family and gets all embarrassed by talking about how he works at the lumber yard and makes 40 cents an hour and all the people are quiet thinking like "Who invited the poor guy!? Am I right!? Am I right?!"
Then Allie's mom's all like "Allie's going to Sarah Lawrence in New York."
Allie's mom: That child's got too much spirit for a girl of her circumstance. Trouble is what it is.
Side Note: Nicholas Sparks definitely gets all his dialogue from Hallmark cards and/or googling "unsettling class wars dialogue from the WWII era"
Then Noah brings Allie to some old, gross shack so he can devirginize her. He tells her he's going to buy it and fix it up but I'm thinking like why do you spend so much time chilling by this old, creepy house?
Noah gets excited that he's almost going to seal the deal when annoying as fuck Allie is like "I know I said I wanted to do it but I'm thinking a lot. What're you thinking?" I imagine this is how all fantasy suite dates go. And Noah's all like "shut the fuck up I'm practically inside." Then Allie is like HOW COULD YOU NOT BE THINKING ABOUT ANYTHING. And then he gets off of her and tries one last time to get her to put out by being like "uhhh I love you did you know that?" Then E aka cockblock shows up and is like "Allie's gotta go home because her parents have an inkling she's DTF."
Allie's mom: He's a nice boy but he's TRASH
Allie: You're not gonna tell me who I'm going to love.
Then Noah's like, I did not sign up for this shit, I'm out I'll find some other girl to put out if you're going away. "You're leaving and I'm staying here and I'm so happy that you're doing that. You're gonna have a million things to do. It's not you it's me."
Allie: You can come with me to New York.
Noah: What am I gonna do in New York? All the girls there are fugly.
Allie: Be with me.
Noah: Nahhhs.
Classic bait and switch.
Then Allie starts beating the shit out of him and is all like "if you're gonna break up with me do it now! DO it!!!! DO IT!!!! I'm gonna do it! It's over!"
Then Allie solidifies the fact that she's a fucking manipulative psychopath: Wait a minute we're not really breaking up right?
Allie tells her housekeeper she doesn't want her to pack her things or touch her stuff. Her mom's like "We're going home early. Seabrook reeks of povos."
Allie then finds E who tells him Noah is taking a shit out delivering a load.
Allie: I need you to tell Noah that I love him and I'm sorry for everything.
E: I was up all night with him Allie. I've never seen him so low. It's over Allie.
Allie: It's not over.
E: It is over. He understands. It's hard and summer's over if he wants to talk to you he'll write if not then like fuck off bitch.
Allie: Just tell him that I love him.
E: Aight I don't think he gives a shit though.
Noah then writes 365 letters for a year and Allie's mom discards them so she never knows! Did no one think that MAYBE ONCE DURING THE ENTIRE YEAR ALLIE COULD'VE MAYBE GONE TO CHECK THE MAIL HERSELF!? Nah? Alright then.
The Noah and E go to war together and E dies over in Germany or some shit, a plotline that I totally forgot about because like, who gives a shit about E? On that note, why does Noah only have one friend?
Allie then meets hot as fuck James Marsden, nurses him back to health, and he asks her to marry him because Allie is clearly Mary from There's Something About Mary.
Then she falls in love with rich hot James Marsden.
Noah then gets off the bus (dealbreaker) because he thinks he sees Allie walking down the street. He sees her through a restaurant window hardcore making out with James Marsden (because I'm sure that's definitely a thing high society people did in the 40s in broad daylight).
Noah then has a mental breakdown and has some sort of deranged idea that if he restored the old house Allie would come back to him. "Some called it a labor of love, others called it fucking desperate." Move on man, it was a summer fling like 6 years ago.
Noah then proves why he'll always be poor by refusing to sell the house he built for above market price. Side note: I'm both impressed and sort of unnerved by Noah's knack for interior design.
"In the evenings to temper the sting of loneliness there was Martha Shaw."
Wow he seriously treats Martha like shit, what a d bag. Maggie then tries to DTR: "What do you want from me Noah? Sometimes when you talk to me you don't even see me."
Noah: You know I want to give you all the things that you want but I can't because they're gone. They're broken — THAT MAKES NO SENSE, ASSHOLE.
Since when is it okay to treat one woman like shit because you had a great summer fling 7 years ago? #teammartha
Allie then sees Noah's picture in the newspaper which I guess is the equivalent to seeing your ex's facebook status update and immediately faints. #overreacting
The Notebook: The story of 2 self-centered assholes that eventually find each other despite all odds.
Then Allie goes to her fiancé, the hot and PERFECTLY NICE James Marsden, and is all like "I love to paint. You don't even know me!" and he's like "okay so paint." And she's like "I will. But also, I want to get away and take care of a few things/clear my head/fuck my ex-boyfriend." And he's all like "should I be worried are you all right? It's normal to get cold feed before your wedding." SAYS THE NICEST MAN EVER And shes all like "no of course not no second thoughts." LYING WHORE.
So Allie goes to Noah's house: "I saw your picture in the paper and I wanted to come see if you were okay. So are you okay? I'm a stupid woman I shouldn't have come." She then crashes her car into a fence because she's an idiot and bearded Noah's like "you wanna come in?"
We then cut back to old Noah and Allie, and Noah goes to the doctor and he tells the doctor that he reads to her and she remembers. The doctor's all like, "Nope that's not happening. Dementia is irreversible and degenerative so maybe you should go home Noah, you're drunk." "You know what they say doc, science only goes so far, then there's God." Man, get a different hobby.
FLASHBACK:
Noah: Do you love him.
Allie: Yes I do.
Noah: Okay we can be friends are you hungry?
Allie: I have to warn you I'm a cheap drunk; a couple more of these and you're going to be carrying me out of here.
Noah: Go slow so I don't take advantage of you.
Allie: You wouldn't dare. I'm a married woman.
Noah: Not yet.
Allie: Why you looking at me like that?
Noah: Memories. This room where I tried to fuck you before the cops came and then I yelled at you for thinking too much. #memories.
Then Noah reads some more poetry on the porch then Allie leaves and Noah's like "Come back tomorrow morning I want to show you this place and then hate-fuck you."
Meanwhile Old Noah and Allie's  three kids show up, Allie introduces herself to them then goes to take a #170 nap.
Noah: There's something about today. Maybe it's a day for a miracle.
Kids: Cut the shit dad. She doesn't remember you. Come home.
Noah: Look guys, that's my sweetheart in there and I know that she's apt to cheat since she left her fiancé for me so I'm not leaving her no mater how much of a drain on hospital resources and government funding it is for me to live in this nursing home.
James Marsden (Nicest guy ever): I got worried when you didn't call so I called the one hotel in Seabrook about 100 times.
Allie: LOVE YA call you tomorrow.
Allie shows up in a weird caftan-like scarf and Noah takes her rowing on the lake amidst about 700 ducks flapping around in the water. If this can't get him laid, nothing will. Maybe you should get out of that row boat and back to your fiancé and stop feeding the goddamn ducks, Allie.
Cue romantic rainstorm where Allie involuntarily participates in a wet T-shirt contest. Noah laughs as Allie gets wetter, knowing she's def putting out.
Allie: Why didn't you write? It wasn't over for me. I waited for you for 7 years and now it's too late.
Noah: I wrote you 365 letters. I wrote you everyday for a year. It wasn't over. It still isn't over.
*Intense makeout sesh following an adulterous yet hot sex scene*
Allie: You've got to be kidding me. All this time that's what I've been missing? Let's do it again!
WTF you're engaged FEEL BETTER ABOUT THIS I DARE YOU.
CUT TO: Noah and Allie asleep on the floor in blankets. Allie wakes him up, trying for morning sex, and he's like "I need rest and food. Go make me a sandwich" and Allie's like "okay what do you want?" and he's like "pancakes."
Then Martha Shaw shows up at the door bringing food because Noah has many hos in this area code.
Knowing what's up Martha's like "She's the one isn't she? Can I meet her?"
Noah: I don't think that's a good idea.
Allie comes out and she invites her in because their mutual boyfriend IS AN ASSHOLE and the least we can do for nice people is make them a fucking cup of tea.
Martha then leaves and Noah walks the poor lonely widow out. "She's sensational, she really is," says the most mature person I've ever seen depicted on film. "I'd forgotten what it's like for the first time since I lost Richard I feel like I've got something to look forward to." Apparently that something is having dinner with your fuck buddy and his true love.
The next morning, Allie, who still hasn't called her fiancé, wakes up to find that Noah has laid out a paint easel in a room of the house because "OMG FINALLY A GUY WHO REALLY GETS ME!" Allie then sits on the porch naked in a towel and painting an extremely impressive art piece, which actually looks like a very chill day. (STILL WEARING HER ENORMOUS ENGAGEMENT RING.)
Then her mom shows up. Then the mom informs her that James Marsden is coming because Allie never called him the night before which seems perfectly reasonable and Allie's like OMG can he not I'm on vaca! Why didn't you show me my letters/bring me a latte!?
Allie's mom: Let's take a drive. I might know you better than you think.
Then Allie's mom takes her to some steel yard or wherever it was 1930s povo people worked and she points out some overweight guy in a hat that she used to date. She's all like "this is what happens when you seriously date a poor guy."
Allie's mom: My father was furious so we ran away but the police picked us up. Sometimes when I'm in the area I stop here and watch him, trying to picture how different my life would've been. (UM THAT'S CREEPY and sort of rude towards this innocent guy that you dumped because you're a gold-digger).
Allie's mom drops her off and they hug and she gives her her big stack of letters from Noah. I bet at least 25% of those contain a dick pic (or I guess a dick stenciling since this is the 40s.)
Noah: What're you gonna do Allie?
Allie: IDK
Noah: We're back to that!? What about the past couple of days? I know what this is about. He's got a lot of money! You're bored and you know it. You wouldn't be here if there wasn't something missing. Would you just stay with me?
Allie: Stay with you, what for? We're already fighting.
Noah: Well that's what we do. We fight. You tell me when I'm being an arrogant son of a bitch and I tell you when you're being a pain in the ass 99% of the time. I'm not afraid to hurt your feelings. It's not going to be easy; it's going to be hard, and we're going to have to work at this everyday but I want that. Everyday you and me.
Thus solidifying that the guy you should really be with is the one who consistently tells you you're a pain in the ass and likes when you make him panacakes.
Old Noah prepares a scenic sunset dinner for old Allie at the nursing home because apparently that's a huge aphrodisiac for these two. They both drink wine and Noah finishes the story.
James Marsden AKA nicest man ever: I can shoot him, kick the crap out of him, or leave you, but none of those options give me you and I love you.
JM: It's normal not to forget your first love. I love you but I want you for myself and I don't want to have to convince my fiancée that she should be with me. Can this guy get a spinoff movie?
Modern Day: Allie realizes she chose Noah and gets really excited and they dance together and then she's like "IT WAS US!!!!" Then they start dancing. Then she flips out because Noah won't take her on a rebellious car ride out of the nursing home and is like "I don't remember you asshole who are you!?" Then the nursing staff comes in to sedate her #romantic and Noah starts crying in the corner like a frat bro at a judicial hearing for date rape.
Noah then goes into cardiac arrest because he didn't get laid last night.
Noah then escapes his nursing room and the kindly nurse lets him sneak into Allie's room in a totally irresponsible maneuver that probably ends with her being fired after the two are found dead in each others arms the next morning.
Allie: Do you think that our love can create miracles?
Noah: Yes I do. That's what brings you back to me each time.
Allie: Do you think our love could take us away together? (I sense a suicide pact coming on.)
Noah: I think our love can do anything we want it to.
*Makeout sesh*
Allie: I love you
Noah: I love you
They hold hands and magically die.
That's a wrap. GOODNIGHT. I'll be seeing you.
PS: As much as I'm hating on this movie it's really not THAT bad and here's the saving grace:
A Definitive Ranking Of Every Nicholas Sparks Movie
Whether you love it or hate it, Valentine's Day is right around the corner. Personally, I think it's the world's stupidest holiday. Mainly because I have an icy black heart and mushy shit makes me want to jump off the fucking roof. But that's just me. Regardless, it's almost here, and in addition to tacky flower arrangements and teddy bears and chocolate, love movies are going to be everywhere, which means you're not going to be able to escape all 5,000 of the depressing af Nicholas Sparks movies even if you try. So here you have it, a definitive ranking of every last one of his flicks, so when you're flipping through the guide over the next two weeks you know which ones are worth watching, and when you should just settle for a Criminal Minds marathon instead.
 
11. Nights in Rodanthe

You're probably thinking to yourself "what tf even is this?" but I promise this is actually a real movie and it's actually terrible. If you're craving a little Richard Gere and Diane Lane, do yourself a favor and rent Unfaithful instead. Or better yet, go back to your retirement home.
10. The Choice

Okay, to be fair, I didn't even see this one because it looked like literal garbage, but I do know it's about two people who live next door to each other and fall in love and, in true Nicholas Sparks fashion, someone gets critically injured. Oh, and I can still hear the main dude saying "come bother me" in the trailer. Not sure what the movie's namesake "choice" is, but I'd say that if you have the choice, skip this.
 
9. Message in a Bottle

This one actually isn't as bad as the ranking makes it seem, but like, it's so old and depressing and there's really nothing that makes it stand out. Any movie with Kevin Costner in it where he's not playing baseball is just fucking pointless, and any movie whose title immediately gets a song by The Police stuck in my head for the next three hours is an automatic no from me, dog.
 
8. The Best Of Me

Back when this came out, I had really high hopes for this one because James Marsden is bae, but it really fell flat. There's nothing memorable, nothing terrible. It's basically the movie equivalent of butterless, saltless, air-popped popcorn.
7. The Lucky One

Bonus points for Zac Efron also being bae and for Piper from OITNB being in it, negative points for their nonexistent chemistry. They're both so hot. How tf was it so weird? Answer: It was like watching Zac Efron make out with his aunt. The only reason this pseudo-incest film didn't rank lower is because there's a shower makeout scene in which you can see a wet Zac Efron.
6. The Longest Ride

Tbh, I thought this one was going to be shit so I was never planning on watching until it was on HBO every other minute, so I figured why tf not. It was actually way better than expected. They're both attractive and I have no clue who either one of them is, so the idea of these two nobodies being in a relationship was believable. The only thing that I could have done without is the whole bull riding thing—which I get is like, a big part of the plot, but I really DGAF about a country boy's deep need to ride an animal that wants to kill him. And like honestly, can anyone with an education level beyond high school relate to this? Loss of points for niche redneck premise.
5. Dear John

Now we're getting to the good shit. I could look at Channing Tatum all fucking day, especially in a uniform—so for if no other reason, this one is worth the watch because of that. It loses cred because there's no way in hell Channing would obsess over Karen Smith for years, and there's really no way Karen would dump him for some not hot dying dude while he was away at war. Nope. Not real. Dear John also sucks for inspiring a Taylor Swift song of the same name.
 
4. Safe Haven

This one gets less credit than it deserves. Josh Duhamel and Julianne Hough are totally adorable. The storyline is actually somewhat exciting rather than just a cry-fest. And the twist at the end you never see coming. Did I just describe every Nicholas Sparks movie out there? Maybe.
3. The Last Song

Remember when Miley was a cute innocent teen from Tennessee with big teeth and a life that seemed relatively together? Yeah, me too. And you can reminisce when you watch The Last Song. But more importantly, this was the first real time I can remember that we were introduced to the younger Hemsworth brother. As for the movie, it's got some classic Nicholas Sparks sadness but neither one of them dies so like, fine. Watch this and then cry-sing "The Climb" and try not to text your ex from high school.
2. A Walk to Remember

Get the tissues ready because this has to be one of the saddest movies you'll ever see—besides My Dog Skip, but that's for another time. It came out when we were all young little betches and we dreamed of scoring a popular bad boy like Shane West when we got to high school. Sure, Mandy Moore's character was the nicegirl to end all nicegirls and a total Jesus freak (not to mention socially retarded and weird), but that song she sang at the school play was the fucking jam. Even if it was shadily Jesus-y, it was still the slow dance song we all wanted to hear at our middle school dance. And it would have almost gotten away with being the #1 Nicholas Sparks movie, if it wasn't for…
1. The Notebook

Name a more iconic love story. I'll wait. I'm not going to go into why this is No. 1 because if you disagree you can go shave your fucking back. Long live Allie and Noah.