5 Black Women And Femmes You Should Be Following
There can be no discussion of the year 2020 without the mention of the name George Floyd, the 46-year-old black man who was brutally murdered at the hands of Derek Chauvin and three other police officers in Minneapolis, Minnesota this past May. And while George Floyd did not ask to be martyred, his brutal and untimely death awakened the world, and was undoubtedly the inciting incident for what many are calling the civil rights movement of 2020. Although it's tough to say definitively if the uprisings we've seen this year can be compared to the civil rights movement of the 1960s (as that movement tenaciously lasted for more than 10 years), it is fair to say that the Black Lives Matter movement is certainly moving in that direction. And if, in fact, we are headed down that historic route, it would absolutely be because of the bold, radical, unapologetic voices guiding us, leading us down the path to revolution. 
It is no secret that black women and femmes have played a central role in the current Black Lives Matter movement—after all, it was a 17-year-old Black woman, Darnella Frazier, who bravely filmed George Floyd's death, providing the world with the concrete video footage that made the misconduct surrounding his murder indisputable. But Black women and femmes have always had a unique perspective into structural injustice, probably because they have always been at the receiving end of most of it. Black women's rights and interests routinely take a back seat to those of white women and cis black men. As such, you may have heard (whether directly from the source, Malcolm X, or indirectly from a pretty good source, Beyoncé) that "the most disrespected person in America is the black woman." And perhaps it is because of this regular disrespect that Black women and femmes have sought to reclaim agency and use their voices to speak.
Over the past few months, Black women and femmes from all industries have been using their social media platforms to mobilize and educate the masses, creating a revolution for the digital age. They are leading the anti-racism conversation by saying what many people don't have the courage to say; pushing the boundary and not accepting performative or shallow attempts at change; ensuring that the revolution will be televised (via Instagram), and that it will be inclusive and intersectional. This is by no means an exhaustive list, but here are some of the Black women and femmes that I follow who regularly challenge me to learn and do better—I highly recommend you consider following them as well. 
If you are like me, you first encountered Sonya Renee Taylor back in June after a video of hers went viral. The video was in response to another viral video on Tik Tok, which featured a well-intentioned yet slightly misguided teen attempting to have "the anti-racism talk" with her family. While most of the internet was applauding Haley for having any semblance of a talk with her family at all, Sonya Renee Taylor's response video challenged us all to think more critically about what exactly it was that Haley and her family were debating: "Haley was arguing with her parents about whether or not Black people were worthy of life. The fact that that is a conversation is the problem." Taylor was able to shift the conversation from the localized issue of Black lives simply mattering (a conversation that really shouldn't be a conversation at all) to the more comprehensive, structural issue: "the delusions of white supremacy." And that, in a nutshell, is Sonya Renee Taylor's enthrall—she has the wonderfully unique ability to shed light on matters that challenge and defy the obvious perspective. In addition to her keen insights concerning racism, blackness, and white supremacy, she also commits to spreading discourse surrounding gender, fatphobia, and radical self love. So if you are looking to learn, be challenged, and pick up some lessons on how to love yourself radically and without apology, you must dive into the work of Sonya Renee Taylor and follow her on Instagram. 
Noname, Twitter (@noname)
if we believe black lives matter, we must also believe capitalism needs to be destroyed. as long as that system is in place and maintained by powerful elites, black people will die forever.

globally.

— 🌱 (@noname) July 26, 2020
Admittedly, it sort of feels weird telling you to follow Noname, because her whole thing is that we should divest from structural systems, celebrity culture being one of them. With that being said… you should follow Noname. Noname has been making music and uplifting POC interests and voices for years now, but she gained mainstream traction this past year. She's been a dominant voice in the digital Black liberation conversation, regularly challenging her audience to read, learn, and think for themselves. What's most compelling about Noname's Twitter presence is she uses it as a means to not only talk the talk, but also walk the walk. You can find her calling out imperialism, the industrial prison complex, and the patriarchy; but, you can also find her calling herself out, owning past mistakes and gaps of knowledge she had before she learned better. As she poignantly points out, "growth is an embarrassing yet necessary part of the process." 
Perhaps Noname's biggest digital moment occurred this past June, when rapper J. Cole thought it would be constructive to derail from the movement and drop a tremendously odd single, accusing Noname of using a "queen tone" and thinking " better than" him and other rappers in her efforts to speak up against structural oppression on Twitter. Noname's eloquent retort came in the form of a 1 minute and 10 second song, the thesis essentially being: "he really 'bout to write about me when the world is in smokes?" With concision and flair, Noname defended herself while effortlessly redirecting the conversation back to the serious issues at hand. Noname uses her Twitter presence in a similar way, calling out problematic mainstream pop culture while consistently shedding light on critical societal issues. So if you want to be a part of her "new vanguard," follow Noname on Twitter and consider joining her book club.
I wish I could say that I've had the pleasure of following and engaging with Ericka Hart's content long before this year, but alas, I, too, fell victim to bandwagon culture, and only discovered this dope account this past May. A self-proclaimed "racial/social/gender justice disruptor," "sex educator," and "breast cancer survivor," Ericka Hart uses their social media platform to cover tons of ground on the journey to liberation and is, by far, one of the most engaging accounts I follow. Ericka Hart's social media presence is unique in that their dialogue concerning social justice is dynamic—not only do they foster conversations that discuss plain truths about race and Blackness, but they also add unique depth to the discussion by examining matters of colorism and ableism. However, what specifically drew me to Ericka Hart's account was their advocacy for the protection and uplifting of Black lives that exist beyond the scope of cis Black men. They were a dominant voice in May insisting that we not only demand justice for George Floyd and Ahmaud Arbery, but for Breonna Taylor, a Black woman, Tony McDade, a Black trans man, and countless other Black women and trans folks that have been murdered at the hands of injustice. I, myself, am constantly challenged by Ericka Hart, as they constantly provide the reminder that the revolution cannot be complete or effective if it does not seek to liberate all Black lives. Ericka Hart's Instagram presence is also a healthy one to follow because they also use it as a platform to celebrate Black joy and Black love—regularly posting content with their partner, Ebony. It's a radical reminder that the Black story is not one of plight but one of joy and abundance. So do yourself a favor and follow Ericka Hart.
One of the most powerful adages that has come out of the last couple of months is "the revolution has many lanes." And I think it's safe to say that the lane of the revolution that's "activism through humor" has been monopolized by writer and comedian, Ziwe Fumudoh. Hosting a weekly show on Instagram Live, Ziwe attracts crowds in the thousands as they eagerly watch as she talks with notable people—predominantly white people—about race in America and skillfully baits them into an incorrect, often cringeworthy answer. What's most fascinating about Ziwe's show is that her practice of "baiting" really isn't baiting at all—she just asks questions and simply waits for answers. Without fail, and despite days of preparation and sometimes even tangible notecards, guests will always say the wrong thing—revealing that even the most well-prepared, well-intentioned white people have some kind of implicit bias that they need to reckon with. Previous guests have included infamous white women like Caroline Calloway, Alison Roman, and Alyssa Milano, but Ziwe has also interviewed people of other races, like Jeremy O. Harris, forcing him to discuss his use of Black women's bodies on stage in his seminal work, Slave Play. At the end of every interview, Ziwe asks her guest what the audience has been wondering the whole time: why the hell did you agree to come on this show? And the guest's answer is almost always the same: part of doing the work is being made to feel uncomfortable and humbling yourself in order to learn. And that's the Ziwe influence—she's created a public platform for those willing to be challenged and learn, while allowing her audience to heal through community and catharsis as they watch the process take place. If you're not familiar with Ziwe, please join us in the year 2020 and give her a follow!
If there is any account that I am 90% certain you've encountered over the past few months, it's Rachel Cargle's—and it should be Rachel Cargle's, as she uses her platform predominantly as a means for education and activism. Upon scrolling through her IG feed, one of the first things of note is that her academic and mobilization efforts far precede this year's events. Cargle has been guiding the conversation on race and womanhood in support of the revolution for years, even though many of us have only come around recently to receive her words. She regularly promotes the work of "unlearning" through learning, and curates monthly reading lists and lectures via her online platform The Great Unlearn (a patreon you should subscribe to!). 
But what sets Rachel Cargle apart from other activists is that a central part of her work is providing tools and resources for her audience to ensure that learning doesn't stop at required reading, but is further translated into action. For example, when much of the world was posting open letters to their schools, universities, and workplaces to expose them for unjust practices and racist ideals, Rachel Cargle took to her Instagram account to take it one step further: providing her audience with a template for how they, too, can hold the institutions in their lives accountable for structural injustice. In addition to these accountability templates, she also curated a 30-day Do the Work challenge and posted tangible ways to decolonize your bookshelf, continuing the idea that activism must be combined with action in order to really effect change and mobilize a revolution. So if you're looking to become a student in the masterclass on effective activism, follow Rachel Cargle on Instagram. 
A prevailing question on the minds and lips of many this past year has been: "How long will this movement last?" "Is this movement just a moment?" But it's been three months since the murder of George Floyd, and the movement is still prospering. While the momentum has, naturally, oscillated, its heartbeat is still strong. Why? Because we have leaders: Black women and femmes, the new generation of activists—our new vanguard—who have committed themselves to the endurance of this movement. While it may be easy at times to be defeatist and feel overcome and overwhelmed by how far we have to go, optimism lies in the comfort that we are being led in this revolution by some of the brightest, most talented minds out there. And we can access all of them through the proximity of our smartphones. We simply have no choice but to stan these women and femmes (and send them some coin to pay them for their labor).   
Images: Angelo Moleele / Unsplash; sonyareneetaylor, ihartericka, ziwef, Rachel.cargle / Instagram; Noname / Twitter
An Expert's Top 3 Tips For Dealing With Workplace Sexual Harassment
The past few months have been big for change. Companies have been called out for systemic racism. The Supreme Court gave LGBTQ workers federal civil rights. Sexual predators are having a renewed #MeToo moment. Powers-that-be are being held to account. That's phenomenal for social progress. It's also horrible for workplace sexual harassment.
Sorry to be the bearer of bad news (amidst an already heinous 2020), but you'll want to beware of increased sexual harassment when you're on the job, as harassholes hate this new world.
Here's the skinny: Workplace sexual harassment is a power play. Basically, harassers are insecure people who want to make you feel small because they find you threatening and/or seek a power boost.
Don't get it twisted, though: Sexual harassment doesn't have to be sexual. What matters is that you're being targeted because of your gender or sexual identity.
Harassholes may try to "put you in your place" by using typical sexualized come-ons, like ogling your goodies in the office, jumping in your DMs to ask you out for the umpteenth time, or promising you a promotion in exchange for a Netflix and chill. Or, harassholes may leverage hostile put-downs that humiliate you, like calling you crude names on conference calls, cutting you out of morning meetings, berating you for not dressing the way a woman "should" dress. The displays of disrespect are limitless.
Now that our new world is pushing for greater respect for marginalized persons, women included, harassholes see our world as a less hospitable place for their antics. They're frustrated about not being able to mistreat you and others with impunity, and they'll try to reclaim their sense of power by stepping up their harassment game. Protect your purse and your mental health by being prepared.
Here are three quick tips to help you beat workplace sexual harassment:
Identify The Harassholes
You may be a butterfly, but harassholes aren't very unique. They tend to have shared traits, among them being gender. Men make up some 90% of harassholes. In addition to that, they're more likely to embrace these characteristics:
⭐︎ Support traditional gender roles
⭐︎ Maintain a strong male identity
⭐︎ Think men are superior to women
⭐︎ Believe men and women should be segregated
⭐︎ Sexualize women, girls, and LGBTQ people
⭐︎ Trivialize victimization or engage in victim-blaming
⭐︎ Lack egalitarian attitudes toward gender and/or race
You can spot these traits by listening to what a harasshole says about gender and sexual identity. For instance, harassholes often think men are better suited for traditionally male jobs and leadership positions whereas women should be in "pink careers," stay-at-home moms, or in supporting roles. Harassholes use activities and terms typically associated with women to demean other men, such as calling a man a "pussy" or promising to wear a dress in public as part of a bet. These are the dudes who use stereotypes about women as punch lines. 
The thing is, there's nothing funny about harassholes. Keep an eye out for them and remember—just because someone isn't a harasshole to you, doesn't mean they're not harassing another colleague. Harassholes are shady shapeshifters.
Document, Document, Document
Your records of what happened are essential to beating workplace sexual harassment. Why? Memories fade. Plus, there's a 99% chance that the harasshole (and your employer) will lie. Avoid the he said, she said situation by documenting what went down. On your personal computer or encrypted email, maintain a log of the who, what, when, where, and how of the experience like you're writing a bland yet detailed screenplay. Also, attach supporting documents such as text messages, emails, DMs, and notes. 
You'll want to have it all, especially if you ever need to speak out or if you suffer retaliation. Documentation can make the difference between getting the heave-ho with nothing and getting out of a company on your own terms with solid references and a strong severance.
Always Trust Your Instincts
Pay attention to that still small voice that echoes within when you're uncomfortable. Never try to override your instincts with rationalization. You know what you're sensing, what you experienced, and what you need not tolerate. Don't ignore it.
Do ignore gaslighting and shade-throwing coworkers. As much as I hate to say it, research shows that some coworkers will try to discourage you from speaking out about sexual harassment and many will distance themselves from you for fear of being mistreated by your employer too. That's a bummer. But it doesn't mean you should "take one for the team" by keeping quiet. Real friends won't insist you be disrespected and won't try to deny your reality.
Stick close to your instincts, demand to be treated with respect, and do you. You may not be The Boss, but you are a boss and you deserve to work in a harassment-free workplace.
Adrienne Lawrence is an on-air legal analyst and the author of Staying in the Game: The Playbook for Beating Workplace Sexual Harassment (TarcherPerigee, 2020). Lawrence has contributed her insight on workplace sexual harassment for outlets such as the Harvard Business Review and NPR. Follow her on Twitter @AdrienneLaw and IG @AdrienneLawrence
Images: Song_about_summer/ Shutterstock.com
What Is Optical Allyship? How To Go Beyond IG Posts
After Blackout Tuesday, you may have seen the term "optical allyship" making the rounds on social media, along with the phrase "it's a movement, not a moment." While it's great that Black Lives Matter is finally being accepted in the mainstream and talked about on a global scale, and showing solidarity (especially on social media) is important, it shouldn't be your only step toward working to be anti-racist. If you are committed to practicing allyship continually, it's important to learn what optical allyship is, why it's counterproductive, and how you can make sure you're going beyond the optics with your support.
So, What is Optical Allyship?
the internal work – interrogating, re-arranging, and re-educating our psyches and hearts – that's the hard work. that's the work nobody will hold you accountable for. do that too. do that most.

— kendra (@kendramorous) June 2, 2020
Latham Thomas, author of Own Your Glow, coined the term optical allyship, which she defines as "allyship that only serves at the surface level to platform the 'ally.'" She explains, "It makes a statement but doesn't go beneath the surface and is not aimed at breaking away from the systems of power that oppress." Basically, optical allyship is performative, serving the ally and not really digging deeper into understanding the systems of oppression so they can be dismantled. Optical allyship is mostly talk, when true allyship is about actions. As Roxane Gay explains in her article On Making Black Lives Matter, "The problem with allyship is that good intentions are not enough. Allyship offers a safe haven from harsh realities and the dirty work of creating change. It offers a comfortable distance that can be terribly unproductive." Separating yourself from optical allyship means not just posting a black square or Martin Luther King Jr. quote and calling it a day, it means taking on the struggle and fight as if it's your own and committing to doing the work—not just this week, but beyond. That is where the real allyship begins.
Optical Allyship In Action
One of the obvious examples of optical allyship is the influencers who use the protests and Black Lives Matter movement to up their IG aesthetics. While (I hope) we all know right off the bat why it's wrong to show up to a protest, take one picture, and then bounce, posting a protest thirst trap isn't the beginning and end of optical allyship.
Odds are that the majority of us have either posted an Instagram story or retweeted an image or statement recently in efforts to spread awareness and show support for the movement. If you are not also donating to causes supporting Black Lives Matter, supporting Black-owned businesses, reading up on Black history, and/or calling your representatives, then that Instagram story or retweet falls under optical allyship. In an Instagram post, Thomas explains, "True allyship is about building trust, being consistent, standing up, speaking up, recognizing the struggle and carrying some of the weight, it's using your God-given sense to figure some of this stuff out and not waiting for folks to tell you." 
I get it for those of you out there that want to support the movement but aren't sure how or what to do. I can also see how one might think that posting a black square is a contribution to the cause because you're showing solidarity, but in reality, ask yourself what is it really doing and who is it really serving? It is not enough to just post a quote or an image without any context or link out to reliable resources. That is when your allyship becomes performative and fails to break through to deeper levels in order to invoke real conversation and change. Really, it's time to put your money where your black square is. As Roxane Gay puts it, "We need people to use common sense to figure out how to participate in social justice." 
How To Be An Authentic Ally
So, how do you make the leap from optical allyship to being an authentic ally? Well for starters, just listen without feeling the need to insert yourself into the dialogue. As Thomas writes in her Instagram caption, "just because you're new to the work, doesn't mean it's new. Know that folks have been working all along and you're stepping into something already in play…get in where you fit in, take notes, bring resources, and acknowledge you have work to do." Especially as white people, one of the best things we can do (and it's so easy) is actually just shut up and listen. 
That doesn't mean you should never post on social media about Black Lives Matter—it just means be intentional about what you do post. Instead of just posting a square, see if you can post resources. Share organizations, educational materials, and places to donate. Share artwork by BIPOC illustrators and designers to amplify their voices.
View this post on Instagram
Systemic racism wasn't built in a day, and abolishing it won't happen in a few weeks, either. Continued ally support is essential in the battle against racism. Black lives matter today, they matter tomorrow, and they will continue to matter long after the protests subside. Being an ally is an ongoing commitment. I understand that this learning and these conversations can be uncomfortable, and change can be too, but when people are losing their lives, then it's time to get uncomfortable.
Yes, take action by educating yourself. Read books, watch documentaries—do that. Then go a step further by implementing your newfound knowledge into your everyday life, and by having discussions with people in your life about what you learned. This doesn't mean that you have to blow up and check your conservative aunt with soap opera-level dramatics at every family gathering, but you can still discourage and shut down any racist remarks, and help educate those who make them. Conversations lead to change, so they're worth having—comfortable or not. Amélie Lamont writes in The Guide To Allyship, "As an ally, you need to be willing to own your mistakes and be proactive in your education." Not to be cheesy, but every day is a new opportunity to do better. You can also continue your practice by following accounts that reinforce these ideologies, like Mireille Harper, who released a 10-step guide to achieving non-optical allyship. The resources are all there, so use them. Seriously, if you can take the time to learn how to bake sourdough bread, then you can take the time to learn how to be an ally.
How To Make Allyship Your Lifelong Priority
There's another level of allyship that goes beyond sharing resources, spending money, and having hard conversations with family members and friends. You may have heard the saying, "when you're accustomed to privilege, equality feels like oppression." This refers to how the actions that are necessary to truly dismantle systemic racism might appear to mean putting yourself or your white peers at a seeming disadvantage in some parts of your life.
The difference between these types of opportunities for allyship, versus what we've been witnessing happening on social media over the past few weeks, is that we don't always get to choose when these opportunities arise for us, and they may appear as harder choices than simply choosing to buy from a Black-owned brand. But recognizing these opportunities to stand up and speak up, and then doing it, is what makes allyship authentic vs. performative.
For example, let's say you're a parent at a school district meeting. Pretend it's a great school district, the type where parents will pay higher property taxes to give their children the chance to attend. Now pretend that the racial or socioeconomic makeup is one that doesn't allow for a lot of diversity. Back to the hypothetical school board meeting: the issue at hand is trying to more actively integrate the school district, and that might be coded as "adding more multi-family homes to the district" aka zoning apartments. If you grew up in certain elitist suburbs, you know that there will be individuals who resist these changes, chalking it up to things like "property values" and the "school district ranking." In this scenario, focusing on these latter things would indicate that someone prioritizes maintaining one's own advantages (building wealth, premium education for their children) rather than allowing children of color to access these advantages as well. A commitment to being anti-racist can sometimes mean dismantling those types of perceived "disadvantages" for the sake of the greater good.
This is just one of the thousands of examples of systemic racism that persist in our society in ways that white people can choose to ignore and uphold. They're also not the types of choices that we're faced with every day, and perhaps these types of choices have previously been consciously uncoupled from race in the minds of most white people. The goal is to be able to see what issues in society have been insidiously shaped by racist policies, so that when we're presented with an opportunity to actually do something about them, we've been educated and are committed enough to make the right choice, even if they might take away some of the advantages we've enjoyed in the past.
Images: Life Matters / Pexels; Kendra Austin / Instagram; Off Campus / Instagram; Shana Hezavehi / Instagram
Your Black Friends Are Not Okay—Here's How To Support Them Now & Going Forward
The last few months have been riddled with the word "uncertainty"—an email was not an email if it did not address the "uncertain times" that the coronavirus pandemic spewed upon us this past winter, right before giving you 40% off All Shoes and Tops. A targeted ad on Instagram wasn't effectively targeted if it didn't acknowledge the unease you must be experiencing during these "uncertain times," and how 10% off a wine subscription jussssst might quell those concerns. But alas, coronavirus is no longer the headlining act in the treacherous music festival that is 2020. 
Around the same time we were basking in our uncertainty as to when we'd be able to go on Hinge dates again, Breonna Taylor, a Black woman in Louisville, was in her own home, unarmed, suffering eight bullets from the police. Less than a month before that, Ahmaud Arbery, a Black man, was jogging in his own neighborhood in Georgia and was hunted and killed by two white men who thought he "looked suspicious." And finally, as if guided by theatrics, Act III occurred on May 25, Memorial Day. The day George Floyd, a Black man, was kneeled on and subsequently killed by the police, while Amy Cooper was a few states east calling the cops on Christian Cooper, a Black man in New York, who did absolutely nothing but ask her to follow the rules. What ensued, as I'm sure you are currently living, has been weeks of (justified) civil unrest. People are waking up. People are paying attention. People are acting. And while much of the narrative surrounding these times still remains uncertain, there is one thing of which I can be absolutely sure: your Black friends are not okay. 
I typically steer clear of generalizations, but this one I resolutely stand by. The Black people in your life are experiencing a pain that uniquely aches. The ache emanates in the form of grief, confusion, guilt, laughter, tears, anger, pride, power, defeat. The ache is physical, emotional, cerebral. The ache is for the present, the ache is for the past. The ache is silent, the ache is deafening. The ache is personal, the ache is collective. The ache is difficult to put into words, but I can assure you, the ache is there—it always is. But this time, these last few weeks, that ache is particularly onerous. 
So this is me, your Black friend—one of them, at least—taking a break from the Real Housewives of Atlanta virtual reunion (which is actually very, very good) to urge you to please stop sending weird texts ending with a Black fist emoji to the Black person you met once at a coffee shop three years ago, and start supporting the Black people in your life in ways that are constructive. 
Disclaimer: Some of the things on this list may hurt your feelings—I did not write this with your feelings in mind. Apologies in advance. But I urge you to consider that if the worst hurt you experience in this dialogue is your feelings, perhaps, in the grand scheme of things, you're ultimately doing okay.
Check In On Your Black Friends Selflessly and With Intention
View this post on Instagram
I think it's great that you want to check in on your Black friends right now—I really do. In fact, I think it would be irresponsible and, frankly, shortsighted to not reach out to someone you call a friend who is currently living in a world where the cultural dialogue rests on the question of whether or not their existence is valid. But when you check in on them, I ask that you do so selflessly and with intention. 
First, let's talk about a selfless check-in. I once had a friend send me a hand-written birthday card that spent exactly one line wishing me a happy birthday, and then two paragraphs telling me how enlightened she now was and how much she'd grown as a person in the four months we hadn't spoken. It became immediately clear that this "birthday card" was entirely for her, not me (and why we hadn't spoken for four months). This is not the time to self-flagellate, and tell your Black friends that you're a bad, bad, sick, twisted white person who is not worthy of love or happiness. I mean, I don't know you, maybe all those things are true, but this is not the time to put that weight on your Black friend. This is not the time for your guilt. This is not the time for you to apologize for that one racist thing you laughed at six years ago in their presence. Trust me, that time will come. But right now, the birthday card is for your Black friend, not you. The check-ins I've received that have felt the most genuine have been the ones that are the most concise: "I love you. I am here for you. I am thinking of you. I am fighting for you. I will do better." 
Now, let's talk checking in with intention. Three years ago, my mom died. I had tons of well meaning friends send texts asking, "How are you doing?" And if I were honest with them, I would have said: "Lol well, my mom's still dead, so not great!" It is not particularly effective to ask your Black friend how they are doing right now. I'm giving you the answer key for this one: not great! So, with that in mind, think about a more constructive, intentional way to check in on your friend's well-being. "Have you eaten today? I'd be happy to make/send something your way. Know that I'm here if you ever want to talk, cry, scream, take a walk, drink some wine, dance, sit silently, whatever."
Give Them an Emotional Six Feet of Distance
Once you check in on your Black friends, please, for the love of chilled white wine, leave them alone. I'm not asking you to be silent, I'm simply asking you to be quiet. Give them a moment—many moments—to process. To breathe. To be exonerated of the burden of having to reply to a text. Further (wrap those feelings up), your Black friends don't want to talk to YOU right now. If your Black friends want to talk, they probably want to talk to their Black friends or their other friends of color who get it. Again, this isn't me telling you not to reach out; but once you do, expect some quiet from your Black friends. And start to get comfortable with that quiet. If you've checked in effectively, they know where to find you if and when they're ready.
Do Something for Them Without Them Having to Ask
I have always hated the solicitation: "Let me know if there is anything I can do to help." Now, that is partly because I have been gifted with the horrific disease of recoiling at the thought of asking anyone for help (my two therapists and I are working through this). But also, and perhaps more aptly, I've always found that in times of extreme grief and mental turmoil, it takes a lot of emotional intelligence to know exactly what kind of help you need. I'll return to my mother's death a few years ago. A couple of days after my mom died, I remember coming home to find that my roommate had done all of my laundry for me. This was particularly moving because if she would have asked me "hey, how can I help you right now?" I would have never said: "Um, you can do my gross laundry that's been sitting on my floor for six weeks!" Not only would I have never said that, the thought of "needing to do laundry" would have never crossed my mind. So, instead of asking your Black friends what you can do to help them right now, which puts the onus on them to have to find the emotional intelligence to try to figure it out, anticipate their basic needs and try to cater to them. Do their laundry, order them food, make them a sandwich, bring them a glass of water. You are smart and capable! If you really want to help your Black friends right now, you can think of some things to do for them without them having to ask.
Support Their Mental Health
As I'm sure you can imagine, your Black friends' mental health is particularly vulnerable right now. Many of your friends are experiencing situational upsets to their mental stability that may have been triggered by the events of the last few weeks; others may have been battling preexisting mental health conditions that have only been further exacerbated by the current social climate. A friend of mine reached out to me a couple of days ago and asked if he could pay the copay for one of my virtual therapy sessions. This felt particularly constructive because not only was he recognizing that my mental state was fragile, he offered to do something tangible to contribute to my mental wellness. So if you're looking to direct your efforts towards supporting your friends' mental health, offer to help pay for a therapy session if they're seeing a therapist; offer to pay for a month of Liberate, a meditation app created by BIPOC for BIPOC; music is therapy for so many people in the Black community, so offer to pay for a month of their music streaming service. A great way to constructively support your Black friends is to effectively support their mental health. 
Speak Up So Your Black Friends Don't Have To
View this post on Instagram
Last week, my place of work sent a mass email to all of its employees addressing the "current events" to state that their official stance was: "racism is unacceptable." Pause for applause. (I hope you read that last sentence with the seething sarcasm in which it was written.) Upon receiving this email, my mind went to two places: 1) there is absolutely nothing of substance here—it is 2020, I sincerely hope I work for a company that "condemns racism" and 2) Great! Now I have to respond to this incredibly vapid statement because if I don't, no one else will. What I'm asking is that you be that "no one else" for your Black friend, in this case, your Black colleague. As my newfound guiding light, Audre Lorde, said, " the responsibility of the oppressed to teach the oppressors their mistakes." You have no idea how exhausting, depleting, and quite frankly, trite it is to routinely have to enlighten others on the whys. Why you can't say the n-word, why you can't touch my hair, why mixing me up with the only other Black girl in the room is inherently racist. At this point, you know the answers to those whys. So, if you received a bullsh*t email like I did this week, you respond so your Black colleagues don't have to. If you see a post that says "All Lives Matter," you engage, so your Black friends don't have to. Give us a break—we've been fighting this fight for 400 years. We're tired.
Support Black Livelihood
I want you to ask yourself a question: "How am I uplifting Black voices and Black lives in weeks when they are not violently slain in the streets?" If you can't answer this question, or if your answer is "by listening to Kanye West," I urge you to spend some time with this point, specifically. Supporting Black Lives Matter does not end with fighting the systemic violence against and murder of black bodies; it must also include uplifting and empowering us while we're alive. An enormously constructive trend I've been seeing on social media is white professionals using their platforms and privilege to open the gates for Black creatives. Editors, writers, and casting directors are making themselves and their colleagues directly accessible to Black creatives who historically encounter enormous barriers of entry. If you hold the keys or know someone who holds the keys to the gates to your profession, share them with a Black person. Writing a screenplay? Can the main character be Black? Probably! Hiring? Can that executive be Black? YES. And to answer your grandfather's next question: no, this is not a "handout"—this is merely leveling the playing field in a game Black people were never intended to play. Also remember that supporting Black livelihood means supporting Black businesses! Here's a list of Black-owned companies you can support right now.
Understand That You Cannot Understand—But Like, Try!
I've been seeing this graphic make its way around the realm that is social media: it usually consists of a Black and white hand being held (lol), with the caption "I understand that I cannot understand." And while these words are absolutely correct—there is no way that any non-Black person could ever understand the unsurmountable weight that comes with being a Black body in America—simply saying you "can't understand" is reductive and effectively absolves you from the task of having to learn. This ideal, while well-meaning, is passive, and gleans no commitment to action. Which leads me to my last point…
Do The Work
View this post on Instagram
Absolutely nothing else on this list is of any importance if you are not committing yourself to doing the work. Your check-in texts, your Venmo gifts, your Black Lives Matter T-shirts are just futile gestures in an empty vacuum of performative allyship if you are not holding yourself accountable and doing the work. "The work," "the work," what do your Black friends mean when we keep talking about "the work?" "The work" is committing yourself to learning about the structural, deliberate, and systemic nature of racism that was thrust upon your friend as soon as they entered this world as a Black body. "The work" is learning that from an early age, your friend has had to learn how to navigate as a Black body in a white world as a means of, at least, fitting in, and at most, survival. "The work" is looking within; looking at your own actions, your own belief and value systems, and recognizing that, whether consciously or not, you have not only been complicit in, but have benefitted from and contributed to, a world that was designed to suppress Black lives. Luckily for you, there are mountains upon mountains of books, documentaries, theory, podcasts, accessible to you right now that unpack the 400 years of systemic racism in America, starting at day 1. Know that the work is arduous. The work has no finish line. The work will probably hurt your feelings. But the work is what is required of you if you want to constructively support your Black friends.
Images: Maverick Pictures / Shutterstock.com; rachel.cargle, mobrowne, wastefreemarie, officialmillennialblack / Instagram
Will 'Growing' Change Your Mind About Amy Schumer?
If you're on this website, you likely have a well-formed opinion on Amy Schumer. Over the past five years, Schumer has swung wildly in the court of public opinion. We loved Trainwreck—then we remembered some of her early jokes about Hispanics. We love how real she is on Instagram—but find her Twitter presence problematic. We love Amy Schumer the feminist, but as a white feminist, we're still eager to see her overcome past blind spots.
Schumer's new comedy special, Growing, doesn't quite feature a woman reborn, or cleansed of past imperfections. But it does, aptly, feature a Schumer who's well on her way to growing up. The Schumer in this special—now both married and heavily pregnant—retains a lot of her classic irreverent attitude toward sex, drinking, and bodily functions. But whether it's due to past criticisms or personal growth, that attitude is underpinned with a genuine desire to do these topics justice. (Well, maybe not the drinking so much.) Obviously, the best way to decide how you feel about Schumer is to go watch the damn thing (or at least, like, turn it on and scroll through Instagram while it plays in the background). But short of that, here's a highlight reel of sensitive subjects Schumer covers in Growing—and notably, what she chooses not to touch.
On Race
If the lesson we wanted Amy Schumer to learn was to stop making jokes based on racist stereotypes, and also to make her brand of feminism a hair more inclusive, I'd say she succeeded. The first mention of race in this special is an off-hand comment about women asking for tampons "leaning in as though they're about to say something racist." She follows with the punchline: "and whatever race you thought I meant, that's your problem." To me, this seems like a perfect level of engagement with race for Schumer: it acknowledges that racism is alive and well (likely, within her audience), mocks the specific physicality that accompanies racist remarks made in social settings, and stops just short of actually sharing the content of a racist comment or stereotype on stage. I will happily call that progress.
The second comment on race comes in citing sexual assault statistics for women. She notes that one in three women will be sexually assaulted in their lifetime, then adds that for women of color and trans women, that statistic looks even worse. Yes, it's a footnote on a joke, not a full-throated roar on the importance of intersectional feminism. But the fact that it's included tells me Schumer is listening, and learning—and even if she's not, I'm just glad it was included.
Also, loving the continued activism on her page:
On Politics
Among the criticisms I listed earlier, Schumer also got in slight trouble back in 2016 for making jokes about Trump. Apparently, a group of fans left her show in Tampa after she dared to call POTUS a "monster." (I mean…where is the lie?) Obviously, this is not an aspect to Schumer that I take issue with—and in fact, I was curious to see if she'd go in even harder. While she mostly leaves politics out of it, the comments she did make affirmed that she is still, to use the technical term, hella liberal. Here were a few of my favorite comments.
On Colin Kaepernick: "I think there are only two reasons you should get down on one knee, if you're a guy. If you're a player in the NFL, and to eat my pussy."
On Brett Kavanaugh:* "People criticized me . They were like, 'that was irresponsible, you're pregnant.' And I was like, 'well that's why I went down there', you know? I want to be able to tell this kid I did everything I could, you know? And D.C., I heard, has the best cocaine." 
*ICYMI, Amy Schumer and Emily Ratajkowski went to D.C. to oppose Brett Kavanaugh's appointment to the Supreme Court and both were arrested.
On #MeToo: "I don't know what I'm having. I hope it's a girl. But really just because it's such a scary time for men."
Also, this:
On Her Husband
This may seem odd to include on a list of "touchy" topics, given that, unlike race or politics, Schumer's never been in hot water for her choice of husband. But my favorite moment of the special—and the one that, for me, marked the most personal growth for Schumer—comes about 20 minutes in, on the subject of her husband, Chris Fischer. "I knew from the beginning that my husband's brain was a little different from mine," she begins. "And about—" she stops, and shakes her head. "I have to start this over," she continues, "because I really want to get this right. Because I love him very much."
Her husband, she reveals, has been diagnosed with autism spectrum disorder (ASD). Schumer talks about their courtship, sharing early moments when she recognized his mind worked differently, before he'd received the diagnosis. These were not, in any way, moments that created doubt for her, or somehow lessened his ability to be a good partner. In fact, she says the same characteristics that "make it clear that he's on the spectrum" were the ones that made her fall "madly in love" with him.
Personally, I love the fact that she explicitly discusses his diagnosis, and love even more that she doesn't shy away from describing that he is, in fact, different. And that that difference is precisely why she loves him. The moment where she pauses, and starts over, felt to me like seeing personal growth happen in real time. She had a moment where she recognized she was entering a sensitive topic, that this topic concerned a group of people she was not herself a part of but very much wanted to show the appropriate respect to, and that, in order to discuss it at all, she would have to do it exactly right. If Schumer applies this same care to all of her comedy going forward, I think she'll fare better with her critics, and frankly, make more inspiring comedy.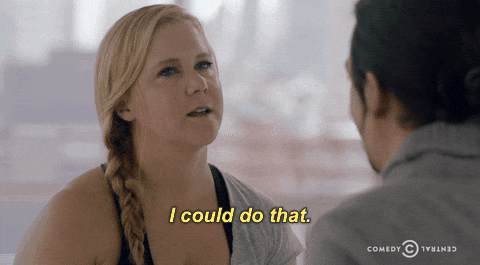 As an hour-long comedy experience, I loved Growing: I laughed a lot, gagged only a little (pregnancy is real sh*t, people!), and came out feeling a personal connection to Schumer that I hadn't before. As a referendum on Schumer's character, I'll say this. If you've been disappointed by Schumer's missteps, and wanted to see evidence that she's becoming more self-aware in her comedy, you'll find it in Growing. If you wanted an apology tour and a public renunciation of her entire comedy career, not so much. Beyond the content I highlight above, she talks about her difficult pregnancy, the joys of new period technology, and why she's glad she waited to get married. It's honest, a little gross, and felt like the comedy of someone halfway between where I am now and where I'd like to be in 10 years. In other words, someone growing, if not quite grown up.
Images: Instagram (2); Giphy
Hannah B. Is The Bachelorette ABC Deserves
As I sit here on this shockingly sunny Wednesday morning, two things are very clear: this hangover might kill me, and Hannah B. is going to make one hell of a Bachelorette. Sure, there's plenty to complain about, starting with the fact that she's younger than me (she's 24; I am…not). I'd rather not see more of Alabama than I have to (or more pageant footage, for that matter), but for f*ck's sake, half of the final four were some variation of pageant girls from Alabama. And yes, we've watched Hannah B. struggle to string together basic sentences, which some might consider a red flag. But I'm here to tell you why this tongue-tied, Southern pageant queen will give us the most fun season we've had in years—and why any other choice would have been a huge mistake.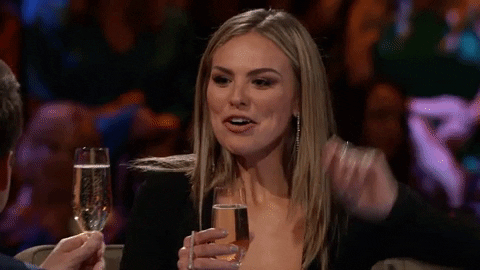 First, let's take a look at who was in line to be the Bachelorette. In this Variety interview, ABC exec Rob Mills confirms that they spoke to everyone in the final four plus Demi while making their decision. Let's take Demi out of the equation real quick: that woman was born to be on Paradise, and I'm pretty sure we have no idea what her real voice sounds like. Also, she is deeply and fundamentally not ready to get married, which we should at least still pretend is a prerequisite for being on this show.
So, that leaves Tayshia, Hannah G., and Caelynn—all of whom technically deserve the Bachelorette title more than Hannah B. Going by the rules of Becca's season, if your leading man deviates from the script and ambushes you for a surprise on-camera breakup, you are supposed to be the next Bachelorette. So both Hannah G. and Tayshia got pretty f*cked there. Actually, it's kind of a fun game to think about who got a worse deal out of this season. Is it Hannah G., who's gotten shockingly little screen time for someone who looks like a Barbie come to life, up to and including them cutting her fantasy suite? Or is it Tayshia, the divorced 28-year-old who jumped out of a plane, got dumped on camera, held a sobbing Colton in her arms, and STILL didn't get chosen as the second-ever non-white Bachelorette? (It's Tayshia, Tayshia got more f*cked here.)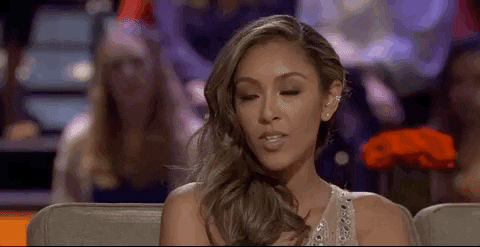 But here's the thing. We can all agree the Bachelorette shouldn't have been Hannah G.—she has a thriving career of "content creating" ahead of her either way, and I think she's about as ready for marriage as Demi is (f*cking 23-year-olds). Can we all secretly, quietly agree that we didn't want it to be the qualified and mature Tayshia either? I want many good things to happen for her, and I'm genuinely grateful that her screen time forced Colton to open his mouth for reasons other than kissing. But first of all, the last two Bachelorettes we've had have been responsible, grown-up women, and it's been boring as hell. Second of all, while it's f*cking disgraceful that there's only ever been one non-white Bachelorette, ABC needs to do some serious work on itself before they are ready to have another.
The show, in its current state, is barely equipped to handle a Bachelorette of color. Let's not forget the many "yikes" moments in Rachel's season where ABC cheerfully broadcast that it has no idea how to address race in a thoughtful way. They (probably purposefully) put a feminist-hating, Black Lives Matter-disparaging bigot on the show as a potential suitor to the first black Bachelorette, and kept him on for weeks, forcing the black contestants to explain to him why his own actions displayed undertones of racism. In my opinion, the change that needs to happen is ABC hiring more people of color and doing a serious overhaul of their many regressive attitudes—not throwing another black woman into a series of semi-racist situations with all of America watching.
Similarly, on the subject of topics ABC is unequipped to handle, Caelynn would also have been a disaster. When Caelynn shared the story of her sexual assault, it was moving, unflinching, and brave. She proved her eloquence, her inner strength, and her ability to be truly vulnerable on camera. But holy sh*t, can you imagine a season of The Bachelorette actually grappling with this? Think about the male contestants they pick. You know at least four of them would have made tone-deaf references to sexual assault before the end of night one. And Caelynn would have had to tell her story and relive that trauma several more times on camera, with different men, who have differing abilities to respond correctly. It would have been painful, sad, and peppered with tactless transitions from Chris Harrison. And let's not forget that the producers, in all their "careful vetting", let a convicted sex offender compete on Becca's season—and he made it pretty far in the process! Caelynn has a valid and important story to tell, but I'm glad we're not seeing it on The Bachelorette.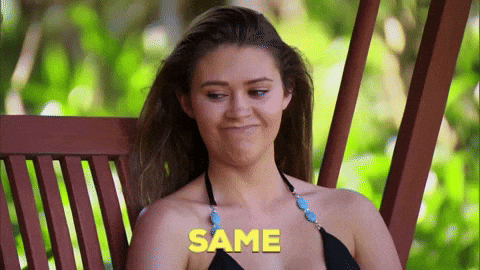 So, is my final point that Hannah B. is the perfect choice because she's young, white, and trauma-free? While I don't love the look of that sentence, that kind of is my argument. Rachel and Becca K., like I said, are smart, confident, gainfully employed women who know what they want. One of them wound up with her second choice, and the other with a MAGA troll—not exactly the empowering message we hoped they'd send. So maybe, at least for this season, we can stop pretending that The Bachelorette has the capacity to be an empowering show. I don't care if Hannah B. has the vocabulary of a fourth-grader and has never felt real pain. The Bachelorette is terrible at portraying eloquent women and their trauma in a watchable way anyway.
Hannah B., with her terrifying smile and big shiny eyes, was exactly the same person when she got sent home as she was when she arrived. While all the other girls slowly crumbled and dropped their facades, Hannah B. didn't flinch. ABC doesn't need or want an accomplished, mature woman as their Bachelorette. They need a marionette doll who can watch this guy rap without gagging. There will be no opportunity to get upset on this season of The Bachelorette—I'm sure whoever Hannah B. ends up with will be a great first husband. Until ABC is ready to make The Bachelorette a show that can handle serious issues without embarrassing everyone involved, bring on the Hannah B. Roll tide!
Images: ABC; Giphy (3)
This New True Crime Podcast Is The Next 'Dirty John'
If you've listened to Dirty John or Dr. Death, then you have an idea of what Wondery's podcasts offer. They're grisly, salacious looks into crimes you never knew existed, and honestly my morning commute has never been better. This week, Wondery dropped their newest podcast: Over My Dead Body. It tells the story of Dan and Wendi, "two good-looking attorneys" with "a bad breakup, a worse divorce, and a murder case involving a menagerie of high-priced lawyers and unexpected co-conspirators." So basically, the details of how a power couple fell apart, plus a murder twist. That's literally all of my favorite things.
So, what's the crime being investigated here? If you're the kind of person who hates having an appropriate amount of context spoilers, then I'd recommend you stop reading here.
Do I google the story @WonderyMedia did for #overmydeadbody podcast or keep guessing who's responsible? I've changed my mind 5 times! #truecrime pic.twitter.com/wS6410j6sX

— Jamie- Uglee Truth Podcast (@theugleetruth) February 14, 2019
Still with me? Good. In 2014, Dan Markel (the husband) was found dead in his Tallahassee home: shot in the head. According to Refinery29, Wendi Adelson's (the wife's) family was "immediately suspected of hiring someone to complete the crime." To be fair, if I had a bad divorce from someone I would want my family to at least OFFER to send a hitman. (JK! My family's not rich enough to pull that off.) The podcast starts with the story of Dan and Wendy's relationship (and subsequent divorce), then goes into the details of Dan's death and the investigation that followed.
Given how the trial in this case concludes, the story becomes less about their relationship, and more about the dynamics of race and privilege involved in the trial. Despite the Adelson family being immediate suspects, and further connections being found between the family and the suspected hitman, no family members were ultimately charged with any crimes. Instead, only people of color were arrested in connection to the crime. Given that the Adelsons are a wealthy, white family, Over My Dead Body explores how the family's privilege may have played a role in who was ultimately charged for this crime. I mean, yeah, if it's between wealthy Floridians staging a hit on their ex-son-in-law and a random break-in, I am 100% going with the former. People from Florida are, as a rule, insane. In-laws are also generally insane. It just adds up.
I listened to the first episode this morning, and what struck me most (other than how f*cking addictive it was) was how easy it was to forget that the story led up to a murder. Episode one starts with Dan's upbringing, then how he met Wendi, and what their wedding was like. They also interview friends who knew them as a couple. It tells you, from Dan's perspective, about the divorce. And as much as I love hearing the gory details of a murder, I have to say I find autopsies of relationships equally interesting—and this one sounds like a real mess. Also, and this may just be because I'm a messy b*tch, I live for seeing any two people who are described as "the perfect couple" be torn down. Especially when they try really hard to convince people they are, in fact, a perfect couple.
If you binge the first few episodes of 'Over My Dead Body' (can't blame you) and are hungry for more true crime content, here's a list of other relationships with famously violent ends. Enjoy.
Debra Newell
I mentioned 'Dirty John' earlier, but if you're not lucky enough to have listened yet, then here's what you're missing. 'Dirty John' is the story of Debra Newell, a wealthy, middle-aged interior designer, and John Meehan, the criminal and con man who seduces her. In classic Wondery fashion, the story starts with the dynamics of the relationship: the intense emotions, the broken trust, what it looked like from the outside. But as tensions build, the focus shifts from how to spot and catch a con man—and more to how you survive him. (If you're more of a visual learner, there's now a Bravo series on this too.)
Lorena Bobbitt
Lorena Bobbitt famously became known as the woman who cut off her husband's penis. While this crime was thrown around as a zany joke for most of the '90s, details of the crime—and the relationship leading up to it—are far from funny. I'll let you discover the rest on your own (preferably by watching Jordan Peele's new Amazon series about it), but suffice it to say that women don't typically go around cutting off genitalia without due cause.
Jodi Arias
On May 8, 2013, Jodi Arias was convicted of first-degree murder for the death of ex-boyfriend Travis Alexander. Alexander and Arias met in 2006, and began a long-distance relationship in 2007. Over their 18-month, off-and-on relationship, Arias moved twice to be closer to Alexander. Meanwhile, Alexander's friends consistently disliked Arias and felt her behavior was "worrying." Naturally, when these same friends found Alexander covered in stab wounds with a gunshot to the head, they pointed the police in Arias' direction. Arias pled "not guilty" to initial charges, but claimed she committed the murder was self-defense two years later, and alleged that she was a victim of domestic violence. While the Jodi Arias story doesn't have a TV show (so sad), there is a Lifetime movie that I am very excited to watch.
Basically, if you like hearing people talk sh*t about other peoples' relationships along with your regular dose of true crime, any one of these stories will be right up your alley. Do yourself a favor and start Over My Dead Body today, then drop your number in the comments so I can text you all my insane theories as I come up with them. Thanks!