9 Quarantine Trends You've Already Forgotten About
If you didn't already think time was a social construct, the last six months have probably changed your mind. The movie you said you watched last weekend? That was two months ago. And the tweet you thought you saw last week? It was posted today. Since we're all online literally all day and have nothing better to do than run a new meme into the ground hours after it's created, new trends come and go faster than ever before. While the banana bread and sourdough baking phase is probably seared so permanently into your memory that you'll be telling your grandkids about it when they ask about 2020, there are probably a few trends and moments that have already been erased. 
The Carrot Challenge
Approximately two days into quarantine, everyone was apparently already so bored that they resorted to an Instagram challenge where they tagged their friends to draw a carrot on their story. It is truly remarkable to look back at this moment in time and realize how naïve we were that we could have possibly thought that was the worst it was going to get.
Whipped Coffee
This feels like something from an entirely different time, back when there was still hope (aka mid March). Thanks to one of the first TikTok trends to pop up in quarantine, people everywhere were using the 20 minutes that they'd usually spend commuting to the office to whisk coffee into a froth. Given that I haven't heard anything about this in a few months, it seems like people have now realized that time is better spent sleeping in.
"Until Tomorrow"
this quarantine is really testing the limits of what photos make the cut for a throwback post on instagram

— Betches (@betchesluvthis) May 8, 2020
Another long-forgotten trend is the "Until Tomorrow" era, a time when you couldn't open Instagram without seeing a feed full of embarrassing photos, bad selfies, and baby pictures (that would be taken down the next day to avoid total humiliation). Personally I think taking your photo down is a weak move, since true Instagram baddies have had embarrassing photos up since 2010 and never took them down no matter how bad (and over-filtered) they were.
"First Photo" Challenge
As I'm sure all the other single people quarantining alone would agree, this challenge felt like a personal attack. Seriously, couples posting their first pics together? Like, did I ask for every other Insta story to remind me that I'll be riding out a pandemic alone and getting dressed up for FaceTime dates for the foreseeable future? 
Instagram Live
Remember that week (or was it a month? Who knows) where you got a notification every five minutes that someone was going live on Instagram? Including the girls from high school "running their own businesses" showing you how to use their essential oils? My thoughts and prayers go out to everyone who accidentally joined someone's live where there were only two other people watching. Leaving one of those is almost as uncomfortable as the split second of eye-contact you make with your boss every time you exit a Zoom meeting.
Push-Up Challenge
"See 10, do 10?" Yeah, I'm good thanks. I haven't done a push-up since I was forced to for the fitness test in elementary school, and I won't be picking those back up because someone tagged me in an Instagram story.
Tiger King
The memory of Tiger King feels like a fever dream. Like, we were really so desperate for entertainment at that point that we just ate that sh*t up and said "NEXT, PLEASE." It's kind of incredible that we got desensitized to the absurdity of every single event that happened in that series so quickly. But given how f*cked up everything has become since then, it was good preparation for coping with the rest of the year.
Zoom Happy Hours
if you're still scheduling 14 zoom happy hours every weekend you can chill, we all just want to sleep

— Betches (@betchesluvthis) April 24, 2020
Realizing that having a Zoom happy hour every night of the week does not make up for real-life interaction was a breakthrough that took longer than it should have. Playing drinking games at home is fun when you have somewhere to go afterward, not when you'll just be sitting in your childhood bedroom, totally wasted, after you shut your laptop.
The "One New Thing A Day" Phase
I've been thinking a lot about the people who started quarantine by saying "I'll be making one new cocktail a day!" or "Every day I'm going to make one new piece of art!" Where'd they go? Last I heard from them it was day 14 I think. Are they okay?
Instagram challenges and TikTok trends will come and go, but you know what will never go out of style? Wearing a f*cking mask.
Images: Mollie Sivaram / Unsplash; bigkidproblems / Instagram; betchesluvthis / Twitter 
3 Exercises You're Probably Doing Wrong, And How To Fix It
While I totally support not giving a sh*t about how you look at the gym, I mean don't worry about sweating and wearing that old sorority date party tank. You still need to care about what your form looks like. If you're not performing an exercise right, at best you're wasting your time, and at worst you're going to injure yourself. This is not limited to the weight machines, either—some of the most common bodyweight exercises you've probably been doing for years are the ones that people mess up the most often. Read on for the exercises most frequently done incorrectly, according to Los Angeles based trainer and founder of KICHGO, Kit Rich, and how to fix your form.
Bicycle Crunches

If you've ever taken a workout class and done crunches, you've probably been told to keep your elbows down and away from cupping your ears. That's not just for aesthetics: scrunching up puts pressure on your neck, causing tension and stiffness. Another common mistake: rocking your hips back and forth too much, because it looks stupid and hurts your back. Basically, if you're feeling strain or moving a lot in any area that is not your abs, you're not doing it right. Also, that's never going to get you that ab crack.
DO IT RIGHT: Unless you're trying to get a thicc neck (you do you), don't pull or twist from the neck and shoulders. Keep your elbows pulled down and think about keeping your back flat and lifting through the shoulder blades, which is the opposite of hunching over. In your bicycle crunch, keep your hips stable by extending your legs forward from the hip, keeping them low and parallel to the ground. Think of it more like a lengthening motion than pedaling motion—this is what's going to target your lower abs and obliques.
Planks

Planks are awesome. Not only do they strengthen every muscle in your core at once, but you don't even have to move while doing the exercise (my favorite kind). However, because you're holding the position for a while, it can be easy to slip out of good form once you start getting tired. Sticking your butt up or arching your back will take the work out of your abs and will give you back pain, and that's not what we want.
DO IT RIGHT: Because planks are hard in general, you may not be able to tell by feeling whether your hips are too high or low, but a quick peek in a mirror will make it obvious. It's called a plank because your back and shoulders should be as flat as a board, so try to visualize that line from your shoulders to your heels the whole time you're holding the position. Hold your gaze a few inches in front of you instead of directly under you to keep your neck neutral. Finally, squeeze your butt and thighs as well as your arms and abs to help keep the straight line. Start off with a 30-second plank to make sure you've got it down before moving on to longer holds.
Wide Arm Push-Ups

Push-ups are hard, but don't sleep on them—they're great for working out your arms without using additional weights. You've probably f*cked this up before, so you already know what it looks and feels like: tucking the chin and looking down, moving your shoulders up and down one inch and calling it a push-up. You're going to hurt your neck and shoulders that way and not get any benefit to your arms. Remember, a push-up is really just moving your plank up and down, so if you're teetering out of your alignment, it's wrong, wrong, wrong.
DO IT RIGHT: Don't try to act cool. If you can't do a full push-up right now, start by doing modified push-ups on your knees. In the modified push-up, be sure to keep your body in line from the back of your head to the back of your knees instead of bending at the waist when you push down. Extend your arms out wide (slightly past your shoulders) and ground your hands into the floor to firmly support the rest of your body. Bring your chest all the way down to tap the floor and back up. Do this with straight arms and with your core engaged the whole time. When you feel something in your abs as well as your arms, you'll know you're doing it right.
THE TAKEAWAY: If it looks weird or feels weird, it probably is hurting more than helping. Slow down, modify, or do fewer reps at first and then work your way up.
Images: Jacob Lund / Shutterstock.com; Giphy (3)
The Full-Body Workout You Can Do In A Corner Of The Gym
If you go to the gym right before 9am or right after 6pm, you know how annoying it can be to get around the place during workout rush hour. As much as we'd all love to work out in an empty gym with the whole place to ourselves, it's v unrealistic unless you're like, a psychotic morning person or like, super rich. Luckily for you, we've put together a workout can literally be done with one mat in a tiny corner of the gym, so you don't have to bother waiting for a machine to become available or for people to step away from the dumbbell racks. Here's a quick workout that will tone your whole body and burn a ton of calories while staying in one space the whole time.  
1. Walkout Push-Ups
The walkout push-up is a great warm-up move because it gets your lower and upper body working without diving right into a cardio or strength move. The idea here is to first warm up your hamstrings by starting in a standing position and folding your arms and head forward, and then get your upper body warmed up by crawling your hands out to a plank position. Once you're in your plank, perform one push-up (drop to your knees if you have to) and then crawl your hands back to your ankles to stand back up, engaging your core at the top each time. Start off slow, and then try to speed up on your last few reps. Do 10 of these in total.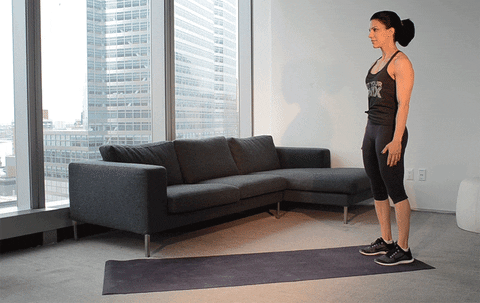 2. Glute Bridge To Oblique Reach
This is another lower and upper body movement, but this time you're working your butt and your obliques, aka your side abs and love handle region. Start by lying on your back with your knees bent and your feet on the ground. Then, extend one leg straight out and lift your hips into a bridge, squeezing your glutes and specifically feeling the burn on that same side. After the bridge, lower your hips back to the ground and reach your arms toward the straight leg while extending the leg upwards. Remember that you're crunching with your abs, so don't just use your arms to swing your body up. This combo is slightly complicated since it's technically two moves in one, so you can take your time on these until you get the hang of it. Do eight reps on each side.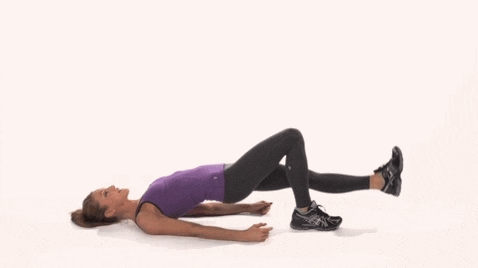 3. Tricep Extensions
You'll need a weight for tricep extensions, but it shouldn't be too hard to find because you can literally use whatever you want—a dumbbell, a weighted medicine ball, or a kettlebell. If you have a kettlebell available to you, you're gonna hold it by its horns (AKA the non-bell part) and lift it up over your head, keeping your elbows straight forward and your arms tight. Then, extend the bell toward the back of your neck, using your triceps to bring the weight up and down each time. If you feel like your elbows are widening out to the side, take a break and reposition yourself. The tricep muscles are really what give your arm that toned, sculpted look, so go heavy on these and take your time. Aim for 10-12 reps.

4. Deadlift To High Pull
The good news with this move is that you can use the same weight you were just using. Again, this is a combo move, so you're totally killing two birds with one stone by working your legs and your arms in one exercise. Place your kettlebell on the ground in front of you, and make sure it's between your legs, but like an inch or two forward. Then, bending your knees slightly, you're going to hinge your hips backward and lift the kettlebell keeping your arms straight, bringing it to your waist as you hinge the hips forward. That's the deadlift part. Then, you're gonna pull the kettlebell up to your chin, using your shoulders to row upright, with your elbows wide towards the sides. Once you complete one rep, bring the kettlebell down to the ground and do five more.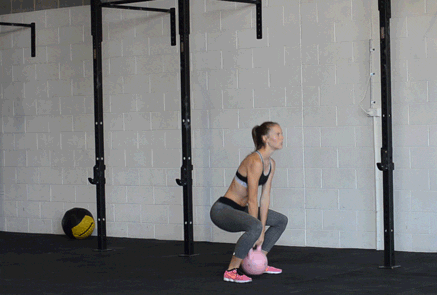 5. Squat Jumps
Now that we've done a bunch of strength work, it's time for some cardio. Your legs burn the most calories out of all the muscles in your body, so doing jumping exercises while combining squats or lunges is super effective. It's also really hard, so pace yourself. Start in a squat position, making sure your knees are behind your feet so you don't hurt yourself. Get super low, and then jump up explosively while straightening out your legs and arms. Aim for 20 reps here, but you might want to die by the time you get to 15. Try to fight through it.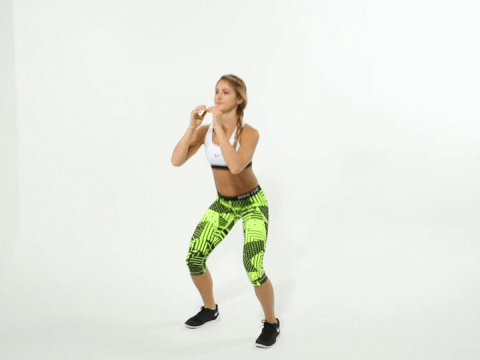 6. Burpees
Burpees are annoying and difficult, but there's a reason you see them in every fitness magazine and at every workout class—they WORK. Start by standing with your feet shoulder-width apart and your arms at your sides. Then, lower your body into a squat and place your hands on the floor in front of you, jumping your feet back so that you're in a plank position. Once your body is in a straight line, lower your chest to the floor and then bring it back up as quickly as you can. Then, jump your feet forward, outside of your hands, and jump up with your arms in the air. Do 8-10 of these, depending on your energy at this point in the workout. Also, keep in mind this is a full-body move, so make sure you follow the motions without just slamming your body down to the ground in the sloppiest way possible.

Images: Trust Tru Katsande; Unsplash, Giphy (5), Pinterest (1)
How To Tone Your Arms & Abs Without Any Weights Or Machines
It feels like ever since Khloé Kardashian began Snapchatting her workouts and girls everywhere started doing squat challenges in their living rooms, butt and leg workouts have been trendy AF. And while we're totally on board with lower body workouts, betches tend to neglect upper body exercises, and that needs to be fixed. These six moves will work your arms and abs with no equipment necessary, so you can avoid creeps at the gym watching you pick out dumbbells. Go through the circuit 3-4 times in a row for a v effective at-home workout. Oh, and good luck lifting your arms to blow dry your hair tomorrow.
1. Plank Ups
It's important to start out any ab workout with some plank variation to get your core muscles fired up, and we love plank ups because they get your arms involved too. Start in a high plank with your arms on the floor directly under your shoulders. Then, bend one arm to bring your elbow to the floor, and then the other arm, ending up in a forearm plank. Then, push each arm up to the starting position, and continue going up and down from hand to forearm for 45 seconds.

2. Diamond Push-Ups
Diamond push-ups are basically regular push-ups, but instead of placing your hands wide under your chest, you place your hands together, forming a triangle (or a sort of diamond…get it?) with your thumbs and fingers. Bend your elbows and bring your chest all the way to the ground, feeling the burn in your tricep muscles. If you can't get full range of motion while in a high plank, drop to your knees. Aim for 10-15 reps without stopping.

3. Standing Jab Cross
If you've ever gone through the 2-minute arm portion of a spin class wondering why your arms burn so much from throwing a few punches, try doing these jab crosses for one minute straight. Stand up and punch with each hand in a diagonal direction, keeping your core engaged and preventing your waist from moving from side to side. The idea is to burn out your arms while twisting your torso to work your obliques, so keep your core as tight as possible.

4. Plank Shoulder Taps
This is another move that is based in a plank position, but by tapping each shoulder, you're challenging your stability and getting your arm muscles involved in the movement. Start in a high plank and keep your feet about hip-distance apart. During regular planks, it's better to keep your feet closer together, but for this move, you want your hips to stay as square and still as possible, so the extra distance will help. Tap your left hand to your right shoulder, and then do the same on the other side, alternating for 45 seconds. Also, it helps to squeeze your butt and keep your head as straight as possible the whole time.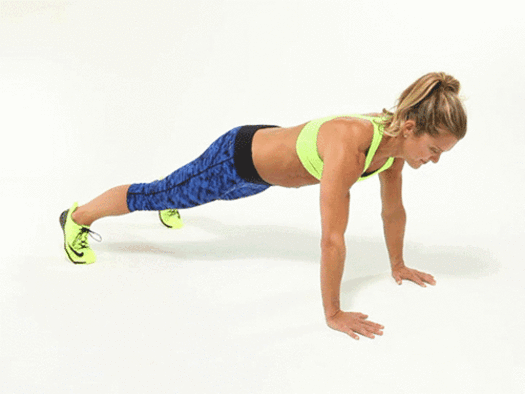 5. Tricep Dips
You don't need a piece of equipment for this one, but having a bench or chair nearby will help. You could also just stack up a bunch of books or shoeboxes. Whatever works. Sit on the ground with your legs in front of you in front of your bench and place your hands on the bench behind you with your fingers facing forward. Dip up and down with your arms, lifting your butt off the ground but keeping your heels planted. Do 15 reps, keeping your elbows tight to your body and directly behind you the entire time.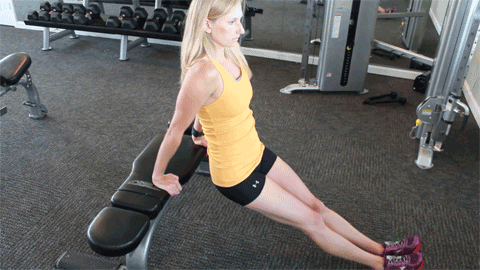 6. Bicycle Crunches
Crunches are like, the OG ab move, so we're taking it up a notch by ending the circuit with bicycle crunches, which basically keep your legs and arms moving while targeting the sides of your abs. Lie on the floor with your lower back pressed to the ground and your hands behind your head. Lift your feet off the ground and bring one knee in towards your chest, lifting your shoulder blades off the ground to touch your elbow to the opposite knee. Straighten out the leg and bring the other knee into your chest, doing the same with the other elbow. Try doing 30 seconds of slower crunches, then do 30 seconds as fast as you can.

The Best Workouts If You Only Have 15, 30, & 45 Minutes At The Gym
Working out is such a dilemma. On the one hand, betches need to work out to counteract our weekly blackouts and keep up our naturally fast metabolisms, but on the other hand, who seriously has the time? I mean, if you wake up on a Sunday and spend three hours at the gym while I'm dragging my ass to brunch in last night's makeup, I salute you, but I also fucking hate you. Betches don't always have over an hour to work out, so we've planned out the most efficient ways to spend your time at the gym when you're in a rush. Whether you have 15 minutes or 45 minutes, you can def get in a legit workout without cancelling all your plans for the day. Here's the plan:
If You Only Have 15 Minutes Or Less
First of all, never judge the betch who only spends 15 minutes at the gym. This extremely limiting time crunch usually means she either has much more important shit to do, or literally has only 15 minutes to spare before work and has a Cinderella-esque transformation in the Equinox locker room before heading to her job at some waspy law firm. This betch means business, and she'll be finished working out by the time you found the best selfie lighting in the weight room.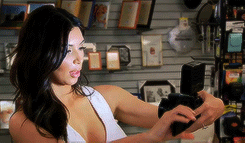 If you only have about 15 minutes, the key is sticking to floor work and ditching any machines. Honestly, you'll waste a good ten minutes by the time you choose a treadmill that's comfortably far enough from other people but close enough to the TV. Lay out a mat and work HARD (we know) for fifteen minutes straight without any breaks, choosing compound movements that incorporate strength work while getting your heart rate up. We know you just read that sentence three times to figure out WTF we mean, so some good moves include burpees, jumping lunges, jump squats, mountain climbers, and plank jacks. Try to pick a few moves and do each one for about 45 seconds each, then repeat as many times as possible until you have to bounce/collapse. Stretch in the shower.
If You Only Have 25-30 Minutes
If you have less than half an hour to spare at the gym, it's time to get your ass to work. Half an hour might seem like a solid amount of time to get in a workout, but time flies when you're fixing your ponytail for 20 minutes in the mirror while laying out your towel like you're on Miami Beach. You can get in a good workout in less than 30 minutes, but don't fuck around.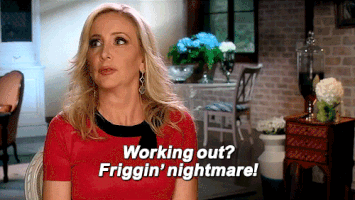 The most efficient way to spend 25-30 minutes at the gym is to break it up 50/50 into cardio and strength. First, pick a cardio machine that you're ready to kill it on for 12-15 minutes. Elliptical or treadmill are ideal if you're basic AF and have a playlist ready. The erg rowing machine is more intense because it works your whole body. Stairmaster wins if you hate yourself. After going moderately hard for half your workout, make your way onto the floor for some strength work. Try to isolate one area of your body per day to get the most out of your gym time. For example, spend one day doing lower-body moves (like squats and lunges), and another day doing upper body (like bicep curls, tricep extensions, and planks), rather than being that dumb girl who does 10 crunches, three squats and a push-up and wonders why she's still flabby.
If You Only Have 40-45 Minutes
If you have up to 45 minutes to spend at the gym, you can def get in a quality full-body workout, but you have to make sure you go in with some sort of plan. Don't be that girl who walks on the treadmill for 45 minutes while refreshing Snapchat stories. She can brag all day that she spent her morning at the gym, but she prob burned like 30 calories total and we're still talking about her, so she's literally wasted everyone's time.

Spend your first 5-10 minutes warming up your muscles and getting your heart rate up. Think light bodyweight exercises, like jumping jacks, air squats, high knees, and push-ups. Oh, and get off your knees. Then, move onto some real strength work, because news flash: if you're not lifting yet, you're doing it wrong. A super efficient way to create a little circuit for yourself is through an AMRAP, which means "as many rounds as possible." The idea is to pick a few moves that involve dumbbells or kettlebells, set a 15-20 minute timer for yourself, and complete those moves as many times as possible until the timer goes off. Then, move onto some HIIT work, whether you're into burpees and plyometric moves on the floor, or 20-second inclined sprints on the treadmill. Either way, you should be sweating your ass off (and cursing loudly) after about 10 minutes, so you can spend the last couple minutes stretching the muscles you just abused. You're welcome.